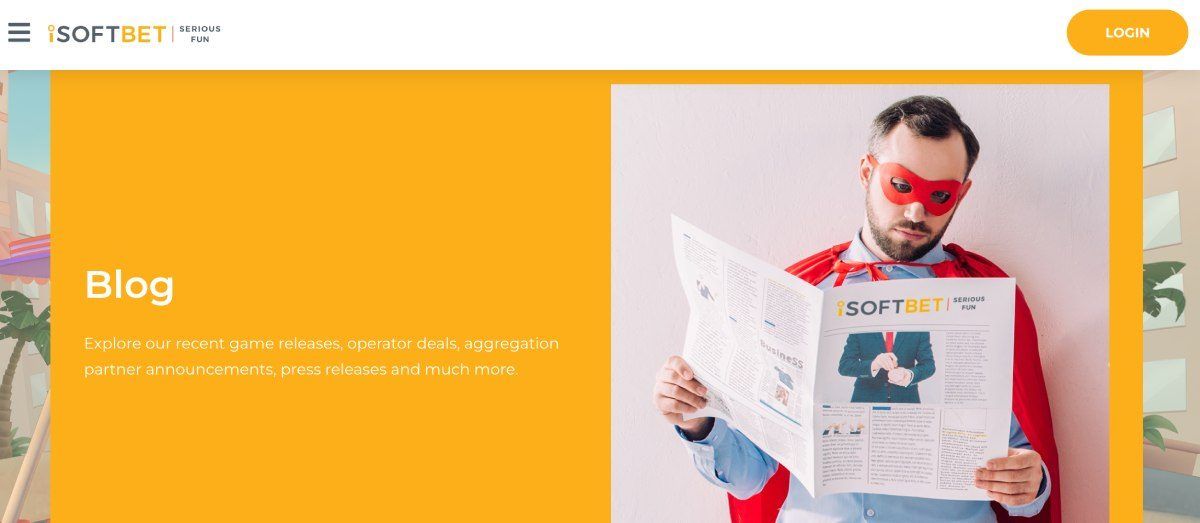 iSoftBet Provider: Overview
Four key pillars characterize iSoftBet as a gaming software software provider in the market; a global presence, premium iGaming content, powerful gaming solutions, responsibility and trustworthiness. The company launched its operations in 2010, and has achieved phenomenal growth in the 13 years they've been active. Today, they operate in more than 100 gaming markets across the globe, having forged key partnerships to expand their presence and improve their product portfolio. They're renowned RNG software providers, which has massively transformed the legitimacy of online casino games. They develop and distribute branded games, casino games, table games and mobile games.
Some of their most popular titles include The Gold Digger, Majestic Megaways, Euphoria, Hot Spin and Shining King Megaways. Let's dig deeper into the providers overall offering, and the aspects that come together to make this provider one of the top ranked in the iGaming industry.
Pros
Stellar collection of disruptive and immersive games, with new titles being added every few months
Excellent Game RTP, with some like Ruby, Charm Crush and Hot Slots going as high as 97.6%
Massive jackpots, bonuses, and periodic tournaments giving the players countless opportunities to win massive prizes
Games available in more than 20 games, opening up their adoption and popularity across the globe
Licenses in over 100 countries and markets across the globe, creating a global community of game enthusiasts
Experienced team of gaming software creators to ensure the gameplay, audio, visuals and the entire gaming experience is exceptional
Cons
They have few card and table games
How to Play iSoftBet Slots with Crypto
Crypto gaming has gained massive popularity because of benefits like privacy, anonymity, instant transactions and the possibility of winning massive rewards. iSoftBet has made collaborations with many crypto casinos around the globe, which means you can play their games with your digital currency of choice. You can follow these steps to play the game:
Step 1: Choose a Crypto Casino
The first step is choosing an excellent crypto casino that has iSoftBet as one of their game providers. You can check out our reviews for the top ranking crypto casinos to choose from.
Step 2: Register an Account
Click on the registration button and wait for the pop-up registration form. Some casinos will ask for comprehensive KYC details while others will only need a username, email and password. no-KYC casinos are great because they allow you to register and play anonymously.
Step 3: Deposit Crypto
You have to deposit crypto before you can choose iSoftBet games to wager on. Click the deposit button and wait for the cashier to pop-up. Copy the deposit address and head to your wallet. You can complete the deposit process by sending your desired amount of crypto to the address.
Step 4: Browse Available iSoftBet Games
The deposited crypto should reflect in your account within ten minutes. You can head to the lobby and start browsing the available games. Most casinos will list the games categories using different filters for easy browsing. Using the 'filter by provider' button will help you single out all games by iSoftBet. Choose your favorite game from the provider and click on it.
Step 5: Play aDemo Game
Most iSoftBet games have a demo version you can play to understand the gameplay mechanics. You can spin the reels a few times on the demo version and gauge the RTP, hit rate and possibility of winning. It'll help you determine the ideal strategy to use when playing.
Step 6: Set Wager Limits
Once the game loads, it will give you information on how to play, wagering limits, and instructions on either spinning the reels manually or using the autospin function.
Step 7: Spin the Reels
Once you've set the wager limits and understood how a game works, it's time to spin the reels. You can choose either to play each spin manually, or use the autospin feature.
Step 8: Collect your Winnings
You can claim your earnings once you successfully play the game and win. The crypto winnings should reflect in your account soon after it's been approved by the system.
What Cryptocurrencies are Accepted?
Slot RTP, Details & Wager Limits
The themes and game concepts used by iSoftBet create games with a commendable entertainment quality. However, iSoftBet offers more than just entertainment. Here's a detailed view of the RTP, Wager Limits and other aspects of the entire offering by the software provider.
Slot RTP
The return to player is the percentage which players are likely to get back when you play a certain provider's games. iSoftBet understands that the best way to attract and keep players hooked to their games is offering excellent RTPs, and their slots have some of the most competitive rates in the market. The average rate is around 96%, but here is a sample of iSoftBet slot RTPs across the board.
Aztec Gold Megaways 96.94%
Compared to what other software providers are offering, it's safe to say that iSoftBet offers the best rates in the market.
Wagering Limits
Online casino games have wager limits that determine the minimum amount you can place per bet, and also the maximum amount. The wager limit combined with the maximum payout for the highest paying symbol determines the maximum payout you can get from a slot. Therefore, higher limits often translate to potentially high cashout. The minimum bet you can place on iSoftBet's games is $0. 20 while the maximum is $20.
Themes
iSoftBet has the most creatively disruptive team of developers. Their game themes offer something for everyone, regardless of their fetish. Some of the most popular slots according to themes are as follows:
| | |
| --- | --- |
| Theme | iSoftbet Slot Name |
| Egyptian Mythology | The scrolls of Ra |
| TV Film/Action | Rambo |
| Magical/Wizardry | Bewitched |
| Jewels/Playful | Diamond Wild |
| Norse Mythology | Legend of Loki |
| Irish | Lucky Leprechaun |
| Forest and Animal | Fishing for Gold |
The provider offers tens of other themes from galactic, scifi and horror, oriental to music slots. You get to choose slots according to the themes and storylines that appeal to you the most.
Every provider creates a unique set of game features that improve the gaming experience and also increase the potential chances of winning for the players. Here are some of the special features found in iSoftBet slots:
Hold and Win: This feature gives you an opportunity to collect special symbols for massive jackpot wins. It keeps the triggering symbols on the screen, which is different from the regular setup where they're respun. Sheriff in Nottingham is one of the top games with the feature.
Progressive Jackpots: Progressive jackpots take a small percentage of every player's wager and aggregate it to create one mega jackpot to be won by players as the game progresses. iSoftBet slots like Lucky Dragon, Aztec gold and Extra Gold Megaways boast this feature.
Wilds and Scatters: Wilds act as a substitute for other symbols and increase a player's chances of getting a winning combination. Scatters act as multipliers and increase the maximum cashout.
Megaways: The conventional slots had a board with 5 by 3 layout and a fixed number of paylines. iSoftBet Megaways slots include Gold Digger, Triple Fruit Deluxe, and Cash Lab Megaways.
These features and symbols are what sets apart iSoftBet's games from what other providers in the market have to offer.
The popularity of online slots depends on the overall impression that it makes depending on the audio, video and graphics. iSoftBet game developers understand the importance of combining all these features to create games that keep players glued to the screen. Here are a few special symbols that enhance graphics:
Retro Symbols: All games by iSoftBet come with their set of special characters depending on the themes. However, all slots also have some recurring retro symbols, such as fruits, sevens, letters A, J, Q and K and bars.
Mythological Icons: Different themed slots come with their special mythological symbols and features in iSoftBet games. For example, the Lucky Leprechaun features a Leprechaun as a wild symbol, and its appearance leads to massive bonuses.
Mystery Symbols: Different slots come with varying mystery symbols depending on the game's themes. For example, Cat Megaways has a mystery cat symbol which appears when the reels stop, triggering bonus rounds.
The mood, colors, shapes, texture and overall gameplay transfixes players to the games, and keeps them coming back for more.
The game design is another interesting feature that sets apart the best slots in the game from the rest. iSoftBet has some of the best game designs in the industry, and the overall setup depends on the themes they explore. For example, the Fishing for Gold Slot features an aquatic theme and canvas, where the game's grid is laid out. You can see pieces of what looks like an iceberg scattered around the grid, framed by a blue sky at the top. The seamless integration of the audio and visual effects in their games pushes the entertainment factor to the next level.
iSoftBet slots have varying volatility, which means that your chances of winning one slot by the provider could be totally different from the odds of another. Here's a sample of iSoftBet slots organized by their volatility.
| | | |
| --- | --- | --- |
| Low Volatility Slots | Medium Volatility Slots | High Volatility Slots |
| Book of Immortals | Golden Gallina | The Ruby |
| Raging Reindeer | Phantasmic Fortunes | Euphoria |
| Gold Digger Megaways | Crabbin Crazy2 | Treasure Chests |
iSoftBet games are created using JavaScript and HTML5 coding languages. These are the most mobile-friendly coding languages. It means that you'll have a smooth experience when playing the providers games, whether you're doing it on an iOS or Android device. The audio, video and overall gameplay translate beautifully from the PC to the mobile device.
iSoftBet has come a long way since it was founded in 2010. They've managed to stay in the game and expand to multiple markets across the globe, all thanks to their business growth strategy, and willingness to go into mutually beneficial partnership. Their game portfolio has over the years set itself apart from what other providers have, which explains their presence in all top online casinos. The acquisition by IGT is poised to give the company an even wider audience for their games across the globe, and push their profit margins through the roof. This translates to bigger bonuses and promotions for players who choose the provider's games in online casinos.
In this section, Millicent Ngugi will address your inquiries and the most common questions regarding iSoftBet and offer guidance to newcomers in the field. Feel free to submit your questions through our contact form, and we will strive to respond within 48 hours.
Are There Free Spins or Bonus Rounds in iSoftBet slots?
Yes, free spins and bonus rounds are among the most rewarding features by the game provider. You'll find this feature in almost all their slots.
What Are the Wagering Limits for iSoftBet Slots?
The least amount you can wager is $0.20 while the maximum is $20.
Can I Play iSoftBet Slots for Free in Demo Mode?
Yes, all of iSoftBet's slots come with a free demo version and about 1000 demo coins to play around with. You can spin the reels and understand the gameplay before playing with real money or crypto.
Is iSoftBet Slots Fair and Random?
The provider uses RNG technology to ensure their games are determined by an independent and immutable algorithm.
How can I make money from iSoftBet?
You can register in any casino that offers their games and play for money or crypto. They also have an affiliate program for casinos and individuals who can promote their games and get new players to register.