stake
Minimum Stake: 0,20
Maximum Stake: 100
supplier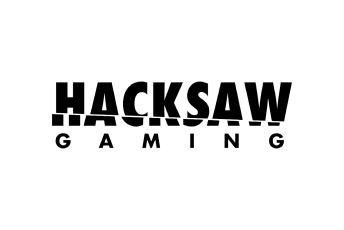 Where to Play Chaos Crew?
Casino
Bonus
Features
Payments
Banking
Licenses
$500 or 5 BTC + 180 FS
Live Casino
Generous welcome bonus
Large selection of games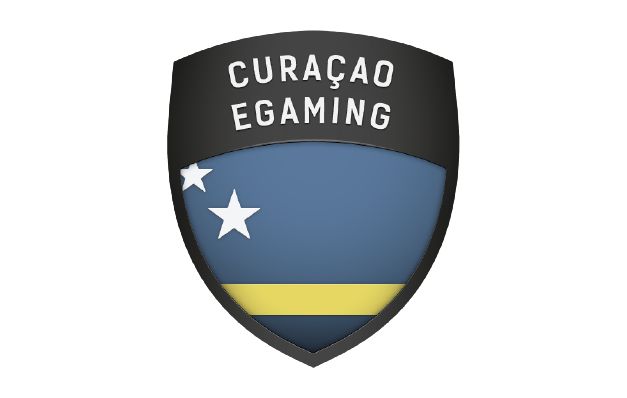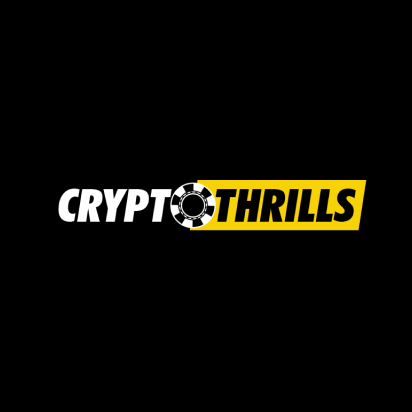 599% up to 1,000 mBTC & 59 Free Spins
Impressive range of bonuses
Crypto Casino
Strategy guides
Up to 200$ Deposit Match in the currency of your 1st deposit
Excellent on mobile
No KYC needed
Fast transactions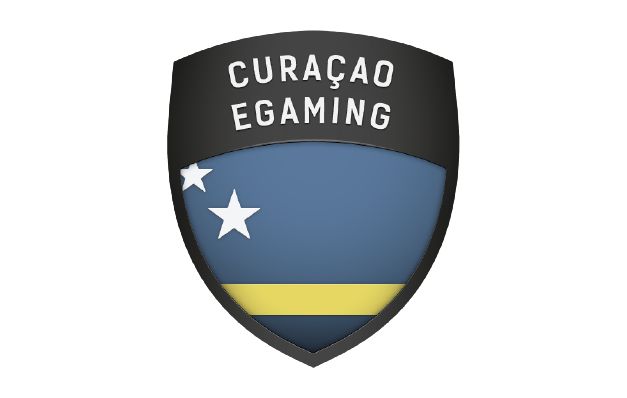 Chaos Crew Slot: Overview
Chaos Crew is a highly volatile online slot game with a retro-futuristic graffiti and zombie theme. It features a 5×5 grid and includes regular wild symbols and special multiplier wild symbols. The game offers a free spins feature triggered by landing bonus symbols, with the number of spins based on the number of bonus symbols. Hackshaw Gaming designed Chaos Crew as a more recent crypto-enabled slot game with a significant win potential, often reaching high payouts. More pertinent details about the game are discussed in subsequent sections. Read on!
How to Play Chaos Crew with Crypto?
Chaos Crew is relatively one of the more recent crypto-enabled slot games. Because of its novelty, players may assume they will have trouble navigating the game and its crypto-enabled feature. However, playing the slot game with crypto will be much easier for players who follow the simple steps outlined below:
Step 1: Find an online casino that accepts cryptocurrency as a payment method and offers the Chaos Crew slot game.
Step 2: Sign up for an account at the preferred crypto casino.
Step 3: Navigate to the deposit section, select a preferred cryptocurrency, and generate a unique wallet address.
Step 4: Use a personal cryptocurrency wallet or exchange account to transfer the desired amount of crypto to the provided wallet address.
Step 5: Search for the Chaos Crew slot game in the preferred casino's game library.
Step 7: Adjust the bet amount according to your preference.
Step 8: Click the spin button to start the game.
Players can expect a user-friendly interface designed to cater to their needs when playing the Chaos Crew slot game with cryptocurrency. The game controls and interface are optimized to ensure a seamless and enjoyable gaming experience. These include:
Coin Selection: Players can easily choose their preferred cryptocurrency for betting
Bet Size: Players can easily adjust the bet size by using buttons or sliders to increase or decrease the amount of cryptocurrency to wager per spin.
Balance and Winnings Display: The interface typically includes a display of a player's current balance, showing the amount of cryptocurrency they have available for betting.
Playing the slot with cryptocurrency offers several advantages and unique features that enhance the gaming experience. These include:
Enhanced Privacy: Cryptocurrency transactions provide a higher privacy level than traditional payment methods. When with crypto, players enjoy an additional layer of anonymity, as their personal and financial information is not directly linked to the transaction.
Faster Transactions: Cryptocurrency transactions are generally faster than traditional banking methods. Deposits and withdrawals can be processed almost instantly, allowing players to start playing the slot game without delay and access their winnings promptly.
Global Accessibility: Cryptocurrencies are borderless, making them accessible to players worldwide. Players can access the slot with crypto anywhere, regardless of location or local currency restrictions.
Note: Specific steps and details may vary depending on the player's preferred crypto casino platform. It's crucial for players to always refer to the casino's instructions and guidelines for depositing, playing, and withdrawing funds. Players should also comply with local laws or regulations regarding online gambling and cryptocurrency usage.
What Cryptocurrencies are Acceptable?
The acceptable cryptocurrencies for playing Chaos Crew may vary depending on the player's preferred online casino or platform. Here is a list, however, of popular cryptocurrencies commonly accepted by online casinos that support Chaos Crew Slot games;
Bitcoin (BTC)
Ethereum (ETH)
Litecoin (LTC)
Bitcoin Cash (BCH)
Ripple (XRP)
Dogecoin (DOGE)
Cardano (ADA)
Stellar (XLM)
Tron (TRX)
EOS (EOS)
Note: Players should confirm the deposit and withdrawal options provided by their preferred casino to determine which cryptocurrencies they accept for playing Chaos Crew.
Chaos Crew Slot RTP, Details & Wager Limits
The Chaos Crew slot game offers a Return to Player (RTP) of 96.3%, higher than the average RTP of 96% for slots. However, there is also a version with an RTP of 92.4%, so players must verify the RTP at their preferred casino site before playing.
Chaos Crew is characterized by its very high volatility, rated at 5 out of 5. The hit frequency is 23.4%, indicating that, on average, a winning combination will appear every 4.27 spins.
Players can wager anywhere between 20p and £100 for each spin in the slot game. In the UK, players must use the Bet button to the left of the main Spin button. However, players outside the UK can access an Autoplay function that allows up to 1,000 auto-spins, with options for loss, single win, and feature limits. Additionally, players can activate Turbo Mode for faster spins.
Regarding payouts, the slot game can potentially reward players up to 10,000 times their total bet. This impressive payout can be achieved through the Free Spins feature.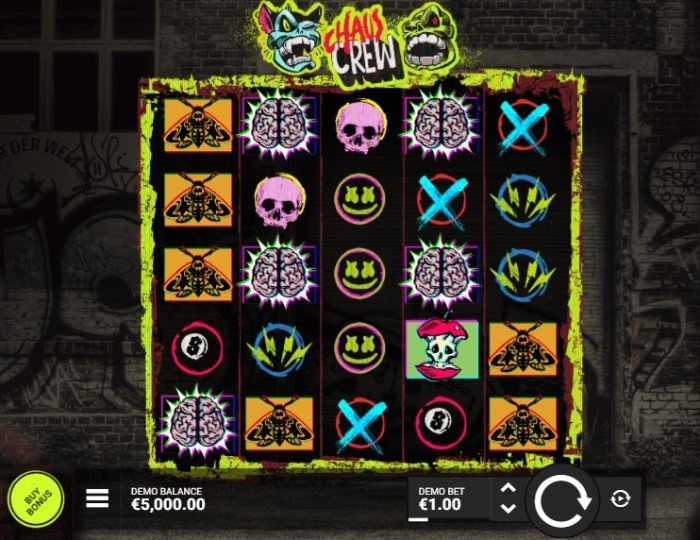 The Chaos Crew slot game features a unique and visually appealing theme with distinct graphics. The game combines retro-futurism and urban zombie graffiti, creating an edgy and vibrant atmosphere. The game takes place in a gritty cityscape, where the chaotic crew of characters roams the streets.
The visual style revolves around a fusion of cartoon and comic elements, drawing inspiration from beloved punk themes. The backdrop depicts a brick alleyway or street adorned with graffiti. At the same time, the slot showcases symbols that burst with vivid colors, including skulls, the iconic yellow smiley faces, an 8 ball, brains, a moth with a skull-shaped head, and an abundance of skulls.
The bonus symbols in the game represent the eccentric main characters known as the Chaos Crew. This crew comprises Cranky, a feline sidekick, and Sketchy, another sentient skull, each contributing their distinctive charm to the gameplay experience.
In the captivating bonus round of Chaos Crew, the symbols adorning the reels take on a subdued gray graffiti style. These symbols bear the words "nope," "dead," "false," and "no," serving as a striking contrast to the vibrant Chaos Crew duo, who not only act as special symbols but also function as multipliers. Players are rewarded with an exhilarating cascade of Punk rock badges as the bonus round climaxes, symbolizing a substantial win achieved through the combined multipliers.
Chaos Crew's theme and graphics undoubtedly provide an immersive experience in a dynamic urban setting, combining retro elements with a modern and artistic twist.
Chaos Crew showcases the exceptional talent of Hacksaw Gaming at its finest, representing innovation, a touch of edginess, and a level of perfection that players can truly appreciate. The design of the slot game is visually captivating, drawing inspiration from graffiti art and incorporating it into its distinctive style. The game bursts with bold and vibrant colors, intricate details, and dynamic animations that bring the reels to life. The symbols on the reels are meticulously crafted, exhibiting a visual distinctiveness that captures the essence of the urban and retro-futuristic theme. Overall, the design elements work harmoniously to create an energetic and chaotic atmosphere, immersing players in an unforgettable experience.
The audio in Chaos Crew seamlessly complements the gameplay and theme. The background music sets the tone with its high-tempo and upbeat composition, delivering a lively and engaging vibe. Accompanying the smooth animations are satisfying sound effects accompanying each winning combination on the reels, creating a sense of excitement. Additionally, the music evolves from gentle piano melodies into an electric banger as soon as players commence spinning, enhancing the thrill of the game. Sound effects are strategically employed to heighten the spinning of the reels, the formation of winning combinations, and the activation of bonus features.
The combination of the visually appealing design and meticulously crafted audio elements in the slot aims to provide players with an immersive, engaging, and thoroughly entertaining slot game experience that perfectly aligns with its unique and captivating theme.
The symbols in the Chaos Crew Slot have been thoughtfully crafted to align perfectly with the game's urban graffiti theme, adding to the overall aesthetic appeal. Positioned above the reels, Cranky and Sketchy create a captivating contrast against the dark backdrop, allowing the 5×5 grid to shine. The symbols themselves boast a tattoo/graffiti style, showcasing the remarkable creativity of Hacksaw Gaming in delivering a truly unique game.
Among the symbols, players will encounter an array of intriguing icons such as 8-balls, skulls, smiley faces, crosses, lightning bolts, moths, brains, apple cores, and tentacles. The tentacle symbol holds the highest value, granting generous rewards of 2, 7, or 12 times your total bet for combinations of 3, 4, or 5 symbols, respectively.
In addition to the diverse range of symbols is the wild symbol, capable of substituting for all base game symbols except the Free Spin scatter symbol. The wild symbol also introduces an element of excitement, as it can possess a mystery multiplier of up to 5x during the base game and an impressive 20x during the free spins feature. This further enhances the potential for thrilling wins and adds an element of unpredictability to the gameplay.
Payouts/Info
8-ball-symbol – 3, 4 or 5 = 0.15, 0.3 or 1 x stake
skull-symbol – 3, 4 or 5 = 0.15, 0.3 or 1 x stake
smiley-face-symbol – 3, 4 or 5 = 0.15, 0.3 or 1 x stake
cross-symbol – 3, 4 or 5 = 0.15, 0.3 or 1 x stake
lightning-bolts-symbol – 3, 4 or 5 = 0.15, 0.3 or 1 x stake
moth-symbol – 3, 4 or 5 = 1, 2 or 5 x stake
brain-symbol – 3, 4 or 5 = 1, 2 or 5 x stake
apple-core-symbol – 3, 4 or 5 = 1, 2 or 5 x stake
tentacle-symbol – 3, 4 or 5 = 2, 7 or 12 x stake
cranky-cat-wild-symbol – Substitutes for all above + can have multipliers up to 5x
free-spin-scatter-symbol – 3 triggers Free Spins feature
Cranky Cat
Cranky, the main character, is a cranky-looking cat, representing the central theme of Chaos Crew. It is the game's highest-paying symbol, often associated with big wins. It multiplies the number on the current reel by 2x, 3x, 5x, 10x, or 20x.
Free Spins
Free Spins can unlock a special feature in the game by granting a certain number of free spins without wagering additional credits. During the Free Spins round, the game may introduce additional bonuses, such as multipliers or special symbols, to enhance a player's winning potential. It multiplies the number on all reels by 2x, 3x, 5x, 10x, or 20x.
The Sketchy Skull
The Sketchy Skull can replace other symbols to create or enhance winning pay lines. It adds +1, +2, +5, +10, or +20 to the current reel's multiplier.
The Epic Sketchy Skull
The Epic Sketchy Skull, similar to the Sketchy Skull, adds the number inside +1, +2, +5, +10, or +20 to all reel multipliers.
List of non-winning symbols
Non-winning symbols on Chaos Crew are "No," "False," "Dead," "No," and "Nope."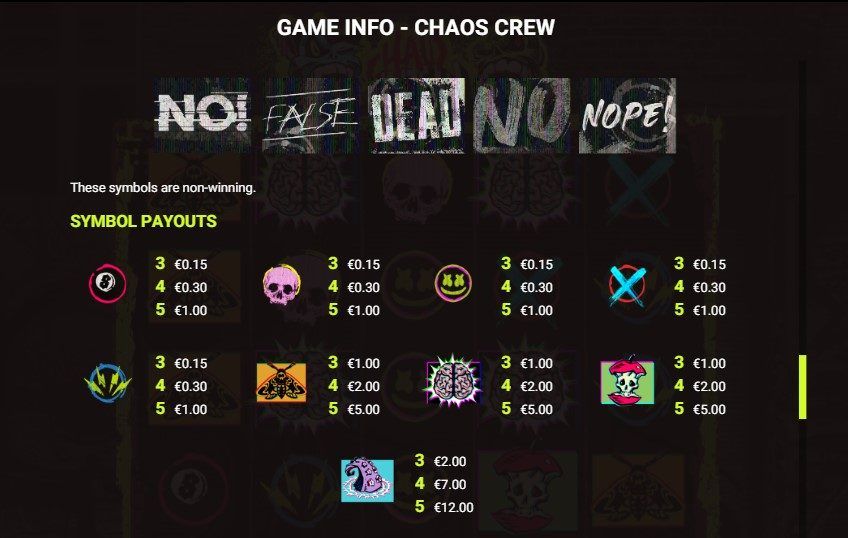 Chaos Crew Slot is known for its high volatility; hence, it is rated 5/5 on the volatility scale. Here's how the high volatility level of Chaos Crew Slot can impact gameplay and potential winnings:
Winning Frequency: Due to the high volatility, winning combinations may not occur as frequently as in medium or low-volatility games. Players may experience long periods without significant wins, requiring patience and a larger bankroll to sustain gameplay.
Streaks and Dry Spells: High volatility slots like Chaos Crew can exhibit streaks or dry spells. This means that players may encounter periods of consecutive wins or losses. During a winning streak, multiple sizable wins can occur in a short period, generating excitement. Conversely, a dry spell can consist of multiple non-winning spins in succession, which may require persistence and bankroll management to navigate.
Larger Payouts: When wins do occur in Chaos Crew Slot, they have the potential to be substantial. High volatility slots often offer the chance to win significant amounts, sometimes even reaching thousands of times the initial bet. The potential for bigger wins adds excitement and thrill to the gameplay.
Varied Bet Sizes: High volatility slots like Chaos Crew accommodate a wide range of bet sizes, allowing players to adjust their bets based on risk tolerance and bankroll. This flexibility will enable players to adapt their strategy according to their preferences.
Bonus Features: High Chaos Crew slots include bonus features, such as free spins or multipliers, which can contribute to larger wins. These features provide additional opportunities for players to maximize their winnings.
Note:
High volatility slots, including Chaos Crew, can be more suitable for players who enjoy the anticipation of big wins and are willing to tolerate more extended periods without significant payouts.
The volatility of the slot can lead to unpredictable and varied outcomes as spin is determined by random number generators.
Specific gameplay experiences may also vary from player to player, as luck and random chance play significant roles in determining individual outcomes.
Chaos Crew, utilizing HTML5 technology, was launched in September 2020. This means the slot game is compatible with mobile devices, offering an optimized and enjoyable gaming experience on smartphones and tablets. It is compatible with both iOS and Android platforms, making it accessible to a wide range of mobile users.
The game features a responsive design that automatically adjusts to fit the screen size and resolution of various mobile devices. This ensures that the graphics, symbols, and user interface elements are displayed optimally for an immersive and visually appealing experience.
Chaos Crew is designed with touch controls in mind, enabling players to interact with the game using intuitive gestures such as tapping, swiping, and pinching. Players can easily spin the reels, adjust their bet size, and access the game's settings and features with a few simple touches on the screen. Players can expect vibrant visuals, detailed symbols, and smooth animations on their mobile screens.
Playing the slot game on mobile devices offers the convenience of on-the-go gaming. Players can enjoy the game anytime and anywhere if they have an internet connection and a compatible mobile device. This accessibility allows for flexibility in gameplay and the ability to fit gaming sessions into a busy lifestyle.
Pros
The upside of high volatility
Engaging theme and graphics
Bonus features
Crypto compatibility
Mobile compatibility
Cons
The downside of high volatility
This Chaos Crew review has deduced that this online slot game with a retro-futuristic graffiti and zombie theme offers a good slot. It features a 5×5 grid, and regular and wild multiplier symbols are unique features that make it stand out. Another significant advantage of Chaos Crew is that players can use cryptocurrencies to play the game, with popular options including Bitcoin and Ethereum.
The Chaos Crew slot has high volatility and prospects of substantial payouts. Its RTP of 96.3% permits extended wagering limits between 20p and £100 per spin. The visuals and audio create an immersive experience, and the game is optimized for mobile devices.
Are there free spins or bonus rounds?
Yes. The Free Spins feature in the slot begins with an initial count of 3 free spins. Each special symbol encountered during the feature resets the count back to 3. These special symbols can enhance or multiply the bet multipliers above the reels. Once the free spins round concludes, the accumulated sum of the bet multipliers is tallied, offering a potential total win of up to 10,000 times the original bet amount.
What are the wagering limits?
Wagering Limits are from 20p to £100 per spin
Can I play for free in demo mode?
Yes, the Chaos Crew Demo version is available for free. You can use the link under the Chaos Crew Demo to access this free Demo mode.
Is Chaos Crew Slot fair and random?
Yes, Hacksaw Gaming ensures that Chaos Crew is fair and random by employing random number generators (RNGs) to ensure the fairness and randomness of the game outcomes.