With eSports being one of the fastest growing areas for bettors, it's no surprise it can be difficult to pick the best site. Many players can find it confusing when selecting a betting site, especially as each site promises a high-quality experience. We've collated the best esports betting sites. Look at our selection to find the right website for each situation.
Pros
Great choice of eSports and traditional sports
Good range of bonuses and promotions
Withdrawals are instant
Betting markets are some of the best around
Cons
KYC is a requirement
Stake charges fees on withdrawals
| Crypto Bonus | Wagering Requirements | Minimum Deposit | Number of Crypto |
| --- | --- | --- | --- |
| 200% matched deposit up to $1,000 | 40x | $100 | BTC, ETH, LTC, TRX, XRP, DOGE, BCH, USDT |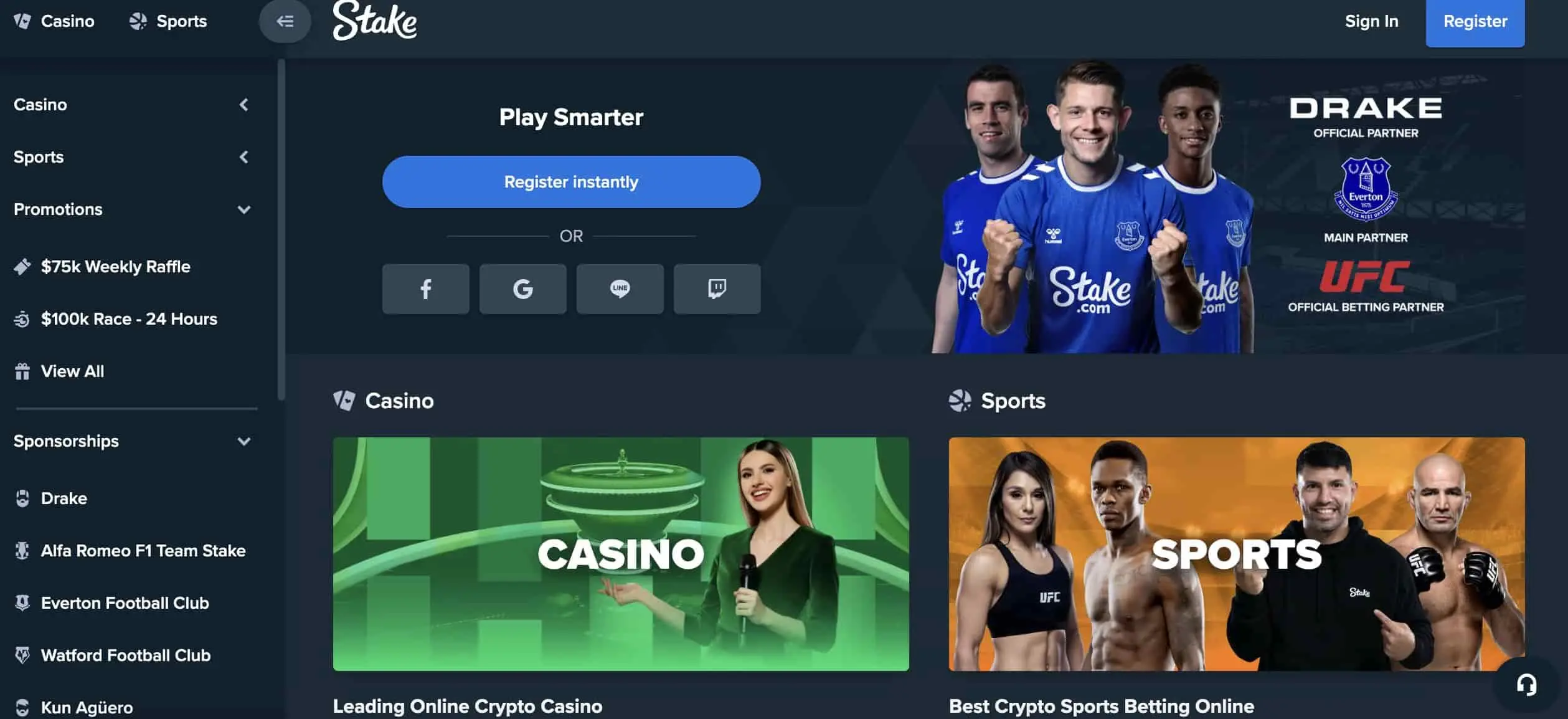 | Crypto Bonus | Wagering Requirements | Minimum Deposit | Number of Crypto |
| --- | --- | --- | --- |
| 100% up to 5 BTC | Unlocked over time | 0.001 BTC | BTC, ETH, LTC, XRP. USDT and 30+ cryptocurrencies |
Pros
The eSport and sport choice is comprehensive
One of the best wagering systems around
Instant withdrawals
Massive choice of cryptos available
Cons
Players have to go through KYC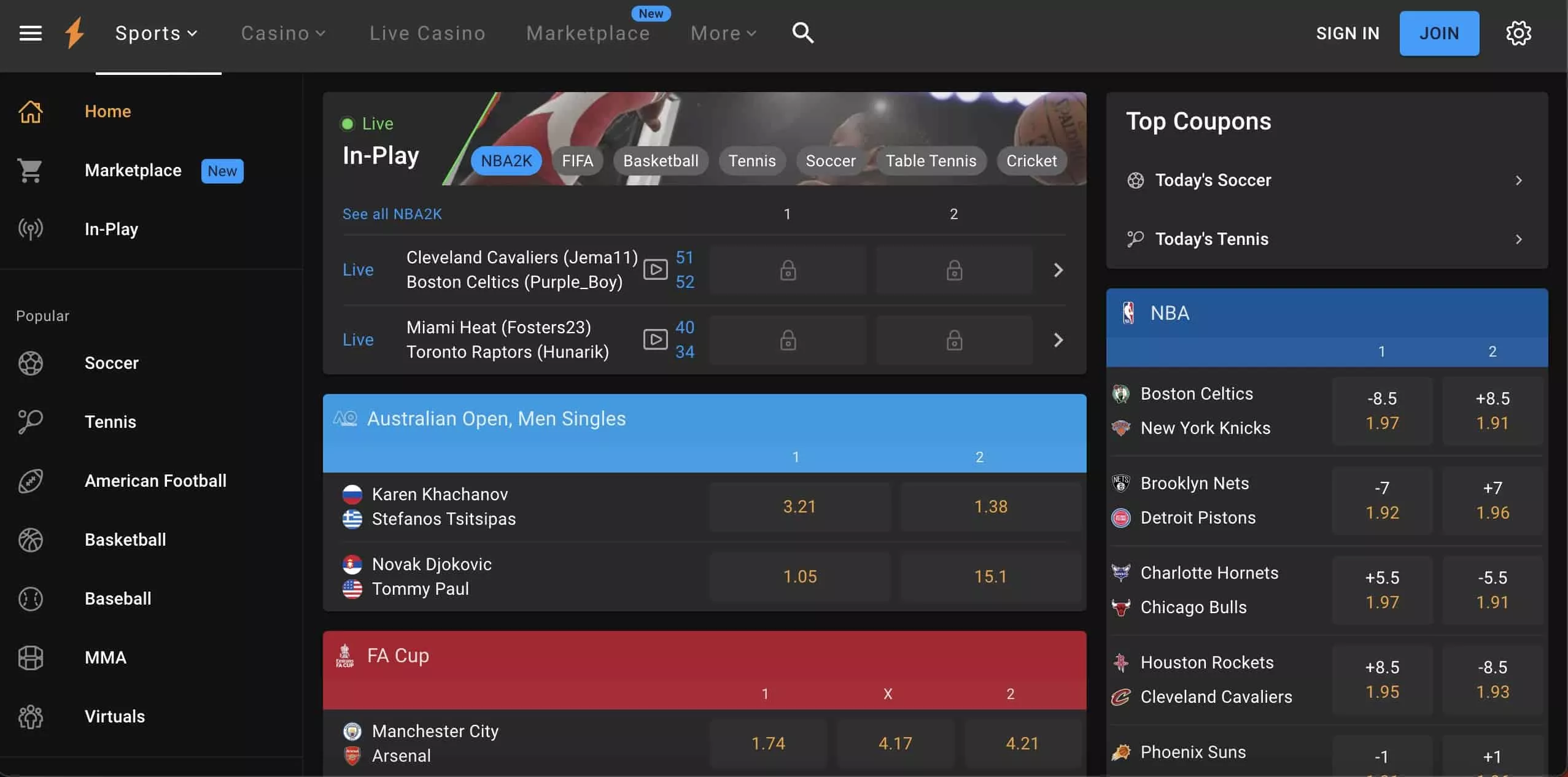 | Crypto Bonus | Wagering Requirements | Minimum Deposit | Number of Crypto |
| --- | --- | --- | --- |
| Up to 6 BTC and 250 free spins | 30x | 0.001 BTC | BTC, ETH, MATIC, LTC, BNB, BUSD, USDC, USDT, XDG, DASH, TRX, ZEC |
Pros
Top-class bonuses
A no-deposit bonus is available
Players have an excellent choice of eSport events
Instant withdrawals on crypto
Cons
Players don't have the option to play with fiat

| Crypto Bonus | Wagering Requirements | Minimum Deposit | Number of Crypto |
| --- | --- | --- | --- |
| 250% matched deposit up to $1,500 | 30x | $20 | BTC, LTC, ETH, XRP, DASH, XMR, USDT, BCH, BUSD, SOL, DOGE, BNB, USDC, TRX |
Pros
Superb eSport, sports, and virtual sports selections
Fantastic matched bonus
Low wagering requirements
Lots of betting markets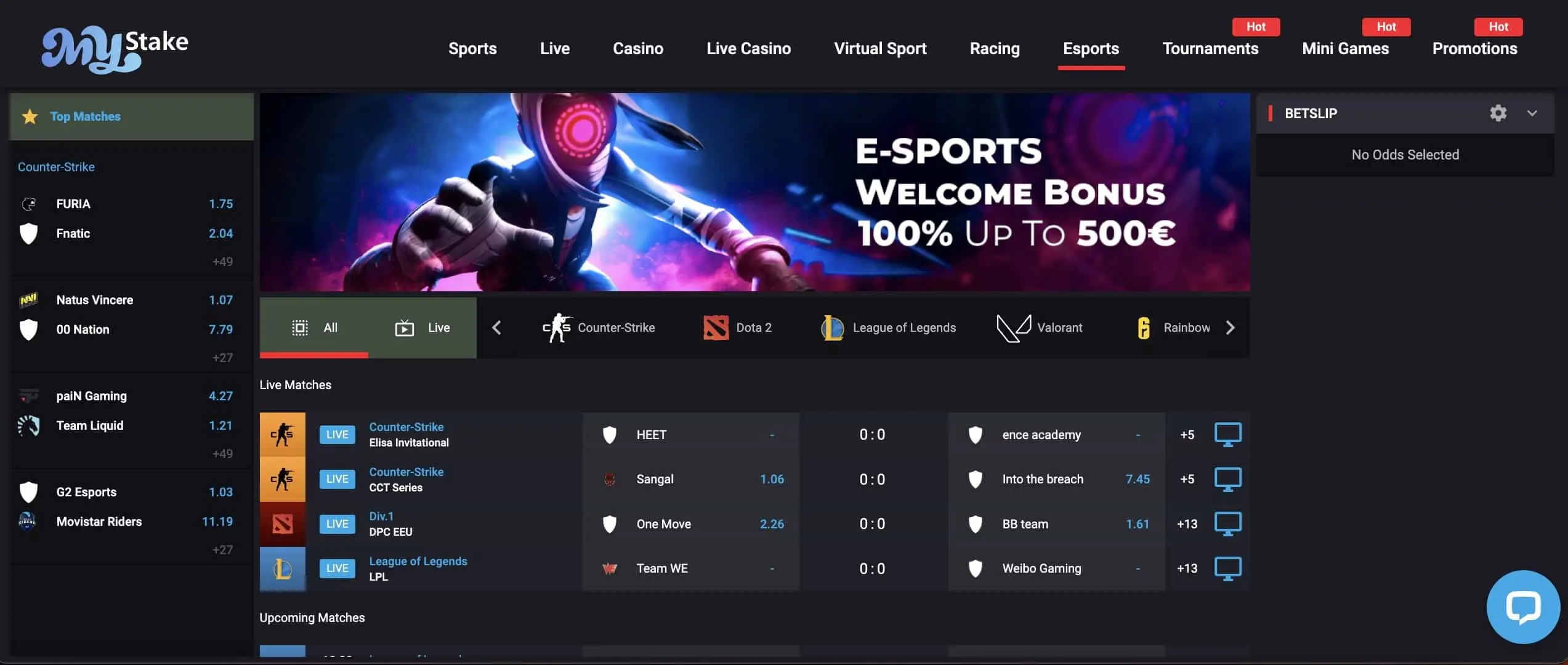 | Crypto Bonus | Wagering Requirements | Minimum Deposit | Number of Crypto |
| --- | --- | --- | --- |
| 100% matched bet up to $500 and $20 in free bets | Players unlock the bonus as they play | 0.0005 BTC | BTC, BCH, ETH, LTC, DOGE, USDT, XRP, TRX, BNB, USDC |
Pros
Lots of free bets available in the welcome bonus
High-quality sports selection
Lots of markets allowing for bet variety
Huge withdrawal limits
Cons
Players may have to go through KYC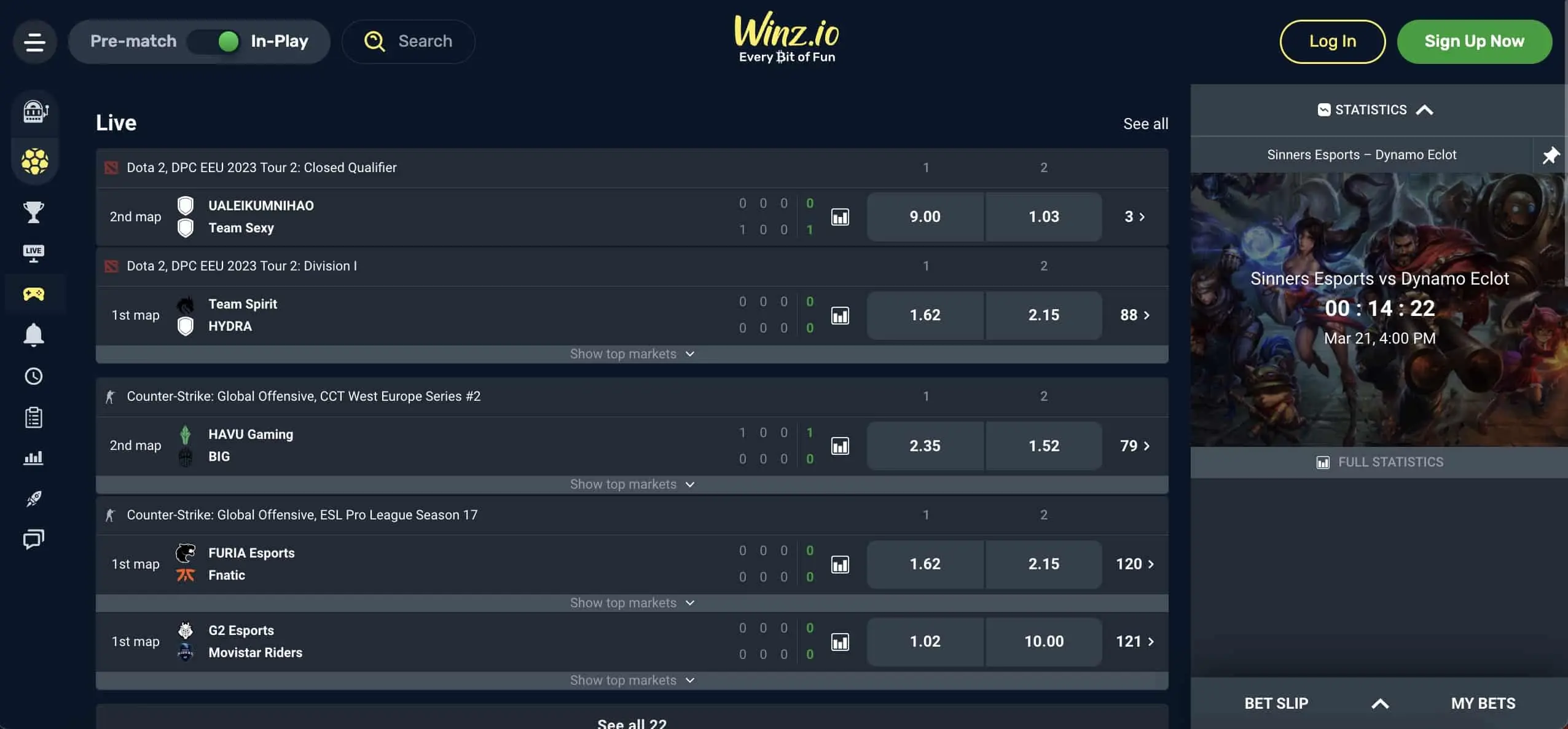 | Crypto Bonus | Wagering Requirements | Minimum Deposit | Number of Crypto |
| --- | --- | --- | --- |
| 100% matched bet up to $3,000 | 30x | $20 | BTC, AVAX, BNB, BCH, ADA, DOGE, ETH, LTC, MATIC, XRP, SHIB, SOL, XLM, USDT, TRX, USDC |
Pros
Lots of regular reload bonuses
Excellent welcome bonus
Great eSports options
Low wagering requirements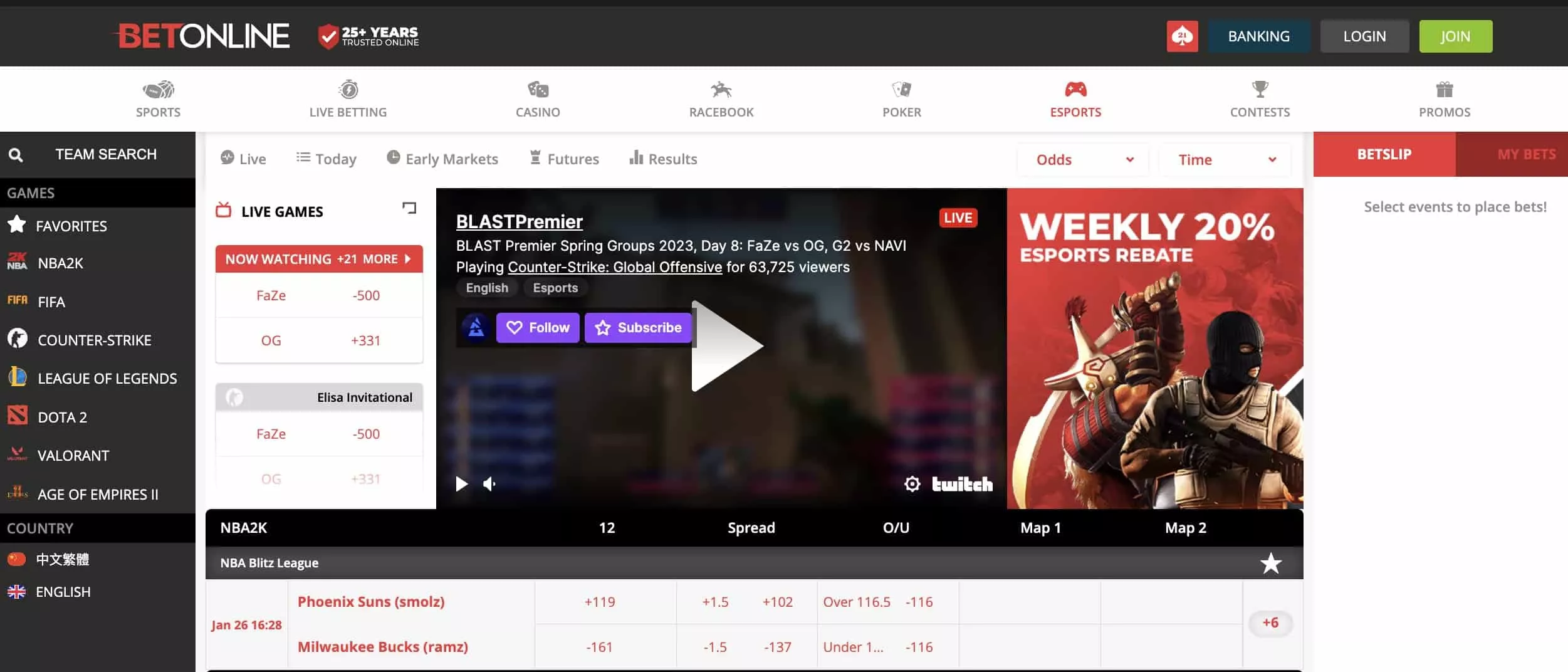 | Crypto Bonus | Wagering Requirements | Minimum Deposit | Number of Crypto |
| --- | --- | --- | --- |
| Daily wheel spin up to 1 BTC | N/A | $10 made within 20 minutes of account creation | BTC, ETH, DOGE, DOT, XRP, ADA, TRX, BNB, AVAX, SOL, MATIC, ARB, OP, CRO, FTM, RUNE, ATOM, NEAR |
Pros
Up to 1 BTC daily with the bonus wheel
No wagering requirements on bonuses
Excellent eSports betting options
Incredible VIP program
Cons
No bonuses specific to sports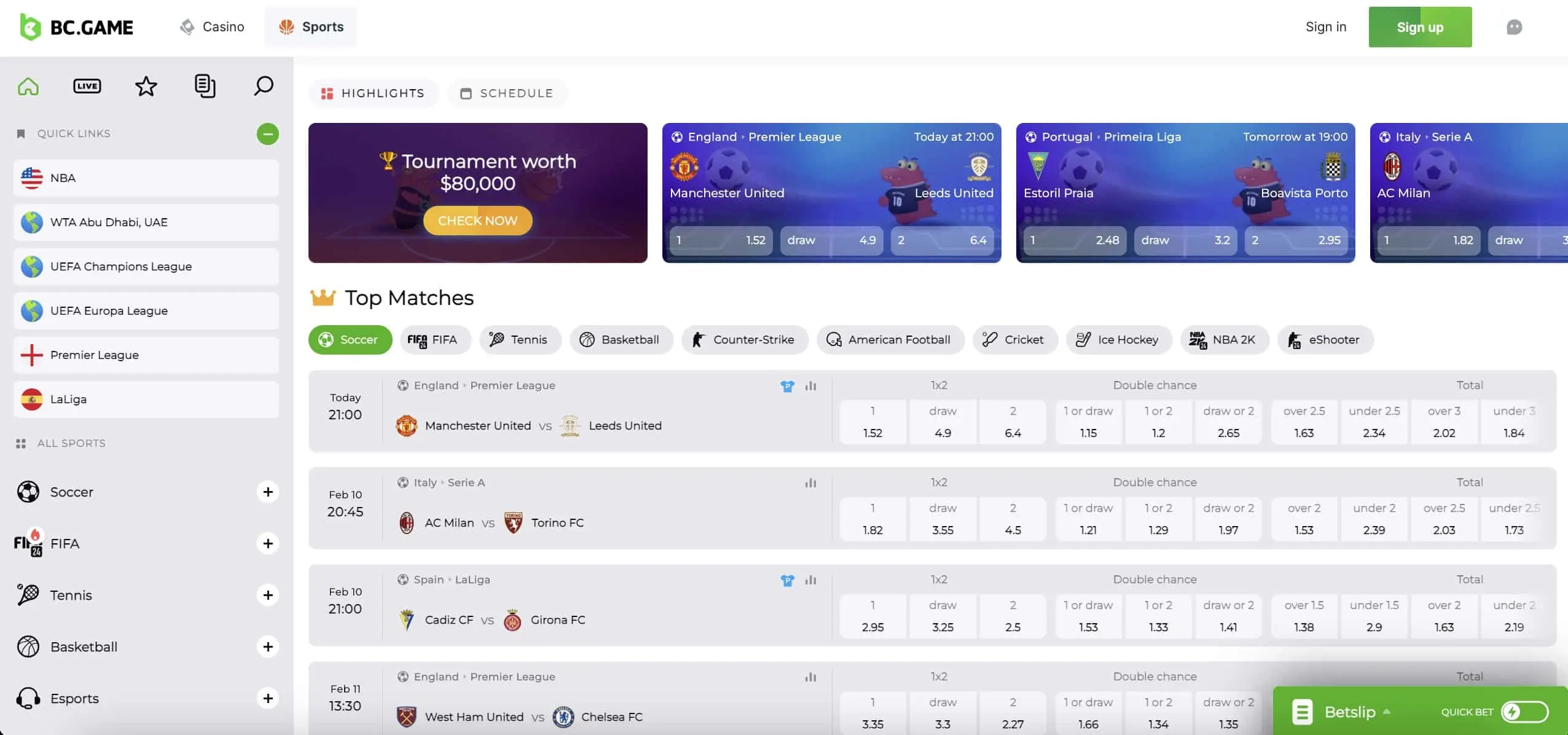 | Crypto Bonus | Wagering Requirements | Minimum Deposit | Number of Crypto |
| --- | --- | --- | --- |
| 100% up to $200 and 300 free spins | 40x | $€10 | BTC, ETH, USDT, LTC, XRP, DOGE, ADA, TRX, BCH |
Pros
Plenty of provably fair choices
No KYC when signing up
Great choice of eSports markets
Excellent welcome bonus
Cons
7 days to complete welcome bonus wagering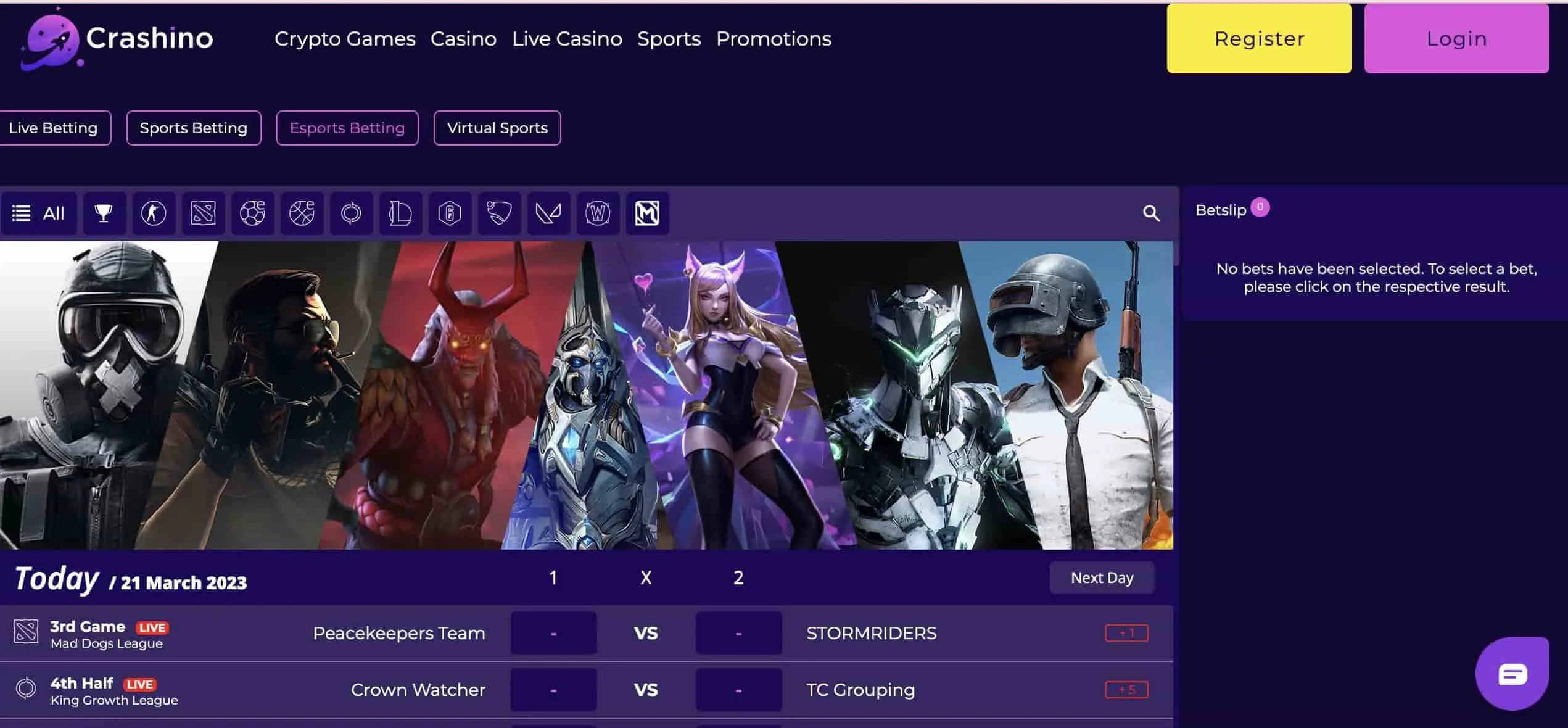 | Crypto Bonus | Wagering Requirements | Minimum Deposit | Number of Crypto |
| --- | --- | --- | --- |
| No welcome bonus | N/A | 0.0001 BTC | BTC, ETH, LTC, USDT + 25 cryptocurrencies |
Pros
Great VIP program
Top-class selection of eSports and standard sports
Entries into the hourly lottery
Withdrawals don't have any fees
Cons
Doesn't feature a welcome bonus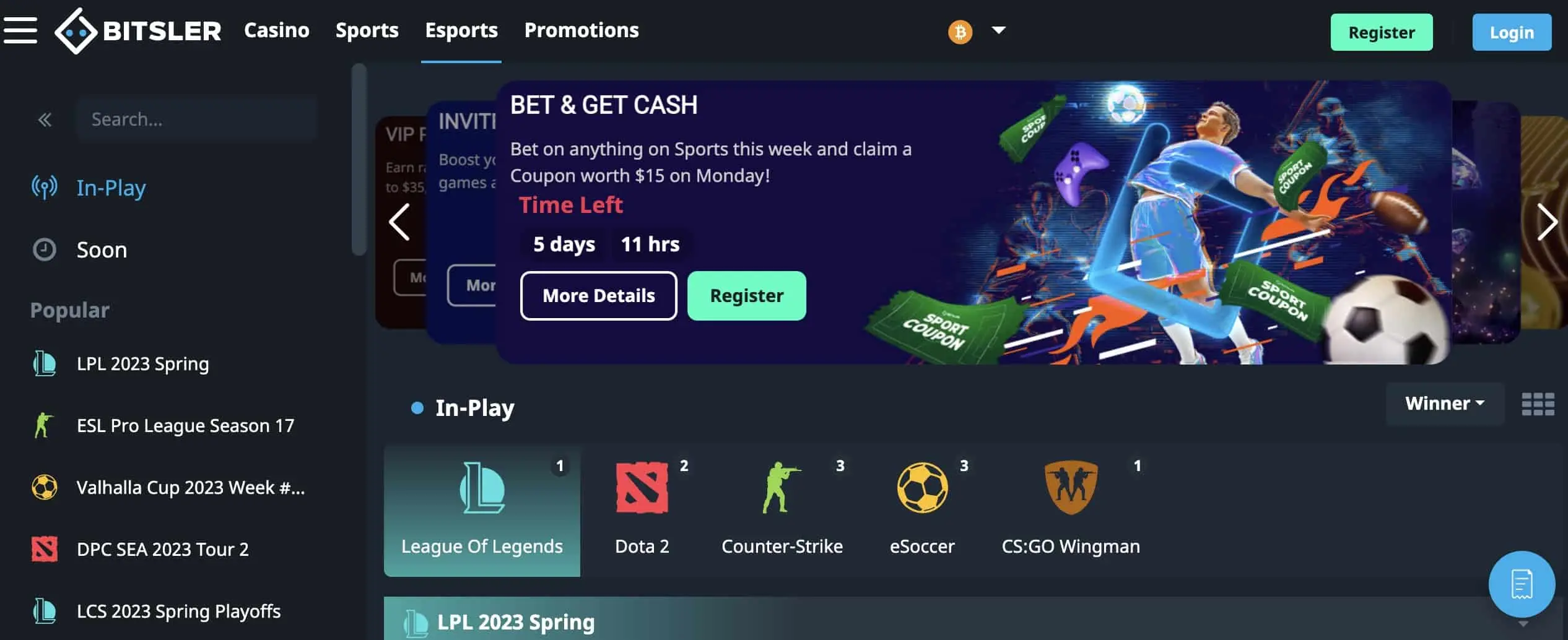 What is eSports BTC Betting?
eSports Bitcoin betting is precisely what the name suggests. Players can bet on different eSports events using cryptocurrency as their stake. Different sites will offer various cryptocurrencies, but the common denominator is crypto funding the bets.
While eSports is still a niche betting option to the broader public, it's seen significant growth within the crypto world. Part of this is due to crypto being an early adopter of eSports. In addition, many traditional sportsbooks ignored the potential of eSports for a long time. As a result, crypto sportsbooks have a higher takeup of crypto bettors for eSports. The statistics back this up, as economists predict the market to grow from $1.22 billion in 2021 to $5.48 billion by 2029.
It's almost the perfect marriage of two industries when discussing eSports and cryptocurrency. Moreover, because both are growing industries, there's a lot of room for expansion. eSports first saw support from crypto sportsbooks, which went a long way to providing some legitimacy. Many esports bookmakers were unwilling to offer eSports betting initially due to mistrust. As the crypto community has seen similar, unfair treatment, it made sense for crypto sportsbooks to help facilitate growth.
With both industries thriving, it was a sensible choice for crypto sportsbooks to provide it. With crypto and eSports both making their way to traditional betting sites, the mutual benefits are clear.
Crypto vs. Traditional Betting
eSports betting is a type of gambling where punters place bets on competitive online computer sports events such as League of Legends, Valorant, or DOTA 2. Crypto esports betting is the next step in adopting crypto in gambling, but it is still a relatively new development. That being said, not many people know much about it, how it works and how it differs from traditional eSports betting. 
The most significant difference between eSports crypto betting and traditional is the currency used. The former uses cryptocurrencies, while the latter uses conventional currencies like Dollars or Euros.
No chargebacks 
Players can sometimes be sneaky and make a chargeback if the outcome of the game is not in their favor. With crypto eSports gambling, you can't request a chargeback to your card. All crypto transactions are permanently stored on the blockchain. Once you've placed a bet, the smart contract is executed, and the payment is final.
Stable Currency 
One of the biggest drawbacks of cryptocurrencies is the volatility of their values. The value of cryptocurrencies is constantly changing. While this change can benefit you, it leads to losing the value of your bet. Considering the drop in crypto tokens, your winnings after a bet will be lower than they were before the bet or too low to be worth it. In traditional, the value of a bet is stable, and even if changes occur, they aren't significant enough to impact the end value of your bet.
Bonuses and Reward 
The former always offers players more bonuses and rewards. That's because cryptocurrency transactions don't require a lot of money to process, which leaves some extra money for the betting sites. They give out some percentage of this money as bonuses and promotions. 
Regional Restrictions 
Gambling has its regional restrictions as some countries consider it illegal to gamble. Sites restrict players from these regions because of these laws. If a site notes that your IP address or bank is situated in one of these regions where they are operating under the radar, players in a specific country will not be able to place bets on eSports games. In traditional betting, it's easy for sites to make these decisions because of the currency and payment methods. It isn't so for crypto. Players can bet anonymously and not be included in national or local regulations.
Transaction Fees 
Traditional websites spend a lot of money on transaction fees. This is because there are transfer protocols that they have to follow, which lead to high transaction fees. There are little to no transaction fees for cryptocurrencies since all transfers take place on the blockchain. Therefore, players only have to pay a network fee rather than a hefty banking processing fee.
Freedom
One of the benefits of eSports crypto wagering is anonymity and financial privacy. Unlike traditional websites where your transactions can be tracked, crypto eSports sites protect users' privacy from central authorities and provide anonymity.
Like any other type of betting, it has its peaks. So, before you jump in, take time to look at its benefits and risks.

6 Factors to Consider When Choosing Your Crypto eSports Betting Site
We've successfully narrowed down the long list of Bitcoin eSports betting sites to the best discussed above. The next step for you is to choose which one of these crypto esports betting sites you'd like to use. As good as they are, not all of them will suit your specific needs.
We've curated six essential factors to help you make the best choice:
Because crypto and eSports are both growth markets, they don't have full regulation yet. Part of the reason for this is due to the relative age of each form of betting. As a result, not all sportsbooks allow eSports or crypto. It doesn't mean there's no regulation for crypto eSports betting, it just means the regulation isn't as strict or widespread as standard sports betting. Players must ensure they only play at reliable sites with a high reputation to avoid safety and security issues. Our toplist is the best way to find sites with high levels of security and excellent reputations.
Each region will have rules as to whether betting on eSports is legal. While it wasn't widely legal initially, it's legal within most jurisdictions currently. US bettors will have to check the regulations within their state to ensure they can bet on eSports. People from UK, New Zealand, Australia, and Spain are all allowed to bet on eSports. There may be restrictions regarding access to some sites using cryptocurrencies in these regions. Before attempting to sign up for any crypto sportsbooks, it's essential to check access is available.
Which Cryptocurrencies can you Use to Gamble?
Essential Information on Bitcoin eSports Betting
Before you can start betting on any of the top cryptocurrency eSports wagering sites above, there is essential information you need to know. It's even more critical if you're a beginner.
How to Start With Bitcoin eSports Betting?
Here's a step-by-step walkthrough if you're not familiar with the process.
1. Purchasing Crypto
First things first for any betting in crypto is to purchase crypto. You can do this easily by using an exchange wallet that converts fiat currencies to cryptocurrencies. It's advisable to buy the more popular cryptocurrencies like BTC and ETH.
2. Depositing Crypto to Your Betting Account
Next up is to deposit crypto into your account. Follow the instructions on your preferred Bitcoin eSports betting site.
3. Betting on eSports Matches
Once you've deposited crypto into your account, the next step is to place bets. There are different types of bets, including prop bets, accumulators, and match-winner bets. Pick the one you want and follow the instructions to bet on your favorite eSports games.
4. Withdrawing Your Winnings in Crypto
So, you've won! Congratulations. Here's the stage where you withdraw your earnings. Each Bitcoin eSports betting site has a process for withdrawing. Read the instructions and follow them to get your money. You'll get paid in crypto, but if you'd like to convert to fiat currency, you can do it using the same crypto wallet you used at first.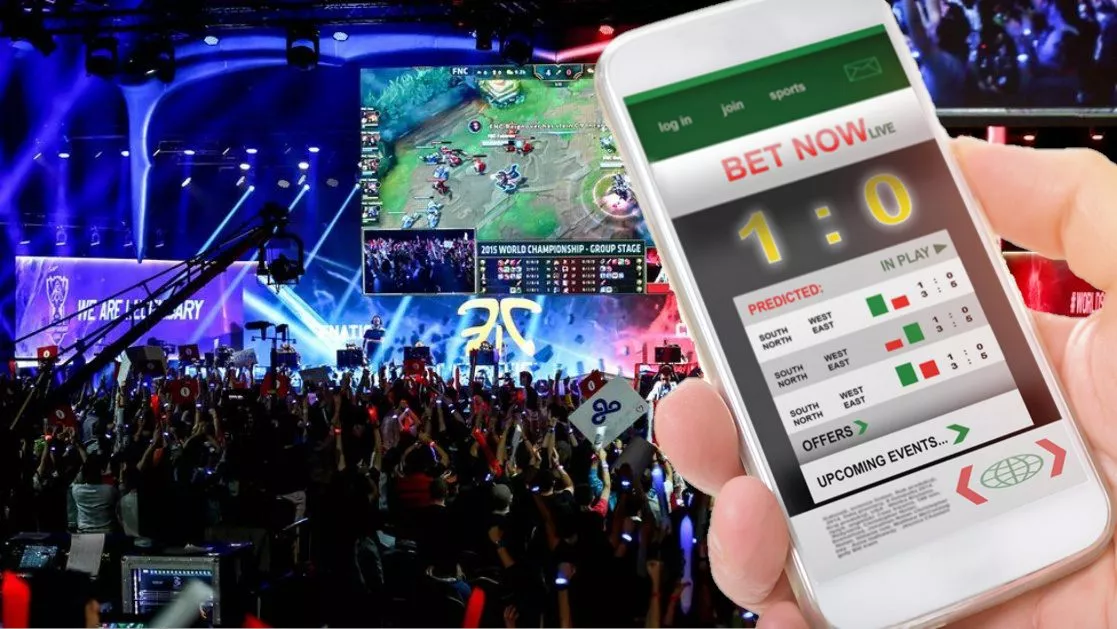 Types of eSports Bets Available 
There are different rules and tricks to live betting. Of course, you can always cross-check with the betting site of your choice to confirm the rules. But here are some universal tips for live eSports betting:
Research the teams playing before the game and watch their previous games. It'll give you an idea of how they play and their abilities. 
Be a member of eSports communities.
Be vigilant about teams trading their players.
Choose a website with a good reputation for eSports booking.
If you're new, you can be confused by the different types of eSports bets available, so here's a quick rundown of what is what.
Match Winner
This type of bet is placed to predict the winner of a game. The match-winner bet is one of the most popular bets on eSports bookmakers. It is openly vague, which allows you to win if you have a good idea of the team and player's abilities. While placing a match bet, look for favorable odds and play them. Note that the odds in a match-winner bet change as the game progresses to suit the player's abilities and how they fare.
Tournament Winner
The tournament winner bet is placed to predict the overall winner of the entire tournament. As a result, you stand to get a big payout if you can predict the winning team. Therefore, the odds for a tournament winner bet differ from the odds for a match-winner.
Proposition bets (Prop Bets)
A prop bet is a bet that you make to predict what will happen or not happen during the match. An example of a prop bet is a bet that predicts the game will go into overtime or won't get to overtime. If you bet the former and the game over time, you win. Prop Bets can be equally easy and tough to win, but knowing how each team plays can help you make more accurate bets.
Accumulator Bets
Accumulator bets are known as combination bets. This bet is made considering the outcome of more than one eSport game. Think of it as a combination of match-winner bets all tied together in such a way that if one match prediction is wrong, all the odds are canceled even if all the other bets are correct.
This bet is harder to win because it has a collection of odds from the different matches within the tournament. You can't win one of the matches. You either win all or lose all. When you make an accumulator bet, the odds are combined in a bet slip, and if you win, the payout is very generous.
Live eSports Betting
Live eSports betting is the newest development in crypto eSports betting. This feature allows users to wager on the outcome of eSports games as they are being played. Like regular sports betting, you can bet on live eSports games with cryptocurrencies. As more and more betting sites adopt cryptocurrencies into their operations, live eSports betting will be popular.
eSports is a growth industry in the betting world. As it's a relatively new sporting endeavor, it has a lot of catching up to do in relation to traditional sports. However, there are a lot of extremely popular events which are helping it to grow in popularity.
DOTA, Fortnite, FIFA, CS: Go, and LoL are some of the big players. What makes eSports so impressive is its ability to evolve. New games are constantly seeing releases, which means no game has the opportunity to become stale before something else takes over. It's part of the long-term appeal of eSports, as it can bring in new fans consistently.
As it grows in popularity, it's predicted to see massive levels of growth over the next five years. Economists expect a 21% yearly growth rate, leading to almost 5 times the annual revenue, between 2021 and 2029. As video games have become a mainstream hobby over the last decade, the upcoming generations will have more of an attachment to eSports than past generations. This will help to facilitate higher levels of growth.
The growth of Twitch streaming plays a big part in eSports popularity. It's possible betting sites to have their own streaming platforms in the future, which will help increase eSports's popularity and growth, especially if live betting becomes a more prominent aspect of the process.
Crypto Esports betting is new but already gaining popularity. If you're on the fence about trying out this new trend, you can take the plunge. Your identity and money is safe on any of the top websites reviewed above.
What is the best crypto eSports betting site?
Choosing the best eSports betting site is very difficult because it is a subjective decision. However, there are relatively subjective rankings for betting sites that uses cryptocurrencies, and from these rankings, the top betting site for crypto eSports is Stake.
Is crypto eSports betting legal?
It is legal to bet with cryptocurrencies just as it is legal to bet on eSports wagering sites using fiat currencies.
Is depositing and withdrawing faster with cryptocurrencies?
Yes. It is easier, faster, and cheaper than fiat currencies. Transaction fees are very low, and deposit confirmations are much quicker than when they are done with fiat currencies. Where banking transactions can take up to 24 to 48 hours for confirmation, crypto confirmation is in minutes.
Why should I use crypto eSports betting sites?
There are many benefits when comparing the crypto to the traditional betting sites. The biggest draw, however, is in the way transactions are carried out. With cryptocurrencies, transactions are relatively risk-free, fast, and cheaper.