Compare Sites for Crypto eSports Betting:

Bitcoin eSports Betting vs. Traditional eSports Betting
eSports betting is a type of gambling where gamblers place bets on competitive online computer sports events such as League of Legends, Valorant, or DOTA 2. Esports betting with bitcoin might have been the next expected step in adopting crypto in gambling, but it is still a relatively new development. That being said, not many people know much about it, how it works and how it differs from traditional eSports betting. 
The most significant difference between bitcoin eSports crypto betting and traditional eSports betting is the currency used. The former uses bitcoin and other cryptocurrencies, while the latter uses conventional currencies like dollars or euros.
No chargebacks 
Players can sometimes be sneaky and make a chargeback if the outcome of the game is not in their favor. With bitcoin eSports gambling, you can't request a chargeback to your card. All crypto transactions are permanently stored on the blockchain. Once you've placed a bet, the smart contract is executed, and the payment is final.
Stable Currency 
One of the biggest drawbacks of cryptocurrencies is the volatility of their values. The value of cryptocurrencies is constantly changing. While this change could benefit you, it also leads to losing the value of your bet. Considering the drop in crypto tokens, your winnings after a bet could be lower than they were before the bet or too low to be worth it. In traditional eSports betting, the value of a bet is stable, and even if changes occur, they aren't significant enough to impact the end value of your bet.
Bonuses and Reward 
Between the crypto eSports betting sites and the traditional eSports betting, the former always offers players more bonuses and rewards. That's because cryptocurrency transactions don't require a lot of money to process, which leaves some extra money for the betting sites. They give out some percentage of this money as bonuses and promotions. 
Regional Restrictions 
Gambling has its regional restrictions as some countries consider it illegal to gamble. Betting sites restrict players from these regions because of these laws. If a betting site notes that your IP address or bank is situated in one of these regions where they might be operating under the radar, players in a specific country will not be able to place bets on eSports games. In traditional betting, it's easy for betting sites to make these decisions because of the currency and payment methods. It isn't so for crypto eSports betting. Players can bet anonymously and not be included in national or local regulations.
Transaction Fees 
Traditional eSports betting sites spend a lot of money on transaction fees. This is because there are transfer protocols that they have to follow, which lead to high transaction fees. These fees blowback on the players in withdrawal fees and deposit fees. There are little to no transaction fees for crypto eSports betting since all transfers take place on the blockchain. Therefore, players might only have to pay a network fee rather than a hefty banking processing fee.
Freedom
One of the benefits of eSports crypto betting is anonymity and financial privacy. Unlike traditional eSports betting sites where your transactions can be tracked, eSports crypto betting sites protect users' privacy from central authorities and provide anonymity. As a result, you can spend as much as you like without tripping any red flags.
New To Bitcoin eSports Betting?
Like any other type of betting, eSports betting has its peaks. So, before you jump in, you should take time to look at its benefits and risks.
1. Financial Privacy
Using crypto and Bitcoin to bet on eSports sites gives you a strong cloak of anonymity you won't get from fiat currencies. Your transactions cannot be tracked, and centralized banking authorities can't flag your accounts. As a bonus point, this anonymity also protects against regional restrictions.
2. Low & Fast Transactions
Crypto transactions are fast and do not involve using any third party when funding your account. Compared to traditional currency, they are less restrictive and much quicker – but it also depends on the network activity load. Transaction fees for eSports crypto betting sites are very low. Some sites do not even charge transaction fees.
3. Better Bonuses
Every casino wants more players. Crypto is a gateway to access a wider range of casinos. As a result, crypto casino operators are also willing to offer better bonuses, which does not impact their bottom line. In truth, bitcoin casino bonuses are more rewarding as country regulations do not restrict them.
4. Transactions Are Final
Paying with crypto comes with its perks but also with some disadvantages. For example, crypto transactions are always final, so if you place a bet by mistake or your team has lost, then funds and wagers cannot be reverted. Thus, always double-check you are making the right bet or sending money to the right wallet address.
5. No Restrictions
Using cryptocurrency for eSports betting allows players to bet on their favorite games regardless of the country's regulations or restrictions. By using a cryptocurrency wallet to make bets, players remain anonymous when making bets. For example, countries can restrict IP access to a specific website; however, if the website is accessible, players can gamble using crypto and bet on their favorite eSports team.
6. Volatility of Cryptocurrencies
The volatile nature of cryptocurrencies can both be a blessing and a curse. On the one hand, it could favor you and increase your winnings. For example, imagine placing a bet on an eSports betting site when the value of 1 bitcoin is $35,000, then withdrawing your winnings when the value is as high as $45,000 to 1 Bitcoin. But, on the other hand, the reverse could be the case, and you end up with a loss even if you won your bet.
The Best Crypto eSports Betting Sites Compared
Here's a list of the top crypto eSports betting sites according to popularity ranking, reputation, and service.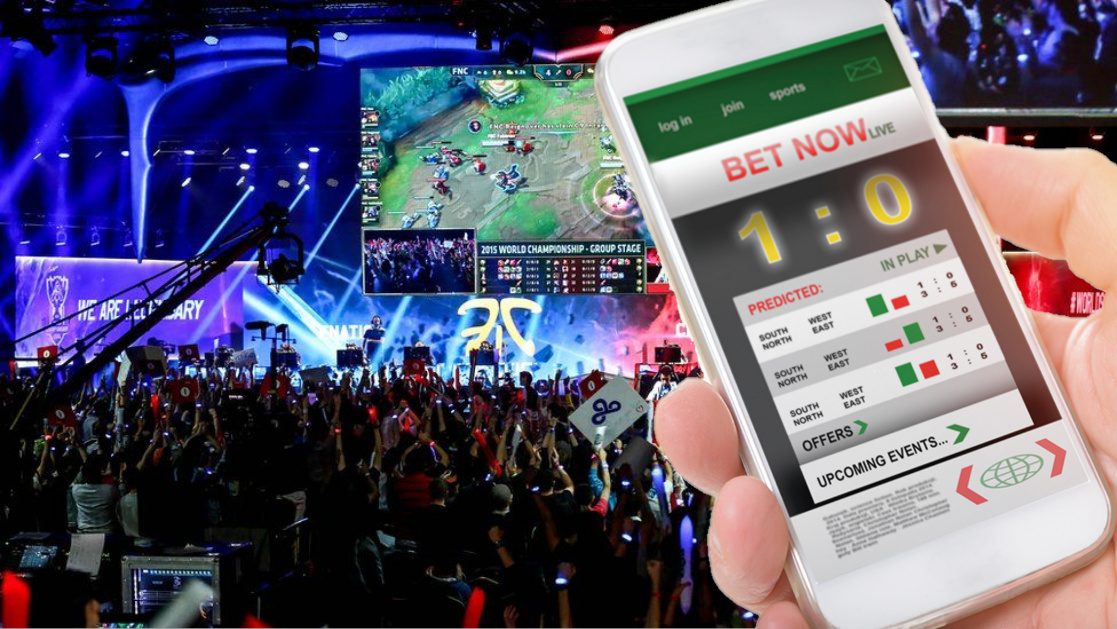 6 Factors To Consider When Choosing Your Bitcoin eSports Betting Site
We've successfully narrowed down the long list of bitcoin eSports betting sites to the best five discussed above. The next step for you is to choose which one of these betting sites you'd like to use. As good as they are, not all of them would suit your specific needs. So, what do you consider when choosing your bitcoin eSports betting site? 
We've curated six essential factors to help you make the best choice:
1. Customer Service
At first glance, customer service might seem unimportant, but how a business treats its customers would always be a good metric for deciding whether to patronize them. The same principle applies to eSports betting. Anything could go wrong while betting with bitcoin. The process is still relatively new, and you might get confused trying to place a bet. In instances where this happens, customer service is the point of contact. So, the betting site you use must be accessible and helpful.
When considering the customer service of a betting site, here are a few questions to ask yourself. 
How willing is the site to offer assistance and answer questions 

Are they easily accessible via email 

Do they have immediate assistance on their website, such as live chat? 

How easy and fast do they respond and sort issues out for the customer 

How stressful is it for users on the site to get results from customer service? 
You can find out about a site's customer service by asking questions on platforms like Reddit and checking out review sites for betting platforms.
2. VIP Programs and Bonuses
Benefits have always set betting platforms apart. People naturally tend to use betting sites that offer more gains per the amount they spend. So, it's always a good decision to consider what each betting platform offers regarding benefits and bonuses. 
Remember that the bonus and benefits structure differs from platform to platform. Therefore, looking for the platform with the most significant bonus structure might not be the best idea. Instead, look for platforms that have bonuses and benefits that would fit with the type of bettor you are. 
For example, if you want to start betting long-term or professionally, then using a betting platform with a good VIP program would be the best option. But a betting platform with the best VIP program would not be the best for a casual user.
Look for platforms that offer exciting benefits and bonuses to players. For example, two of the best betting sites with good benefits are Stake and SportBet.
3. Restricted Countries
Some betting sites don't allow people from certain regions and countries to bet on their platforms. This restriction is usually placed to honor the laws of the country. Some countries like India and parts of the US restrict online gambling, and to avoid hitting a roadblock in your betting journey; it's best to look for regional restrictions before you start.
Cross-check with the laws of your country to see if you're legally allowed to bet. If you aren't, betting sites, especially those that require a KYC verification, would not allow you to play.
When doing your research, also look out for loopholes. For example, some betting sites like Stake offer total anonymity to their players, which gives them a loophole out of the regional restriction. Other betting sites allow you to bet anonymously regardless of restrictions if you use cryptocurrencies.
4. eSports Available
If you're a fan of eSports, then look out for betting sites with a great list of eSport games. Of course, there are both major and minor eSports games, and you want the betting site you eventually go with to at least have the three biggest eSport games. But an ideal choice would have an extensive list of major and minor eSport options.
5. Reputation and Trust
Next to other critical factors, the reputation and integrity of the betting site you use are essential factors you should consider. The reputation of the betting site is a reflection of the quality of its service. If they are reputable and trustworthy, then you can bet as much as you want without fearing that you'd lose your money. 
You can read review sites for betting platforms to know what people think about them. Then, pay more attention to the ratings, pros, and cons of the betting sites you're considering. Better still, ask the right questions on Reddit and Quora, where you can directly interact with people who have used these betting sites or check out the website reviews on Dappgambl.
No matter how good the betting site looks or how generous their bonuses are, if the reputation isn't good, you might end up losing your money.
6. Payout and Withdraw Speeds & Terms
If you aren't new to the betting world, then you know by now that each betting site has its rules and processes for payouts, deposits, and withdrawals. eSport crypto betting sites aren't any different. So, look at the fine print about the withdrawal process. Some sites allow players to withdraw all of their money as soon as it enters their betting accounts, while others require the players to wait for a couple of days first. These withdrawal and payout policies are essential when choosing a betting site because next to a fair betting experience, the only other important thing people care about is how to access their winnings. It'll save you a lot of stress if you are already on board with the payout process. 
Finding out is easy. Just look through the website of the betting platform, preferably in the FAQ section.
Essential Information on Betting with Crypto
Before you can start betting on any of the top crypto eSports betting sites above, there is essential information you should know. It's even more critical if you're a beginner.
How to Start Betting
Betting on an eSport crypto platform isn't as complicated as it might seem. Here's a step-by-step walkthrough if you're not familiar with the process. 
1. Purchasing Crypto
First things first for any betting in crypto is to purchase crypto. You can do this easily by using an exchange wallet that converts fiat currencies to cryptocurrencies. It's advisable to buy the more popular cryptocurrencies like Bitcoin and Ethereum.
2. Depositing Crypto to your betting account
Next up is to deposit crypto into your betting account. Follow the instructions on your preferred eSports crypto betting site. 
3. Betting on eSports Matches
Once you've deposited crypto into your account, the next step is to place bets. There are different types of bets, including prop bets, accumulators, and match-winner bets. Pick the one you want and follow the instructions to bet on your favorite eSports games. Remember to keep track of your betting slips. 
4. Withdrawing your winnings in Crypto
So, you've won! Congratulations. Here's the stage where you withdraw your earnings. Each bitcoin eSports betting site has a process for withdrawing. Read the instructions and follow them to get your money. You'll get paid in crypto, but if you'd like to convert to fiat currency, you can do it using the same crypto wallet you used at first. 
Types of eSports Bets Available 
There are different rules and tricks to live betting. Of course, you can always cross-check with the betting site of your choice to confirm the rules. But here are some universal tips for live eSports betting:
Research the teams playing before the game and watch their previous games. It'll give you an idea of how they play and their abilities. 
Be a member of eSports communities.
Be vigilant about teams trading their players.
Choose a website with a good reputation for eSports booking.
If you're new to eSports betting, you might be confused by the different types of eSports bets available, so here's a quick rundown of what is what.
Match Winner
This type of bet is placed to predict the winner of a game. The match-winner bet is one of the most popular bets on eSports bookies. It is also openly vague, which allows you to win if you have a good idea of the team and player's abilities. While placing a match bet, look for favorable odds and play them. Note that the odds in a match-winner bet change as the game progresses to suit the player's abilities and how they fare.
Tournament Winner
The tournament winner bet is placed to predict the overall winner of the entire tournament. As a result, you stand to get a big payout if you can predict the winning team. Therefore, the odds for a tournament winner bet differ from the odds for a match-winner.
Proposition bets (Prop Bets)
A prop bet is a bet that you make to predict what will happen or not happen during the match. An example of a prop bet is a bet that predicts the game will go into overtime or won't get to overtime. If you bet the former and the game over time, you win. Prop Bets can be equally easy and tough to win, but knowing how each team plays can help you make more accurate bets.
Accumulator Bets
Accumulator bets are also known as combination bets. This bet is made considering the outcome of more than one eSport game. Think of it as a combination of match-winner bets all tied together in such a way that if one match prediction is wrong, all the odds are canceled even if all the other bets are correct.
This bet is harder to win because it has a collection of odds from the different matches within the tournament. You can't win one of the matches. You either win all or lose all. When you make an accumulator bet, the odds are combined in a bet slip, and if you win, the payout is very generous.
Live eSports Betting
Live eSports betting is the newest development in eSports betting. This feature allows users to wager on the outcome of eSports games as they are being played. Like regular sports betting, you can bet on live eSports games with Bitcoin and other cryptocurrencies. As more and more betting sites adopt cryptocurrencies into their operations, live eSports betting will be popular.
Esports betting in cryptocurrencies and Bitcoin is new but already gaining popularity. The increased adoption of Bitcoin and other cryptocurrencies only opens the door wider for more people to try it out. If you're on the fence about adopting crypto eSports betting, you might want to take the plunge and try it out today. Your identity and money would be safe on any of the top five crypto eSports betting sites reviewed above.
What is the best bitcoin eSports betting site?
Choosing the best bitcoin eSports betting site is very difficult because it is a subjective decision. There are many factors to consider, and based on any set of conditions, one betting site could rank higher than another one, and if the parameters are changed, so will the ranking. However, there are relatively subjective rankings for crypto eSports betting sites, and from these rankings, the top betting site for crypto eSports is Stake Casinos. Stake Casinos isn't just the highest-ranking casino. It has an excellent reputation and customer service, which users have lauded. In addition to these, users can also be anonymous on this platform while being able to bet using over a hundred cryptocurrencies. Check our review of Stake Casino above to see all the pros and cons of using this eSports crypto betting site.
Is bitcoin eSports betting legal?
It is legal to bet with bitcoin and other cryptocurrencies on bitcoin eSports betting sites, just as it is legal to bet on eSports betting sites using fiat currencies. The only legal drawback to using bitcoin eSports betting sites is country restrictions on crypto transactions. If there aren't any restrictions in your country, you can use crypto eSports betting sites.
Is depositing and withdrawing faster with cryptocurrencies?
Depositing and withdrawing cryptocurrencies on eSports betting sites is easier, faster, and cheaper than fiat currencies. Transaction fees are very low for bitcoin transactions, and deposit confirmations are much quicker than when they are done with fiat currencies. Where banking transactions on eSports betting sites can take up to 24 to 48 hours for confirmation, bitcoin confirmation is in minutes.
Why should I use crypto eSports betting sites?
There are many benefits that eSports crypto betting sites have over traditional eSports betting sites. The biggest draw, however, is in the way transactions are carried out. With cryptocurrencies, transactions are relatively risk-free, fast, and cheaper. In addition to the seamless transaction, crypto eSports betting offers anonymity and financial privacy. Unlike transactions involving fiat currencies, crypto transactions provide a cloak of anonymity that protects the identity and activity of users.