Introduction to Aviator Game
Aviator Game is a social multiplayer cryptocurrency game where you must eject from the plane to win your bet before the game takes off. As it became popular among blockchain gaming users, Aviator gained notoriety in traditional casinos because of its social factor and builds on the growing success of crash gambling games which have achieved a lot of industry attention. Available on desktop, tablet, and mobile devices, you can access the Aviator game on casinos that have RNG and provably fair technology embedded.
What is the Aim of Aviator Game?
We're here to make sure you have a clear understanding of why Aviator is becoming so popular. As you take on the role of a digital pilot, your objective is to stack up multipliers each gaming round without losing your wager by ejecting from the plane in time. Of course, the higher the plane goes, the bigger your multiplayer becomes, so you'll need to predict the crash and cash out before that. Simply stated, you need to place a bet, and as the multiplayer increases, wait for the right time to cash out to win the round.
Aviator Demo Version
As a social game, Aviator has a built-in chat function where players can interact with the moderator or other players. It helps create a sense of community and common risk-taking as you'll see who placed what bet and who managed to cash out or crash, giving you a chance to comment and interact with everyone involved in the game – LIVE
The demo version allows everyone to test out the game. On the website, the "Play For Fun" button opens an identical game as the real money one offering $3,000 worth of in-game credit – the difference is that it can't be cashed out.
Aviator Betting Options
The standard betting format is the single bet option, where you place a wager at the start of the game and cash out or lose your bet if the plane takes off. There's also a multiplayer betting sequence where you can place two bets simultaneously of different values; however, you can't have more than two bets on the same accounts. Payouts are calculated by multiplying the wager with the multiplier. Live betting is a function of Aviator, where you can see the amount wagered by each participant, but you can't use it to make any other bets.
With the multi-bet function, you can implement the 2:1 betting strategy where the bigger bets cover both wagers and is less risky (cashing out at a 1.5x multiplier), while the smaller bet can be used to make a profit.
Aviator Game Features
Live Bets
The name could be confusing, but Live Bets lets you see how much others wagered during one round and how much they won if they cashed out. In each game, you'll see the name of the players and how many coins/credits they placed.
Live Statistics
The game features a section where you can see the biggest winner of the day/month/year. It shows the amount they won, how much they wagered, and what was the total multiplayer. You can use that to see if a big multiplayer was hit on that day.
In-game Chat
The game chat is located on the right side of the screen in the desktop version and lets you talk with other players. You can discuss predictions and possible cash-outs or socialize for fun.
Aviarace Tournaments
Aviarance tournaments are in-game events that occur randomly and are valid on a single day. The more you play and reach higher multipliers, the bigger the end bonus will be as you rank higher in the leaderboard. For that, you get cash prizes, free bets, and other specials.
Aviator Spribe - Game Algorithm
Spribe is Aviator Game's main developer and has implemented a provably fair gaming system guaranteeing every game is fair with proven data. The algorithm generates a unique hash from the operator and three other participants in the form of 16 randomly generated symbols. Every game hash can be verified in the "Provably Fair" section, and at the start of the round, the hash value of the first 3 players is used to generate the winning result randomly.
Return to Player (RTP)
We want to tell you exactly what your chances of winning are on Aviaitor, and that's why we're going over the Return to Player (RTP) value in the game. RTPs are set for each game and give players a baseline of how much they earn for every dollar spent. So if you bet $100, then Aviator will give you a return of $97. You need to remember that the RTP is set over a longer period, so as a gambler, you'll reach that percentage only if you play millions of rounds. Knowing the RTP indicates if the game is high or low volatility and determines how much you must wager.
What Makes Aviator a Special Game?
We like playing Aviator because it's part of a different subclass of games where transparency, social factor, and verifiability are put first. Also, because the game gives you chances to belong to a community while you're betting, it gives a more comforting and personal feeling.
Two factors make the game enjoyable beyond traditional slots: the excitement of getting the highest multiplayer and chatting with other players that follow the same goal. This lead to a competitive state in which not all games are able to communicate. We don't want to over-praise the game, but Aviator could be integrated more into traditional casinos.
The game is compatible with all mobile and desktop devices, and it's easy to find casinos that offer what you're looking for. If you want to join a casino with a mobile app, you can play the game even on the app or on the mobile browser if needed. To keep this section short, you can play Aviator on every smartphone, computer, iPad, or other mobile tablets. The only requirement is that the casino is eligible in your country and supports browser or app play.
Step 1: Deposit crypto or fiat currency in your account
Step 2: Click on the search bar and type "Aviator."
Step 3: Wait for the plane to crash and place your bet
Step 4: Input the amount you want to wager and click place bet
Step 5: Once the plane starts, click cash out when you are happy with the multiplier
Step 6: Rinse and repeat the same betting process
You can deposit using any method that's accepted by the casino, including credit/debit cards, e-cards, crypto, digital payment, or bank transfer. Below is a step-by-step process on how to make your deposit.
Click on the cashier section
Select the currency you want to deposit
Fill in the amount you want to deposit
Copy the crypto address to your own wallet
Send money to the casino's address
Withdrawing funds from Aviator is the same as withdrawing any winnings from any casino game. If you're withdrawing using cryptocurrencies, you don't need to pay any fees, and approval is nearly instant if you're on a blockchain casino. Otherwise, processing credit/debit card withdrawals can take up to 24 hours. Below we're showing you how to withdraw crypto from Aviator.
Click on the cashier
Click on withdraw funds
Select the type of payment method
Add the amount you want to withdraw
Copy the wallet address from your crypto wallet
Paste the wallet address in the withdraw section
Click next/final to complete the process
Cashout and Betting
Aviator lets you play the game for as low as $0.10 and has a maximum wager of $100 per round. You can bet twice in the same round, and you're not limited to the same value. The platform lets you automate the process and cash out automatically or do it manually. More on this in the next section
Autoplay and Auto-cashout
Autoplay lets you enter new rounds without manually approving the betting amount. Instead, the amount will be withdrawn from your balance and placed as a wager; however, you can only make 10 automatic wagers. You need to check the Autoplay checkbox to enable the mode, but you will still need to cash out manually. With Autoplay, you can automate your betting and implement the 2:1 strategy, where you set a larger and lower bet size.
Auto-cashout allows you to automate the process and set a self-cashout when the plane reaches a pre-set multiplier. This helps you start experimenting with strategies and beat the game by playing the statistical game. In the 2:1 strategy example, you can automatically cash out the larger bet at 1.5x the wager to get your money back and automatically cash out the smaller one at 3x to make the profit.
The auto-cashout and autoplay functions can be beneficial if you have a sufficient bankroll; however, if you play your gut feeling and want to cash out sooner, then you need to be active to avoid further losses.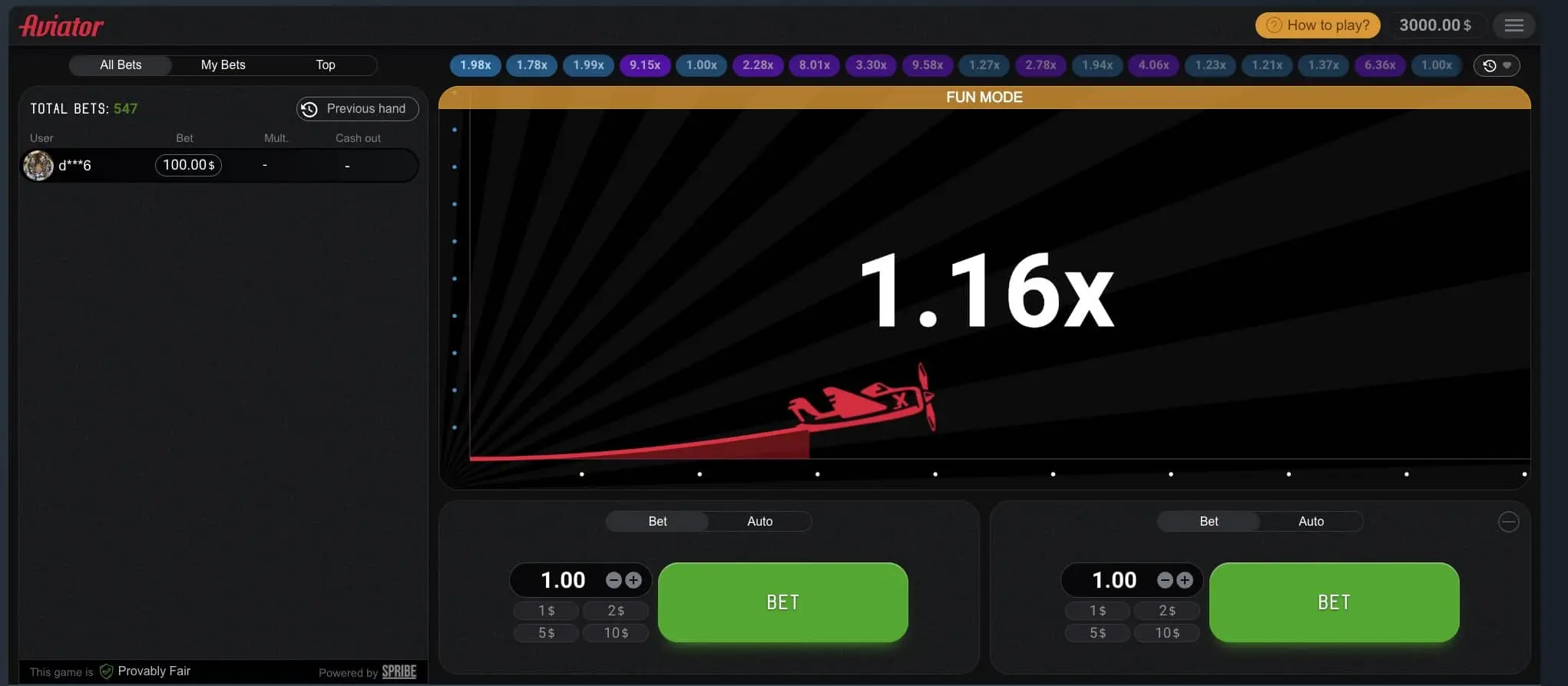 Aviator Game - Tips & Tricks
Aviator's game setup and gameplay allow users to use a few strategies which can help them minimize the risk of a somewhat volatile game. Below are a few tips and strategies that can maximize your returns.
Start playing for free: Give the demo version a try to understand how the game works before using real money. This will help you understand how you can have the edge over the game and where you can profit.
Use Automation: Get into the habit of auto-cashout and Autoplay and test a methodology. Then, you can either go for more games with a lower wager and a high cashout multiplayer. Otherwise, you can go for fewer games, higher wager, and low multiplier.
Go 2 to 1: The 2:1 strategy uses a higher bet to cover the initial bet size, while the small one is used to generate profit. This only sometimes plays out because Aviator crashes at a 1x multiplier. The goal is to hit a 1.5x multiplier for the bigger bet while the smaller one can run higher.
Follow other players: This might seem simple, but it can be tricky to see which players are profitable. Spend some time to see who's hitting the cashouts and follow his betting pattern.
Aviator has weekly and monthly tournaments called Aviator Aviarace. Every player can join the tournament and fight for the chance to win some of the prizes. Prizes vary; players who rack up bonus points can take advantage of free money or even free bets.
Another feature is the Rain promo, where players can snipe some in-chat rewards. Rain promo means players can claim free promotions from within the chat. Another advantage is that players can also set up their own Rain promo and offer other players, in effect, free money.
Playing Aviator is simple and easy and gets you wanting more. The 97% RTP is not that inviting; however, its novelty and the crash feature make it highly addictive as a game. However, you could get bored of it quite quickly as the constant 0x crash would frustrate you.
Conclusion
Aviator's provably fair features are one of the reasons why the game became so successful. It's also easy to understand, and the fact that there's a free Demo version helps players quickly get a grasp of all the game features.
The game is yet to be available in every major casino; still, the social factor and the Provably Fair feature make it secure and especially fun because it builds on excitement. Who wouldn't want a social online gambling game that makes people stay for longer on their platforms?
I was looking for a game with good RTP, verifiable outcomes, and lets me feel the game's pulse. The only downside I've experienced is its limitation on Autoplay and auto-cashout, which could be more effective for longer strategies. Even with the game being so enticing and fun, always make sure you gamble within your means, stay within your budget, and play responsibly. At the end of the game, Aviator is a gambling game.
FAQ
Why is this game so popular?
The game is very popular because it keeps people engaged with the multiplier action and interacting with the community.
How do you win at Aviator Games?
You cash out before the plane takes off.
Can I deposit with cryptocurrency?
Yes, cryptocurrency deposit is available.
What about fair control?
Aviator Game is provably fair, and the game outcomes can be verified before the game.
Is Aviator Game legal?
Yes, Aviator Game is legal.