Pros and Cons of the Ledger Nano S
Pros
Minimalist, straightforward design and navigation.
Easy transfers.
Portable and malware-proof.
User-friendly.
Reputable wallet with over 1 million units sold.
Multi-signature Support.
Easy-to-use desktop/mobile companion apps.
An affordable cold wallet.
The private keys never leave the device
Cons
Low-resolution screen.
App capacity is limited.
Closed Source.
Not as mobile-friendly as other wallets.
The display is small and isn't a touchscreen.
iOS isn't supported.
What is a Ledger Nano S Wallet?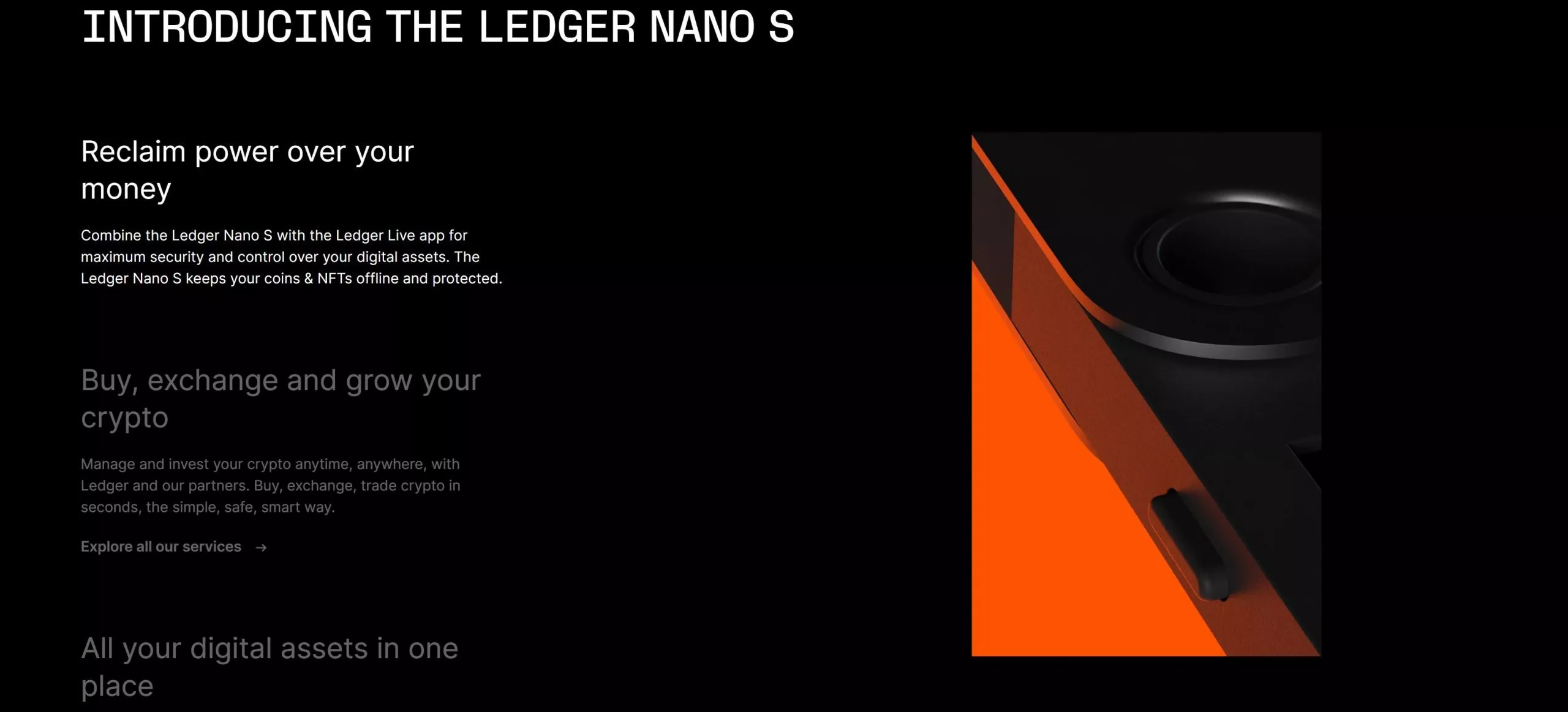 As mentioned earlier, the Ledger Nano S is a cold storage hardware wallet.  It's a product of the Ledger Company, which is well-known for producing secure digital coin wallets. The USB stick-like wallet was released in 2016 and has received consistent accolades for its premium features. The blockchain company claims to have sold three million hardware wallets in 190 countries. It also secures roughly 15% of all cryptocurrency assets worldwide. Despite user complaints about its limited space and lack of Bluetooth, the Ledger Nano S takes the prize for user satisfaction. The device is praised as one of the most secure hardware wallets available. Of course, there's competition from other wallets such as the Trezor One and the Ledger Nano X, but the Ledger Nano S is still a top choice for many cryptocurrency investors.
The hardware wallet will pique your interest if you want a beginner-friendly, easy-to-setup, and affordable wallet. The wallet has two buttons on the navigation side, making it easy to use the tool. In addition, the device is available for $59 from the ledger firm and other legitimate sellers such as Amazon and Walmart.
Nonetheless, the device is simple to set up. Everything you need to install is included in the package, which comprises:
Hardware for the Ledger Nano S

A piece of blank paper on which to jot down your 24-word recovery phrase;

Connect the device to your PC using a USB cable.

A manual that provides simple device installation and usage instructions

Keychain and Lanyard
Display panel:
The wallet includes a display panel that allows investors to check and confirm transactions.
Dual navigation buttons:
The Ledger Nano S has two navigation buttons on the side. They are user-friendly and accurate but may feel shaky and clunky, detracting from the otherwise premium impression.
USB cable:
A Type-C plug is attached to the wallet's top to connect it to a computer. The USB cable is securely attached to the wallet, and the shoelace-like textile cover keeps the cord untangled.
Simple design:
The wallet's simple design makes it ideal for crypto newcomers because it eliminates confusion while exploring the wallet and its buttons.
Services Provided by the Ledger Nano S Wallet
Storage
The primary function of Ledger Nano S  crypto wallet is storage. Of course it has a relatively small storage capacity, but there could be a good reason for this; the less storage, the more secure the crypto wallet. You can also use it with third-party wallets to manage ERC-20 tokens. The Ledger Nano S provides security by storing your wallet's private keys offline. This way, even if an online attacker or hacker gains access to your computer, they will be unable to access your crypto assets. Depending on size, the Nano S can only hold up to six people/accounts. It works with various companion apps, including other cryptocurrency wallets and crypto tools like FIDO® U2F, GPG, and SSH. The setup and installation procedures are simple.
Offline Backups
By storing your private keys offline, the Ledger Nano S protects all of your cryptocurrency assets. Furthermore, losing your device isn't the end of the world. You can use a 24-word phrase to back up your wallet and a 24-word term to recover your digital assets. This secret phrase enables you to recreate your wallet whenever required if your hardware device is damaged, lost, or stolen. The Ledger Nano S is a well-known crypto-cold wallet that supports over 1100 crypto assets and multiple apps. The Ledger Nano S directly supports 23 cryptocurrencies and installed third-party applications support the rest.
Staking and Earning:
The Ledger Live app allows users to lock up and earn interest on various crypto coins such as ETH (Ethereum), SOL (Solana), ATOM (Cosmos), and DOT (Polkadot). You can stake crypto assets natively on the Ledger Live app or via a compatible hardware wallet, such as Yoroi Lite for ADA (Cardano). Only coins stackable in the Ledger Live app are subject to the three-step procedure.
First, log into the Ledger Live app and select the appropriate account for the coins you want to stake.

Then, select "earn rewards." A pop-up window will appear, prompting you to enter the amount you want to keep frozen in your Ledger Nano S wallet.

Following that, choose your validator (s), who will create blocks on your network, and the cryptocurrency earned by completing these blocks will be distributed to voters.

Then, click "Claim" in your relevant account to claim your rewards. Every 24 hours, you can claim bonuses.
Swapping:
Ledger Nano S wallet users can exchange their crypto through their partners, Challengly, Wyre, Paraswap, and 1inch, using the ledger swap feature. You must send your assets from your device to the exchange, and you will receive your swapped crypto assets back. To use this feature, you must have the ledger device, Ledger Live, the app for the cryptocurrency you want to trade and receive, and the exchange app.
Ledger Nano S Wallet Customer Support
Attackers and thefts are common in the crypto world. Furthermore, regardless of how secure a crypto wallet appears, crypto investors value a wallet with dependable customer support, which they can contact if they have any challenges.  The Ledger Nano S team doesn't fall short when it comes to customer service. The firm engages the community broadly by providing adequate support and addressing specific issues and risks. They have also offered high-quality information about firmware updates on their website. If there is a problem with a Ledger device after purchase, the company instructs users to fill out an online return form within 14 days of receiving the hardware wallet. For other issues, simply visit their customer support page and browse their FAQs section or select a category that best fits your problem for quick solutions. Please remember that the support staff is only available Monday through Friday from 9 a.m. to 5 p.m. CET. You can also chat with a bot by tapping the help button at the bottom right of the customer support page.
Like most cold wallets, Ledger Nano S has active communities of users. Feel free to join them and interact by joining respective social media pages.
Ledger Nano S Security: Is Ledger Nano S Safe?
The Ledger Nano S won't disappoint if you are looking for a secure wallet. On Nano S devices, the ledger firm exceeds security industry standards such as tamper-resistant Common Criteria (CC) EAL5+ certified Secure Element (SE) chips. Not only that but your private keys are kept on the secure chip hat can't be hacked. The developers of the Ledger Nano S had one goal in mind: security. Because of these critical features, the ledger firm has sold over three million hardware wallets in 190 countries and "secures an estimated 15% of all cryptocurrency assets globally." So you don't have to worry about safety when using this device. Here's a deeper discussion to seal your confidence about the safety of Ledger Nano S.
ANSSI certification:
The French cybersecurity agency has approved Ledger's hardware wallets and certified them as safe and reliable. This feature puts the wallet a step ahead of competitors in terms of security and guarantees users that their funds are safe with Ledger Nano S. The French National Agency for the Security of Information Systems conducts an independent audit of ledger devices periodically.
Secure chip:
Ledger is the only hardware wallet manufacturer that uses dual-layer protection, specifically ST31H320 (security) and STM32F042 (OS) chips that store your private keys and sign transactions as separate pieces of hardware. It also employs a proprietary operating system (OS) known as Blockchain Open Ledger Operating System (BOLOS), which provides investors complete control over private keys. These safeguards ensure that attackers don't have access to your private keys via the Internet and that they are never removed from your device.
Pin code:
After you initialize your Ledger, you will be prompted to create a 4-8-digit PIN code that you will use to open and use the wallet, similar to a bank account pin. If you ever lose your wallet, or it is destroyed or stolen (or you forget your PIN), you can retrieve your coins by entering a 24-word seed phrase into another wallet (hardware or software).
Seed Phrase
The Ledger Nano S puts the responsibility of safe crypto storage in your hands by giving you full control and ownership of your wallet's seed phrases.
Pricing and Fees for the Ledger Nano S Wallet Review
High fees and complicated pricing structures turn off crypto investors. However, this doesn't imply that low-cost crypto apps are the most popular. Ledger Nano S gives you the freedom to choose how much you want to spend in terms of fees. The only catch is that the speed of your transactions is directly tied to this. You can escape high fees by always planning your payments way in advance before they are due. However, if you need super fast confirmations, then you should be prepared to foot a hefty bill.
The cold wallet has three fee levels based on how quickly you want your transaction verified: fast, medium, and slow.
Quick: the transaction will be included in the next block (about 10 minutes for Bitcoin).
Medium: the transaction will be spread across three blocks (approximately 30 minutes for Bitcoin).
Slow: the transaction will roughly be included within six blocks (about 60 minutes for Bitcoin).
Most Pro traders prefer a custom fee structure. You can toggle between the standard and advanced fee structures on the Ledger Live app.
How much does the Ledger Nano S wallet cost?
The Ledger Nano S defies the adage "if the deal is too good to be true, think twice." Aside from the excellent security features, the wallet is pretty affordable, at a cost of around $59 (VAT excluded). Given how safe it is, this appears to be unrealistic especially when compared to competitors such as Trezor One and KeepKey, which offer nearly identical features at a higher price.
Shipping costs could inflate the price a little bit. Nonetheless, if you purchase from the company, you will receive free shipping to the United States and other international destinations. Third party retailers charge a shipping fee of about $9 and above depending on the destination. Ledger also works with several resellers so that you may find the device near you and avoid paying for shipping.
Ledger Nano S Wallet Supported Tokens
The Ledger Nano S is compatible with approximately 107 cryptocurrencies and 1,000 tokens. Investors use the hardware to store popular cryptocurrencies such as:
Polkadot (DOT) 

Flow (FLOW)

Tether USD (TRC20) (USDT)

Bitcoin (BTC)

IOTA (MIOTA)

Cosmos (ATOM)

Dogecoin (DOGE)

Algorand (ALGO)

Chainlink (LINK)

Ethereum (ETH)

Ripple (XRP)

Litecoin (LTC)

Binance Coin (BNB)

Stellar (XLM)

Cardano (ADA)

Monero (XMR)

Tron (TRX)

Dash (DASH)

Neo (NEO)

USD Coin (USDC)

Compound (COMP)

Dai Stablecoin (DAI)

Aave (ERC20) (LEND)
Some coins, such as Monero, Binance Coin, and mostly ERC-20 tokens, require additional software linked to the Ledger to send and receive them.
How to Set Up a Ledger Nano S Wallet?
Setting up the Ledger Nano S wallet is similar on compatible mobile devices and computers. Here's how to connect your ledger wallet to your computer using a USB cable, step by step.
1. Connect the device to your PC via USB. A welcome screen will appear on your device immediately, prompting you to press the two buttons on the top to initiate the process.
2. You will then be prompted to "Configure as a new device." Click: "x" to use your 24-word recovery phrase to restore an old device; or "y" to configure a new device.
3. Next, create a new pin code that you will use every time you need to access the device. Enter your 4- to 8-digit pin by pressing the digit selection buttons on either side. When you're finished, press both buttons to confirm.
4. Then, to confirm, enter your pin code again.
5. After that, create a recovery phrase for restoring your Ledger Nano S wallet to a different device. To begin, press both buttons on your wallet at the same time. The device will start to display the 24 words that comprise your recovery phrase. To move on to the next word, press both buttons simultaneously. Fill out the blank recovery sheet with them in the correct order.
6. The device will then ask you to confirm your 24-word recovery phrase by entering some of the words. Complete the recovery phase setup by doing this.
7. device is now configured and ready for use! The following step is to configure your Ledger Live application.
8. Download and install the Ledger Live app on your computer while your hardware is still connected.
9. The Ledger Live app will prompt you to install apps or add accounts. Choose "Open Manager" to install or uninstall applications. To use Bitcoin on your device, for example, select "Open Manager," search for "Bitcoin" in the app catalogue, and then click "install." The Bitcoin app will now appear on your device.
10. Your Ledger Nano S is now operational!
After the 1.6 firmware upgrade, the Ledger Nano S only supports 3 to 11 apps. So, if you want to use your device with more than three cryptocurrencies, it may be challenging to fit all of the different apps onto your device, in which case you will have to uninstall some apps to make room.
Alternatives to the Ledger Nano S Wallet
Ledger Nano S Wallet vs. Ledger Nano X Wallet
The Ledger Nano X and Nano S are similar in many ways. First, they are both cold wallets and incorporate exchange features. They both accept more than 1000 cryptos, have android support, and come with a sleek design screaming luxury. Security is top notch for the Nano X and S as the Ledger company uses tamper-proof, certified Secure Element chips for both devices. You'll, however, need to cough up more to buy the Ledger X, at $149, compared to the Nano S, which goes only $59. The most distinct feature is perhaps the sizes of these two devices. Ledger Nano S is small and light. It's 56.95mm x 17.4mm x 9.1mm and weighs16.2 grams, while its competitor, the Nano X, measures 72mm x 18.6mm x 11.75mm, with 34 grams. In terms of usability, both hardware wallets are user-friendly, even for first-timers. The Nano X, however, is more intuitive and easier to use due to its large screen display. iPhone users will be better off using the Nano X as the Nano S lacks iOS compatibility.
Ledger Nano S vs. Trezor One
The Trezor One and Ledger Nano S are well-known hardware wallets with solid security. The Ledger Nano S is made of stainless steel and plastic, unlike Trezor One, which is purely hard plastic. The former comes in matte-black, saffron-yellow, flamingo-pink, jade-green, and lagoon-blue, while the latter only offers black and white varieties. Trezor One recently launched a metallic version, but it costs an arm and a leg, so you may not really need to buy it. The Trezor One excludes popular blue-chip cryptos like Cardano (ADA), Ripple (XRP), and Monero (XMR), unlike the Ledger Nano S. Although both of them are portable and compact, the Trezor wallet is 4.2 grams lighter than the Ledger Nano S. Of course, this doesn't make much difference. Both wallets have straightforward interfaces that don't require any technical knowledge. Also, Ledger and Trezor One have both demonstrated excellent customer support and stability in recent years.
How private is the Ledger Nano S Wallet?
Your data is secure because it is hard-locked in the Ledger Nano S secured environment. In a nutshell, your hardware wallet is decentralized and disconnected from the Internet. You also don't share any private data with the company as you're not required to submit KYC documents, or use your credit card anywhere.  In 2016, the Open Bitcoin Privacy Project ranked Ledger's wallets as the most private.
Who should use the Ledger Nano S Wallet?
The features of the Ledger Nano S wallet can benefit any cryptocurrency investor. However, the wallet is best suited to:
Novice crypto traders with few crypto assets

Crypto investors in need of a low-cost but secure wallet

Users who require a wallet to use their multi-signature.
Who might not benefit from using the Ledger Nano S Wallet?
The Ledger Nano S wallet is safe, inexpensive, and straightforward. However, some of its features may be insufficient for some cryptocurrency investors. For example, the device has a limited amount of space. As a result, if you want to use more than six apps, we recommend the Ledger Nano X, which can hold up to 100 apps. Furthermore, the price of Ledger Nano S automatically filters out low budget crypto users who may not afford it. If you want a larger display screen, Ledger Nano S Plus, its most recent and improved model,  or Ledger Nano X might suit you more.
Ledger Nano S Wallet Review—Final Take
This review established the Ledger Nano S as the best bitcoin wallet on the market for new and infrequent crypto investors. This hardware has proven to be a top choice among investors, and there are now only about 10,000 units left. The company has reduced the price, so hurry and get yours. With the launch of the Ledger Nano S Plus, the Ledger Nano S will no longer be produced. Of course, support for the Ledger Nano S will continue. The company announced a special sale of the last 10,000 units of the Ledger Nano S from the 29th of June 2022 to mark the end of its production. Lucky buyers get away with an exclusive POAP NFT. Afterward, the Ledger Nano S will come in with more Web3-driven features.
The Highlights
Security-tight wallet

Affordable

Multi-currency support

Beginner-friendly
The Lowlights
Lacks iOS support
No Bluetooth support
The in-betweens
Supports only 6 apps
Not touchscreen
How to Use a Ledger Nano S Wallet?
Aside from storage, you can use your Ledger Nano S wallet to send and receive crypto assets. 
How to Receive Bitcoin on Your Ledger Nano S
After you've configured your hardware, you can begin transferring your assets to your Ledger Nano S. We recommend starting with a few coins to ensure you understand the process entirely. 
Here's how to do it:
1. In Ledger Live, go to the menu and select "Receive."
2. Choose the account to which you want to send your assets.
3. Select the crypto asset you are receiving on your Ledger Nano S.
4. In Ledger Live, click "Verify." Your public address will be displayed on your Ledger Nano S. Confirm that the address on the Ledger Nano S corresponds to the one on Ledger Live.
5. To review the address, press the right button on the Ledger Nano S. When the device's screen says "approve," press both buttons after verifying.
5. After that, copy and paste the public address from Ledger Live. Use the QR code or click "Copy."
6. Copy and paste this address into the wallet or exchange where your cryptocurrency assets are currently stored. For example, if you have crypto assets on Binance and want to send them to your Ledger Nano S, log in to Binance, go to "withdrawal," and copy this public address from Ledger Live into Binance, then click send.
7. The balance in Ledger Live will be updated when the transaction is completed. Transaction processing time varies according to the cryptocurrency and the speed of the blockchain.
How do you send cryptocurrency from your Ledger Nano S?
1. On the left side of Ledger Live, below the menu section, click "Send."
2. Select the account from which you are sending crypto assets.
3. Copy and paste the public address from the wallet you send crypto assets into the "Recipient address" field.
4. Then click "Continue" and enter the amount.
5. Confirm the transaction by tapping "send."
Is Ledger Nano S Wallet available on IOS and Android Devices?
Unfortunately, the Ledger Nano S is incompatible with iPhones and iOS devices due to hardware limitations. It will work on Android devices, albeit inconveniently, using a USB cable with a dongle or an OTG cable.
What are the advantages of utilizing the Ledger Nano S Wallet?
Users of the Ledger Nano S wallet will have adequate security for their crypto assets. Furthermore, the wallets enable users to swap crypto assets safely and efficiently and enjoy staking interests.
Is the Ledger Nano S Wallet secure?
The Ledger Nano S is a reputable security firm's secure crypto wallet. Although it is a cold hardware wallet, it has several security features that help keep your assets safe.
How do I begin using the Ledger Nano S Wallet?
It's simple to get started with the Ledger Nano S wallet. Purchase this low-cost device from the website or a reputable partner seller, then follow the installation instructions. The installation procedure is straightforward and should take no more than 30 minutes.
How simple is it to operate the Ledger Nano S Wallet?
The Ledger Nano S is ideal for crypto beginners because it is simple. You must press the device's two navigation buttons on the side to perform various tasks. It doesn't require any technical knowledge to operate.
How fast are transactions in the Ledger Nano S Wallet?
Transferring digital assets to your Ledger Nano S hardware wallet should take approximately 5 to 60 minutes depending on the network status and transaction fees you pay.
Where can I find a review of the Ledger Nano S wallet?
Professional sites like dappGambl give the most comprehensive reviews. Apart from that you can get honest and authentic reviews on social platforms like Reddit, even though a few might be biased. Also, the ledger website will provide a detailed review of the Ledger Nano S wallet.
What if I misplace my Ledger Nano S wallet?
You can retrieve your crypto assets using the recovery 24-word seed phrase if your hardware is lost, misplaced or stolen.