supplier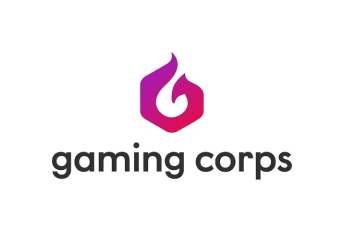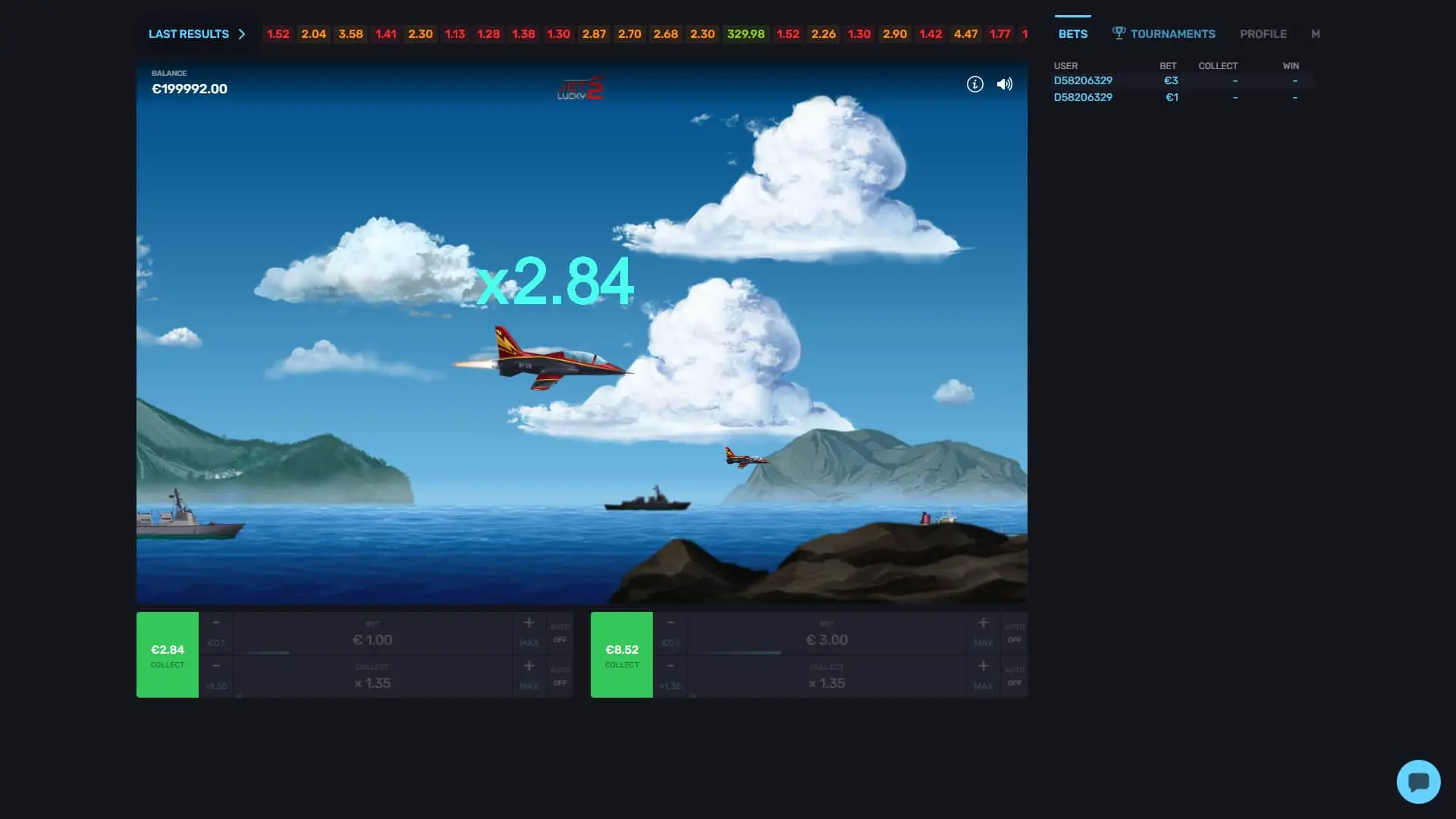 Overview of Jet Lucky 2 Game
Jet Lucky 2 is a multiplier game based on crash dynamics in which players wager on a moving item and must cash out at the appropriate time. The game enhances the original Jet Lucky and includes multilingual support. The interface is now available in English, French, Portuguese, German, Russian, Chinese, Spanish, and Japanese. There is also an alternative to placing custom bets. The terms and conditions remain the same: you must wager on a moving aircraft and cash out before it crashes.
Dangerous objects launched by enemies are slashing across the sky, and you must avoid being hit by any of them. The nicest boast about this title is that it's probably fair, which means the operator can't alter randomness or interfere with a player's results in any way. The crypto community is very enthused because numerous participants can gamble simultaneously. You can look forward to challenging your friends and family to see who can keep their cool the longest while still cashing out without colliding with flying objects in the skies. You'll see how much they wagered and the multiplier they cashed out. While it highly depends on chance, gamers have high control over the outcome as they decide whether to jump out or keep holding. Let's dive more deeply into the following sections.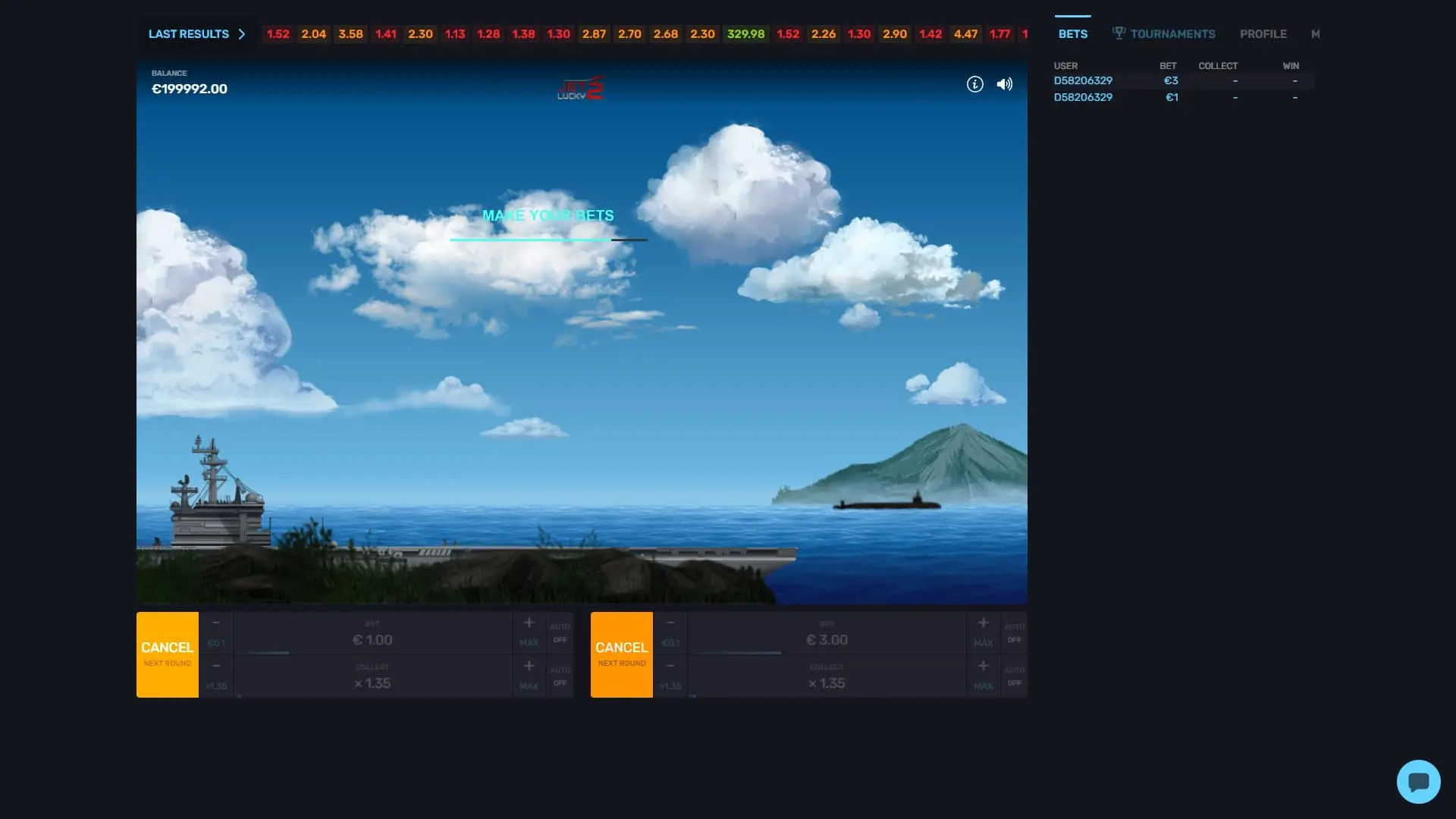 Playing JetLucky 2 is easy. The gameplay involves a fighter jet that takes off from a ship into the battlefield. The deeper it gets, the riskier it becomes as it may encounter an enemy attack such as a shootout. You aim to wager and watch as the aircraft flies and the multiplier rises. You must hit the "Collect" button before an enemy spots you and attacks. If done correctly, you take home the bet amount multiplied by the multiplier at that time. However, if your fighters don't jump out in time, they get nuked, and you lose the bet. You can't predict when the enemy will spot you and attack, so you need an exceptional strategy to make the most out of your wagers and have maximum fun. Users can place up to two wagers simultaneously, using the same bet amount or different. The lowest stake is 0.10 credits, while the maximum is 100 credits. When converted to currency, this could represent $0.10 to $100. You may also play using EUR, GBP, and many cryptocurrencies like BTC, ETH, DOGE, XRP, ADA, and LTC. The maximum multiplier possible is 10,000x the bet amount, while the highest payout is $10,000 or equivalent in your preferred currency.
There is never a surefire strategy when it comes to gambling. However, there are steps you can take to remain profitable in the long run. While conducting this review, we noticed it was easy to grow our money by taking small returns rather than waiting for big multipliers. Of course, your jet can get hit as soon as it takes off, but that's rare. For example, one may cash out at 1.1, meaning you will make 100% profit after about ten bets. On the contrary, a single loss will take you ten steps back. To counter that, you may want to target a larger amount, say a multiplier of 1.5 or more. You may also take two wagers simultaneously, the first targeting 2x and the next targeting a higher payout, like 10x. With this, it'll be easier to recover your losses and stay profitable even with a 50% win rate, as long as you don't vary the bet amount. The first wager might be successful in most cases. Although the second one might sometimes fail, you only need one win to recover your loss and get ahead 9x. Use the auto-play feature, in this case, to avoid missing your target. With the "AUTO" button, you can fix your target cash-out level, wager amount, and the number of rounds you want to bet, then set your strategy on autopilot. The system will place bets for you until the number of rounds you selected is over. Meanwhile, you can work on other things and come back to check your results later.
We also found the martingale strategy profitable during this review. It involves doubling your bet every time you lose. One must start with a small amount, such as $10, which will be the base bet. Take subsequent wagers with the same amount until you crash. Once you make a loss, double your next bet to $20. Your target multiplier should remain the same. For example, if you cash out at a 3x multiplier, you take home $60. Your total profit will be $50 after deducting the previous loss. Once that happens, continue wagering with the base bet amount and only double when you make a loss.
Important Tip: The key is to walk away with more money than you started with, not to win every bet. So manage your bankroll effectively by placing small wagers. Only increase your bet amount after accumulating reasonable profit.
Unlike most crash games, you might be lucky to receive a bonus when playing JetLucky 2 video slot. If you encounter a helicopter attack, and your fighters successfully shoot it down, you may be given a multiplier boost of a free bet. A multiplier boost is a random percentage bonus of your current win. For example, if you exit with 3x, your wager might be multiplied by 5x instead, signifying an extra 2x on your win. On the other hand, a gambler awarded a free bet will be allowed to wager with the same value as the current bet on the next round, but the amount will not be deducted from their balance. Keep in mind that free bets can't be canceled once activated.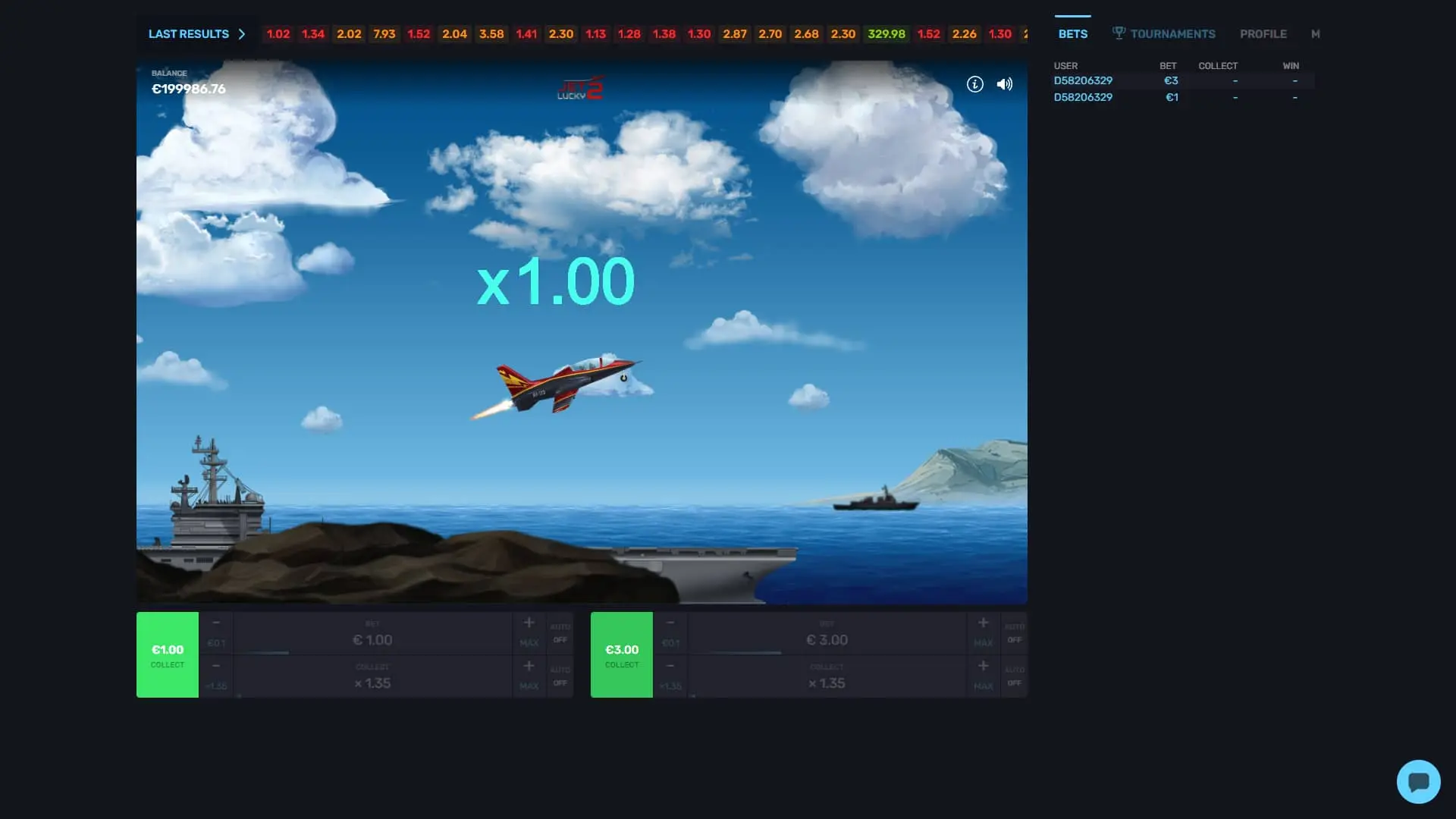 Pros & Cons Of The Jet Lucky 2 Game
Pros
Simple gameplay with zero skill needed
Opportunity to receive bonuses
High payout up to 10,000x
Allows double bets
Martingale friendly
Provably fair title
Cons
The game is purely based on chance
It can be boring if you're not winning
JetLucky 2 transports you to the golden age of warfare when fighter jets were prevalent. First, there's a warship from which jets take off and fight over a vast body of water, teeming with submarines, oil tankers, and hostile warships. Clouds can be seen passing beneath it, and snowy mountains are in the distance. The jet, at one point, enters the vast space region, where you can see little bright stars from afar. Although attackers are firing from concealed spots, they might show up in a helicopter for a head-on shootout. The legendary film score and military sound effects do a fantastic job of immersing you in the gameplay and keeping you focused.
We did not find any bonus features during this Astroboomers To The Moon review. This may be because of the simple gameplay, which is in itself an incentive, in addition to the potentially high payout offered. The RTP is also insanely attractive, as indicated in the next section. The ability to make interactive decisions is a key selling point, as this is usually unavailable in slots. With this, there was no need for extra features such as bonuses which could complicate the game and introduce lagging issues through terms like wagering requirements. So, don't expect Astroboomers To The Moon free spins or any similar kind of perks. Simply spin and target high returns as you have fun.
RTP and Volatility
The gameplay is highly fickle, meaning it's unpredictable, and outcomes could vary significantly from one round to the other. We found an average return to player percentage (RTP) of 96% during this Jet Lucky 2 game review. Players are paid back about $96 for every $100 worth of cash of crypto wagered on the site. With such a high RTP, a good strategy will definitely make you money.
You don't need to be in front of your computer to gamble and enjoy this game. Despite the lack of a downloading option, all mobile browsers showed the game to be very responsive. The outcome was positive when we tried it on iOS, Android, and Huawei browsers. Without sacrificing any of its features, the game instantly adjusts to any screen size.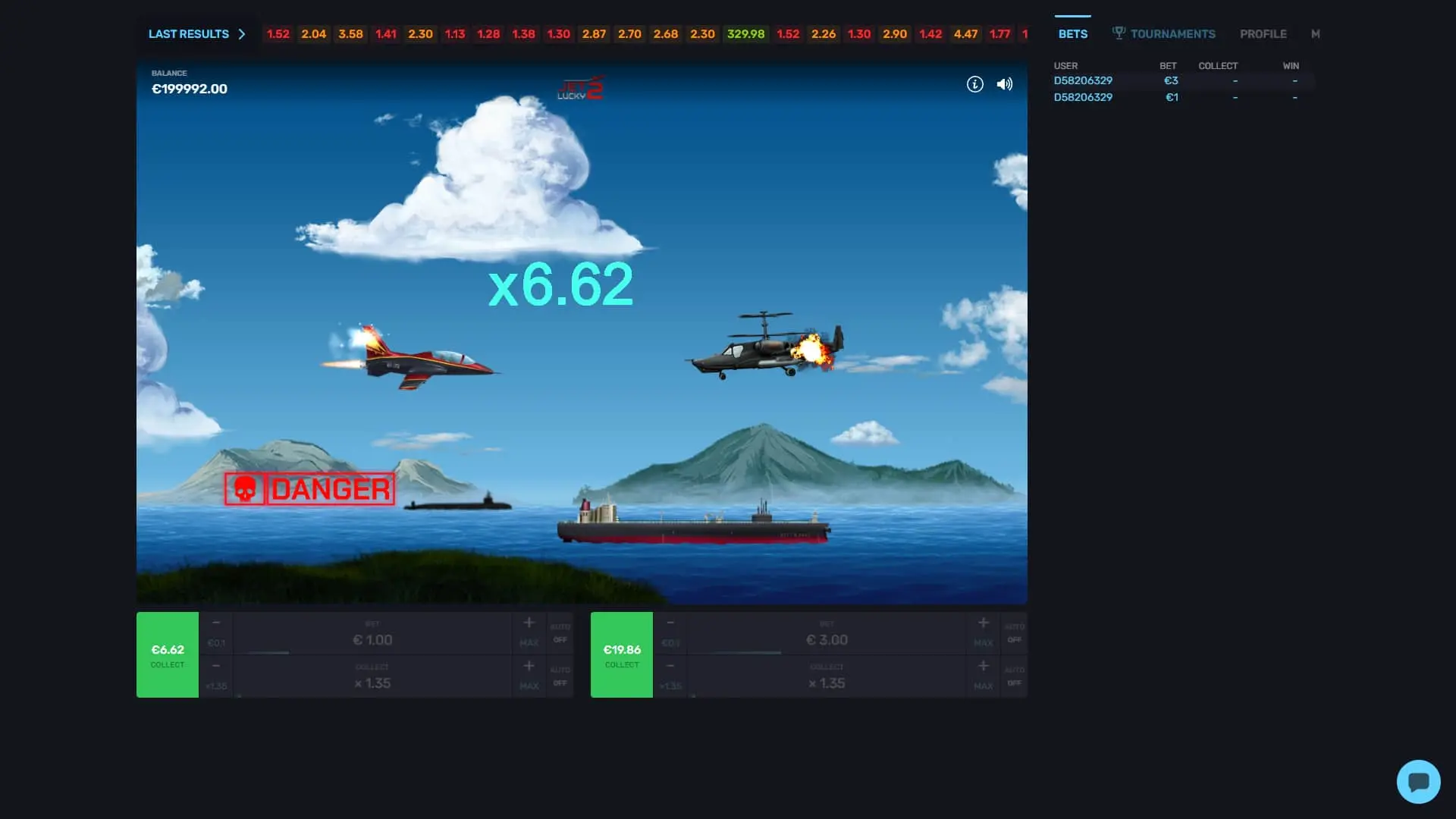 To create the most inclusive gambling experience, casinos work with different creatives. These are mainly software developers who create games with diverse ideas and backgrounds. JetLucky 2 is a product of Gaming Corps, a Swedish-born developer focusing on iGaming and interactive entertainment. It's a publicly traded company in Stockholm on Nasdaq with the ticker symbol GCOR. That should assure you that Gaming Corps is dedicated to offering the best value to the gambling community, who might also be part of the shareholders. The 2013 established studio has launched 25+ titles ranging from multiplier titles, mine, table games, casino slots, to plinko games. It works with over 400 online casinos, making its games easily accessible. In addition, the firm opened a studio in Malta in 2020 after being licensed by the country's gaming authority in February of the same year.
Jet Lucky 2 is an exciting and easy-to-learn game. Anyone can get the hang of it within just a few minutes. What's more, it has a demo version allowing you to play for free until you can fund your account with real money. It comes with a high maximum win of 10,000x and a low house edge of only 4%. This leaves you a high chance of winning if you're consistent and strategic. It's 100% random, and this can be verified using the provably fair calculator on the main website. While probability is king, you may still increase your probability of success by using strategies such as martingale and double bets. Add luck and proper money management to that, and you're good. The game is fast-paced, with a quick cash out. If you're lucky enough, you may get free bets and multiplier bonuses as you keep wagering. So, why not give it a try?
How do I win big in Jet Lucky 2?
There is no surefire strategy for winning big. Enemy attacks are random and unpredictable. Of course, you may target high multipliers a couple of times, considering the high RTP of 96%. However, it would be best to cash out a small amount until you have accumulated a reasonable sum before you can start taking huge risks.
How can I ensure fair play in Jet Lucky 2?
The game is provably fair, meaning players can confirm randomness and fairness. The winning coefficient is generated before the fighter jet launches and displayed in the setting section. The data can always be checked using an online provably calculator combining server seed, client seed, and nonce.
What is the maximum bet amount in Jet Lucky 2?
You can bet a maximum of 100 credits per wager. This could be $100 or equivalent in any currency of your choice.
What happens if I encounter technical issues while playing Jet Lucky 2?
Suppose you encounter technical issues while gaming; you can always contact your casino's support department for help. Top gambling sites such as Stake.com have a 24/7 live chat feature and customer care email addresses for such purposes.