stake
Minimum Stake: 0.20
Maximum Stake: 100
supplier
Gates of Olympus Demo Play
Where to Play Gates of Olympus?
Casino
Bonus
Features
Payments
Banking
Licenses
$500 or 5 BTC + 180 FS
Live Casino
Generous welcome bonus
Large selection of games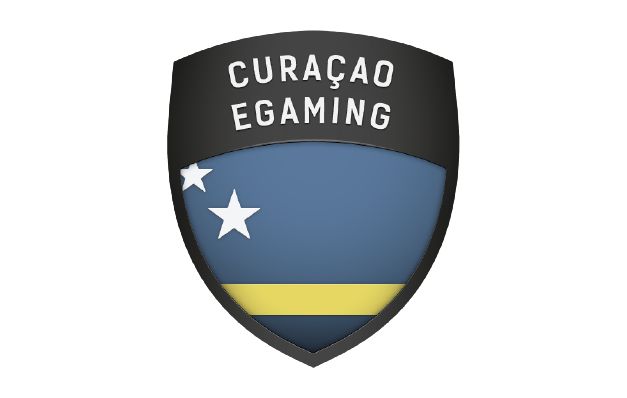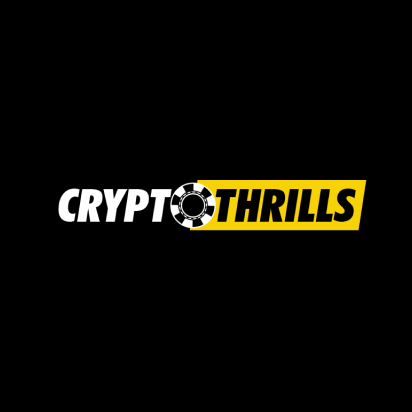 599% up to 1,000 mBTC & 59 Free Spins
Impressive range of bonuses
Crypto Casino
Strategy guides
Up to 200$ Deposit Match in the currency of your 1st deposit
Excellent on mobile
No KYC needed
Fast transactions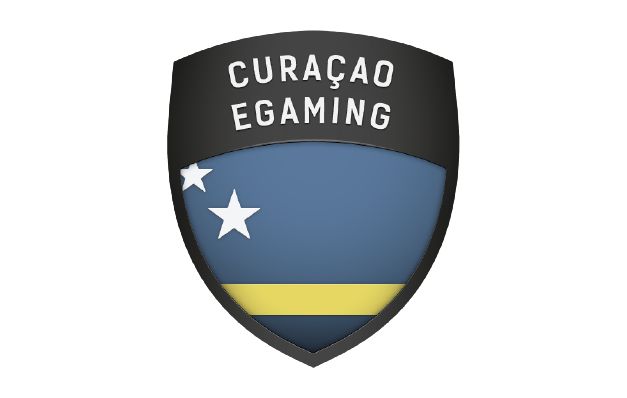 Gates of Olmypus Slot: Overview
Gates of Olympus is a 6-reel slot game released on February 25th, 2021, by Pragmatic Play, known for their high-quality and immersive gaming experiences. The game takes you on a journey to ancient Greece, immersing you in a world of myth and legend. The game features a visually stunning design, with symbols depicting Greek gods such as Zeus and several mythical creatures.
The slots machine's captivating theme, centered around Greek mythology and the majestic world of Olympus, gives the game a thrilling experience for enthusiastic players about ancient Greek gods and culture. It is worth noting that Gates of Olympus is available at various crypto casinos, catering to players who prefer using digital currencies for their online gambling activities.
Alongside its availability at crypto casinos, Gates of Olympus features a range of exciting gameplay mechanics. The mechanics include the Tumbling Reels, Multiplier, Free Spins, and Ante Bet features. The features and availability of crypto casinos make the game popular among players.
How to Play Gates of Olmypus with Crypto?
Playing Gates of Olympus with crypto is an exhilarating experience that combines the excitement of online gaming with the revolutionary world of cryptocurrencies. To access the slots machine with cryptocurrency, follow these steps:
Sign up at a reputable casino: The first step is to sign up at a reputable online casino that offers Gates of Olympus and supports cryptocurrency transactions. You can opt for one of our recommended casinos that offer a secure and enjoyable gaming experience. These recommended casinos have been thoroughly vetted for their reliability, game variety, and commitment to player satisfaction.
Deposit cryptocurrency: Once you have successfully signed up, the next step is to deposit your desired cryptocurrency. All our recommended casinos provide a wide range of top cryptocurrencies, including BTC, ETH, USDT, and LTC. To deposit, navigate to the cashier or deposit section of the casino's website or app. From there, select your preferred cryptocurrency from the available options, and transfer the desired amount of cryptocurrency from your wallet to the casino's wallet.
Search for "Gates of Olympus": Once your deposit is confirmed and your casino balance reflects the deposited cryptocurrency, you'll be ready to explore the exciting world. You can use the convenient search bar and enter the game's title for quick access. Alternatively, you can browse through the slots category to locate the game.
Set your bet: The next step after locating the title is to wager. You'll find options to adjust your bet size within the game interface. You should take a moment to consider your betting strategy and choose a bet that suits your preferences and bankroll. With your bet set, get ready to spin the reels and immerse yourself in the captivating game.
Spin the reels: Lastly, it's time to spin the reels. With your bet set, click the spin button or activate the auto-spin feature to set the game in motion. Watch as the reels come alive, filled with symbols from Greek mythology. Watch for winning combinations and exciting bonus features as the reels spin.
What Cryptocurrencies Are Acceptable?
You'll find several popular options when playing with cryptocurrency. These include popular options that provide convenient and reliable options for players to enjoy thrilling gameplay while embracing the benefits of digital currencies. Here are some of the specific cryptocurrencies commonly accepted:
Bitcoin (BTC)
Ethereum (ETH)
Litecoin (LTC)
Dogecoin (DOGE)
Ripple (XRP)
Tether (USDT)
Bitcoin Cash (BCH)
These are just a few examples of the cryptocurrencies you might find accepted for playing. Keep in mind that the availability of specific cryptocurrencies may vary depending on the online casino you choose to play at.
Gates of Olympus Slot RTP, Details & Wager Limits
Gates of Olympus Slot is a captivating game that offers players an immersive and rewarding gaming experience. This section discusses the game's critical details, including its Return to Player (RTP) percentage, reel setup, bonus features, and wager limits.
Firstly, the game boasts a competitive RTP of 96.5%. This high RTP indicates that you can expect a favorable return on their wagers over an extended period. It adds to the game's appeal and showcases its attractive payout potential, making it an enticing choice for players seeking lucrative rewards.
The game features a 6-reel setup, providing a unique and expanded playing grid. With six reels and five rows, the slot machine offers ample opportunities for winning combinations to form. It utilizes a traditional payline structure, offering 20 fixed paylines, which means you can create winning combinations by landing matching symbols on any of these 20 lines.
When it comes to wager limits, Gates of Olympus provides a flexible betting range to accommodate players with varying preferences. The minimum bet typically starts at $0.20, allowing players with smaller budgets to enjoy the game without breaking the bank. On the other hand, the maximum bet amount can reach up to $100 or more per spin, catering to high-stakes players who seek the thrill of wagering larger amounts and potentially reaping significant rewards.
The game's wide wager limits ensure that casual players and high rollers can find a betting level that suits their style and budget. Whether you prefer smaller, cautious bets or the adrenaline rush of high-risk wagers, Gates of Olympus Slot offers the flexibility to cater to your individual preferences.
With its competitive RTP percentage, exciting 6-reel setup, fixed paylines, and wager limits, Gates of Olympus Slot provides an immersive and potentially lucrative gaming experience. However, you need to check the information provided by the online casino you choose to play at, as these details may vary slightly.
Features
The slot offers a variety of key features that enhance the gameplay experience, providing players with innovative features and the potential for significant wins. Let's explore these features and the game's diverse cast of characters to learn more about how their unique abilities add complexity and intrigue.
There are four unique features:
Tumble
The Tumble feature of the game is launched whenever you spin the reels, and a winning combination is produced. All the symbols that were a part of the winning combinations then vanish from the reels. The beauty of this feature is that it keeps going as long as new winning combinations are made, and there is no cap on how often this can occur. New symbols, then drop down and fill in the spaces left by the earlier ones. All wins are tallied up after this feature is finished, and you are paid out.
Multiplier
A multiplier feature and the Olympus Bonus feature may be active during the base game. Some symbols have random multipliers attached, which can add to one another to produce significantly higher payouts. All multiplier symbols on the screen will be added once the reels have stopped spinning and the Tumble feature has ended. The total value will then be multiplied to determine the total win.
Free Spins
The game offers a free spins feature triggered by landing three or more scatter symbols on the reels. The number of free spins awarded varies based on the scatter symbols obtained. During the free spins, the Tumbling Reels and Multiplier features remain active, enhancing the chances of consecutive wins and multiplied payouts.
Ante bet
The Ante Bet feature increases your chances of getting to the free spins feature. You do this by clicking in the box to the left of the reels; this way, you pay 25% more in total bet. This doubles your chances of getting scatter symbols.
Additionally, players can expedite their journey to the free spins feature by utilizing the Buy free spins feature, where they can activate the bonus round by paying 100 times their bet.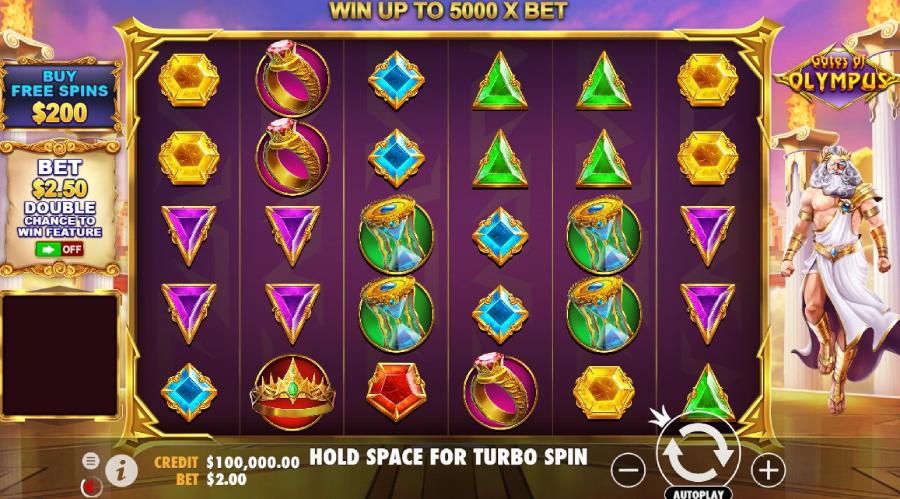 Gates of Olympus immerses players in the captivating world of Greek mythology. Players are treated to a visually stunning experience from the moment the game loads. The six reels and five lines of symbols are showcased at the center, with flames in the corners, reminiscent of the famous flames associated with Greek Mythology and the Olympics. The presence of Zeus floating to the right adds an element of power and determination.
The graphics are genuinely delightful, with smooth animations and intricate artwork. The attention to detail is evident, creating an immersive environment that makes players feel part of an unfolding story.
The unique theme is evidence of the care and thought put into its development. The immersive graphics and engaging gameplay make it a top choice for players seeking an unforgettable slot experience. The slot is undoubtedly a remarkable addition to any casino's collection of most played slots.
The well-structured layout has six reels and five rows of symbols, offering a generous playing area. The color scheme is carefully chosen to evoke a sense of grandeur and mystery, with rich gold, blue, and purple hues dominating the screen. The sleek and visually appealing aesthetic reflects the mythological theme and creates an immersive atmosphere for players.
Audio is crucial in enhancing the gaming experience in Gates of Olympus. The intense soundtrack, composed by an orchestra, sets the stage for an epic adventure. With its percussion, string, and wind instruments, the dramatic tune transports players to a big movie fight scene, heightening the excitement and anticipation. Additionally, the sound effects triggered by winning combinations and the activation of bonus features add an extra layer of immersion. As the game gets noisier with these sound effects, it signals the potential for bigger wins, further amplifying the thrill of the gameplay.
Combining the captivating design elements and the immersive audio creates a multisensory player experience. The stunning visuals and the intense soundtrack, accompanied by the strategic use of sound effects, work together to bring the game to life.
The visually stunning slot radiates excitement and vigor. It is based on the powerful sky and thunder god, who ruled as the king of gods atop Mount Olympus and was inspired by ancient Greek mythology. A magnificent combination of marble and gold is used in the game's visuals to create a regal and majestic atmosphere.
Greek mythology is expertly captured in the design of Gates of Olympus, which features stunning comic book-style imagery. The vibrant graphics are complemented by an upbeat soundtrack that matches the attention to detail and depth of the gameplay.
On the reels, you will encounter a variety of symbols. The lower-value symbols consist of beautifully crafted gemstones in hues of blue, green, yellow, purple, and red. These gemstones offer payouts ranging from 2 times to 10 times your bet when you land 12 or more of the same gemstone symbol.
In addition to the gemstones, there are higher-paying symbols that include a chalice, a ring, an hourglass, and a crown. When you land 12 or more of these higher-paying symbols of the same type, you can expect payouts ranging from 12 times to 50 times your bet. These symbols give the gameplay a touch of grandeur by reflecting the luxurious atmosphere and wealth associated with Greek mythology.
The scatter symbol in the game is represented by the mighty Zeus himself. Landing 4, 5, or 6 scatter symbols anywhere on the reels will award payouts of 3 times, 5 times, or 100 times your bet, respectively. Zeus, being the ruler of the gods, holds significant importance in the game and provides an opportunity for substantial winnings.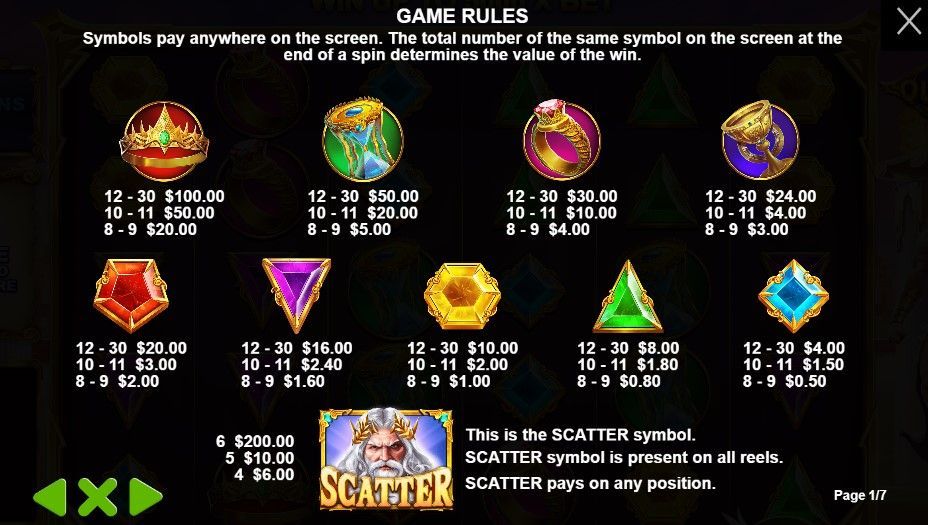 Volatility refers to the frequency and size of wins players can expect while spinning the reels. Gates of Olympus is a highly volatile game, which significantly impacts gameplay and potential winnings.
In a highly volatile game, players may experience longer intervals between winning combinations. It's common to go through periods where wins are less frequent, creating a sense of anticipation and excitement as players chase those big wins. This volatility adds an element of suspense and thrill to the gameplay as players eagerly await the potential for significant payouts.
When the wins occur, they tend to be substantial. High volatility slots are known for their potential to deliver large payouts, often multipliers or bonus features. These significant wins can compensate for the less frequent wins during gameplay, leading to exciting and potentially lucrative gaming sessions.
However, it's important to note that during dry spells where wins are less common, you must exercise patience and maintain a suitable bankroll to ride through these periods. Managing your budget and playing responsibly can help ensure an enjoyable gaming experience, even during these dry spells.
In short, the high volatility level of Gates of Olympus Slot means that players can expect less frequent wins but with the potential for substantial payouts. It creates an exhilarating gaming experience where each spin holds the promise of hitting that big win and unlocking the treasures hidden behind.
Gates of Olympus slot is not only accessible on desktop computers but also optimized for seamless gameplay on mobile devices. This mobile compatibility allows you to enjoy the game on your smartphones and tablets, providing a convenient and flexible gaming experience.
Whether you're an iOS user with an iPhone or iPad, or an Android user with a wide range of compatible devices, you can easily access the slot on your preferred platform. The availability of iOS and Android devices ensures that players with different mobile devices can enjoy the captivating gameplay and potential rewards it offers.
One of the standout aspects of the Gates of Olympus mobile version is its user-friendly interface and intuitive controls designed specifically for mobile play. The game developers have carefully crafted the interface to provide a seamless and enjoyable experience on smaller screens. Navigating the game, adjusting your bets, and accessing various features and settings are all effortlessly accomplished with intuitive gestures and taps.
The mobile version retains all the fascinating features and elements of the desktop version. You'll still experience the innovative gameplay mechanics, engaging bonus rounds, and the potential for big wins right at your fingertips. The stunning graphics, enchanting sound effects, and immersive visuals are all optimized for mobile devices, providing an equally captivating experience on smaller screens.
Gates of Olympus Mobile offers the freedom to enjoy the game anytime. Whether commuting, waiting in line, or simply relaxing at home, you can delve into the mythical realm and spin the reels at your convenience. The game's mobile compatibility allows for a flexible and on-the-go gaming experience, ensuring you never miss out on the excitement.
Pros
Immersive gameplay with innovative features
Availability at crypto casinos
High 96.5% RTP rate
Desktop and mobile compatibility
High-quality graphics and visually stunning experience
Cons
Limited bonus features compared to other slot games
High volatility may result in periods of dry spells
This is an immersive slot game that takes players through Greek mythology, featuring exciting gameplay mechanics and a visually stunning design. The Pragmatic Play game offers innovative features such as Tumbling Reels, Multipliers, Free Spins, and an Ante Bet option. Furthermore, the game is available at crypto casinos, providing enhanced privacy and faster transactions.
The availability of crypto casinos sets Gates of Olympus apart. These casinos support various popular cryptocurrencies, including Bitcoin, Ethereum, Tether, Litecoin, Dogecoin, Ripple, and Bitcoin Cash, providing players with a wide range of options for their gaming transactions.
Overall, the slot stands out as a visually stunning and immersive slot game that combines the allure of Greek mythology with the convenience and excitement of cryptocurrency transactions. Its captivating theme, innovative features, and availability at crypto casinos offer players a thrilling and potentially rewarding gaming experience. Whether you're a fan of Greek mythology or simply looking for an engaging slot game, Gates of Olympus will captivate your senses and keep you spinning the reels in anticipation of big wins.
Are there free spins or bonus rounds?
Yes, there are Free Spins and Bonus Rounds to enhance your gaming experience. The Free Spins feature is triggered by landing scatter symbols on the reels, which grants you a certain number of free spins. The Bonus Round, on the other hand, can be instantly activated through the Buy free spins feature, allowing you to access the bonus gameplay without waiting for the scatter symbols to appear naturally
What are the wagering limits?
Typically, the minimum bet can start as low as $0.20 or currency equivalent, allowing players with smaller bankrolls to enjoy the game without significant risk. On the other hand, the maximum bet can vary and go as high as $100 or more, providing high-rollers with the opportunity to play at more significant stakes and potentially win substantial rewards. It's always recommended to check the specific wagering limits at the casino.
Can I play for free in demo mode?
Many online casinos allow you to play Gates of Olympus in demo mode for free. This allows players to try out the game, explore its features, and get familiar with its mechanics without risking real money. However, it's important to note that you won't be able to win real money while playing in demo mode. If you want to play for real and have a chance to win actual cash prizes, you will need to switch to the real money mode and place bets using your funds.
Is Gates of Olympus Slot fair and random?
Yes. The game operates using a random number generator (RNG), ensuring that every spin's outcome is independent and unbiased. This means the results are not influenced or manipulated, providing a fair playing field for all players. Gates of Olympus is also developed by Pragmatic Play, a reputable and trusted game provider known for its commitment to fairness and transparency.