stake
Minimum Stake: 0.01
Maximum Stake: 100
supplier
Where to Play Book of Dead?
Casino
Bonus
Features
Payments
Banking
Licenses
$500 or 5 BTC + 180 FS
Live Casino
Generous welcome bonus
Large selection of games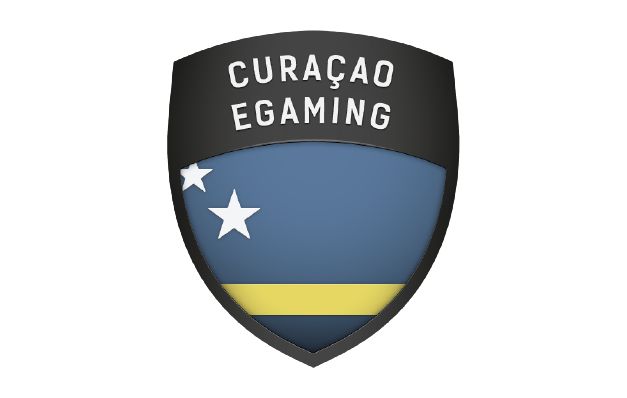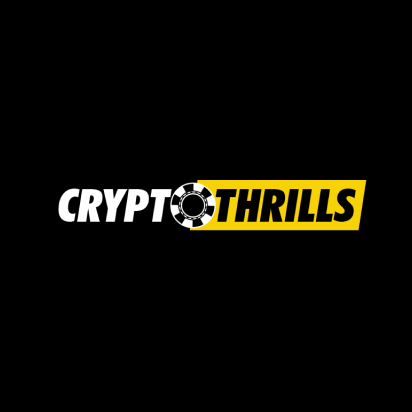 599% up to 1,000 mBTC & 59 Free Spins
Impressive range of bonuses
Crypto Casino
Strategy guides
Up to 200$ Deposit Match in the currency of your 1st deposit
Excellent on mobile
No KYC needed
Fast transactions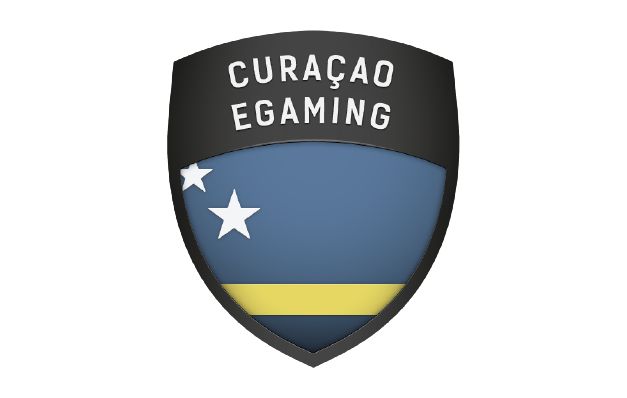 Book of Dead Slot (Play'n Go): Overview
Book of Dead is a reinterpreted version of the ever-popular Egyptian theme developed by Play'n Go, a renowned game provider known for developing top-tier Slot titles. Founded in 2005, it has consistently delivered high-quality gaming experiences with innovative features and recurring captivating themes in the online gambling industry.
One of its most recent game successes is Book of Dead. It was launched in 2016 featuring a mystical Egyptian theme with one central special feature bonus as the game revolves around a powerful Book of Dead artifact that holds the secret to winning or losing the game of slots. As players spin the reels, they follow Rich Wilde, the explorer symbol, on his quest to find the hidden Egyptian treasures, so get ready to play a game full of mystery and winning excitement with its immersive sound effects and engaging gameplay.
How to Play Book of Dead with Crypto?
Here's how you get started with Book of Dead slot:
Choose an online casino: To begin your adventure in Book of Dead, first select a reputable online casino that offers this game. Next, ensure the casino is licensed and secure, with a wide selection of other games and payment options.
Create an account and deposit funds: Sign up for an account at the chosen online casino, providing the necessary personal information. After verifying your account, deposit funds using your preferred payment method.
Find the game: Navigate to the slots section of the casino and search for "Book of Dead" or browse through the list of available games. Then, click on the game to open it.
Set your bet: Before spinning the reels, adjust your bet size by selecting the coin value and the number of coins per line. You can choose to play with as little as one coin per line or as many as five coins. The game features ten adjustable pay lines, allowing you to decide how many lines you want to bet on.
Spin the reels: Click the spin button to set the reels in motion. If you land a winning combination of symbols on an active pay line, you will receive a payout based on the game's paytable. You can also use the autoplay feature to set a specific number of spins to run automatically, allowing you to sit back and enjoy the game without manual intervention.
Unlock bonus features: Keep an eye out for the special Book of Dead symbol, which acts as both a wild and a scatter. Landing three or more of these symbols anywhere on the reels triggers ten free spins with an expanding symbol, increasing your chances of winning big. Additionally, after each winning spin, you have the option to gamble your winnings in a mini-game, where you can potentially double or quadruple your payout by correctly guessing the color or suit of a playing card.
Book of Dead Slot RTP, Details & Wager Limits
RTP, or the return-to-player symbol, indicates how profitable the video slot game is for the developer. It shows how much players are expected to get back if they play Book of Dead. However, the payout percentage is based not on a few spins but on a sample of thousands or hundreds of thousands of spins. The game we're featuring has an RTP of 96.21% as the company's website presentation, and this means that for every $100 players wager on Book of Dead, they can expect to get back $96.21. As we mentioned, the payout is done over a longer period, and players should expect to avoid immediate payouts since RTP is calculated on a longer timeframe.
Book of Dead is a classic video slot that includes more than the standard of 5 pay lines. Instead, the game features 10 total pay lines across 5 reels, each containing 3 characters per reel. Additionally, 3 types of symbols can be found in the game, including regular symbols, premium symbols with higher payouts, and a special symbol that acts as a wild. Finally, while Book of Dead was the initial scatter, Play'n Go also has video slot variations where Wilds have switched to Tomb Scatters rather than Books.
The only bonus triggered by the scatter is the Free Spins bonus with special expanding symbols. The game's payout can be changed, and players can choose how many pay lines they want to bet on, something that the casinos regularly impose. From the 10 lines, players can work their way downward and not bet on so many lines, which also decreases their bet size. In terms of bet size, the game allows players to adjust the coin value from 0.01 to 1 while also changing the number of coins added to the bet. Players can add a maximum of 5 coins, which leads to a maximum bet of $50 or a minimum bet of $0.10.
Autoplay features are also enabled by the game provider as well as fast spins. There are options to select the number of spins you want to autoplay or impose conditions to stop on:
Any win
If a win exceeds an amount
If the balance increases by an amount
If the balance decreases by an amount
Book of Dead features high-quality graphics and animations, which create an immersive and engaging atmosphere for players. The key theme in Book of Dead is ancient Egypt and the mysticism around pharaohs and mummies. These themes are prevalent in the game scenario and are visible in symbol fonts, the characters, and even in how the screen and backdrop are filled out. To show that ancient Egypt is everywhere in the game, the premium symbols featured include Osiris, Anubis, and Horus, all part of Egypt's mythology and intricately designed to feature rich details that add to the overall quality of the game.
The game's background image is set inside a pyramid, where the spinning reels can unlock the keys to a grandiose temple. The colors used include light sandy colors, perfectly matching our idea of an ancient pyramid. What's more, is that regular symbols are inspired by hieroglyphic writing.
Finally, the animations are fluid and provide a seamless game experience, with symbols like the Book of Dead coming to life when they trigger. Then, finally, the book opens, and the special feature gets activated!
Design and audio are crucial components of slot games. They significantly contribute to the overall player experience because players can easily get captivated by audio elements that fit with the overall game graphics. The Book of Dead has created symbols yet specific soundscapes that fit with the slot's design and theme to create a complete gaming experience.
When looking at the design features, the game has bright color symbols on a sandy yet pale background. The general reel is placed between the palace columns with Egyptian elements like hieroglyphs, and ancient writing, while the reel's frame is in light gold. The animation and symbols pay homage to the Egyptian culture and its mythology with premium symbols showcasing the gods of funeral rites – Anubis, the god of the sun – Horus, and the god of fertility – Osiris.
The level of creativity in Book of Dead is nothing special, with light visual aids when wins occur and a special feature matching a treasure hunter that unlocks the key to a secret door. So when it comes to animations, while they are simple, they have a significant effect on the players since they fit in perfectly with the overall setting.
Finally, the audio feature use ancient Egyptian music, and after a win, de developers change the rhythm of the sounds to make them feel like they're entering a winning quest. Overall, the sound effects are ideal for the game as every win triggers coin sounds that push players to play even more and get hooked to the sound of clinking coins.
In Book of Dead, the symbols and their respective payouts play a crucial role in determining the potential winnings for players, and the game has a mix of regular symbols with basic payouts, premium symbols that can trigger the biggest game payout and special symbols that are characteristics to the game's features. Each symbol is designed to fit the ancient Egyptian theme, and it's important to know how each symbol pays out before playing the game. So here's a breakdown of all the symbols in the game:
Regular Symbols
There are two levels of regular paying symbols you should know as there are similarities between their payouts:
Q, J, and 10: These symbols offer the lowest payouts in the game. Three symbols pay 0.5 the stake, four symbols pay 2.5x the stake, and five symbols pay 10x the stake.
A and K: These symbols have a bigger payout than the latter, where they pay 0.5x the stake for three characters, 4x the stake for four symbols, and 15x the stake for five symbols.
High-Paying Symbols:
Rich Wilde: As the main character and protagonist of the game, Rich Wilde is the highest-paying symbol. Landing five Rich Wilde symbols on an active pay line awards players 500x their stake. Wilde's have a payout of 100x the stake; three characters have 10x the stake, while 2 of them have 1x the stake, essentially money back.
Pharaoh: The Pharaoh symbol is the second-highest paying symbol, offering a payout of 200x the line bet when five of them appear on an active pay line. Four of them have a payout of 40x the stake, three have a payout of 4x, and two of them have a payout of 0.5 the stake.
Horus: Representing the Egyptian god of the sky, the Horus symbol pays 75x the wager when five appear on an active pay line. Four of them offer a payout of 10x, 3 of them 3x payout, and two a payout of 0.5 the stake.
Anubis: The god of the afterlife has a similar payout as Horus, with a maximum payout of 75x the wager.
Special Symbols
Book of Dead is the only symbol with special features, which also acts as a wild. The symbol is also a scatter; hitting three can trigger a bonus round. As a Wild symbol, it can substitute for any other symbol to complete winning combinations, and the symbols can pay independently if they appear on the reels. Three of them have a payout of 0.2x the bet, four a 2x the bet size, and five a 20x the bet size. As scatters, they pay regardless if they are aligned with a pay line.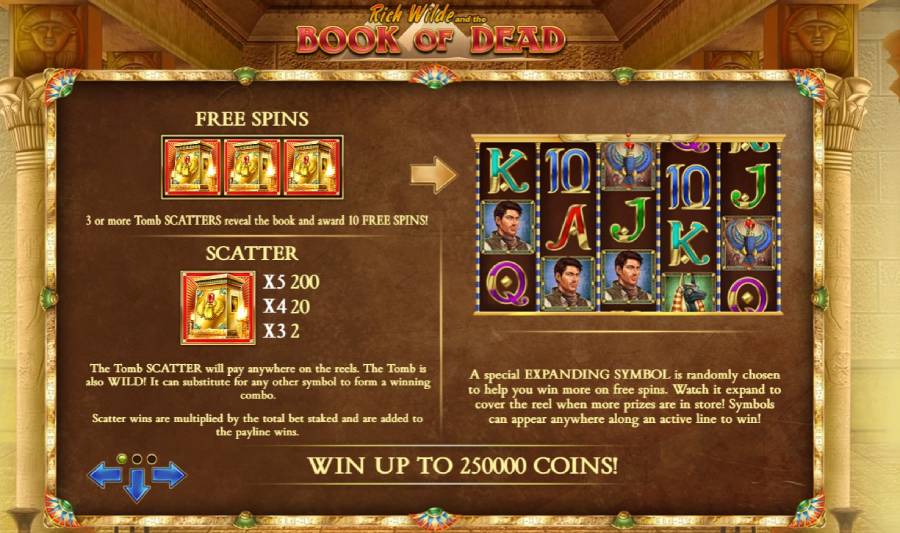 With an ongoing RTP of above 96%, Book of Dead is a medium to high volatility game that has high payouts and long periods of droughts – dead spins. Slot game volatility indicates how often a game triggers a win and how big the payout is. Games like Book of Dead, which are high volatility, have game hits that pay big, while other times, they have multiple reels that pay very lightly or pay nothing at all. A game's volatility also changes how players should approach their strategy and when to increase or decrease the stakes. In short, a game with high volatility levels is much riskier since it can crush your bankroll quite quickly; however, when the slot hits, your payouts would compensate for the losses. On the flip side, the casino's low-paying spins are not ideal for your bankroll, and that's why a high-volatility game has periods of monetary success but also high fund depletion.
The game is highly compatible with mobile and tablet devices since Play'N Go develops games that can be converted to smaller screens. Book Of Dead is mobile-compatible since the game is developed in HTML5, which helps the graphics and game features to adapt to any platform size easily. There are no notable differences between the mobile and desktop versions, as the graphics, layouts, and features all stay the same. What's different is the size of the text. However, the spin buttons are adapted to be easy to press.
On Book of Dead, only a bonus feature triggers when the special symbol appears on the screen. Although it's not much, that's the only way players can earn significant returns from spinning the slots.
Free Spins Feature
The Free Spins feature is triggered when three or more scatters (Books Of The Dead) appear on the screen. Even if on each reel there is a book, the game will trigger a standard of 10 spins. The good part about the bonus is that the game can retrigger forever if three books appear during the bonus round. The retrigger will also give players ten more free spins.
When three books appear, aside from the bonus, players get a payout of 2x the stake, 20x the stake if four books appear, or 200x the stake if five books appear.
Now, onto the bonus, which takes players into a secret room to assign the feature an expanding symbol. The players will see a single reel spinning, and when the reel stops, the symbol it lands on will expand. This means the symbol will expand to fill all the reels, and the expanding winning symbol can be regular or premium. However, they can never be unique symbols like a Wild. Regular symbols expand on three or more hits on different reels, while premium symbols like the Anubis or Pharos expand on at least two reels.
The bonus feature allows players to get the game's jackpot, which means a full screen of Richie Wild worth 5000x the stake. So, filling each reel with the expanding symbol allows players to hit win big if the reels align.
Of course, Wanted Dead or a Wild isn't perfect, no game is. So, we've collated the most relevant pros and cons to help players get a fast snapshot of what to expect:
Pros
Familiar egyptian gameplay
Easy to understand and follow the game
Egyptian cartoon theme
Chance to add conditions to autoplay games
Cons
Few pay lines
High volatility game
Possibility of lots of dead spins
As with some of the most known and in-demand video slots, they don't have to be extremely complicated to become a gambler's favorite game. Book of Dead, despite its simplicity and single-game feature, it's potential for big wins of 5000x the wager is getting players hooked. With a familiar theme, catchy sounds, and immersive gameplay that gets people right into the pharaoh's tomb, Book of Dead has all the necessary components to create an experience that's simple yet fulfilling and attracts players to return and continue seeking the Richi Wilde treasure. This article shows you how the game is played, your chances of winning, and what to expect when you first get started with Book of Dead. On that, the game has enough leverage and industry status to be considered for future years.
What is ‌Book of Dead RTP?
The RTP (Return to Player) of Book of Dead slot is 96.21%. This means that for every $100 you wager, you can expect to win back $96.21 on average. It is important to note that this is an average of thousands of spins, so your results may vary.
How do I win at Book of Dead slot?
There is no guaranteed way to win at Book of Dead slot, as it is a game of chance. However, you can do a few things to increase your chances of winning. These include setting a budget and sticking to it, choosing a reputable online casino, playing the maximum number of lines, and taking advantage of any bonuses or promotions the casino offers.
What is the minimum and maximum bet in Book of Dead slot?
The minimum bet in Book of Dead slot is $0.10, while the maximum bet is $50. This allows casual players and high rollers to enjoy the game at their own pace and budget.
What is the difference between Book of Dead slot and other slot games?
Book of Dead slot stands out from other slot games due to its Egyptian theme, high-quality graphics and animations, and potentially lucrative bonus features. The game also has a free spins bonus round, which can be triggered by landing three or more scatter symbols on the reels.
How do I choose a reliable online crypto casino to play Book of Dead slot?
To choose a reliable online crypto casino that offers Book of Dead slot, you should check the list of highly recommended casinos we reviewed above. Otherwise, you can ensure that the casino is licensed and secure, features instant payment methods, and offers high-quality customer support.
Can I play Book of Dead slot with cryptocurrency?
Many online casinos now accept cryptocurrency as a payment method, including Bitcoin, Ethereum, and Litecoin. However, you should always check with the casino to see what payment methods are available.
Are there any strategies for playing Book of Dead slot?
While there is no guaranteed strategy for winning at Book of Dead slot, some players recommend setting a budget, taking advantage of any bonuses or promotions offered by the casino, and playing the maximum number of pay lines to increase your chances of hitting a winning combination.