List of Top Metaverse Casino Sites
BC.Game – Metaverse Casino – Supporting Over 120 Cryptos
Decentral Games – The Top Casino Metaverse for Poker Players
Recommended by our Experts

BC.Game Casino

BC.Game Casino Review

Personalised bonus offer
Provably Fair Games
Low House Edge

Summary

BC.Game casino website will immediately catch your interest because it has a wheel of fortune that offers daily prizes of up to 1 BTC. Exceptional deposit and no deposit bonuses are the crown jewel of its promotions. Additionally, it offers several excellent casino games, including ones whose fairness can be verified. In this review, we shall go over the Games, Bonuses, and Promos provided by the casino.

Accepted Currencies

Main Features

Personalised bonus offer
Provably Fair Games
Low House Edge

Blockchain

Customer Support

Licences

Decentral Games

Decentral Games Review

Metaverse Casino
NFT bonuses offered
100% decentralized casino

Summary

Every internet user has come across the word 'metaverse.' If you haven't it's a 3D virtual reality world built on present and futuristic science fiction. Decentral Games is the first-ever casino to launch in the metaverse, powered by the Ethereum blockchain technology. It allows players to jump into the VR world and make money while playing games and interacting with each other via voice chat. DappGambl had a chance to review this futuristic casino and this is what we found out.

Accepted Currencies

Main Features

Metaverse Casino
NFT bonuses offered
100% decentralized casino

Blockchain

Customer Support
Metaverse Casino Sites Reviewed
1. BC.Game - Metaverse Casino - Supporting Over 120 Cryptos
Founded in 2017, BC.Game has become a well-known and popular metaverse casino with a wide range of games. The games include casino games, sports betting, and games like the lottery. BC.Game's unique selling points (USPs) include its huge gaming selection, which offers players access to casino games, sports betting, and lottery-style games. Also, there's the interface, mobile compatibility, bonuses, responsive customer service, security, and so much more.
Fans of casino games can choose from a wide range of original games, including dice, roulette, slots, and live dealers. Also, BC.Game lets you bet on more than 30 different sports, including soccer, tennis, basketball, and even eSports.
Like most metaverse casinos, BC.Games offer an enticing welcome bonus. Unlike other casinos, however, BC.Game provides a bonus on the first four deposits made, not just the first. The first deposit will attract a bonus of 180%, and the bonus amount rises with each subsequent deposit, up to 240% for the fourth deposit.
However, it's important to note that these deposit bonuses are paid in BCD, which is BC.Game's native currency. BCD is worth the same as USD, and it can be used to bet on any of the casino's games.
The government of Curacao has licensed and regulated this metaverse casino. This makes sure that its players are safe and secure. In addition, the casino provides 24/7 customer support via live chat and email. They also employ top-notch security measures to protect players' personal and financial information.
| Crypto Bonus | Wagering Requirements | Minimum Deposit | Available Currencies |
| --- | --- | --- | --- |
| 1260% Up to 220,000 BCD | N/A | N/A | 120+ cryptos |
Pros
Wide selection of games, including casino games, sports betting, and lottery-style games.
Attractive welcome bonus with bonus rewards on the first four deposits.
24/7 customer support is available via live chat and email.
The platform offers several cryptocurrencies, including Bitcoin, Ethereum, Litecoin, and Dogecoin.
Cons
Lack of information on the security measures in place to protect user data.
Some games have high minimum bets, which makes it hard for people who don't play often to join in.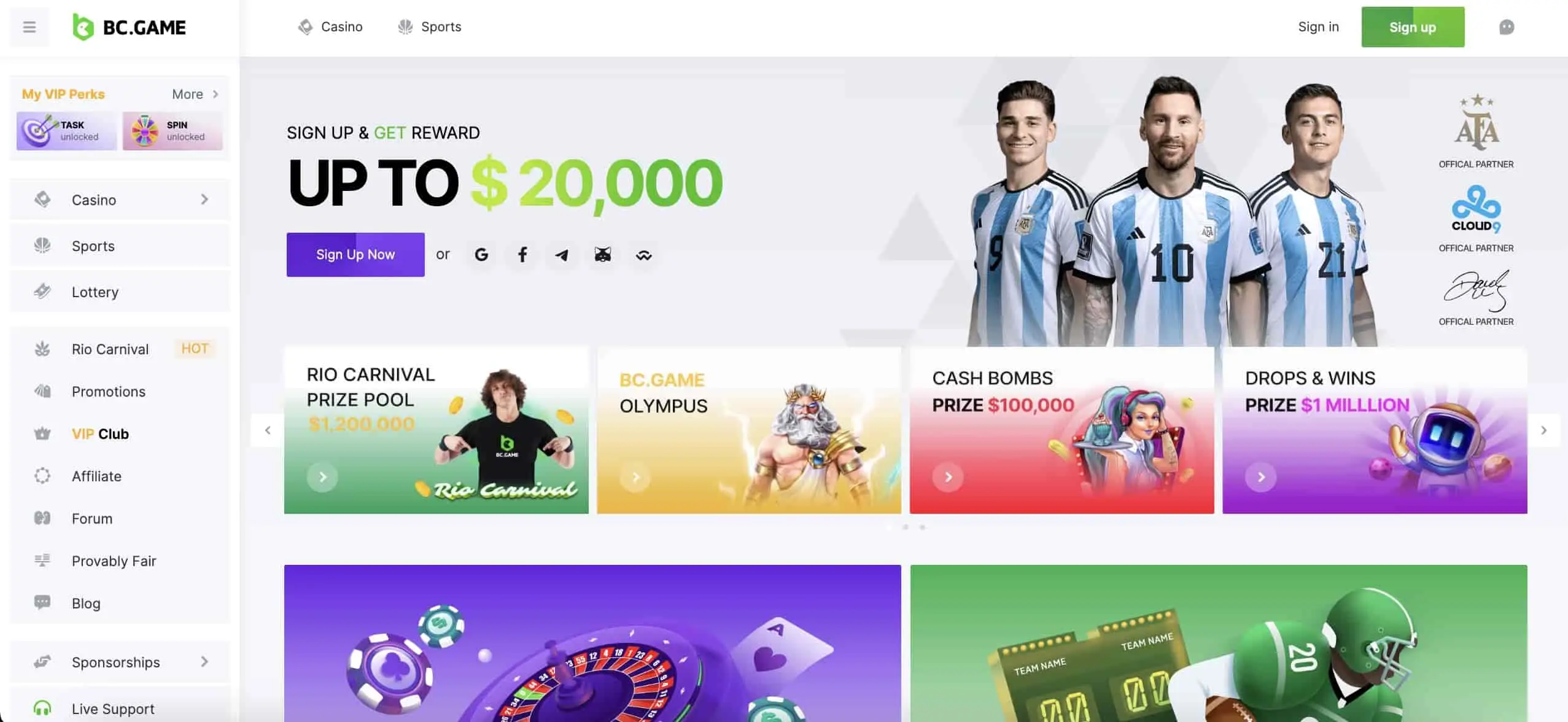 2. Decentralized Games - Top Casino Metaverse for Poker Players
Decentral Games is a top metaverse casino that stands out because it is the first virtual casino to be run by a DAO. This means that players have a say in the management and development of the casino. This is a groundbreaking feature not seen in other online casinos.
In addition to its unique way of running things, Decentralised Games has a large number of games that can be played with different cryptocurrencies. They include Ethereum, and its own token, DG. The casino has games like blackjack, roulette, and baccarat, as well as games that are only available in the metaverse.
Decentral Games was founded in 2020 and operates under a Curacao gaming license, which ensures players' safety and fairness. Users have given the casino an excellent rating, and it's available in many languages, including English, Spanish, and Chinese.
Decentral Games offers players a variety of bonuses and rewards, such as a welcome bonus of up to 300 DG and daily rewards for loyal players. It has a good name in the metaverse gaming industry because it has unique features, great customer service, and safe ways to pay.
| Crypto Bonus | Wagering Requirements | Minimum Deposit | Available Currencies |
| --- | --- | --- | --- |
| NFT wearable bonus + Play to earn & Play to mine | N/A | N/A | MANA, DAI, USDT, ETH, and ATRI |
Pros
First-ever DAO-governed virtual casino
Wide selection of games
Supports multiple cryptocurrencies
Generous bonuses and rewards
Excellent reputation and customer support
Cons
Only operates with a Curacao gaming license
Limited availability of certain games compared to conventional online casinos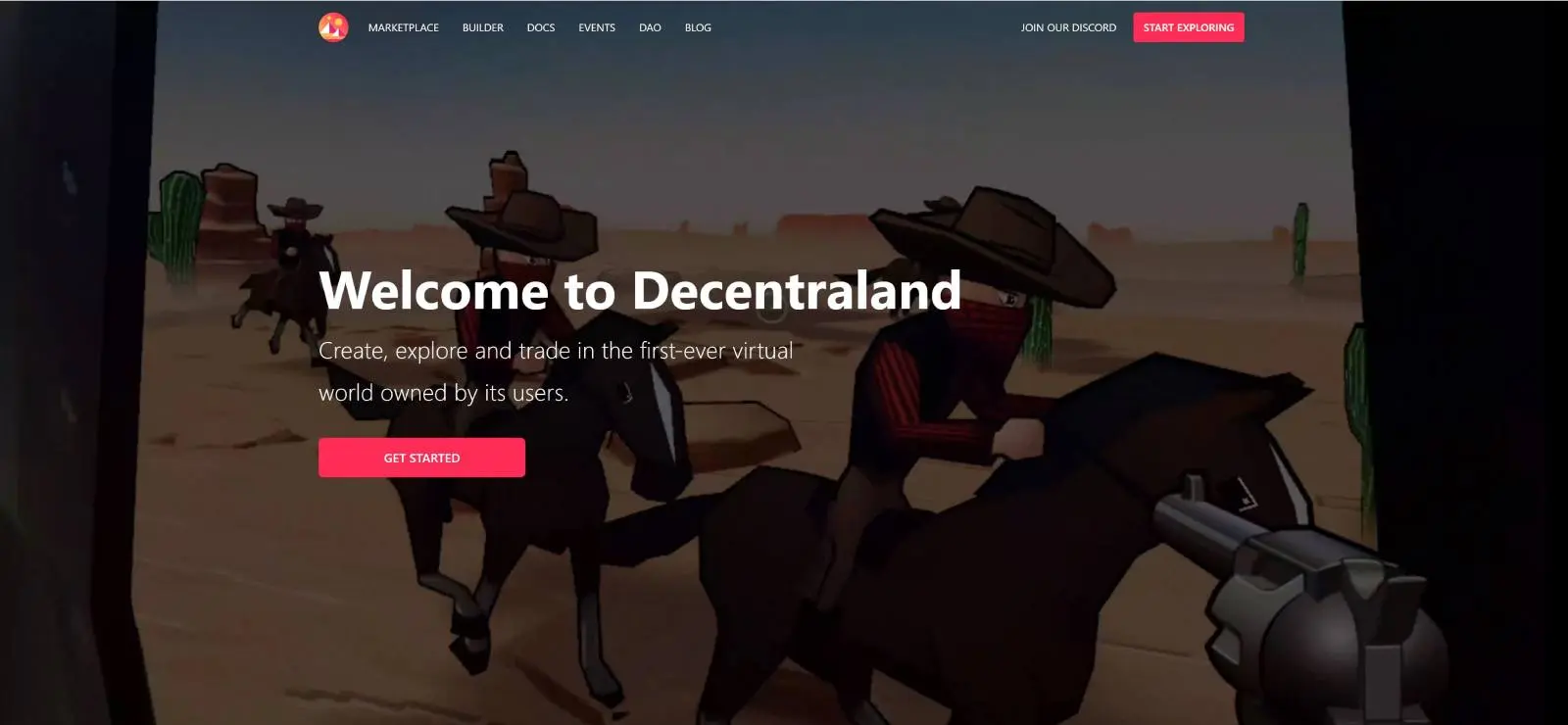 What is a Metaverse Casino?
Metaverse casinos are gambling platforms that are created to operate and provide gambling opportunities to gamblers in a metaverse. Like gambling dApps, metaverse casinos are built and run using blockchain technology. As a result, cryptocurrencies are the principal way to make and receive payments on these gambling platforms.
The game selection on most metaverse casinos is quite similar to casino games offered on traditional gambling platforms. As a result, gamblers will find casino games like Blackjack, Roulette, Backgammon, Poker, and Slots on our recommended metaverse casinos.
Metaverse casinos and virtual reality gambling using cryptocurrencies are still very new and most of them are currently in construction. As a result, there is only a limited number of metaverse casinos available in the gambling world, most of them currently in Decentraland.
More and more crypto gambling sites are incorporating metaverse elements into their online casinos. They provide players with the opportunity to experience live gaming without leaving their homes.
But how exactly do these casinos function? Below is an overview of how players can start playing at a metaverse casino:
Choose a Crypto Wallet
Metaverse casinos are created and run using blockchain technology. This means that digital tokens are the primary form of currency used on these gaming sites. Players need a secure crypto wallet that works well with their chosen metaverse so they can make transactions.
Connect Your Wallet to the Metaverse
Metaverse casinos don't require users to sign up or give KYC information, which makes them a good choice for people who want to gamble without a lot of hassle. To begin playing, users can simply visit their preferred metaverse platform and connect their wallets to gain access to the metaverse.
Design the Avatar
To get started, players are required to choose their avatar. Most platforms let players choose from a wide range of features, such as facial features, accessories, and outfits. It is also necessary to assign a name to the avatar.
Visit the Metaverse Casino
Once the player has chosen his or her avatar, he or she can either type in the coordinates of the metaverse casino's address to go straight there, or they can walk there. They can also take some time to explore other parts of the metaverse before heading to the casino. For example, Decentraland has many other places to have fun, such as parks, movie theatres, and recreational facilities.
Start Playing
To start playing, players only need to choose their preferred game from the casino options. The casino will then tell you step-by-step how to move forward with betting. However, many metaverse casinos also integrate NFTs into their platforms. They allow players to purchase blockchain-based NFTs that protect in-game items like virtual land and avatars.
Decentral Games is a network of casino dApps governed by token holders of its native DG token. In the decentral games network, governance is done using a Decentralized Autonomous Organization (DAO). However, this governance system only allows token holders to become the partial owner of the casino.
Decentral Games is run on two different types of blockchain; the Decentraland blockchain and the Matic blockchain. A unique feature of decentralized games is that they give users control over casino activities. This feature makes decentral games stand out among other gambling platforms across the globe.
Decentral Games offers two different types of Metaverse gambling experiences: ICE Poker and a normal Metaverse casino.
$DG token holders can stake their in-game token to earn up to 40% APY. Besides that holders also gain decision-making power in the casino and get the opportunity to add proposals.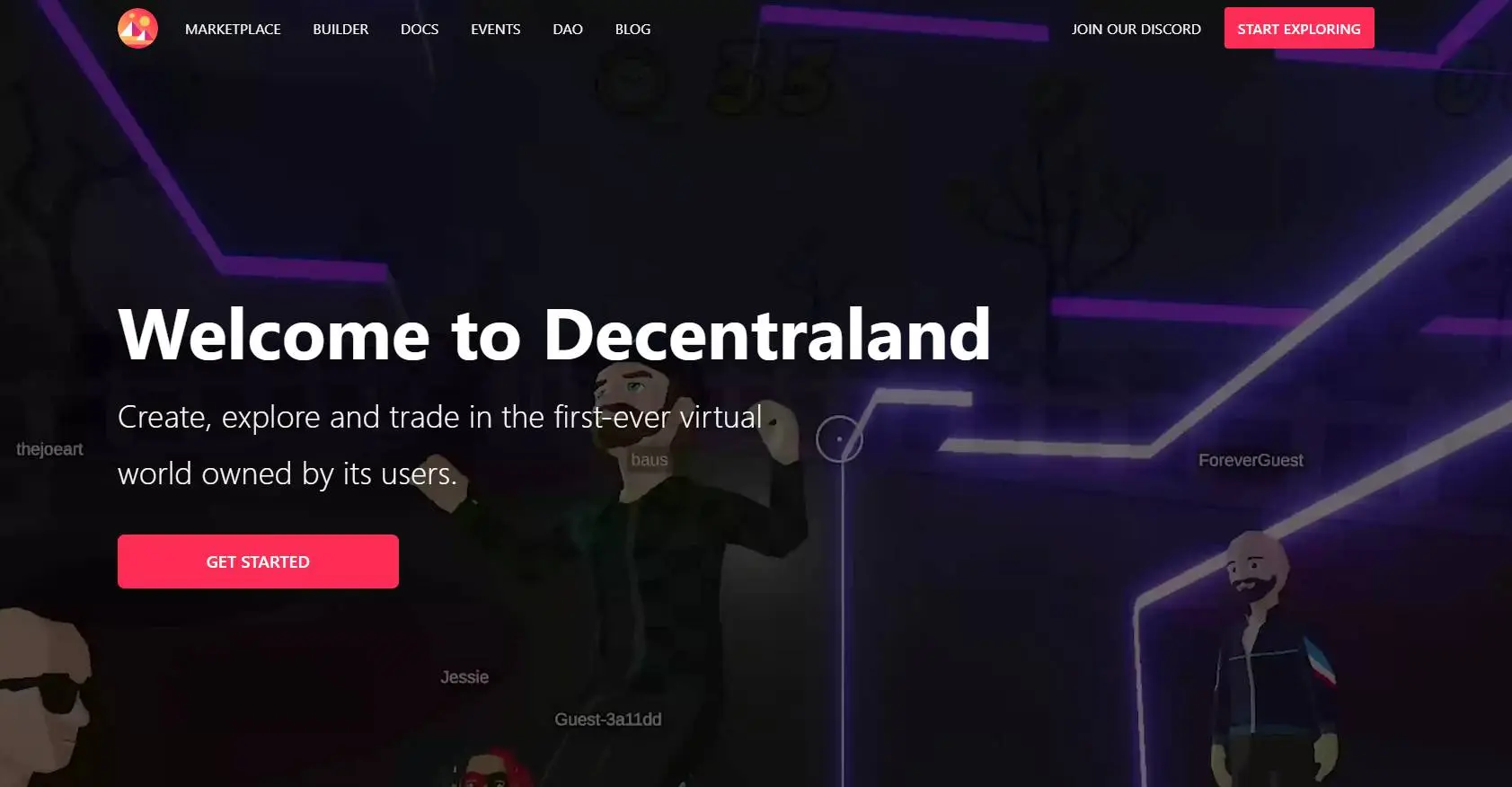 Types of Bonuses Available
Free Spins
In Metaverse online casinos, free spins are frequently given as bonuses for slot games. They can be used without the need for cryptocurrency. Free credit slots allow players to enjoy themselves without any risk.
Free Bets
Metaverse casinos that offer sports betting often provide free bets to their players. These free bets allow gamblers to try their luck once again without risking their own cryptocurrency. Additionally, some Metaverse casino games may also offer free chips as a reward.
Deposit Bonuses
The most prevalent type of bonus in metaverse casinos is the deposit bonus. They are usually given to players when they fund their casino accounts using cryptocurrencies.
While many casinos offer matching deposit incentives only to new customers, some also offer them to existing account holders. Some Metaverse casinos offer "no deposit bonuses" to new players. Players can use a free bonus credited to their account to try out casino games without risking their own money.
Metaverse casinos may offer no deposit bonuses to new players. This means that they will receive a bonus amount in their account without having to make a deposit. This bonus can be used to try out various games within the metaverse casino.
How to Select the Best Metaverse Casino?
Coming across the best metaverse casinos is not an easy task. However, the process of searching for the best metaverse casinos can be a fun prospect.
In the search for these casinos, it's not the usual visits to websites and devouring of terms and conditions. However, you can venture out into the metaverse to get a firsthand experience. To help you pick the best metaverse casino, you should pay close attention to the following factors:
Security Measures
When selecting a metaverse casino, it's important to consider security measures. Most metaverse casinos accept cryptocurrency, so customers don't have to give out a lot of personal information when they sign up. All that's needed to make a deposit is a compatible crypto wallet and digital funds.
Some metaverse casinos might also have a valid gaming licence, which is usually given out in Curacao because of tax rules. A licence can offer players some peace of mind by providing a level of transparency and legitimacy, though these are not guaranteed.
Variety of Games
Before choosing a metaverse casino game, it's important for players to see what games are available on the platform. Games like roulette, blackjack, dice, and poker are typical fare at casinos across the Metaverse. Some game categories may not have as many options on metaverse casinos as they do on regular cryptocurrency gaming sites.
Accepted Cryptos
Since all metaverse casinos are based on cryptocurrency, choosing one that accepts a certain range of virtual currencies is important. Even though most casinos only accept popular cryptocurrencies like BTC and ETH, many now also accept stablecoins like USDT and DAI.
Some casinos accept these well-known digital currencies, while others have started their own crypto tokens. If a casino uses this method, players must change their deposits into the casino's own currency before they can bet.
Payments and Withdrawals Speed
Metaverse Casino is great since it offers instant processing of deposits and withdrawals. Traditional casinos that use cash are easy to deposit money into, but withdrawals can take up to five business days, which is inconvenient for players.
It's incredible and builds trust when payments are made directly to a digital wallet. Compared to traditional casinos that use fiat currency, the ability of crypto casinos to quickly transfer winnings to a player's wallet makes them more attractive. This is due to the convenience and speed of cryptocurrency transactions. When you make a withdrawal from a Metaverse casino, you usually have to pay a network fee, which can change depending on how busy the blockchain network is.
NFT Offerings
Metaverse casinos provide a broad variety of NFTs, or digital assets (non-fungible tokens). NFTs might be derived from avatars to represent accessories, clothing, and other aspects. At certain establishments, gamers may even use NFTs to win slot machines or even real estate.
With the ability to acquire NFTs and then resell them to collectors, players at metaverse gambling sites may make a decent living. Before making a final decision, it's a good idea to learn about the different NFTs a metaverse casino has to offer and the long-term returns they might bring.
Events, Tournaments, and Promotions
Players would rather play at a casino that tries to keep its customers coming back. That is, a reputable metaverse casino that has its players at heart would provide sign-up bonuses. Some metaverse casinos provide deposit bonuses, chip giveaways, free bets, free spins, and other incentives to their players.
Customer Support
A metaverse casino that provides 24/7 customer support through live chat and email. But if a metaverse casino doesn't have live chat support, it should have a FAQ (Frequently Asked Questions) section with a lot of information. The help desk is considered to be the best option. These features allow players to easily receive assistance whenever they require it. But if a metaverse casino doesn't have live chat support, it should have a FAQ (Frequently Asked Questions) section with a lot of information.
Some metaverse casinos may offer a social media account specifically for players to get fast answers to their inquiries.
Gambling Apes is a Metaverse casino in Decentraland. For those not yet ready to enter the Metaverse, they also have a static online casino available.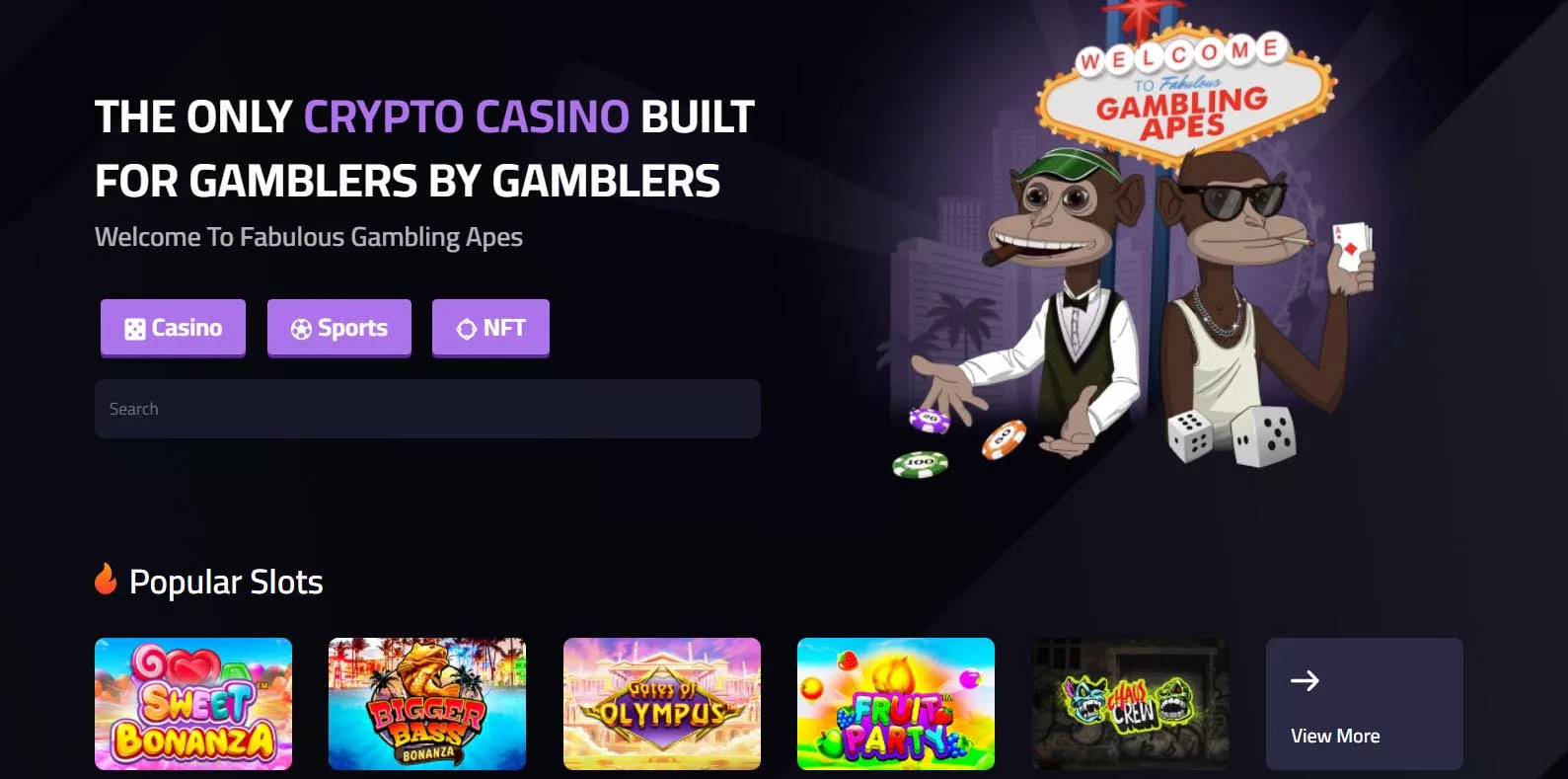 Benefits of Metaverse Casinos
There are several benefits attached to joining any of our ranked metaverse casinos. This section of our guide will reveal some of the benefits users of our listed metaverse casino will enjoy.

How To Play In A Metaverse Casino?
The process for playing casino games in a metaverse casino is very simple and uncomplicated. However, new players are expected to register and create a new account on their desired metaverse casino. This will also include creating your first digital twin, that will roam the metaverse casino of your choice.
Furthermore, users need to have their crypto wallets and link them to their personal accounts at the casino. Many of our listed metaverse casinos accept crypto wallets like Meta Mask, Fortmatic, and Wallet Connect.
If you wish to play in a metaverse casino, select and create any of these wallets. Decentral.Games is currently only compatible with Metamask. 
Choose one of the listed metaverse casinos on our list.
Connect your wallet. 
Fund your wallet with the native metaverse token. In Decentral.Games this would be DG.
After successfully connecting your wallet to play in a Metaverse casino and creating an avatar, you can enter the Metaverse casino.
Find your table and start betting with your funds in your web3 wallet. 
Metaverse casinos could change the world of cryptocurrency gambling by making it easier for players to talk and interact with each other in online casinos. But because the industry is just starting to grow, there aren't many games and bonuses to choose from right now.
Metaverse casinos are a new way for people to enjoy online gambling. They offer interactive games that can help people meet new people and build communities. At this early stage, the number of games and bonuses may be limited. However, the growing popularity of cryptocurrencies and improvements in virtual reality technology suggest that these casinos could change the way online gambling is done.
As more players learn about the benefits of metaverse casinos, we can expect them to become a standard part of online gaming, giving players all over the world a more interesting and socially connected experience.
How to find the best metaverse casino?
When choosing the best metaverse casino, you should think about its reputation, game selection, security, compatibility, bonuses and rewards, and customer service. By taking these into account, you can choose a metaverse casino that fits your gaming preferences and needs.
How secure and reliable are metaverse casinos?
Metaverse casinos utilize blockchain technology and cryptocurrencies, making them more secure and reliable than conventional online casinos. However, like any other online platform, they can be vulnerable to hacking and scams. Players should choose safe and reputable metaverse casinos and do what they need to do to keep their money and personal information safe.
Do I need special hardware or software to play in a metaverse casino?
To play in a metaverse casino, all you need is a device with internet access and a cryptocurrency wallet that works with the casino. You also need the ability to run a metaverse platform; no special hardware or software is necessary.
Are there age restrictions for playing in a metaverse casino?
To play in a metaverse casino, players need to be of legal gambling age, typically 18 or 21 years old, depending on the jurisdiction. Before playing any games in a metaverse casino, you need to find out if there are any age limits.
How do I cash out my winnings from a metaverse casino?
To cash out your winnings from a metaverse casino, go to the "Withdraw" section and choose the method you want to use. Enter the amount you wish to withdraw and wait for the transaction to be processed. Be aware of potential fees and check the casino's specific rules and procedures for cashing out.
What are the potential risks and drawbacks of participating in a metaverse casino?
One of the possible risks and downsides of playing in a metaverse casino is that you could lose money. Like any form of gambling, the potential for scams or fraud is possible. Also, the fact that cryptocurrency transactions are anonymous and the lack of rules in some places can make fraud or theft more likely.