stake
Minimum Stake: 0.20
Maximum Stake: 100
supplier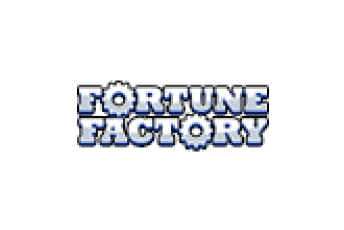 Where to Play Gold Blitz?
Casino
Bonus
Features
Payments
Banking
Licenses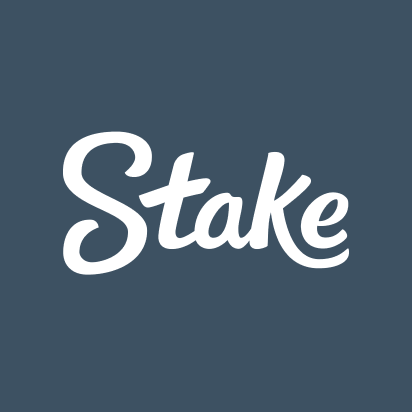 Exclusive Bonus: 200% up to $1000!
Personalised bonus offer
Provably Fair Games
Sportsbook with eSports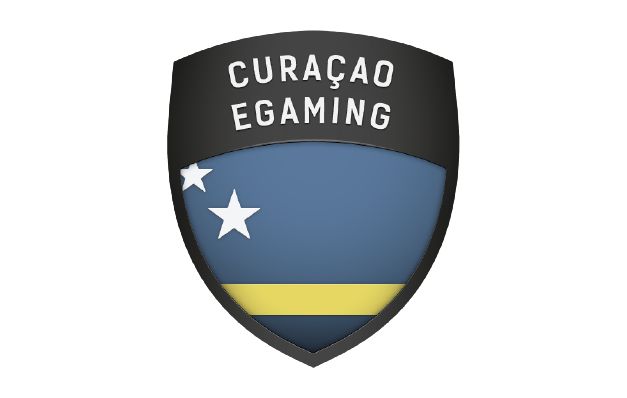 100% matched deposit bonus of up to 5 BTC!
Popular casino
Sportsbook with eSports
Some of the best odds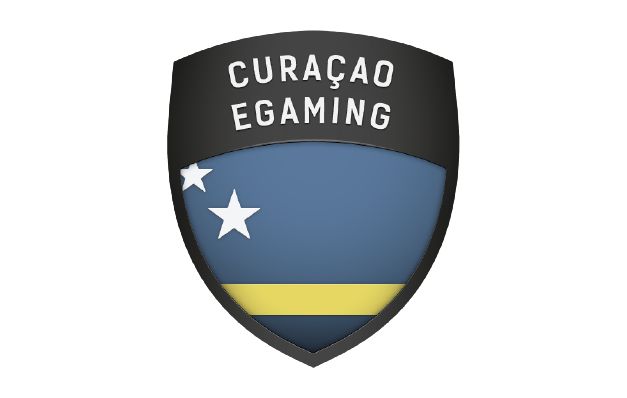 Bitcasino.io Casino Review
20% Cashback up to 10,000 USDT
Top Bonus
Large selection of games
Sportsbook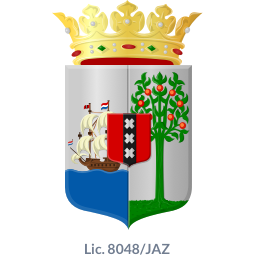 Gold Blitz is a captivating money slot developed by Fortune Factory Studios with jackpots, free spins, and money collection features. The game launched in late 2022 and has a familiar money theme with rock and roll elements that keep players engaged and eager for big wins!
The unique features are what make the game stand out. Gold Blitz spins emphasize money symbols as players seek to collect jackpots during the game. With an electric theme and futuristic vibes, the slot can trigger a massive 5,000x max win and leave everyone stunned. Even with its high volatility, the game deserves a chance.
How to Play Gold Blitz with Crypto
Playing Gold Blitz with cryptocurrency is a relatively straightforward process, and in this guide, we will outline the steps involved to help you get started.
Choose a reliable cryptocurrency exchange
Before playing Gold Blitz using cryptocurrency, you must own some digital currency. You can purchase cryptocurrency on various online exchanges such as Binance, Coinbase, or Kraken. However, you must ensure you're using a reliable exchange with a good reputation and security features to safeguard your coins.
Select an online casino that supports cryptocurrency
Once you've purchased the tokens, you can look for casinos supporting digital currencies. You can find a list of approved casinos in our Toplist review section.
Create an account at the online casino
After choosing the casino of your choice, you'll need to create an account. The registration process is relatively simple, and you'll be required to provide some basic information, including your name and email address.
Deposit cryptocurrency into your account
After you have created your account, you'll need to deposit your cryptocurrency into your wallet within the casino platform. To do this, go to the deposit section of your account and select the cryptocurrency you want to deposit.
Once you've deposited the cryptocurrency into your account, you can play Gold Blitz. The game has various features and bonuses, such as free spins, bonus buys, or jackpots.
The game has a standard layout, with the game reels in the middle of the screen. You find the control panel at the bottom of the screen, which includes a large Spin button in the middle. To the right, there's a Max Bet option and an Autoplay button with four options 10x, 25x, 50x, and 100x spins, and it doesn't include further editing options.
You will find the Bet selector to the left of the Spin button. Using + and – signs, players can change the bet size. By clicking the Bet button, a console will appear, and players will be able to choose from the available bet sizes. The Credit Score button is located on the lower left side of the screen and shows your bankroll.
The setting Tab, illustrated by three horizontal lines, opens a small menu where you can access Autoplay, Bet Size, Settings Tab, Paytable, and a Help Section. The Paytable is illustrated by an 'I' and tells everything about how the game is played.
On the screen's left side is a Bonus Buy button where players can purchase three bonuses, and above is a Jackpot section showing the Mega, Major, and Minor jackpots available.
What Cryptocurrencies Are Available?
Bitcoin (BTC):
The first and most well-known cryptocurrency, Bitcoin offers decentralized transactions through a peer to peer network. It's a widespread digital currency and the first cryptocurrency with high liquidity accepted by all crypto casinos.
Ethereum (ETH):
Ethereum is a smart contract platform that uses its native ETH token to serve as a utility when navigating decentralized applications. The blockchain provides faster and more secure transactions and is available across most online casinos. Ethereum is also host to several decentralized gambling platforms.
Tether (USDT):
USDT or Tether is a stablecoin, a digital currency with the same characteristics in terms of security. However, its value is pegged to the US dollar. It provides a safe haven for gamblers during periods of high volatility. It's also used as a reference for crypto deposits as it's integrated with several EVM blockchains.
Litecoin (LTC):
Litecoin is the second cryptocurrency that launched. It serves the same purpose of providing anonymous and safe P2P financial transfers. It uses a different hashing algorithm that BTC offers faster transaction confirmation times and better network fees. Gold Blitz players can deposit and use the token when gambling.
Bitcoin Cash (BCH):
Bitcoin Cash is a cryptocurrency that forked from the main Bitcoin network to address the lack of usability of the network. Instead of using BCH as a store of value as with BTC, Bitcoin Cash incentivizes transfer by having a larger block size, increasing scalability, and making using BCH easier.
Dogecoin (DOGE):
Dogecoin has captured the attention of the entire world when a Meme coin has become the favorite token during the bull run. DOGE has been integrated into the casino circuit due to its high user base and young audience. DOGE transactions are cheap and secure, making it ideal for casual gamers who want to play Gold Blitz.
Cardano (ADA):
Cardno is s third generation smart contract platform that focuses on increasing scalability and interoperability on the blockchain through a research-based approach. Its strong focus is on security as it uses a novel approach and offers extremely cheap and fast transactions through the ADA token.
Gold Blitz Slot RTP, Details & Wager Limits
The RTP of Gold Blitz gives players plenty to be happy about since it's set at a fixed 96% which means there is a high chance of getting wins. RTP stands for Return To Player, a probability indicator created by the gambling industry to show the potential payout. This means that for every $100 spent, the game should give back $96. While this does look promising, that amount doesn't pay back in a gambling session. Instead, the percentage is an indicator of millions or thousands of spins.
It's a 6-reel, 4-row game with 4096 ways of paying that start from left to right with symbols that must appear conservatively on the screen. It offers a max payout of 5,000x the wager, which is insignificant since the game has very high volatility.
Scatter symbols, wilds, and jackpots are among the most favorable symbols. Three or more scatter symbols trigger a Free Spins bonus which awards 8, 12, 20, or 30 free spins. The Wild symbols appear on screen on all reels except the 1st and can substitute every symbol, except special symbols: Scatter, Cash, Jackpot, and Collect Symbols.
There's a minimum betting amount of $0.20 and a maximum amount of $50, and the value of the bet influences which Bonus Buy you can get.
Gold Blitz is a complex game with several features that need to be explained. While there's a single Free Spins bonus, other parts complete the game cycle. These include Blitz Free Spins, Collect Symbols, Regular Free Spins, Bonus Buy, and Jackpots.
Scatter Symbol: This is one of the ways you can enter the Free Spins screen and get a chance at a bigger win. It requires three or more to trigger the free spins bonus, which has types of games, which we'll explain next.
Money Collect: It's a symbol with Thunder in the middle of it and collects all the money on the screen. The symbol can only appear on the first and last reel and is also available in the Gold Blitz mode.
Bonus Feature: The bonus feature includes two types of Free Spins. Players can choose between regular Free Spins or Gold Blitz spins. Regular bonus spins include multiplier wild symbols, which can have a value of 2x, 3x, or 5x that's randomly awarded. On the other hand, Gold Blitz spins guarantee at least a collect sign on reel one or six. Instead of all symbols, the Gold Blitz feature only has Cash, Collect, and Jackpot symbols, which collect and get added to the prize pool after each spin.
Bonus Buy: Users can purchase Bonus Buys of 4, 5, or 6 scatter symbols. The price for a 4 scatter bonus costs 75x the wager, 5 scatters cost 120x the wager, while 6 scatters cost 150x the wager.
Jackpot: Three total jackpots can drop randomly on Money Symbols and have a value of 25x the bet for the Minor, 250x the bet for the Major, and 2,500x the bet for the Mega jackpot.
All the symbols act together in the game, with each symbol having intrinsic value triggering the full game mechanics and ensuring a 5,000x max win potential.
Gold Blitz has an eclectic, electric look and feel with money and gold rush themes. While that's an outdated and already old look, we can't say for a fact that Gold Blitz made it work for them. The game's general theme feels like players are required to dig into a futuristic tunnel and find the winning money and jackpot signs. Gold Blitz breaks slightly from the already saturated theme of only showing symbols of money and gold bars and adds an electrifying twist, with Thunders and Dollar signs with current running through them.
In terms of graphics, the game has a more luxurious appeal with ruby symbols for Scatters and bright golden overlays over the jackpot and money symbols. Even so, the graphics don't fall far from the regular money symbols, and only their highlights make the graphics stand out. The animations show fast-moving reels with constant emphasis and pop-ups from the Jackpot and the reel itself. Other animations include thunders and electric currents each time a particular event occurs.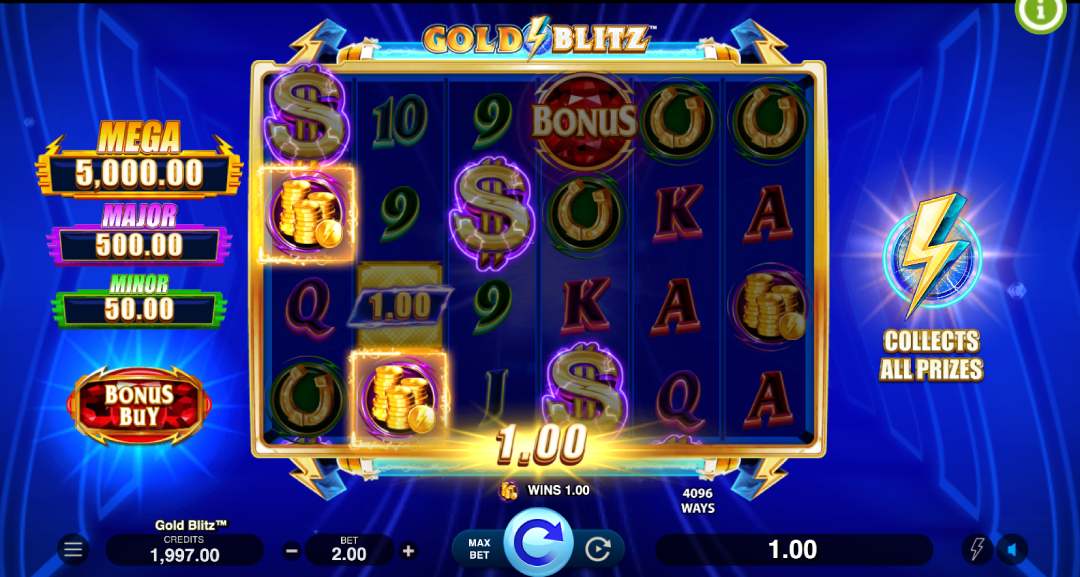 The game has a vibrant mix of dark blue hues and gleaming contrasts, while golden or premium symbols have an electric hollow surrounding them. It includes arrow decorations in the background as if you were in a futuristic tunnel which changes colors during a feature. The reel is surrounded by signs of electricity that look to be power charged with money energy. After all, the Money Collect sign is an Electric symbol.
The music and audio soundscapes are all rock and roll. They create a sense of anticipation after every spin, with a predominant guitar rift and hammer sounds in the background. The sound elements are well-designed. When clicking the bonus feature, you hear a roaring thunder sound, and when a bonus starts, it sounds like a concert is about to begin. The music rapidly changes but contains the same rock rhythm with more drums and the same guitar solo rift.
The symbols and payout of the slot each have a payout value. At the same time, there can be a lot of confusion on how these symbols payout; we've created a list of all the important symbols and how they are priced. That way, you'll know whether you're due for a win.
For a start, the game includes Regular, Premium, and Unique Symbols. Face cards represent the regular symbols, the Premium ones have Money features, and the Unique are completely separate and stand out.
Regular symbols include playing card values of 9, 10, J, Q, and K. The 9 and 10 have the same payouts, with 3 symbols paying 0.3x, 4 symbols paying 0.5x, 5 symbols paying 0.8x, and 6 symbols paying 1x.
J and Q also have similar payouts, with 3 symbols paying 0.4x, 4 symbols paying 0.8x, 5 symbols paying 1x, and 6 symbols paying 1.2x.
The K is the last regular symbol with a 3 symbol payout of 0.5x, 4 symbols paying 1x, 5 symbols paying 1.2x, and 6 symbols paying 1.5x.
Premium symbols include a horseshoe, a bell, gold coins, gold bars, and a dollar sign.
The HorseShoe and the Bell are the lowest paying premium, with 2 symbols at 0.2x, 3 at 0.8x, 4 at 1.2x, 5 at 1.5x, and 6 at 2x.
The Gold Coin and the Gold Bars have a payout of 2 symbols at 0.5x, 3 at 1x, 4 at 1.5x, 5 at 2x, and 6 at 2.5x.
The top symbol is the Dollar Sign, with a payout of 2 symbols at 1x, 3 at 1.5x, 4 at 2x, 5 at 2.5x, and 6 at 5x.
Unique symbols include Wild Symbols. Money Collect, Cash or Jackpot Symbols
The Jackpot and Cash Feature are yellow-graded symbols with a blue banner in the middle, including the win value. The Jackpots are positioned identically in a Red banner for Mega, a Purple banner for Major, and a Green banner for Minor Jackpot.
Gold Blitz is a high-volatility game, and Golden Blitz Features triggers even higher volatility. During the bonus, the game has a boosted RTP of 96.25% which means that the chances of getting bigger hits are much higher. However, high-volatility games have their risks. They require players to go through a large number of dead spins, which pay nothing or close to nothing before getting a big spin. Every time you're playing a highly volatile game like Gold Blitz, knowing how to handle your bankroll and not go YOLO with your bets is essential. In this case, slow and steady wins the race.
High volatility can impact the game experience for every type of player as they search for the next big hit. Always play with caution, and be sure you're comfortable with the bankroll taking a solid beating.
Gold Blitz can be played on a mobile device. You can access the game from every operating system or type of phone as long as it has an Android or iOS operating system.
As a casino game, there's no stand-alone application with the game. However, players playing at an online crypto casino with a mobile app can play the game on that platform.
Mobile compatibility is extremely important today as it allows users to game from anywhere without being tied to a location. The game can be played on PC, tablet, and mobile and has a responsive design, meaning that it adapts to any screen size with no changes in the game's layout.
Pros
It has a max payout of 5,000 with over 4,069 pay ways
The game is exciting, with new features
The bonus feature includes offers two gambling options, each with a unique gameplay
The RTP is fixed at 96%
There's a high possibility of a high win potential
Has a good choice of music
Cons
We're unsure if the game offers fair results
It's a high-volatility game
The game can run for hundreds of spins without providing a big win
It has an outdated money theme which doesn't strike the interest of many players
Bonus rounds have a higher RTP compared to the base game
The graphics aren't that enticing, given the theme it has
Gold Blitz has good gameplay and sounds and gives players plenty of reasons why to stick around. As a high-volatility game, it's difficult to not get put down as the game continues to drain the backroll. However, the Jackpot feature and Money Collect spins can make up for the dead spins. The money theme is a bit outdated, but Gold Blitz made it stand out with the electrifying theme and rock guitar riffs. This article was made to give you an overview of the Gold Blitz game and its potential to pay out 5,000x the bet size. If you're into the more old-school themed slots, the Gold Blitz should be up on your list.
Are There Free Spins or Bonus Rounds in Gold Blitz?
Yes, Gold Blitz has two Free Spin rounds features. One has multiplier Wild symbols, while the other one includes guaranteed Money Collect symbols and is only dropping money symbols.
What Are the Wagering Limits in Gold Blitz Slot?
The minimum bet on Gold Blitz is $0.20, while the highest bet is $50.
Can I Play Gold Blitz for Free in Demo Mode?
Yes, players can test out the game on any casinos that provide it. During free Demo mode, the game gives you credit to play with.
Is Gold Blitz Slot Fair and Random?
We can't confirm that Gold Blitz is fair and Random since no information indicates that.