stake
Minimum Stake: 0.20
Maximum Stake: 60
supplier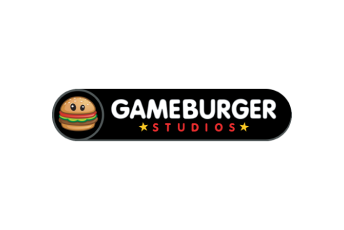 Where to Play 9 Pots of Gold?
Casino
Bonus
Features
Payments
Banking
Licenses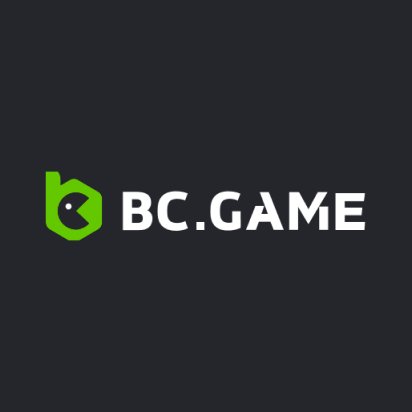 Up to 270% and 1 BTC
Personalised bonus offer
Provably Fair Games
Low House Edge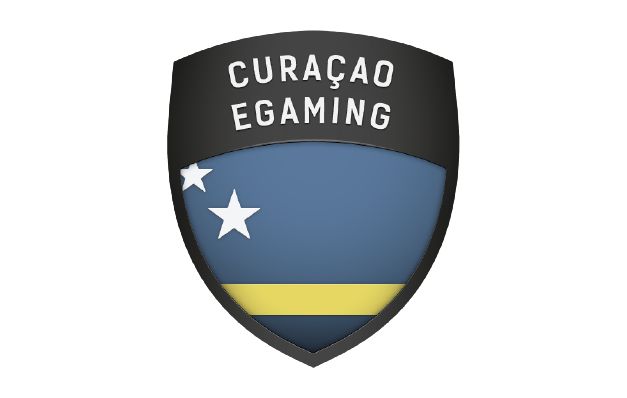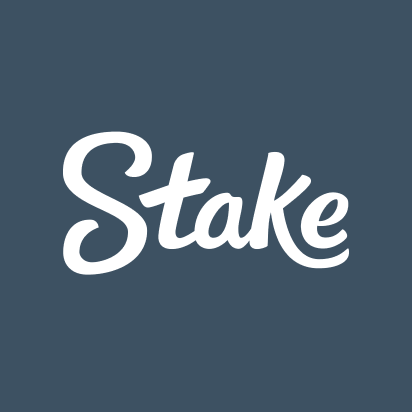 Exclusive Bonus: 200% up to $1000!
Personalised bonus offer
Provably Fair Games
Sportsbook with eSports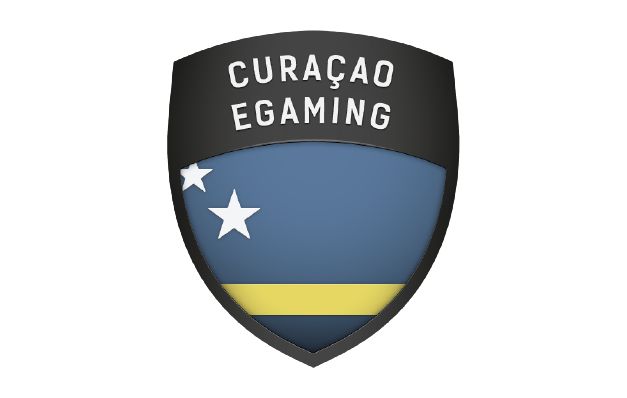 100% matched deposit bonus of up to 5 BTC!
Popular casino
Sportsbook with eSports
Some of the best odds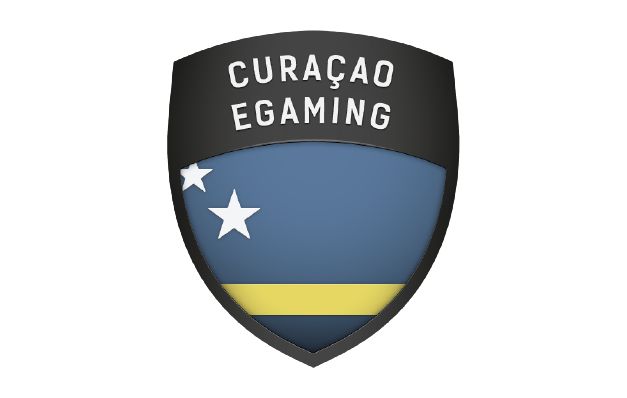 9 Pots of Gold is an Irish leprechaun slot game developed by Gameburger Studios in partnership with Microgaming. Launched in 2020, the game features an appealing Irish luck theme, with elements and symbols hinting towards getting lucky. The game features a mix of features with jackpots and free spins that can yield wins of up to 2,000x the bet size. This vibrant game, with its green and golden color scheme and light, cheerful music, truly embodies the luck of the Irish. This is the studio's third release, and it's already creating rainbows for slot game fans
How to Play 9 Pots of Gold with Crypto?
Playing the 9 Pots of Gold slot with cryptocurrencies can be an enjoyable and rewarding experience. Here's a more detailed step-by-step guide on how to do it:
Choose a Cryptocurrency: Before starting, choose a crypto casino where you can play. You can check out dappGambl for the best crypto casino options. Select a casino with a good welcome bonus, fair gaming, and instant withdrawal.
Buy Cryptocurrency: You'll need some if you still need to get crypto. The easiest way is through a crypto exchange like Binance or Coinbase. However, you can also swap them on DEX if other altcoins are available. You can purchase crypto using credit cards or e-wallets.
Set Up a Crypto Wallet: To store and transfer your crypto, you must create a cryptocurrency wallet for safekeeping. You can choose between hot or cold wallets, and always ensure that the platforms support the tokens and have high-security features.
Create a Casino Account: To get started, you must set up an account at any crypto casino. In most cases, you'll need to provide a name, email, and password.
Deposit Cryptocurrency: Now that your account is set up, you can make a deposit. Head over to the Cashier, copy the wallet address, paste it into your wallet, and send the amount you want to fund your account. Always double-check this address before sending any money.
Select the Game: Navigate to the casino's search bar, and type the game's name. Once you're in the game, you can adjust the bet size by clicking the +/- sign and start playing by clicking the spin reel button.
Play the Game: Hit the 'Spin' button to start the game. The goal is to land matching symbols on one of the pay lines. Depending on the symbols you land, you could trigger bonus features like free spins or win up to 2000 times your stake.
Withdraw Your Winnings: If you win, you can withdraw your winnings back to your cryptocurrency wallet. Go to the casino's cashier page, enter the amount you want to withdraw, and provide your wallet address to initiate the checkout.
What Cryptocurrencies Are Available?
9 Pots of Gold Slot RTP, Details & Wager Limits
9 Pots of Gold Slots's RTP is fixed at 96.24%, meaning players get a lot back from playing the game. RTP stands for Return-To-Player, the percentage the slot is expected to pay back. So for every $100 wagered, the slot should pay back $96.24, however, this number is a probability calculated over thousands of spins.
The game is a 5-reel, 3-row slot game with good luck potential as it features free spins with possible multipliers or the chance to hit the Jackpot. The free spins range between 10 and 30, while multipliers can be 2x or 3x. The maximum win potential can be claimed on the Jackpot with 2,000x the stake, while betting has a minimum of $0.20 and $60. The max bet amount can vary depending on the casino
The slot only has a few key features, which we'll describe in this section, including Free Spins, Jackpots, and Wilds.
Wild: The wild symbol is represented by a mushroom and can substitute any symbols besides the free spins and pot symbols.
The Jackpot: This is also called the scatter prize and can help players reach the highest casino payout of 2,000. Players need to land three or more symbols to win. The max win is triggered when you land 9 Pot Scatters while 3 Pot Scatters pay 1x the bet.
Free Spins: This is the bonus round of the game. A bonus round gets triggered when 3 Free Spins symbols appear on the screen. A new wheel with free spins and multiplier options will appear on the screen. The game decides how many spins and at what multiplier will be awarded. Spins can be 10, 12, 15, 20, 25, and 30 with multipliers of 2x or 3x. More free spins can be triggered during the feature by landing 3 more symbols.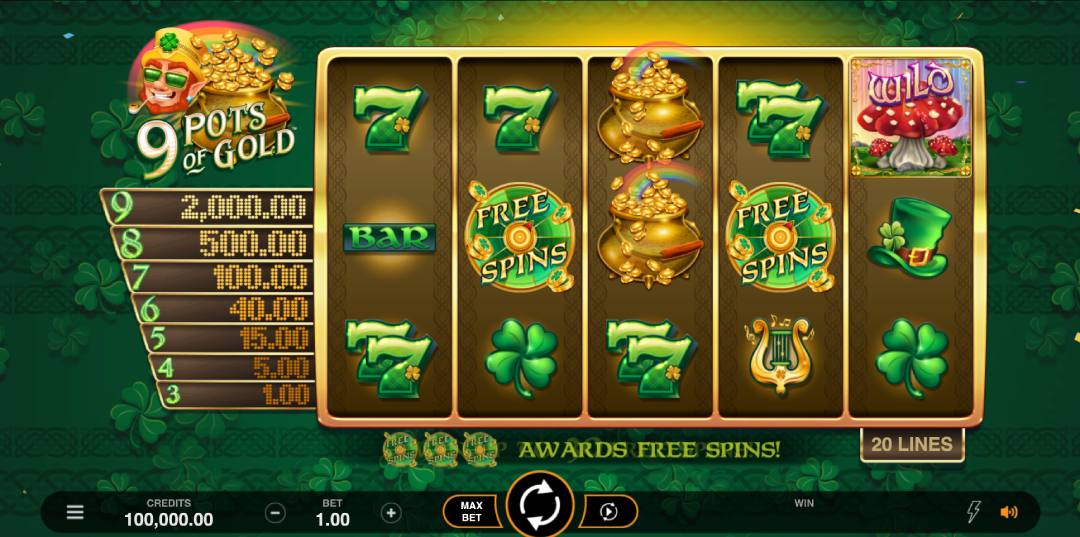 The game adopts an Irish theme inspired by the folklore and myths from the Emerald Isle. The game's symbols and aesthetics are centered around Irish superstition and the luck narrative, where all characters include elements that hint towards that, such as – lucky leprechauns, pots of gold, green clovers, leprechaun hats, and Irish harps. As one of the main themes found in slot games, Microgaming has brought to life a new layout with rich, vibrant green colors and cute and cartoonish imagery that celebrate the Irish belief and could also strike gold.
In terms of graphics, 9 Pots of Gold presents high-quality visuals that enhance the gaming experience. The backdrop includes lucky clovers and a green pallet that makes the golden reels pop out. Additionally, the animation is smooth and has a lot of attention to detail; we're not bored with the graphics used as they're not boring and feel like they have a refreshing look.
The design elements used in 9 Pots of Gold are bright with gold and green hints. Every piece of design has a money look and feel and feels like you're looking at a luxurious slot. The background is simple with green hues, but the reel frame is glittered with gold. The background also includes confetti which makes every spin a celebration, while win lines have a rainbow-colored glow. Winning lines make symbols pop out.
We're impressed with the music, as it features a cheerful Irish jig that captures the entire essence of the game to perfection. It does have a stronger tone to it, and when a winning combination lands, there's a celebratory tune that gets added to the jingle. The music overall feels very traditional – and that's something we haven't heard in any of the games. Special symbols each have a unique sound, and you can hear a falling coin sound when the spin reel button is pressed.
Both design and sound elements in the 9 Pots of Gold slot provide a complete experience that builds excitement either through audio or through rainbow color cues that hint at landing free spins.
Game Console
The game console is easy to understand and navigate. The reels are located in the middle of the screen. The main console is located at the bottom and includes the Spin button in the middle, a max bet option, and an autoplay function with 10x, 25x, 50x, and 100x rounds. On the right side of the console, there's a "Fast" spin button, or players can toggle the sound off. The left side is where you can see your credits and where you can change the bet size. Additionally, the menu section that's represented by three lines takes people to the Paytable or help section.
9 Pots of Gold has 5 reels, 3 columns, and 20 total pay lines, and we're going to tell you all about the symbols and their payout. The game has regular symbols with various payouts and unique special symbols.
Unlike most games where you have regular symbols such as face cards and premium symbols with illustrations or cartoons, 9 Pots of Gold only has illustration symbols, which makes the game much easier. Let's start with the lowest payout symbol and work our way out.
Bar: 3 symbols pay 0.25x, 4 symbols pay 0.40x while 5 symbols pay 1x
Lucky Clover: 3 symbols pay 0.25x, 4 symbols pay 0.40x while 5 symbols pay 1x
Irish Hat: 3 symbols pay 0.25x, 4 symbols pay 0.75x while 5 symbols pay 2x
Golden Harp: 3 symbols pay 0.50x, 4 symbols pay 1x while 5 symbols pay 3.25x
Random 7s: 3 symbols pay 0.50x, 4 symbols pay 1x while 5 symbols pay 3.25x
Lucky 7: 3 symbols pay 1x, 4 symbols pay 3.75x while 5 symbols pay 7.5x
Two Lucky 7s: 3 symbols pay 1.25x, 4 symbols pay 6.25x while 5 symbols pay 20x
Three Lucky 7s: 3 symbols pay 2.5x, 4 symbols pay 16.25x while 5 symbols pay 37.5x
Other
Special symbols like Wilds or the Pot of Gold symbol also have game payouts:
Wild: 3 wilds pay 6.25x, 4 wilds pay 25x while 5 wilds pay 125x
Pot Scatters: have bigger payouts and can land anywhere on screen. See the below table for reference.
| Land | Pays |
| --- | --- |
| 9 | 2,000.00 |
| 8 | 500.00 |
| 7 | 100.00 |
| 6 | 40.00 |
| 5 | 15.00 |
| 4 | 5.00 |
| 3 | 1.00 |
The game is categorized as high-volatility, with an RTP of 96.25%. However, this doesn't change how volatility is set in the game. Volatility means the frequency of a slot will pay out consistently. In this case, 9 Pots of Gold will pay less frequently. However, wins will be more consistent with higher payouts.
On the other hand, this also leads to periods of dry spells, which affects a player's bankroll – implying that the risk taken is much higher than on slots with lower volatility. So while hitting bigger wins that could makeup for dry spells might be rewarding, it's only for some. To play 9 Pots of Gold, players need to stomach significant losses, which could also lead to frustrations.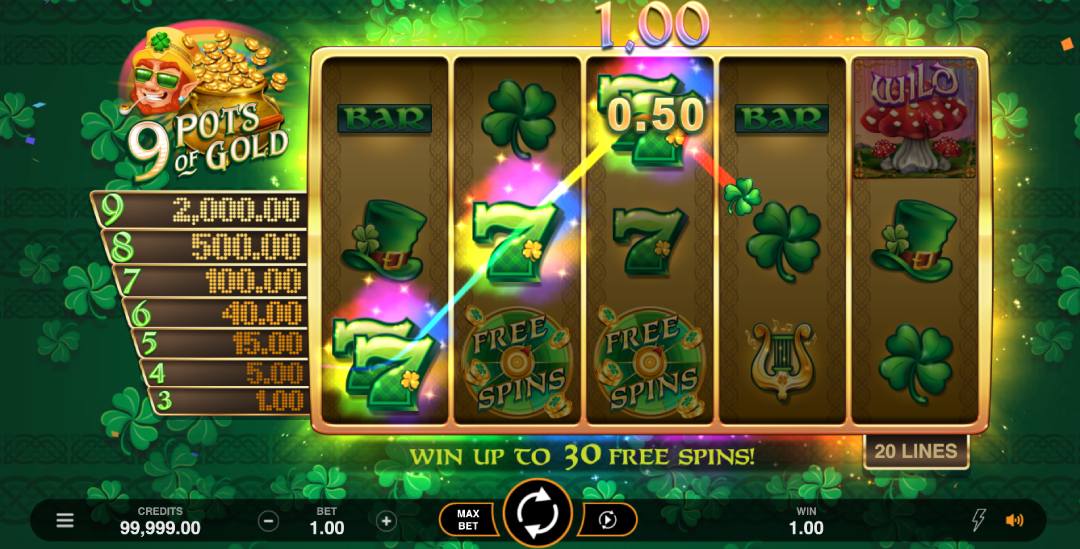 9 Pots of Gold is a mobile-compatible game that anyone can access through a browser. Developers built the game using HTML5, which makes it compatible with any iOS and Android device. If casinos have a mobile app, players can access it without using a browser extension.
The advantage for players is that they can game from anywhere, as the gameplay doesn't change when using mobile, tablet, or PC devices. It also gives users the freedom not to be tied to a location, especially since mobile iGaming has recently gained popularity.
Pros
High maximum payout of 2,000x the stake
Bonus feature that can pay big when you land 30 free spins with a 3x multiplier
Good RTP of 96.24%
Good UI, graphics, and music
Cons
High volatility
Only a few features available in the game
Without regular symbols, players might not understand how they can win
Max win is good but not as high as other games
Overall the 9 Pots of Gold slots seem like an easy-to-follow game with a high RTP and the possibility of winning big. The fact that it doesn't has numbered cards as regular symbols is a major plus since it can get players more excited for big wins. However, that might be the case but with high volatility, big wins will happen but not so often. Developers have managed to create a fun game to play with addictive music that gets players right in the happy Irish mood. Overall, the bonus features with multiplier free spins and high payout scatter Jackpot of 2,000x the stake could get players in the mood, but we are missing that zing and zap excitement to keep players hooked on constantly craving more.
Are There Free Spins or Bonus Rounds in 9 Pots of Gold?
Yes, the game features free spins as the bonus round. Players can win 10, 12, 15, 20, 25, or 30 free spins with a 2x or 3x multiplier.
What Are the Wagering Limits in 9 Pots of Gold Slot?
The minimum bet amount on the game is $0.20, while the maximum bet per spin is $60.
Can I Play 9 Pots of Gold for Free in Demo Mode?
Players can try 9 Pots of Gold for free in demo mode. This is a great way to get a feel for the game and its mechanics before betting real money.
Is 9 Pots of Gold Slot Fair and Random?
Yes, the 9 Pots of Gold slot is fair, as Microgaming, the partner of the game developer, is known for creating fair games with RNG.