Trezor Model T Pros and Cons
Pros
It has a coloured touch screen display.
Straightforward setup.
Top-notch security.
It supports Windows, macOS, Linux, and Android phones.
Compatible with the Exodus software wallet. 
Purchase coins and tokens directly through the Trezor Wallet application.
It supports over 1200 coins and tokens.
Cons
No iOS mobile support
Costly compared to similar hardware wallets.
It has a bulky design.
What is a Trezor Model T Wallet?
Trezor Model T is a hardware crypto wallet that lets you store digital assets offline. It launched in 2018 as the upgraded version of the Trezor One and supports over 1,800 cryptocurrencies and tokens. Trezor is one of the best cold storage solutions on the market. The company behind Trezor model T, SatoshiLabs, started in 2013 and is widely considered the father of cryptocurrency hardware wallets. From their first hardware wallet, they have continued to add cool features to newer models, such as the coloured touchscreen and a micro SD found in Model T, to improve the security and functionality of the device. For instance, the only way to approve a transaction on the Bitcoin wallet is by plugging it into your phone or computer and inserting the SD card. This ensures that anyone who might get hold of your cold wallet doesn't get access to your cryptocurrency's keys. Furthermore, the Trezor Model T encryption algorithms secure your personal information and hide your key from third parties.
Like all hardware wallets, the Trezor Model T does not hold your actual cryptocurrency in its storage. It only contains the PIN codes to access your crypto on the blockchain and approve transactions using your digital assets and tokens. This separation of your access key and cryptocurrency is the revolutionary idea that gives the Trezor Model T its superb security properties. So you can be sure that your Bitcoin, Ethereum, Dogecoin, Bitcoin Cash, or other assets are safely locked away from the vulnerability of online attacks. The Trezor Model T hardware wallet allows you to trade your crypto directly through the Trezor Wallet application, and you don't need to register with an exchange.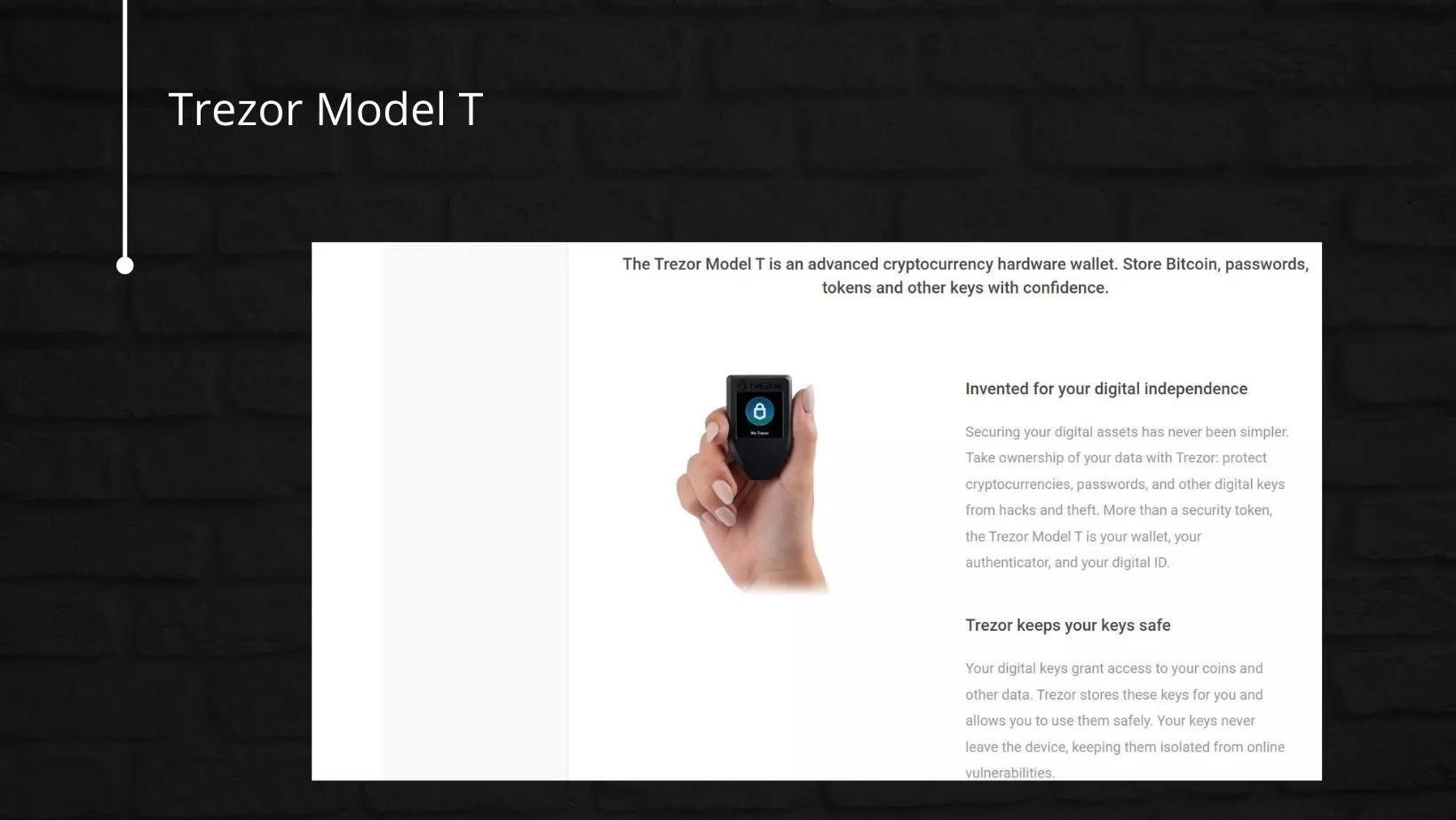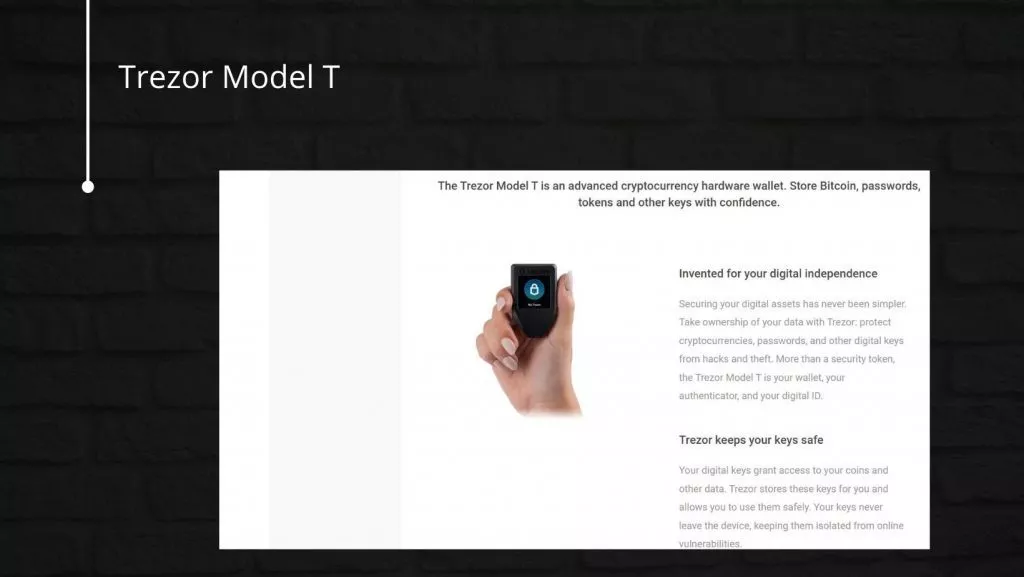 Trezor Model T Wallet Features
Easy to use color display touch screen
The Trezor Model T wallet stands out from its competitors with the wide, full-touch capability screen. The bright-coloured LCD – 240×240 pixels screen distinguishes the hardware from its peers and makes it more user-friendly. Users can type passphrases and PIN codes much faster than on any other hardware wallet available on the market.

Supports a wide range of cryptocurrency 
One of the key selling points is the number of crypto assets the wallet supports. It keeps up with competition by integrating over 1,800 cryptocurrencies and tokens on its platform. In addition, it supports major digital currencies, like Bitcoin, Ethereum, Dogecoin, Binance Coin, Tether, Litecoin, and many more. So you will not run out of options when building an investment portfolio.
Micro SD
The Trezor Model T has added another security feature in its armor with a micro SD card. Once activated, the wallet is useless without it. You can lock your wallet by simply removing the micro SD card. The Trezor wallet only becomes functional when you insert the card back. Anyone who accesses your wallet can hence not be able to access your funds unless they also have the micro SD card.
PC and Android Compatibility
The Trezor Model T hardware wallet is compatible with all standard PC operating systems. Therefore, accessing the wallet will not be a hustle, whether using macOS, Windows, or Linux. In addition, the Trezor Model T also supports Chrome, Firefox browsing services. Mobile users don't need an extra budget for a PC; they transact right from the palm of their hands using any Android phone.
U2F and FIDOs Authentications
The Trezor Model T is more than just a cryptocurrency wallet; it also manages passwords to services like dropbox on Google. In addition, the Trezor Model T hardware allows users to access sites allied to the wallet without providing pin codes. Instead, the hardware wallet acts as the password, also referred to as FIDO2 Authentication.
Anonymity
Transacting with this cold storage wallet does not require you to provide personal data that would reveal your real identity. Therefore you enjoy high-level privacy and anonymity at all times.
Services Offered by Trezor Model T 
Private Keys Management
Your private keys should always be safe yet within reasonable reach. Trezor Model T offers secure storage for your private keys, ensuring you can use them to access your coins in their respective blockchain networks when you need to. The wallet encrypts all communication with other devices, ensuring your keys never get exposed out of Trezor Model T.
Password Safety
Access to this hardware wallet requires a password. But as you know, a lost password could brew heights of frustration. With Trezor Model T password management system, you can use your digital keys to lock and secure your passwords.
Security
The Trezor Model T offers top-notch protection from unauthorized wallet access and cyber-attacks. Since it is a hardware wallet, it provides cold storage. That means all your PIN codes are stored offline beyond the reach of hackers. So if you keep the key codes to yourself, there is no way anyone can gain access to your digital portfolio.
Central crypto management
Manage all your crypto from one master dashboard using the Trezor wallet app. This feature makes the management of your digital portfolio easier. Having all your cryptos in one system is cost-effective and saves you time.
Trezor Model T Customer Support
You will be disappointed if you're looking for a traditional customer support service like live chat on the Trezor Model T website. However, the website has a help centre page where you can open a ticket and get help for your problems. In addition, there's a manual and troubleshooting page for new users on the website. Besides that, you can join the Trezor user community and learn different tricks from other users. Of course, the help centre remains the most effective way of getting support, but it never hurts to learn from the experiences of other users. Find Trezor Model T social media links below.
Trezor Model T Wallet Security- Is Trezor Model T hardware Safe?
By virtue of being a hardware wallet, Trezor Model T is inherently safe since it keeps your crypto in cold storage. This increases your funds' security by making it impossible for hackers to breach your wallet security. A 9-digit code secures access, and if anyone fails to sign in to your wallet 16 consecutive times, the wallet reprograms itself and wipes out all data. You'll have to recover the info later. Lastly, the wallet gives you an option to increase your accounts' protection by activating 2FA. Of course, we have not forgotten to mention that users can always recover their funds and wallet detail through recovery phrases if they ever lose them. Follow this link to learn more about how to protect your cryptocurrency.
We found out during this review that Trezor Model T charges zero fees to use their wallet. This doesn't mean that you're now going to bypass network fees, but that's the only charge you'll have to incur. Since version 21.3.2 was released, users can now speed up transactions by increasing the gas fees.
How Much Does the Trezor Model T Wallet Cost?
Talking of prices, we should remind you that hardware wallets come at different buying prices depending on their features and brand. Trezor Model T is costlier than many of its alternative wallets, but of course, the value you get measures up to the price. It will cost you at least $249 to get a hold of a new Trezor One wallet, but the prices might vary based on local taxes, shipping, and the retailer.
Trezor Model T Supported Tokens
Your search ends here if you're looking for a multi-coin crypto hardware wallet. This digital coin cold storage device supports more than 1,800 cryptocurrencies. Therefore you won't need to own separate wallets since all the major coins and most altcoins are already compatible with this product. Some of the cryptos accepted by Trezor Model T are:
● Ethereum (ETH)
● Binance Coin (BNB) ERC20
● Tether (USDT)
● USD Tether (erc20) (USDT) ERC20
● Cardano (ADA)
● Ripple (XRP)
● SHIBA INU (SHIB) ERC20
● HEX (HEX) ERC20
● Dogecoin (DOGE)
● USD//Coin (USDC) ERC20
● Uniswap (UNI) ERC20
● Avalanche (AVAX)
● Chainlink (LINK) ERC20
● Wrapped Bitcoin (WBTC) ERC20
● Binance USD (BUSD) (BUSD) ERC20
● Litecoin (LTC)
● Matic Token (MATIC) ERC20
● Polygon (MATIC)
● Bitcoin Cash (BCH)
● Stellar (XLM)
● Axie Infinity Shards (AXS) ERC20
● Theta (TFUEL)
● Fantom Token (FTM) ERC20
● Ethereum Classic (ETC)
● Dai Stablecoin v2.0 (DAI) ERC20
● Decentraland MANA (MANA) ERC20
How to Set Up a Trezor Model T Wallet?
Mobile
1. Download the Trezor wallet app on your phone, and install it. However, the app is only available on Android phones. 
2. Launch the app, open the menu, click on the "network choice," and select the network you want to use. 
3. Go back to the menu, click "switch account," and then click on (+) to add a new account.
4. On the new page, select the padlock symbol, which will ask you to connect the hardware.
5. Connect the Trezor Model T hardware to your phone using the USB-C cable included in the box and turn it on. 
6. Enter your new pin code on the next prompt and confirm it. Pick the first address and name your new account.
7. The wallet will generate your recovery seeds. Don't forget to write them down and store safely.
8. Press enter to complete the configuration process. You will see a message Confirming your wallet is ready for use.
1. Use the USB-C to connect the Trezor Model T hardware to your PC and turn it on.
2. Open trezor.io/start in your web browser. Make sure you are using an updated version of Chrome and Mozilla Firefox.
3. Select the Trezor Model T as your device.
4. Proceed to download the Trezor bridge, install it, and refresh the web page.
5. Once the installation is complete, the device will reboot automatically. So be patient and give it ample time to complete the whole process.
5. The Trezor suite will ask you whether to install a new wallet or restore one from a backup. Click "Create a new wallet" and confirm the action on the hardware's touchscreen.
6. The Trezor bridge will generate a recovery seed. Write down the recovery Phrase, all the 12 words in the exact order they appear, and keep it in a secure location.
7. Confirm the keywords by entering them on the touchscreen. You will get a message confirming the compilation of the recovery seed setup process. Click continue. There will be a pop-up reading "Pin Not Set!"
8. Click "Continue to PIN." on the Trezor web interface and then on "set a PIN." Then confirm it on the Trezor Model T.
9. Back on the web page, click "Continue," and you will move to a page with active coins. Activate them at this juncture, then click on "complete setup."
10. One more step to go. Name the hardware wallet and confirm. Now click "access suite," choose the wallet you want to access, and enter the passcode.
11.You will see a message confirming your wallet is ready for use. And that is it.
Leading Trezor Model T Competitors
Trezor One vs. Trezor T Wallet
The obvious alternative to Trezor Model T is its forerunner, the Trezor Model One. It has the same top-notch security features and is smaller in size. The hardware wallet is also less expensive at $69 and offers the same features and reputation as the Trezor Model T. However, it fails on the touchscreen aspect and supports less cryptocurrency and tokens. You can only use it with just over 1000 cryptocurrencies. Both do not support iOS.
Trezor Model T vs Trezor One wallet
| | |
| --- | --- |
| Trezor Model T | Trezor Model One |
| Cold storage | Cold storage |
| Supports 1000+ currencies and tokens | Supports 1200+ coins and tokens |
| Cost $215 | Cost $69 |
| It uses a touch screen | Uses to buttons |
| Support Windows, Linus, macOS | Support Windows, Linus, macOS |
Trezor T vs. Ledger Nano X
The Ledger Nano X hardware wallet offers excellent security while offering more connection features. The device supports over 100 apps and 1800 cryptocurrencies and tokens. Although it does not have a touchscreen feature like Trezor Model T, it makes up for its shortcomings by supporting both Android and iOS.
Trezor Model T Wallet vs. Ledger Nano X Wallet
| | |
| --- | --- |
| Trezor Model T | Ledger Nano X Wallet |
| USB-C connectors | Bluetooth & USB-C connection |
| Touch screen | Uses two buttons |
| Does not support IOS | Supports both Android and IOS |
| Supports Windows, macOS, Linux | Supports Windows, macOS, Linux |
| Over 1200 cryptos and tokens | Over 1800 cryptos and token |
| Cost $215 | Cost $119 |
Who Should Use Trezor Model T Wallet?
The primary concern when buying a crypto wallet is security. We recommend this wallet for high rollers as they could be the primary target for hackers. Anyone who wants to hold digital coins for a long time as an investment should also go for this option for peace of mind. You don't have to worry about the safety of your coins as long as your Trezor T is well kept.
Who Might not Benefit From Using Trezor Model T Wallet?
Although the wallet can benefit any crypto user, we think it isn't a good fit for beginners with small portfolios. Instead, they should seek cheaper alternatives that won't strain their pockets. It is much better to for them to invest the rest of the funds in crypto. A good option for low budget users is Trezor Model One. At only $69, you get most of the features offered by Trezor T, including a secure open-source firmware, screen, and support for over 1000 coins. What you'll miss is touch screen functionality which doesn't add so much.
Final Thoughts
Whether you're just starting or a veteran with a diverse crypto portfolio, learning to keep your assets secure is a significant step in the process. You will also quickly recognize that hardware wallets are the best security option in the industry. That said, not any hardware wallet will do, and getting one that offers top security features within your budget can be quite challenging. The Trezor Model T stocks advanced digital security and cold storage to help keep all your PIN codes and passwords offline. It also has a user-friendly interface with a touchscreen, making navigating and configuring the Trezor Model T wallet easier. And the only throwback to this hardware wallet is the high price compared to other similar devices. So if the price is not a stumbling block, go ahead and buy Trezor Model T wallet now.
Is the Trezor Model T Worth it?
This wallet has the most sophisticated security features in the market and a touchscreen for a more accessible user interface. For $249, you will get your money's worth with this hardware wallet.
Highlights
Multi-currency support
Passphrase Support
Touch-screen
Multisig Support
Lowlights
No iOS support
Costly for some people
In betweens
Bulky design
Open-source
No Validation of Change Address
Coloured screen
Apart from crypto storage, the Trezor mode T wallet is used for sending and receiving crypto. Here's how.
How to receive payments?
1. Complete setting up your Trezor Model T wallet.
2. Establish a connection with your phone or PC.
3. Sign in and go to the crypto section.
4. Select the currency you want to receive.
5. Press the receive button
6. The wallet will bring you a receiving address for the selected coin.
7. Copy the address and share with the sender.
Sending Money with Trezor Model T 
1. Make sure your wallet is fully set and ready for use.
2. Connect your Trezor Model T to a PC or Android device.
3. Select the crypto you want to send.
5. Add the receivers address in the "receiver address" field shown.
6. Specify the amount to send.
7. Confim and press "send."
Is Trezor Model T Wallet available on IOS and Android Devices?
Android users will enjoy the full functionality of the Trezor T wallet. However, iPhone users are not lucky, as the wallet is incompatible with their devices.
What are the benefits of using the Trezor Model T Wallet?
It has a cold storage solution that secures your PIN codes offline. The Trezor Model T wallet also has an easy-to-use interface with a touchscreen. Furthermore, it offers NFT storage.
How secure is Trezor Model T Wallet?
The Trezor Model T provides cold storage, recovery seed for backup, and pin code protection as part of its hardware wallet security measures. So it's definitely safe.
How can I get started with Trezor Model T Wallet?
Go to the Trezor web page, order your device, configure it, and activate all the security features to enjoy its high-tech goodies.
How easy is it to use Trezor Model T Wallet?
Using the wallet is easier than you can imagine. The touchscreen makes navigation seamless. Besides, you'll fall in love with its intuitive UI.
Where to buy the Trezor Model T?
The best place to purchase the hardware wallet is from the Trezor website. Although they're also available on other vendors' buy points.