The 7 Best Mobile Cryptocurrency Wallets Chosen by Dappgambl
Coinbase: World's Trusted Mobile Wallet
Trust wallet: Best Mobile Crypto Wallet for Beginners
Coinomi: Oldest Multi-chain Mobile Wallet
Exodus: Best Mobile Wallet for Crypto Analysis
Binance: Best Mobile Wallet for Binance Smart Chain
Electrum: Best for Bitcoin
Crypto.com: Best Mobile Crypto Wallet for DeFi
1. Coinbase Wallet
Price: Free💲
Google Store Rating: 4.6★
DappGambl Rating: 4.7 ★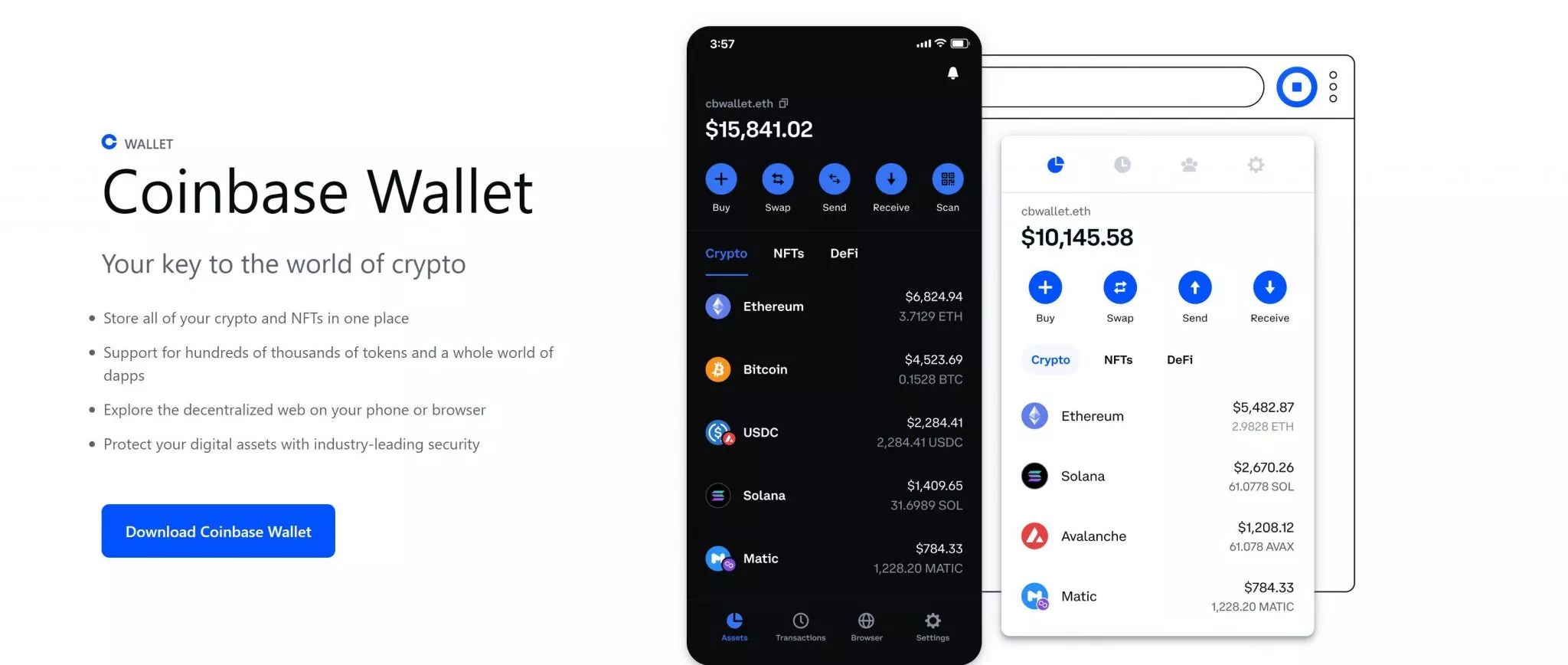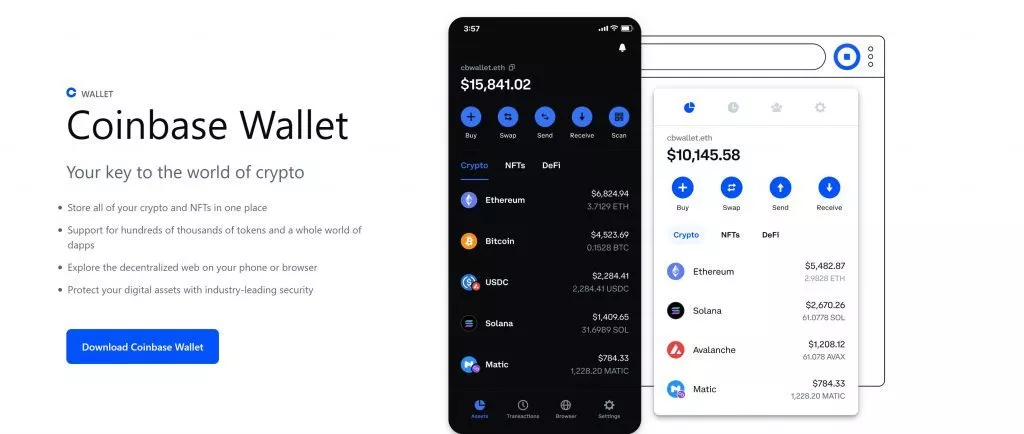 DappGambl Review
The Coinbase wallet is our best choice out of all the mobile crypto wallets we have presented today. It's suitable for both beginners and pro traders looking for a safe and user-friendly wallet for handling their crypto business on the go. It was launched in 2018 by the Coinbase exchange, the second-largest crypto exchange by volume. So you can be sure it's a well-developed product considering the team behind it is experienced and well-funded. The Coinbase wallet is easy to use due to its intuitive interface. It's ideal for users seeking to grow their portfolio as it supports over 40,000 cryptos across different blockchain networks. You don't need to buy, sell or swap your digital coins from an external platform since the mobile app has an inbuilt exchange. All data and communication are protected by state-of-the-art AES-256 encryption technology. . As a non-custodial wallet, it's less susceptible to hacking than web-based crypto storage solutions like Binance. You keep your private keys, meaning the security of your money depends on how well you store your seed phrase. The wallet also requires you to set a PIN, 2FA, and biometric login for an added security layer.
Coinbase Wallet Pros & Cons
Pros
Developed by a top crypto company
Trusted by over 13 million users worldwide
Robust security features
Multi-coin wallet
Has an inbuilt exchange
Supports NFTs
Compatible with hardware wallets
Cons
It's a hot wallet
Restricted in some countries
2. Trust Wallet
Price: Free💲
Google Store Rating: 4.5★
DappGambl Rating: 4.8★

Review
Trust wallet is our second-best wallet and also a good choice for beginners. It allows users to trade, store, and swap cryptocurrencies and NFTs directly. Like the Coinbase wallet, it supports many coins such as BTC, ETH, and XRP, along with ERC20, ERC721, and BEP20 tokens. The 2017 launched wallet was initially created for ERC20 and ERC223 tokens before opening up to the rest of the crypto sector. In total, the wallet accepts over 1 million tokens and does not charge any transaction fees. It's a non-custodial wallet, so users are responsible for keeping their seed phrases and securing their wallets and funds. The platform is integrated with more than five decentralized exchanges, such as MoonPay, Transak, Simplex, Mercuryo, and Ramp, where users can directly buy and sell crypto while logged into Trust Wallet. Crypto investors will fall in love with the app's earning features, such as staking and lending. Through your Trust Wallet, you can lend your funds through Compound, Maker, and Aave to earn interest or stake in popular protocols like Solana, Graph, and Uniswap. We recommend this wallet to beginners because it's user-friendly and inclusive. It's the easiest way to learn about various cryptocurrencies as well as the decentralized finance world.
Trust Wallet Pros and Cons
Pros
Has a decentralized application browser
Multi-functional crypto wallet
Offers capital growth opportunities
Integrated with dApps
Comes with an inbuilt exchange
Secure crypto storage wallet
Allows you to keep your own private keys
Less prone to hacking than web-based alternatives
Cons
Not secure like hardware wallets
You can't recover the balance on the loss of your security key
The price alert function crashes at times
3. Coinomi
Price: Free💲
Google Play Store Rating: 4.5★
DappGambl Rating: 4.4★
DappGambl Review
Coinomi is another excellent and easy-to-use crypto wallet we thought you should know about. Whether you're motivated by safety or multi-coin support, this wallet will serve your needs. It has recorded one million+ downloads, a solid sign that it's trusted and preferred by many digital coin users. Coinomi, which is usually touted as the oldest multi-chain wallet, has never been hacked since it was established in 2014. If this is something to go by, we can confidently vouch for the wallet, knowing your crypto will be secure from unscrupulous persons such as hackers. Our team found out that the Coinomi mobile wallet allows you to store your private keys safely, increasing your funds' security. Both Android and iOS versions offer a seamless interface that is easy to navigate, even for beginners. In terms of usability, the wallet accepts multiple Ethereum standard tokens (ERC/20/223/721/723), BEP2, and TRC10 coins. Of course, it doesn't leave out all major digital currencies like BTC, LTC, and Doge. You will pay zero fees for all your transactions on this platform, including payments going and coming from other wallets. Additional notable features include multi-seed support, cross-platform support, a dApp browser, and superb security. There are no KYC procedures while setting up the Coinomi wallet. Hence, your transactions remain private.
Coinomi Wallet Pros & Cons
Pros
Multi-lingual support
Interoperability
Zero fees
No successful hacking history
Superb security
Supports 120+ blockchain networks
Built-in exchange
Cons
No 2FA security layer
Closed source
4. Exodus Wallet
Price: Free💲
Google Play Store Rating: 4.6★
DappGambl Rating: 4.5★


DappGambl Review
Exodus wallet is one of the most popular crypto wallets for mobile users today. It's one of the wallets that tries to be perfect in all aspects. First, the UI gives an impression of a stylish and luxurious wallet. So if you love looking cool, this is the most dapper and sleek wallet you can have. Second, the wallet is known for having top-notch security features capable of keeping away hackers and unwanted persons from accessing your money. Apart from allowing you to keep your seed phrases securely, it also offers an added protective layer via 2FA, PIN, and data user data SSL encryption. You don't need another wallet once you have this one because it gives you space to hold more than 225 crypto assets, including altcoins like Bitcoin Cash, XRP, and Ether, without leaving out meme coins such as the great Shiba Inu. Like the mobile wallets already discussed, the Exodus wallet comes with an inbuilt exchange for swapping cryptos without sending your money to an outside exchange. On the flip side, we noticed during our Exodus mobile wallet trial that the app can slow on a few busy days, but of course, that's compensated by all the great features we have already covered. Let's also not forget to mention that you'll enjoy all your crypto profits because the wallet deducts zero fees from your transactions, even for withdrawals and payments across other wallets. When it comes to network fees, you can customize them to your liking. And last but not least, the app stands out from its competitors by offering real-time charts and analytics to help you track your investments and the market.
Exodus Wallet Pros & Cons
Pros
Multi-coin support wallet
Visually appealing
Real-time charts and analytics
Over 1 million downloads
Easy to use interface
Customizable network fees
Uses simplified payment verification (SPV)
Cons
Fixed network fee for altcoins
Lacks FIAT support
Inadequate customer support
5. Binance Chain Wallet
Price: Free💲
Google Play Store Rating: 4.4★
DappGambl Rating: 4.7★

DappGambl Review
Binance Coin (BNB) is a popular crypto utility token native to the Binance ecosystem. It was launched together with the Binance exchange in 2017 with an initial supply of 200 million tokens. Binance.com, the decentralized exchange, is now the most popular DEX by volume and number of users, and Binance Chain Wallet is its official crypto storage wallet. It was mainly built for the Binance coin and other cryptocurrencies compatible with the Binance Chain network. Therefore it supports Binance Chain, Binance Smart Chain, and Ethereum, although you can also use it to store other cryptos by connecting it to relevant blockchain protocols. It's a non-custodial platform meaning it doesn't store users' digital assets and security keys. Instead, you control your wallet 100% by being the principal custodian of its private keys, usually encrypted into a 12-word seed phrase. The BNB wallet is easy to navigate if you're a seasoned custodian wallet user. However, beginners may need guidance as it has a sophisticated UI compared to alternatives like Coinbase, Trust Wallet, and Coinomi. It's, nevertheless, the best wallet for the Binance Smart Chain network.
Binance Smart Chain Wallet Pros & Cons
Pros
Supports 80+ cryptocurrencies
SegWit and Bech32 address support
Allows cold crypto storage
Supported by the larger Binance DEX
Very secure wallet
Cons
Prone to bugs
Inadequate customer service
Not recommended for beginners
6. Electrum
Price: Free💲
Google Play Store Rating: 3.7★
DappGambl Rating: 4.7★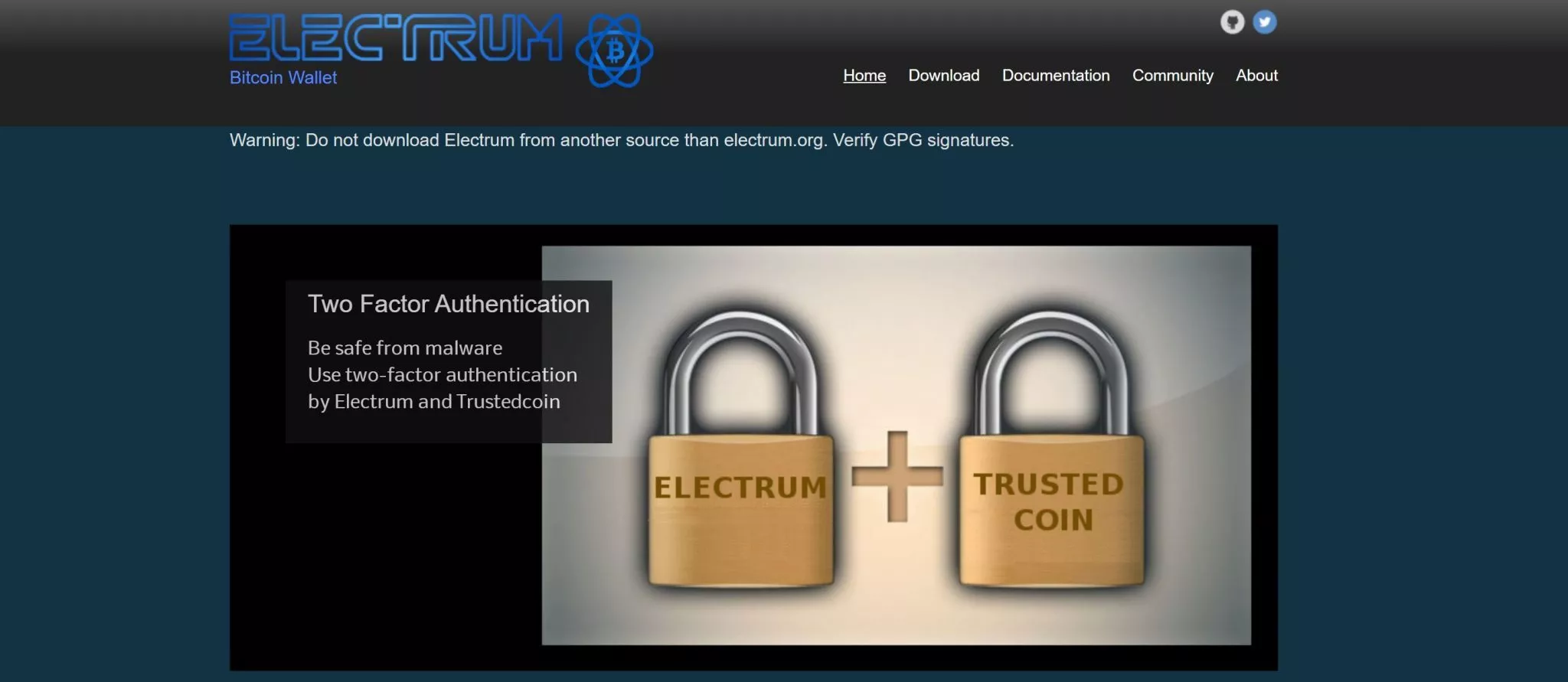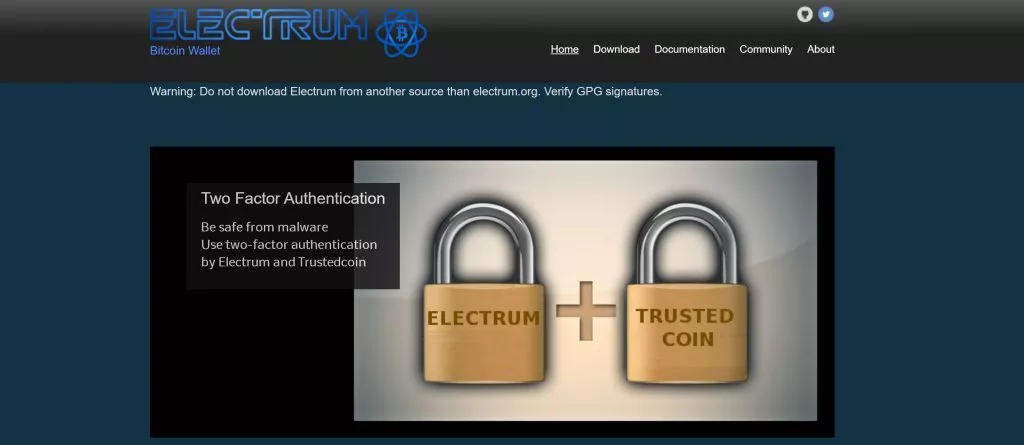 DappGambl Review
The Electrum wallet was launched in 2011, only a year after anonymous Satoshi Nakamoto birthed Bitcoin. The wallet has remained popular as one of the best mobile crypto wallets. Unlike most mobile crypto wallets, Electrum is a Bitcoin-only wallet. The project has never accepted any altcoins, and there is zero information on whether it plans to do so in the future. What makes it unique is its high degree of customizability when it comes to network fees. Users are free to determine how much they want to pay in terms of the miner's cost depending on the urgency of their payment. Your transaction will be put in the high-priority category if you entice miners with a competitive reward. One of the draws of Electrum wallet is that it uses Light client, meaning installation is fast and takes up minimal storage space. Regarding security, you are in charge of your private keys, plus there are extra safety layers through 2FA and SSL protection. Finally, when you don't want to keep your crypto online, you can securely transfer them to a cold storage device; this platform offers seamless integration with hardware wallets like Keepkey and Trezor.
Electrum Wallet Pros & Cons
Pros
Bitcoin-focused wallet
A widely used platform
2FA and SSL secured
Uses simplified payment verification
Customizable network fees
Hardware wallet support
Cons
Accepts Bitcoin only
Not a good beginner friendly
7. Crypto.com
Price: Free💲
Google Play Store Rating: 3.9★
DappGambl Rating: 4★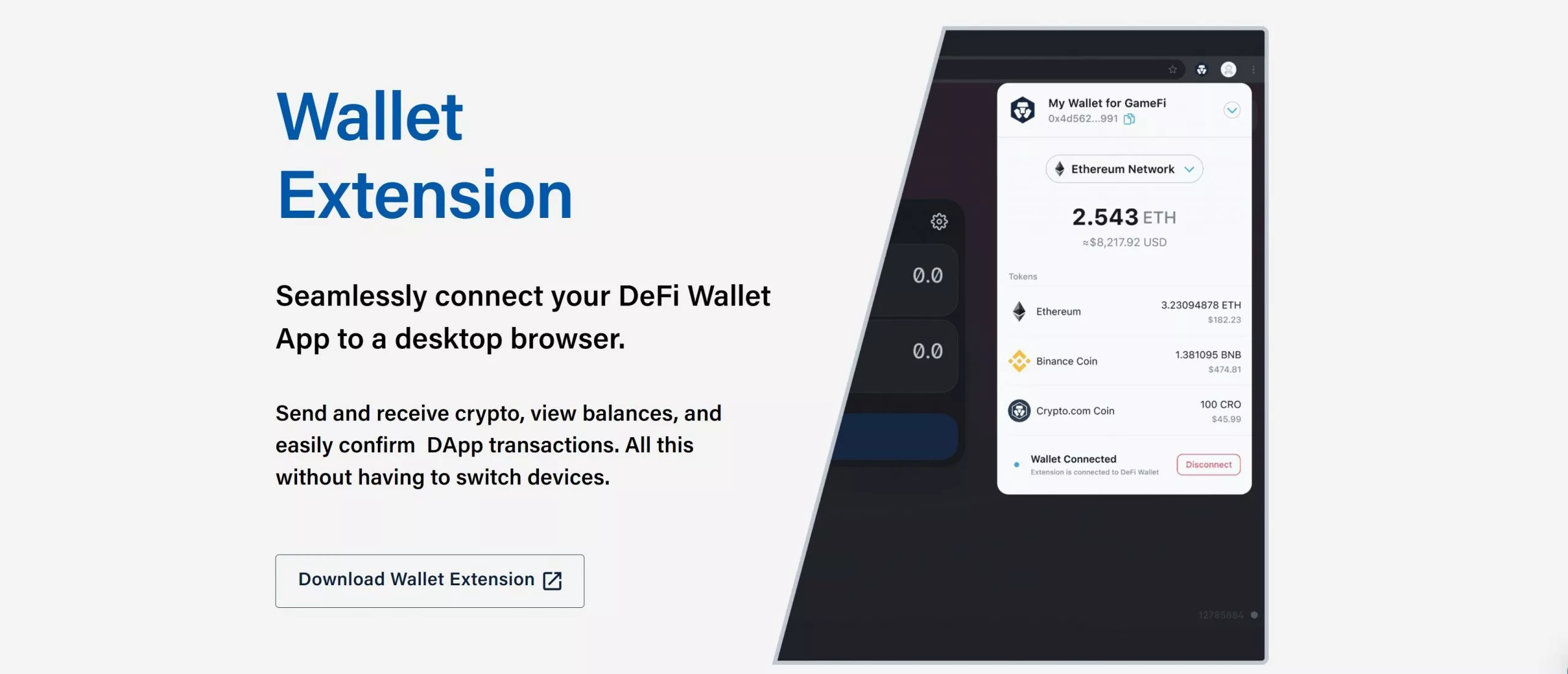 DappGambl Review
We will not be doing you justice if we end this article before discussing Crypto.com. The wallet is our best-recommended choice for decentralized finance starters. With its user-friendly UI, Crypto.com is also a good wallet for those who have never interacted with non-custodial storage options. It's intuitive, easy to navigate, and offers multiple services under one roof. First, you can swap your tokens directly while logging onto the platform through its built-in crypto exchange. Second, look no further if you're looking for ways to grow your digital coin yield. Crypto.com presents numerous ways to earn passive income using the virtual coins you already own— a feature rarely available among regular mobile wallets. As with Coinbase and Binance, it's necessary to draw the line between Crypto.com mobile wallet and Crypto.com exchange. Users don't need an account with the exchange to use the wallet; these are independent products, despite being owned by the same company. Apart from seed phrases, Crypto.com wallet offers enhanced security through two-factor authentication, PIN code, biometric login, and a password manager.
Crypto.com Wallet Pros & Cons
Pros
Users control private keys
Offers easy access to Web3
Supports over 250 coins
Competitive trading fees
Supported by established Crypto.com exchange
Wallet-connect support
2FA and biometric security layers
Cons
Charges transaction fees
Poor customer care
How We Chose the Best Crypto Wallet For Mobile
If you tried looking for the best mobile cryptocurrency wallets before coming to dappGambl, you would agree that it takes blood and sweat to filter through thousands of options on the internet, especially since they all claim to be the best. Our researchers had a list of about 27 top wallets, but we only wanted to bring you the best ones. That means we had to evaluate multiple factors to remain with mobile wallets' crème de la crème. Here is how we did it.
Supported Cryptos: A rule of thumb is the more digital coins a wallet keeps, the better. That's why we focused on multi-coin wallets in this article. You don't want to open a different crypto storage wallet whenever you expand your portfolio. Of course, we also recommended two wallets prioritizing Bitcoin, but that was a special honour because they are exceptional storage options for BTC users.
Interface: It doesn't help to sign up for a wallet you can't easily navigate. The user-friendliness of the top crypto wallets we reviewed played a pivotal role in our selection. You might have realized that even though some of the best mobile wallets we fronted were a little sophisticated, beginners can learn to use them in just a short time.
Security: The primary purpose of every crypto wallet is safe storage and transactions. Hence, security was our number one factor in filtering the best cryptocurrency mobile wallets from the chaff. We looked at elements such as encryption, 2FA, biometric security, and other aspects such as hacking history and consumer complaints.
Compatibility: Interoperability has become critical as the digital coins sector grows. Dependability among blockchain networks and protocols is inevitable, hence the need for a wallet that seamlessly integrates with the rest of the crypto ecosystem. All the hot wallets discussed in this article are compatible with hardware wallets and Android and iOS mobile devices.
Cost: Mobile wallets are generally free to download, so you don't have to worry about the cost of buying, unlike hardware storage devices. However, they might come with high payments cost, especially when transacting with other wallets. In addition, some of them also impose unreasonable withdrawal and deposit fees on top of the network fee that you must pay to miners. Therefore, we made sure all the wallets presented in this article are either 100% free to use or only charge a reasonable amount for transactions.
Which Mobile Crypto Wallet is the Best for Me?
After going through the list above, everyone will want to know which crypto wallet is the best for them. The truth is that there is no definite answer to this. Everyone is different and has varying needs and personalities. Remember, we have already selected top-notch wallets, so security is not questioned. You no longer need to read wallet reviews online because what we have presented here is already handpicked. So how then do you find a mobile wallet that suits you out of our list? You'll have to follow a different method, which leads us to the next question, "How do you choose a mobile crypto wallet from our list?"
How to Choose a Mobile Crypto Wallet
The best feat would be following a statistical model. As they say, numbers never lie. Here is a step-by-step guide you can use to select one wallet from our top list of mobile crypto storage solutions.
List the most important features you want to find in a mobile wallet.
Consider the crypto you wish to transact both immediately and in the future.
Rate your desired features according to their importance.
Go through our reviews, noting down the selling points of each wallet.
Classify them according to crypto supported, cost, and other essential features.
Assign each wallet a rating based on how it meets your preferred features.
Add up the different feature ratings of each wallet and find the average.
The wallet with the highest average rating is the best suited for you.
What is a Mobile Crypto Wallet?
We don't want to assume that everyone understands what a mobile crypto wallet is, so let's go over it before proceeding. Like you keep money in a bank account, crypto users need a safe place to store their digital assets too. Considering that cryptocurrencies are digital, we need a virtual account to keep them, and that's where crypto wallets come in. They are software-based wallets coded with features that enable safe storage or crypto keys and provide a secure gateway to different blockchains. Keep in mind that cryptocurrencies never leave their associate networks. Crypto wallets can be web-based, hardware devices, desktop apps, or mobile apps. Mobile crypto wallets are, therefore, mobile-based software where you can store your private keys. They also enable you to send and receive different crypto assets from the palm of your hands. We have created an entire page with everything you need to know about mobile wallets.
We have already mentioned that cryptocurrencies never leave their respective blockchains. So, no actual coins are moved when someone sends you a digital coin like Bitcoin. Instead, the process of sending you the coins is a signing off of those digital coins and handing them to a new owner, which is your mobile crypto wallet address. To successfully achieve this, two codes called keys are required:
Public Key: A public key is a cryptographic code that allows your wallet to receive blockchain transactions. The public key is usually encrypted in your crypto address.
Private Key: Private keys are cryptographic codes linked to your public keys for purposes of unlocking and accepting transactions sent to your address. You can't unclose, access, or transact funds in your wallet without a private key. It's called "Private" because it's not supposed to be shared, as it's your main proof of ownership of a wallet and the funds inside.
Using the analogy of an email account, let's consider a public key as an email address. You can share it freely, and anyone can send you an email. However, to access your emails, you need a password. The password represents a private key as it proves ownership and can't be shared with everyone, lest you lose your email account.
Private and public keys hence facilitate crypto payments without compromising the integrity of transactions.
What are the Benefits of Using a Mobile Crypto Wallet?
Crypto wallets have multiple benefits. Here are the top reasons you should have a mobile crypto wallet below.
Convenience: Mobile crypto wallets give you the flexibility of transacting on the go from the palm of your hand.
Security: Unlike web-based and desktop wallets, most mobile crypto wallets like the Coinbase wallet have an added biometric security layer on their mobile version wallet. This makes it impossible for someone to steal your money even if you lose your device since they will need your Face ID or fingerprints to sign in.
Easy to use: Mobile crypto wallets are easier to use than hardware wallets. They generally have user-friendly interfaces and allow transactions with just a few clicks of a button.
Accessibility: We are more likely to access our mobile phones faster than stationary PCs. So mobile wallets give you quick access to your funds whenever you need to.
Interoperability: Most mobile crypto storage solutions are integrated with the broader crypto ecosystem, including Web3, to allow seamless transactions. They are also compatible with different devices through protocols such as Wallet Connect.
What are the Risks of Using a Mobile Crypto Wallet?
App security: Crypto wallets are susceptible to bugs and every other flaw of all traditional mobile apps, including phishing, brute-force attacks, and even reverse engineering. A good hacker can easily access locally stored private keys as a common file type.
Anonymity: Blockchain transactions are recorded on a public ledger. A determined hacker can deanonymize transactions by studying nodes and tying them to specific IP addresses, even for privacy coins like Monero.
Platform risks: These are risks associated with the device the wallet runs on. For example, a jailbroken phone could not only be susceptible to malware risks but could also contain tools that can steal one's private keys.
Cryptography risks: While not common, it's possible that newer wallets that have not been properly tested could have coding flaws resulting in loss of user funds. Remember creating a good wallet is costly, and upcoming developers may not have sufficient funds.
Interoperability risks: Most wallets must be connected to third-party platforms and services to enable a seamless transaction. This process might leave opportunities for hacking where the wallet lacks robust authentication procedures.
User risks: The most significant risk of using a mobile wallet is yourself. You can lose money if you share your wallet with other people, store your private keys carelessly, or send funds to the wrong address.
Are Assets in Crypto Wallets Insured?
The level of risks that come with crypto investing would prompt anyone to ask whether assets in crypto wallets are insured. Well, the digital currency sector remains one of the widely unregulated fields. Besides, very few insurance companies are willing to cover risks associated with such a volatile market. In the US, for example, the Federal Deposit Insurance Corporation (FDIC) policy requires deposit-taking institutions to insure US citizens up to $250,00 each. Crypto is, however, not covered.
Crypto wallets that insure their client deposits do so out of their need to guarantee client safety and not from the point of compliance. We found out that a wallet such as Bitstamp has insured its funds by $300 million and offers users an option to get a personal crypto cover via the Copper and BitGo wallets. However, this is rare, and insurance companies are still hesitant to offer crypto covers due to the virtual currency sector's unpredictability, under-development, and unregulated nature. Therefore in most cases, crypto wallet assets are uninsured. Even if your wallet offers insurance, you ought to know that the cover can only be activated when there is a platform-wide hack. We advise you only to invest your risk capital in crypto assets.
How to Set Up a Mobile Crypto Wallet
Step 1: Download your preferred mobile crypto wallet from the Google Play Store or Apples App Store.
Step 2: Install the account.
Step 3: Set up your account, and create a profile where necessary.
Step 4: Some wallets might require you to submit KYC verification documents.
Step 5: In the case of non-custodial wallets, record your key phrases somewhere safe and complete your account setup.
Step 6: Fund your account by transferring crypto from an exchange or another wallet. If your wallet accepts FIAT and has an inbuilt exchange, you can purchase your first digital coin directly.
How to Use a Mobile Wallet?
There is no standard way of sending money with a mobile crypto wallet. Each provider follows a different method. However, we were able to develop a general guide for sending and receiving crypto with a mobile wallet based on similarities we observed among several wallet operators.
How to Send and Receive Crypto
Sending Crypto
Step 1: Log in to your mobile crypto wallet.
Step 2: Tap the "Send" button or tab.
Step 3: Select the crypto you want to send.
Step 4: Specify the amount to send.
Step 5: Click "Continue" to verify and confirm transaction details.
Step 6: Enter the recipient's address or scan the respective QR code.
Step 7: Select the network fee where flexible fees are accepted.
Step 8: Preview your transaction and hit "Send Now."
Receiving Crypto
Step 1: Log in to your wallet.
Step 3: Select the crypto you are expecting to receive.
Step 4: Share your wallet's receiver's address or QR code with the sender.
Step 5: Wait for the money to reflect in your digital coin wallet.
Fees For Sending and Receiving Crypto
Every transaction happens on a different blockchain, depending on the cryptocurrency you send or receive. Every transaction has a fee that a blockchain charges to process and confirm transactions on the network, this is called a miners fee or a network fee. Fee can variety on different factors such as a blockchain, volume and network congestion.
How Can I Ensure the Security of My Mobile Crypto Wallet?
Here are some key steps you can take to ensure the security of your mobile blockchain wallet:
First, keep your private keys safe.
Create a strong password.
Do not share your wallet's PIN or private keys
Activate 2FA and biometric where possible.
Do not use your wallet to make payments on suspicious websites.
Avoid clicking suspicious web links from your device.
Keep a different wallet for daily transactions.
How to Troubleshoot Common Mobile Crypto Wallet Problems
There are situations where your app may stop working for various reasons. Here are some steps you can take to try and fix the issues.
Step 1: Check your connection. This should be the first step you take. An unstable connection will definitely interrupt the working of your mobile wallet. If the connection is okay, move to step 2 below.
Step 2: Restart your device: Restarting your phone is likely to end any erroneous processed that may be the main cause of the problems you're experiencing.
Step 3: Updates: Is your wallet up to date? If not, update it to ensure it's not running on software that's no longer being supported.
Step 4: Go through FAQs to find a solution to your problem if you are still having issues.
Step 5: It if persists, submit a support ticket detailing the challenges you are facing, when it started, and what you have done so far to try and solve it.
We hope you have enjoyed reading this article and found answers to your questions about mobile crypto wallets. We now hope that you have already chosen your favourite wallet from the options presented on this page and are fully equipped to analyse any other digital coin wallets and determine whether they are worth it. Remember, most providers try their best to offer competitive features and lure clients, but the final decision rests in your hands. Top of your priority should always be security, then other features can follow. Lastly, cryptocurrencies carry a high volatility risk; do not invest money you can't afford to lose.
What are the most popular mobile crypto wallets?
The most popular crypto wallets are Binance, Coinbase, Crypto.com, Trust wallet, Coinomi, Exodus, Mycelium, and Electrum wallet. Of course, there are other popular ones, but we recommend these because they offer robust security, are user-friendly, and are affordable.
 What are the features of the most popular mobile crypto wallets?
The main features of the most popular wallets are strong security, user-friendly interfaces, interoperability, multi-coin support, zero hacking histories, cost friendliness, and good customer support. These are also some of the features to check when looking for the best crypto wallet for your transactions.
What are the fees associated with mobile crypto wallets?
Mobile wallets are free to acquire; hence you don't need to worry about a purchase budget unlike hardware storage devices. However, you should be prepared to incur transaction fees. For example, Coinbase wallet charges between 1.49% to 3.99% transaction fees. Some wallets like Coinomi are free to use.
 What types of mobile crypto wallets are available?
There are two main types of crypto mobile wallets, custodial and non-custodial mobile wallets. The difference comes down to security. For custodial wallets, the provider is responsible for the safe storage of private keys, unlike non-custodial wallets, where users have complete control of their private keys and fund's security.