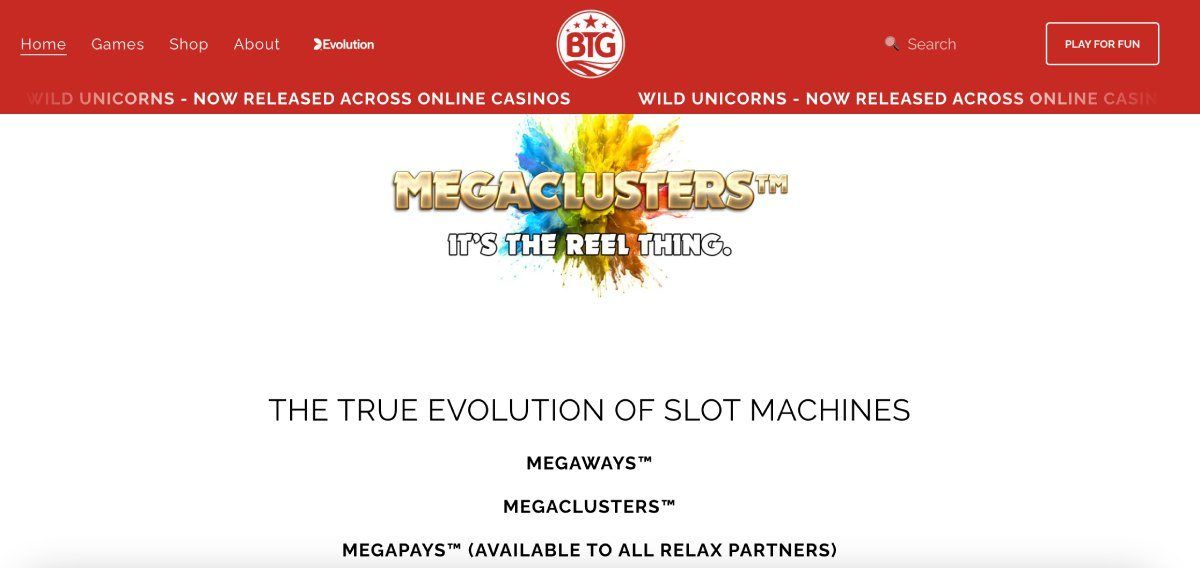 Big Time Provider: Overview
Big Time Gaming is a successful game development company that was founded in 2011 by Nik Robinson, who is the CEO. The company is known for creating innovative and exciting gaming experiences that push boundaries and explore new concepts. Its portfolio includes popular games such as Bonanza, Over the Moon, and Gifts for Fortune. Big Time Gaming has a strong reputation in the industry, and its success can be attributed to the CEO's business acumen and the company's powerhouse team of game industry veterans. The company supports responsible gambling and is a member of BeGambleAware. In April 2021, Big Time Gaming was acquired by Evolution Gaming, a leading provider of live casino games and software solutions to the online gambling industry.
Pros
Renowned for its expertise and creativity, ensuring top-notch game quality
In-game jackpots available
Multi-language support
Proper licensing ensures a fair and secure gaming environment
Gift spins provide rewarding and risk-free opportunities to try out games
Cons
Geolocation restrictions
The availability of gift spins may vary
How to Play Big Time Slots with Crypto
Using cryptocurrencies to play Big Time slots is a smooth and enjoyable experience that provides greater privacy and quicker transactions. Here is a step-by-step tutorial on how to use digital coins to play Big Time slots:
Choose a trustworthy online casino that provides Big Time slot games and enables cryptocurrency payments as a first step.
Create an account at the cryptocurrency casino of your choice, then go to the "Deposit" or "Cashier" section and follow the instructions.
Once your deposit is confirmed, explore the casino's game library and select the Big Time slot game you wish to play.
To optimize your slot-playing experience, it's important to adjust your bet amount before spinning those reels.
Once you've chosen your bet amount, just give that "Spin" button a click to kick off the game.
What Cryptocurrencies are Accepted?
Slot RTP, Details and Wager Limits for Big Time games developer games
Big Time Gaming is known for creating innovative and engaging slot games with various themes and features. Here are some common details you might find when exploring their slot offerings:
Slot RTP (Return to Player): In the case of Big Time Gaming's slots, their games typically have somewhat standard RTP percentages of around 96%. These percentages are considered relatively high when compared to industry standards.
Game Details: Each and every one of Big Time Gaming's slot games comes with its own one-of-a-kind theme, set of symbols, and collection of bonus features. Players may anticipate encountering a wide variety of enticing bonus rounds, free spins, cascading reels, and several other gameplay mechanisms that serve to improve the overall quality of the gaming experience.
Wager Limits: The slot machines produced by Big Time Gaming typically come with a variable betting range that is intended to cater to a wide variety of gamers. The most common wager limits across the developer's slots are a minimum of $0.20 and a maximum of $40 per spin.
Unlimited Multipliers: Many of Big Time Gaming's slots are equipped with Unlimited Multipliers, which can increase the value of a player's winnings with every spin. This feature adds an extra layer of excitement and the potential for big payouts.
Diverse Themes: Big Time Gaming's slots offer a diverse range of themes, from the scary Haunted House to the ornithologically oriented Feathered Frenzy. This variety ensures that players can find a game that suits their interests and preferences.
Megaways Mechanic: One of Big Time Gaming's most iconic features is the Megaways mechanic, which offers an astonishing number of paylines. With this dynamic feature, the number of symbols on each reel can vary with every spin.
Mystery Symbols and Wilds: Mystery symbols transform into a random symbol, potentially leading to significant payouts, while wilds substitute for other symbols to form winning combinations.
Feature Buy Option: In some of their games, Big Time Gaming offers a feature buy option, allowing players to instantly trigger the bonus round for a specified cost.
Highly Volatile: Big Time Gaming's slots are known for their high volatility, which means that players can expect infrequent but large payouts. This feature adds an extra layer of excitement and the potential for big wins.
Big Time Gaming is renowned for its diverse range of themes and visually captivating graphics that take players on thrilling adventures through imaginative worlds. Here are some examples of the themes and graphics featured in Big Time's slot games:
Gems: The provider offers an impressive selection of slot games centered around gem themes. These games are visually captivating with vibrant graphics and are packed with generous bonuses. Playing these slots can be highly rewarding, both in terms of entertainment value and potential
Retro Symbols: The studio has incorporated retro symbols like fruit, bars, and sevens into some of their slot games. These symbols are intentionally chosen to evoke nostalgia and transport players back to the classic slot machine era.
Haunted Houses: Haunted House, one of the popular slot games by this publisher, offers an immersive Halloween-themed experience with its eerie symbols such as ghosts, pumpkins, and witches..
Ornithological Themes: Feathered Frenzy is an exciting slot game that revolves around a bird theme. It stands out from other games due to its vibrant graphics and captivating animations, offering players a one-of-a-kind and visually pleasing gaming experience.
Exclusive Titles: Generally, Big Time Gaming has a range of exclusive titles that you won't find anywhere else. They want to give players a gaming experience that's truly one-of-a-kind.
Big Time Gaming's slot games provide players with an enriched gaming experience through the use of captivating audio effects and soundtracks. The combination of design and music creates a truly engaging and immersive ambiance for players. The design features are not just cosmetic, but also play a crucial role in enhancing the overall quality of the game. The game's symbols are carefully crafted to correspond with the theme, while the animation sequences add energy to the spinning reels.
Volatility is a term used in slot games to describe the level of risk associated with the game. High-volatility slots offer larger payouts but less frequently, while low volatility slots offer smaller payouts but more frequently. Here is a breakdown of the volatility levels for each slot offered by Big Time, ranging from low to high
Low Volatility: These particular slot machines are designed to provide players with frequent payouts, although the amounts won may be smaller. They have a relatively high hit rate, typically ranging from 30% to 40%.
Medium-Low Volatility: Medium-low volatility slots have a hit rate percentage range of around 20% to 30%. These slots offer a balance between low and high volatility, with payouts that are slightly larger than low volatility slots.
Medium Volatility: The hit rate percentage for medium volatility slots like White Rabbit ranges from 10% to 20%. These slots provide a good mix of low and high volatility, with higher payouts than medium-low volatility slots.
Medium-High Volatility: Medium-high volatility slots are known for their hit rate, which typically falls between 5% and 10%. They include Lil' Devil and Opal Fruits.
High Volatility: High volatility slots have a low hit rate, ranging between 1% and 5%. These slots provide the highest rewards but are also the riskiest.
For players who want to play on the go, Big Time Gaming provides a flawless and user-friendly mobile gaming experience. You are guaranteed to have an exclusive experience, whether you use a mobile app or directly from a mobile phone browser. Remember that the availability of certain features may differ from one casino to the next. Some gambling sites, such as Bitslot Casino, provide downloaded mobile apps, while others, such as Stake.com, are built on HTML 5, making them compatible with all major mobile browsers.
If you have read this entire piece, you probably agree that Big Time Gaming is a great developer to consider whenever looking for thrilling slot machines. This leading supplier is well-known for the cutting-edge games and exciting features that it offers, all of which are meant to keep players engaged and delighted. Big Time Gaming is a favorite among people who enjoy playing at online casinos because of the company's Megaways technology, jaw-dropping graphics, and heart-thumping sound effects. There is always something new and fascinating to discover, especially considering the constant release of brand new games onto the market. The software developer offers a mix of everything from traditional slot machines to complex video games with a large number of bonus features. You simply need to register with a safe and legit casino to get started. Good luck!
In this section, Eugene will address your inquiries and the most common questions regarding Big Time Gaming and offer guidance to newcomers in the field. Feel free to submit your questions through our contact form, and we will strive to respond within 48 hours.
Are There Free Spins or Bonus Rounds in Big Time slots?
Yes, Big Time slots frequently offer fun bonus features and extra spins. Specific symbols or combinations must appear on the reels to activate these bonus features, which provide players with more opportunities to win and interesting gaming mechanics.
What Are the Wagering Limits for Big Time Slots?
Depending on the particular game, different Big Time slots have different wagering limits. You can expect the return-to-player (RTP) percentages to be relatively consistent, usually hovering around 96%.
Can I Play Big Time Slots for Free in Demo Mode?
Yes, a lot of Big Time slots provide a no-risk demo option. In order to familiarize themselves with the gameplay, features, and dynamics before using real money, players can test out the games without taking a financial risk.
Is Big Time Slots Fair and Random?
Definitely! Big Time Gaming is a well-respected provider known for its commitment to maintaining strict fairness and randomness standards. They proactively have their slots audited on a regular basis by independent testing agencies.
How can I make money from Big Time?
Managing your bankroll effectively, setting a budget, and implementing strategic betting techniques are key factors if you want to make money.
When was Big Time Gaming founded?
In 2011, a group of highly skilled individuals with a deep understanding of the gaming industry, led by Nik Robinson, the CEO, came together to establish Big Time Gaming.
What does it mean when it says that game weighting applies?
Game weighting is the percentage of bonus wagering requirements that certain games contribute. Some Big Time slots have varying game weightings, meaning they contribute differently to wagering requirements.