stake
Minimum Stake: $0.01
Maximum Stake: $100
supplier
Casino
Bonus
Features
Payments
Banking
Licenses
$500 or 5 BTC + 180 FS
Live Casino
Generous welcome bonus
Large selection of games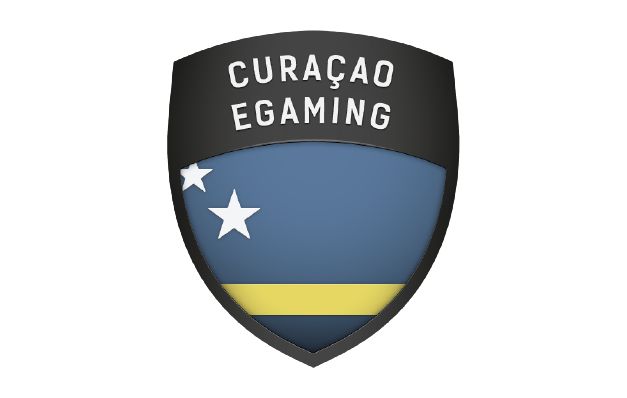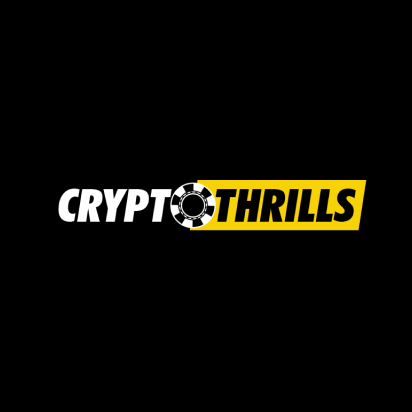 599% up to 1,000 mBTC & 59 Free Spins
Impressive range of bonuses
Crypto Casino
Strategy guides
Up to 200$ Deposit Match in the currency of your 1st deposit
Excellent on mobile
No KYC needed
Fast transactions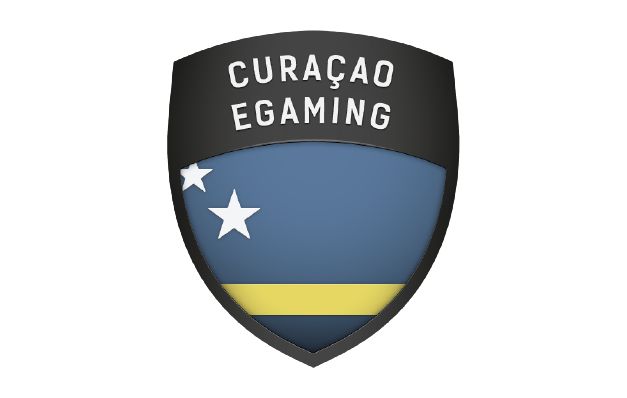 Starburst, developed by NetEnt, is widely regarded as one of their most beloved slot machines. The 5-reel, 3-row slot game's popularity can be attributed to its engaging gameplay and beginner-friendly nature. With straightforward mechanics and exciting in-game features, the platform has become a top choice for novice and experienced slot enthusiasts.
This comprehensive Starburst review delves into gaming structure, fascinating features, and unique offerings. Now, let's dive in to get all the details.
How to Play Starburst with Crypto?
Due to its unique features, Starburst slots are available at various casinos. Irrespective of the player's casino preference, however, the following steps are the player's best bet to playing the slots with crypto:
Step 1: Select a reputable online casino that accepts cryptocurrency as a payment method and ensure that the casino offers Starburst as one of its available games. We recommend choosing from any of the casinos discussed in earlier sections of this review.
Step 2: Sign up for an account at their chosen casino by providing the necessary information, which may include a username and password. Some casinos may also require KYC verification, where players must provide identification documents.
Step 3: After creating an account, navigate to the deposit section of the casino's website. Look for the cryptocurrency deposit option and select it. There you will be given a unique wallet address or a QR code to transfer the cryptocurrency.
Step 4: Wait for the transaction to be confirmed on the blockchain and for the casino to credit the deposited amount to their account.
Step 5: Look for the Starburst game within the casino's library by using the search function or browsing through the available slot games.
Step 6: Select your desired bet amount before spinning the reels. The slot allows you to adjust the coin value and the number of coins per line.
Step 7: Click or tap the "Spin" button to start playing once the bet is set. The game will initiate, and the reels will spin, displaying various symbols.
Step 8: After each spin, you can continue by spinning the reels with the same or adjusted bet amount. On the other hand, if you wish to cash out, you can request a withdrawal using the cryptocurrency withdrawal option available in the casino's banking section.
What Cryptocurrencies are Acceptable?
The specific cryptocurrencies accepted for playing the slots vary per casino. However, here is a general list of cryptocurrencies commonly used across casinos to play Starburst Slots:
Bitcoin (BTC)
Ethereum (ETH)
Litecoin (LTC)
Bitcoin Cash (BCH)
Cardano (ADA)
Ripple (XRP)
Dogecoin (DOGE)
Dash (DASH)
Monero (XMR)
Zcash (ZEC)
Starburst Slot RTP, Details & Wager Limits
The Return to Player (RTP) percentage of Starburst Slot is 96.09%. This RTP is considered competitive and showcases the game's attractive payout potential. With an RTP above 96%, the slot offers a favorable payout rate compared to the industry's average.
RTP of 96.09% indicates that, on average, players can expect a high return on their bets over an extended period of play. This competitive RTP adds to the game's appeal, enticing players looking for favorable odds and rewarding gameplay.
Wager limits for the slot vary depending on the specific online casino or platform where the game is played. However, the minimum bet amount for the slot game starts at around $0.10 (or the equivalent value) and the maximum at $100.
The slot stands out from most other slots due to its "the Starburst wild" feature. Unlike typical slots, this game incorporates a unique wild symbol that can appear on reels 2, 3, or 4. Once activated, the wild expands to cover the entire reel, remains fixed in its position, and triggers a re-spin. If another wild symbol lands during the re-spin, it also expands and initiates an additional re-spin.
The maximum number of re-spins that can be triggered is 3, and each re-spin functions as a free spin.
One notable aspect of the slot is that it offers 10 paylines with winnings paid in both directions. This means that players are guaranteed 20 payouts as they play. Additionally, if players manage to land any BAR symbols during the third re-spin, they are rewarded with a substantial payout.
Features
Starburst is renowned for its unique features and thrilling gameplay mechanics, contributing to its popularity among slot enthusiasts. These features include:
Win Both Ways: Where winning combinations can be formed from left to right and from right to left. This unique mechanic enhances the chances of hitting winning combinations on every spin, providing more payout opportunities.
Re-Spins: Landing a wild symbol on the reels triggers a re-spin, and up to three re-spins can be awarded consecutively. With each re-spin, the potential for wins and expanded wilds increases.
Expanding Wilds: Wild symbol plays a central role in the game. When it lands on reels 2, 3, or 4, it expands to cover the entire reel and triggers a re-spin. This feature can lead to additional wins and increase gaming excitement.
Dazzling Gem Symbols: The game features a visually stunning array of colorful gem symbols, adding to its vibrant and immersive cosmic theme. These gem symbols and the classic bar and lucky seven symbols create winning combinations with varying payout options.
Potential for Big Wins: Starburst offers the potential for significant wins, particularly during the re-spin feature. With the expanding wilds and the possibility of multiple re-spins, players can land combinations across multiple paylines, leading to substantial payouts.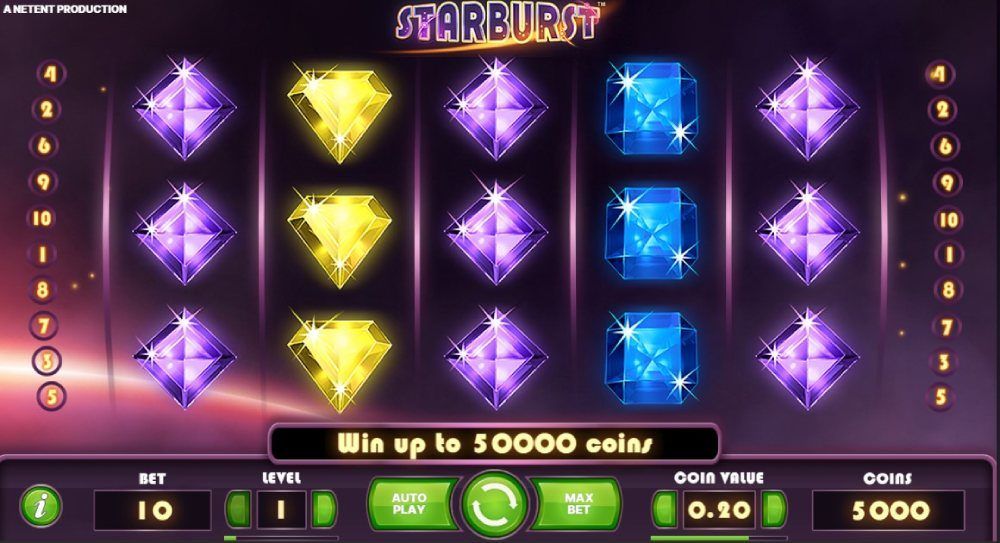 The slot boasts a captivating and visually striking theme that takes players on an exhilarating journey. The game's graphics are vibrant, colorful, and infused with a futuristic ambiance. Here are the key highlights:
Cosmic Theme: Starburst immerses players in a cosmic setting reminiscent of a dazzling galaxy filled with celestial wonders. The backdrop showcases a mesmerizing blend of deep space, stardust, and shimmering stars, creating a visually stunning environment.
Vibrant Gem Symbols: The symbols are intricately designed and represent a range of colorful gems. These symbols are richly detailed, featuring dazzling shades of yellow, green, orange, blue, and purple. The gems come to life on the reels, further enhancing the game's visual appeal.
Animation and Visual Effects: The slot is renowned for its seamless animation and mesmerizing visual effects. When winning combinations occur, the gems burst into a dazzling display of light and motion, adding excitement and spectacle to the gameplay experience.
Crisp Graphics: The graphics in the slot are of high quality, offering crisp and clear visuals. The attention to detail is evident in the smooth animations, polished symbols, and overall presentation, creating a visually pleasing experience for players.
The slot features a sleek and modern design that adds to its overall appeal. The game's design elements and immersive audio work together to create an engaging and enjoyable gaming experience.
Starburst's design is characterized by its clean and minimalistic approach. The game interface is uncluttered, allowing players to focus on vibrant symbols and gameplay without distractions. The design incorporates a cosmic theme with visually stunning graphics. The backdrop showcases a celestial space setting with shimmering stars and cosmic dust. The visuals create a sense of wonder and adventure as players spin the reels.
The gem symbols in the slot are intricately designed with vibrant colors and meticulous attention to detail. Each gem symbol has a distinct appearance, contributing to the game's visually appealing aesthetic.
The slot also boasts smooth and fluid animations that enhance the overall visual experience. The animations come to life when winning combinations occur, with gems bursting into radiant displays of light and movement, adding excitement to the gameplay.
On the other hand, the slot's audio complements its modern design. The game features a lively and futuristic soundtrack that creates an energetic atmosphere, keeping players engaged throughout their gaming sessions. The audio features cosmic sound effects that enhance the immersive gaming experience. These sound effects include twinkling cosmic sounds, celestial whooshes, and other atmospheric elements.
Another exciting feature is the "winning sound." When players achieve wins or trigger special features like the re-spins, Starburst incorporates celebratory jingles and sounds, heightening players' excitement and sense of accomplishment.
Starburst features a variety of symbols that align with its cosmic theme. These symbols include vibrant gems, classic lucky sevens, and bar symbols.
Gem Symbols: These symbols come in different colors, including yellow, green, orange, blue, and purple. The payouts for landing a combination of five identical gem symbols on a payline are:
Yellow Gem – 60 coins
Green Gem – 50 coins
Orange Gem – 40 coins
Blue Gem – 25 coins
Purple Gem – 25 coins
Bar Symbol: The bar symbol is a classic slot symbol. The payout for landing a combination of five bar symbols on a payline is 250 coins.
Lucky 7 Symbol: The Lucky 7 symbol is another traditional Starburst slot symbol. The payout for landing a combination of five lucky seven symbols on a payline is 120 coins.
Starburst Wild Symbol: This is the most valuable symbol in the game and plays a central role in the gameplay. It can appear on reels 2, 3, and 4 and expands to cover the entire reel, triggering a re-spin. No direct payout is associated with the wild symbol, but it can lead to significant wins by creating winning combinations with other symbols.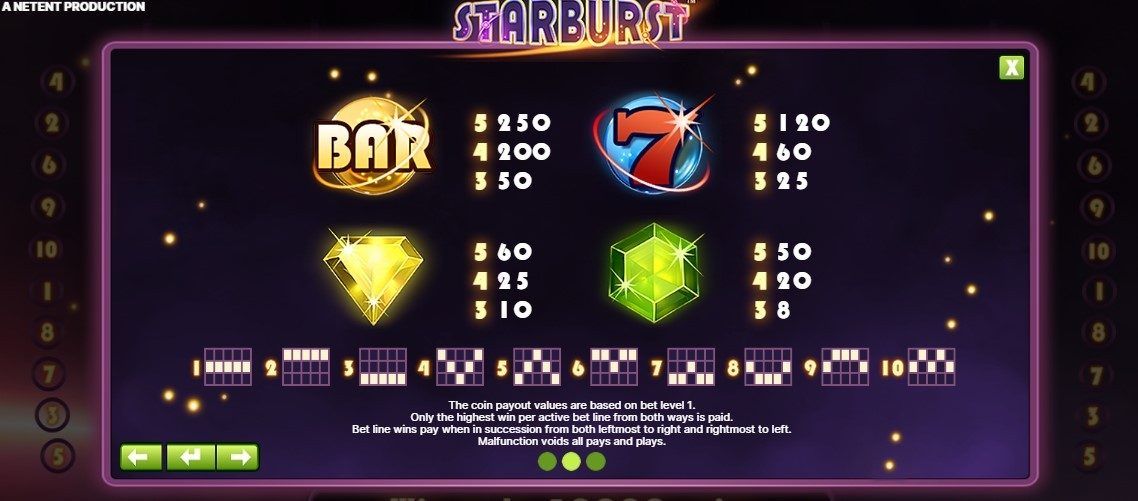 Starburst is generally considered to have a low to medium volatility level, making it a popular choice for players who enjoy steady gameplay and regular wins without the higher risk associated with highly volatile slots. Here's an overview of the slot's volatility:
Winning Frequency: The slot offers a balanced gameplay experience that combines frequent small wins with occasional bigger wins. This volatility level implies that players can expect a relatively steady stream of payouts during their gameplay, with a mix of smaller and moderate-sized wins.
Regular Payouts: Due to its lower volatility, Starburst provides more frequent payouts than high-volatility slots. The game's mechanics, such as the expanding wilds and re-spins, contribute to regular wins and keep the gameplay engaging.
Moderate Jackpot Potential: While the slot does not offer a progressive jackpot, it still provides the potential for decent-sized wins. The maximum win in the base game is obtained by filling all reels with valuable Starburst wild symbols, which can lead to substantial payouts.
Balanced Risk and Reward: The slot's low to medium volatility strikes a balance between offering frequent payouts and the potential for significant wins.
As one of the most renowned and popular slot games developed by NetEnt, it's no surprise that a mobile-friendly version of Starburst is readily available. Starburst Touch offers the same exceptional graphics and captivating sound effects as its desktop counterpart. This slot game has been skillfully adapted to ensure a seamless transition between mobile and desktop platforms without compromising any of the thrilling entertainment it has to offer.
To optimize the game's presentation on smaller screens of mobile phones and tablets, minor adjustments have been made to the game's layout. For example, the spin button is positioned beside the reels and temporarily disappears from view while the reels are spinning. Additionally, settings and options are conveniently grouped in a separate submenu. This approach maintains a clear and clutter-free display while allowing quick and easy access whenever needed.
The Starburst mobile slot is compatible with iOS and Android operating systems, meaning players can enjoy the game on virtually any smartphone or tablet if their device runs a relatively recent version of either OS. Players also have the opportunity to try out the slot's free demo on their mobile devices to get a sense of its appearance and gameplay.
This Starburst review confirms that players can play the slot for real money on their mobile phones through various casino apps. Whenever a casino site features the slot, you can be confident it will also be available on their corresponding mobile app. Furthermore, the slot can also be played on mobile browsers within web-based casino apps. Moreover, the mobile Starburst app has been integrated into casino download apps from iTunes and the Google Play Store, expanding accessibility for players.
Pros
Low to Medium Volatility
Simple and Intuitive Gameplay
Win Both Ways
Stunning Visuals and Theme
Mobile Compatibility
Cons
Lower Jackpot Potential
Limited Bonus Features
Starburst is a trendy slot game that appeals to beginners and experienced players. Its engaging gameplay and the ability to use cryptocurrency offer players a convenient and flexible gaming experience. The game's competitive Return to Player (RTP) percentage and diverse accepted cryptocurrencies make it attractive for players seeking entertainment and potential rewards.
Features, captivating graphics, cosmic theme, and vibrant symbols create an immersive gaming experience. The Slot's low to medium volatility further provides players a balanced gameplay experience. Via its mobile-friendly version, Starburst Touch, players can enjoy the game's premium features while on the go.
This Starburst review concludes that the slot game is a top choice for slot enthusiasts looking for an exciting and rewarding gaming experience. You should try it!
Are there free spins or bonus rounds?
The slot does not have a traditional free spins bonus round like many other slot games. However, it does offer a unique feature called re-spins, which provides additional winning opportunities.
What are the wagering limits?
The wagering limits can vary depending on the specific online casino or gaming platforms. The minimum bet starts at $0.10 or its equivalent, and the maximum is $100.
Can I play for free in demo mode?
Yes, Starburst is often available to play for free in demo mode at many online casinos or gaming platforms. Playing in demo mode is an excellent way for players to test the game's strategies and understand its volatility without any financial risk.
Is Starburst Slot fair and random?
Yes, like any reputable online slot game, is designed to be fair and random. It is designed to provide a fair and random gaming experience. The combination of reputable game development, RNG technology, independent audits, and regulatory oversight ensures that the game operates with integrity and fairness for all players.