So you're interested in buying your first crypto from your friend, and you get hit by the query, "What's your crypto wallet address?" Any idea what you'll say? Lucky you! dappGambl got your back. We've been there, and we know how that feels.
You probably own, have owned, or come across a real-world physical wallet before, right? Wallets are used to store money safely and give us easy access to our funds whenever we need to make payments. Crypto wallets are not so different. They are programs or software developed to receive, send, secure and keep digital currencies. The only difference between crypto wallets and your physical one is that while the latter holds FIAT money, the former stores digital money and only transacts when connected to the internet. As demand changes, developers are starting to create wallets with additional functions such as inbuilt exchanges where you can trade and swap tokens. DeFi wallets are another example of wallets with extra features; they allow you to earn more value on your money by offering investment opportunities in the decentralized finance ecosystem. They also give users access to NFTs and other Web3 functions. Does this sound interesting? It's going to get even better as you keep reading.
Best Bitcoin and Crypto Wallets, Compared
Crypto Wallet Reviews - Our Top 5
1. Ledger Nano X
Competitive Edge: We selected this wallet as the best hardware wallet for cold crypto storage because it's highly secure, supports many coins and dApps, and is beginner friendly.

Overview
Ledger Nano X is a product of the French Ledger company. It mainly expands on the achievements of the Ledger Nano S, the company's pioneer offline crypto wallet. Its main idea is to be the safest and most user-friendly cold storage crypto wallet. It achieves its robust security through something called a "secure element," a security chip commonly used to safeguard the integrity of high-end credit cards and passports. Apart from that, the wallet stores your money offline away from hackers. An AES 256-bit encryption protects all communication and data. It supports 100 dApps and at least 5,500 cryptocurrencies, including prominent ones like Bitcoin, Litecoin, Bitcoin cash, Stellar, XRP, and Ethereum. You can carry it anywhere you go because it's highly portable and comes with a built-in battery that lasts up to 8 hours on standby and 6 hours on full use. That's pretty much better than some mobile phones. Besides, it works perfectly with Mac and Windows PCs and iOS and Android mobile devices. Additional features include Bluetooth connectivity, Ledger Live app, in-built crypto exchange, and FIDO U2F (2FA). We found out during our research that the wallet can also be used for lending and staking to increase the value of your crypto. You will need at least $149 to buy a Ledger Nano X wallet. We recommend purchasing this device directly from the source.
Pros and Cons of the Ledger Nano X
Pros
Encrypted Bluetooth.
Supports up to 100 dApps.
Accepts 5,500+ cryptos.
Highly user-friendly.
Secure wallet.
Up to 8 hours of battery life.
Cons
The battery is irreplaceable.
Heavier than some alternatives.
It might be costly for some people.
2. Coinbase Wallet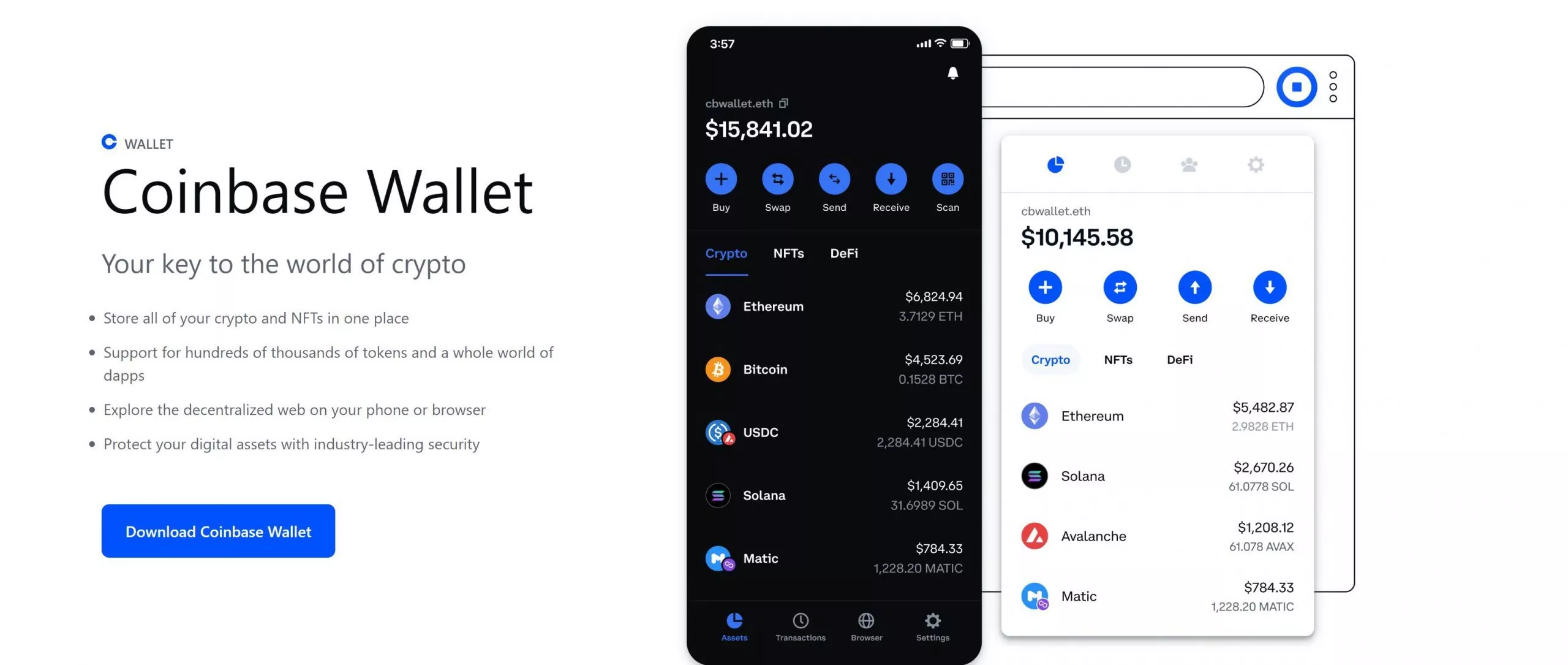 The Coinbase crypto exchange is one of the most popular and largest exchanges available. But did you know that the company behind the exchange also has a crypto wallet? The Coinbase wallet is a native digital coin wallet of Coinbase.com. It was built to offer an easy and secure storage solution for beginners in the crypto industry space. If you don't have a budget for a hardware wallet and are still in the early stages of the crypto investment journey, the Coinbase wallet is the safest and most user-friendly virtual coin storage solution for you. It's a non-custodial wallet where users have full custody of their wallet's security keys and are responsible for their funds' security. In that case, hackers have nothing to gain even if they breached the company's security because the Coinbase wallet company doesn't hold user funds. The hot wallet can be accessed directly from a web browser or a PC and mobile app. Although it's related to the Coinbase exchange, they operate independently, and you don't need to sign up with the exchange to own a Coinbase wallet and vice versa. Users can store at least 500 coins in this wallet, including ERC20 tokens and layer two tokens like Polygon. Besides, the platform is also compatible with NFTs and other collectibles. Remember to activate your 2FA and never share your secret keys with anyone.
Pros and Cons of the Coinbase wallet
Pros
Best beginner-friendly wallet.
Backed by the main Coinbase exchange.
2FA for enhanced security.
In-built crypto exchange.
Supports 500+ coins.
Multi-signature access for all wallets.
Cons
Relatively high transaction fees.
Weak customer support.
3. Trezor Model One

Here is another hardware wallet you must know about if you mean business when it comes to the security of your digital currencies. The Trezor Model One is a legendary offline crypto storage solution; perhaps we should call it the father of hardware wallets. It was launched in early 2014 as the first hardware wallet to hit the crypto industry. The developer, SatoshiLabs, is well known and respected as a reliable security firm in finance and digital money. Trezor Model One has grown to become the most popular wallet, having been distributed to more than 150 countries, with total sales of 4,000,000+. What we love most about this product is that despite being the oldest, it remains one of the most advanced yet easy-to-use crypto storage wallets
Installation is easy as pie and won't last for more than five minutes as the wallet comes partially ready. Use this device to store and transact over 1200 coins, including the latest trending safety coins like Monero and Zchash. Of course, all popular digital currencies such as Bitcoin and Ethereum are part of this package. iOS and Chrome OS users might not prefer the Trezor wallet as it doesn't work with their devices. When it comes to security, the wallet comes with a 2FA for enhanced security. Of course, the Ledger Nano X is much safer since it's double chipped, unlike the Trezor, which uses a single security chip. Trezor Model One, however, boasts a spotless security history. That is why we can comfortably vouch for it. It's the best option for low-budget clients. You will get the Trezor Model One offline wallet and all its premium features at only $69, almost 70% lower than the Ledger Nano X.
Pros and Cons of the Trezor Model One Wallet
Pros
Supports privacy coins like Monero.
Compatible with iOS and Android.
Proven track record.
Compact size.
Over 1200 coins accepted.
2FA for security layer.
4. Exodus Wallet
Ever heard of the Exodus wallet? Don't worry about the "Exodus" name. The wallet's not going anywhere with your money. It's just a fancy name in our view, or maybe they have personal reasons for choosing that name. Who knows? Exodus is a non-custodial hot wallet like the Coinbase wallet. It's free, so here's a chance to make the most of it. The wallet supports Windows, Linux, and Mac PCs. Functionality is also available across both iOS and Android devices.
The desktop version of this wallet has been rated the best by its users. In terms of assets, Exodus wallet accepts up to virtual coins across seven independent blockchain networks. NFT lovers are also covered through the Exodus wallet marketplace. Besides, it's fitted with an inbuilt exchange, so you won't have to incur the costs of buying and selling your crypto on a third-party platform. What's more, you don't have to let your money sit idle in your wallet. The platform has interest-earning and staking products you can explore to grow your money. Although the company has a clean security reputation, we were a little bit cast down to find out that such a premium and highly sought-after wallet didn't have a 2FA security feature. Thank goodness that shortcoming is quickly compensated by the platform's ability to integrate with hardware wallets like the Trezor and Ledger.
Pros and Cons of Exodus Wallet
Pros
Strong reputation.
Free wallet.
Windows, Linux, and Mac compatibility.
In-built exchange.
Earning features like staking.
Cons
No 2FA security.
Supports a small number of coins.
5. Coinomi Wallet
Last but not least, we bring you the Coinomi wallet, which almost sounds like "Coins know me" wallet. It's an intuitive and easy-to-use wallet even for first-timers. Coinomi wallet entered the market in 2014 as one of the earliest crypto storage solutions and has remained reputable due to its emphasis on security and privacy. Coinomi has an anonymization feature to protect users' IP addresses and give them a high level of privacy and anonymity. Besides, you are not required to submit KYC verification documents.
Unlike Coinbase and Exodus wallets, this platform accepts a whopping 1770+ cryptocurrencies, including Ethereum-based tokens and collectibles like NFTs. Perhaps some hackers have tried to bypass Coinomi's security in the past, but there is no record of anyone who succeeded in hacking it. This is part of why we couldn't leave it out of our top five list. Wallet owners have complete control of their funds through encrypted private keys. Not even the Coinomi company operator can access or steal your money. To cater to its broad user base, the wallet is available in 25 languages, including Chinese, English, Russian, Spanish, and French. The Coinomi support team is on standby 24/7, ready to help you solve any issues you may encounter while using the platform. Like the Exodus wallet, you can access various Web3 features and dApps from this wallet and participate in revenue-earning activities such as staking.
Pros
1700 + crypto supported.
Beginner-friendly wallet.
Anonymization feature for security.
24/7 support.
Multi-lingual support.
Allows earning through staking.
Integrates with ShapeShift.
Cons
Prone to attacks.
Closed source code.
How do I Choose the Right Crypto Wallet for Me?
Are you confused about which wallet to go for from our list of top five crypto wallets? Well, that's expected, considering each of the wallets we discussed has gone an extra mile to stand out as the best solution for different crypto needs. Of course, you own more than one wallet. It always helps to have a hardware and custodial hot wallet. If you are just starting out, however, you may only want to get a single wallet that best serves your needs. So let's make it easy for you. You need to ask yourself the following questions to choose wisely.
What are my top specs?
By now, you are aware that every wallet you come across will have additional unique functionalities apart from the apparent crypto storage feature. So start by listing down your most important elements of a digital coin wallet based on the activities you want to engage in beyond buying digital coins. For example, an in-built exchange will be a must-have in any wallet you pick if you want to day trade. Similarly, investors seeking to grow their funds need a platform with built-in earning features such as lending and staking.
What do I want to trade?
We presented to you the best crypto wallets in the industry, so you can be sure they accept most of the prominent coins. However, with new tokens being launched daily, it's possible that some of the virtual currencies you want to trade are not supported by some wallets. For example, newer tokens like Zcash and Monero are not commonly accepted in some crypto wallets. Therefore, it's necessary to include the cryptocurrencies you may want to trade in the future to go for an all-inclusive wallet.
What will be the frequency of my trading?
Different wallets will suit you best, depending on how often you'll be trading. For example, if you intend to take advantage of the short-term crypto movement to make money, you need a wallet that can offer you the flexibility to jump in and out of the market. That can only be a hot wallet with an inbuilt exchange. On the other hand, if you plan to hold your crypto long-term, it would be best to pick a hardware wallet and have your funds safe in cold storage. In that case, you'll only focus on choosing between Ledger Nano X and Trezor Model One if you are considering our list of top five crypto wallets.
What's my starting capital?
The fact that anyone can trade crypto, and there is no standard amount to start with means the industry attracts investors of different financial capabilities. If you are starting small, you may not have the necessary budget for a hardware wallet like the Ledger Nano X. Besides, it will be pointless to store, say, $10 in such a high-value device. However, you can definitely afford the best offline wallet if you plan to go big on crypto investment. It's also the safest option available, so better spend on security than be sorry.
What to Look for in a Crypto Wallet?
Having asked yourself the questions in the previous section and narrowed it down to just two or three options, here are essential pointers to look for to make your final decision.
Customer support: Any crypto wallet provider that cares about clients must provide a reliable support channel. Depending on your level of experience in the digital coin industry and the amount of money you will be transacting. You may want to stick with only those wallets that have a 24/7 support channel. Live chat always works well. Alternatives like dedicated support emails or phone numbers should suffice. It may not be possible to tell how good the support team of a crypto wallet provider is, but you can always shoot them an email with some questions and gauge how fast and accurately they respond. This might seem cumbersome, but it doesn't get close to the pain of losing your hard-earned money due to a mediocre customer care department.
Compatibility: Bitcoin was launched as a payment solution meant to replace FIAT. Over time we have seen new blockchain networks with varying use cases and the development of protocols such as DeFi. We now have a digital coin sector that's highly symbiotic. So you should consider getting an interoperable wallet if you wish to experience the full power of blockchain technology. Some things to consider are Bluetooth compatibility for hardware wallets and hardware wallet support for hot wallets.
Cryptos supported: Generally, the higher the number of cryptos a wallet supports, the better it is. That said, it's essential to be conscious that some virtual coin storage platforms may accept a high number of tokens yet fail to include your favourite. As mentioned earlier, not every other crypto wallet you come across accepts your preferred cryptocurrencies. Digital coins are a software product and can only be supported by storage platforms with relevant software compatibility.
Interface: By now, you have checked the most important features for crypto wallet selection, but don't you also want a luxurious platform that gives you a coveted sense of tranquillity when transacting? Don't you want a beautifully organized wallet interface that's easy to use? You definitely wouldn't leave any of these out and much more if presented with the option to choose. The best crypto wallets are user-friendly even for beginners and easily accessible.
Pros and Cons of Crypto Wallets
Pros
Safe crypto storage.
High sense of privacy and anonymity.
Lower transaction fees.
High security standards.
Quick and easy access to funds.
Censorship resistant.
Give users full control over funds.
Cons
Wrong transactions can't be reversed.
Hardware wallets might be expensive.
Learning curve.
User responsibility.
How do Crypto Wallets Work?
Crypto wallets primarily enable users to perform the following functions:
Receive crypto
Send crypto
Store crypto
View and manage their crypto portfolio
They exist in many forms such as mobile wallets, desktop wallets, physical hardware wallets, and web-based wallets. That notwithstanding, they all work in a similar manner. Every new crypto wallet generates two types of keys, private and public keys. These are usually long alphanumeric strings that authorize blockchain transactions.
Public keys are like your bank account number. They can be shared with anyone freely, and one must have them to send you money. However, once the funds have been sent your way, you need to verify that you're the new owner. At this point, only your valid private keys will save the day. Keep in mind that every public key has a specific private key attached and can't be interchanged. Think of private keys as your internet banking PIN for your traditional bank account. No wonder it's called "Private." Anyone who gains access to your private keys can fully control your money. Luckily, some mobile wallet developers have updated their crypto storage products with sophisticated encryption to protect users from losing their private keys.
Similarly, any time you move money out of your wallet, whether sending it to someone or paying for a purchase, the crypto transaction must be signed and authorized using your private keys.
What are the Different Types of Crypto Wallets?
You'll come across a lot of jargon describing different types of crypto wallets. This could easily confuse you if you have not mastered your way around. Crypto wallets fall into varying categories depending on how you organize them. For example, when differentiated by ownership, digital coin wallets are either custodial or non-custodial. They can further be broken down into hot and cold wallets. On the same note, cold wallets can come as hardware or paper wallets. Now that you are familiar with this grouping let's dive deeper into each of these terms for a better understanding.
Custodial Wallets
As it sounds, you give full custody of your crypto to the wallet provider by allowing them to control your private keys. One is only left with a password to access and manipulate their wallet. If the wallet provider's server is hacked, clients can lose significant amounts of money.
Non-Custodial wallets
Non-custodial wallets are the opposite of custodial wallets. Instead of the wallet provider being the custodian of your funds, you keep your own private keys and are fully responsible for the safety of your coins. This is way safer than custodial wallets. Hacking the wallet provider isn't helpful since such companies don't store their clients' private keys.
Hot Wallets/ Software Wallets
Hot wallets sometimes referred to as software wallets, are programs or applications meant to store your crypto online. They can be web-based or downloadable on your phone or PC. The common denominator is that the wallets remain connected to the internet. Hot wallets that double up as custodial wallets provide easy food for hackers. Software wallets can come as:
Desktop Wallets: These are applications you download and install on your PC to manage your crypto portfolio. The Exodus wallet is one of the best desktop crypto wallets today.
Mobile Wallets: Mobile wallets don't differ from their PC counterparts, except they are downloaded and installed on your Android or iOS mobile device. Non-custodial mobile wallets store private keys in the user's phone.
Online wallets: These hot wallets run on the internet 24/7 and are based on web platforms (websites-run). They are the most convenient because one can access them from any device as long there is an internet connection. The flip side is that they are the most vulnerable to security breaches.
Cold Wallets
Cold storage crypto wallets are the platinum standard when it comes to securing digital coins. They have no direct internet connection. The wallets store your money offline by keeping private keys out of the internet. Cold wallets are commonly referred to many as hardware wallets, although this is not entirely true because paper wallets also fall into this category. Below is a detailed explanation
Hardware Wallets: Hardware wallets such as Keepkey wallet are a type of cold wallet. They come in the form of USB drive devices. Their features vary depending on the manufacturer. These wallets stay offline throughout, but you must connect them to a PC or mobile device whenever you want to transact. You will need to take some money out of your pocket if you're interested in these wallets since they come at different purchase prices. They can be replaced when lost or damaged, hence considered the safest crypto storage option.
Paper Wallets: Paper wallets are offline crypto storage solutions where users simply print the private and public keys on a paper. Transactions are initiated using a QR code. The most popular paper wallets are Bitcoin Paper Wallet and MyEtherWallet. Paper wallets are slowly waning off in the face of their hardware counterparts.
How to Set Up a Crypto Wallet?
You can set up your crypto wallet in many ways depending on the type of wallet. The processes might also differ slightly even for wallets in the same category. Here is how to set up hardware, desktop, and mobile wallets.
How to Setup a Hardware Wallet
Step 1: Unbox your newly bought hardware wallets. Never purchase used offline crypto wallets.
Step 2: Establish a connection between your wallet and PC or Mobile device. You can plug it directly, using a cable or Bluetooth connection, depending on the features of your device.
Step 3: The wallet will self-start and guide you through a step-by-step self-installation procedure.
Step 4: When presented with security keys, write them in a safe notebook.
Step 5: You will be asked to provide your security keys and confirm your registration.
Step 6: Now click on "Create wallet." Your wallet be ready in a matter of seconds.
Setting Up a Mobile/Desktop Wallet
Mobile wallets and desktop wallets have the same setup process. In both cases, you must download them to your device and backup your security keys. The only difference comes in how they function. Desktop wallets offer more detailed portfolio analysis and tracking tools like graphs and charts. Below is a step-by-step process to get your mobile and desktop wallets ready.
Step 1: Find the best wallet for your needs and download it from the website for PCs, Google Play Store, and Apple App Store for Android and iOS, respectively.
Step 2: Finish installation and create a user profile.
Step 3: Submit KYC documents if required. Non-custodial wallets don't request personal details verification.
Step 4: Back up and confirm your secret security keys for non-custodial wallets. Make sure you store your backup in a safety vault.
Step 5: Create cryptocurrency wallets such as Bitcoin Wallet and Ethereum wallet.
Step 6: Start using your crypto wallet.
How to Use a Crypto Wallet?
Now that you know how to set up crypto wallets and how they work, it will be relatively easy for you to use these wallets. You only need two things to send crypto, the receiver's address (their public key) and your wallet access (private keys). When you send money to someone, you are assigning new ownership to the coin by transferring them to a new public key. The sender confirms and completes the transaction by accessing the coins using their private keys, proving that they are the legitimate owners of the coins. Similarly, you can receive funds by sharing your wallet address with the sender. Always double-check crypto wallet addresses before making payments because blockchain transactions are permanent and irreversible
How to Keep Your Crypto Wallet Safe?
Crypto wallet developers always go the extra mile to ensure their platforms are safe for crypto storage. However, hackers can still find ways of breaching these wallets' security using sophisticated tools and methods. We have compiled a list of the top things you can do to keep your crypto wallets safe and reduce the chances of losing your money.
Using offline storage:
Hot wallets are easier to compromise since they stay connected to the internet 24/7. Keep in mind that even when you log out of your wallet, it remains connected through the host's servers. If you must use a hot wallet, we recommend one that supports a hardware storage device. That way, you can always transfer your idle money to cold storage. Hackers have no way of stealing from you when your money is kept away from the internet.
Extra Security Layers:
We recommend activating all security layers of your wallet to maintain optimum security standards at all times. Features such as biometric access and 2FA can add a robust security layer to your wallet, making it hard for unscrupulous persons to steal from you.
Change your password frequently:
One way hackers gain access to crypto wallets is by figuring out a user's password through activities such as phishing and keylogging. By continually changing your PIN, you lock out anyone who had figured out your password and was just waiting for the right time to strike. Make sure to use an alphanumeric password that's not less than eight digits long.
Stick to secure internet connections:
Stick to secure network connections such as home WiFi or office internet, if you trust it. Free things are good, and that's perhaps why restaurants and amusement parks offer free WiFi to their clients. Unfortunately, as a crypto user, public WiFi is not an option for accessing your wallet. Hackers can quickly view your info and steal from you in a matter of minutes.
Safe Storage: 
Hardware wallets are not resistant to damage. So always keep them in a safe place. You may need to get a safety vault for storing hardware wallets and secret security phrases for your non-custodial wallets.
What to do if You Lose Your Crypto Wallet?
The answer to this question depends on the type of wallet you own. If you have lost a hot wallet, meaning you no longer have access, you may reset the password or contact support as soon as possible. You may recover your wallet, but the chances of your money being permanently stolen could be high if someone else stole your details. For non-custodial wallets, however, there is nothing you can do if you lose your recovery phrases. Not even the wallet provider can help. If you lose a hardware wallet, you will have to dig deep in your pocket and purchase another one. Use your recovery phrases to restore your wallets and money. Recovery phrases are encrypted private keys and are the only way to restore your wallet and money. So if you were wondering how to recover your crypto wallet, you now know what to do. Always keep your seed phrases safe and never lose them.
Alternatives Crypto Wallets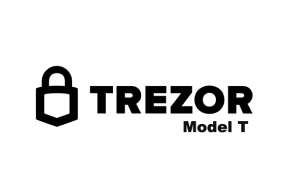 Trezor Model T
Trezor Model T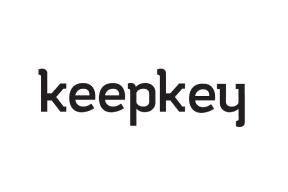 KeepKey
KeepKey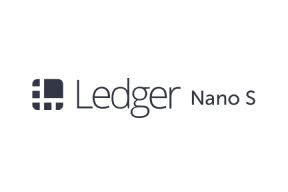 Ledger Nano S
Ledger Nano S
How We Chose the best Crypto Wallets?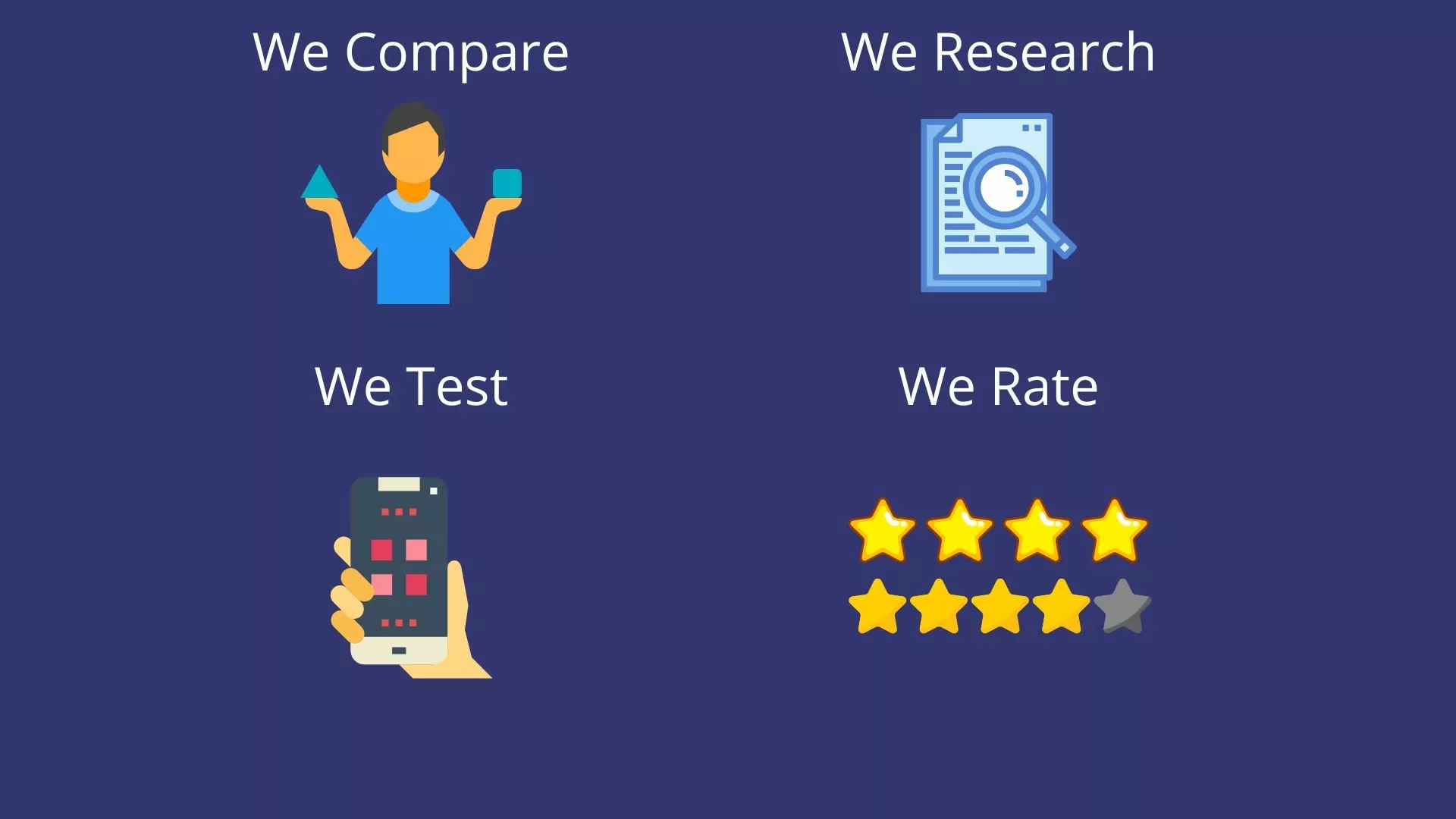 We hope you got answers to any questions you might have had about crypto wallets before reading this article. Just to re-cap:
Every crypto user needs a crypto wallet for storage of digital coins.
Virtual coin wallets can be grouped into custodial and non-custodial in terms of ownership. They can be further broken down into hot and cold wallets.
Hardware wallets are the safest way of storing your cryptos.
Our top five best crypto wallets are Ledger Nano X, Coinbase wallet, Trezor Model One, Exodus and Coinomi wallets.
Always keep your private keys safely.
All the best in your crypto journey. We are her for you. Feel free to browse other pages to learn more about the different types of wallets discussed on this page.

Which Wallet is Best for Beginners?
You must realize that Web3 Wallets are among the most favored category of cryptocurrency wallets in the industry. However, if you're a complete beginner, you may still find it helpful in accessing your cryptocurrencies.
In the wide cryptocurrency market out there, Exodus is quickly getting the attention that it deserves. Exodus comes in the form of a desktop/mobile applications and works seamlessly on major operating systems such as iOS, Android, Windows, and Mac. 
Wondering what makes it so special? At the moment, the infamous Exodus cryptocurrency wallet allows users to swap over 150 different cryptocurrencies. The best part is that the number is set to grow as the company tends to develop safer, faster, and more convenient transaction gateways.
It has a built-in exchange platform to let you swap cryptocurrencies without wasting any time or hassle,  as well as timely customer support.
Which Wallet is Best for Advanced Users?
When examining the most optimal crypto wallet for advanced users, you should know that advanced users have experience, knowledge, and expertise in handling cryptocurrencies. They also know how several blockchain networks function and typically operate with far more expert tools than the ordinary cryptocurrency holder.
Therefore, the need for them to find the perfect crypto wallet is tremendous. Many advanced cryptocurrency users will find Web3 Wallets optimal for their use. However, one of the most amazing alternatives to Web3 Wallets is Electrum.
Electrum is an advanced cryptocurrency wallet that allows users to pay customizable transaction fees. On top of that, it is one of the original cryptocurrency wallets out there as it emerged in 2011 (i.e., only two years after the creation of Bitcoin).
It offers a bare-bone user interface with complex control options comfortable for typical advanced users. Compared to several hot wallets in the industry, Electrum is one of the safest and most sophisticated best suited for advanced use.
What are the Risks?
In real life, you could imagine yourself worrying about your wallet filled with cash, credit cards, and possible car keys getting stolen on a busy street. However, for digital wallets, the risks are different.
Here are some of the most common risks that accompany owning a crypto wallet:
There are numerous forms of passwords and codes to access digital wallets. Due to this, people who acquired early in the industry forgot the passwords to their cryptocurrency wallets and ended up losing  tens of millions of dollars worth of crypto!
The downside of owning a hardware wallet is that you can lose it, miss it, and have it stolen unintentionally at any point in time with little to no chances of recovery. Hence, it is a great risk.
Some cryptocurrency wallets, like desktop applications, require constant updating, and failure or interruption during these updates can be catastrophic.
Are Assets in Crypto Wallets Insured?
As an investor, you won't like possessing high-value assets without insurance. What if you owned real estate, such as a series of houses in a new project, and a natural disaster struck? You will most likely turn to the insurance policies that you have in place, right? 
In the case of a cryptocurrency wallet, there are few to no insurance service providers in the industry, and you will only find a handful of companies offering insurance for cryptocurrency assets.
Many crypto investors and even cryptocurrency wallet investors have raised concerns about the lack of insurance for such assets. However, many insurance companies stay away from offering coverage for crypto assets due to the volatility and unpredictability of the marketplace.
Another major reason behind the lack of insurance is that crypto wallets store private keys to cryptocurrencies that are from the marketplaces which lack traditional legal framework. Hence, another reason insurance companies abstain from the crypto industry.
What's the Safest Crypto Wallet?
It will depend on the type of cryptocurrency wallet you wish to own. Some companies have focused primarily in offering offline crypto wallets, while others specialize in hardware crypto wallets (i.e., USB sticks).
Crypto Wallets allow cryptocurrency owners to use their keys efficiently and are among the safest alternatives to many companies in the crypto wallet industry due to their ability to store both private and public keys.
On top of that, to reduce the risk of losing keys, Hardware crypto Wallets do not remain connected to the internet making them among the safest crypto wallets available. 
How Much Money Do I Need to Open a Crypto Wallet?
Again, it depends on the cryptocurrency wallet of your choice. Since there are multiple types, including a hot wallet, cold wallet, mobile applications, and hardware, the cost to open a wallet can vary. 
Let's say you're going for a hardware cryptocurrency wallet rather than mobile applications. In that case, you can expect to pay around $100 or even $200-$300, depending on the quality of the hardware wallet. On the other hand, many software-based cryptocurrency wallets, such as mobile applications, are free.
In fact, several mobile applications of cryptocurrency wallets do not require you to pay upfront signup costs or even own a cryptocurrency.