Pros
It's free to use.
It offers multi-coin support.
Great customer care.
It provides secure crypto storage and anonymity online.
It has a friendly user interface.
You can buy, sell, stake, and exchange crypto on the platform.
It supports both mobile and desktops.
It offers two-factor authentication.
Cons
High exchange rates.
High transaction fees.
You buy cryptocurrencies through third-party services.
Prone to hacking.
What is a Coinbase Wallet?
Coinbase wallet is a free software crypto storage solution accepting numerous digital assets. The Coinbase exchange provides it as a hot storage non-custodial wallet for safe crypto storage. However, users don't need a Coinbase exchange account to use the Coinbase wallet because they operate independently. The wallet was launched in 2018 as a mobile app and Chrome extension, but you can now access it via a desktop app. Users can transact all major coins, including Bitcoin, Ethereum, Litecoin, and XRP, on this wallet, including a list of over 40,000 other cryptocurrencies and tokens. As a non-custodial wallet, users own all blockchain custodial service's full rights. So unlike traditional banking, these wallets make you your bank. There are zero intermediaries involved in your transactions. Since all information regarding your account remains with the user, there is a reduced risk of data loss to hackers unless you share your details with other people or lose your device. We found out during this review that it takes an average of five minutes and below to sign up fully and set up a Coinbase wallet account. Registration is fast and easy as you are not required to submit personal details or go through KYC verification procedures. Besides all these, the Coinbase wallet is a gateway to Web3 and supports multiple blockchain networks, including newer ones like Optimism, Polygon, and Fantom.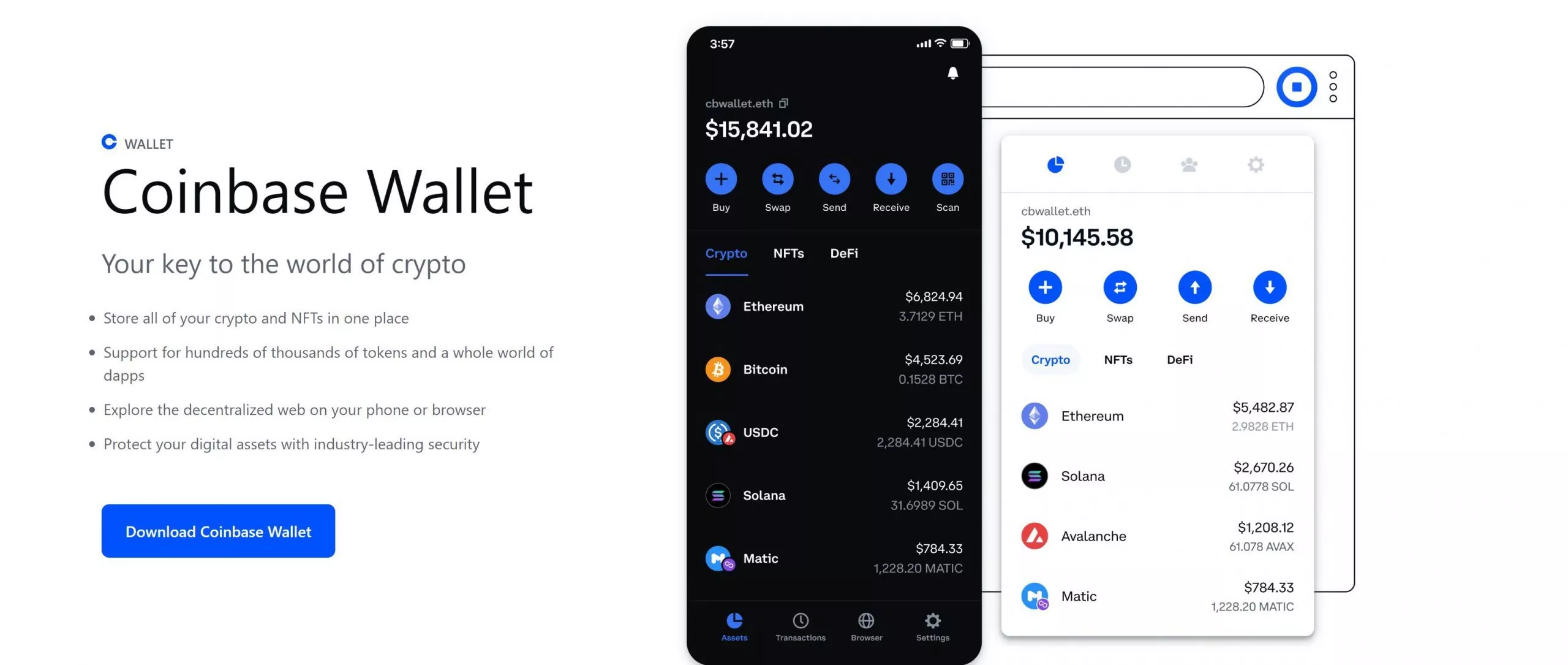 Multi-currency support
Investors with a diverse crypto portfolio will fall in love with the Coinbase wallet as it gives them an opportunity to store all their assets in one place. The wallet accepts all major digital currencies, all ERC tokens, including DAI, and thousands of other cryptocurrencies. It's also compatible with EVM chains like Binance Chain, Polygon, and Avalanch. So there is no need to have many wallets once you sign up for the Coinbase wallet.
2.Security
One of the popular forces behind this wallet is its robustness in security. Every crypto user needs a secure storage wallet that gives them peace of mind. Non-custodial wallets are among the safest crypto solutions. Unlike hosted wallets, Coinbase wallets can't be hacked, and even if someone managed to compromise the central server, there would be no money to steal since the company doesn't keep user funds. Private keys put the security of every wallet in the hands of the owner, meaning your money is as safe as you keep it. Additionally, the 2FA feature of the Coinbase wallet adds a secondary protective layer making it impossible for someone to steal your funds even if they got wind of your password.
NFTs Storage
Non-fungible tokens (NFTs) are a hot topic among crypto users. With earlier investors like Edward Snowden and even teenagers like Nyla Hayes raking in millions of dollars from NFTs, no one wants to get left out. On the other side, such high-value crypto assets are a priority target for hackers. So you want to make sure you store your NFTs in a safe place. Luckily, the Coinbase wallet provides secure storage for NFTs. You can purchase your non-fungible tokens from marketplaces like OpenSea, Known Origin, and Foundation and send them to your Coinabse wallet, where you can securely build your collection.
Mobile Support
Enjoy on-the-go transactions with the Coinbase wallet. It comes with seamless mobile apps for both Android and iOS devices. We tested both versions during this review and can confidently vouch for them because we never had any challenges. They are both easy to use and offer a great user experience. You can download them directly from the Coinbase wallet website, your app store, and Google play store.
Hardware wallet support
As crypto assets continue becoming more vulnerable to hacking, more secure wallets are being developed. The hardware wallet is by far the safest digital coin storage option as it keeps cryptocurrencies in cold storage offline. Hot wallets are suitable for regular traders who make many transactions, but it helps to get a hardware wallet whenever you want to hold your coins for a long time. Coinbase wallet offers support for the Ledger hardware device, one of the most secure and user-friendly cold wallets available.
Services Offered by Coinbase Wallet
Storage Services
Storage is the main purpose of a crypto wallet. Coinbase wallet gives you a reliable option to transact and keep your crypto safe. Actually, digital currencies never leave their respective networks. When you send crypto, you are simply changing the ownership rights, just like you change ownership titles when you buy land, but the land in question never moves. Crypto wallets keep private keys, which give us access to the address for our specific digital coins in the blockchain network. Coinbase wallet is non-custodial, so users get to secure their own private keys.
Security Services
Coinbase uses high-grade encryption and cryptography to secure its storage spaces and transactions. This ensures that keys in users' wallets remain safe while stored on the platform and when making online transactions. However, Coinbase is a hot crypto wallet. As such, it is always connected to the internet, which makes it convenient to send and receive crypto, but it also exposes you to hacker attacks. Activate your 2FA for enhanced safety.
Buying and Selling Crypto
As we've already highlighted, you can connect the Coinbase wallet to the central Coinbase exchange and other crypto services to facilitate the direct buying and selling of digital coins from the wallet. Keep in mind that no FIAT payments are accepted in the Coinbase wallet. You can, however, buy your coins from other exchanges using FIAT and transfer them to your Coinbase wallet for trading with other coins.
Coinbase Wallet Customer Support
Hot wallets have a high risk of a security breach, so you want to make sure you can contact customer support as fast as possible in case you suspect such issues. Peace of mind comes when your wallet provider offers good support services. We found out during this Coinbase wallet review that the platform has robust customer care avenues to boost the safety of your funds at all times. There is no live chat support, but you can find help quickly via the wallet's help desk, email and Twitter. Coinbase wallet is also among the few crypto storage providers that give users a direct phone number to reach their support department. We recommend this avenue for urgent issues. Otherwise, the response time via email and the help desk is fast, under two hours in both cases. Remember, customer care is only available to help resolve issues surrounding your wallet but can't help you recover funds if you send them to the wrong address or lose them to a hacker due to losing your private keys. Click on the links below to try out the different support options available.
Coinbase Wallet Security- Is Coinbase Safe?
The Coinbase wallet has a high reputation when it comes to security among hot wallets. No wonder it's a top choice for many crypto users. If hacking is a measure of safety, then this wallet stands out. We found zero successful hacking records during this crypto wallet review, a sign that you can trust it with keeping your money securely. First, all traffic is run via SSL encryption, while more sensitive data gets an additional layer of 256 AES encryption and FIPS-140 data backup. Account user keys are kept safe by the world-class enclave technology that can only be compared to military-grade data protection protocols. You also have a 2FA secure method at your disposal to further block unscrupulous people from accessing your wallet and stealing your money. So even if the company's servers are compromised, users can't lose their funds. Mobile users have a biometric feature for further security enhancement and easy sign-in. You can also set notifications to send you emails and SMS whenever you log into your account and even when a transaction is initiated. We can confidently tell you from our experience with crypto wallets that the Coinbase wallet is safe and reliable.
Coinbase Wallet Review- Pricing and Fees
Worried about costs? Coinbase wallet will not charge you anything for internal transfers. Internal transactions are those made among other Coinbase wallet users. You will, however, foot a network fee whenever you send crypto to another platform. The charges can range from 1.49% to 3.99% based on various factors such as location, payment methods, and the type of order you select. Standard mode is cheaper than instant payments, even though it takes longer to complete. While this fee is considered high compared to alternatives like Metamask and Trust Wallet, it's significantly lower than the costs of traditional banking. You'll also pay up to 0.15% for withdrawals, 0.5% to 2% for crypto conversions, and a 0.5% commission on purchases and trades. There are no hidden charges apart from these.
How Much Does the Coinbase Wallet Cost?
Unlike hardware wallets such as Trezor Model One and Ledger Nano S, the Coinbase wallet is free of charge. It comes at zero acquisition cost. All you need to do is download it from Playstore, or Apple App Store, set it up, and start using it immediately.
Coinbase Supported Tokens
Coinbase wallet supports some of the best cryptocurrencies including:
Chainlink
Tether (USDT)
Shiba Inu
Wrapp Bitcoin
OmiseGO (OMG)
OX (ZRX)
Maker (MRK)
Augur (REP)
Golem (GNT)
Loopring (LRC)
Basic Attention Token (BAT)
Theta Token
Matic Token
Bitfinex LEO Token (LEO)
stETH
OKB
Cronos Coin (CRO)
Chain (XCN)
VeChain (VEN)
How to Set Up a Coinbase Wallet
1. Go to the app store on your device and download the Coinbase wallet app. The process will be the same on Android and IOS
2. Install the app, open it and click on create a new wallet.
3. Read the terms and conditions before agreeing to them.
4. Add your preferred user name and click next.
5. On the next prompt, you will have to set your account on public, but you can change it later after the setup is complete.
6. Add two-step authentication on the other prompt by adding your biometrics or phone number.
7. Back up your wallet by writing down your recovery phrase and storing it in a safe place.
8. Click enter, and your dashboard should open. Now you're all done.
1. From the Chrome website, add Coinbase's wallet extensions to your browser. However, ensure you're adding the latest versions.
2. Open the app and pin it to your browser. Click on the icon, and a QR code will appear.
3. Open the Coinbase wallet mobile app on your phone and scan the QR code on your desktop monitor.
4. Allow the mobile app to connect to the desktop extensions. This will link your desktop extensions to your mobile app for more added security.
5. Your setup is complete. However, you will need to add your preferred cryptocurrencies to your extension by opening them up and allowing the extension to connect to them.
Coinbase Wallet Alternatives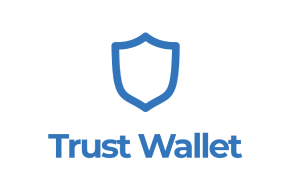 Trust Wallet
Trust Wallet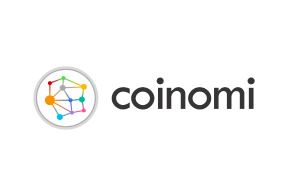 Coinomi
Coinomi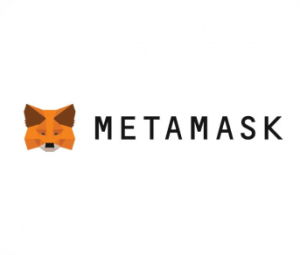 Metamask
Metamask
Coinbase wallet vs Metamask
Coinbase wallet and Metamask are popular crypto wallets, the former having been launched in 2017, a year after the latter. While both come with great features, the Coinbase wallet generally ranks higher because it's more inclusive. Metamask supports both cryptocurrencies and NFTs. However, it's specifically compatible with only Ethereum standards crypto assets, unlike the Coinbase wallet, which accepts assets across multiple blockchain networks. Users with a broad crypto portfolio hence prefer Coinbase wallet. We also found that although both wallets are user-friendly, Metamask can be difficult for beginners to navigate and use.
In terms of accessibility, both platforms are available online and via PC apps. You can also use their mobile apps on the go without any challenges. If you've been reading our articles for a while, you know how much weight we give to security. The Coinabase wallet turned out to be safer than Metamask during this Coinbase crypto wallet review. One of the main reasons is that it has a 2FA and sends users security notifications during login and transacting. Overall, the Coinbase wallet carries the day.
Coinbase wallet vs. Wasabi
Wasabi is one of the many crypto wallets you will encounter while dealing with digital currencies. The Bitcoin-focused storage option was launched in 2018 by zkSNACKs as an open-source privacy wallet. Unlike the Coinbase wallet, that's only compatible with Windows, Mac, and Android, the Wasabi wallet is also Linux compatible. It, however, lacks a mobile version. Both accept hardware wallets like Trezor and Ledger wallets and are free of charge except for network fees. Transaction speed on Wasabi highly depends on network status but could also be influenced by the type of network fees you select. If you go for a priority network fee, you'll be charged a higher amount, but your payment will be cleared faster than the standard time. The same case applies to the Coinbase wallet too.
None of the wallets has ever been hacked. Users are issued a 12-seed phrase at the installation time and prompted to set up a protective security PIN, regardless of which wallet they sign up for. There is no KYC verification in both cases, so users remain anonymous and private while transacting. The coinjoin feature of the Wasabi wallet makes it more private because it enables you to transact without leaving traces on the blockchain that can point back the payment to your address. These transactions, however, come at an extra cost of 0.003%. Pretty much these two wallets share a lot of similarities, except that one is a pure Bitcoin storage solution while the other accepts numerous cryptocurrencies across many networks.
For more wallet comparisons, you might want to check out Circle Wallet and how it compares to Coinbase and other crypto wallets.
How Private is Coinbase Wallet?
Non-custodial wallets like Coinbase give you complete custody of private keys and your money. There are no intermediaries like in traditional banking; hence you can be sure that your activities are confidential and no one is tracking your data. In addition to that, you're not required to submit your names and email address during sign-up. Neither are you asked to go through KYC verification procedures. This creates a synonymous situation that increases your privacy. However, you should be aware that privacy and anonymity are different things. While the Coinbase wallet allows you to transact without disclosing your details, all your transactions can be traced back to your wallet since they are on the public ledger. Of course, only someone who knows your address will be able to do that on rare occasions.
Who Should Use Coinbase Wallet?
The Coinbase wallet is an excellent software wallet with multiple features, as seen in this review. Different classes of crypto enthusiasts can benefit from using it. Here are the groups of people we recommend to sign up for this wallet.
New crypto users looking for a user-friendly and secure storage solution.
Crypto traders who want to store their coins off an exchange.
Seasoned investors looking for a multi-coin crypto wallet.
Investors looking for a hot crypto wallet with on-the-go transaction support.
Crypto users looking for a free digital coin wallet with premium features.
Crypto investors looking to get started in the decentralized finance space.
Who Might not Benefit From Using Coinbase Wallet?
If you're looking for a cryptocurrency wallet to store your digital assets' long-term, the Coinbase wallet might not be for you. Instead, you should consider a cold storage solution. Ledger Nano X, Trezor Model T, and Keepkey are some of the best hardware wallet solutions.
All things factored in; we find the Coinbase wallet ranking high among its competitors in terms of security and usability. It's an excellent non-custodial crypto storage software with intuitive features which make it user-friendly for all types of crypto users. Apart from the fact that all data goes through an SLL and AES-256 encryption channel, the 12-word phrase, PIN, and 2FA make the wallet admiringly safe for crypto storage and transactions. We recommend connecting your Coinbase wallet to a hardware device for enhanced security, especially when you want to hold your coins for a long time. Hoping that you learned a lot from this article, please feel free to share it with your friends and family. We will not stop bringing you well-researched crypto content. Below are useful links if you want to read about other wallets.
Trust Wallet Review
Coinomi Review
Trezor Model T Review
Is Coinbase wallet worth it?
The Coinbase wallet is a great hot wallet that gets the job done for both new and seasoned crypto investors. Considering that it's free and only charges reasonable fees for transactions out of the wallet, we find it worth the salt. Some of the features we appreciate most about the wallet include:
Built-in DEX: You can trade and swap crypto with just a button push.
DApp browser: Access the world of decentralized applications easily through the Coinbase wallet dApp browser.
NFT support: Store all your assets, including NFTs, in one place.
Highlights
In-built DEX
It supports over 40,000 coins
Supports other BIP39 wallets
Strong security features
Lowlights
No flexible network fees for ERC20 tokens
Not open-source
High charges on some trades
In-betweens
Internet-connected hot wallet
Charges transaction fees
How to Use the Coinbase wallet
The Coinbase wallet is easy to use, even for first-timers. Here are some steps to follow while sending money, receiving money, and swapping crypto for the first time.
Sending Crypto for the First Time
1. Sign into your Coinbase wallet account or mobile app by inserting your PIN, 2FA code, or biometric if activated.
2. Tap the "Send" tab and select where you want to send the crypto from.
3. If you're sending from an exchange such as Coinbase or Binance, you'll need to connect it to your wallet.
4. Choose the type of token you want to send and specify the amount.
5. Enter the receiving address and hit the "Send" button. You can also scan the receiver's address QR code if it's available.
6. Confirm your transaction and complete it.
Receiving cryptocurrency follows the same procedure. However, instead of tapping "Send" when you sign in, you hit the "receive" tab. You'll then see your receiver's address and QR code. Share them with the sender and wait for your money.
Swapping Tokens in the Coinbase Wallet
The Coinbase wallet allows you to exchange or swap your cryptocurrencies without sending your funds out of the wallet. It works with decentralized exchanges hosted on the Ethereum network to facilitate trading easily. Here is a step-by-step process of how to do it.
1. Sign in to your Coinbase Wallet.
2. Go to your wallet settings at the top corner.
3. Then tap the "Network" tab, where you'll select your preferred network.
4. Hit the back button to return to the previous page.
5. Now press the "Trade" button.
6. From the crypto list, select the one you want to exchange and specify the amount.
7. You will need to verify the transaction by your PIN or biometric, then hit the "Confirm" button.
8. The process should be completed immediately. Check your balance in the relevant crypto tab. You'll also receive a notification confirming that your transaction is successful.
Is Coinbase Wallet available on IOS and Android Devices?
Yes, the Coinbase wallet is available for download on Android and iOS. You can download it from the iOS Appstore or Android Playstore with just a button push. Both versions come for free.
What are the benefits of using Coinbase Wallet?
The main benefit of the Coinbase wallet is the safe storage of your cryptocurrencies. Apart from that, it offers an inbuilt exchange, dApp browser, and easy integration with the Trezor hardware wallet. In addition, the Coinbase wallet supports numerous digital coins across different blockchains, making it possible for users to keep all their crypto assets under one roof securely.
How secure is Coinbase Wallet?
With AES 256 encryption, PIN, 2FA, and 12-word seed phrases, the Coinbase wallet is highly secure. Hot wallets are generally prone to hacking, but the security features of this wallet reduce that risk immensely. You can only lose your funds by exposing your private keys to unscrupulous persons or sharing your wallet.
How can I get started with Coinbase Wallet?
Getting started with the Coinbase wallet is easy. Download the free app on your phone, go through the registration process and start saving or trading on their platform. In addition, you can also add Coinbase's wallet browser extensions on Google to give you control over your wallet on your desktop.
How easy is it to use Coinbase Wallet?
Coinbase wallet comes with a simple and intuitive interface that makes it user-friendly. There are also no lengthy procedures involved in setting it up apart from securing your private keys. Sending and receiving crypto is a straightforward process.
How fast are Coinbase Wallet transactions?
The network fee you set determines transaction speeds on the Coinbase wallet. This fee determines whether miners prioritize your transaction or not. So if your transitions are urgent, set a high network fee, but if you're not in a rush, you can stick with the standard fees and allow your payments to be verified normally.
Where can I find a Coinbase wallet review?
You can find Coinbase wallet reviews on Coinbase's website comment section or in reputable crypto review publications. dappGambl is one of the leading professional review websites for crypto users to find all their answers for crypto wallets, gambling, and gaming.
What happens if I lose my Coinbase wallet?
The Coinbase wallet is a software wallet, so technically, you cannot lose it. But if you lose the device, you're using it on. You can use your recovery phrase to regain access on a new device. However, if you also lose your recovery phrase, you might never recover your money.
Where to buy the Coinbase wallet?
Unlike hardware wallets, you cannot buy the Coinbase wallet because it's free for download on app stores.