Exodus Wallet Pros & Cons
Pros
Secure storage services.
User-friendly U.I.
It supports over 225 crypto coins.
Network fee support for Bitcoin and Ethereum.
Exchanges and DeFi connectivity.
It's free to use.
It supports NFTs.
It has both mobile and desktop versions.
Cons
Prone to hacker attacks.
It does not provide two-factor authentication.
You have to buy cryptocurrencies using third-party applications.
Introduction to Exodus Wallet
Exodus wallet is a hot wallet that allows you to store your cryptocurrency online securely and trade from the platform. It came into the scene in 2015, has a wide selection of currencies and tokens, and supports NFTs. While the software wallet is suitable for all types of traders, it's particularly recommended to new beginners looking to get into cryptocurrency trading safely. Furthermore, Exodus wallet is a non-custodial platform giving you complete control over your cryptocurrency and private keys. It does not own or keep copies of your keys. Instead, the keys are only stored on your device. Unlike some software wallets that only access the internet upon your request, the Exodus wallet is always connected. This allows for a better trading experience, and you can check your coin balance from your wallet anytime. However, this also increases your exposure to hackers and malware because online safety can be compromised easily.
The Exodus wallet uses cryptography to mask your wallet's key and personal information while transacting online. This limits your exposure online and the likelihood of anyone using your information against you. In addition, the Bitcoin wallet has support for mobile, on Android and IOS, as well as PCs and macOS desktops.
Exodus Wallet Key Features
Multi-coin Support: The Exodus wallet supports over 225 cryptocurrencies and hundreds of tokens to give you the best chance to find your coins of choice. The crypto wallet is still adding more coins into its ranks, and you don't have to worry if your coins are yet to be supported. They will probably be added in the near future.
Exchanges Connectivity: Besides making crypto trading easy by being a hot wallet, the Exodus wallet has an inbuilt bitcoin and altcoin exchange to improve your user experience. It's integrated with ShapeShift, one of the most highly ranked crypto exchanges in terms of security and privacy. NFTs have recently been added to the exchange, meaning you can now exchange and trade different crypto asset classes from your Exodus wallet seamlessly. This feature does save you not only time but also tons of money you would have incurred while dealing with third-party exchanges.
Mobile Support: The Exodus wallet supports Android and IOS devices for a more convenient experience. The mobile apps are free and can be linked with your desktop app for more added security and an uninterrupted workflow. For those who are always busy, this mobile compatibility feature means you can access your money and transact on the go.
Anonymity: Most payment services require KYC protocols to process payments. However, the Exodus wallet users transact anonymously as the wallet does not require them to share any identification data. Besides, no one can keep track of your transactions through the public ledger because Exodus generates a unique wallet for every transaction. The ShapeShift exchange contributes to extra anonymity by offering you a highly private platform to trade your crypto assets.
Security: The Exodus wallet is safe for use. The first security layer is a password you will have to create, and secondly, the wallet gives you 12 seed phrases for secure recovery of your wallet. In addition, the website has a 256-bit SSL certificate, meaning that all data shared by users is encrypted and safe from hackers or unscrupulous persons. Although the wallet seems to have implemented a couple of measures, we felt it's still lacking in providing top-notch protection to users. For example, during this Exodus wallet review, we established that there was no option for 2FA, which means the wallet is highly susceptible to security breaches.
NFT's Storage: The Exodus wallet also allows you to store your NFTs on its platform. You can securely hold your NFTs or transact with them without fearing losing or exposing your keys. This is an added advantage as you don't have to keep a separate wallet for your cryptos and NFTs.
Hardware Integration: Exodus collaborates with Trezor enabling users to access cold storage services. Trezor is the oldest and one of the most secure hardware wallets on the planet. Users who want to connect their Exodus hot wallet to Trezor must first install the Trezor bridge for seamless connectivity and data flow.
Exodus Wallet Functionality
Storage
The primary purpose of the Exodus wallet is storage. Just like you need a traditional banking method like a bank account or e-wallet to keep your money, crypto users store digital currencies in crypto wallets. Of course, the assets are stored in their respective blockchains, but you must have an interface that stores private keys and gives you access to your crypto whenever you want to transact.
Crypto Trading
The Exodus wallet is a hot wallet that allows you to buy and sell cryptocurrencies from the platform conveniently. Furthermore, it's always connected to the internet, making it extremely easy to follow trades and check your wallet balance. In addition, the Exodus wallet supports the integration of certain crypto trading exchanges.
Market Monitoring
Because the Exodus wallet is always live online, it supports mobile devices and the integration of crypto exchanges. As a result, you can easily monitor the market on the go, allowing you to know precisely how assets are performing. This will help you make better buying and selling decisions according to your goals and investment strategy. What's more, you can swap or trade digital assets in just two taps of a button.
Exodus Wallet Customer Support
The Exodus wallet offers customer support via their desktop and mobile apps support feature. You can either use these channels to send in your requests or go to their Facebook page or Twitter handle to DM or leave them a comment or tweet. Their customer service personnel regularly check their social media platforms for such customer queries and respond to them.
This Exodus wallet review found that the Exodus wallet does not offer live chat support or direct calls to their office or a call center. So if you find a phone number online claiming to be Exodus's, know it's a scam. You should also note that official Exodus customer service employees would never ask you for your passwords or your 12-letter recovery phrase. Feel free to explore different Exodus wallet support options by following these links.
How Secure is Exodus Wallet?
Fortunately, the Exodus wallet is an extremely safe and secure hot wallet. Although we are not content with its security features, we discovered that the company has never been hacked since its launch in 2015. This is an impressive feat for a hot wallet. The ability to integrate with hardware wallets such as Trezor increases its security properties while retaining its unique functionality. Rest assured, you can enjoy Exodus's hot wallet properties while mitigating the risks of security breach. Of course, we believe that the wallet should introduce additional security layers like 2FA, but so far, we have not come across any significant complaints from users about security. With this in mind and the fact that the company has never been compromised, we find that the Exodus wallet is a reputable platform. You should feel safe using it and know there will always be someone at hand to assist you.
The Exodus wallet is free to download for both Android and IOS devices, as well as PCs and macOS desktops. The Bitcoin wallet does not charge you for sending, receiving, or withdrawing currency on the platform. However, you will need to set a network fee you're comfortable with for the processing of your transactions.
Tether (USDT.)
Chainlink (LINK)
Binance Coin (BNB.)
USD Coin (USDC.)
Wrapped Bitcoin (WBTC.)
Dai (DAI)
Solana Token
Solana NFT Token
Deflationary Token
Polygon Token
Cardano Token
NFT Token
EIP3664 Token
BUSD
CAKE
BAKE
SAFEMOON
CREAM.
SXP
ALPHA
WBNX
BUX
BURGER
Mobile Device Set-up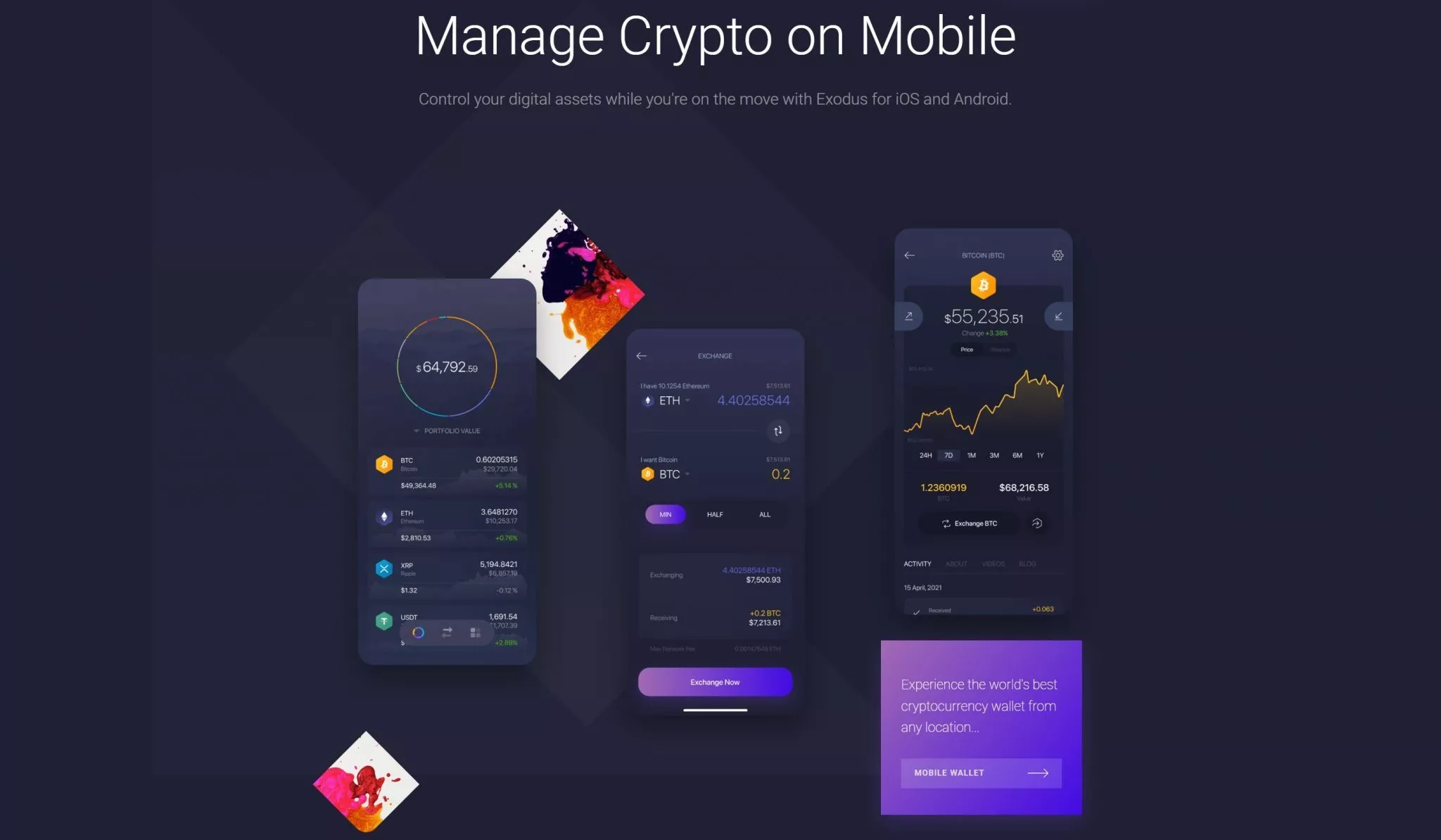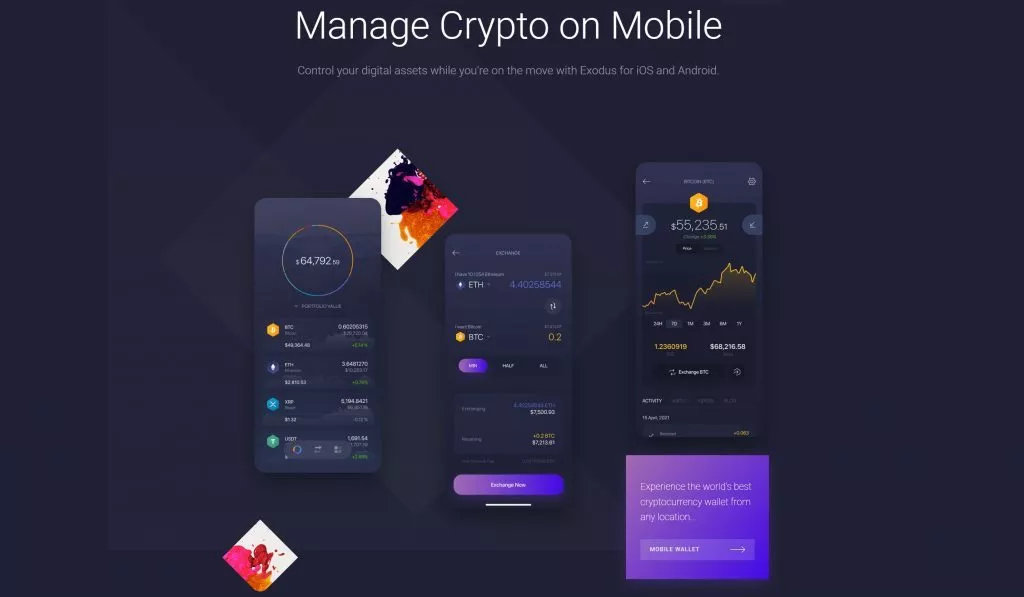 Download and install the Exodus mobile app on either Google Play or Apple app stores
Open the app, go through the guided tour, and click get started.
A coin portfolio dashboard will appear and on the top right-hand corner of the screen, click on create a new wallet.
Back up your wallet by generating your recovery phrase, writing it down, and storing it in a secure place.
Click secure the wallet on the UI, create your new password, and confirm it.
Enter the password again to open the wallet and add your biometrics as an added security measure.
Press settings and enable notifications.
Go back to the coin portfolio page and use the toggle button on the right-hand side to activate the currencies you want to use on your wallet.
Desktop Set-up

Go to Exodus's website, download your desktop's application version and install it.
Open the wallet and click set up a new wallet.
Using the menu options on the left side of your screen, click on backup. Then create your password and confirm it.
The wallet will generate your recovery phrase, which you should write down and store in a secure place. Then press next to verify your phrase before moving on to the wallet's dashboard.
Your setup process is done.
Exodus Wallet Alternatives
Exodus Wallet vs Coinbase wallet
The Coinbase wallet is another hot wallet like the Exodus wallet that allows for convenient buying and selling of coins. Unlike the Exodus wallet, it also integrates bank accounts from partner banks for easy buying of crypto using FIAT. The Coinbase Wallet is connected to its sister company's crypto exchange platform, which makes it convenient to trade on the market from your wallet.
So if you'd like easy access to your fiat currency and the exchange, use the Coinbase wallet as an alternative to the Exodus wallet.
| | |
| --- | --- |
| Exodus Wallet | Coinbase |
| Multi-coin support | Supports multiple currencies |
| Supports hardware wallet integration | Supports bank account integration |
| Secure hot wallet | Secure hot wallet |
| Allows buying and selling | Supports trading on the exchange market |
Exodus Wallet vs Coinomi wallet
Coinomi wallet markets itself as a secure and reliable wallet for new and pro crypto users. Founded in 2014, Coinomi is the oldest multi-chain wallet and is trusted by millions of user globally. You can use it to store and transact at least 500 digital coins. One of the reasons behind the popularity of this wallet is that it doesn't collect much private data, including KYC documents, hence gives users a sense of anonymity. Let's quickly see how it measures up to Exodus wallet.
| | |
| --- | --- |
| Exodus Wallet | Coinomi |
| Allows you to check balances directly from the wallet | User-friendly wallet |
| Mobile support | Anonymity |
| NFTs storage | Available in multiple languages |
The first privacy incident we encountered during this review was where we didn't have to submit our ID and address details for verification. It's, however, impossible to transact 100% anonymously if your definition of private has anything to do with that. The closest you can get to is pseudonymous transactions. As much as you don't share identification details, your traffic can be linked back to your PC if the authorities are on your case. It's also apparent that blockchain transactions can be tracked on the public ledger. What you'll love about Exodus wallet is that it creates a temporal new address for each new transaction, making it hard for anyone to link them back to you. The wallet also doesn't record or share your data with any third parties, so yes, Exodus wallet users enjoy privacy to a reasonable extent.
Who Should Use Exodus Wallet?
The Exodus wallet is best for beginners and intermediate traders looking for an easy, secure platform to store and transact crypto. Its user-friendly UI is optimized to ensure beginners get into the flow of crypto storing, buying, and selling quickly. In addition, the mobile app makes monitoring the market and your wallet easy, an essential feature for most beginners.
Who Might not Benefit From Using Exodus Wallet?
Exodus crypto wallet is versatile enough to meet the need of most crypto enthusiasts. However, if you're looking to hold your funds in a cold storage wallet, this is undoubtedly not the wallet for you. With only about 200 supported coins, investors seeking to trade in cryptos not listed on Exodus might want to look elsewhere too. The mobile client doesn't accept any ERC20 tokens, so you might not benefit from the wallet if you want to trade ERC20 tokens via a mobile platform.
Exodus Wallet Review-Final Thoughts
There is always an opportunity cost to pay for every choice. For example, if you pick a hardware wallet as your crypto storage solution, you forego the benefits of online connectivity and the ability to make quick trades. But on the other hand, going for a hot wallet exposes you to risks of online hacking. Exodus wallet stands out among its peers because of its partnership with Trezor wallet, allowing users to seamlessly switch between hot and cold storage. You have the option to go for any other hot wallet or a simple hardware crypto storage device. Still, we think the interoperability of Exodus is something that should make you consider using the wallet. Overall, Exodus is an excellent crypto hot wallet solution. If you were undecided about signing up, drop your doubts now and do it. Enjoy.
The Highlights
Zero fees
Exchange connectivity
Hardware wallet support
Multi-coin support
The in-betweens
NFTs storage
Mobile support
Software wallet
How to Use Exodus Wallet?
Both mobile and desktop work in the same fashion; the only difference is that one is a mobile phone interface while the other is a PC platform. Follow the steps below to receive crypto. On the other hand, if you want to make payments, you'll simply copy-paste the receiver's address in the send field, specify the amount you are sending and complete the transaction.
Sign in to your Exodus wallet account.
Click on the wallet icon on the menu items on top of the page to open your currency options.
Select the one you want to transact with; it should open a page with the options send and receive.
Hit the "receive" button. A QR code and your wallet address will appear.
To receive crypto, copy the wallet address and send it to the receiver.
To make a purchase, hit the buy button in the dashboard and follow the steps.
Is Exodus Wallet available on IOS and Android Devices?
The Exodus wallet is free for download on the IOS and Android app stores. Furthermore, it's also available for PCs running Windows or Linux and macOS desktops.
What are the benefits of using Exodus Wallet?
The Exodus wallet supports multiple cryptocurrencies, allows hardware wallet integration, convenient buying and selling of coins, and offers excellent security properties.
How secure is Exodus Wallet?
The Exodus wallet has never been compromised by hackers and uses high-grade encryption and cryptography to safeguard your keys and personal information.
How can I get started with Exodus Wallet?
Getting started with the Exodus wallet is easy. Visit the website and download the platform, set a password, backup your private keys, and start using your wallet for crypto transactions.
How easy is it to use Exodus Wallet?
The Exodus wallet is easy to use. Its user interface is well thought out, features are easy to spot and intuitive, and not to mention it's one of the best-looking UIs of all software wallets.
How user-friendly is the Exodus Wallet interface?
The user interface is exceptionally friendly. When Exodus wallet says they designed the platform with beginners in mind. They really mean it.
How fast are Exodus Wallet transactions?
Transaction speeds on the Exodus wallet are determined by the network fee you set on your wallet. If you set a low network fee, your translations will take longer to process and vice versa.
Where can I find an Exodus wallet review?
You can find the Exodus wallet reviews on their website's comment section or a reputable online source such as Investopedia.
What happens if I lose my Exodus wallet?
If you lose the device you're using your wallet on; you can use the recovery phrase the wallet generated during the setup process. However, if you also lose this phrase, you will lose your wallet's contents.
Where to buy the Exodus?
You cannot buy the Exodus wallet because it's free on their website and app stores.