supplier
Dog House Megaways Demo Play
Where to Play Doge House Megaways?
Casino
Bonus
Features
Payments
Banking
Licenses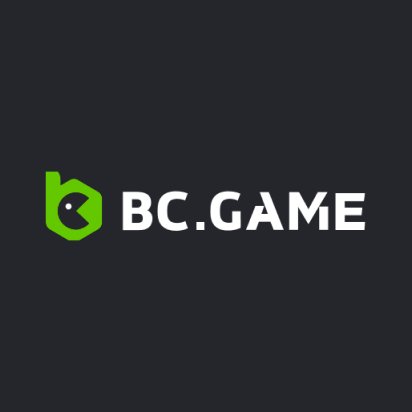 Up to 270% and 1 BTC
Personalised bonus offer
Provably Fair Games
Low House Edge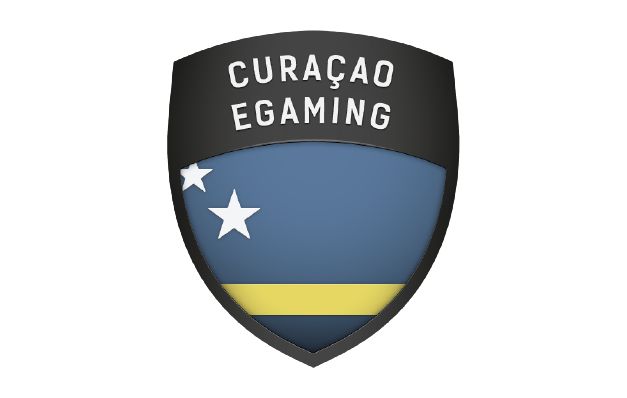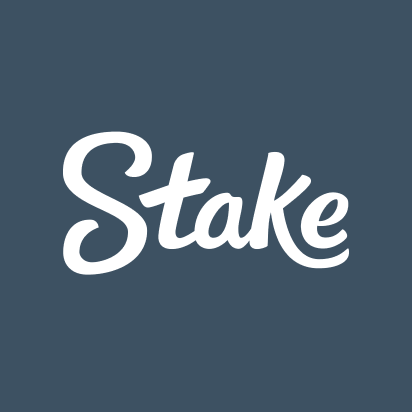 Exclusive Bonus: 200% up to $1000!
Personalised bonus offer
Provably Fair Games
Sportsbook with eSports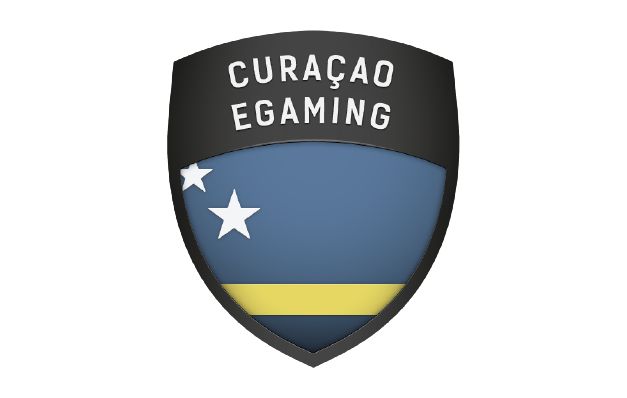 Bitcasino.io Casino Review
20% Cashback up to 10,000 USDT
Top Bonus
Large selection of games
Sportsbook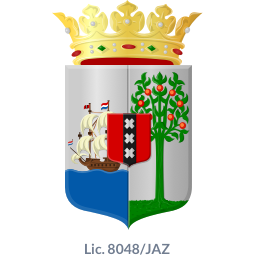 The Dog House Megaways Slot: Overview
Dog House Megaways is a fun and lively canine slot game with an incredible max of 117,649 ways of winnings and getting huge payouts. Developed by Pragmatic Play and launched in 2020, Dog House Megaways takes players in a dog house, and premium symbols are cute and known dog breeds.
The slot has been upgraded from the regular Dog House game with a seven-by-six layout that allows for high payouts during the bonus section with Raining Wilds and Sticky Wilds that come with added multipliers. Two symbols hold the key to substantial wins as you spin the reels and immerse yourself in a cheerful and colorful world of doggy land. In short, players only chase the Dog House Wild symbol or the Pay Scatter to unlock the game's full megaways potential.
How to Play The Dog House Megaways with Crypto
If you want to try playing Dog House Megaways with cryptocurrency, online casinos have a seamless sign-up flow everyone can follow. Here's how you start playing the megaways game.
Find a Crypto Casino: First, you need to find a casino that supports cryptocurrency deposits and includes Pragmatic Play games. The casinos we reviewed above tick all those boxes, and you can also see which one offers the best options for extended gameplay.
Sign-up To The Casino: Now that you know which casino you're going for, you need to sign-up to get started. The sign-up process only requires you to provide your email address and a password – that's for less strict casinos. Platforms like Stake also require your name, and you must perform a KYC before getting started.
Time To Make A deposit: It's time to fund the account. Open the Cashier, choose the cryptocurrency you want to make a deposit, and copy the wallet address. Head back to your wallet, type the amount you want to deposit, and paste the wallet address.
Select Dog House Megaways: Within a few minutes, your account will get funded. To choose the game, head over to the Search bar, type Dog House Megaways, and click on the game provided by Pragmatic Play.
Set your bet: Navigate to the console's lower section, click the + or – sign to select your bet size, and start spinning. Bets start at $0.20
Start playing: You can start spinning, watching how winning ways decrease or grow, and hunting for the scatter symbols. Alternatively, you can purchase the bonus directly.
How to navigate the game
At the heart of the game is the primary user bar, located on the lower side of the screen, while most of the screen shows the spinning reels. The "Spin" button on the right size sets the reels in motion once you've determined your bet size. To do so you need to click on the +/- sign to open the bet size console. There you can adjust the Coin Value or the Bet value. The game also offers an "Autoplay" feature for automated spins, which allows you to set a specific number of spins or choose to Spin the reels in Quick or Turbo modes.
The information section is located on the left side of the screen, where players can read through the game rules and the gameplay. There's also the option to enter full-screen mode. On the left side of the spinning reels, there's the special "Buy Feature" button which triggers the bonus feature immediately for 100x the bet size.
What Cryptocurrencies Are Available?
Bitcoin (BTC):
Bitcoin is the original and most widely recognized cryptocurrency, and is accepted on Dog House Megaways casinos. Bitcoin transactions are quick and secure and offer the advantage of lower fees compared to traditional payment methods.
Ethereum (ETH):
ETH is the utility token of the Ethereum network, a smart contract platform used to develop dApps. Known for its smart contract functionality, Ethereum offers fast and efficient transactions, making it an ideal choice for online gaming.
Tether (USDT):
USDT is a stablecoin pegged to the value of the US dollar, and is also accepted. Its stability makes it a preferred choice for players who want to avoid the volatility often associated with other cryptocurrencies.
Litecoin (LTC):
The token is compared to digital silver and praised for its faster transaction confirmation times compared to Bitcoin, is another cryptocurrency option for players. Its efficiency and widespread acceptance make it a convenient choice for online gaming.
Bitcoin Cash (BCH):
BCH is a spin-off of BTC that also integrated on most crypto casinos. It offers quicker transactions due to its increased block size, enhancing the gaming experience.
Dogecoin (DOGE):
It was initially developed as a meme token, DOGE has gained serious traction and is also accepted for playing Dog House Megaways. Its user-friendly nature and growing popularity make it a viable option for online gaming.
The Dog House Megaways Slot RTP, Details & Wager Limits
Dog House Megaways is a fair slot game with an RTP of 96.55% and is above average compared to other games not offered by the same provider. RTP stands for Return To Player and is a statistical probability of how much the game is expected to pay. So for every $100 wagered on the game, Dog House Multiplier is expected to pay $96.55 for a long playtime. The probability is calculated on a sample of millions of spins, so actual returns in a single gaming session can vary – they can be higher or much lower.
The game has a screen structure of 6 reels and up to seven columns to provide a max amount of ways of 117,649. Regular spins can lead to a bonus feature. A Free Spins bonus gets triggered when three or more scatter Paw symbols appear on the screen, allowing users to choose between Sticky Wilds or Raining Wilds. There's a minimum bet amount of $0.20 and a maximum of $100 per spin, similar to all Pragmatic Play games. The max win potential is set at 12.305x.
Every megaways slot is unique, and Dog House is no different. Here's a detailed overview of what you can expect and how they can help you maximize your wins:
Wild Symbols: The wild symbol is a Dog House which can appear on reels 2, 3, 4, and 5 and act as a payout substitute to create a winning line. For example, a payout will occur if there are two similar symbols on reels 1 and 2 and a wild symbol on reel 3.
During Free Spins, the Wild Symbol carries a multiplier of 1x, 2x, or 3x, depending on your luck. Multipliers will be added to the base win offering a chance for higher wins.
Scatter Symbols: Pay Prints are the special symbols that can trigger a bonus round. A minimum of three scatters are required, but the free spins get multiplied if more scatters land.
Megaways: For those who don't know, megaways have a higher number of pay lines. The number of pay ways on Dog House changes each spin and is shown in the top right corner. Each reel can have a minimum of 2 symbols or a maximum of 7 symbols.
Free Spins Feature: Once activated, the Free Spins Feature gives users a choice between two modes: Sticky Wilds Free Spins or Raining Wilds Free Spins.
In Sticky Wilds mode, any wild symbols that appear on the screen will stay there forever. These can appear on reels 2, 3, 4, and 5, and each comes with a random multiplier.
In Raining Wilds mode, Wilds with multipliers can appear randomly on the screen. The maximum amount of reels per spin can add up to 6. Raining Wilds comes with more spins than Sticky Wild spins.
The scatters also dictate how many spins are awarded during the feature:
3 Scatters: 7 Sticky Wilds or 15 Raining Wilds
4 Scatters: 12 Sticky Wilds or 18 Raining Wilds
5 Scatters: 15 Sticky Wilds or 25 Raining Wilds
6 Scatters: 20 Sticky Wilds or 130 Raining Wilds
Bonus Buy Feature: The game allows players to buy the bonus outright and waste time on bonus hunting. The bonus can be purchased with a single click and costs 100x the bet amount, with the possibility of landing more than three scatters.
As the name explains, the Dog House Megaways follows a dog theme, with symbols, sounds, background images, and animations indicating and positioning the player inside the dog house. The Megaways slot developed off of the success of the regular Dog House game, which has the same design principles. You see dog symbols and paws and heading barking sounds in the game.
The graphics are extremely cartoonish but well-made. They're typical of a cartoon for a 10-year-old, where the main character is a dog. The reels are placed inside the dog house, with each dog being framed inside his color. The background isn't static; you can see leaves, trees in the wind, and the owner's house.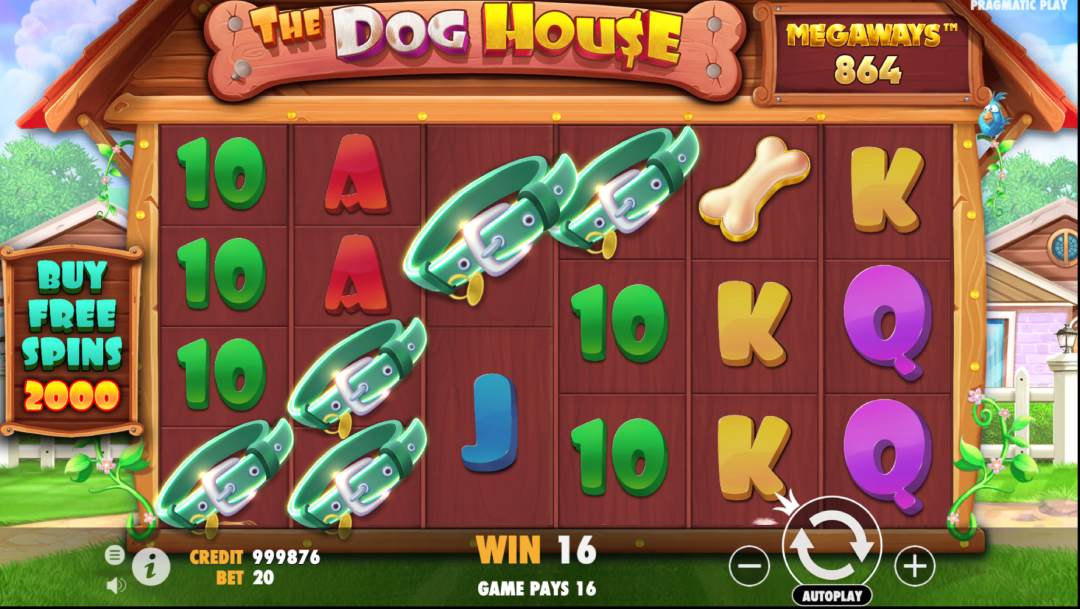 Dog House Megaways is an actual visual treat with a cheerful and cartoonish design. It features a dog house in a cartoon suburban backyard with blue skies, boxed houses, blooming flowers, and the apparent dog house. Every detail points to a cute dog theme, with the game's name engraved in Comic fonts on a bone that's hung under the house's roof. The four premium symbols include adorable and known dog breeds like Pugs, Dachshunds, Yorkshire Terriers, and Rottweilers, and there are also dog accessories such as dog collars and the all-might bone.
The game sounds perfectly add to the entire allure of the game and help enhance the general experience. The background music is upbeat and joyful. When you click the spin button, you trigger a jingle with dogs barking in the background and a piano solo. Sound effects are well-integrated into the gameplay. You'll hear a distinct jingle when a win occurs and a stomping fanfare when the bonus feature is triggered. The bonus music is much more upbeat and is accompanied by a triumphant sound effect. Overall the audio and the graphics play off one another perfectly.
The payout symbols' styling and look align with the general theme. These include dog breeds and canine accessories like dog collars and bones. Regular symbols are represented by card faces like A, K, J, or 10 with a much lower payout. Here's an overview of each symbol and its payout value:
Regular symbols:
10 and J: These are the lowest paying symbols with:
3 symbols paying 0.05x the stake
4 symbols paying 0.10x the stake
5 symbols paying 0.20x the stake
6 symbols paying 0.50x the stake
Q, K, and A: These are the second lowest value symbols, and their payout is identical:
3 symbols paying 0.10x the stake
4 symbols paying 0.20x the stake
5 symbols paying 0.30x the stake
6 symbols paying 1x the stake
Premium Symbols
Premium symbols have an ascending payout value and include dog characters like Pugs, Dachshunds, Yorkshire Terriers, and Rottweilers and also include some doggy accessories like a dog collar or a dog's favorite treat – the bone! Here's how each symbol pays out:
Bone & Dog Collar
3 symbols paying 0.15x the stake
4 symbols paying 0.40x the stake
5 symbols paying 0.50x the stake
6 symbols paying 1.50x the stake
Dachshund
3 symbols paying 0.20x the stake
4 symbols paying 0.50x the stake
5 symbols paying 0.75x the stake
6 symbols paying 1.50x the stake
Pug
3 symbols paying 0.35x the stake
4 symbols paying 0.75x the stake
5 symbols paying 1x the stake
6 symbols paying 2x the stake
Yorkshire Terrier
3 symbols paying 0.50x the stake
4 symbols paying 1x the stake
5 symbols paying 1.5x the stake
6 symbols paying 3x the stake
Rottweiler
3 symbols paying 0.75x the stake
4 symbols paying 2x the stake
5 symbols paying 3x the stake
6 symbols paying 7.5x the stake
Dog House Megaways is a high-volatility slot game, which means that while wins may not occur as frequently as in lower-volatility games, the potential for a high payout in one go is much larger. This level of volatility is ideal for players who have the patience to weather potentially longer stretches of non-winning spins, referred to as 'dry spells,' with the hope of landing substantial wins. Despite these dry spells, it's important to remember that Dog House Megaways boasts a maximum win potential of 12,305x your stake, making it a potentially rewarding choice for those chasing big payouts. However, this high volatility also means that your bankroll may deplete faster during periods without significant wins, so effective bankroll management is crucial when playing this game.
The Dog House Megaways Mobile
The game can be played on mobile devices with Android or iOS operating systems. There's no mobile app only for playing Dog House Megaways, but the game can be accessed and played from any PC, mobile, or tablet since the game is developed using HTML5 code. Its responsive design has the same layout, and elements are available.
If the casino supporting the game has a mobile app, you can access it through their app. Making the game available on mobile is a great addition to the gameplay experience since it allows players to gamble from anywhere at any time without being tied to a location.
Pros
Innovative gameplay that provides over 117,649 ways of winnings
High RTP of 96.55%
Players can choose between two bonus features with the same scatter
Multiple scatters add more spins and win possibilities
A bonus buying feature is available
There's a great possibility of getting big wins
Max win on the game is 12.305x
Cons
It's a high-volatility game
Potentially a lot of dead spins
Low payouts, even during the bonus
No progressive jackpot
Hard to understand the game because nobody understands the Megaways payout
Dog House Megaways is a refreshing casino game, but it comes with high volatility. While that's great for players as they can get bigger wins, it can be dangerous for regular players because it takes a while until a win occurs, and the 100x bonus buy doesn't always pay.
Even so, the game features make players want to see how many wilds they can land, and there's a strong possibility for users to get a big hit.
The game design, layout, and mechanics are all seamless. Pragmatic Play got all the ingredients right for this game, and even if you're not a Megaways fan, we're sure you'll enjoy the excitement of the game.
To get started the right way, you can check out the list of approved casinos where you can play the slot and also get on a casino with high-quality features such as anonymous gambling, access to a big game library, or fast deposits.
Are There Free Spins or Bonus Rounds in The Dog House Megaways?
Yes, the slot includes bonus features where users can choose between two types of free spins. One is called the Sticky Wilds, and the other is a Raining Wild feature.
What Are the Wagering Limits in The Dog House Megaways Slot?
The minimum bet amount on the game is $0.20, while the highest possible bet is $100. This means that the maximum Bonus Buy is $10,000.
Can I Play The Dog House Megaways for Free in Demo Mode?
Yes, Dog House Megaways is free in the Demo version and can be accessed on the Pragmatic Play website or other casinos.
Is The Dog House Megaways Slot Fair and Random?
Pragmatic Play games are known to be fair and random as the developer is verified and approved through third-party verifications.