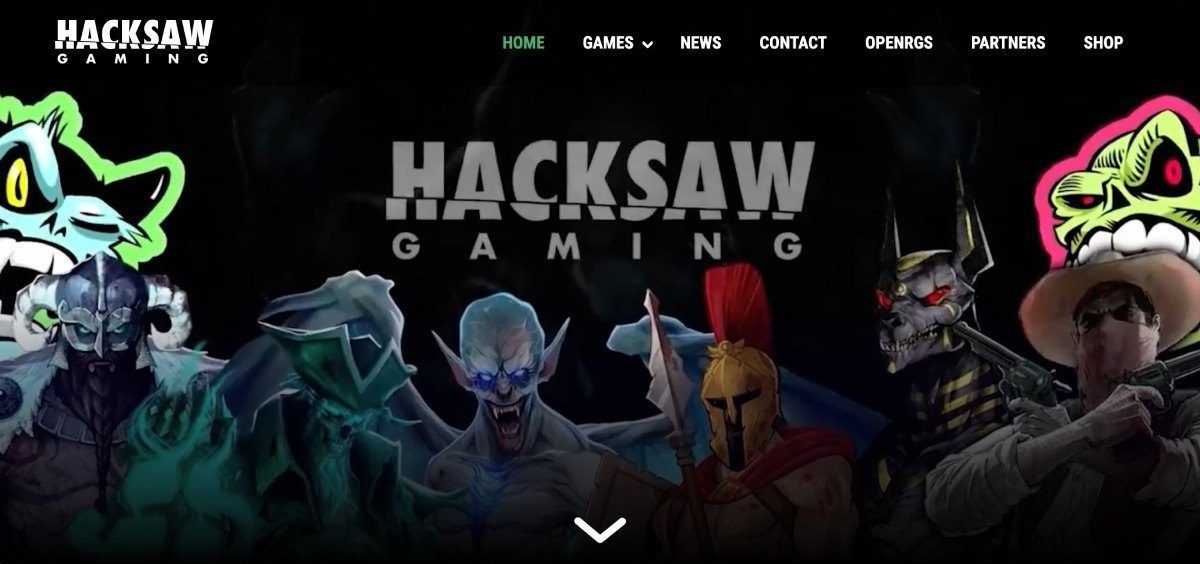 Hacksaw Gaming Provider: Overview
After arriving on the slots scene in 2018, Hacksaw Gaming has become one of the most exciting names in the industry. Although it's mostly known for its fantastic scratch card titles, some incredible video slots have come through the Hacksaw door.
It has amazing graphics, superb features, and massive win potential. Hacksaw Gaming is becoming one of the biggest names in the crypto-gaming world, so follow along with us to discover everything it has available.
Pros
Has fantastic graphics to create an immersive experience
Excellent jackpots and fantastic payout potential
Provides some incredible bonus rounds and game features
Cons
Not as well-known as the biggest slot providers on the market
Popular Hacksaw Gaming Slots
How to Play Hacksaw Gaming Slots with Crypto
Playing Hacksaw Gaming slots using crypto is a relatively simple task. Bettors just have to follow a few easy steps to get up and running:
Select a trustworthy crypto betting site from our toplist
Deposit to the crypto casino
Wait for the deposit to clear
Select a Hacksaw Gaming slot
View the potential stake sizes and choose the most suitable wager level
Use the spin controls to start playing
Watch the reels land and wait for the results
Users who decide to play with crypto can enjoy a range of benefits. The most common crypto benefits include faster transactions, higher levels of security, and the potential to increase earnings through price rises.
Depending on the crypto casino, players also have the opportunity to achieve greater levels of anonymity.
What Cryptocurrencies are Accepted?
Slot RTP, Details & Wager Limits
The RTP values for each Hacksaw Gaming slot will vary. Some titles have lower than average values, with RTP ranges around the 94% level. However, games can also hit the 96% and above range. As a result, it's critical for bettors to research which game aligns with their strategy the best. The statistical RTP can also shoot above what the game claims to offer at times. An example is Wanted Dead or a Wild, which hit above 140% for four hours on July 17th, 2023. So, bettors should keep an eye on how games are currently playing before deciding what they play.
The wager limits can also vary between slots. Some games will sit between $0.10 and $5, while some will allow up to $100 spins. Bettors must select their budget level depending on the slot.
Hacksaw Gaming has several features it likes to offer in its casino games. One of the most prominent features in Hacksaw's slots is cascading reels. It sees winning symbols removed from the reels and new ones fall into place. When the new symbols land, there's the potential for more wins to appear and the process to happen all over again. Additionally, Hacksaw Gaming uses many increasing multipliers, so every new cascade increases the size of the wins.
Plenty of different bonus rounds are available in Hacksaw Gaming slots, but free spins appear most often. When free spins land, it gives players extra spins without diminishing their bankroll. Additional features are also in place, such as increasing multipliers, more free spins, and sticky wilds. 
Hacksaw regularly uses wild and scatter symbols in its games. Wild symbols help to create additional wins, and scatter symbols can create wins without being on a payline. 
Although these are the most prominent features and symbols in Hacksaw Gaming titles, it's not a complete list, as each game has varying features. It helps keep Hacksaw titles fresh and interesting and differentiates them from each other.
Hacksaw Gaming covers many themes in its slot titles. The most common options are Wild West and Ancient History. Both Greece and Egypt have been the focus of a Hacksaw Gaming theme and traditional slot themes such as fruit machines. It provides a superb range of themes, allowing all players to discover a title which fully immerses them. 
In terms of graphical quality, Hacksaw provides incredible detail. It rarely goes down the path of 3D visuals but offers amazing 2D graphics with smooth animation. Games from this provider range from expressive cartoon style to accurate photo-realism. As a result, every type of bettor can find something to enjoy with Hacksaw Gaming.
There are fantastic design elements for Hacksaw Gaming titles. It all starts with the user interface. Each Hacksaw Gaming slot has a control scheme which makes sense. The wager controls and spin buttons are easy to find, all settings are accessible through a single button, and the screen doesn't become cluttered with meaningless visuals.
Any character animations make sense to the game, for example, in-game characters may celebrate when players land a winning spin. The sounds are also fantastic. Users can expect to hear sound effects matching the game theme, with soundtracks providing a sensible background to everything. 
The whole synergy of the sound and design of Hacksaw games makes for a highly immersive experience.
The volatility of a slot relates to how often wins appear and the value of those wins. Titles can have low, medium, or high volatility. With a low-volatility game, the wins come along often but are of a high value. A high volatility means wins are rare but high-value when they land. A medium sits in between the other two options.
Most Hacksaw Gaming titles sit at either medium or high volatility. It's typically at this level as the payouts tend to sit between 5,000x and 25,000x the player stake. So, low volatility doesn't fit Hacksaw Gaming slots' substantial payout size. 
Users must understand higher volatility provides a higher level of risk. As a result, playing high-volatility slots is more difficult than low-volatility slots.
Hacksaw Gaming titles are available on most devices. It's due to it using HTML5 for its design suite. HTML5 provides cross-platform support, so users can easily access titles on both desktop and mobile. 
It's critical to offer these levels of support, as modern gaming is more prevalent on mobile devices, particularly as modern smartphones are far more powerful than the original iteration.
The titles all tend to provide fantastic responsiveness, ensuring it's easy to play on a touchscreen. Additionally, they're fully optimized, so there's no issues with image stretching or slow loading.
Hacksaw Gaming intends to remain at the forefront of betting by providing high-quality video slots to all players.
Although it's one of the newer developers on the market, Hacksaw Gaming is still offering high-quality slots to players. With rich graphics, fantastic features, and incredible payouts, it has everything a modern slot should offer. 
Crypto players can enjoy a superb choice of video slots and scratchcards, with excellent performance guaranteed. It's a game selection which can compete with any developer regarding quality.
It's important to note the risk level of Hacksaw releases. Because the volatility tends to be higher, there is more risk with games from this developer. However, the payouts are substantial, which negates some of the risks. 
Overall, Hacksaw Gaming is a fantastic developer for crypto bettors. Anyone looking for a high-quality slot with amazing potential payouts can find it here!
In this section, Will Wood will address your inquiries and the most common questions regarding Hacksaw Gaming and offer guidance to newcomers in the field. Feel free to submit your questions through our contact form, and we will strive to respond within 48 hours.
Are There Free Spins or Bonus Rounds in Hacksaw Gaming slots?
Yes, there are. Hacksaw Gaming titles feature a number of different bonus rounds and free spins features.
What Are the Wagering Limits for Hacksaw Gaming Slots?
It varies between titles. Some games allow bettors to stake between $0.10 and $5 while others start at $5 and go as high as $100. As a result, users should search for the titles with the most suitable wager range.
Can I Play Hacksaw Gaming Slots for Free in Demo Mode?
Yes, there are demo versions of Hacksaw slots available. Players can find them at crypto casinos, although they should check first as not all sites offer demo modes to their users.
Are Hacksaw Gaming Slots Fair and Random?
The slots from Hacksaw Gaming are completely random. They use PRNG technology to provide the most random experience possible. It ensures bettors get completely fair treatment when enjoying a game from this slot provider.