stake
Minimum Stake: 0,20
Maximum Stake: 50
supplier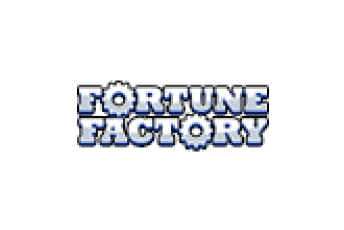 Where to Play Mask of Amun?
Casino
Bonus
Features
Payments
Banking
Licenses
$500 or 5 BTC + 180 FS
Live Casino
Generous welcome bonus
Large selection of games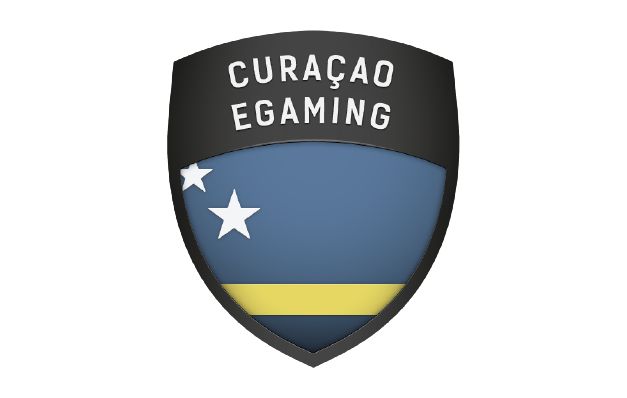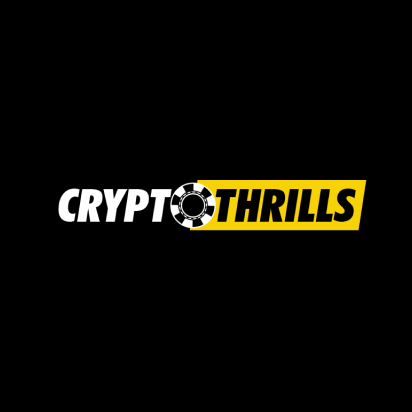 599% up to 1,000 mBTC & 59 Free Spins
Impressive range of bonuses
Crypto Casino
Strategy guides
Up to 200$ Deposit Match in the currency of your 1st deposit
Excellent on mobile
No KYC needed
Fast transactions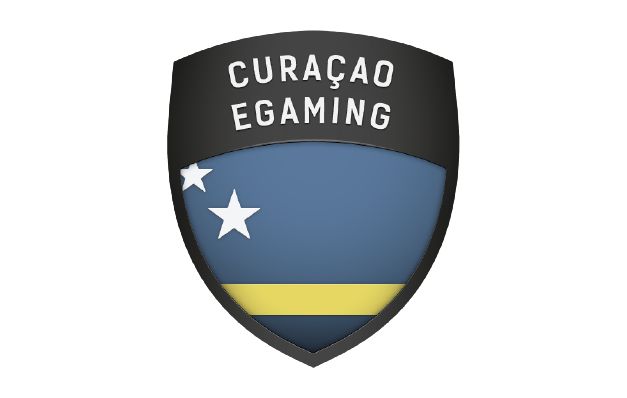 Mask of Amun Slot: Overview
Mask of Amun is a fascinating interpretation of the timeless Egyptian theme, developed by Fortune Factory Studios, a well-respected game provider known for creating top-notch slots for the likes of Micrograming and including known themes and pop culture references within their titles. Launched in 2022, Mask of Amun follows the already-known ancient theme and includes bonus spins that can trigger the Gold Blitz bonus, where Jackpots and Money Prize wins are on the table. There's a max Jackpot bonus of 2,500x the stake and a maximum win potential of 5,000x. With wins firing off at a frequency of 30.51% and a high volatility game, Mask of Amun has a balanced yet rewarding game slot with 4096 ways to win and get excited about the mystical Egyptian theme! Prepare for an enchanting journey where Mask of Amun can bring you the highest win possible!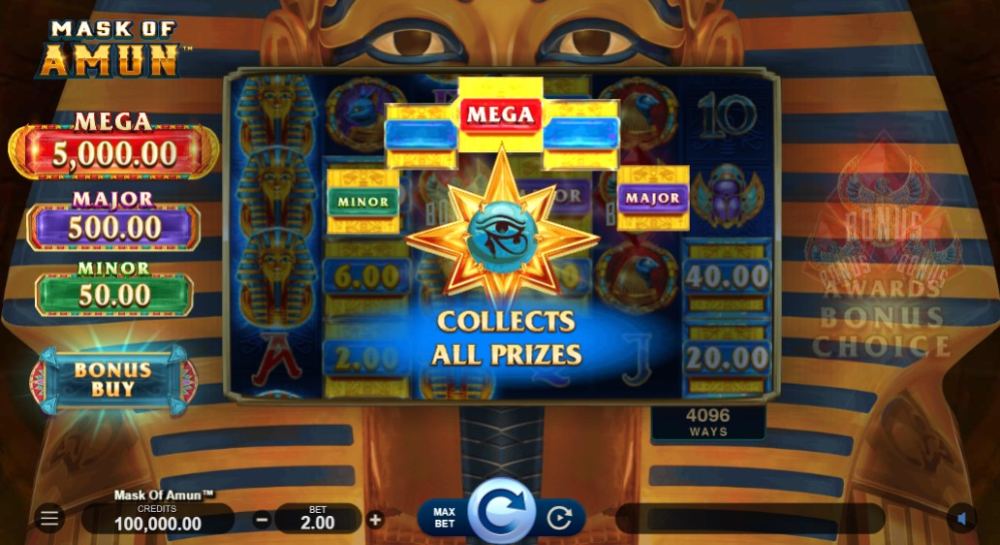 How to Play Mask of Amun with Crypto?
To get started with Mask of Amun using cryptocurrencies, you'll need to go through a few simple steps. Here's what you need to know
Step 1: Find a casino
Playing the game is straightforward, but you need to find a casino that includes games by Fortune Factory Studios. You can check the list of casinos in our Toplist and choose one available in your region.
Step 2: Make a crypto deposit
To start playing, you need to fund your account with crypto. You can purchase tokens from a crypto exchange like Binance or Kraken and transfer them to your casino's wallet. Select the cryptocurrency payment method on your online casino platform and follow the prompt to make a deposit.
Step 3: Sign in and look for the game
Now that your account is funded, you must search and access the game. Click the search bar and type "Mask of Amun." Then, choose the Money version or if you want to test out the game's free version.
Step 2: Select your Bet Amount
Once you have a funded account, you can choose the amount you want to wager in the game. You can do that by clicking the plus and minus signs on the lower part of the screen to adjust the bet. There is a minimum and maximum amount you can play that the operator sets.
Step 4: Spin the Reels
Now that everything is all lined up, you can click the "Spin" button to start spinning reels and getting wins. You'll receive the win amount paid in cryptocurrencies if you match a winning combination on the reels.
Like all Fortune Factory Studio slots, the game has an already known layout, with over 50% of the screen being filled by a centered reel screen. The left side of the screen shows all three jackpots and the payout for the stake the player is betting on. Underneath the jackpots is a "Bonus Buy" button allowing players to instantly purchase bonuses with 4, 5, or 6 scatters.
The lower console is where the stake and spin buttons are located. In the middle, there's a "Spin" button with options of placing a "Max Bet Spin" or triggering Autospins. Players can choose between 10, 25, 50, and 100 free spins; there's no slider to choose custom spins. The "Bet Size" button is located to the left, with a plus and minus sign where players can choose their stake. Additionally, there's the option to select the bet amount outright. The lower right side has two buttons: "Quick Spins" and "Mute Audio." The lower left side has a "Menu" button with four parallel lines that can take players to the Paytable, Help, Settings, Bet, and Autoplay consoles. The Paytable page is represented by an "i" and provides a detailed overview of all winning possibilities, special symbols, and bonus features.
What Cryptocurrencies are Acceptable?
Playing Mask of Amun with cryptocurrencies has become increasingly popular, providing a secure and anonymous method to enjoy this thrilling online slot game. Here are some of the accepted cryptocurrencies:
Bitcoin (BTC): As the first and most well-known cryptocurrency, Bitcoin is accepted by a vast number of online casinos. Bitcoin offers quick transaction times and low fees, making it a preferred choice for many online gamers.
Ethereum (ETH): Recognized for its smart contract functionality, Ethereum is another popular choice for online gaming. It allows for secure, tamper-proof transactions, attracting players seeking additional security.
Litecoin (LTC): Known as silver to Bitcoin's gold, Litecoin offers faster transaction confirmation times and a different hashing algorithm. It's widely accepted in online gaming due to its speed and efficiency.
Bitcoin Cash (BCH): A spin-off from Bitcoin, Bitcoin Cash increases the block size, allowing more transactions to be processed and improving scalability. Its wide acceptance in online gaming makes it a viable option for players.
Ripple (XRP): Ripple is both a digital payment protocol and a cryptocurrency. It's known for its digital payment protocol, which enables fast, international transactions. Many online casinos accept XRP due to its speed and low transaction costs.
Tether (USDT): Tether is a stablecoin type crypto pegged to the US dollar. This means its value remains relatively stable compared to other cryptocurrencies. It's often used by players who want to avoid the volatility of other cryptocurrencies.
Cardano (ADA): Cardano is a "third-generation" cryptocurrency that aims to solve some of the scalability and security issues of Bitcoin and Ethereum. Some online casinos have started accepting Cardano due to its advanced features.
Shiba Inu (SHIB): Created as a meme token in competition with Dogecoin, Shiba Inu has gained popularity and has been adopted by some online casinos and offers better transaction speeds since it's an ERC-20 token.
Mask of Amun Slot RTP, Details & Wager Limits
Mask of Amun has a dynamic RTP of 96% and 96.25% during free spins and bonus rounds.
Mask of Amun is a 6×4 reel game with six columns and four reels that comes with 4096 ways of winnings. Thus, the game pays when two or three symbols appear from left to right in consecutive order. The game has a maximum potential during the bonus rounds of 5,000x the bet, and players can expect to see regular, premium, and unique symbols (like scatters and money symbols). Jackpots are also part of the game, and these can appear randomly on any spin with the Mega, Major, and Minor jackpots up for grabs.
Like all Fortune Factory Studios games, the slot has 23 different bet sizes, with the lowest being $0.20 and the highest being $50.
Features
Mask of Amun has features that combine bonus rounds with trademark spins called Blitz Spins and Jackpots. Overall the game has some exciting elements that make people stick around.
Bonus Rounds With Scatters: The bonus rounds are free spins triggered whenever players land four or more Scatter symbols that look like glowing red diamonds with a falcon. The bonus rounds are Free Spins, where players can choose between Free Spins and Gold Blitz.
The Free Spins feature is extremely high volatility and features Wild Symbols with 2x, 3x, or 5x multipliers. Additionally, the number of scatters determines the number of spins.
3 Symbols trigger 8 Free Spins or 2 Gold Blitz
4 Symbols trigger 12 Free Spins or 3 Gold Blitz
5 Symbols trigger 20 Free Spins or 5 Gold Blitz
6 Symbols trigger 30 Free Spins or 7 Gold Blitz
The game also has Gold Blitz spins, where there's a guaranteed collect symbol with a guaranteed win on every spin. These spins are low volatility, so wins occur more frequently as money symbols land on the screen.
Pyramid Wild: The pyramid wild symbol appeared randomly on the screen during free and regular spins. It can substitute any symbol except for the special symbols and appears on reels 2, 3, 4, 5, and 6 and only on 2, 3, and 4 during bonus rounds.
Money Collect: This feature can only be triggered by the collect symbol, represented by an Eye Of Horus star. When it appears on reel 1 or 6, the game collects all money symbols on the screen. Money symbols are Cash Symbols that look like golden squares with a cash value or can be Jackpots.
Bonus Buy: The game offers a "Bonus Buy" feature which automatically triggers the feature. The bonus can only trigger four, five, or six scatters, costing 75x, 120x, or 150x the wager. Similar to regular bonuses, players can choose between Free Spins or Gold Blitz.
Jackpot: There are three jackpots available in the game, offering players the chance to win big. These include the Minor (25x the bet), Major (250x the bet), and Mega jackpot (2,500x the bet). These jackpots can appear randomly on Mask of Amun symbols.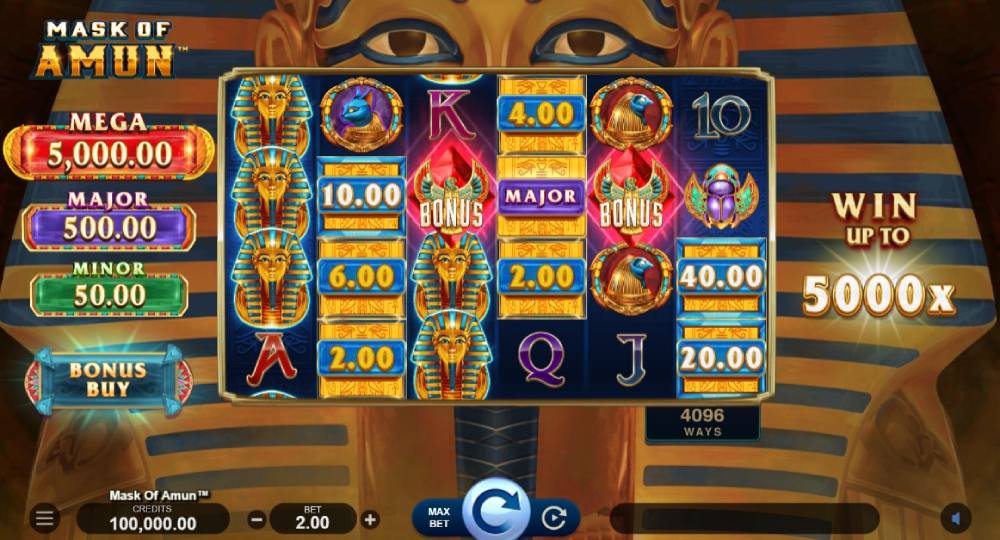 Mask of Amun sets itself apart with its unique and slightly unusual design compared to other Egyptian-themed slots. The theme is a mixture of ancient Egyptian mythology with symbols that give hints of Egyptian pharaohs and kings and electrifying and glitchy elements typical for Gold Blitz. The entire game is centered around a pharaoh's mask, which holds the key to the slot's big wins.
Regarding graphics, Mask of Amun provides players with visually appealing game experiences. The symbols have glowing textures that add to the mystical allure. The background picture of a pharaoh, rarely seen elsewhere, adds more authenticity to the game. Despite the common theme, the graphics manage to maintain originality and uniqueness.
Although the graphics aren't groundbreaking, they get the point across while keeping players entertained during a reel spin.
The Mask of Amun slot game is a perfect blend of engaging design and immersive sound elements that help transport players to the mystical world of Ancient Egypt. The game's design is deeply rooted in the Ancient Egyptian theme, with a backdrop of an ancient pharaoh glowing or turning red during the bonus game. The symbols are also designed to fit the Egyptian theme with a Wild pyramid symbol, gods, cats, and scarabs, while regular symbols have hydrographic game influences. The game is designed to integrate futuristic Money and Jackpot symbols and includes fast-moving spin reels.
Complementary to the design are sound elements which in Mask of Amun bring players into the ancient realms of ancient Egypt. It features oriental rhythms and powerful striking sounds when a hit takes place. Airy soundscapes take over during spinning reels, and a grandiose sound appears when triggering the Free Spins. During bonus rounds, the music becomes upbeat. It has a richer sound design that keeps players engaged with the feature, adding to the excitement of the win as guitar strings and drums take over the Egyptian background music.
The slot includes three types of symbols which are:
Regular Symbols: The regular symbols in the game are represented by the classic playing cards, including 9, 10, J, Q, K, and A. Although these symbols have lower payouts, they appear more frequently and provide consistent wins. The highest payout for a base symbol is 1.5x the stake.
9 and 10: Have the same payouts with a min payout of 0.30x for three symbols and 1x for 6
J and Q: Have the same payouts with a min payout of 0.40x for three symbols and 1.2x for 6
K and A: Have the same payouts with a min payout of 0.50x for three symbols and 1.5x for 6
Premium Symbols: The symbols reflect elements from Egyptian culture, such as an Ankh cross, a scarab, the cat goddess Bastet, the falcon-headed god Horus, and the Mask of Amun.
Cross & Scarab Symbol: These have the same payout. Two symbols pay 0.20x the stake, while six symbols pay 2x the stake.
Cat & Falcon Symbol: These have the same payout. Two symbols pay 0.50x the stake, while six symbols pay 2.5x the stake.
Mask of Amun: This is the highest paying symbol and has a min payout for two symbols of 1x the stake and 5x the stake for six symbols.
Special Symbols: There are two special symbols in Mask of Amun – the Wild and Scatter Symbols. Wild symbols appear on every reel except the first and can substitute any regular and premium symbol to create a winning line. Scatter symbols can trigger randomly and trigger Free Spins. 3 scatters pay 1x, 4 scatters pay 2x, 5 scatters pay 3x and 6 scatters pay 5x.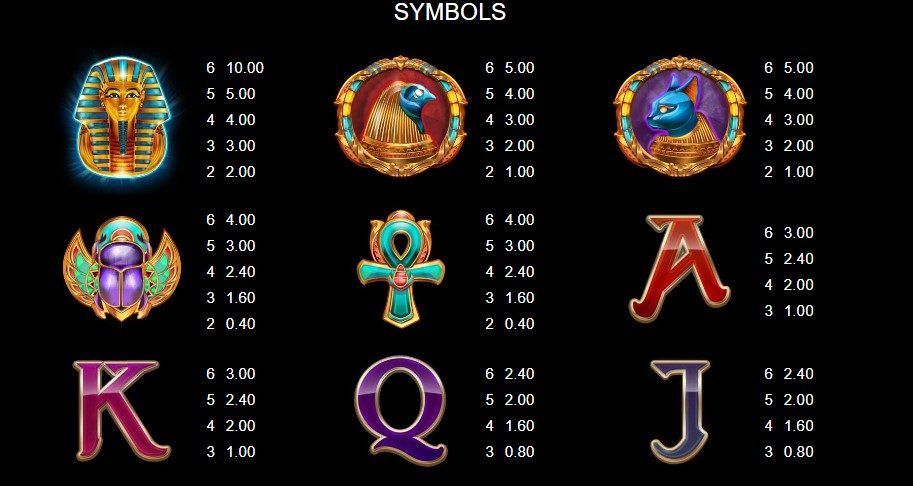 The volatility level of Mask of Amun is set by the developers at high, meaning that wins and game-winning features land less frequently. The game has two RTP levels of 96% and 96.25%, making it even harder for players to get regular wins. Although high-volatility games are risky since they pay out less frequently, they also have the potential for bigger wins. High-volatility games often require players to endure a series of dead spins, which yield little to no returns, before getting a big win. However, this can significantly hinder your general bankroll, so players should be prepared.
High-volatility games like Mask of Amun require a different playing strategy since many dead spins can occur.
Mask of Amun Joker Mobile
All games developed by Fortune Factory Studios, including Mask of Amun, are mobile-compatible, and players can spin reels on any mobile device. As the game is developed using HTML5 technology, the game can be opened on any mobile or tablet device with an Android, iOS, or Windows operating system. Additionally, the game boasts an intuitive and responsive design, which doesn't change the layout of the buttons – with just slight changes.
Although there's no mobile app where the game can be played, and users can access the game via any mobile browser, players can still open Mask of Amun games on a casino app. This enables users to gamble from anywhere in the world and even while on the go when the bonus feature lands.
How to Sign Up at a Casino to Play Mask of Amun Online?
To start with Mask of Amun online, you must follow these steps and create an account. Here's how you do it:
Step 1: Search For A Casino on the Casino Website
First, you need to search for a casino. At the end of the article, we provide a shortlist of our top picks for playing slots, specifically Mask of Amun. Once you choose the site, navigate to the registration section to create your account.
Step 2: Provide Your Personal Information
You'll need to provide personal information as part of the registration process. These will typically include your full name, date of birth, and contact information, such as your email address and phone number. A less regulated anonymous casino will require less information.
Step 3: Choose Your Username and Password
Next, choose a username to sign in with and a password. Make sure you store the password in a secure place.
Step 4: Verify Your Account
Once you have completed the registration process, you must verify your account. This will involve going to your mail and clicking the link sent by the casino to confirm you're the owner of the email.
Step 5: Start Playing Mask of Amun!
With your account fully set up and verified, you can start playing Mask of Amun! Find the game in the search bar and start playing.
How to Deposit?
To make a deposit, you need a cryptocurrency wallet to store your tokens. Ensure the casino supports your tokens, but most crypto casinos include BTC, ETH, or LTC deposits. You can either use a hot wallet like Metamask or the wallet from the exchange (although that's not recommended.) You can purchase a token from an exchange using a credit card, and once they're in your wallet, follow these steps to make a deposit:
Step 1: Go to the 'Deposit' section of the casino's website and select the cryptocurrency of your choice.
Step 2: Copy the wallet address into your personal wallet
Step 3: Enter the amount your want to deposit and click ok to transfer the funds
Step 4: Wait a few minutes until the funds have been added to your account.
Once the transaction is confirmed and your deposit has been credited to your account, you can play Mask of Amun at the crypto casino.
How to Withdraw?
The process of making a withdrawal involves a few key steps players must complete to take the money out of the casino. To withdraw, users can use cryptocurrencies or regular fiat payments. Still, users need a cryptocurrency wallet address to process transactions on-chain. Here's how that's done:
Step 1: Go to the "Cashier" section and click on "Withdrawal" to open a new section on the platform
Step 2: Click on the cryptocurrency or regular withdrawal method you want to process the payment through
Step 3: Copy the wallet address of your wallet address and paste it into the withdrawal section and make sure you're processing it on the right network
Step 4: Add the amount you want to withdraw or click max to remove all your winnings. Then click ok to go through with the process.
Step 5: This is optional, but players must complete additional verification and KYC in some casinos before withdrawing. If that's the case, add your personal information and provide proof of identification.
Step 6: Withdrawals be made instantly if they are on chain or can take up to 24 hours. After clicking ok, check back after 10-20 minutes to see if tokens have been transferred after being processed.
Pros
High Volatility
Mobile Compatibility
Egyptian Theme
Cryptocurrency Integration
Big Payout Potential
Jackpot
Cons
Infrequent Wins
Higher Betting Requirements
The slot has several features that make it stand out; however, it's not enough to make you obsessed. Jackpots and free spins certainly add to the excitement of playing slots, and as a high-volatility game, it's sure to provide some viral moments with big hits. Dead spins, however, can put you down quickly, so players should always consider that the game can be risky. Overall, the Gold Blitz spins are what makes the game tick, and it's what makes it stand out from other Egyptian and ancient theme games. Multiple pay lines and a max win of 5,000x Mask of Amun could serve as a backup game for playing with cryptocurrencies. Either way, the slot and the gameplay provided by Fortune Factory Studios make your gaming experience exciting. So thread carefully.
Are There Free Spins or Bonus Rounds in Mask of Amun?
The Mask of Amun slot game offers free spins and bonus rounds. Players can trigger the free spins feature by landing three or more scatter symbols.
What Are the Wagering Limits in Mask of Amun Slot?
The maximum amount players can bet on a slot is $0.20, and the maximum bet amount is $50.
Can I Play Mask of Amun for Free in Demo Mode?
Yes, game developers also launched a free/demo version of the game, so you can try out the game without spending any of your money.
Is Mask of Amun Slot Fair and Random?
It's uncertain if Mask of Amun is fair. However, Fortune Factory is a known game developer that creates games for Microgaming.