stake
Minimum Stake: 0.10
Maximum Stake: 100
supplier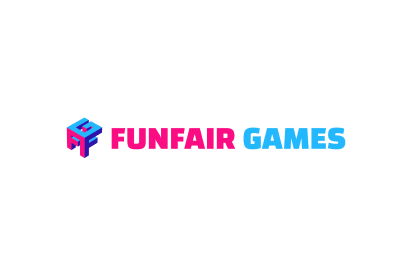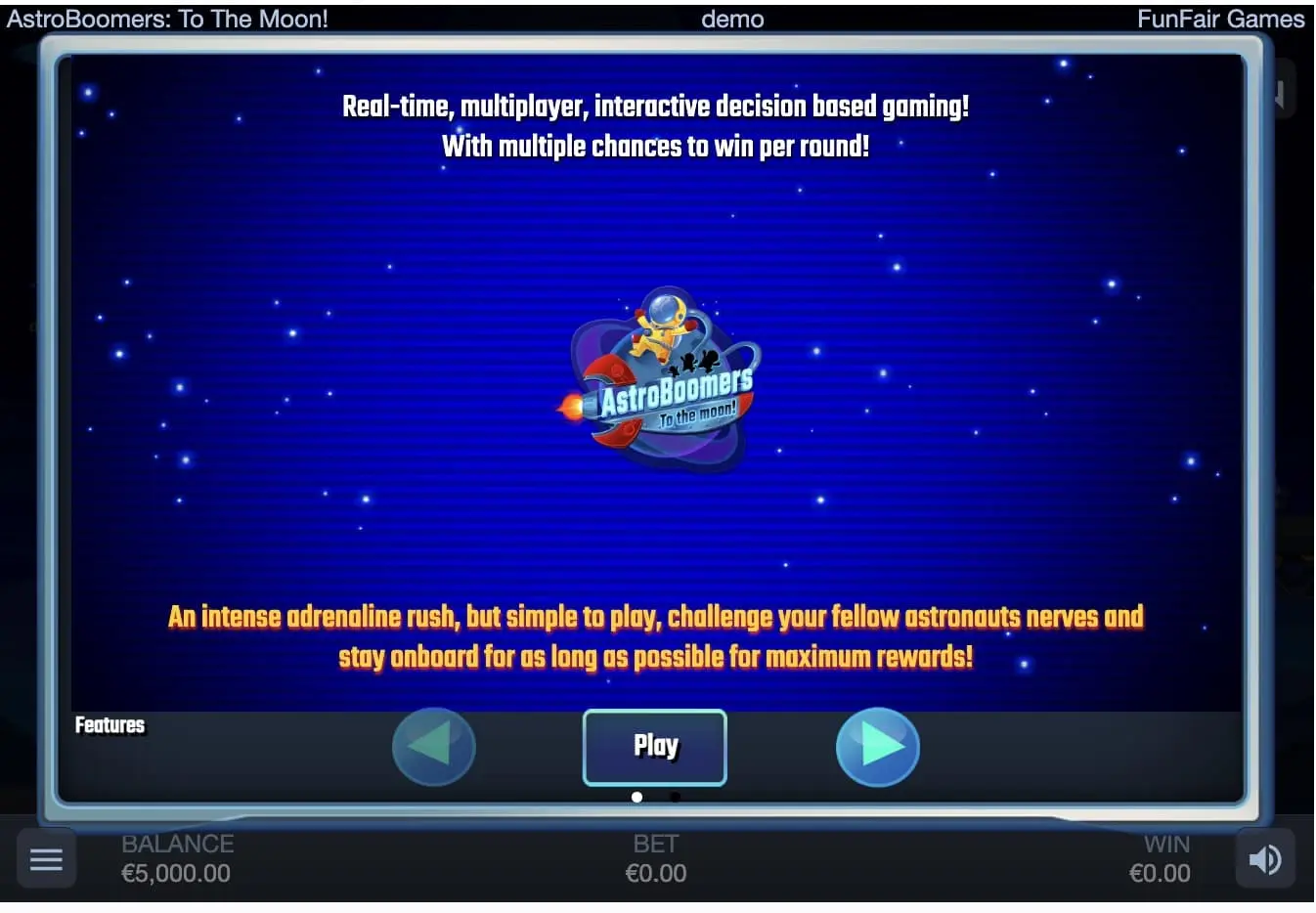 Overview of Astroboomers Game
New-generation gamblers are becoming less interested in passive slots. Astroboomers to the Moon is a highly interactive, fun-filled, easy-to-play space-themed video slot. While you can enjoy it individually, there's an opportunity to play with other gamblers if you want to add to the excitement. You might find it strange when you initially load it because it doesn't appear like regular slots, but you'll get used to it eventually. You only need to begin spinning. With this crash-like game, explore the cosmos while having fun and earning money. If you're lucky, you might even spot some aliens. It only requires getting on a rocket ride. There is a rush of adrenaline throughout the game. Even though it's exciting to fly through space, you must be mindful of potential dangers and understand when to leave or risk crashing in a fiery explosion. Of course, you can decide to hang around as the reward rises and the rocket continues to travel. However, the possibility of the space shuttle bursting into flames increases as it goes further. Players place their bets before taking off and then get onboard the rocket with their animated characters. What we liked most was the ability to interact with other rocketeers using the emoji chat feature. Other participants don't have an effect on your performance.
The gameplay is pretty simple, with astronauts being in charge at all levels. Playing this game means deciding whether you will only send a single rocketeer or more to space. Before launching your rocket(s), players must choose a bet size, keeping in mind that the maximum of 100 credits. You may also vary their number every time you launch your spaceship. Before the game starts, your animated representative will be at the launch pad. You will see the Moon, which is your destination, at a distance. Upon initiating the game, a countdown starts, and the rocket takes off.
Loads of meteorites fly across space, which could vaporize you anytime if you crash on them. So, your main task at this point is to decide when your astronauts will jump out of the rocket as it shoots toward the Moon. You may let them all jump at once or eject them at different levels. The more you hold on, the riskier it becomes, and the payout increases. The most successful players are those that can hold on to their nerves long enough with good judgment and proper timing on when to jump off. But, of course, luck plays a significant role too.
If you don't have the strength to handle all the adrenaline rush and anxiety, you may opt for an easier option; the auto-pilot. This one allows you to set your targets before the game starts. Then, once you launch the rockets, the auto function will kick in to eject your rocketeers as soon as your limits are reached. Typically, the auto button adjusts bet limits to the lowest amount, so don't forget to change it to your preference.
Let's look at some key rules you must understand to succeed.
As mentioned, the objective is to jump off with the highest multiplier possible before the rocket explodes.
There is a countdown at each betting stage indicating how much time is left before the next round.
You can make a minimum of one bet and a maximum of three using the bet selector.
Whether you place one, two, or three bets, the sum of your maximum wager should not exceed 100 credits.
You can use any of the three bet selectors to switch to AUTO; otherwise, use the "EJECT" button to jump off the flight and secure your win.
When used in auto-mode, the "EJECT" button will also deactivate your targets and get you off the flight.
Lastly, you need to learn about these game functions.
Menu Button: Gives you access to settings and rules
"BET" button: Used to open a list of possible bet amounts for easy selection
"AUTO" button: Used to set a target amount for a wager for automatically ejecting from the rocket
Emoji Chat Button: Use it to open the chat feed
"CANCEL" button: Use it to cancel and delete the bet amount
"REBET" button: Use it to set the number of auto-eject rounds and respective targets
Flight History: Shows the past three multipliers. It can be used for tracking your payout levels
Audio Button: Use it to turn all audio on or off
Pros
Simple gameplay
Player controls volatility
High return to player percentage
Massive maximum multiplier
Cons
No bonuses
You can't predict a crash
The game has a stunning blue background that makes you feel like you're in space. A bizarre planet in space is depicted on the screen by a few scattered stars moving about and by meteors slicing across it. That will be your primary perspective throughout the game, and as you travel closer to the Moon, they become more precise and expansive. The design team has done a superb job of blending various blue tones with an accent of orange and grey. In addition to the cosmic motif, the launch pad creates the idea that astronauts are boarding a rocket for takeoff from Earth. The rocketeers are easy to identify because of their orange-yellow costumes. Animations in cartoon style depict the participants and the rockets. Participants and the spaceships are cartoon-styled animations. There is also built-in music and different sound effects that can be turned off or on according to a player's preference. Only such dynamic graphics could make this game successful and fun.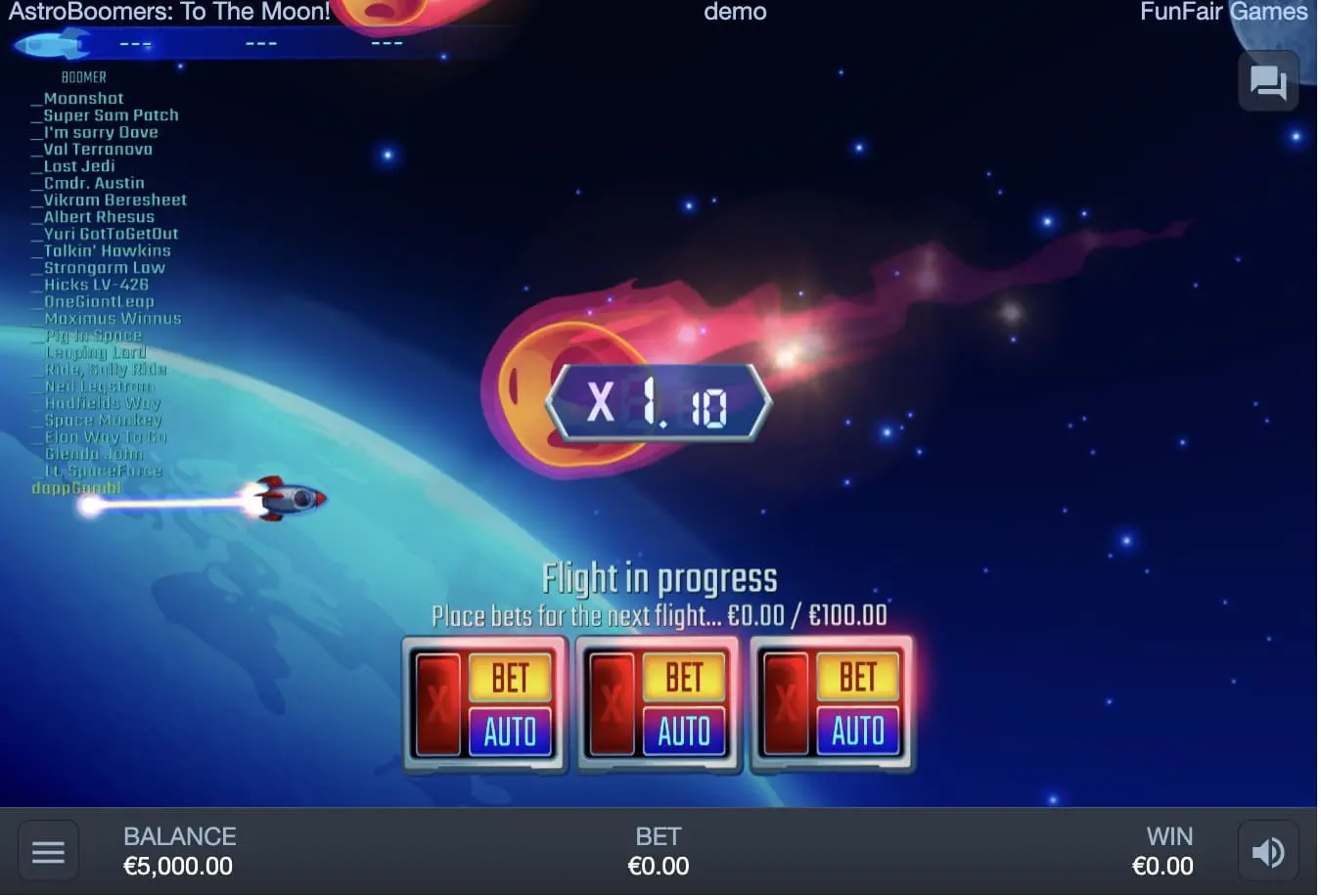 We did not find any special symbols during this game review. In terms of payouts, you have different levels. Unlike standard slots, you must click the eject button before crashing to qualify for rewards. If you hit a meteorite and explode, the winnings you had accumulated are forfeited. There are ten pre-set bet levels in fun mode, the lowest being 0.10 and proceeding all the way to 100 credits. All rewards are calculated as per the prevailing multiplier at the time of jumping off. The minimum is 1.01, while the maximum payout available is 2500x your bet. Players can win more than once when they have two or three active bets. The game is fascinating. No wonder there is no need for symbols.
We did not find any bonus features during this Astroboomers To The Moon review. This may be because of the simple gameplay, which is in itself an incentive, in addition to the potentially high payout offered. The RTP is also insanely attractive, as indicated in the next section. The ability to make interactive decisions is a key selling point, as this is usually unavailable in slots. With this, there was no need for extra features such as bonuses which could complicate the game and introduce lagging issues through terms like wagering requirements. So, don't expect Astroboomers To The Moon free spins or any similar kind of perks. Simply spin and target high returns as you have fun.
RTP and Volatility
While volatility can get really intense, players have the freedom to adjust it to their liking. It all depends on how many people you send to space. The return to player (RTP) is 97%.
You can enjoy playing the game from your web browser on any platform. Whether you are using a laptop browser like Firefox or a casino PC app, you will have an amazing experience. It's also been developed to respond effectively to mobile web browsers both on Android and iOS mobile phones and tablets. That makes it more interesting as you can play it from anywhere, on the go, or while relaxing at home.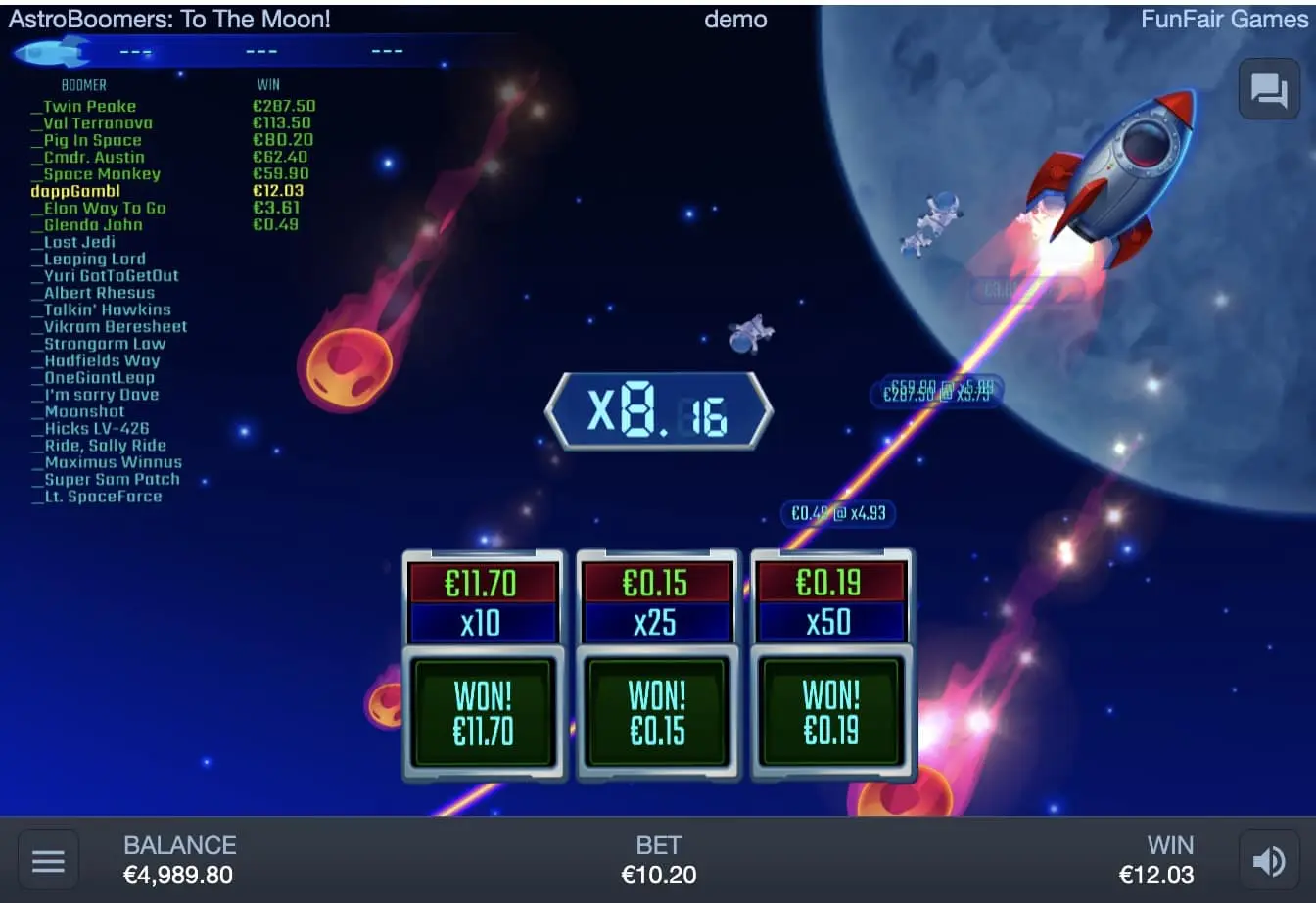 There is a software engineer behind each and every casino game you encounter. These are the enterprises that develop the idea and the game. Additionally, they might promote it and provide incentives via elements like jackpots. The total player experience can be predicted in large part by a provider's reputation. Additionally, it affects aspects like trustworthiness and fairness. The most outstanding service providers adhere to strict fairness guidelines and are licensed. To ensure that their games are interesting, enjoyable, and rewarding, they also invest a lot of resources in hiring top talent. We found two major software providers for Astroboomers To The Moon.
FunFair Technologies: Meet innovative iGaming studio, Funfair technologies. It's determined to shake up the casino industry by introducing unprecedented ideas in the gambling world, including crash and arcade games. It's the primary developer of Astroboomers To The Moon but is granting distribution rights to different partners in the industry.
Spearhead Studios: This developer was launched by EveryMatrix in 2019. It creates different games and also distributes third-party titles via supply agreements. Key partners like Funfair Games and Armadillo Studios have created some of the titles it supplies.
The Astroboomers game is incredible, introducing a new dimension of fun to slot titles. It comes with unique features and gameplay making it one of the most thrilling choices for adrenaline lovers. While it lacks bonuses such as free spins and jackpots, you get to enjoy high RTPs, your preferred volatility, and instant payouts. Make your own decisions, meaning everyone is a winner until they make a terrible cash-out timing. Generally, the game is not only rewarding but highly exciting.
Tips:
Use the flight history feature to track your bets and find the optimal multipliers for winning
To quickly place the same bet, use the "REBET" button.
Always eject early enough and accumulate small winnings rather than holding on until the rocket explodes.
What is the RTP of Astroboomers?
You have an RTP of 97%. That's more than most slot titles which come with a lower return-to-player percentage of about 92%.
How volatile is Astroboomers to the Moon?
There is no fixed volatility level. Instead, it's interchangeable depending on the player's preference. The number of participants you choose plays a big role in determining how volatile your game will be.
What is the biggest win available on Astroboomers?
Wins are multiplier-based. They start from 1.01x and go as high as 2500x. Your total win is the multiplier at the point of ejecting from the rocket multiplied by the amount of your bet.
Can I play Astroboomers for free?
Yes. The game is available both in demo mode and real money mode. Demo mode allows you to enjoy betting for free, using virtual money. Unfortunately, that means you can't withdraw your winnings.