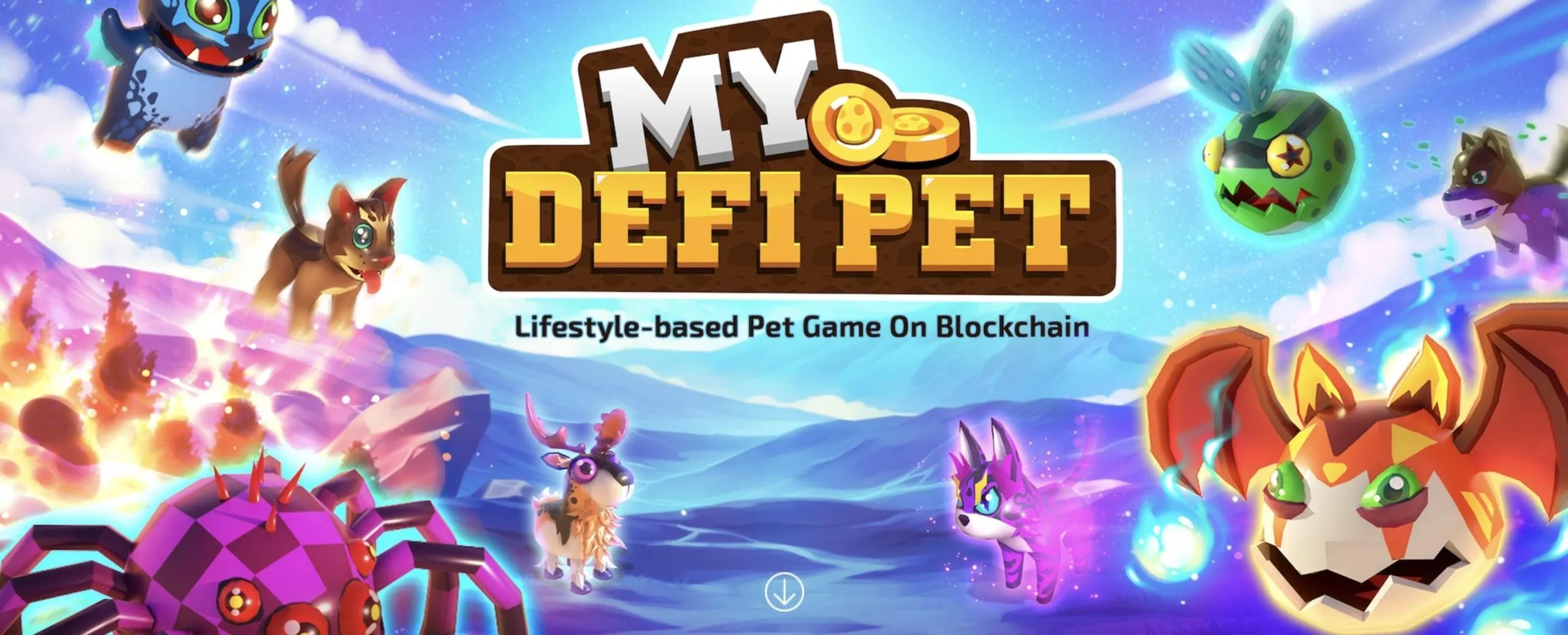 What is My DeFi Pet?
Built on the Binance Smart Chain, My DeFi Pet is a GameFi project that allows users to create, train and manage their own digital pets on the blockchain. DPET is built on the principles of decentralization, and the virtual pet game focuses on DeFi, collectibles, and allowing players to establish their own in-game personalities.
Digital pets are stored as non-fungible tokens (NFTs) on the Binance Smart Chain blockchain and offer players a unique bonding experience as they must take care of their pets and make sure they are healthy and happy. My DeFi Pet also has a social aspect, as players can chat with each other and show off their pets.
Players can buy eggs and hatch them to get their first pet. Each pet is unique and has different characteristics, which are determined by the genealogy of the pet. Players can increase the value of their pets by feeding them, training them, and taking care of them. When the pet evolves, it becomes more valuable.
Players can also battle their pets against each other. Battle winner receives a portion of the loser's pet value in the form of a reward. This encourages players to take care of their pets and make sure they are strong and healthy.
How Does My DeFi Pet Work?
Similar to most play-to-earn games, My DeFi Pet follows the same decentralized game mechanics. Players can interact with the game environment by collecting, breeding, evolving, and finally battling their DeFi Pets. A socializing component is also included, as players can trade their DeFi Pets for DPET tokens and boost their chances of creating stronger players.
The game can be played on a web browser, and players must connect their digital crypto wallet to access the in-game features. Pets are the main game characters. Each player much purchase an egg from the pet store. Once the egg it's the player's responsibility to make sure his pet is fed – similar to a Tamagotchi. Players can increase their pet's abilities by breeding similar species or purchasing more eggs. The end goal is to evolve your pet and improve its capabilities.
In My DeFi Pet, players can earn in multiple ways. For example, they can participate in the game mechanics, battle other players and claim their rewards. Additionally, players can also use the marketplace feature to trade and swap pets with other players.
Who Are the Founders of My DeFi Pet?
My DeFi Pet was launched in 2021 by the founder and CEO of Kardiachain, a new interoperable blockchain protocol that supports both DeFi and dApps. As the project lead, Tri Pham brought together a team of professional developers, including Liem Thai, Gameloft's Product Lead.
Kardiachain started a collaboration with Topebox, an established Vietnamese game video developer group, to lay the visual foundations of the game. The team behind Kardiachain also launched the popular My Crypto Heroes game. For My DeFi Pet, the company managed to obtain funding from Animoca Brands, Kardia Ventura, Axia8 Ventura, and Megala.
What Makes My DeFi Pet Unique?
My DeFi Pet (DPET) successfully detaches itself from the typical play-to-earn characteristic and introduces new features that give players more agency to control their in-game experiences. The game has a complex gaming structure allowing users to decide how they want to interact with the game setting.
What's also impressive about My DeFi Pet is that it's one of the few games in the Play-To-Earn that provides a wide gaming and interaction pallet on the blockchain. My DeFi Pet allows users to create, train and manage their digital pets on the blockchain. This means that players can not only win rewards by playing the game but also by interacting with other players and completing tasks.
Thus the focus of My DeFi Pet is to generate social interaction mobility by incentivizing users to play and discuss with their peers. Moreover, the game provides an additional layer of interest by allowing users to improve their pets and generate extra DPET or eggs by staking their DPET tokens in one of the pools.
How Many My DeFi Pet (DPET) Coins Are There in Circulation?
The GameFi project has a total supply of 100,000,000 DPET tokens, and according to CoinMarketCap, there are a total of 6,878,000 DPET tokens currently in circulation.
During the crowdfunding process, game developers have announced that only 20.5 million DPET tokens will be available during the private sale. Another 2.25 million tokens were made available in the public sale. The remainder of the tokens will be distributed through the game mechanics, with the circulating supply increasing as more users play My DeFi Pet.
How Is the My DeFi Pet Network Secured?
My DeFi Pet is a dual network GameFi project. Players can interact with the game using both the KardiaChain or the Binance Smart Chain blockchain protocols. Both protocols make use of a Proof-Of-Stake consensus mechanism, and My DeFi Pet is looking to become available on other networks such PolkaDot or Ethereum.
Under the PoS consensus mechanism, My DeFi Pet users can stake their DPET coins to help validate transactions and earn rewards in return. This makes the My DeFi Pet network more secure and allows users to earn rewards just by holding onto their DPET coins.
Where Can You Buy My DeFi Pet (DPET)?
DPET tokens are already in circulation, meaning My DeFi Pet trading is already live on several popular cryptocurrency exchanges. Users can get DPET tokens from exchanges such as Gate.io, Kucoin, or MEXC, among other smaller exchanges. In addition, players can also opt to trade DPET tokens on decentralized exchanges such as PancakeSwap. However, for PancakeSwap trading, users must wrap their BNB tokens first, whereas, on centralized exchanges, users can simply trade the USDT pairing.
When Will My DeFi Pet Trading Begin?
My DeFi Pet trading started on PancakeSwap on May 4th, after the end of the crowdfunding campaign. Users can also get DPET tokens on other centralized exchanges.
My DeFi Pet Review
My DeFi Pet is a very eye-catching game which draws players into its immersive and cartoon-like universe. The game utilizes Play-To-Earn mechanics whilst creating a personalized blockchain gaming experience.
The DPET token is very well integrated as a utility token in the entire My DeFi Pet ecosystem, providing additional utility as players can interact with both DeFi and GameFi features.
All in all, if you like Tamagotchi and want to breed, boost and fight your pet monsters, then My DeFi Pet is an ideal game as it provides additional financial rewards.