With crypto offering new forms of security and anonymity, the iGaming industry embraced the new blockchain revolution. As a result, players can now access blockchain games and use cryptocurrencies as payment methods with only minor restrictions. 
By 2021, a new shift is taking place in the world of gambling driven by the emergence of Web3 and Metaverse, where users demand a more immersive experience. And that's where NFT casinos enter the equation.
Let's explore how casino NFTs are changing the gambling industry and find out precisely what NFT casinos are.
List of Top NFT Casino Sites
How NFTs Are Changing the Gambling Industry?
The gambling industry is rapidly changing with the emergence of NFTs. In particular, NFTs casinos further digitize the entire gambling experience by creating an immersive environment where NFT holders can access a unique digital environment exclusively built on blockchain technology.
NFT casinos allow players to interact directly with visual interpretations of casino games. As a result, the concept of gambling enters an immersive play, where players converge into their digital selves. Where FIAT and centralized platforms become gatekeepers restricting users' access to the platform, NFT creates an open digital environment where access is permitted only to casino NFT holders.
Thus, payments on NFT casinos are not guided by FIAT currency; instead, the entire process is tokenized, and the only readily available payment method for the best NFT casinos are the native cryptocurrencies. The other side of the story is that gamblers are restricted to only using a single type of cryptocurrency.
Unfortunately, that can be a two-way street. Firstly, some blockchain protocols are more costly to use during periods of high network activity. While some of the best cryptocurrencies have minimized deposit fees associated with traditional payment methods, creating multiple transactions on the network (especially on Ethereum) is even more costly.
Can NFT casinos be trusted if they operate in a gray area? This depends; however, one regulatory ruling had shown that NFT casinos could also be subjected to regulatory clampdown when US regulators blocked the sale of an NFT casino. Moreover, the trust factor between NFT casinos and players is changing in the gambling landscape, as smart contracts govern all activities instead of particular individuals.
The top NFT casinos out there are a mix of using ownership as an access key and a metaverse project that uses virtual reality and digital space to enhance gambling digitally. This helps casinos explore new engaging experiences beyond simply playing a game on a computer or mobile device.
NFTs casinos also provide new opportunities for casinos to expand on their marketing and branding strategy and generate additional income streams. For example, some NFT casinos offer exclusive game tokens that can only be obtained through certain promotional events. This provides a powerful incentive for players to participate in casino games and helps to build brand loyalty. Even more so, NFT casinos can partner with established brands and use their immersive environment as a marketing platform to increase brand awareness and exposure for related companies.
NFT casinos are still being developed, and several projects are experimenting with linking casinos and NFT usability under a single usable product. However, the use of NFT in a gambling setting is making waves in the industry as NFT casinos tend to offer more benefits for the end-users than regular casinos.
NFT casinos are online platforms where casino NFTs serve as entry tickets to the gambling experience. In some cases, the casino is restricted to only an enclosed community, while others are built on protocols such as Decentraland, which is open to some ticket holders. NFT casinos differentiate from traditional online casinos because gamblers interact directly with the game environment. Still, NFT casinos offer a similar game selection as regular casinos – such as blockchain-based games and slots. Yet the underlying benefit is that players own all their winnings and are not subjected to platform restrictions.
Another characteristic of NFT casinos is that they are transparent and secure. Blockchain is the primary reason why NFT casinos are turning the tides of the industry as the decentralized casino technology adds another security layer to users' winning. Thus, any player directly interacts with the blockchain when playing the games.
Finally, NFT casinos challenge gambling standards by proposing a new immersive environment, where the medium further enhances digital interactions.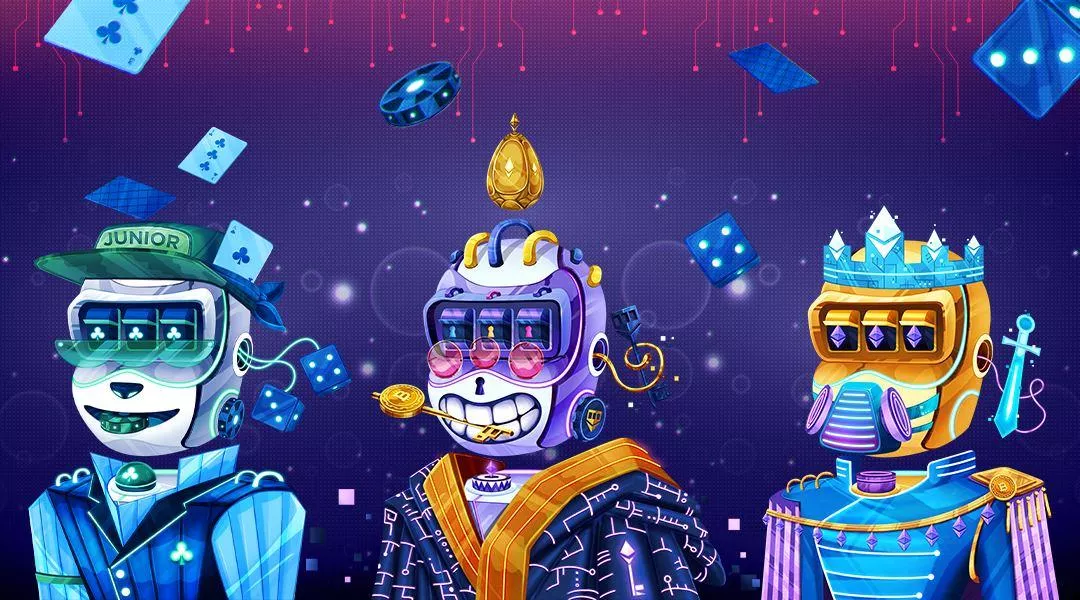 Slotie NFTs are the new form of NFT gambling, combining NFTs, the metaverse, and gambling to provide new ways of rewarding participation. Slotie NFTs are a collection of 10,000 NFTs granting holders utility within their ecosystem.
Each NFT represents a share of a casino that the developers will build-out. While they plan to release the "Las Vegas of Metaverse," NFTs will offer users opportunities to generate passive income, a high rake back from playing over 150 online casinos in the Slotie Gaming Universe.
What differs is that each NFT holder can use their NFT to provide utility to the casino network, transforming the system into a self-reliant casino, which rewards participation. In addition, it creates a self-sufficing loop using proof of ownership as an empowering tool.
Slotie NFT is considered the ideal utility NFT casino model as it successfully brings together elements that constitute an immersive play. In addition, Slotie NFTs create a bigger entanglement with the blockchain space providing DeFi opportunities through the network's utility token, $WATTS.
The utility token goes beyond token yielding, and $WATTS tokens will be used to breed Junior Slotie's. The complementary collection will have similar functionalities in the new ecosystem. New games and network utility within the casino ecosystem will be rendered for every Junoir Slotie.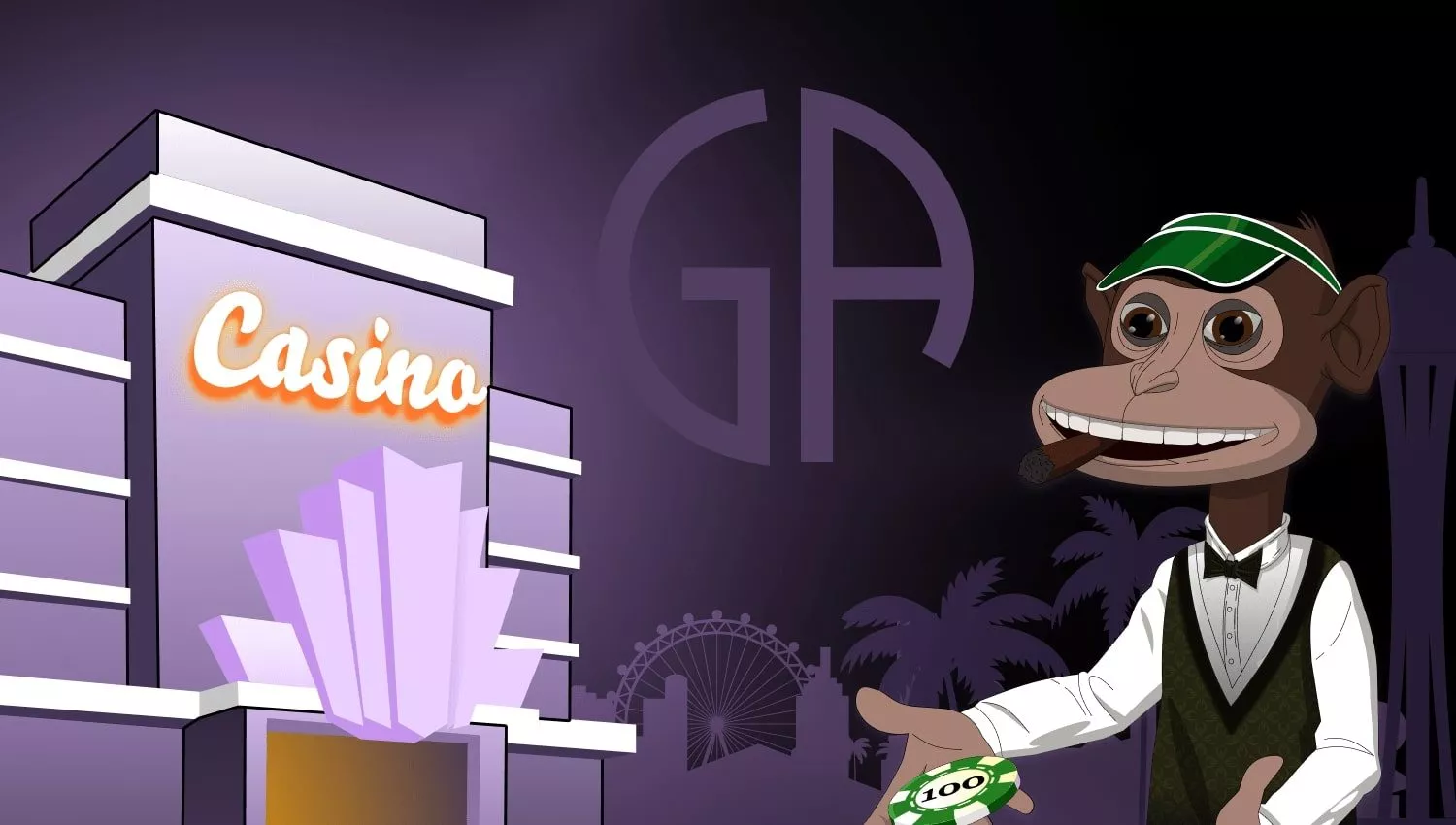 Gambling Apes is a collection of 7,777 NFT profile pictures that allows holders to become part owners of a casino and share part of the profits. As the casino is always on the winning side, Gambling Ape proposes an additional income stream for gambling NFT holders.
Initially developed on Ethereum and sold on third-party applications such as Opensea, the collection has ceased to be transacted after Texas, and Alabama financial regulators considered the collection security given it clearly stated that NFT owners could generate profit, implying holding the NFT.
Since the minting process occurred, Gambling Apes evolved into a cryptocurrency-only casino. And this is where the confusion starts to kick in. Everyone is able signup to the Gambling Apes casino and play the game. Players can still acquire the NFT on other decentralized marketplaces such as LooksRare, yet the value of NFTs doesn't reflect in the immersive play.
Currently, there is no Metaverse casino per se that's tied to Gambling Apes. However, on the digital casino page, which recently launched its V2 version, players have gambled $9 million worth of funds on digital games such as slot games or baccarat, poker, and roulette. Nonetheless, the casino is not thoroughly regulated, and players can only gamble if they have an Ethereum on their digital wallet.
The team does provide NFT holders with some form of utility. They host monthly meetings and get-togethers in Las Vegas to connect with fellow members and even parties for their holders. They also offer weekly competitions and exclusive betting tips that add more intrinsic value to holding a Gambling Ape NFT.
Starting with January, Gambling Apes has created transparency in monthly payouts for NFT holders. Players can generate additional income streams by holding a Gambling Ape or a Christmas Gambling Ape. The amount of NFTs directly relates to your casino profit share.
Gambling Apes has started as an NFT casino with a promise of an immersive play but has since switched its approach as not all top NFT casinos must include the immersive component. Instead, Web3 and NFTs are built with a community focus, and Gambling Apes has successfully knitted a solid gambling community.
NFT casinos are not a one size fits all model. As NFTs convey proof of ownership status, the casino business model often alternates between implementing NFTs as an access token to a new digital universe or using NFTs to reward users' participation. An NFT casino differentiates itself from the rest by using NFTs as a sort of recognizable attribute. Without that, NFT casinos are just metaverse or blockchain casinos.
What are the best NFT casinos?
Some of the best NFT casinos are Gambling Apes, Slotie NFT, Monkey Bet DAO, and Sherbert.
Where can you access casino NFTs?
Players can access NFT platforms by first acquiring an NFT, joining their community, and possibly finding a casino NFT on decentralized platforms such as Decentraland or Sandbox.
Are NFT casinos safe?
Yes, NFT casinos are safe because they are built using blockchain technology, ensuring all winning and gambling activities occur on-chain.