Overview of Penalty Shootout Game
Penalty Shootout is an instant casino game developed and launched by Evoplay Games in May 2020, and as the name suggests, it implements a football theme to the entire gameplay. Penalty Shootout game has instant rewards, and given its simple gameplay, it's easy to understand for everyone. Players who want to participate and gamble on the game must score a goal on the goalie and avoid betting the shot blocked not to lose the multiplier.
The game has an animated backdrop that mimics a stadium with fans, a goalie, and even beautiful women that are typical of the sport! When players start playing the game, they see a goal and the goalie. On the middle section of the page, the player can see their bet size, account value, and the start button. When you start the game and begin betting, the goal will feature 5 sections where you can shoot, and the goalie can either block or get scored on. The below section will cover more in-depth how to play the Penalty Shootout game.
Players must score a goal against the goalkeeper to win the multiplier. Each time you score a goal, the multiplier increases; however, to cash out successfully, you must collect their winnings; otherwise, they will be forfeited if the goalie blocks your shot.
To start playing Penalty Shootout, you must first select one of the 24 countries qualified for the game's tournament. Next, you can select countries from Europe, such as Germany, Azerbaijan, or Montenegro. Once you have selected your teams, you will be prompted to the penalty shootout screen. You then need to choose the betting amount you want to add for each round, and you can select numbers by clicking the plus or minus signs, or you can click on the number itself and drag the cursor to the amount you want to bet. Bets can be changed after each round has finished.
In the middle of the screen, you can see the goalkeeper and goal; above that, you can see the multipliers as milestones.
When you click the "Play" button, the goal will show five shooting areas (two on the right, two on the left, and one in the middle) where you want to score on the goalie. You can also click the "Random" button, allowing the computer to pick an area for you. After you've scored on the goalie, the multiplier on top of the screen will increase, and you can continue the shootout or stop the process and cash out your winnings. Once that's done, a new game starts, and you have to collect multipliers again by scoring against the goalie. To collect multipliers, you must click the "Collect" button.
Additionally, you can check previous game data by clicking the "History" button, which will open information about the game date, game ID, profit, and the provably fair hash.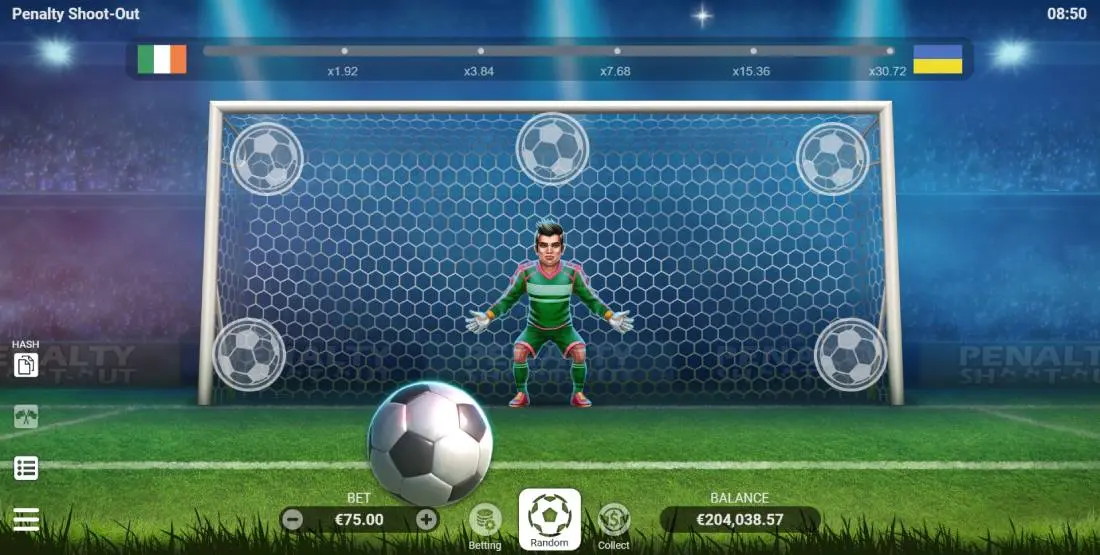 The rules of Penalty Shootout are straightforward. First, players must score a goal during the game session. Each time the player scores a goal, the multiplier increases, and it's shown on the top of a progress bar. During the game, you are allowed to shoot five times, with each goal you score doubling your existing multiplier.
At the start of each round, you can change the betting amount, and to make it clear, a betting round lasts for five kicks and ends when you collect your multiplier or the goalie blocks your shot.
Pros & Cons About the Penalty Shootout Game
Playing Penalty Shootout can be fun, especially when you are just getting started; however, as with any gambling platform, there are good and bad elements that must be covered. In the sections below, we'll explore the pros and cons of Penalty Shootout:
Visible RTP
The game has a visible RTP (Return to Player) of 96%, which means that players can easily see their chances of winning before placing their bets. This gives players some level of control over their betting, and they can make an informed decision on how much to bet.
low Volatility Game
The Penalty Shootout gambling game has low volatility, meaning players are guaranteed frequent payouts, but the payouts are often small. This makes it a good game for players who prefer to play low-risk games.
Innovative Gameplay
Penalty Shootout has innovative gameplay that stands out from other gambling games. As players aim to score goals, they also have the chance to win a maximum payout of 30x their bet, including a possible bonus for risking it till the end.
High Multiplier
The game offers a high multiplier for players who can hit multiple targets during the game. By hitting only 5 targets to reach the end of the game, players have a much higher chance of winning the big multiplier than in other instant games, such as crash games.
Unknown Winning Placement
While the Penalty Shootout game is a fun and exciting way to win money, players have no way of knowing how many other players are competing for the same prize and what was the winning target. This can be frustrating since players are left in the unknown.
Only 5 Rounds
The game only offers five rounds, which might make it feel repetitive, and players might need to be more engaged if there were more rounds. It also sometimes takes much longer for the game to load, which can frustrate many.
Lacks Other Bonuses
In addition to the high multiplier, the game does not offer any other bonuses to players. This could make the game less appealing to some, as it lacks the variety and depth that other gambling games offer.
Betting Options and Payouts
Each player can place a single bet per round, and the game doesn't allow multiple bets on the same outcome or hash. However, Penalty Shootout has created a personalized betting system where each player can select the amount they want to bet per round. The betting amounts are not pre-set, and players can select to bet as low as $0.10 or as high as $75 per round. While the betting amounts do seem small compared to other games, it's much easier for a player to reach the max bonus of the game.
As previously mentioned, the game has a total of 5 multiplier stages, and each time you score, you add another multiplier to your total wager. For the first goal, players get a multiplier of 1.92x the stake; the second goal grows the multiplier to 3.84x, the third increase it to 7.68x, while the fourth one brings the multiplier to 15.36x the stake. Finally, the 5th multiplier increases the multiplier to 30.72x the betting amount. After each goal, the player's multiplier doubles. So if you start betting with $1, your final win if you reach the last bonus will be $30.72, or if you decide to bet $50 on a game and you decide to cash out at the 4th level, you will earn a total of $768.
One advantage that you have when betting and you think the outcomes will be lower during later rounds is to have a bigger bet at the start of the game, go for one or two rounds and then cash out to avoid losing your multiplier.
Everyone who wants to start gambling must have an initial strategy or a process to make sure that their money and their wager have the highest chances of getting through as a win. While with some games, it's easy to implement betting strategies such as bankroll management, lower bets, or more advanced strategies.
Bankroll Management: Bankroll management is a crucial strategy you should never forget while playing any gambling game, including Penalty Shootout. A disciplined gambling approach can help you maintain your bankroll and ensure that you stay within your limits. Always set a budget and stick to it, regardless of winning or losing.
Place Low Bets: As mentioned earlier, Penalty Shootout has a low volatility rate, which means you're more likely to lose less money in the long run. Therefore, placing low bets will allow you to play more rounds and stay in the game even if you experience a few losses.
Practice Makes Perfect: Finally, the best way to increase your chances of winning is to test out the game in the demo version, see when and how the game creates profitable payouts and use the same strategy when playing with real money.
It's always important to remember that games are meant to trigger some emotional responses from you to keep you playing and engaged. Even if the game seems easy to play, there's always a catch. Here are a few tips and tricks to keep in mind when gambling on Penalty Shootout:
Always start with a lower wager and work your way up as you gather more confidence and you start feeling the outcomes.
Never be too greedy. Greed in gambling is the most harmful emotion that can turn your hard-earned profits into nothing in just seconds.
Always gamble with a clear head. Never get frustrated when playing Penalty Shootout. If you identify that you're getting agitated, it's time to pause and try again later.
Bankroll management is key. Never bet more than you can afford. Stick within your budget, and don't go overboard.
Set yourself a goal of what is your maximum bet, how much you're willing to lose, and how far you are willing to risk if you've reached the 3rd multiplier.
The game was developed by Evoplay Games, and by researching the development sheet, we found that the game has been developed using HTML5. This means that the game is compatible with desktop and mobile devices. Players can play Penalty Shootout on their PC as well as on operating systems like Android or iOS – since the developers also have a demo section so you can see how the game looks in portrait mode.
We've previously reviewed other games by Evoplay Games, such as High Striker. The developers are creating a complete suite of games, from instant games to slots and even electronic table games such as Blackjack, Roulette, or other similar games. That said, Evoplay Games are expanding in creating more provably fair games and are tapping into the growing cryptocurrency market, where the demand for transparent and blockchain-proof games is growing.
Penalty Shootout is a fun game, especially for soccer fans who want to get out of the habit of gambling on game outcomes and try a different way of gambling. The gameplay is relatively straightforward, with players going through goal-scoring rounds, where each goal adds a multiplier to the wager. However, the goalie blocks your shot, the rounds are done, and you lose your multiplier. The game offers a max bet of $75 and a max win of $2304 if any players reach the end. As the game is a low volatility game with provably fair gaming and an RTP of 96%, one thing you should always keep in mind is to start with lower bets and don't risk too much since game outcomes are randomly assigned.
The game is unique within the gambling community because it creates a new gambling format, similar to crash gambling, and we think it should be considered for casual gambling rather than die-hard gambling.
What are my odds of winning?
There is no concrete data on the odds of winning; however, the game has an RTP of 96% which means for every $100 bet, the game pays out $96.
Do I need to download software to play the Penalty Shootout video game?
No. If you want to play Penalty Shootout, you have to check the casinos that support the game, and you can play the game on your mobile and PC on the game browser since the game is developed using HTML5.
What is a penalty in a game?
A penalty is a way in which players contribute to the game and increase their multiplier.