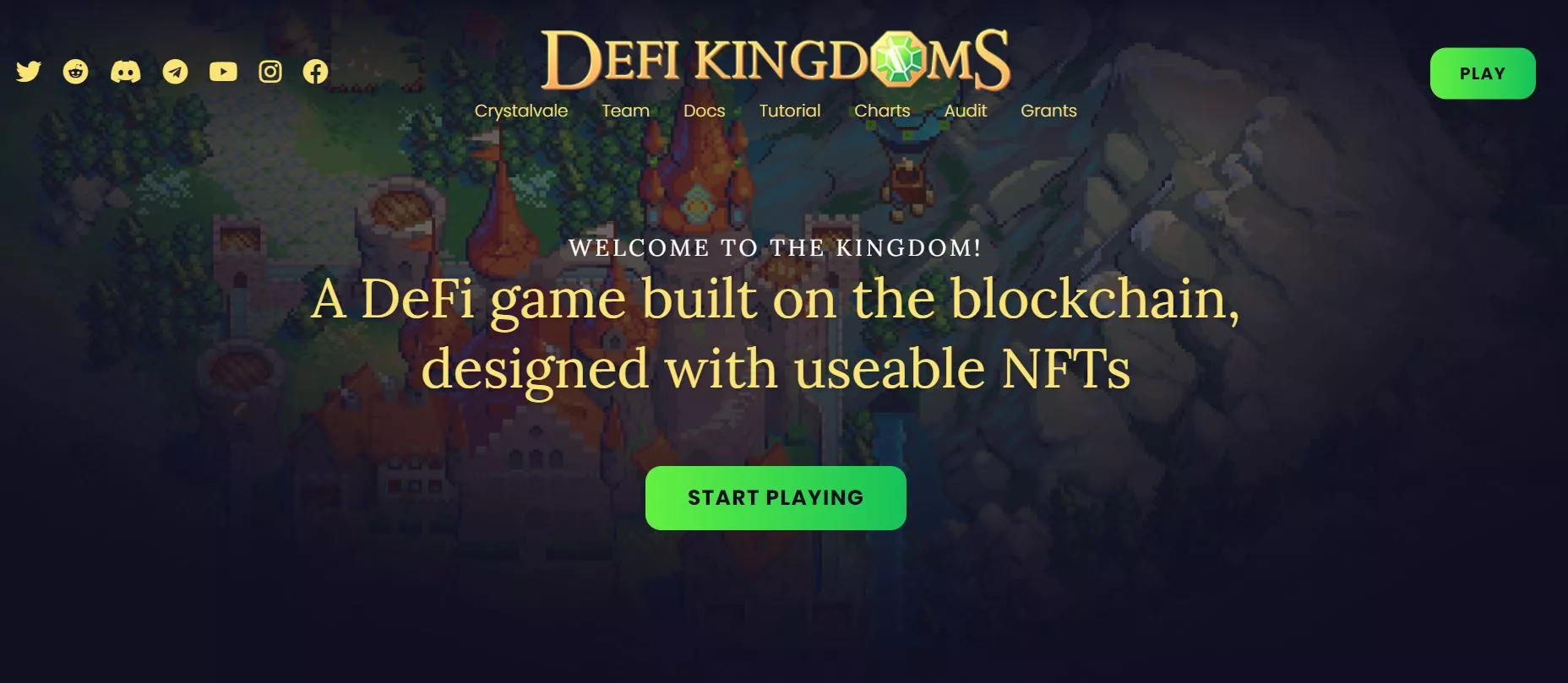 DeFi Kingdoms is an MMORPG blockchain game developed on the Harmony blockchain that uses gamification to incentivize users to interact with the game environment. DeFi Kingdom draws much of its artistic appeal from Runescape, creating a pixelated medieval universe where players can interact in a PvE mode and earn in-game tokens.
The project combines DeFi and NFT elements into a single cohesive game by having a built-in DEX where users can stake using liquidity pools, swap in-game tokens, and transact NFTs in the in-game marketplace.
The game uses gamification to blur the lines between finance and gaming. As it appeals to a younger and newer crypto audience, DeFi Kingdoms uses a fun environment to incentivize players to invest in the game economy. Native to the Harmony Protocol, DeFi Kingdoms is one of the only games that managed to bridge into the Avalanche protocol and create a new storyline using the same DeFi Kingdoms IP.
DeFi Kingdoms Tokenomics and JEWEL Token
As a gamified DEX, DeFi Kingdoms uses JEWEL as the main utility token with a max supply of 500 million JEWEL and a market supply of 320 million tokens. In addition, the game has imposed a locking period and created a dump-proof system, where part of the staking rewards are locked for a period.
JEWEL is the main token used in DeFi Kingdoms, and players can swap ONE token for JEWEL. In addition, every LP reward is paid in JEWEL, and players who deposit JEWEL in the bank are rewarded with xJEWEL governance tokens.
It's worth noting that DeFi Kingdoms can change the maximum supply of JEWEL through a community vote. Any transaction fees that result from summoning or hiring a hero are redistributed into the gaming network.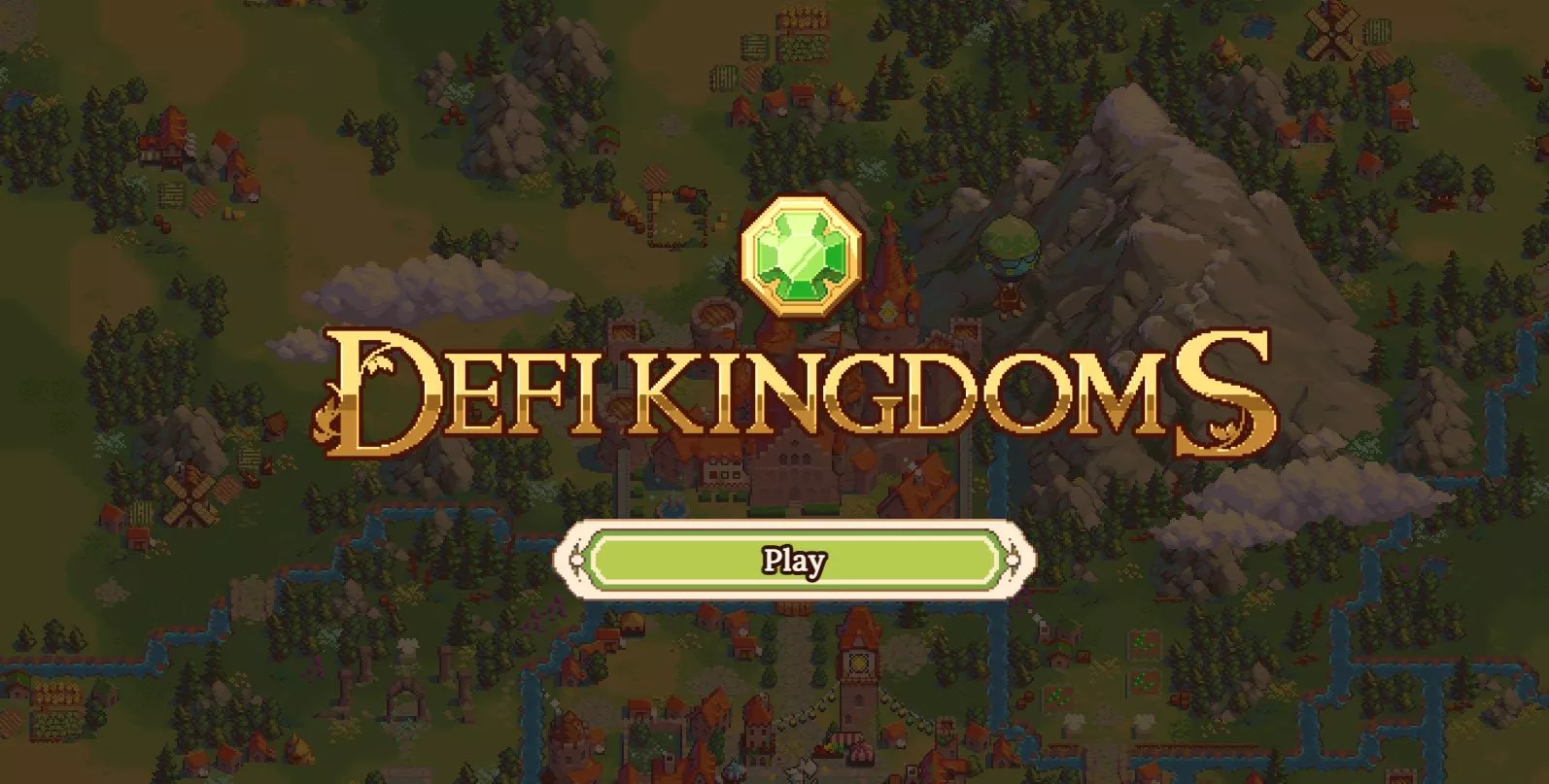 Pros
The game as a dump-safe system
JEWEL and xJEWEL fulfill different gaming functions.
320 million tokens are already in circulation (Date: 04.05.2022)
Cons
In part of the staked June tokens will be unlocked
DeFi Kingdoms NFTs – Heroes
In DeFi Kingdoms, Heroes are in-game one-of-a-kind pixelated NFTs, each with their own characteristics. Heroes can have one of the four professions, specifically Miner, Gardener, Forager, and Fisher.
For a Hero to earn the best rewards in the quests, their role and attributes must match their profession. The main stats of a hero are strength, dexterity, agility, intelligence, endurance, luck, and vitality.
Heros are categorized into generations. Genesis NFTs are Gen 0, and they have unlimited summons. Two Gen 0 Heroes create a Gen 1 Hero, limited to 9 summons. After every summons, heroes are further developed into new categories, and their initial pairings determine their stats.
Pros
Rare heroes have a finality
Early adopters have an edge over newcomers
Cons
The Hero characteristics are not known prior to summoning it
Players can opt to interact with DeFi Kingdoms in two ways. They can use it as a DEX and swap tokens, provide liquidity or stake their tokens. Regardless of their goal, players need first to have a wallet that is connected to the Harmony Protocol. Players simply connect to the wallet, access the DeFi Kingdom website, and they will have unrestricted access to the game.
Playing DeFi Kingdoms is subjective because it mixes DeFi and gaming. However, unlike most GameFi projects, DeFi Kingdoms have a more inclusive DeFi presence, creating a dual gaming purpose.
To play DeFi Kingdoms, users must purchase ONE or JEWEL tokens. Then, they must go to the Tavern and purchase a hero NFT which unlocks new quests. Once they own an NFT as their Hero, players can go to Professions and select to do one of the daily quests.
Players can also go to Crystalvale on the Avalanche network and interact with other quests which are not available in Serendale.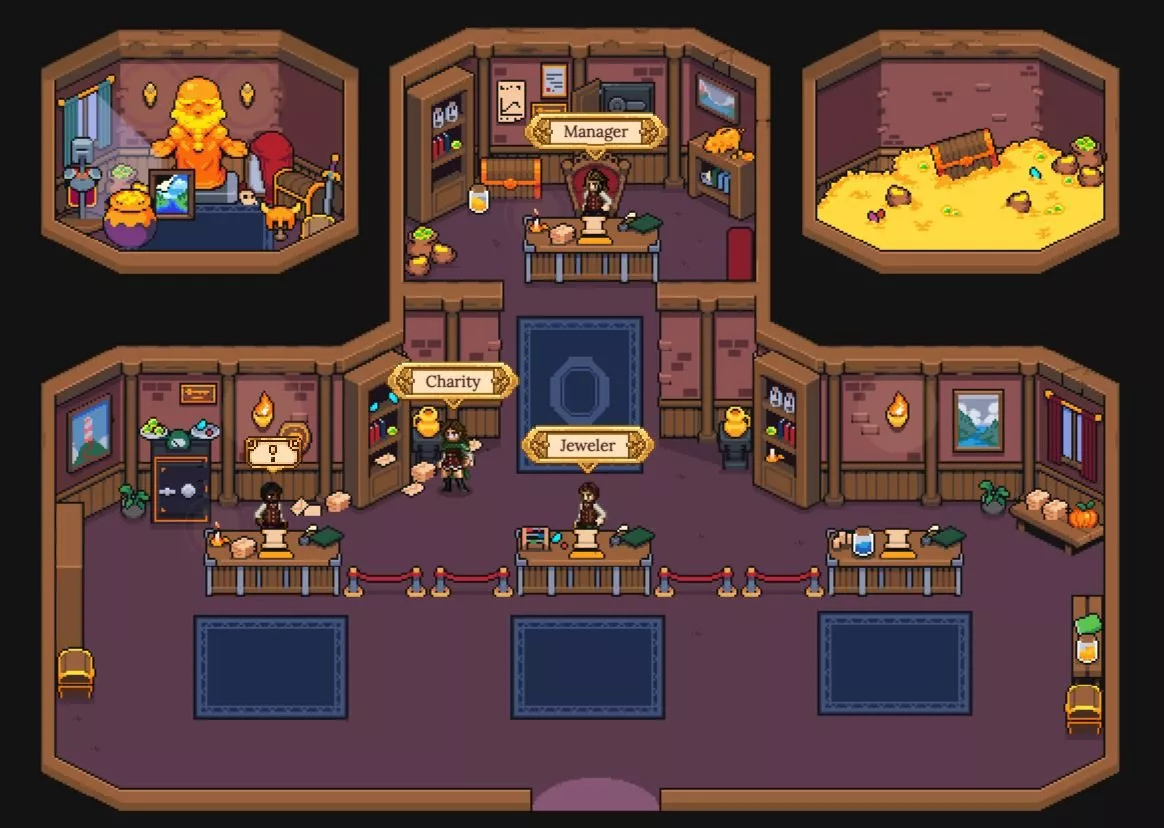 How To Make Money From DeFi Kingdoms?
There are 2-3 ways players can make money on DeFi Kingdoms. First, players stake their tokens on the DEX and provide liquidity in liquidity pools. Alternatively, they can wrap their JEWEL, stake them in the bank and receive rewards. Rewards are paid in JEWEL tokens or xJEWEL for bank deposits.
Secondly, players can interact with the game environment, go on quests using their Hero, and obtain rewards that can be exchanged on the DEX or on the NFT marketplace. Some rewards are more valuable as they can become usable as the game develops further.
Third, players can summon and hire Heros. They can receive payments in JEWELS from hiring their Heroes, or they can use two heroes who can summon a new one. The newly created Hero can be sold or put up for hire in the Tavern.
Is Defi Kingdoms a Scam? Or Is Defi Kingdoms Legit?
DeFi Kingdom has redefined the GameFi sector as it created what is now called DeFi 2.0. The fact that the team is still unknown does raise several red flags. However, developers have implemented a dump-proof mechanism to prevent JEWEL token overflow and depreciation, and they've created a bridge to Avalanche, so we can reasonably state that DeFi Kingdoms has not lost their drive.
The only way we can consider DeFi Kingdoms a scam is if we look at the value of the game in terms of FIAT. JEWEL is a cryptocurrency that is susceptible to market volatility. Furthermore, In-game NFTs are only tradable on DeFi Kingdoms as there is no decentralized marketplace for NFTs on Harmony, where Heros can be sold.
Axie Infinity vs. Defi Kingdoms
Both Axie Infinity and DeFi Kingdoms operate on the same play-to-earn mechanics; however, there is a notable difference between the two. Axie Infinity launched on Ethereum and merged onto Ronin, a Layer 2 protocol. DeFi Kingdoms, on the other hand, is built on Harmony one and is pushing for interoperable gameplay by creating bridges and expanding the in-game economy on other protocols such as Avalanche.
Axie Infinity's tokenomics shows that the game can grow only as more people join, while DeFi Kingdoms is able to rely on the in-game DEX to continue to operate safely. However, Axie Infinity seems to have the upper hand in terms of gameplay. While both games are built to generate revenue, it is much more entertaining to breed and fight Axis than go on quests on DeFi Kingdoms which hasn't managed to include excitement.
Pros
DeFi Kingdoms is pushing for DeFi interoperability.
The game has seamless gaming and DeFi integration.
Cons
DeFi Kingdoms's gameplay is not as engaging as Axie Infinity's
Harmony One does not attract that many developers as Ronin
DeFi Kingdoms shows a new way decentralized finance gaming can be integrated to accommodate a new type of crypto users. However, because the lines between finance and gaming get blurred, it can be hard to categorize DeFi Kingdoms as a game.
Other games have better gameplay, but they have failed to integrate DeFi fully into the game. DeFi Kingdoms is the first gaming project to bring into discussion the idea of DeFi 2.0 by creating a fun way for new crypto users to interact with financial products.
Playing DeFi Kingdom entails users are always overexposed due to crypto volatility; however, players should know there are lock-up periods which could mean a bigger JEWEL influx before making any investments into JEWEL.
What Makes Defi Kingdoms NFT Game Different?
DeFi Kingdoms is different than other GameFi projects because it seamlessly integrates DeFi with game mechanics into the same platform.
What do players need to start playing DeFi Kingdoms?
Players need to set up a Metamask account on the Harmony chain, they need to purchase ONE token, swap them for JEWEL, and then they can interact with the game environment.
Where can you buy JEWEL?
Players can purchase JEWEL from a centralized exchange like MEXC or swap ONE for JEWEL on DeFi Kingdoms DEX.