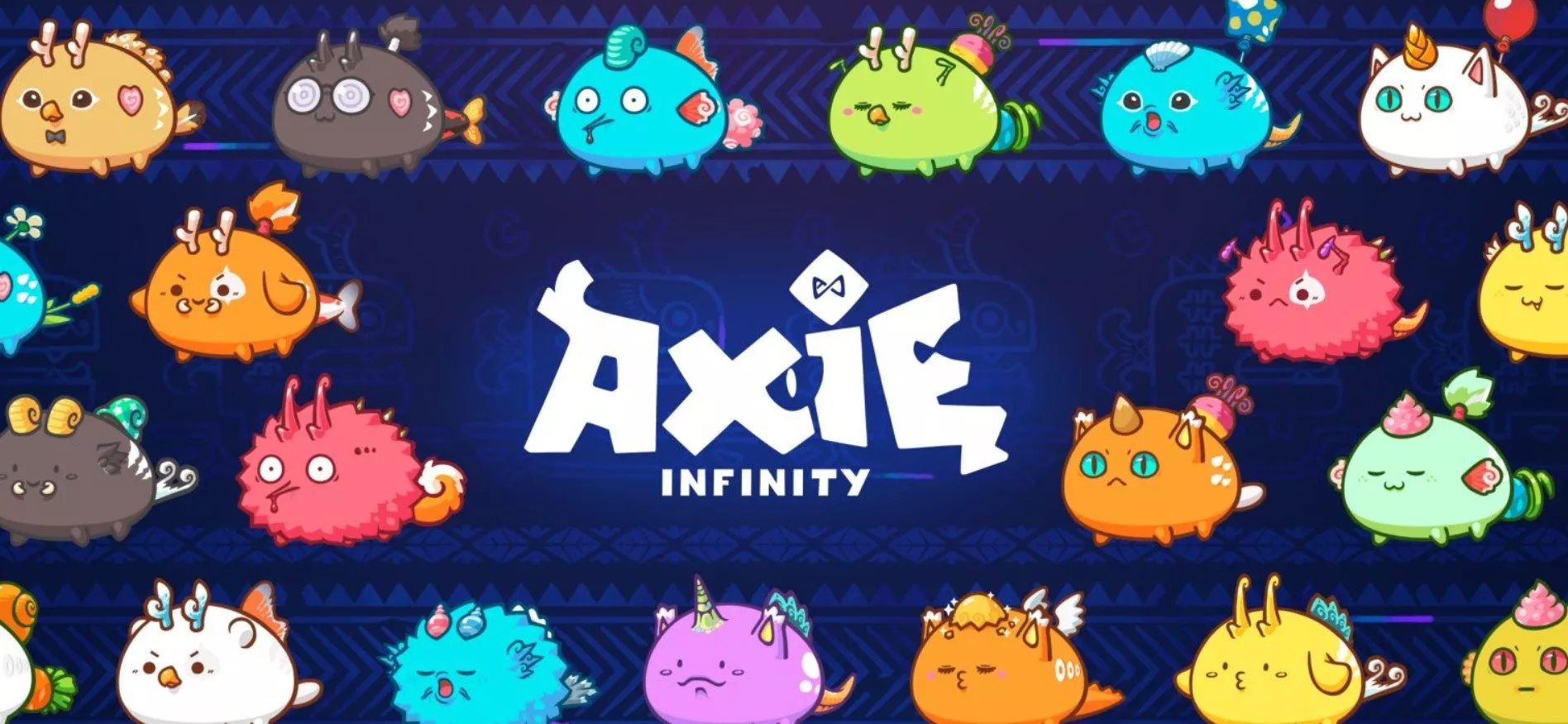 What Is Axie Infinity (AXS)?
Axie Infinity is a digital collectible game that revolves around the collection, care, and battle of adorable creatures known as Axies. The game uses NFTs as in-game assets and allows players to breed new Axies, train them in battles, and win in-game cryptocurrencies.
Axie Infinity was initially released on the Ethereum blockchain and then migrated to Ronin, a sidechain protocol operating as a Layer 2. Ronin has allowed Axis Infinity to offer near-instant transactions with lower fees, thus improving game efficiency.
The gameplay mirrors digital card games and takes things a step further by implementing the same turn-based battles. Axie Infinity bears similarities to Pokemon in terms of how the game looks, and by using NFTs for the main in-game assets, users can retain ownership of their own assets. Additionally, players and Axie owners can interact with the game environment in multiple ways, either by playing against the environment (PvE) or other players (PvP). 
Each Axie has unique in-game capabilities. Players can breed, grow and better their abilities to outperform their competitors and gain better rewards in the form of tokens, either SPL or AXS. To enter the game, each player must first own at least 3 Axies which will be sent into battle.
Who Are the Founders of Axie Infinity?
Axie Infinity was developed in 2018 by Sky Mavis, a blockchain-focused game development company. Sky Mavis is based in Vietnam and only focuses on developing and improving the Axie Infinity ecosystem, including the Ronin blockchain protocol.
The main person behind the success of Axie Infinity is Trung Thanh Nguyen, the CEO of Sky Mavis. Before developing Axie Infinity, Trung also developed Lozi, a successful e-commerce start-up. However, the game proved to be more successful, as Sky Mavis was being funded through a series of funding rounds led by the popular venture capital firm Animoca Brands.
How Is the Axie Infinity Network Secured?
Axie Infinity uses the Ethereum network to secure and verify transactions as both AXS and SLP tokens are ERC-20 standard tokens. In addition, Sky Mavis has developed a customized sidechain called Ronin to address Ethereum congestion and high network fees.
The game fully migrated to the Ronin Blockchain, meaning that consensus and network security is done through a proof-of-stake mechanism. However, in March 2022, the Ronin sidechain was hacked, losing 173,600 Ether (ETH), having a combined value of $600 million.
The AXS token is the in-game utility token used within Axie Infinity. The game uses a dual token system, where AXS is the utility token and will also be used as a governance token. In addition, Smooth Love Potion (SLP) is the digital currency of the Axie ecosystem and allows players to breed new Axie collections. Both tokens are ERC-20 standards, and SLP, unlike AXS tokens, are generated within the gaming ecosystem.
While AXS tokens hold value in the ecosystem and allow AXS holders to vote on the game developments and updates, SLP is what backs the entire Axie Infinity economy. SLP are generally generated by playing the game, but they can also be purchased from centralized or decentralized exchanges.
Where Can You Buy Axie Infinity (AXS)?
AXS is available on most established centralized or decentralized exchanges. AXS tokens can be traded on Binance, Coinbase, Kraken or Bitfinex. In addition, traders who want to access AXS through decentralized means can acquire or trade AXS PancakeSwap, and Uniswap.
Because Axie Infinity has entered the mainstream spotlight, its AXS is easily accessible and accepted by most cryptocurrency exchanges and regular brokers like eToro.
Axie Inifinty's gameplay resembles a mobile game, meaning it's not that hard to understand. Players can enter adventure more or battle mode. In the adventure mode, players interact with the game environment and participate in quests. The battle mode enables players to fight other players and get SLP rewards.
Players need to spend energy points to take part in the PvP or PvE modes. Each interaction spends at least one energy point. If players are out of energy, they can still play for SLP rewards, but they won't be getting any XP – the more XP you have, the higher the SLP payout becomes.
The second part of the game is the trading and breeding of Axies. The higher the Axie level, the more valuable the Axie becomes both in the game and within the marketplace. Any sales or AXS/SLP tokens generated from the trade can be converted into real money on exchanges.
How does Axie Infinity work?
The goal of Axie Infinity players is to defeat their rivals in a duel. To start, each player must own three Axies to participate in the game. The place and the ranking of each Axie will determine the game's success rate.
Each Axie has its own attack and defense qualities, and unleashing them is similar to playing a card game.
So how is the process? First, players gather Axies, and they go into battle. If they win the battle, they will receive SLP tokens which can be used to improve the qualities of their Axies. Axies have a total of six body part attributes and are divided into classes, each with its own unique qualities.
The action takes place in a universe called Lunacia. There, players can also purchase plots of Land, which functions like other metaverses. There are 90,601 plots of LAND in Lunancia, which can be owned and monetized by players.
To participate in the game, players must sign-up using their wallets and ensure they are on the correct chain. Only then can they access their Axie inventory and breed champion Axies.
What's so special about Axie Infinity?
Axie Infinity is more than a simple blockchain game. As the price of AXS and SLP increased, there have been several reports of how the Play-To-Earn mechanics have helped people in emerging economies generate rewards more than the minimum wage. For example, the game became highly popular in Indonesia or the Philippines when unemployment was high.
The game has taken CryptoKitties idea of breeding and improving one's assets with a purpose. In-game assets are based on NFT tokens, meaning players still have ownership of their assets across the decentralized system. This provides more incentives and trust for players to participate in the game.
Axie Infinity was the first game that effectively showcased how GameFi can provide intrinsic value for digital communities.
Getting started with Axie Infinity is much more complex than in the initial stages, given the price of AXS has increased. However, here are some of the initial steps everyone has to take when starting to play Axie Infinity.
How to get started with Axie Infinity
1. Buy three Axies from the Axie Infinity marketplace.
2. Create a Ronin Wallet address and bridge it to the Ethereum blockchain.
3. Create an account with your wallet on the Axie Infinity website.
4. Axie Infinity is available on iOS; however, we recommend playing only on the web for the time being
5. Start your Axie Infinity adventure by breeding and fighting Axies.
The Future of Axie Infinity
The 2021 GameFi hype has cooled down. Axie Infinity has completed the merge to their Ronin blockchain; however, in a series of unfortunate events, the Ronin blockchain got hacked in March 2022.
Although players have reportedly lost some funds, the gameplay of Axie Infinity hasn't suffered any damage. Aside from tainting its industry perception, Axie Infinity is a fun-to-play game with a solid tokenomics foundation, allowing players to earn while playing their favorite style game.
According to their roadmap, developers are expected to transform the game and add more utility for their metaverse and LAND plots. Users can already stake AXS tokens on Ronin, and they will soon be expected to use AXS tokens to vote on new in-game proposals or platform developments.