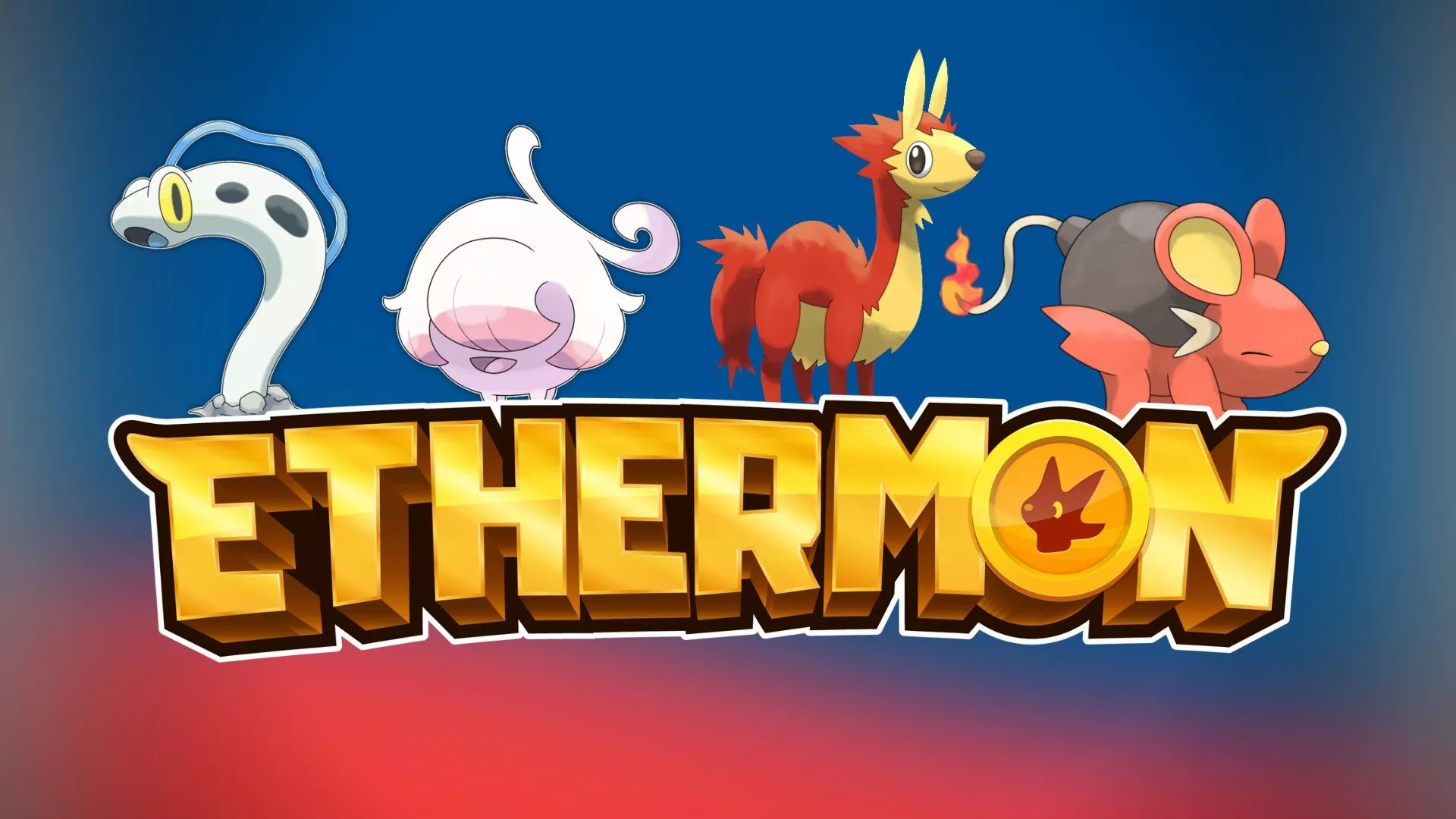 Ethermon is considered by many a pioneering play-to-game that launched on the Ethereum blockchain in 2017, long before NFTs became industry facilitators. However, in 2021, Ethermon migrated to Polygon, the Layer 2 sidechain, to remove friction between users and the blockchain network.
Ethermon is an NFT collectibles battle game, similar to the world of Pokemon, but with some significant differences in its storyline. Ethermon is a gaming combination between Pokemon and Tamagochi focused on becoming the most widely used MMORPG game in 2D and 3D.
The game evolved into its current version in 2019 to account for NFT developments. Specifically, Ethermon allows players to own, fight, transact and ultimately catch Mons. Mons are monsters from a fictional universe. There are over 200 Mons in the Ethermon universe, and they can all be obtained by playing, trading, buying, or capturing them in the game environment.
Ethermon is a play-to-earn game where players gain rewards by simply playing the game and participating in the Ethermon universe. The game has 2D and 3D features, each with its own unique rewards systems. In sum, The value of Ethermon is facilitated by NFTs, which provide players with a heightened sense of trust and the ability to monetize their gaming actions.
Who Are the Founders of Ethermon?
Ethermon was developed in Singapore by Eric Bulvid, Jake Tran, and Idon Liu. Although the game has entered the Top 2 most played Dapps of all time, the founders are not well known within the blockchain space, yet they've managed to design an NFT-based game since 2018.
Ethermon has participated in a funding round in order to develop a multiverse gaming ecosystem and expand the use cases of Ethermon in the new decentralized landscape.
What Makes Ethermon Unique?
Unlike most top Play-To-Earn games, Ethermon allows newcomers to experiment and try out the game by offering a free-to-play version. This is unheard of in the decentralized gaming industry, as new players are typically expected to buy and hold utility tokens and use them to purchase in-game assets.
Additionally, Ethermon is mirroring the idea of Pokemon, of catching Mons in the virtual space. This adds a new dynamic to the entire game. Each mon has its own abilities and attributes, and developers have managed to grow the game's value by having a fantastic UI/UX design.
Ethermon Gameplay
The game has a different approach when it comes to gameplay. Players can interact with the game in both 2D and 3D. The 2D gameplay takes place on the Ethermon website and is similar to other centralized games. Players who want to participate in the 3D environment must enter Decentraland, a decentralized Etheremoun metaverse.
Game features are divided between off-chain and on-chain processes. Specifically, users have limited possibilities when playing Ethermon on the main server. They can level up their mods and enter PvP battles or tournament battles. The same features are not available on Ethereum; however, they are available on Polygon – due to lower fees.
Players can only access the 3D MMORPG game when connected to the Polygon network. Other features such as market purchases, adventure mode, or mon transformation are available only on-chain.
Ethermon Playing Guide
Ethermon has a series of features. Firstly players can buy and trade their Mons in the marketplace. The same marketplace allows players to lend or borrow Mons to participate in the adventure. Of course, this comes at a price, but it's cheaper than buying them.
In terms of gameplay, players can interact with the game environment in practice mode, consisting of three one-on-one battles, and players must spend energy to play. Players can interact in three other ways with the game.
Ranked Mode
In the ranked mode, the gameplay is similar. There are 3 one-on-one battles. There are also 3 attacking mons and 3 supporting mons. The higher the rank, the higher the winning chances.
Adventure Mode
The adventure mode is a specific game mode where players can access 54 Adventure sites and gain special items. Mon restrictions apply, as only 6 out of 17 Mod types can participate.
3D Metaverse
The 3D game environment allows Ethermon to expand the MMORPG into a new immersive universe. Players can interact with the game environment, catch Mons, and participate in PvE battles with other mons.
How Many Ethermon (EMON) Coins Are There in Circulation?
Out of the total 400,000,000 EMON tokens, there are currently only 50,203,000 tokens in circulation. As more tokens will be generated by users playing Ethermon, this will ultimately affect the price as there are more EMON tokens for sale than there is demand.
How Is the Ethermon Network Secured?
Ethermon initially developed on the Ethereum blockchain and, in 2021, completed a Polygon rollout to a frictionless gaming experience. Although Ethermon is now available on Ethereum and Polygon, network assets are secured using Polygon's Layer 2 Proof-of-stake consensus mechanism. 
When Will Ethermon (EMON) Trading Begin?
Following the token generating event in 2021, EMONT tokens which had an initial total supply of 20,000,000, were replaced by EMON tokens. As a result, the total supply of EMON tokens was 20 times higher than EMONT. As a result, players holding EMONT tokens could convert their tokens at a 1:4 ratio.
EMON tokens were tradable after the Polkastarter IDO, which took place on May 18th, 2021.
Where Can You Buy Ethermon (EMON)?
Ethermon already has an industry legacy, and the native utility token EMON is easily accessible on most popular exchanges. Players can buy Ethermon (EMON) on centralized exchanges such as Gate.io or MEXC Global, with stable liquidity.
Moreover, players who want to swap and trade EMON tokens on decentralized platforms can do so by bridging them to the Polygon network. EMON is available on Uniswap or Quickswap. For Uniswap trades, players must wrap their ETH on Polygon.
Ethermon brings something new to blockchain gaming. It uses the same play-to-earn mechanics and has put a lot of emphasis on building out the Mon storyline and creating close ties to Pokemon.
The 2D gaming feature is very similar to other Play-To-Earn games; however, it does have some benefits by offering a free mode and allowing users to play on the server directly.
Ethermon's Metaverse play is a game changer as it showcases how the game can expand and turn into a decentralized PokemonGo with more rewards and benefits for players.