Bapbet Overview
You can do more than just pay at Bapbet. In addition to all of the casino options, you can also mine crypto. It makes it one of the most appealing sites on the market for anyone who loves crypto.
Risk Warning: dAppGambl does not constitute any investment or trading advice. Please carefully understand and evaluate the risks yourself before participating in any dApp
Accepted Cryptocurrencies
Pros
Welcome bonus
Stake prize pool
Mining
VIP club
Cons
No license
Only a few games
Bonus
At Bap.bet, there are different types of bonuses but with a whole different mindset. If you continue reading, you'll see what we mean exactly. At this point, we should mention that Bap bet uses its in-house token for in-game wagers and transactions, the BAP.
The first bonus you can get when registering to this gambling dapp is a typical welcome bonus.
You can create an account or log in with your wallet. Therefore, you either sign up with Scatter or via TRON wallet, which supports multiple cryptocurrencies. The moment you sign in, you will receive a bonus task. By playing games, you complete the task and claim your bonus money.
| | |
| --- | --- |
| Welcome Bonus | 88EOS & 8888 TRX for free |
| Other Bonus offers/promotions | Stake & Dividends, Referral Bonus, Mining, Present Box |
| VIP Program | Yes |
Pros
60% house earnings in rewards
Welcome offer
Mining/Referral rewards
VIP program
Daily buyback prizes
Other Promotions
There are four more promotions: Mining/Referral, Staking, Buyback, and Present Box. We'll go over each of them, one by one.
Mining and Referral
You can get 10 BAP for placing bets worth 1 EOS. The game mining bonus will be halved when the 5% threshold is reached. The total number of tokens for mining is 500 million BAP.
What is the Cryptocurrency – BAP ratio:
1 EOS = 5 BAP
1 ETH = 250 BAP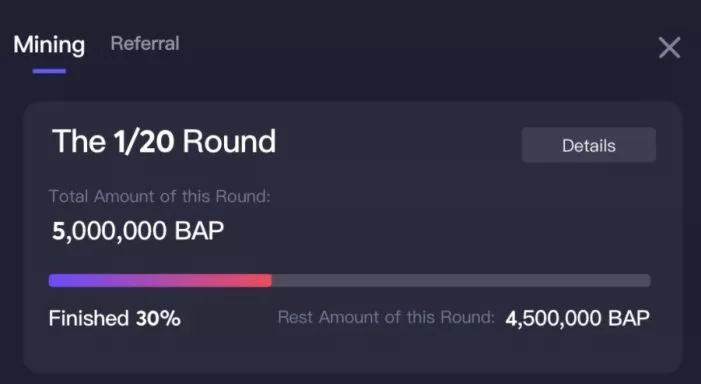 But, what does referring a friend have to do with mining, you may ask? It's simple! For every friend registering to the platform, you will get 1 BAP per 1 EOS bet. All you have to do is send your friend the referral link. Once your friend registers, you'll receive your referral reward.
Mining referral ratio:
1 EOS = 1 BAP
1 ETH = 50 BAP
The total referral mining amount of tokens is 100 million BAP. Again, when the 5% threshold is reached, the mining bonus will be halved.
Staking
Next up is Staking. Most of you will have a scent of what we're talking about, but let's look at it in more detail.
50% of the house edge earnings will be given to players in the form of BAP staking. So, all you have to do is stake BAP tokens at Bap.bet. The platform has also disclosed the house edge of each available game:
Dice: 1.5%
Lucky 777: 2.5%
Baccarat: 1%
Blackjack: 0.8%
Texas Rush: 3.0%
SicBo: 2.7%
Dragon Tiger: 2.0%
Bull Fights: 0.9%
PK 10 Racing: 2.0%
Lucky Fruit: 1.5%
Texas Hold'em: 1.5%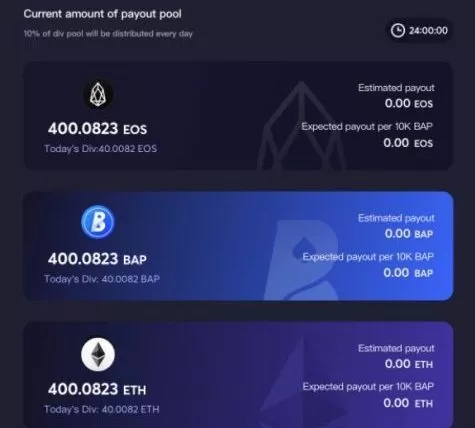 Buyback
Additionally to the 50% stake sharing, 10% of the net profit will be divided between EOS and BAP stake players. The profits distribution to players will be done through a Buyback Pool launching every day at GMT+0 00:00 GMT. In your EOS account, you can see your buyback tokens ('eosbaplocked') will be displayed. You'll be more than excited to see this reward in your account, which you can withdraw immediately!
Present Box
The Present Box is a periodical reward that gives you extra BAP tokens. Be sure to claim your reward before it expires.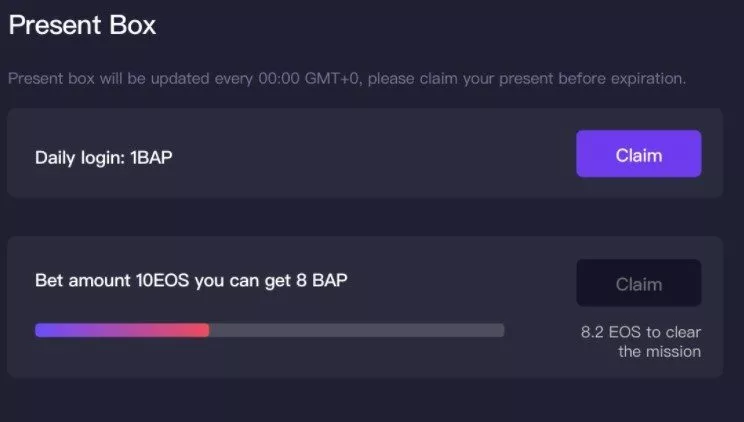 VIP Program
7% of the platform profit will be distributed through the VIP system!
How can you become a VIP club member at Bap.bet? The more you bet and the more referrals you make, the more VIP points and privileges you earn. Here is an example as stated on the bap bet website:
"…User A invited user B to play, and user B's bet amount reached 100 EOS. Then, user A and user B will both get 100 VIP Points and be given VIP level 1 and have the right to claim 1 VIP bonus."
1 EOS = 1 VIP Point
1 TRX = 0.005 VIP Point
1 ETH = 50 VIP Point
1 USDT = 0.25 VIP Point
Therefore, climbing up to the 15 VIP levels is possible through bet and referral rebates. When you level up, you will get a level-up prize. The total sum is 56782.07 EOS! You can claim the prize whenever you want, as there is no expiration date.
It's easier to understand this by having a quick look at the table below:
| Level | VIP Points | Bet Rebate Ratio | Referral Rebate Ratio | Presents |
| --- | --- | --- | --- | --- |
| 1 | 100 | 0.01% | 0.01% | 0.01 EOS |
| 2 | 500 | 0.011% | 0.011% | 0.08 EOS |
| 3 | 1000 | 0.012% | 0.012% | 0.18 EOS |
| 4 | 5000 | 0.013% | 0.013% | 0.8 EOS |
| 5 | 5000 | 0.013% | 0.013% | 1 EOS |
| 6 | 50000 | 0.015% | 0.015% | 8 EOS |
| 7 | 100000 | 0.016% | 0.016% | 18 EOS |
| 8 | 500000 | 0.017% | 0.017% | 38 EOS |
| 9 | 1000000 | 0.018% | 0.018% | 88 EOS |
| 10 | 5000000 | 0.019% | 0.019% | 388 EOS |
| 11 | 10000000 | 0.02% | 0.02% | 688 EOS |
| 12 | 50000000 | 0.0225% | 0.0225% | 1888 EOS |
| 13 | 100000000 | 0.025% | 0.025% | 5888 EOS |
| 14 | 500000000 | 0.0275% | 0.0275% | 18888 EOS |
| 15 | 1000000000 | 0.03% | 0.03% | 28888 EOS |
Payment Options
| | |
| --- | --- |
| Available Cryptocurrencies | Tron, EOS |
| Minimum Deposit | €10 |
| Minimum Withdrawal | €20 |
| Withdrawal Time | Instant |
Pros
Log in with a crypto wallet
No transaction fees
Instant withdrawals
Cons
Limited cryptocurrency choice
Currently, the platform supports only EOS. This cryptocurrency (open-source software EOSIO) is No 23 in the top crypto assets and is expected to grow steadily. Bap.bet is looking forward to adding more cryptocurrencies based on players' demands. Of course, the plan is to include the most popular cryptocurrencies, which are no other than Bitcoin (BTC), Ethereum (ETH), and Tether (USDT), but it won't be limited to only these three.
Remember that when using a crypto wallet to sign in to the platform and conduct deposits and withdrawals, you can exchange your cryptocurrency to EOS.
Bap.bet does not charge any transaction fees, nor does it require account verification. All transactions are 100% anonymous.
Game Selection
| | |
| --- | --- |
| Amount of Games | +300 |
| Available Games | Dice, Bull Fights, Blackjack, Baccarat, Lucky 77, Dragon Tiger, Provably Fair Games |
| Game Providers | Microgaming, NetEnt |
Pros
Low house edge
In-house developed games
Provably fair games
Cons
Few games
No software providers
At the moment, the platform has only a handful of games. But, hold on a minute! As we mentioned above, the house edge for each game is low. In addition, the platform is a work in progress and is committed to constantly adding new games according to demand.
Current games:
Dice
Bull Fights
Blackjack
Baccarat
Lucky 777
Dragon Tiger
Sic Bo
Coming soon:
On the Token Economy section of the page, it is stated that bap bet will launch at least one or two games monthly. All games are "self-innovated" and "self-developed" for the sake of keeping high-quality standards. The platform spends 20% of its profits in making and offering new games!

Mobile Casino
We tried Bap.bet on Android and iOS screen devices, and everything was adjusted and optimized accordingly. Of course, the platform is very "light" and not overloaded with many graphics or other features. Be aware that it may take a few moments for a game to load.
Pros
Token distribution plan
Community-based
Open source and decentralized
Cons
No license
No information about the operator
As we mentioned at the beginning of the bap bet review, the platform does not have a license by any statutory authority. In addition, you will not find essential sections, such as About Us, Terms, and Conditions. Thus, we have no information on the company that manages the site.
However, because Bap bet is a decentralized app, it showcases the dapp's reliability and security by disclosing reports about profits distribution. 60% of its winnings are returned to players in the form of rewards, prize pools, buybacks, and VIP rebates.
In other words, players trust this platform because the platform trusts and rewards players, being completely transparent and open about its operations.
Pros
Customer Service via messaging apps
How to Play guide
Cons
No FAQ
No live chat or email
You can contact customer service via Facebook, LINE, and Telegram. On the right side of the page, you can scan the QR code to be redirected to the corresponding application. The supported languages are English, Chinese (Simplified), and Korean. You will receive a response within a few minutes to a few hours.
Unfortunately, there is no on-page live chat, email, or FAQ available, but probably some of your questions about the available rewards will be answered in the How to Play section. On the top menu, click More, then on How to Play. Check out the VIP page to find more about the VIP club system.
Conclusion
Bap.bet has won our interest for some reason, probably because of its open "mentality" towards players. At first glance, the website is not anything special. In fact, its design is pretty simple, not to say sparing. We have noticed that this minimalism in gambling dapps is common, and most players seem to be fine with it. The dark blue background and the essential information included in this platform are all there is.
The highlights we mentioned a couple of times before are the mining/referral rewards, the buyback pool, and the VIP program. Sharing 60% of its profits with players is too good to be true! We are eager to see if the platform will continue to apply this tactic as it grows. Bap.bet only started operating in 2020, so we could say that its future seems promising.
FAQ
Can I claim a welcome bonus at Bap.bet?
Yes! You can register and get a 88 EOS & 8888 TRX sign-up bonus. This bonus is actually a task that players complete by playing games. There are no wagering requirements stated on the bap bet website at the time of writing.
Is Bap.bet a scam?
Although Bap.bet does not have a license, we could not find any players' complaints about scamming or winnings not being paid out.
Is there a VIP program at Bap bet gambling dapp?
Yes, there is! The VIP program consists of 15 levels. You can level up by betting and inviting your friends (referrals) to register and play too. We describe everything in detail in the relevant section above.