Litecoin Technical Analysis
2022 has been a rocky year for this digital coin. After plunging by about 50% in November and December 2021, the new year started with strong bullish momentum, pushing prices from $119 to $153 in the second week of January. As the bullish excitement was kicking in, bears took control firmly, causing the third week of the year to end at a low of $95. The downtrend that hit the crypto sector in 2021 seemed determined to stay. A similar tendency was also witnessed across other digital coins, including Bitcoin and Ethereum. The rest of 2022 was painted in red prices, with the steepest period being between 28th March to around 10th June. We witnessed 12 weeks of non-stop nosediving during this duration with almost no sign of recovery. Price action and every other technical indicator were bearish. Bears became contained when they hit a major support level on 12th June, which has since then not been broken. In fact, the price movement shifted into a slow upward range, forming a narrow Litecoin price channel. Another critical observation is the higher highs being created within this price range, indicating that bulls might be accumulating orders before pushing the market skyward. Price action shows indecision, with signs of bullish momentum, but technical indicators are still bearish.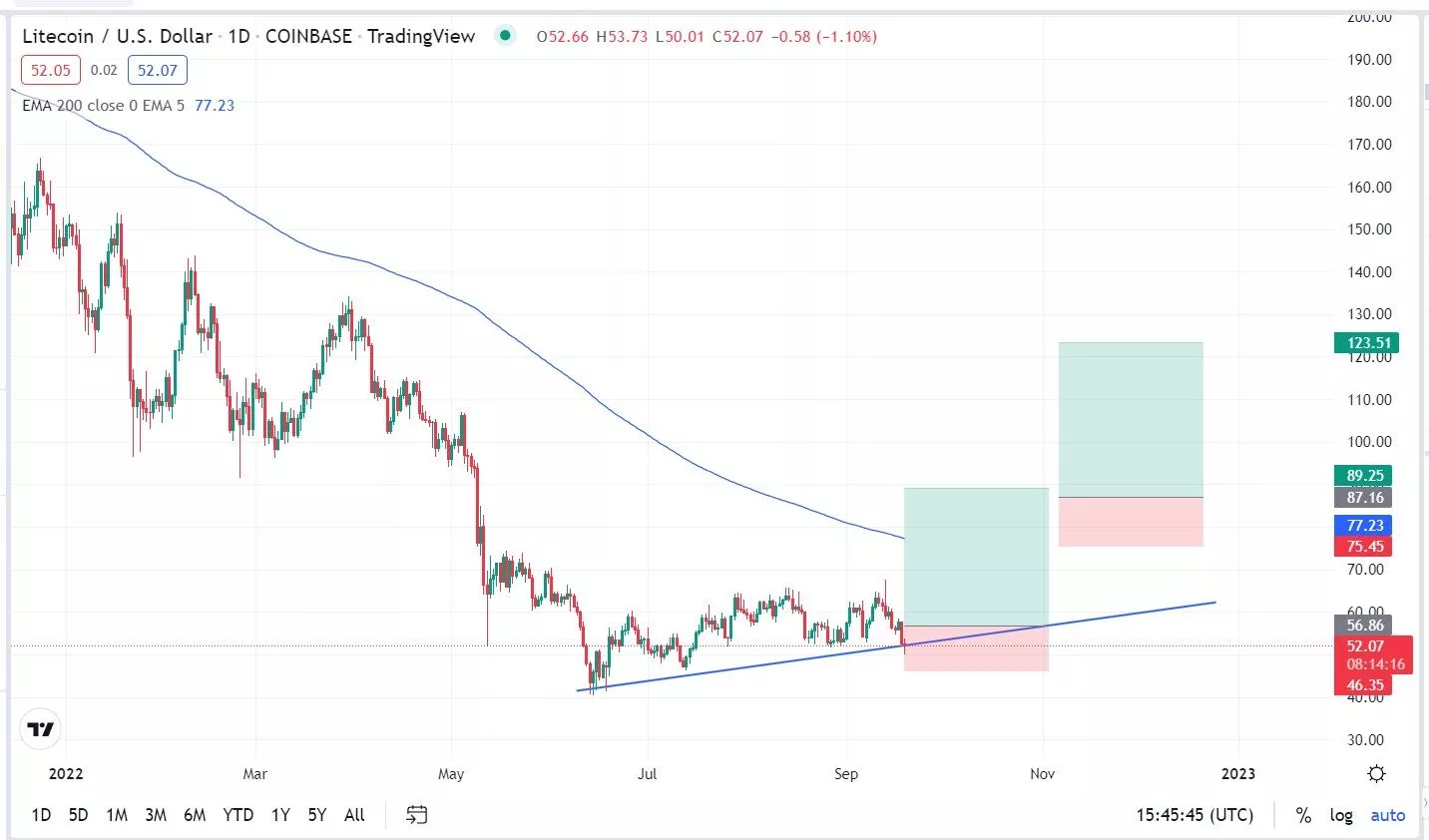 The bullish trendline indicated on the above chart, spanning over 15 weeks as of 8th September 2022, has been tested more than three times unsuccessfully. This is a powerful signal for early buy entries. The best buying price, however, as marked on the above chart, would be $56. A stop-loss can be set at $46, and the take profit at $89, a risk reward ratio of 1:38. After proper confirmation, break of the 200-day moving average to the upside, and retest, Litecoin might present a second buy entry at $87, with a stop loss at $75 and $123 as the take profit.
Litecoin Price Prediction 2022
As discussed in the LTC USD analysis above, bears have dominated the 2022 crypto market. Some smaller coins like LUNA crashed to $0. The storm now seems to be calming down in preparation for the recovery period and eventually a strong bullish movement. Considering that the year is only about a week shy of its last quarter, it will be unrealistic to expect a magical price escalation back to $153, where LTC was in January. The chart hasn't given a clear bull signal yet. However, according to our Litecoin price forecast, buyers will continue accumulating orders up to $56, where we expect a massive breakout towards the 200-day moving average. Targeting anything between $78 and $89 would be reasonable for the first bullish leg. After that, the price might take a breather, as buyers partially cash out their profit and sellers come out of losing positions. Our highest LTC price prediction by the end of 2022 is $123, which will be over 100% gain from the current price, $52.
Litecoin Price Prediction 2023
2023 will be an explosive year for this cryptocurrency. Experts predict that the entire virtual currency sector will be bullish in 2023. Apart from that, LTC halving, that's set to happen in August of the same year, will create scarcity in supply, impacting price immediately. From basic economics, more demand and less supply increase value. Halving will make it twice as hard to mine one LTC block than before. Of course, some miners will increase their computing power, but the general demand will still outmatch the supply. Without argument, Litecoin will experience a smooth ride upwards, to close the year at nothing less than $320 in 2023. The highest price is predicted to be $400, with an average of between $320 and $350 for the rest of the year.
Litecoin Price Prediction 2024
The 2023 bull run will spill into 2024. The post-halving effect will be a heightened positive investor sentiment that could push Litecoin's 2024 price to as high as $728. LTC price action analysis suggests that highs of more than $904 could be achieved in 2024. Litecoin price prediction and analysis place the minimum peak for 2024 at $589. Investors will receive an insanely high return on their LTC investment this year. Those who missed out on the BTC gold rush when it was at $500 will definitely jump on this bandwagon. History shows that most cryptocurrencies gain a huge fan base when their prices exceed the $500 mark.
Litecoin Price Prediction 2025
After two steady years of an uptrend, investors must enjoy their profits. Early buyers will start cashing out partially in 2025, causing stagnation in price and possible pullbacks to the bearish side. We predict a retest of the 23.6% and 38.2% Fibonacci retracement levels before liquidity comes in to drive prices to the Fib extension level of 123%. Keep in mind, however, that prices may range at the Fibonacci retracement levels for a few weeks and could even go lower if the 2022-2024 buyers offload massive profits from the market. With prices being significantly reduced, buyers will start accumulating new orders at discounted prices. We expect LTC USD to hit $1,295 by the end of 2025.
Litecoin Price Prediction 2026
With Bitcoin poised to hit $200,000 by 2026, its folk, Litecoin, will not be left behind. Our long-term LTC price prediction shows that the coin will close the year at about $2,098. The lowest price that year will be the opening price of $1295. and the average will be about $1873. We expect most world regulations to have opened up to crypto by then, creating more demand for stable digital currencies for Litecoin. Being a fast and light virtual currency, LTC USD is best suited for adoption by merchants from different parts of the world as cryptocurrencies become more acceptable in the business world. The gambling sector will be a major adopter of the coin, with more Litecoin casinos being opened online.
Litecoin Price Prediction 2027
After a glamorous 2026, nothing will stop Litecoin from jumping to $3000 within the first quarter of 2027. Besides, we anticipate another halving in August 2027, an event that stimulates further growth and value appreciation. Leading cryptocurrencies like Bitcoin and Ethereum will be too expensive by this time. Without question, traders will rush to put their investment in more affordable altcoins with a bright future. LTC USD will benefit significantly from investors looking for cheaper alternatives. Most of the year will be strongly bullish with very few price corrections. The average LTC price prediction for 2027 is $2300.
Litecoin Price Prediction 2028
Our LTC analysis identifies 2028 as the bearish year. Just like in 2022, we expect prices to push downwards from mid-January all the way to around June before they stabilize. dappGambl's Litecoin price prediction indicates that the market will plunge steadily from $3,000+ to about $1920. July and August will be slow months, but the coin will start on a slow bullish momentum in September. By December, prices will have recovered to a resistance level of $2790, where they are expected to consolidate up to the close of 2028.
Litecoin Price Prediction 2029
Our LTC price analysis forecasts the cryptocurrency will fully recover from the previous year's losses and continue on an uptrend. In compliance with the Digital Economy goal of the Sustainable Development Goals (SDGs), the globe is expected to embrace digitization by the beginning of 2030 fully. By this time, more regulations worldwide will have adopted virtual money as an alternative payment method. Cryptocurrencies like Bitcoin, Ethereum, and Litecoin will be the greatest beneficiaries of this implementation. Many crypto enthusiasts forecast a massive digital coin adoption when most of the world goes digital. We forecast a peak price of $4130, with $2750 being the lowest level this year. The average price for most of the year will be $3680.
Litecoin Price Prediction 2030
2030 is expected to be another positive year for Litecoin. However, being the period within which key environmental policies such as the Global Warming 1.5 policies will be reviewed, proof of work blockchains such as Bitcoin and LTC are likely to experience stunted growth. As the world continually shifts towards environmentally friendly proof of stake cryptos, PoW networks will have reduced investment in 2030 as traders await the outcomes of global environmental summits that year. Stricter policies on emissions and environmentally unfriendly systems will disadvantage Litecoin and Bitcoin. Our Litecoin price prediction shows the crypto's value will fall and remain in a ranging channel between $3200 and $3800 for most of the year.
Litecoin Price Prediction 2031 and beyond
No analysis can give accurate LTC price predictions beyond 2031. By then, there will be many new blockchain innovations and altcoins and possibly a total shift from the current mainstream cryptocurrencies. Digital coin projects that will lack innovation will not survive. While Litecoin looks like a good investment, its future beyond 2031 is hazy. Undoubtedly, the 2030 global environmental declarations will call for firmer policies toward global warming. Unless Litecoin follows the likes of Ethereum to transition into proof-of-stake, its demand might slowly diminish in the future. Litecoin must also go an extra mile to remain valuable in a crypto market that's starting to lean more on Decentralized Finance.
The introduction of smart contacts positions it on the right trajectory. However, it still needs to catch up with more advanced blockchain networks like Ethereum, Solana, and Binance Smart Chain. On the other side, the coin is the most successful folk of Bitcoin and is easier to mine too. It's also faster and cheaper to transact. So, unless Bitcoin crumbles, Litecoin may continue on a positive trend even after 2031. What's more, 2031 halving should leave a positive impact on LTC. We foresee a peak trading price of over $4,200 after halving and an average of nothing short of $3600 in the years beyond 2031, all factors constant.
Litecoin Prediction by Experts
We analyzed different predictions from other experts too. According to Coinmarketcap, Litecoin is the future of payments, and there is no denying that it will remain on a positive trend. Crypto processor, BitPay, reports that Litecoin is the second most transacted asset on its platform after Bitcoin. Coingate gives similar revelations where LTC payments account for over 13% of total transactions on the crypto payment gateway.
FxStreet predicts that LTC USD is ready to go for the $120 price mark, a significant level that should set it up for a more powerful move in the coming weeks. Coinskid LTC analysis is not far from dappGambl's. It gives a long-term forecast of a minimum value of $928 by 2027 and a maximum of about $1,100. Famous Litecoin investor, John Kim, announced recently that he was placing a limit order targeting $3500 per LTC. Although he did not mention when he expected the coin to reach that price, it's clear that Kim is optimistic about LTC USD.
How accurate are Litecoin price predictions?
Litecoin price predictions are based on available technical and fundamental conditions available at the moment. Things could change anytime and invalidate our analysis. Nevertheless, these forecasts give readers key insights into what might happen in the future. Unless unforeseen events occur, our Litecoin price forecast is likely to be achieved to a great extent. Of course, no one can give accurate price points where the crypto market will react in the future, but we believe the levels indicated in our analysis are significant reaction points. We will update you if our view changes for any reason.
Bottom Line
Litecoin is among the best investment options in the crypto sector today. No matter how you conceive information on this page, the digital coin is at one of its lowest prices but still carries enormous growth potential. The famous investment saying, 'buy low, sell high,' applies perfectly to LTC. As much as there are no guarantees of how far the price will rise, no one can argue with the fact that LTC USD is highly undervalued. Nevertheless, we recommend everyone to do their analysis before buying the asset. Remember, cryptocurrencies are highly volatile and can potentially wipe out your entire portfolio. Do not invest more than you can afford to lose.
FAQs
How does the price of Litecoin compare to other cryptocurrencies?
LTC price moves in tandem with the rest of the crypto market. Being a folk of BTC, its movement is highly inclined to the behavior of Bitcoin. LTC is like a penny stock compared to BTC, but the two coins have a direct relationship in pricing.
How do experts predict the price of Litecoin will change in the future?
Most experts predict a positive future for LTC. Of course, the price points vary, but the common message is that Litecoin is undervalued and hence a good buy.
Is Litecoin a good investment?
Yes. Based on our analysis and other experts, investing in Litecoin is a good decision. We estimate the virtual coin will hit $1,295 by 2025 and at least $4,000 by 2030.