Quick Glance at Cardano
Let's first dwell a little more on the actual coin for a better understanding of the rest of the article. Cardano is one of the most ambitious and progressive blockchain projects in 2022. It's an open-source decentralized public platform aiming to deliver futuristic features based on scientific research processes.
Cybersecurity and engineering experts InputOutput Hongkong, under the leadership of one of Ethereum's co-founders, Charles Hoskinson, started working on the project in 2015. They had a clear vision during their 2017 main launch of Cardano, "to build a blockchain-based platform that will improve smart contract deployment and sort out Bitcoin's scaling challenges." Pretty ambitious but nothing is too far for a united and determined group of experts. The crypto community has argued that this project will topple Ethereum if it succeeds in its goals.
Cardano takes advantage of a two-layer system to achieve its purpose. The Cardano Settlement layer comes in to complete transactions while the Control Layer handles all things smart contracts. Behind the entire system is Ouroboros, a proof of stake algo. If you know what this means, Cardano runs on affordable protocols with relatively small energy consumption. Elon Musk recently tweeted that Tesla would not accept BTC because its mining is environmentally hazardous. So investors are now looking at more sustainable cryptos, and that's just how Cardano might become a leading coin in the future. Cardano's main token is ADA.
ADA: Cardano-Coin
With what you now know about Cardano, let's introduce you to ADA, the native coin for Cardano's ecosystem. The token is capped at a max supply of 45 billion coins, enough for every single one of us in the world to own 8 coins. If you are interested in mining it, this is the right time because we already have $34 billion of them in circulation. Apart from being a currency, ADA promises industrial efficiency and higher levels of transparency so it's likely to get a lot of attention in the future. Currently, it's undergoing several pilot tests like protecting users from counterfeit pharmaceutical products and providing tamper-proof systems for academic credential issuance and agricultural product certification.
Cardano's Analysis
Cardano's future appears bright since the coin is constantly hitting several key milestones. As of writing this, ADA-USD has recorded 20 million+ transactions, with a total of more than 1.5 million digital wallets holding this token. Its developers are constantly working on new projects including an NFTs marketplace and DeFi exchange that is set to launch soon. Some of these projects take ages to come to life, though they underscore the future position of the crypto, and attract speculators who start driving up the price.
In this era of global warming, Cardano's efficiency and energy consumption position it in the best place for faster adoption. Its superiority in completing transactions and facilitating smart contracts also increases utility and consequently attracts long-term investors. Traders looking for a promising digital coin that won't run their pockets dry are aiming for Cardano. They view a Cardano investment as a rare chance to join the millionaire crypto community in the future.
The past two weeks have been a roller-coaster ride for the digital asset with price plummeting by an estimated 5%. The general trading range has remained within a breadth of $0.86 and $0.99. This is no cause for alarm yet; the entire crypto industry has been on a bear trend within the same period. Bitcoin, the mother of all digital coins tends to drag other cryptos with it. BTC's price has been declining since the beginning of 2022 with very weak bullish pullbacks. As a result, the whole industry has stalled. If you know something about valuation in the crypto market, this should tell you that many digital coins are currently undervalued, and ADA is one of them. See a price comparison chart of ADA against BTC, ETCH, and Doge below.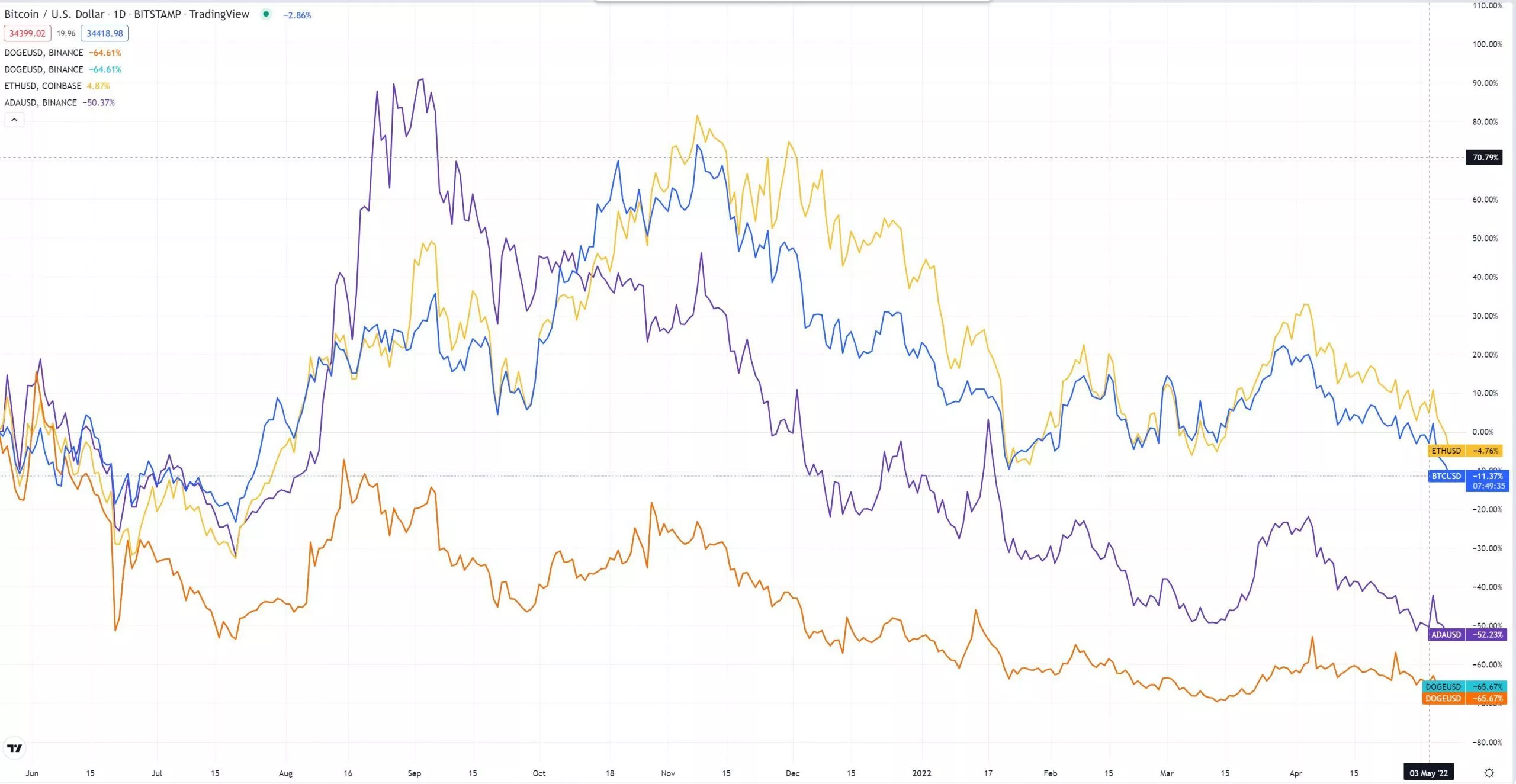 According to DigitalCoin, Cardano is highly undervalued and could hit the $1.5 mark before the last quarter of 2022. The TradingBeasts marks ADAs 2022 projection at a peak of $1.74. Reddit gives us an even higher price target for 2022. It sets it at $5, based on the recent and ongoing upgrade of Cardano's blockchain. This is just what could happen in the next few months. Long-term investors could potentially make 20x before 2023, and as much as 100x by 2025. dappGambl's analysis is not far from that of TradingBeasts. Although ADA has been making lower lows recently, it is now at a strong support zone. It may go slightly lower but fundamentals don't support a strong bear. We are likely to see a period of consolidation in the range of $0.65 and 0.82, after which we expect a strong bull run to $1.2. The $1.2 price area is a potential partial profit-taking zone, so the market may remain there for a few days or retrace, before shooting up to $1.7. There isn't a proper market structure as of now to support higher targets. See the chart below.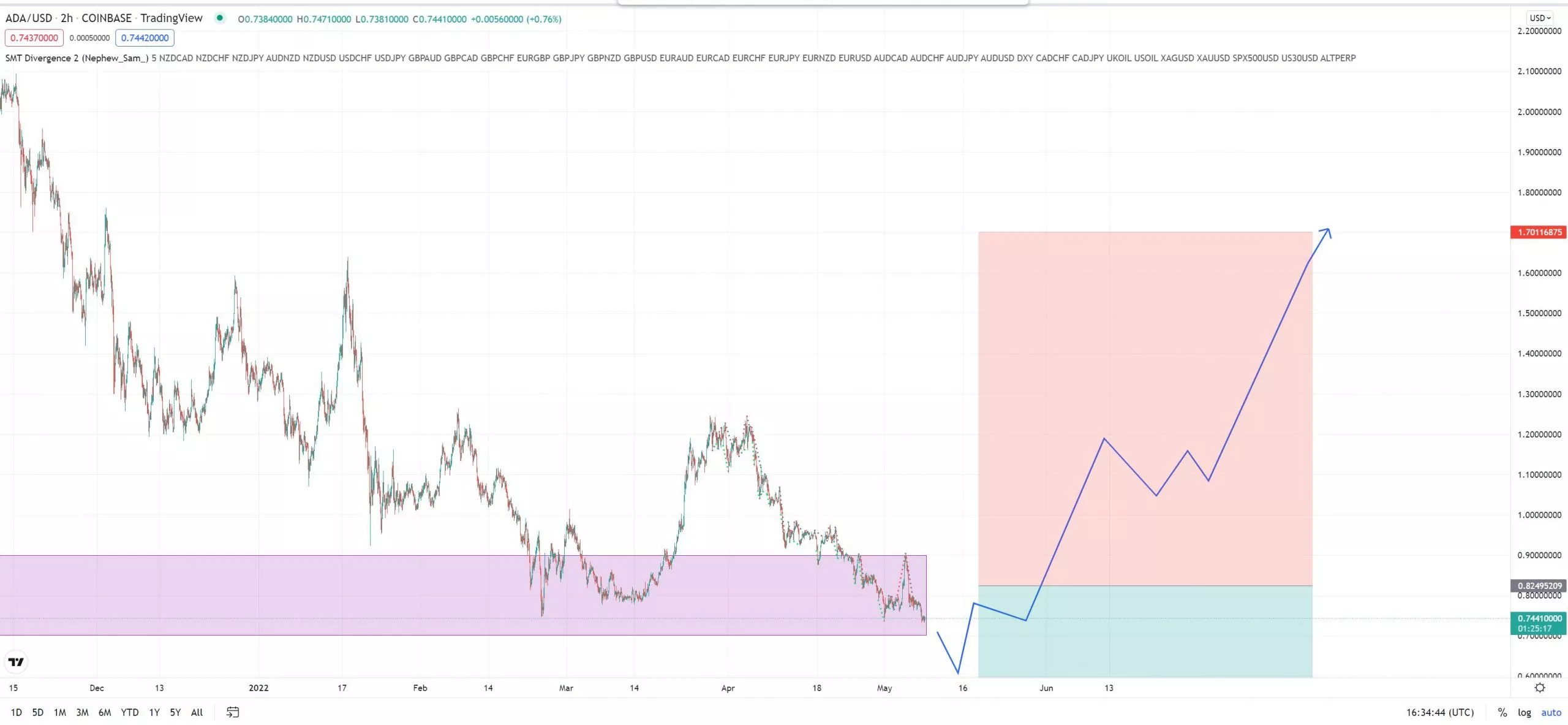 Pros of Cardano
Looking at the pros and cons of Cardano is essential to help you figure out whether ADA will nuke or grow your investment. Look at them quantitatively keeping in mind that some cons may carry more weight than pros. Let's start with the positive side.
Great Development Team: Cardano was created by a team of developers with prior experience in a successful crypto project. Jeremy Wood and Charles Hoskinson co-founded Ethereum before quitting over a disagreement in 2014 to start the Cardano project.
Multiple Layers: Cardano operates with two layers for efficiency. There's the settlement layer which makes sure transactions are happening as they should, and then there's the computational layer for smart contract implementation. These two layers work together to increase the transaction speed and give the project an unlimited allowance for scalability. Updates also take place with zero system interference.
Security: Cardano is powered by Ouroboros which is mathematically verifiable for protection. This makes it safe from cyberattacks that are common in the cryptocurrency industry. One of the project's major goals is to keep enhancing the security of Cardano in future upgrades.
Peer reviews: Cardano is one of the few top crypto projects that have strong academic backing. The coin has been peer-reviewed by scholars who have given it a thumbs up. InputOutput Hongkong hires many academics in the company to come up with white papers and contribute to the growth of the Cardano project. This doesn't just give it credibility on paper but also offers ADA higher chances of success.
Reliability: Cardano is a third-generation blockchain. Third-generation blockchains are considered safe, reliable, and easily scalable. The crypto industry has an unlimited future and we can't overemphasize the importance of scalability. Ouroboros Hydra protocol increases the scalability of ADA more than BTC and ETH.
Industrial appeal: Companies are flocking to Cardano. Charles Hoskinson claims that there are hundreds of companies that have expressed interest to switch from Ethereum to Cardano. So far the Sandbox Casino, CoinGate, SimpleFX, and Multi-change among others are already supporting Pay-with- The foundation's CEO Frederik Gregaard has also hinted at plans to onboard at least 50 banks by 2026.
Investors raked over 200% from Cardano in 2021:Cardano is like that penny stock with massive untapped potential that can explode anytime. Investors, in 2021, pocketed huge returns after the price of the coin jumped from $1.06 in July to $2.96 in September. It even managed to topple Tether's market cap and temporarily became the 3rd largest crypto globally. Looking at the fundamentals, there is no doubt that ADA's worth is underpriced.
Cons of Cardano
Cardano is still a work in progress: Although Cardano is keeping up with competition from other coins, its development is happening very slowly. Investing in the digital asset might be a matter of speculation until they deliver the final project. Investors are hence careful about putting their money in an incomplete token standard smart contract project, something that is making it lose its ranking against ETH. The most worrying part however is that IOHK hasn't demonstrated whether ADA has dApp capabilities.
Cardano is introducing a voting system:Some cryptocurrencies have governance tokens whose holders are the main decision-makers. Consensus is reached through a voting system that gives weight to individual votes as per the number of coins held by the voter. While democracy in the governance of a crypto project might look attractive on paper, there are deep issues that come with it. For example, most token holders are not tech-savvy, so they may vote in unreasonable policies.
More than 3/4 of the available supply is staked:Staking Rewards estimates that close to 80% of all the mined ADA is staked by investors. This creates scarcity as only about 20% of the available tokens are in circulation. So getting a hold of the coins becomes harder, hence raising the price. Looking at things from this perspective could mean that once the project is complete and early investors start releasing their holdings, we will likely have an oversupply and a stunted growth.
Crypto investment risk:Crypto investment can be a high-risk venture and Cardano is not an exception. The crypto market changes very quickly. We have witnessed simple tweets from influential businessmen like Elon Musk affecting the prices of stable coins like BTC. According to Macroaxis investing in Cardano is 9 times riskier than DOW Jones.
How to Buy Cardano
1. Get an Account with a crypto exchange.
Binance and Coinbase are the best platforms for buying Cardano in 2021.
2. Verify your Identity
Upload a copy of your passport or government issued ID for verification in compliance with international AML procedures.
3. Fund your trading Account.
Load money into your account or add a payment method to start investing in Cardano.
4. Buy Cardano
Go to your dashboard and buy Cardano now.
Is Cardano a good Investment?
Cardano is, without doubt, a great blockchain project with a promising future. The combination of smart contracts and ADA coins make it versatile and potentially more usable than BTC. The project could also ride on Ethereum's bloated cost of gas to topple it. So it sure is a good investment. Keep in mind that Cardano's success might not be overnight.
FAQs
1. Is Cardano (ADA) better than Ethereum (ETH)?
Charles Hoskinson has claimed severally that Cardano has a better code than most cryptos but we can't verify that yet. The digital asset is still under development and so we think it's too early to rate it against Ethereum. For now, the numbers show that Ethereum is leading in the dApps and smart contracts sector., and second in terms of market capitalization.
2. Is Cardano better than Bitcoin?
Cardano looks like a better project than Bitcoin in theory. On the other side, Bitcoin has a proven history of giving investors thousands of returns. Bitcoin's future is more guaranteed than that Cardano's since the latter is still a work in progress. At the same time, Cardano has a high potential of making you mad returns like 500% if it works out, compared to Bitcoin. So the best decision is to spread your portfolio between both coins.
3.Who is the top Cardano investor?
Hoskinson, one of the richest crypto investors, a co-founder of Ethereum, and founder of Cardano is believed to be the biggest investor in Cardano with an estimated holding of 300 million tokens, according to Coinmill.