Everything about Blockchain, Crypto Gambling & dApps
Since the dawn of Bitcoin, Blockchain technology has unlocked innumerable prospects that have revolutionized many industries. Crypto Gambling and Decentralized Application (dApps) are among those taking the lead in exploring the full power of blockchain networks. You are not late if you have not yet tasted the benefits of this incredible technology. In fact, you are lucky to be here as we will save you all the heartache of searching for good opportunities and the risks of investing with deceitful sites.
Whether you are a devotee of classic casino games like Dice and Roulette or prefer much newer forms like DeFi gambling, dappGambl is your plug. We are the number one blockchain enthusiast. Who else can teach you about Crypto Gambling and dApps better than us? We gamble, we invest in crypto, and we never stop researching. So you can be sure we know where the shoe pinches, and we have the solution.
Here are some of the hottest crypto gambling casinos and dApps you don't want to miss out on. Click on any of them to learn more.
What is Crypto Gambling and How Does it Work?
Crypto gambling, as the name sounds, is coalescence between classic gambling and the currency of the future. Easy, right? It's a new form of gambling different from an ordinary game of chance. Instead of playing in the traditional land-based casino, you place your bets online using digital coins. Crypto has become popular as a form of gambling due to its numerous benefits, including provably fair gaming, anonymity, speed, and tax benefits in some countries. Crypto gambling is spreading like wildfire. In 2021, crypto investors and gamblers took home at least $167 billion in profits. You can enjoy crypto gambling in many forms, including:
Crypto gambling is like classic gambling with a twist; that is the aspect of using digital currencies to bet. Where you may have funded your wallet in FIAT currencies like USD, JPY, or EUR, you're now replacing it with BTC, ETH, LTC, DOGE, and thousands of other cryptos.
You need a crypto wallet to get started. Crypto wallets are a digital form of wallet for storing virtual coins and facilitating transactions.

What are Decentralized Crypto Casinos and How do they Work?
Bitcoin casinos use virtual coins as a means to facilitate payments. However, the crypto world is developing by the day. Advanced blockchain networks like Ethereum offer more value than a mere payment method. Developers can now create apps and products running on a blockchain network like Ethereum, managed automatically by self-executable contracts called Smart Contracts. These applications built on decentralized networks are decentralized applications or dApps. They are free from the control of any central authority such as central banks and are censor-proof.
So far, Ethereum hosts the highest number of dApps and is most preferred by developers because it offers exceptional tools that developers can't keep away from. First, the Ethereum platform is user-friendly for both novice and expert developers. Tools such as the Ethereum Virtual Machine (EVM) make it easy for creators to launch their apps regardless of the coding language. Third, the network boasts a large community of highly skilled members, and lastly, Ethereum dApps are more manageable and less costly to monetize than those built on other blockchain networks. Alternative dApps networks include:
TRON: The TRON network came into existence in 2017 with a native coin called Tronix (TRX). It was created to support the seamless sharing of digital content and grow the international entertainment industry.
EOS: Launched on 31st Jan 2018, the dApp network is meant to support super fast and free business applications intended for the public and private sectors. It can handle about 100 transactions per second. However, so far, most of its apps fall within the gaming category.
NEO: NEO is a dApp network that claims to be the most effective and user-friendly platform for dApp development and deployment. It's an open source community-governed platform launched in 2014 to facilitate the creation of a smart global economy.
NEAR: The Near blockchain is meant to be faster and way more scalable than Ethereum and other competitors. It takes advantage of its unique TxFlow consensus mechanism to offer a trustless and hack-resistant dApp ecosystem.
SOLANA: Solana is a high-performance dApp network platform capable of completing over 50,000 transactions per second. It uses a new verification method called the Proof-of-History
dappGambl doesn't leave any stone unturned when it comes to Crypto Gambling and dApps. Most of the dApps we cover are built on the Ethereum network since it is the most reliable and leading dApp network. If you're going to engage in this kind of gambling, there is nothing to worry about regarding security and privacy. There are no central authorities involved, and hackers are less likely to steal your data and money. The main challenge, however, is finding a trustworthy platform out of hundreds or thousands of decentralized gambling providers but dappGambl got your back.
Pros and Cons of Crypto Gambling
Pros
Fast transactions.
Affordability.
Anonymity.
Provably fair games.
High security.
New creative and immersive games.
Cons
Unstable legal status
High price volatility.
Extra fees for conversation.
dappGambl is the Ultimate Gateway to Crypto Gambling
dappGambl provides authority crypto gambling & gaming and dApps analysis, guides, reviews, breaking news, and education for all crypto users, gamers, and gamblers worldwide. We offer free and unlimited access to numerous game reviews, gambling platform recommendations, and the best bonuses and offers. That's not all; click the links below to be part of our growing community for maximum benefit:
We understand your greatest headache is finding a reliable one-stop shop for your crypto gambling and DeFi needs. We know the fear of falling for scam products and losing your money to hackers and unscrupulous sites. As the name suggests, dappGambl is coo-coo about crypto gambling, dApps, and the Web3. No wonder we are the most preferred platform for newbies and even experts. We are grateful to have you here. Welcome, and thank you for making us your number one choice for everything crypto. Are you wondering what makes dappGambl stand out? Well, there's a lot; pretty much everything about us is unique, from our website, the team, and our love for crypto, to how we run things. But to answer your question, here are the sweet spots that make dappGambl the most preferred site for every gambler and crypto enthusiast.
Simplified Crypto Gambling: Crypto gambling might be hard to crack until you get to dappGambl. We dissect every tricky bit of it into easy-to-understand pieces of knowledge. What's more, we make it fun all the way.
Home of DeFi Gambling: The unspoken truth is that we are the number one home of DeFi gambling and Web3. There's no better place for you to start your crypto and dApp gambling journey than at dappGambl. We have been there from the beginning, so you can be sure you'll have a smooth journey with us.
Continuous Support & Community: What more would anyone want than a partner and friend that walks with you throughout the journey? We are here to stay and continually support the crypto gambling community by sharing up-to-date info every day.
First Class Team: Nothing beats the power of a great and dedicated team. dappGambl has invested in the crème de la crème of journalists, great analysts, and seasoned investors to ensure we bring you concise and unmatched content. We are united by a mission to deliver accurate and easy-to-understand information to our discerning audience.
What does dappGambl do?
Think of dappGambl as a multi-faceted shop for important information wherever you are in your crypto gambling journey. Our focus is on responsible and safe decentralized gambling by providing detailed info on getting started, the crypto world, setting up your wallet, red flags to watch out for, and ranking the top gambling dApps by type.
With more and more available crypto casinos, the challenge will be to pick an online casino that caters to their needs, while newcomers will need easy-to-learn resources to help them get started.
In short, we're here to assist you on your journey into web3 and keep you informed on all things crypto gambling.
How We Review: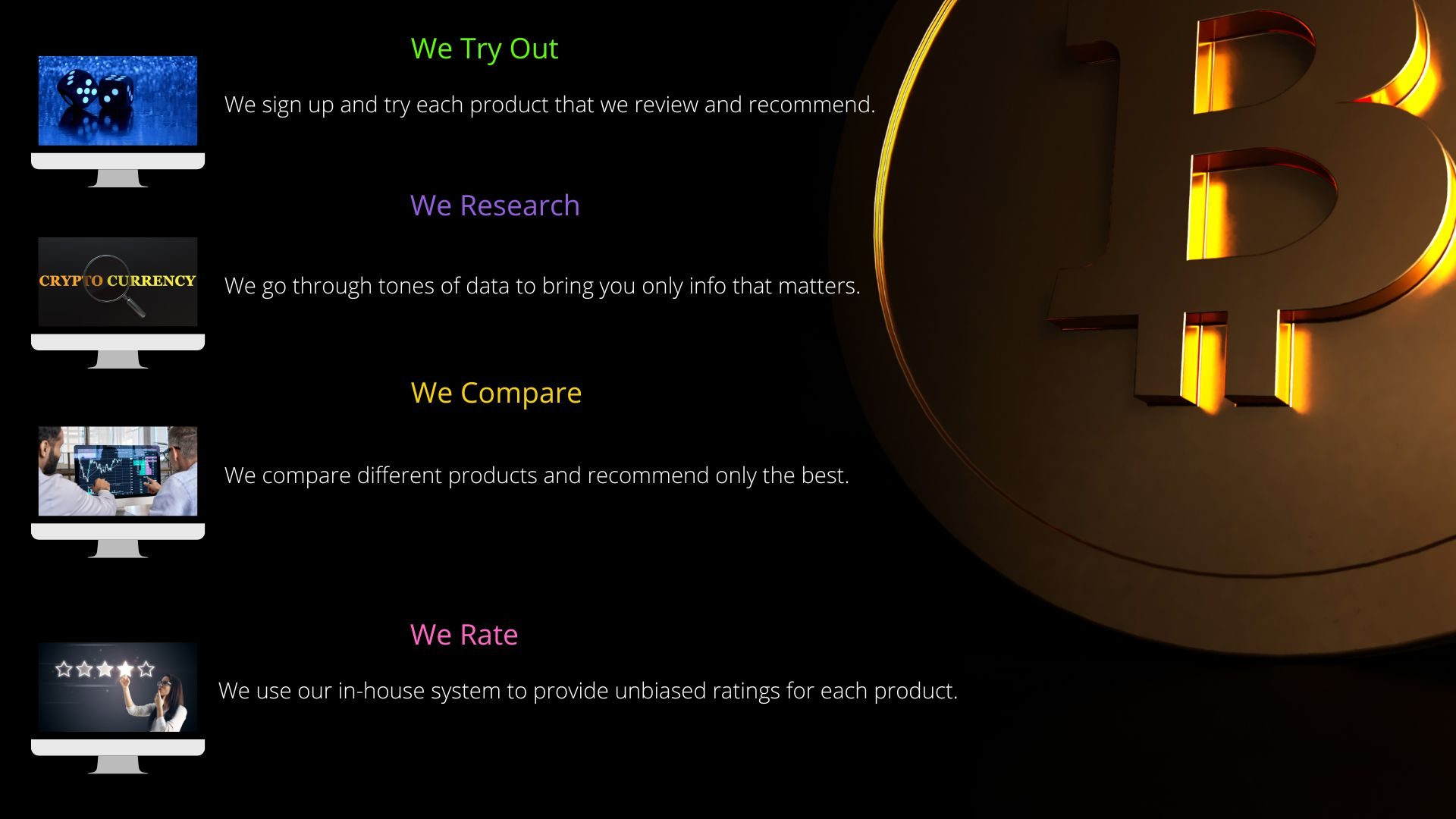 The Best Crypto Currencies for Online Gambling
There are thousands of crypto currencies and altcoins out there. The best depends on what you want to achieve. However, there if we are talking in terms of acceptability, the most popular digital coins are Bitcoin, Ethereum, Litecoin, Dogecoin, Tether, XRP, Bitcoin Cash and Cardano. You will hardly miss these options in a crypto casino. Bitcoin, Ethereum, Bitcoin Cash and Litecoin are the most common though. Here are some tidbits about them.
How to Get Started in Crypto Gambling and dApps
There is no better way to get started in anything than getting a proper education. But what is the right education, and how does a beginner filter through thousands of websites for reliable information? No wonder many early investors give up before seeing the light of crypto gambling. Thankfully you are here, where it all begins. Start your journey by getting acquainted with the basics of cryptocurrencies and crypto investment, some history of crypto, and the different wallets you'll use to transact. Afterward, you can start learning about dApps and slowly advance into crypto casinos. We put together links to every beginner's must-know essential information for a stable foundation in cryptocurrencies and crypto gambling. Please read the following topics in their order. You will have more than a basic understanding of crypto gambling and dApps by the time you are done.

FAQ
What is dappGambl?
dappGambl is the your go to site for everything crypto gambling, gaming and dApps. We are dappGambl. Bookmark our site and keep coming back to stay up to date always.
How Does dappGambl Work?
AppGambl provides authority crypto gambling & gaming and dApps analysis, guides, reviews, breaking news, and education for all crypto users, gamers, and gamblers worldwide. We offer free and unlimited access to numerous game reviews, gambling platform recommendations, and exclusive bonuses and offers.
Is crypto gambling legal?
There are hardly any laws regulating crypto gambling in any parts of the world. Unless crypto and online gambling are legal in your jurisdiction, then crypto gambling is probably not prohibited. Some countries like the US and the UK require their citizens to only gamble with crypto casinos licensed by the relevant bodies. When it comes to the deeper Web3, there are totally no regulations as such platforms are self-governed  by the community and smart contracts.
Are gambling licenses required for crypto casinos?
This again depends on the country you are living in. In many countries, blockchain gambling sits in a grey legal area. If you happen to live in such a country, you may opt for online casinos with an international gambling license, to ensure that an independent authority is overseeing the casino and protecting players. An example for such an international license is the Curacao gambling license.
Are blockchain casinos better than traditional online casinos?
In short – yes, but of course only if you choose the best ones. If you are familiar with using cryptocurrencies then you shouldn't wait any longer and check out the best gambling dApps available.
In case you are new to cryptocurrencies and the world of DLTs we recommend you to read our guide, to help you start taking advantage of crypto casino benefits.
How safe are blockchain casinos?
There is no general answer, as this very much depends on the casino itself. All the casinos found on our site are considered trustworthy and safe. Generally gambling dApps are considered more safe than traditional online casinos as they do not hold your funds, they only connect to your wallet and their games are provably fair. Still there are a lot of scammers and hackers out there, so it's always better to play it safe and only play in reviewed gambling dApps.
Are there special crypto currencies for online gambling?
You don't need special cryptocurrencies to wager online. Different crypto gambling platforms support varied digital coins. You simply need to use one of the cryptos accepted by your provider. Bitcoin, Ethereum, Litecoin, Dogecoin, XRP, ADA and USDT are some of the most widely used coins, though it's not automatic that your preferred provider supports them. So, always find out which currencies are supported before signing up with a crypto gambling operator.