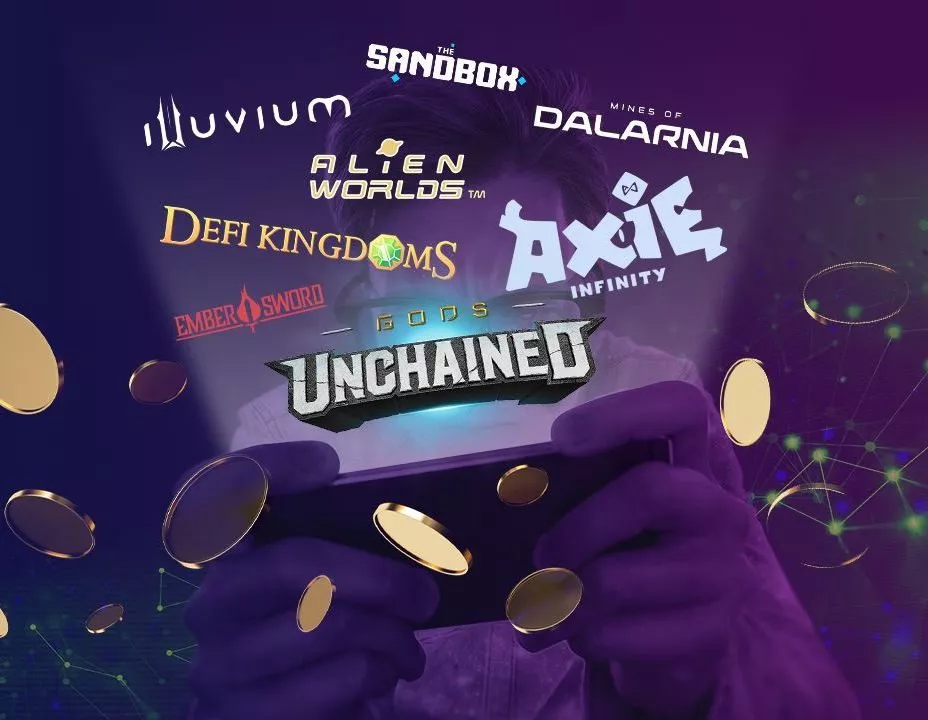 The term GameFi combines two core principles of the new development: game and finance. It is simply another term used to refer to NFT gaming. Many people also use blockchain gaming and "play-to-earn" gaming to refer to GameFi and NFT gaming.
GameFi encourages players to monetize their gaming skills and experience by offering them NFTs and cryptocurrencies as rewards for completing in-game tasks and winning in-game battles. Beyond simply making money off earned rewards, most GameFi platforms extend the bounds of financial freedom for players by allowing them to transfer their in-game items out of the game to trade them on NFT marketplaces and cryptocurrency exchanges.

If you want to know what an NFT is you first need to know that NFTs stand for non-fungible tokens. An NFT is a digital representation of a real-world item on a blockchain network. NFTs are versatile and can be a representation of virtually anything, from pictures to songs, videos, artworks, and even tweets.
Perhaps the most defining characteristic of NFTs is their non-fungibility, meaning an NFT cannot be fractionalized, thus enabling NFTs to maintain their inherited characteristic of retaining ownership. By default, because NFTs are non-fungible, they become sole blockchain entities with a unique value and worth attributed to them.
NFTs retain their value on the blockchain network as they render Web3 utility for off-chain and physical assets that need to be digitized in the new environment.
Difference Between NFT and Cryptocurrency?
NFTs and cryptocurrencies, although similar in terms of their underlying technology, differ significantly. For one, cryptocurrencies are fungible, and two cryptocurrencies of equal value can be exchanged for one another. For NFTs that't not a possibility.
NFTs and cryptocurrencies also serve different purposes. Cryptocurrencies are digital currencies used to facilitate peer-to-peer transfers between individuals without the need for third-party intermediaries. NFTs, on the other hand, allows users to showcase the ownership of a digital asset. However, with the advent of NFT gaming, NFTs have become more than just collectibles. They are now viable in-game items and characters, just like the in-game items and characters in traditional video games.
What is the Role of NFT in Gaming?
NFTs in games are representative of in-game items. Imagine an NFT-based soccer game, for instance. The players, stadiums, jerseys, and every gaming asset would all be NFTs, and players can trade and transact such items within their blockchain network. This further provides new value functions for NFT gaming assets.
NFTs reshape the gaming industry by equipping users with new incentives which help the game become more valuable – as is the case with play-to-earn or more-to-earn gaming.
The earning potential of NFT gaming is made possible as NFTs, by default, have developed to empower NFT holders to showcase asset ownership. With traditional gaming, ownership of gaming items is limited. While players have always owned their in-game items within the game, such assets become invaluable if developers pull the plug. Players could not trade off these items outside the game for some real-world rewards. NFTs, on the other hand, have broken this barrier and made it possible to exercise full rights and ownership over their in-game items, creating new in-game economies.
A Detailed Step-by-Step Guide on NFT Games for Beginners
If you are just delving into the world of NFT gaming for the first time, it is important to have the correct information at your fingertips. Unfortunately, NFT gaming can represent uncharted waters for many. Thankfully we have come up with a guide on how to get started with NFT Games.
1. Choose the Right Game
This may look like a no-brainer, but it is something that many people may overlook. Before going into NFT gaming, you have to choose the games you would like to play, preferably something you would ordinarily be interested in, even without the prospect of any financial incentives.
There are several NFT games to choose from, including Axie Infinity, Crypto Raiders, The Sandbox, Crypto Kitties, and Ameegos, among others.
2. Understand Your Motivations
This is a crucial consideration when going into NFT gaming. Jumping headlong into NFT gaming without considering why you want to explore this field may cause you more harm than good. While there is a possibility of financial gain from NFT gaming, financial losses are also possible, and having the wrong motivations may significantly diminish your chances of success.
3. Do Your Own Research (DYOR)
Like you would hear from any mentor or tutor trying to guide you into investing in the cryptocurrency market, the same principle applies to going into NFT gaming. Doing your own research can save you a ton of time, worry, and resources by equipping you with all the requisite knowledge to get started in the world of NFT gaming.
What You Should Know Before Choosing an NFT Game
After making up your mind that you would like to go into NFT gaming, it is equally important to know which game or group of games you would like to explore. As mentioned earlier, there are many games to choose from. While NFT games have many similarities in some of their mechanics, their value resides in other elements.
To know which NFT Games to invest your time and resources in, the tips below will come in handy:
1. Look Out For Experience
Many NFT games have sprung up in recent months, but that leaves a lot to be desired in terms of being able to deliver value to gamers. However, some others have been around for years and may offer greater levels of stability and possibly superior gameplay. An example of the more experienced NFT games is Axie Infinity.
Being one of the first NFT games to hit the market has given Axie Infinity time to refine its gameplay, in-game economics, and its coins' tokenomics. In addition, choosing already battle-tested and established games offers some safety against sudden rug pulls or pyramid schemes.
2. Study the Team
Knowing the team behind an NFT game will save you a lot of trouble. An NFT game is more likely to succeed when the team behind it is one that the community trusts.
And while trust is important, so is consistency. An active team that consistently works to improve the game's offerings while maintaining constant correspondence with the players in the community is usually a good sign for an NFT game.
3. Learn the In-game Economics
This ties closely to the earlier point about doing your own research. And the part of the research that involves gathering data about the game's economy is probably the most important part.
Look out for key traits of the game's token, like whether it is inflationary or deflationary. Are there any burn mechanisms? Is there a maximum supply? How is the economy regulated, and what are the key market movers?
4. The power of the Whitepaper
The whitepaper is an official document containing all the information investors need to know about a crypto or NFT project. In addition, the whitepaper will tell you all you need to do about the NFT game you are about to get invested including the tokenomics, and the project roadmap, and relies on valuable investment data that can help you make better investment decisions.
NFT gaming is rapidly gaining popularity within the crypto community and reaching traditional gamers as new NFT games match gamers' expectations in terms of gameplay and graphics. Many gamers are starting to see the benefits that NFT gaming provides over traditional gaming and are gradually making the switch. The possibility of earning real money while doing the thing you love the most, having full ownership of your in-game assets, and being able to interact with the metaverse are just some of the promises that NFT gaming holds.