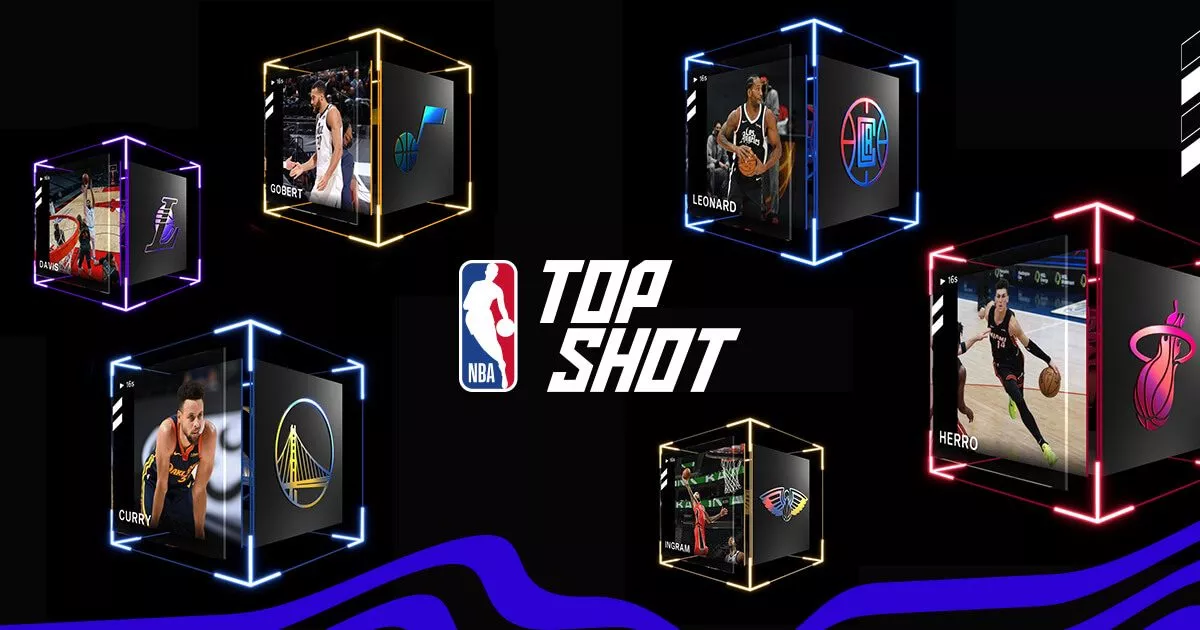 From the outset, NBA Top Shot developed a new blockchain-focused card collectibles platform class that allows fans to collect and trade highlights of their favourite NBA players and moments. Developed and officially licensed by the NBA, collectors can get actual video footage of their favourite gaming moments. 
The platform focuses on capturing memorable highlights on the blockchain, and creating unique NFTs which can be owned, traded, or sold by users on the NBA Top Shot app. Dapper Labs is the company that digitized sports collectibles, entering the blockchain space in 2017 when they released the popular NFT breeding game called CryptoKitties.
NBA Top Shot runs on the FLOW Blockchain, and each Moment is permanently stored on the blockchain and given a unique serial number. Thus, the value of NBA Top Shot is in the card's scarcity and its ability to showcase proof of ownership. 
NBA Top Shot is still in Beta and was initially launched in late 2020 to a select audience. Since then, the platform's popularity has skyrocketed as Dapper Labs has managed to gamify sports fandom through NFTs. In short, NBA Top Shot is a digital reflection of card collectibles where players seek unique cards that can hold value. Using blockchain, developers have taken things to a new level by digitizing the entire experience.
If you're new to NBA Top Shot, the following section will dive into the new NFT game and teach you all the ins and outs to help you start your NBA collectibles journey.
How does NBA Top Shot work?
The platform works very similarly to how physical card collectibles work and gives users more digital freedom to interact with other cardholders on the platform.
NBA fans and card collectors can get their hands on NBA Moments by purchasing and opening a pack from the platform's Marketplace. Each pack has a specific number of cards called NFT "Moments." Once users open the pack, they own that specific "Moment." And the process repeats itself until players get the "Moment" they've been looking for. 
Game developers are constantly licensing new NBA moments, expanding the series to increase excitement about new drops. Additionally, each pack drop from a specific set is announced ahead of time. This creates more anticipation and hype for upcoming pack releases.
Once players have their cards, they can access the peer-to-peer transfer market to swap, trade, or sell their trading cards or participate in platform events to swap their "Moments" for better ones.
What are the different NBA Packs and Moments?
There are multiple pack tiers available to purchase, and each pack drops random moments for the buyer. Packs are part of a larger set which is also contained within a bigger series. For example, there is always a starter pack that drops two moments. In addition, players can purchase All-Star Packs or WNBA packs which are limited collections – but that's not always the case.
Moments are video captures from past NBA events that capture a unique moment as an NFT. Similar to card rarity, moments have rarity tiers, and they are divided into Common Moments, Fandom Moments, Rare Moments, and Legendary Moments.
Common Moments
These are the most widely available cards. They are also part of the Start Packs, which contain two NBA moments, and they make up 96.6% of all NBA Top Shot moments. They are labeled as common because the same Moment can have multiple series and be minted in more than one version.
Fandom Moments
These moments were introduced only in 2021, allowing Dapper Labs to offer a more interactive NFT experience by offering additional perks. They are indeed rare; however, there is no data on how rare they are.
Rare Moments
As their name states, these moments are unique, and they are much rarer than the common ones. 2.25% of all minted moments are rare and feature historic game moments from NBA's greatest. Thus, the demand for rare moments is higher, as so is the selling price on the Marketplace.
Legendary Moments
These moments are extremely rare and in high demand by avid NFT collectors. For example, a Legendary Moment can be a buzzer-beater from Game 7 of the NBA final, and they're only 0.11% of all NBA moments.
What are NBA Top Shot Packs?
NBA Top Shot packs are split into multiple series, and they contain accurate or specific moments from a set period. Packs are divided into Base Packs and Non-Base Packs and include rare, legendary, or common moments. Each pack has different pricing depending on whether the pack could contain a rarer card.
Base Packs
They are the standard packs that come at an affordable price of $9.00 and are released regularly. Each pack contains three common moments, which are part of the standard series. They're designed for newcomers who just want to experience digital NFT collectibles.
Non-Base Packs
These packs vary significantly with regards to what kind of moments they contain. Examples of non-base packs are Playoff or All-Star Game packs, which can give fans the chance to get a unique, one-of-a-kind rare, or legendary moment. Because these packs can contain rarer items, they are much pricier, and users can differentiate them through their packaging.
How are Top Shot Moments valued?
NBA Top Shot Moments are some of the most exciting and memorable moments in the sport. They can be game-winners, impressive dunks, or remarkable plays that help seal a victory. Fans love to see these moments, and they are often some of the most-shared videos and images online.
Here's a look at some of the factors that contribute to the value of Top Shot Moments.
The rarity of the Moment: The more rare a Top Shot Moment is, the more valuable it will be. That's because there are only a limited number of each Moment available, and collectors are always looking for unique items.
Moment series: Every collector loves series numbers, which also applies to NBA Moments. Low mints or perfect mints tend to value more than mid-tier numbers.
The player involved: If a Top Shot Moment features one of the NBA's biggest stars, it will be more valuable than one featuring a lesser-known player. That's because fans are always looking for memorabilia featuring their favorite players.
The game situation: Top Shot Moments that occur in crucial moments of a big game will be more valuable than those in the middle of the game. That's because these moments are more memorable and meaningful to fans.
The demand from collectors: If there is a high demand for a particular Top Shot Moment, its price will be driven up. That's because people are willing to pay more for items they really want.
What are Top Shot challenges and quests?
Users can participate in platform quests and challenges and try to win higher-ranked Moments. The same offline principle applies to NBA Top Shot as well. Players must complete a card deck or album to complete the challenge. If the task is completed within the timeframe, then users are rewarded either with a new pack or another card.
On the other hand, quests are much more entertaining and involve users having to recreate a complete sequence using NBA Moments. Fans and collectors must find the missing link, do their research and complete the task at hand, which can be as easy as creating a roster of a specific team.
What are Trade Tickets?
Providing utility for common or unwanted Moments has helped create Trade Tickets, which are a form of IOUs. Trade Tickets provide additional utility for holders as they can be used to purchase unique packs. Users can swap their Moments (regardless of their rarity) for Trade Tickets and obtain new Moments by opening special packs.
How to Buy NBA Top Shot Moments
Getting started with NBA Top Shot is a simple process requiring new users to sign-up to the game platforms, register their account, and purchase. When signing up to NBA Top Shot, users get a wallet that can be funded using a credit card or other traditional payment methods.
Here are the main steps players need to take to get their hands on their first NBA Top Shot Moments.
Sign-up to NBA Top Shot and create an account. Verify the account and set up a 2fa.
Fund your wallet account with the amount you want to spend on your first pack.
Click on Drops, hover over the pack you want to purchase and click on it.
Look for the packs which are still in stock and did not expire. The most affordable and easy-to-get pack is the "Starter Pack."
If you just want to buy a single Moments card, then click on Marketplace.
Scan the Marketplace for unique Moments from either up and coming players or superstars.
Scan the Marketplace for any insights such as single-digit series numbers, players, and series number matches.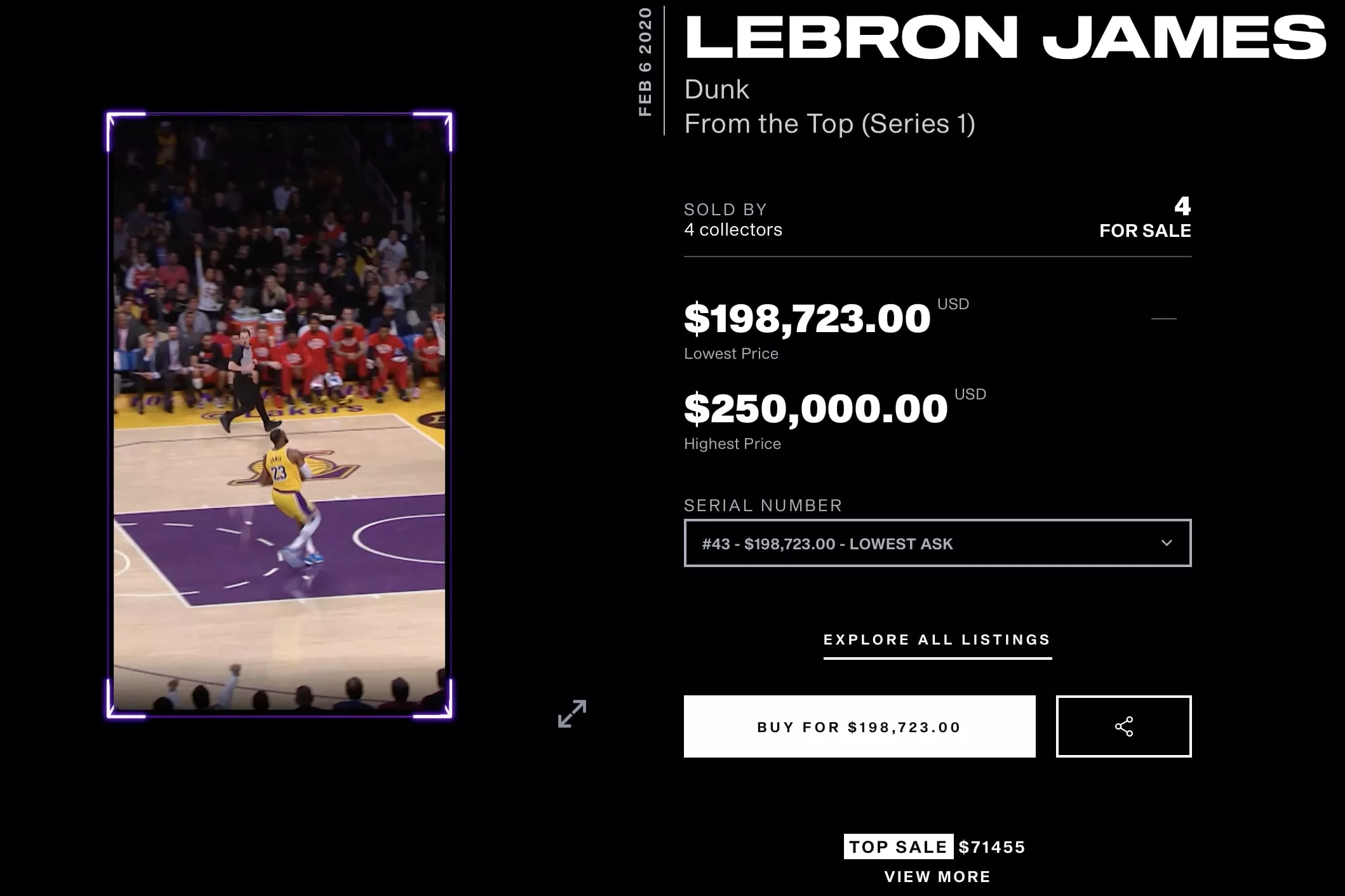 The Most Expensive NBA Top Shot NFT Sales
NBA Top Shot is posting record after record sales. Rarity tiers indicate an NFT's worth, and users spend hundreds of thousands of dollars on Legendary Moments with some of the NBA's best players.
The highest selling NBA Top Shot NFT is Legendary Lebron James NFT, sold on August 26, 2021, for $230,000. The Moment is a dunk by Lebron James during Game Q of the 2020 NBA Playoff final.
Interestingly, four out of the top five most expensive Moments sold belong to Lebron James. What's also striking is the fact that the 5th most costly NFT is a common tier NFT from Fred Vanvleet, which sold for over $140,000. In the top 10 highest sold NBA Moments, there are three common tiers and seven legendary tiers.
The future of NBA Top Shot
NBA Top Shot has digitized card collections and gave collectors and NBA fans a new medium to interact with their favorite game while also ensuring users retain full ownership of their cards.
Dapper Labs wants to provide even more utility for its users as it's launching a hybrid system where some NBA Moments can grant lucky holders VIP access to the next NBA All-Stars games.
Utility is the name of the game for every NFT project, including NBA Top Shot. Developers are searching for the best way to provide value to the existing Moments outside the platform's infrastructure. If they are able to integrate NFTs with immersive gameplay, then NFT Top Shot will become one of the leading NFT gaming platforms on the market.
With so much support for NBA Top Shot, it's hard not to predict that the platform will serve as a launchpad for new NFT merchandising and licensing deals.
NBA Top Shot has successfully developed a self-contained blockchain ecosystem where NBA fans and collectors can share their love for the NBA.
While the game mechanics seem fairly straightforward, it has helped the platform resonate with veteran collectors while adding a new technological zing to the entire experience.
While NBA memorabilia draws users onto the platform, we must not forget that the game uses gamified NFT scarcity to keep users on the platform and generate revenue.
As a first-of-its-kind card collectibles platform that combines NFTs and real-life videos of NBA moments, the platform has mirrored and even enhanced physical collectibles.
When did NBA Top Shot come out?
NBA Top Shot was released in June 2020 as a beta platform where players could buy NBA Moments by opening unique packs.
Where to buy NBA Top Shot?
Collectors and users can buy NBA Top Shot packs on the official Top Shot website. However, they must first sign-up with an account, deposit money, and open their welcome pack.
How to invest in NBA Top Shot?
Users can invest in NBA Top Shot by analyzing what moments are currently available for sale, making a purchase, and reselling their Moments for profit. They can also open more NBA Top Shot packs to get a rare or legendary tier moment.