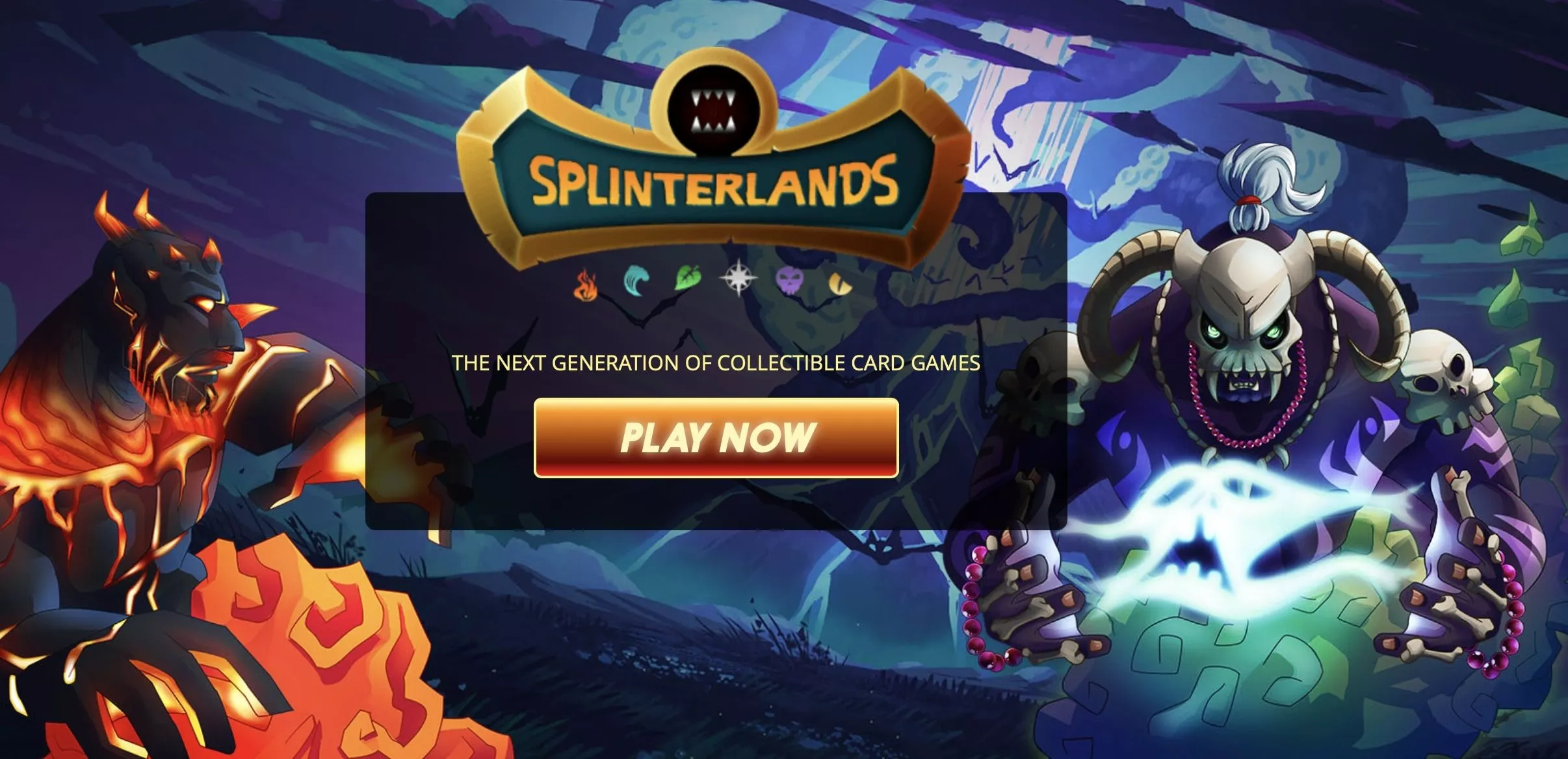 What Is Splinterlands?
Splinterlands is a blockchain-based card battle game initially launching in 2021 under the name of Steem Monsters. The game is developed and runs on the Hive Blockchain, which forked from the popular Steem protocol in 2020.
Splinterlands is a decentralized digital card collectible game that blends Hearthstone-like gameplay with play-to-earn mechanics to keep players entertained and provide value to the end-user. Card collectible games have gained popularity within the crypto space because it allows players to hold ownership of their in-game assets through NFTs. 
As such, Splinterlands utilizes a mixture of play-to-earn mechanics while not offering an entire freemium model.
Splinterlands Gameplay Overview
Splinterlands has a more complex gaming structure. Players use digital collectible cards in the form of NFTs to interact with the game environment. Thus, players who own digital cards on the Splinterlands platform can fight other players, participate in daily quests, join a guild, fight tournaments, and get ownership over their in-game assets.
The goal of each player is to stack up cards, build a strong card deck, and obliterate their opponents in a player versus player arena. While each card has its own strengths and characteristics, Splinterlands has an automatic gameplayer, meaning players don't control how cards are played.
Splinterlands's fight automation means there are some restrictions when playing the game. For example, there is a mana cap in the game, which influences the number of monsters, their ability, and the type of summoner one player can play. Lower leagues mostly use mana restrictions, while bigger tournaments can restrict other game areas.
This makes card building an essential element in Splinterlands. Unfortunately, the most powerful cards are never the best, and players must adapt to multiple playing conditions.
How To Play Splinterlands
At the start of each game, players must select a summoner that controls every monster (deck character). There are 7 types of Summoner elements, each with unique abilities that can boost the deck's capabilities. In addition, players can choose between Fire, Water, Earth, Life, Death, Dragon, or Neutral.
Each monster card has three types of stats. Cards are played on Melee, Range, or Magic, and each card has a minimum mana requirement. The card's characteristic decides how cards are placed in the deck. For example, Melee cards can only attack from the frontline.
Each monster or summoner has unique abilities, and Summoners' abilities can affect a competitor, inflict more damage to a card, or buff up the entire deck of cards. This brings positive variety to the whole game as there are several types of abilities for both summoners and monsters.
Leveling Up cards
Splinterlands lets players boost their card statistics by combining two or cards of the same level and similar BCX. Players can level up their summoners and monster cards to gain an advantage during the game. Each time cards level up; the total card supply decreases as used cards are burned.
Higher ranked cards allow players to participate in bigger tournaments where they can earn bigger prizes. When combining two monster cards, the result is a monster card with better skills and abilities and a higher rank. Players can combine multiple cards to reach a higher level.
The most crucial level up is the Summoners because players with a deck with a low ranked Summoner and a high ranked monster card cannot play it. So it's crucial to strike a balance between ranking and holding cards at the same level, and it all depends on the level of play.
Initial Investment
Players can start playing Splinterlands for as little as $10. For $10, players can acquire the Summoner's Spellbook, which is the key to accessing the entire Splinterlands universe and unlock the ability for players to participate in daily quests, tournaments, or take part in guilds.
The Summoner's Spellbook is a one-off transaction, and users can pay using PayPal or crypto. Splinterlands is a free-to-play game; however, the $10 investment unlocks access to more features that will allow players to take full advantage of the play-to-earn in-game mechanics and earn additional perks like Dark Energy Crystals.
Splinterlands Rewards System
Splinterlands has a complex rewards system where players can obtain prizes by engaging with the game environment in multiple ways. By playing in the Ranked mode, players receive DEC or credits normally awarded in the Novice or Bronze league.
Chest rewards offer new rewards alternatives for players who complete the daily quest, reach the end of a season, or simply receive them as an End of Season reward. The types of rewards are more or less the same for each category, with some small differences. Each chest can contain Credits, Potions, Cards, or even Dark Energy Crystals.
Credits are in-game currencies that hold value only in the game environment, and players can use them to purchase items in the Splinterlands marketplace. Potions are giveaways that help players increase their chances of getting a Legendary card, while Alchemy potions help bring out the Gold Foil during card openings. Finally, players can get limited edition summoners or monster cards.
Splinterlands Tokens
Dark Energy Crystals serve as the primary in-game currency, and tokens are used to buy, sell and rent other cryptocurrencies in the game. On top of that, more ecosystem tokens provide additional forms of utility in the gaming ecosystem. Splintershards (SPS) are governance tokens that allow the game to have an entire decentralized state as community members vote on network developments and updates.
Credits are the link between the blockchain and off-chain environments. Players can purchase credits which are then converted into a game currency where users can spend them in the marketplace.
How to Get Started in Splinterlands
Splinterlands is easily accessible. It's available in web and mobile versions – players can download the game from the Apple or Google store. Mobile and web game versions vary briefly, meaning not every function is available in the mobile version.
Players must first get a Hive account in order to access the entire game. Splinterlands helps players through the process of getting a Hive account. Alternatively, they can simply download and install the Hive Keychain. Once that is done, players should follow the FAQ video and understand the game's functions.
The game is free to play, yet players need to purchase the $10 Spellbook to gain full access to the entire game. Once full access is restored, players can interact with the game and participate in the play-to-earn mechanism.
Tips for playing Splinterlands
There are ways to improve your in-game experience, even from the get-go. Always sign-up to Splinterlands using a referral link, as developers always drop a random and high-value card. 
Getting higher and better cards is not always the best stratey.
Try to strike a balance between healers, power, and range to ensure your card deck has the best chance of winning. It's all about mixing and matching until you find the best.
A Summoner's level is more important than the level of your other cards
A Summoner with a lower rank is unable to unlock the full potential of higher-ranked cards. So always bring your Summoner card to the highest level before focusing on your monsters.
You don't always have to buy cards to rank up.
The marketplace is an excellent source of finding and renting cards to help your card deck get the boost it needs. It's also the cheaper and more affordable option.
Splinterlands Review
Splinterlands has made digital card collectible games more engaging by adding the play-to-earn mechanism. Besides clout, players can even get rewards for their participation – which is usually not possible in other off-chain games.
The Summoner's Spellbook seems counterintuitive for a blockchain game – as players can even use PayPal to sign-up; however, the benefits users get from paying that extra $10 are unparalleled.
The entry barrier for Splinterlands is lower than blockchain games and presents several opportunities for players to gain passive income or engage with the game. In addition, it can quickly become addictive as you win more games, improve your card deck, and master the deck-building process.