stake
Minimum Stake: $0.01
Maximum Stake: $5,000
supplier
Evolution Gaming first saw success with Dream Catcher in the live dealer game show niche. So, it's no surprise for it to return to the well for new concepts. Crazy Time is the latest in the Evolution Gaming money wheel titles. Everything is based around placing bets on a wheel spin, but with up to 20,000x the stake available, it takes Roulette to the next level!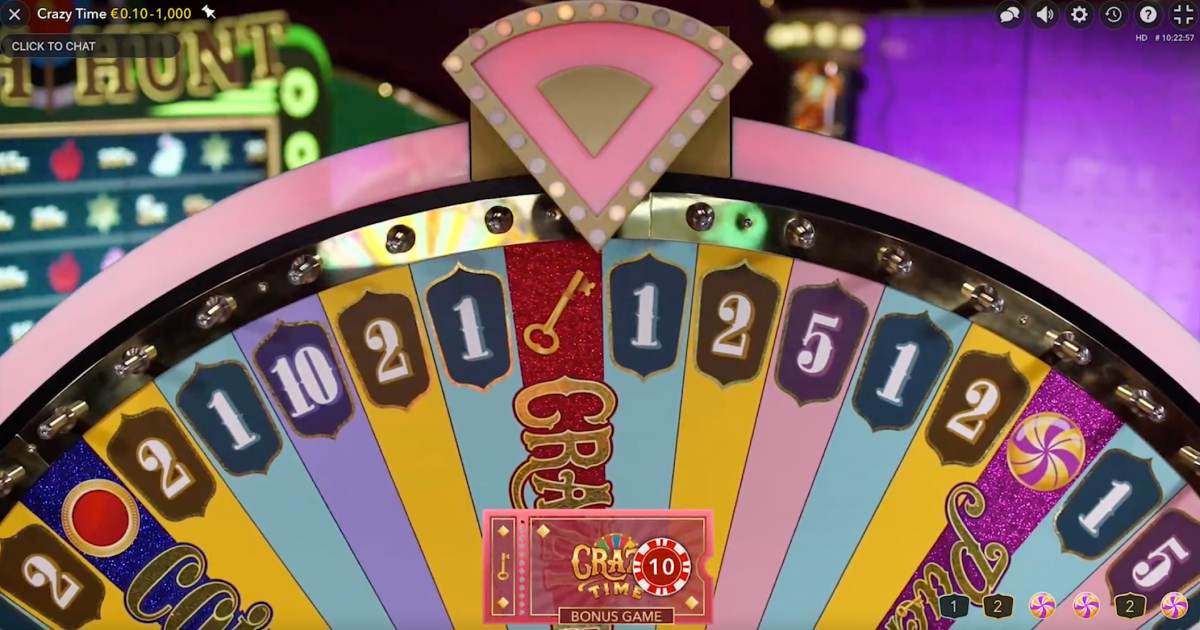 There are three main sections to gameplay in Crazy Time. Betting, wheel spin, and payouts. Each section provides a different experience to players. The betting round sees players placing their bet on the space they expect the wheel to land on. The wheel will spin once the dealer has taken all of the bets. Here's where most of the excitement is, as waiting to see if the bet is a winner can create a lot of suspense. There is also the chance of a multiplier landing during the wheel spin, which can boost wins to huge levels!
The final round is the payout round. Here it can award a cash prize if players land a straight money win. However, there are also bonus rounds available. Pachinko, coin flip, cash hunt, and the titular crazy time provide a different experience to the standard wheel spin. It makes Crazy Time one of the industry's most varied live dealer titles.
How Does Crazy Time Work?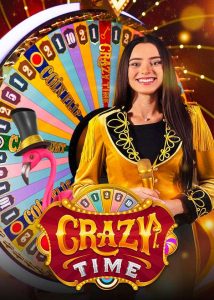 The first step players have to take is to place their bets. They can place bets on two different sections. The first is the standard numbers. These are 1, 2, 5, or 10. The second section is the bonus section. There are four bonus games, and users can bet on any game. These games will only activate if a player bets on them. The online live dealer who acts as a host will give bettors 15 seconds to place their bets then he will spin the wheel.
The wheel spins and lands on one of the betting options already mentioned. There's also a top slot which spins. This can provide up to 50 times multipliers for players if both sides of the slot land on the line. If the wheel lands on a number, all players who have wagered on the number will receive a payout of their stake multiplied by the value of the number. If there is a multiplier from the top slot, then the game applies it to the win.
The four bonus games are as follows:
Coin Flip
Pachinko
Cash Hunt
Crazy Time
Each one offers players a different bonus experience and can provide higher levels of payout to players. The coin flip will flip a coin, then award one of two multipliers. The Pachinko game works like a classic machine with a ball bearing dropping into a box with a multiplier attached. Cash Hunt works like a funfair shooting range, where users choose symbols with multipliers hidden underneath. Crazy Time is another wheel game where bettors can grab amazing wins. The bonus games are where the maximum payouts are available in Crazy Time.
Crazy Time RTP and Win Potential
The RTP for Crazy Time is 96.08%. However, each betting choice will provide a different overall RTP. For example, betting on the 1 has a higher chance of landing but smaller wins. So it will have a different RTP to betting on the 10, which has higher wins but less chance of landing. The same concept will apply to the volatility, with the 1 providing lower volatility than the 10.
Players can grab some impressive wins in Crazy Time, especially if the multipliers come into play. However, the win potential is lower in the main game compared to the bonus games. Betting on the numbers will provide up to 500x the stake as a maximum win. That said, the Crazy Time bonus game offers the top payout of up to 20,000x the stake. So, playing for the higher risks will lower the number of payouts but increase the potential top prize.
Crazy Time Bonus Features
There are four bonus games in Crazy Time. Coin Flip, Pachinko, Cash Hunt, and Crazy Time are the bonus rounds. Each one is only accessible if users bet on the bonus section. So, if players want to play the Pachinko round, they must bet on it, and then the wheel has to land on the Pachinko space. The main appeal of the bonus rounds is the increase in potential payout.
Coin Flip
The coin gets a red and a blue side. Each side receives a multiplier value. Whichever side lands has the multiplier amount on the screen, and players win the value.
Pachinko
A simple game of Pachinko. Ball bearings fall, and wherever it lands, bettors claim the multiplier. 
Cash Hunt
Here, users can enjoy a picker game. Many symbols appear on the screen, and bettors fire a cannon at them. Wherever the cannon lands, a symbol turns over and reveals a multiplier.
Crazy Time
The main bonus game but also the hardest to activate. When this round begins, it takes players to a brand new wheel. Here there are three flappers at the top of the screen. Bettors choose a flapper, and users get the prize wherever it lands. However, if the wheel ends up in the double or triple spaces, it spins again for bigger prizes. It can happen multiple times for a maximum payout of 20,000x the stake.
Players can carry out many different strategies when betting with Crazy Time. As it's a title with a wide range of options, it makes it simple for high and low-risk bettors and those in between. However, to create a betting strategy, users must first understand the RTP for each betting option. Our table provides a concise layout of what each bet offers.
| Bet | RTP |
| --- | --- |
| 1 | 96.08% |
| 2 | 95.95% |
| 5 | 95.78% |
| 10 | 95.73% |
| Pachinko | 94.33% |
| Cash Hunt | 95.27% |
| Coin Flip | 95.70% |
| Crazy Time | 94.41% |
The RTP information makes it far easier for bettors to create their own strategies. However, our guide provides a simple framework to get up and running with an easy betting strategy.
Low Volatility Strategy
Our low-volatility strategy is easy to follow. This strategy sees players covering over 50% of the wheel on every spin. First, place a wager of 2.5 units on the 2, 2.5 units on the 5, 2 units on Coin Flip, 2 units on Cash Hunt, and 1 unit on Crazy Time. This allows users to cover most of the board while only spending 10 units on each spin. If bettors have a starting balance of 100, it will enable players at least 10 spins, allowing them to play a bonus round and grab one of the bigger wins.
Medium Volatility Strategy
Our medium volatility strategy enables users to play for bigger prizes while covering their backs with easier options. Bettors place 1 unit on 1, 1 unit on 2, 1 on Coin Flip, and 1 on Crazy Time. It covers a significant portion of the wheel while providing access to higher-paying bonus rounds. Bettors can also modify the strategy to remove the bonus rounds and cover the other numbers. However, this will remove the potential for higher-paying bonus games but increases the potential for regular payouts.
High Volatility Strategy
This strategy sees bettors playing just for the bonus. The first step is to place a unit on each bonus round. So a total bet of 4 units. If the wager loses, then users double their stake. With each spin, players double the stake until the bonus lands. This can lead to high levels of staking if it carries on too long, so a way to alleviate this would be to stake on a medium volatility strategy until the bonus hasn't appeared for four spins in a row. Once this happens, then begin betting on the bonus rounds. An alternative would be to limit how many times users double the stake and return to the original stake level at this point. Although it has a potential for far higher stakes, the bonus round provides the opportunity for more substantial payouts.
Pros & Cons About the Penalty Shootout Game
Pros
Potential for up to 20,000x the stake wins
Has many different strategy options
Players can try out a freeplay mode before playing for real money
Fast pace and fun bonus games
Cons
Bonus rounds can be hard to trigger
Big wins are difficult to collect
What Makes Crazy Time Unique?
Although Crazy Time shares many similarities with Dream Catcher, it also has features which make it unique. So, bettors looking to upgrade on the classic money wheel genre can find it here. So, Crazy Time stands out for these reasons.
Crazy Time Stats
Although the stats for Crazy Time will vary over time, at the time of writing, over 6,000 players have grabbed multipliers of over 5,000x within the last 30 days. It makes the possibilities for big wins impressive.
Coin Flip Bonus Game
It's almost like a bonus round from a video slot. Players get the opportunity to spin a coin and grab a huge win. It takes the standard Roulette variant gameplay to a whole new level.
Pachinko
It should go without saying, Pachinko is a fun game in its own right. So, seeing it available as a bonus round makes Crazy Time even more exciting. With huge potential wins, it's even more interesting.
Cash Hunt
A standard picker game with a bit more fun due to the cannon. Some great wins are available here, making Crazy Time pop when it lands.
Crazy Time Bonus Game
The jewel in the crown of Crazy Time is the titular bonus round. Up to 20,000x the stake is available, making it the top-paying bonus round.
There are many different payout options with this casino game. Our table makes it simple to discover the payout options for each bet choice.
Each payout can also land a multiplier which increases the potential prize. So, if a 50x multiplier appears, a bet on 1 would pay out 50x the stake.
| Bet | Number of Segments | Payout |
| --- | --- | --- |
| 1 | 21 | 1:1 |
| 2 | 13 | 2:1 |
| 5 | 7 | 5:1 |
| 10 | 4 | 10:1 |
| Pachinko | 2 | up to $500,000 |
| Cash Hunt | 2 | up to $500,000 |
| Coin Flip | 4 | up to $500,000 |
| Crazy Time | 1 | up to $500,000 |
The Biggest Win on Crazy Time Game
On 11th December 2022, Crazy Time saw its biggest ever win. Although the maximum payout is advertised at 20,000x, there was a payout of 25,000x in the Cash Hunt bonus round. It saw 5,512 players claim an incredible win!
Crazy Time Freeplay & Mobile
As Crazy Time uses HTML5 to form its engine, it is available across mobile devices. It provides excellent on-the-go betting to players, making it one of the most appealing titles available. Additionally, it also offers freeplay modes, ensuring bettors can create a betting strategy without spending any crypto. Of course, there's no way to guarantee how a game will play out, but creating a system using actual gameplay is always best.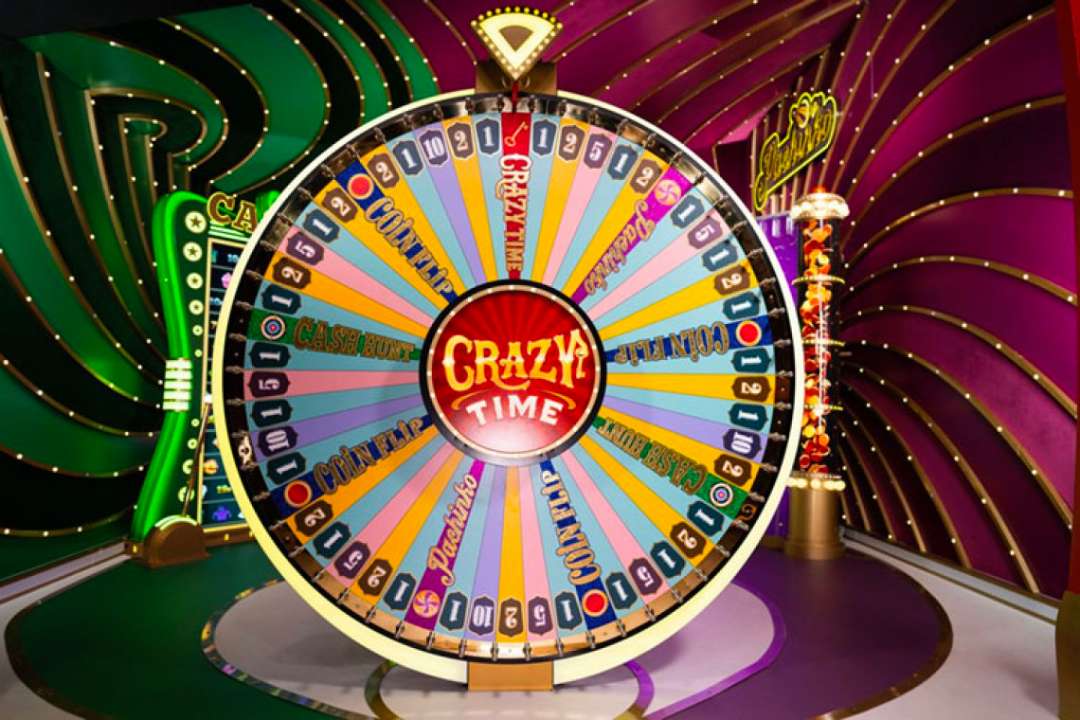 Top 10 Online Casinos to Play Crazy Time Game for Real Money
Crazy Time is a rare game which has something for everyone. Players can bet on any budget because it allows for multiple betting strategies. There are prizes for low-budget players and stake options for high-roller players. It is genuinely the perfect game for any budget.
Of course, it isn't perfect, but the positives far outweigh the negatives. The bonus rounds break up the main game, ensuring excitement is constant. There's so much to enjoy that users may not return to other forms of gaming.
We feel this game is amongst the best live dealer titles on the market, so anyone looking for an immersive experience should seriously consider giving it a go.
How do I get to the bonus round at Crazy Time?
To make it to the bonus round in Crazy Time, players must first place a bet on one of the bonus rounds. Then, if the wheel spins and lands on the chosen bonus, the round will begin. Bettors can't enter the game if they make no bets on bonus rounds.
Who has made Crazy Time?
Evolution Gaming is the name of the game developer.
Where can I play Crazy Time?
Crazy Time is available at many top crypto casinos. The best sites to try the game are in place on our toplist. So, our toplist makes joining the most suitable option simple for anyone looking for a leading live dealer casino.
Do you win real money on Crazy Time?
Yes, players can win real money with Crazy Time as long as they place wagers using real money. It's impossible to win legitimate prizes when playing with the freeplay version.
What is the highest multiplier in Crazy Time?
Between 20,000 and 25,000x, the stake is available as a payout. However, it is difficult to grab wins this high, and 5,000x the stake is the most common high-level multiplier.
How to make money in Crazy Time?
To make money in Crazy Time, players need a combination of a solid strategy and a bit of luck. Gambling has no guarantees, and bettors must understand this before they start betting.
How many slots does Crazy Time have?
There are 54 different segments in the wheel. The 1 option has the most segments with 21.
Can you play Crazy Time in America?
As long as players choose a crypto casino with Evolution Gaming, they can play Crazy Time. So, bettors looking to enjoy this live dealer title should research available developers before creating an account.