Bitsler Casino

Bitsler Casino Review

Many cryptos available
Quality Casino Games
Esports

Summary

Are you looking for a casino with uniquely developed, provably fair and immersive games? Well, we believe that Bistler Casino might be the hybrid gambling site for you. The operator indulges you in the most carefully curated library of Slots, Game Shows, Bistler Originals, Table Games and Live Casino, not to mention the expansive Multi-market sportsbook. In this Bitsler review, we'll share everything you need to know, and why you should give it a try. Let's get started!

Accepted Currencies

Main Features

Many cryptos available
Quality Casino Games
Esports

Blockchain

Customer Support

Licences

Fairspin Casino

Fairspin Casino Review

Provably Fair Games
Low wagering
Huge selection of cryptos

Summary

Fairspin gives crypto players one of the most comprehensive cryptocurrency choices around. With a superb welcome bonus and fantastic gaming choices, Fairspin is an industry leader.

Accepted Currencies

Main Features

Provably Fair Games
Low wagering
Huge selection of cryptos

Blockchain

Customer Support

Licences

JustBit Casino

JustBit Casino Review

Cashback Bonus
Excellent on mobile
Easy & quick withdrawals

Summary

This new site provides players with casino gaming and sports betting. The welcome bonus is wager free too, which makes it a great site for new players to try out. Players can also enjoy lots of different cryptos with JustBit.

Accepted Currencies

Main Features

Cashback Bonus
Excellent on mobile
Easy & quick withdrawals

Blockchain

Licences
NEO Casino Sites Reviewed
1. Bitsler - Best Overall
Bitsler takes the top spot on our NEO toplist for various reasons. Its overall selection of cryptos, including NEO, provides superb gaming options and offers fantastic bonuses. Bitsler provides an overall superb crypto casino experience, which should appeal to almost all NEO players.
There's also a superb welcome bonus available at Bitsler. Players can claim a 100% matched bonus up to a maximum of $700. However, what's most impressive here is the wagering requirements. Bettors earn XP by playing casino games and betting on sports. Players then claim the bonus as they gain the XP, which means the bonus is ready for players to use however they want. There's an excellent selection of casino games, sports betting, and eSports betting, ensuring bettors can wager on anything.
The only real drawbacks for Bitsler revolve around the live chat and KYC. Bettors can't access live chat if they have an issue, which is a slight concern, especially with most sites featuring live chat now. Players must also complete KYC, so total privacy isn't available at Bitsler.
| Crypto Bonus | Wagering Requirement | Minimum Deposit | Available Currencies |
| --- | --- | --- | --- |
| 100% matched bonus up to $700 | Uses XP to complete wagering | 0.0001 BTC min deposit | 17 cryptos |
Pros
Superb choice of casino games and sports betting
Bonus wagering completes over time
Excellent crypto bonuses are available
Cons
Doesn't offer a live chat for customer support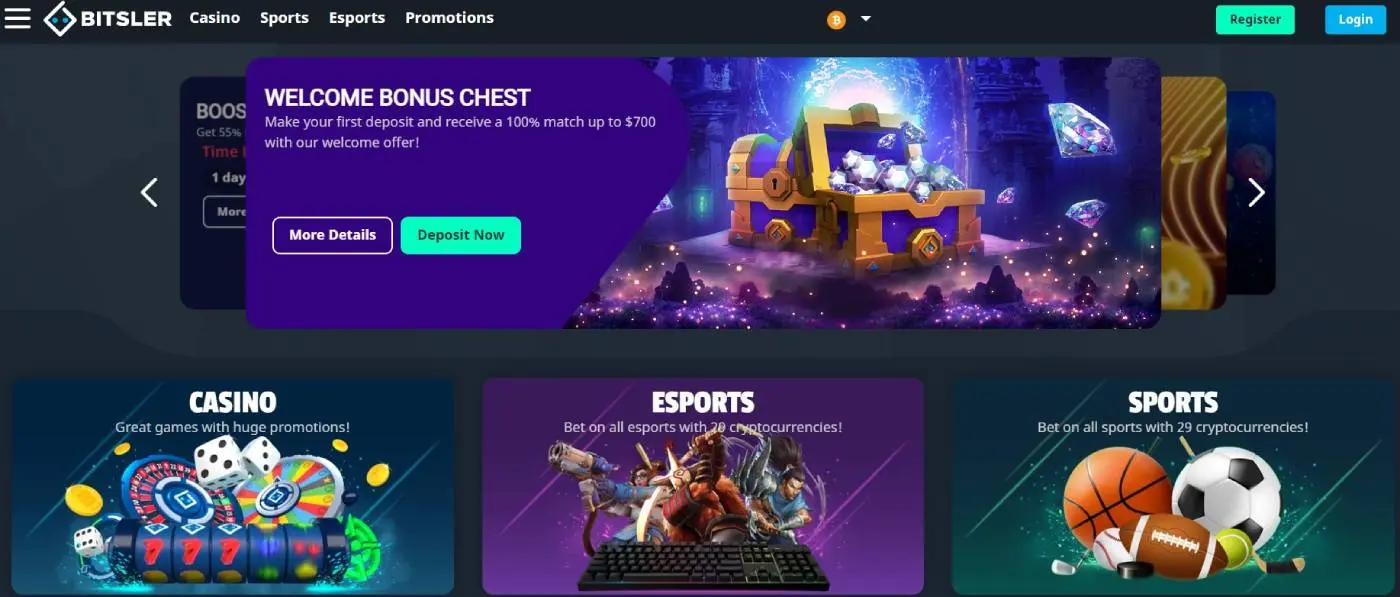 2. Fairspin - Best for Low Wagering Requirements
Fairspin stands out from other sites on the market due to its excellent wagering requirements. Fairspin wagering is a big consideration, with many players looking to claim a welcome bonus. However, it's not just the bonus bettors will enjoy here. It also features a fantastic selection of games, superb sports betting, and additional promotions. It makes Fairspin an excellent choice for NEO players.
Bettors can claim a welcome bonus of up to 5 BTC with Fairspin. Additionally, it provides free spins as an extra bonus. It's a massive welcome bonus that will appeal to many players. Fairspin sets the wagering at just 25x, so it's more reasonable than many other crypto casinos. The site is more than just the bonus, though. It has superb casino games, provably fair titles, and sports betting. One of the most comprehensive betting selections available.
Customer service is also of an excellent standard. Bettors can get in touch anytime, with live chat always available. It's good to see bettors always able to resolve any problems. However, Fairspin does require bettors to complete KYC, which is a minor drawback. With privacy a critical factor for crypto bettors, it would be an improvement to be able to avoid KYC.
| Crypto Bonus | Wagering Requirement | Minimum Deposit | Available Currencies |
| --- | --- | --- | --- |
| Up to 5 BTC and free spins | 25x | $1 min deposit | 16 cryptos |
Pros
Features low wagering requirements
High crypto welcome bonus
Bettors can bet on provably fair games
Cons
KYC verification is a requirement for new players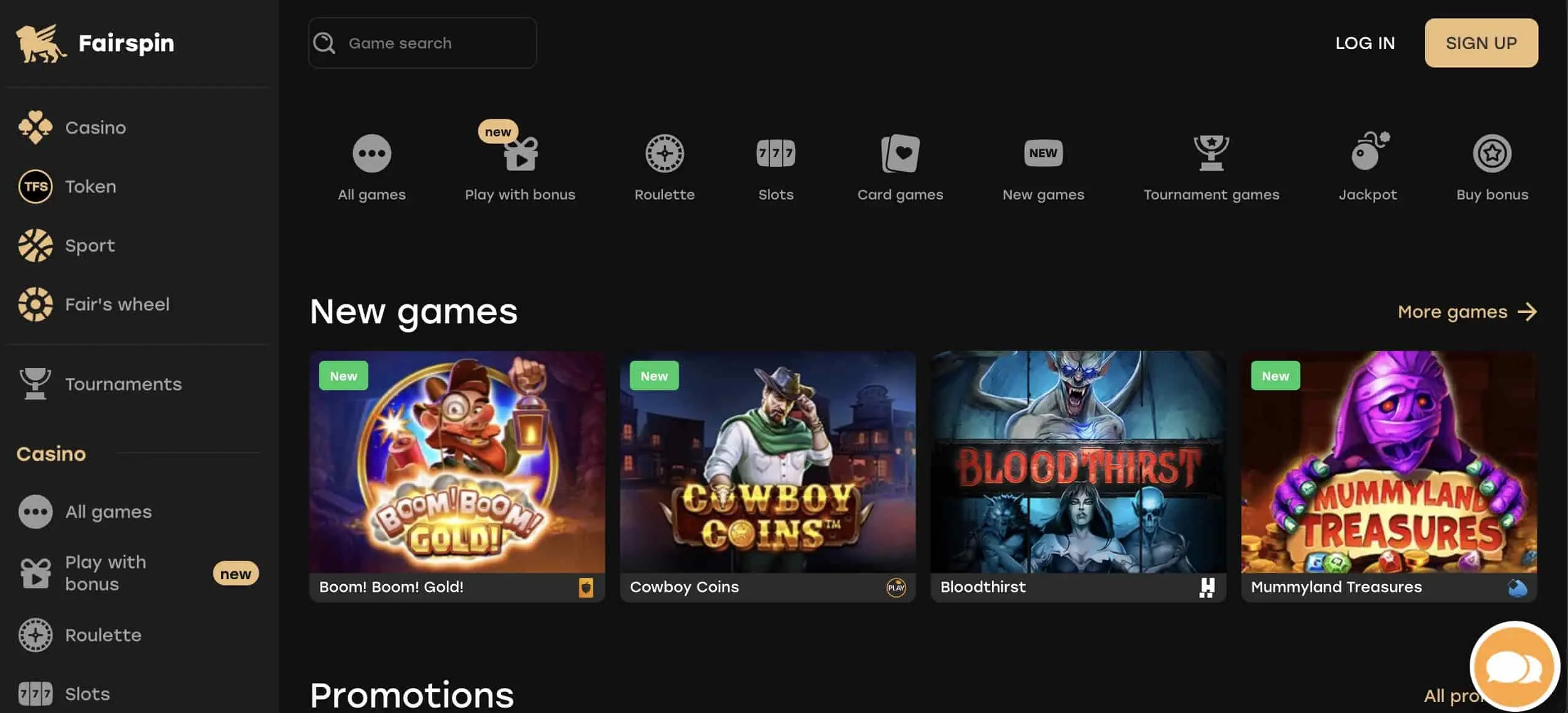 3. Justbit - Best for Weekly Cashback
Justbit rounds out our toplist of NEO casinos. Although it's a smaller brand than the other two on the list, it still garners a good reputation within the industry. Bettors may not have access to a welcome bonus, but a weekly cashback bonus is available. Bettors can claim 10% of their losses from the previous week each Thursday. It ensures even after a bad week, bettors can still grab some extra funds.
The game choice at Justbit is superb. Bettors can enjoy an extensive choice of provably fair titles, which is superb at a crypto casino. There's also a fantastic range of sports betting options, which is a nice bonus. The lack of a welcome bonus is a minor inconvenience, but the weekly cashback makes up for it.
Although KYC is a grey area at Justbit, it's good to see 2FA in place. It ensures bettors have complete protection when creating an account. The customer support is also positive, with the live chat offering excellent service. However, an FAQ would improve the overall support experience.
| Crypto Bonus | Wagering Requirement | Minimum Deposit | Available Currencies |
| --- | --- | --- | --- |
| 10% weekly cashback | N/A | 0.0005 BTC | 9 cryptos |
Pros
Cashback is available every week
Provably fair games are available
Superb range of different casino games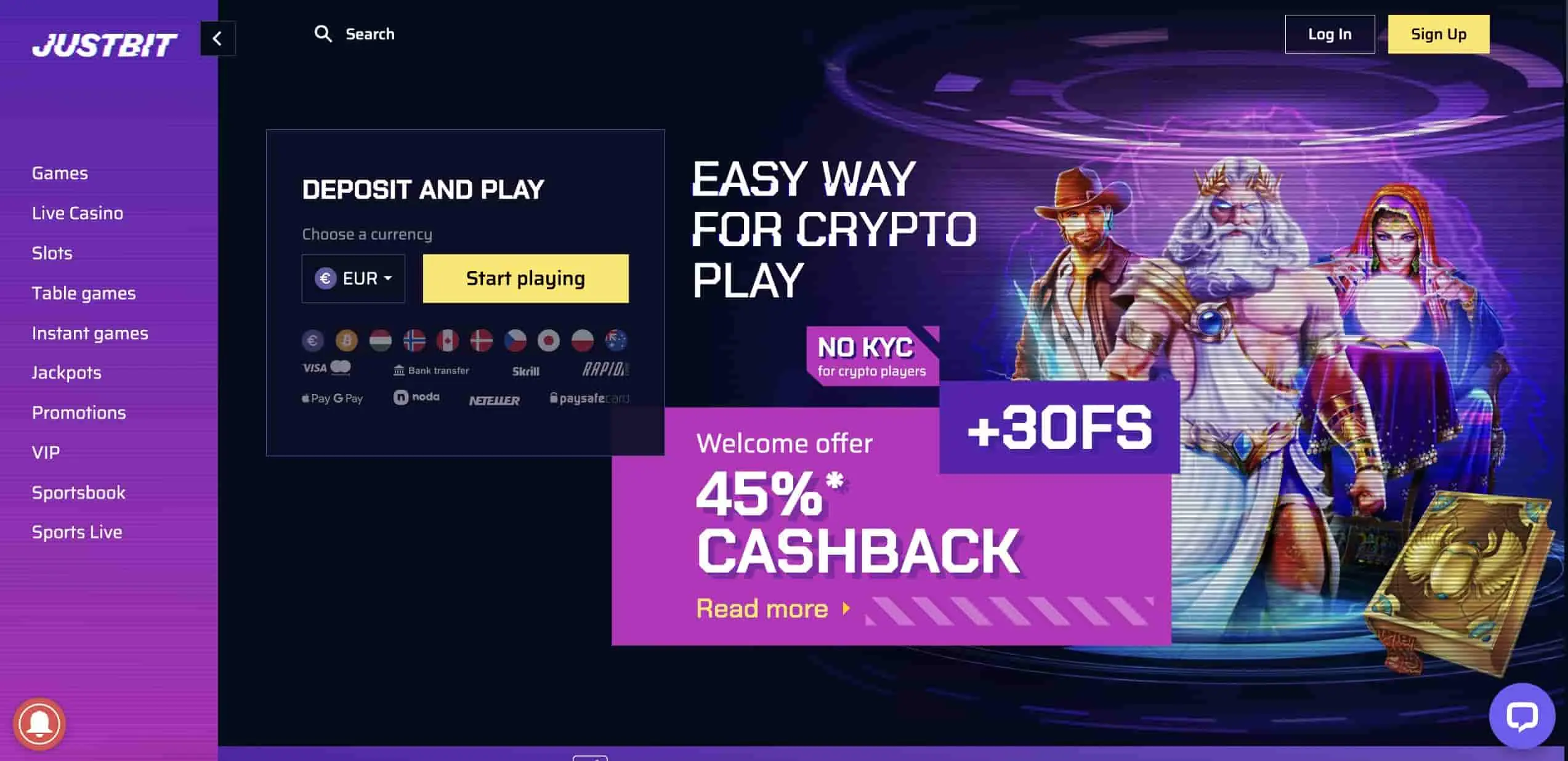 Introduction to NEO Gambling
NEO is a cryptocurrency that operates on a software network. Initially released in 2014 under a different name, it had a rebrand in 2017 and became NEO. It doesn't have a significant market share currently, but there's a lot of potential for NEO to become a significant player in the crypto world.
The number of crypto casinos accepting NEO payments is currently relatively low. However, with more NEO dapps in development and its decentralized file storage system showing a lot of promise, it could become a more prominent player in the future. Therefore, bettors seeking a low-fee, high-functionality crypto should consider using NEO for crypto play.
Advantages of Gambling with NEO
Gambling with NEO provides a range of advantages to bettors. Although it's a smaller crypto, significant positives are still available to NEO bettors. We've closely examined what NEO offers, so our players know what to expect.
Downsides of Gambling with NEO
Of course, gambling with NEO does have some minor downsides. While the benefits ensure NEO betting is a positive experience, bettors should still be aware of the potential negatives.
Volatility
Crypto is volatile. It means there are some risks when playing with crypto. For example, if the value tanks overnight, bettors can make significant losses even if successful when betting. However, bettors should also know it can be positive if the value increases significantly.
Limited Choice
Unfortunately, NEO isn't as widely available as the more prominent cryptos. As a result, it means it's not an option at many crypto casinos. Bettors must be aware of this when choosing crypto to play with, especially if they have an eye on a specific site.
How to Start Gambling with NEO?
Gambling with NEO is a relatively simple task for players. Our step-by-step guide ensures bettors can easily start NEO betting.
Step 1: Find the most suitable crypto casino. Our toplist makes it simple to find the best NEO betting sites available
Step 2: Create an account and make a deposit. Using a crypto wallet, bettors can instantly fund their casino account with NEO
Step 3: Select the welcome bonus if it's available
Step 4: Choose the best games to play
Step 5: Bettors can instantly withdraw from their crypto account after creating a big win. Just access the account payments page and enter the correct wallet address
How to Withdraw Funds from NEO Gambling Sites?
Withdrawing funds from a NEO casino account can be daunting for beginner players. However, our easy-to-follow guide ensures bettors can have their hands on winnings in no time.
Step 1: Navigate to the account withdrawal page
Step 2: Ensure bettors have fulfilled all wagering requirements
Step 3: Enter the amount to withdraw from the account
Step 4: Fill in the correct crypto wallet details. The most critical step, as if the details are incorrect, bettors will lose their funds forever
Step 5: Double-check the crypto wallet details to ensure they are correct
Step 6: Check one final time, then click on the request withdrawal button
Step 7: Wait for the crypto casino to process the request and issue the funds
The Future of NEO Gambling
NEO gambling has a bright future within the iGaming world. Because NEO allows developers to create dapps and includes a decentralized file storage system, the game development potential is immense. It could see an entirely new form of crypto casino games emerging. While there are no guarantees about what we will see at the moment, NEO has a thriving community of developers, so there's every possibility innovative games will arrive.
NEO can also complete identity checks through its network. So, while privacy is a cornerstone of the De-Fi community, casino regulators like to ensure bettors are legitimate players. So while it will remove some anonymity, it's possible it could allow bettors to verify their legitimacy without giving up their anonymity to the casino. Of course, it would require creating a new system to link from NEO to casino networks, but it is one option that could increase security levels without reducing player privacy.
Key Factors to Keep in Mind Before Choosing Any NEO Online Casinos
When choosing a crypto casino, it's vital for bettors to fully understand what they're looking for. In addition, each site will have its own positives and negatives, so bettors must be aware of these. We've collected a list of what we think are the most critical factors when selecting a NEO casino. So, any bettors who aren't quite sure of what to look for should strap in and follow our guide.
GEO Restriction
Every site will have different territory restrictions in place. It depends on a range of factors, such as the location of the site and the regulatory license it has in place. Bettors must check on the GEO restrictions before creating an account. Doing this will help to remove any issues when withdrawing winnings. Bettors should also be aware they can generally get around restrictions with a VPN, but this creates additional risks further down the line. For example, VPN use can lead to the forfeit of funds if the casino discovers it. So, bettors can get around restrictions but must weigh the risks beforehand.
Crypto Reputation
Not every site has a positive reputation within the crypto community. Some sites treat players well, and some treat them poorly. If a site has a poor crypto reputation, it's a good sign to avoid it. Bettors can check on the reputation of sites using our toplists and reviews. It's the easiest method of accessing the most reliable information on the market.
Deposit & Withdrawal Speed
Although rapid completion is a hallmark of cryptocurrency transactions, some crypto casinos add on their own processing time. It means even with near-instant transactions, it can still take a lot of time for bettors to access their funds. As a result, players should check on processing times before signing up.
Security
Site security is a vital aspect of a crypto casino. If the security is poor, it means players can't trust the site. With the high value of crypto and the potential for the site to store personal information, bettors should always avoid sites without high-quality security. Our reviews always cover the security aspects of crypto casinos in detail. So, bettors can always be fully aware of their own safety before creating an account.
Deposit Bonuses & Promotions
Every site offers bonuses and promotions to players. However, the bonuses are different across the board. So, players shouldn't just check what the bonus provides, either. The terms and conditions are just as important. If the terms are unfair, bettors will never get any benefits from claiming the bonus. So, every aspect of promotion is vital for it to be a good one.
Welcome Match Bonus
A welcome match bonus is a matched amount relating to a player's initial deposit. It's typically a percentage of the first deposit, anywhere from 25% to 300% can be available. The bonus will have wagering requirements which can range from 10x to 50x. The higher the wagering requirements, the less appealing the bonus. Free spins can also be part of a welcome bonus, but it's not always the case.
Reload Bonuses
A reload bonus is similar to a welcome match bonus, except it is available throughout the player's time as a casino member. Although it might not be available on every deposit, it might only be available on Tuesdays, for example. Reload bonuses are typically lower than welcome bonuses but usually have similar wagering requirements. Like the welcome bonus, reload bonuses can also offer free spins as part of the promotion.
NEO players have much to look forward to, especially as more dapps appear. However, at the moment, the total number of NEO casinos is relatively small. Despite this, bettors can still enjoy some fantastic sites, with Bitsler and Fairspin having outstanding reputations. Justbit provides a similar level of service to the other two sites but doesn't have such a high reputation yet.
Bitsler stands out as the best on the market, but with other sites likely to adopt NEO further down the line, it could soon have more competition. The innovative wagering requirements are a particular high point for Bitsler, but the fantastic overall gaming selection is another massive positive.
NEO is a crypto with a high ceiling, so bettors should monitor its direction. The potential it harbors is incredible, with many developers already looking to create forward-thinking dapps using the NEO network. It might take several years for NEO to reach its potential, but once it does, the crypto landscape could change forever. Like all high-potential crypto, users shouldn't look at what it offers right now but what it could provide in the next decade.
Are NEO casinos safe?
All NEO casinos we recommend are completely safe. Although there may be unsafe sites on the market, we never recommend a crypto casino that puts bettors in danger. So, bettors who want to play at a safe NEO casino should always consult our toplist first.
Is online NEO gambling legal?
It depends on the individual territory. Some countries don't allow gambling or specifically don't allow crypto gambling. As a result, bettors should research whether they can bet within their jurisdiction before signing up. However, as a general rule, as long as crypto gambling is legal within a territory, then NEO gambling is legal.
Are there any NEO exclusive bonuses?
At the moment, there are no NEO exclusive bonuses available. However, there are crypto bonuses, so bettors can claim a bonus with a NEO deposit.
Can I gamble with NEO anonymously?
It depends on the crypto site. If the site has KYC protocols, bettors cannot bet anonymously. However, if there's no KYC, then bettors can play anonymously. But, again, it's important to remember the casino is responsible for the player's anonymity, not NEO. So, if a site doesn't allow anonymous play, it doesn't matter which crypto players use, they can't gamble anonymously.
How long does it take for a NEO transaction to go through?
NEO transactions generally complete instantly. However, bettors must remember that some crypto casinos add processing time. So, even if a NEO transaction completes instantly, if the site adds on three days of processing, it won't go through for at least three days.