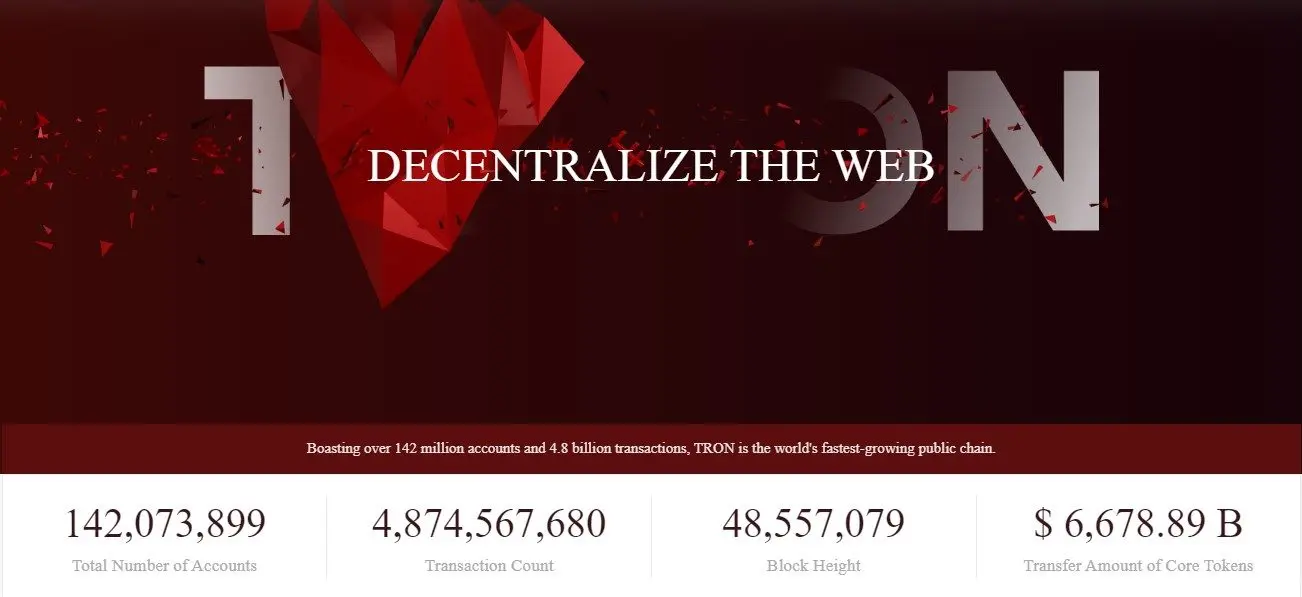 Tron is a peer-to-peer blockchain platform designed to decentralize the internet and promote content and entertainment. Companies like Facebook, recently rebranded Meta, YouTube, and Netflix are among the most profitable in the global entertainment industry, yet do not produce any content. Netflix, for example, charges producers to host content. Eventually, most of the profits go to these firms, leaving the content creators with peanuts. Tron aims to change this concept by allowing consumers to reward producers directly. What's more, it adopts a decentralized method to eliminate content censorship, meaning rogue authorities will no longer be able to gag and restrict truthful media.
To make this dream a reality, the network presents itself as a platform on which sophisticated games, decentralized finance applications (dapps), and exchanges can be developed. Some of the most popular apps powered by the network are SpaceToast, JustSwap, Wink Gambling app, and Rocket Game. Like Ethereum, it aims to offer developers convenience, affordability, and a ready community of users. Its architecture also helps to eliminate conventional networks' latency, with a transactional finality of about one minute and a capacity to process up to 2,000 transactions every second. This makes it much faster than rivals like Ethereum, Cardano, and Monero.
The Tron token, also called Tronix and abbreviated as TRX, is the ecosystem's native coin. It can be subdivided into smaller units named after the founder SUN. One TRX coin equals 1,000,000 SUN. As of writing this, there are 91,720,974,179 TRX tokens in circulation for $0.06598 each, which brings the coin's market cap to $6,057,389,746. CoinMarketCap estimates a daily transaction volume of $624,799,740. The maximum supply limit currently sits at 101. 6 billion, but this can be increased through voting if necessary. While it may have different use cases, its primary goal is to re-organize power in the content distribution sector and spearhead an era of democratic content creation. Here are some essential uses:
The Tron network was initially created for Asia but was overwhelmingly adopted worldwide after launch.

The network's role is to cut intermediaries in the entertainment sector and give creators autonomy over earnings.

There are over 140 million unique wallets active on the Tron Network.

The Tron standard TRC20 protocol boasts the highest number of stablecoins with over 30 billion USDT.

Anyone can become a super-representative on the network after acquiring at least 100 million votes. Each vote corresponds to one token.

There were more than 1,400 dapps on the Tron network by the end of 2020
Chinese tech entrepreneur Sun Yuchen, better known as Justin Sun, founded the Tron Foundation in 2017 and managed it during developing and launching the Tron network. He is the former chief representative of Ripple in China and the founder of the audio content app PeiWo.
The token's first contact with the crypto market was a private sale of its 25.7% initial supply in January 2017. An ICO of 40% followed this in August of the same year. The remaining 34.3% of the coins were assigned to the foundation.
The foundation made significant steps in 2018, including acquiring BitTorrent and overseeing the transition of Tronix from an ERC20 token on the Ethereum network to its own blockchain. Justin Sun completed the decentralization of this crypto by stepping down as the Tron Foundation CEO in 2021 and handing control over to the DAO.
Key Milestones
July 2017: Sun Yuchen creates the Tron Foundation in Singapore
March 2018: Launch of Tron testnet, Blockchain Explorer, and Web Wallet
May 2018: Tron's independent mainnet publicly launched
July 2018: Acquisition and integration of BitTorrent, boosting the community by over 100 million
Sept 2018: Over 80 dapps had been deployed on the Tron Virtual Machine (TVM)
March 2019: New stablecoin announced USDT-TRC20
October 2019: Tron partners with Samsung to publish dapps on the Samsung Galaxy
April 2020: Samsung launches Tron apps section on the AppStore
June 2021: USDC stablecoins introduced on the Tron network
July 2021: Tron Foundation restructures to Tron DAO
December 2021: CEO Justin Sun steps down and hands complete control to the DAO
May 2022: Launch of USD Digital dollar-pegged stablecoin, with ticker symbol USDD
Data on this blockchain is free and not controlled by governments or other central authorities because it is a decentralized network. Producers can post premium content and earn TRX token revenue. The blockchain also enables content owners to create their own currency based on the primary TRX coin and use it within their projects. A proof-of-stake mechanism known as delegated proof-of-stake secures transactions (DPoS). The DPoS system consists of 27 "super representatives" who validate transactions and compete for TRX rewards. DAO members use a voting system to choose Super representatives every six hours on a rotating basis. A new block is created every three seconds, but immutability requires 20 blocks, which take about a minute to complete.
The main building blocks of the network are:
Decentralization
 Tron's super representatives help decentralize the network and allow data to move freely.
Digital assets
For an efficient working environment, digital assets are needed to facilitate content distribution. Creators can use the platform's network coin or develop their own.
Personal ICO
Individual developers are free to fundraise on the platform through ICOs to find the necessary funds for the success of their projects.
Smart Contracts
The technology behind the blockchain allows the deployment of smart contracts in sophisticated assets such as dapps.
What Makes Tron Unique?
Unlike Bitcoin, which was mainly developed to replace fiat by offering an alternative trustless payment system, Tron is less of a currency. At the heart of it is a primary focus on the entertainment sector, where it seeks to get rid of go-betweens. Instead of improving on the weaknesses of an existing coin like most new cryptocurrencies do, Tronix took a different route of liberating content creators. For that reason, the team behind it wants the network to be the most interoperable and user-friendly platform for all users.
Apart from the Tron Virtual Machine (TVM), where software developers can create and launch dapps, the network is also compatible with the Ethereum Virtual Machine (EVM) and will soon be able to work with many other virtual machines too. Of course, one would expect to get all these at a premium price. On the contrary, there are no transaction fees for TRX, and the network is highly scalable. This makes it much more attractive than paying for content on a platform such as Netflix where you would still incur card payment charges. The ability to reward producers without interfering with their content ownership is exceptionally remarkable.
What Gives Tron Value?
Statista projects that the entertainment segment will hit $29.35 billion in revenues by the end of 2022. The income is expected to continue rising at a CAGR of 6.65% up to 2027, reaching at least $42.54 billion annually. This tells you how big the entertainment sector is. Tron derives its value from solving one of the biggest challenges of content creators. Within just six months after its launch, it secured a place in the top ten cryptocurrencies. It signed up over 1 million users and surpassed Ethereum's daily transactions, yet that was only an insignificant number compared to the millions of content creators available. Today, TRX holders have tripled the number of YouTube channels, which stood at about 51 million as of December 2022. The platform allows developers to use high-level programming languages and is moving towards a future where it will be compatible with all programming languages. Besides, there's a ready community of users, so developers don't need a heavy budget to market and introduce their dapps.
Governance
TRX token wallets are all eligible to participate in the DAO's decision-making activities through voting. The strength of each wallet's vote is determined by the number of tokens held, with each coin representing a single vote.
Payment
The Tron coin is used for transactions within the ecosystem. Content creators can list their products and get paid by users in TRX. While it's possible to create a custom coin, it will still derive its value from the platform's native token.
Reward validators
Super representatives who validate transactions to unlock new coins and secure the network get rewarded in TRX
Staking
Coin holders can participate in securing the network by nominating validators through staking. In return, members who stake their coins earn interest in Tron tokens.
Pros
Processes more than 2000 transactions per second
The platform can support multiple applications
Developed by a team of reputable and experienced developers
Has a unique use case which gives it high value and demand
The coins are affordable and have zero gas fees
The platform has established multiple strategic partnerships.
Cons
Accused of partial centralization
Only about 15% of issued tokens available to private investors
The project is still in its initial stages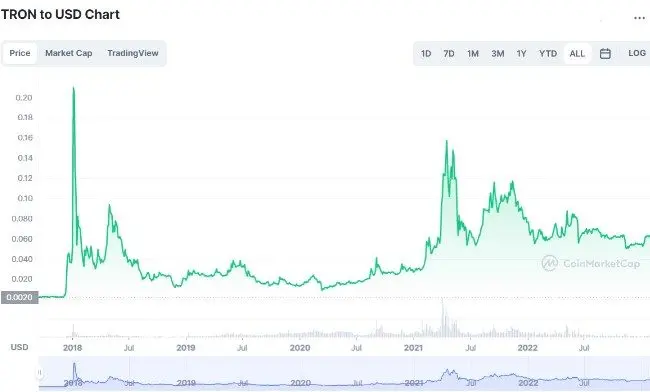 TRX was launched during the 2017 bull run that saw the market cap for the entire crypto sector skyrocket from about $14 billion to over $300 billion within just a few months. As expected, it exploded, starting with a price of $0.001091 in September 2017, to an all-time high of over $0.20 by January 2018. This was quickly followed by a steep fall in price to bottom at $0.32. Since then, it has been trading far from the 2018 high. It remained between $0.096 and $0.011 until February 2021, when it made another solid bullish push. However, bears quashed the efforts at around $ 0.16, causing the value to plummet to the $0.57 area by July of the same year. After that, it made another upwards move to around $0.12, then joined the rest of the industry in the crypto winter in October 2021. It has since ranged between $0.002 and $0.085. On the other hand, demand for the coins is rising, with many speculating that this could be the next Bitcoin.
Is Tron a Good Investment?
Whether Tron is a good investment is subject to discussion based on various factors. This might not be your best bet if you are looking for a short-term investment that will make you quick money. However, for someone willing to hold their coins long-term, there are high chances of raking in huge profits from the future increase in value. Consider your risk tolerance and how much you will be left with after buying the coin.
Remember, cryptocurrencies carry insane volatility that has, in the past, driven coins like Terra Classic illiquid. That means you must stake your money sparingly in a way that won't hurt you, even if all of it gets lost. If you have already considered these factors, Tron might be a great asset to buy. Look at this; in barely five years, there are over 141 million active users and a total transaction count exceeding 4.8 billion. This tremendous growth can only point to how much value users find in it! The digital money industry suffered over $2 trillion in losses due to 2021/2022 crypto winter, which explains why TRX's value isn't rising proportionally with the number of transactions and users. If you have a keen finance eye, you will agree that this imbalance means the token is highly undervalued. So it's only a matter of time before investors start counting their profits. 
Ready to purchase TRX for the first time? Anyone can do it on a crypto exchange like Binance using a credit/debit card or eWallet such as Paypal. The simple steps should guide you.
Step 1: Sign up with a digital currency exchange. You will need to visit the homepage of any virtual currency marketplace of your choice and register to get started. Some of them might require KYC verification, so have a photo of your identity documents with you, such as your passport and valid residential address proof.
Step 2: Buy Stablecoins Depending on your exchange, you may not find TRX being sold directly. In that case, use your credit/debit card to buy a stablecoin such as USDT or USDC.
Step 3: Buy TRX Now you can find TRX in the live ledger and swap your stablecoins with Tron tokens. Feel free to stake them or hold them as an investment.
How to Stake Tron - Step by Step
As discussed earlier, TRX uses a PoS consensus mechanism to secure its network. That creates an opportunity for token holders to earn passive income via staking. By freezing your coin balance, you become eligible to participate in the blockchain's operations by becoming a nominator who votes in network validators. Every account holder qualifies to vote for their favorite Super Representatives according to the number of tokens in possession. The more coins you have, the higher your voting power.
To start staking Tron (TRX) follow these steps:
Step 1: Create a compatible DeFi wallet such as TrustWallet, Bittrex, and Binance
Step 2: Sign in to your wallet
Step 3: Select "TRX" from the wallet screen
Step 4: Click on "Add Asset"
Step 5: Access your TRX dashboard for staking information
Step 6: Hit the "Stake" button, then specify the amount
Step 7: Enter your password to confirm your actions.
Note that your coins will be frozen for three days, so you won't be able to unstake or trade them. The annual APY is about 5.6% but might vary 
Tron has several partnerships and some acquisitions already. Here are some of the biggest names
Samsung: Through an international collaboration, Tron has integrated with Samsung KeyStore, meaning Samsung users can now access TRX and all TRC10 and TRC20 tokens through the phone's inbuilt blockchain wallet. This is only applicable in China for now.
BitTorrent: With at least 1 billion users, BitTorrent is the most significant decentralized protocol. Through a strategic partnership with Tron acquired, BitTorrent is now the world's most distributed application, with Tron becoming the most significant decentralized ecosystem.
APENFT: APENFT launched its NFT marketplace on the Tron public chain to attract a wider audience and introduce more immersive gameplay using NFTs. 
Poloniex: Justin Sun invested in Poloniex, a Seychelles-based digital asset trading platform, in 2019. Poloniex strives to create the "Goldman Sachs" of the crypto industry and offer investors a similar experience to that of Wallstreet.
What is the Future of Tron?
As evident from this page, Tron has already grown into a significant network attracting millions of users and investors. While most of this growth might be attributed to the 2017-2020 crypto boom, there is room for more remarkable growth in the future. As a form of investment, TRX might skyrocket in the next bull run to establish new highs. Even if it fails to do so, it will still make a vast enough move to reward investors handsomely.
As a blockchain network, there is nothing so far that might slow down the current uptake of Tron by both dapp developers and end users. Its gasless transactions are fueling a significant migration from competitor networks. If the team working behind it will enable the platform to start supporting most of the world's programming languages, Tron might overtake Ethereum in becoming the world's digital computer. Such success levels could see it becoming the real "Ethereum killer."
On the other hand, it's too early to make these predictions with certainty. The network recently received backlash on Twitter from some community members claiming it's centralized. Governments globally are also starting to warm up to the idea of crypto regulation which might have a major effect on the entire industry. For now, it's good to make every decision regarding TRX with caution.
Tron is one of the most outstanding blockchain projects so far. Compared to many cryptos that hardly have a clear use case, this one offers a solution that will greatly disrupt the entire content creation industry in the future. Tron might be the end of YouTube, Facebook, and even Netflix if it succeeds. Of course, there are competitors such as DigiByte and Telos. However, none of them appears well positioned to dominate the entertainment industry like Tronix. It is the largest decentralized protocol worldwide, boasting over 141 million users and nearly five billion transactions. Besides, it has made considerable strides in partnering with successful businesses globally. It's truly a blockchain technology marvel. On the flip side, it's still a new project with multiple development stages pending. While all the odds appear to favor it, exercising caution while investing in the digital coin wouldn't hurt. 
How many Tron tokens are in circulation?
As of writing this, there were 91,720,974,179 TRX tokens in circulation. The trading price was$0.06598, bringing the coin's market cap to $6,057,389,746
Can I make passive income from Tron?
Yes. Anyone can make passive income from Tron by purchasing the token and staking it through a compatible Web3 wallet like Binance and TrustWallet.
What is the purpose of TRON?
While the network has multiple use cases, its primary purpose is to establish a decentralized ecosystem where global digital and entertainment content is freely and fairly distributed without intermediaries.