ApeCoin (APE) is an ERC-20 utility and governance token that supports the APE ecosystem. It was developed by the Bored Ape Yacht Club and governed by the ApeCoin DAO. It was inspired by one of the world's most valuable and well-known cryptocurrencies. The goal of ApeCoin is to create a decentralized web3, which will enable users to interact with applications and services securely and safely. Compared to traditional networks, the ApeCoin network will provide users with improved speed, scalability, and security. As a result, users will be able to experience enhanced privacy and low transaction fees when using ApeCoin.
How was ApeCoin developed?
ApeCoin was developed in February 2021 by Yuga Labs, a company led by CEO Nicole Muniz. It was initially part of a collection known as BAYC and helped generate $127 million in revenue that year. In March 2022, the APE token was released under the guidance of the ApeDAO and distributed to NFT holders, the ApeDAO treasury, and other stakeholders.
The Ape Foundation Board, which includes Reddit co-founder Alexis Ohanian and Yat Siu of Animoca Brands, among others, is responsible for ensuring the implementation of decisions made by the ApeDAO, which is governed by holders of the APE token. ApeCoin Improvement Proposal-1 (AIP-1) established the ApeDAO and creative direction for APE.
What is the APE Ecosystem?
The APE Ecosystem comprises all the various products and services created by Yuga Labs that use ApeCoin as their native token. They include the Bored Ape Yacht Club (BAYC), Mutant Ape Yacht Club (MAYC), and Bored Ape Kennel Club (BACK).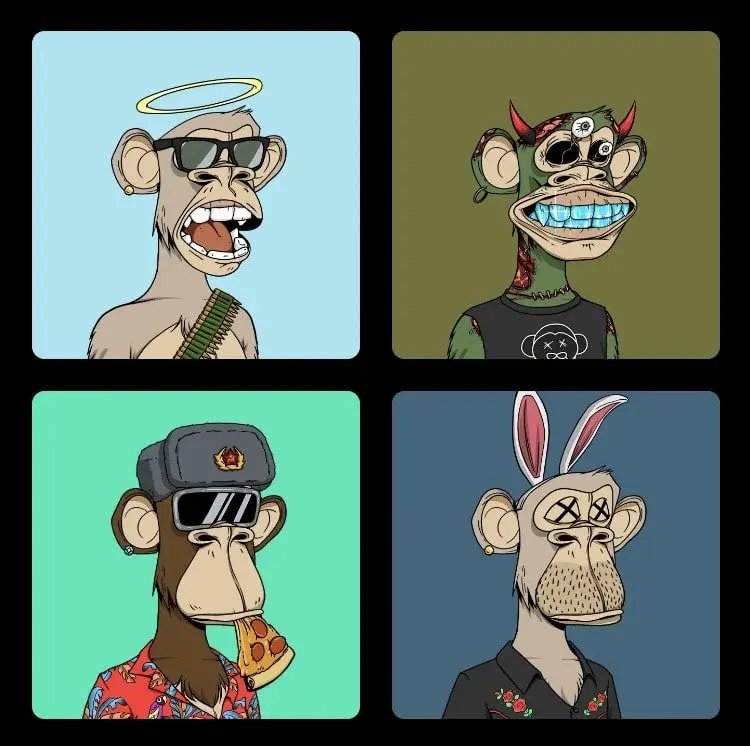 The Bored Ape Yacht Club (BAYC)
10,000 non-fungible tokens (NFTs), collectively known as the Bored Ape Yacht Club (BAYC), are stored on the Ethereum network. The basic price has increased from its initial value of 0.8 ETH ($190) per image to around $288,000 today. This is why the only individuals you'll see with one of these monkeys are famous people who were quick to adopt and realized the potential in this gallery when it was still in its early stage.
In September 2021, Sotheby's closed a $24.4 million auction for 101 Bored Ape Yacht Club NFTs, making it one of the world's biggest auction houses. Owners of Bored Apes get exclusive access to a closed Discord community where they can communicate, socialize, and form a bond with other Bored Ape owners, even famous people who have one. Additionally, ape holders get access to "The Bathroom," where they can submit a drawing on a virtual bathroom wall that serves as a community board every 15 minutes.
It's believed that the Bored Ape Yacht Club wants to grow and establish itself as an off-chain brand by fusing its designs with apparel and possibly video games for mobile devices.
Mutant Ape Yacht Club (MAYC)
A non-fungible token (NFT) branch collection of the well-known Bored Ape Yacht Club (BAYC) collection, Mutant Ape Yacht Club (MAYC) is made up of unique Mutant Ape digital art images. There are 20,000 NFTs in all in the collection, 10,000 of which were given to BAYC holders. A Dutch auction system was used to sell the additional 10,000 NFTs. A bored ape NFT gets exposed to a vial of the "Mutant Serum" to produce a mutant ape.
In the first hour after their release, the first 10,000 Mutant Apes purchases generated $96 million. 10,000 more Mutants were produced from "Mutant Serums," which were airdropped to previous BAYC holders. With the introduction of BAYC NFTs, the idea for MAYC NFTs had already gained traction. The Mutant Ape NFTs are supposed to be the second tier of Bored Ape ecosystem members, according to Yuga Labs. The Mutant Apes are a crucial tool for providing owners of Bored Apes with a brand-new NFT. Mutant Ape Yacht Club was one of the first NFT collections to offer a free, brand-new NFT to an existing group of holders.
Bored Ape Kennel Club (BAKC)
On the Ethereum blockchain, there are 9,602 odd cartoon dogs in the Bored Ape Kennel Club (BAKC) NFT collection. BAKC is a sister series of the original Bored Ape Yacht Club (BAYC) NFTs by Yuga Labs. Holders of the exclusive Bored Ape Yacht Club NFTs received even more value thanks to a free NFT airdrop. In July 2021, the Bored Ape devotees ultimately discovered what those NFTs would turn out to be: furry friends for their Bored Apes.
All of the income generated from Yuga Labs' initial time selling Bored Ape Kennel Club NFT on the open market has been donated to animal welfare. The BAYC apes' pets are the dogs in the BAKC NFT collection. These dogs are drawn in an eccentric cartoon manner, much like the Apes. Each BAKC NFT is created from a variety of rare qualities, including some crazy traits like jetpacks and missile launchers.
The ApeCoin DAO, the decentralized governance structure that underpins the Ecosystem Fund, is used by the ApeCoin community to govern itself. The APE Foundation's distribution of the Ecosystem Fund to support a diversified and self-sustaining ecosystem is subject to a proposal procedure that the DAO votes on.
Only ApeCoin DAO members are allowed to participate in idea submission, criticism, proposal submission, and voting. The sole prerequisite for joining the DAO is holding ApeCoin.
Owning ApeCoin makes you part of a DAO
The DAO hub is the website of the APE Foundation, which offers an interface to inform DAO members about the governance procedure and to make the channels below easily accessible to improve the efficiency and utility of the DAO.
For all proposals, "discourse" is the first port of call. An AIP (Ape Improvement Proposal) Idea is submitted as a Discourse post, and before it is made public, a moderator must certify that it complies with the DAO's rules. Holders of ApeCoin must go through a wallet authentication procedure to publish ideas or comment on ideas.
 Voting takes place via "snapshot." After going through their individual approval procedures, proposal drafts are then made available for voting on Snapshot. Voting requires wallet authentication for ApeCoin holders. The consensus mechanism of the ApeCoin DAO strives to make voting fair, transparent, and affordable so that ApeCoin owners can take part in the DAO's decision-making. Members of the DAO may delegate another person their vote. Voting delegation is the mechanism by which DAO members with tokens under initial lock-up will be able to vote. Members of the DAO may assign their vote to another DAO member they believe to be an authority on the issue.
Here are some guidelines of the DAO:
Every year, there is a DAO-wide vote to determine which DAO members will serve on a special council on the APE Foundation (the DAO's "Board"). The purpose of the Board is to administer DAO proposals and serve the vision of the community. This initial Board will only serve six months.

A Board member may be removed and replaced prior to the term's end pursuant to a majority vote of token holders.

The total cost of implementation must be clear for a proposal to go to vote.

DAO members must search past proposals to ensure any idea they intend to write a proposal for has not already been submitted.

If a suggested proposal directly conflicts with a proposal that is currently up for a vote, the second proposal should not go for a vote until a decision is made on the first proposal to avoid approval of opposing requirements.

A suggested proposal that directly conflicts with another approved proposal cannot go to vote for three months after the original proposal has been implemented to avoid wasting community assets.

Proposals will not be put up for a vote if they involve illegal activity, hate speech, pornographic material, or are at odds with the mission or values of the APE Foundation.
What can ApeCoin be used for?
Governance
ApeCoin is the ecosystem's governance token, allowing ApeCoin holders to participate in ApeCoin DAO
Unification of exchange
The ecosystem's utility token, ApeCoin, provides all of its users with a shared and open currency that can be utilized without centralized intermediaries.
Access
ApeCoin gives users access to specific ecosystem components that are otherwise inaccessible, including premium games, merchandise, events, and services.
Incentivization
Third-party developers can use ApeCoin as a tool to interact with the ecosystem by integrating APE into their services, games, and other projects.
The total number of ApeCoin tokens is set at 1 billion for all time. The overall supply will never rise since the contract interface does not show any minting capabilities. The total supply will never decrease since the contract interface does not disclose any mechanism to burn tokens.
The token was allocated thus:
The community of the ApeCoin DAO will receive 62% of the tokens. 15% (150 million tokens) of the total supply goes to BAYC and MAYC holders, who are individually entitled to 10,094 APE for each NFT they possess with BAYC, and 2,042 $APE under MAYC. The remaining portion (470 million tokens) was made available through the DAO's "ecosystem fund." (117,500,000 unlocked at launch, then 7,343,750 unlocked per month for 48 months).

16% of the total supply goes to Yuga Labs and Charity. Yuga Labs announced that 6.25% of its holdings in Yuga Labs, worth 150,000,000 tokens, would be donated to the Jane Goodall Legacy Foundation. These tokens will be subject to an initial lock-up period of 12 months, after which 4,166,666.67 tokens will be unlocked per month for 36 months.

14% was allocated to those that contributed to the ApeCoin protocol launch. With 10,000,000 tokens upfront, 25,000,000 after 6 months, 25,000,000 after 12 months, and 25,000,000 after 18 months. Initial lock-up for 12 months, then 757,575.76 unlocked per month for 33 months. Initial lock-up for 12 months, then 833,333.33 unlocked per month for 36 months.

8% (80 million tokens) was allocated to the four founders of Yuga Labs and BAYC. With initial lock-up for 12 months, then 2,222,222.22 unlocked per month for 36 months.
Is ApeCoin a good investment?
The crypto industry is known for being volatile and unpredictable, so any investment should be done carefully. However, many features make ApeCoin an attractive investment option.
First of all, the tokenomics of ApeCoin is robust. It's backed by the APE Ecosystem, which is built on the Ethereum blockchain and includes a marketplace and other services. This makes ApeCoin a secure, low-volatility cryptocurrency that is well-positioned for long-term growth.
In addition, the APE Ecosystem is designed to be an open and decentralized environment where anyone can participate. This means that ApeCoin has strong community support, which is important for any successful cryptocurrency.
Finally, ApeCoin has many potential use cases. It can be used to purchase goods and services within the network, pay fees in the APE metaverse economy, or even for incentives. All of these make ApeCoin a sound investment for those who believe in its potential.
Overall, ApeCoin is a good investment for those who are looking to diversify their crypto portfolio. Its tokenomics, community support, and potential use cases make it a viable option for long-term investors.
ApeCoin is a cryptocurrency that has been built on the Ethereum blockchain. It offers users a unique, decentralized platform for digital assets and is backed by a community of loyal supporters. It also provides access to a metaverse economy, powered by a DAO and features an array of applications and services. The APE tokenomics allow investors to own a stake in the ApeCoin ecosystem while providing developers and users with a secure, reliable form of payment. ApeCoin is an intriguing project worth exploring further, as it could become an essential part of the crypto landscape soon.