What is NFT Virtual Land?
NFT virtual land is a digital space in the metaverse closely resembling real-world real estate. Through blockchain technology, these lands are ownable as non-fungible tokens. Fungible items carry the same value, can be replaced, and exist simultaneously. A good example is money and cryptocurrencies like Bitcoin. On the other hand, when something is described as non-fungible, it's unique and can't be duplicated. For example, land on earth and diamonds are non-fungible. Similarly, NFT virtual plots are unique metaverse spaces with a high likeliness to real-world land and can't be replaced or reproduced.
NFTs make it possible for digital products to remain unique and gain value. They can't be reproduced in their original form, just like we have one original Mona Lisa painting. Now you must be wondering, how is ownership verified? Well, we haven't come across NFT virtual land notaries yet. To prove ownership, one simply needs to look for immutable blockchain transactions for info such as the exact day of minting, the creator, and the quantity produced. Your property is also secured by a smart contract that identifies you as the sole owner. Remember, eliminating intermediaries is one of the goals of blockchain technology. Of course, someone else might try to come up with similar products, but blockchain network transactions will expose them as fake.
What makes virtual real estate such a big deal is the immersive experience that comes with it. It feels so real even though it only exists inside your computer. Famous real estate investing projects such as Somnium Space, Sandbox, and Decentraland allow you to control the type of content on your space once you own land. You could become a farmer, run a club, restaurant, or even a spa. If you're not interested in all these, you could hold your land and re-sell it once it appreciates. Decentraland parcels were going for only $20 in 2017. At one time, they dropped to about $6, but you can no longer get hold of them if you lack about $5,800. Isn't that a phenomenal return on investment?

Different Types of Virtual Lands
Virtual lands fall under two main categories:
Social & Interaction Virtual Lands: These digital land projects give users an open-ended experience. You can interact with other community members through sporting, education, and business and explore the landscape in different forms of content creation.
Entertainment-Based: These projects are usually based on science fiction, fantasy, and literature. Most virtual lands today fall into this group. For example, Star Atlas gives users the power to virtual time-travel and explore futuristic cosmos as far as the year 2060.
How is the Value of NFT Virtual Land Determined?
Since digital real estate is blockchain-based, its value is affected by all three main factors determining the value of any other crypto-related project. You can also estimate the worth of metaverse land by considering some aspects that influence the price of real estate in the real world. Let's get into the details.
Utility: Utility is one of the most significant elements that give NFT virtual land importance. Each of these projects is developed with different use cases in mind. Most of them find a wide range of applications and solve real-world problems, while others merely ride on hype. Projects solving real problems tend to attract more users, creating higher demand which eventually translates to higher land prices.
Developer: Just like company directors and management influence the price of shares, the reputation of the developers and sponsors behind a metaverse project directly affects its valuation. Projects such as Axie Infinity, Sandbox, and Decetraland have appreciated speedily because the innovators are well funded, respected, and trusted.
Location: Like in the real world, land prices within the same digital blockchain project can vary sharply due to their location. A piece of real estate neighboring another valuable plot will carry a high value too.
Speculation: We can't end this discussion without mentioning the role of investor sentiment in pricing. When new projects start getting a lot of attention, especially from the media, speculation rises, and prices start to go up in anticipation of higher demand.
Possible Uses of Virtual Land: Use Cases in the Metaverse
Games:
Blockchain-powered games and cryptocurrencies have an engaging play-to-earn (P2E) gaming model where participants can create, own and control assets. Players can also make money through virtual tokens through these P2E virtual reality games. Axie Infinity, Sandbox, Atari, and Decentraland are some of the NFT land projects that are already operating. Users can own land and develop content according to the rules of the specific Metaverse platform.
Work:
Covid 19 forced a worldwide lockdown where almost everyone worked virtually from home. It's not only video conference companies like Zoom that grew popular, but the metaverse too. Employers realized there was a need for immersive 3D virtual reality work platforms. PwC Hong Kong is one of the companies that set to build virtual offices in the metaverse. The multinational firm acquired NFT land in the Sandbox towards the end of 2021, where it intends to set up a virtual office for offering Web 3.0 advisory services. This is just the beginning; NFT worlds will make the physical presence of employees in the office unnecessary. Web 3.0 spaces will make remote communication, collaboration, and coworking a reality. Instead of Zoom and Skype, it will be possible to conduct meetings in virtual rooms where each participant will be attending as an avatar. Nike, Intel, Gravity Sketch, YouTube, Upland, and McDonald's are some of the leading businesses in the development of virtual business infrastructure. Barbados has also hinted at setting up an embassy in the metaverse.
Tourism:
Imagine visiting your dream destination without breaking the bank to travel physically. NFT world's technology makes it possible to traverse different virtual spaces from the comfort of your PC. Experts argue that virtual lands with realistic touristic content could replace traditional tourism. Unlike 360 degrees virtual tours where one simply watches a video, metaverse platforms will allow you to be present as an avatar. So, you can tour your place of interest with your friends and family and hang out realistically. Even if you have the time and money to travel to a tourist destination, you may want to experience it in virtual reality before committing yourself. You won't have to fly to a destination only to realize it's boring. NFT land tourism will give you an authentic experience of different tourist sites before you can select one to visit physically.
Shopping:
Online shopping has been two-dimensional for a long time. With NFT worlds, we are likely to see the creation of metaverse shopping experiences without the limitations of traditional e-commerce. You will be able to test products, try them out, and feel them before spending your money. It will no longer be necessary to visit malls for shopping in the future. Buyers will check into different metaverse malls, select their favorite products, pay for them and wait for physical delivery. Zara is leading in this space with Network Stores. Through its collaboration with the Zepeto platform, the Spanish retailer is making its first steps into virtual reality shopping. Zepeto boasts more than 200 million metaverse users. Nike is not being left out. The firm has already opened Nikeland on the Roblox NFT land platform. You can dress your avatar in different Nike apparel and shoes and even participate in other Nike games. To cement its virtual shopping position, Nike acquired RTFKT, the digital sneaker maker.
Socializing & Entertainment
The Web 3.0 space will revolutionize how to socialize in a big way. Facebook, Instagram, Snapchat, and Twitter have taken online entertainment to heights never seen before, but the metaverse is the next-gen socializing technology. To some corporate bigwigs like Facebook and Sony, there will be no metaverse without immersive socializing, and to achieve that, a host of technologies need to marry. Meta is already working on its VR headsets for NTF lands and has started selling them. Apple, Sony, and Samsung have followed suit. Soon, social media will evolve from the current two-dimensional platforms to full-fledged 3D virtual spaces where people will hang out chatting, sharing beautiful memories, and communicating through avatars or virtual clones that look like their authentic selves. The Sandbox has close to 100 Fantasy Islands with boats, villas, and other social amenities for socializing and having fun. Artists like Snoop Dogg and Deadmau5 are already hosting concerts in the metaverse.
Real Estate:
Just like virtual tourism, NFT lands can be used to create virtual real estate investing opportunities. You can purchase land, develop different projects, and rent or sell them at a profit. Speculators can also purchase prime spaces for resale at a higher amount in the future. NFT land sales from only Decentraland, Sandbox, Somnium space, and Cryptovoxels exceeded $500 million in 2021, according to Brandessence market research. The market is projected to grow by more than 30% annually up to 2028. NFT worlds can also be used by physical real estate investors, agents, and potential buyers. One won't have to tour a site to check out a property. Metaverse will provide realistic virtual experiences of real estate developments to prospective buyers. Since they will be indistinguishable from real-world physical tours, buyers, agents, and other real estate participants will make faster decisions, saving time and money. Augmented reality will make NFT lands real estate site visits informative through the use of explanatory popups.
Upside and Downsides of Virtual Land NFTs
Pros
New opportunities for branding.
Creates a source of income for many.
Negates physical differences in bringing people together.
Could improve productivity of remote workers.
Potential to make online studies practical and engaging.
Increases utility of cryptos and NFTs.
Cons
Requires advanced technology.
Can become addictive.
Come with serious privacy concerns.
Users could lose connection with the physical world.
Global Brands and Companies Buying Metaverse NFT Land
1. JPMorgan Chase

Some crypto enthusiasts believe banks should establish branches in the metaverse. The seventh largest bank in the world set the record as the first bank to enter the NFT world's universe. JPMorgan has recently shown great interest in NFT worlds by setting up a lounge in the Decentraland. The Onyx is JPMorgan's metaverse branch, where members can visit and have fun. The global financial institution estimates that the metaverse has the potential to generate an annual turnover of at least $1 trillion and that companies that the first companies to jump in will rake in immense benefits.
2. Samsung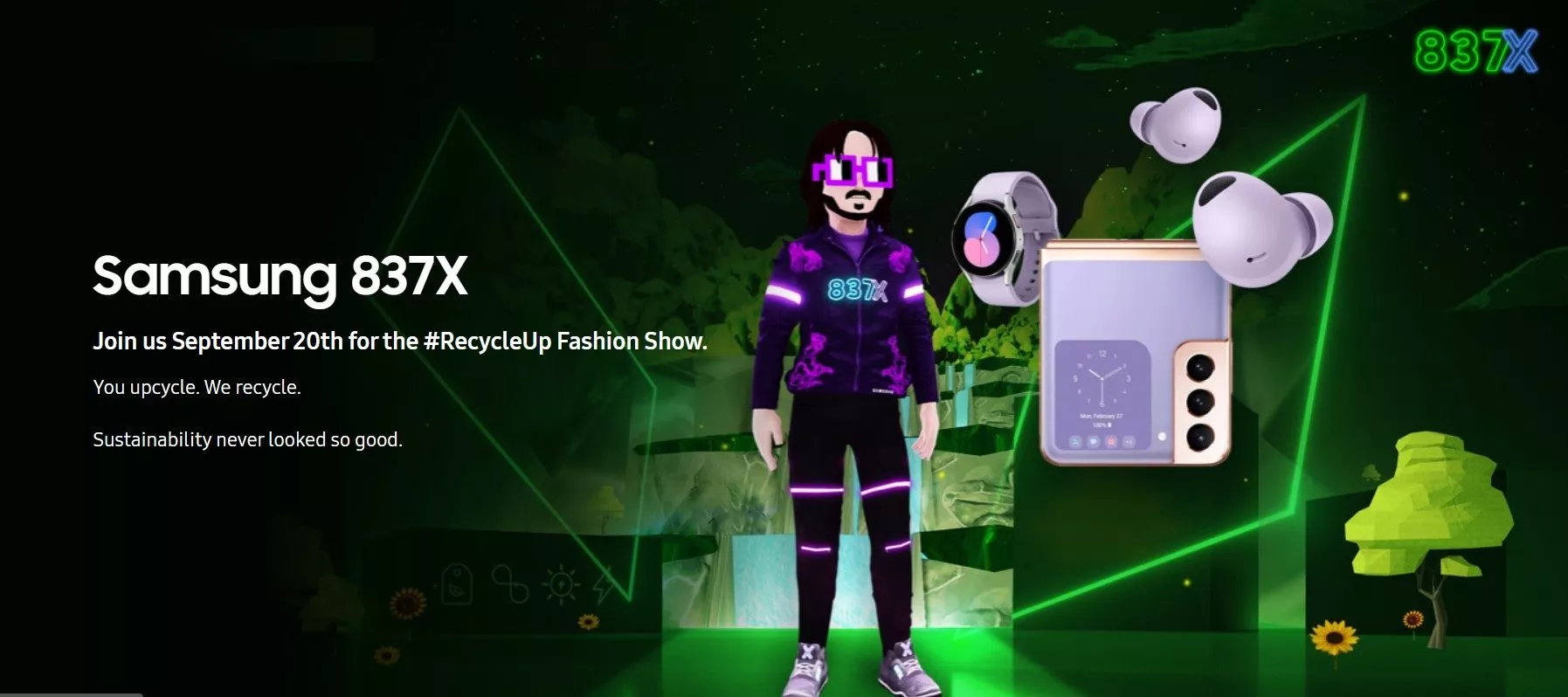 The South Korean tech giant known for always being at the forefront of technology and innovation is not being left out of the metaverse. It has already launched a virtual version of its New York 837 store. Samsung 837X runs on Decentraland and allows users to experience different products and play immersive games. The store will mainly serve as a product display for Samsung's latest products. In February 2022, the company held its Unpacked event at the 837X, where it launched the Samsung Galaxy S22 phone virtually.
3. Adidas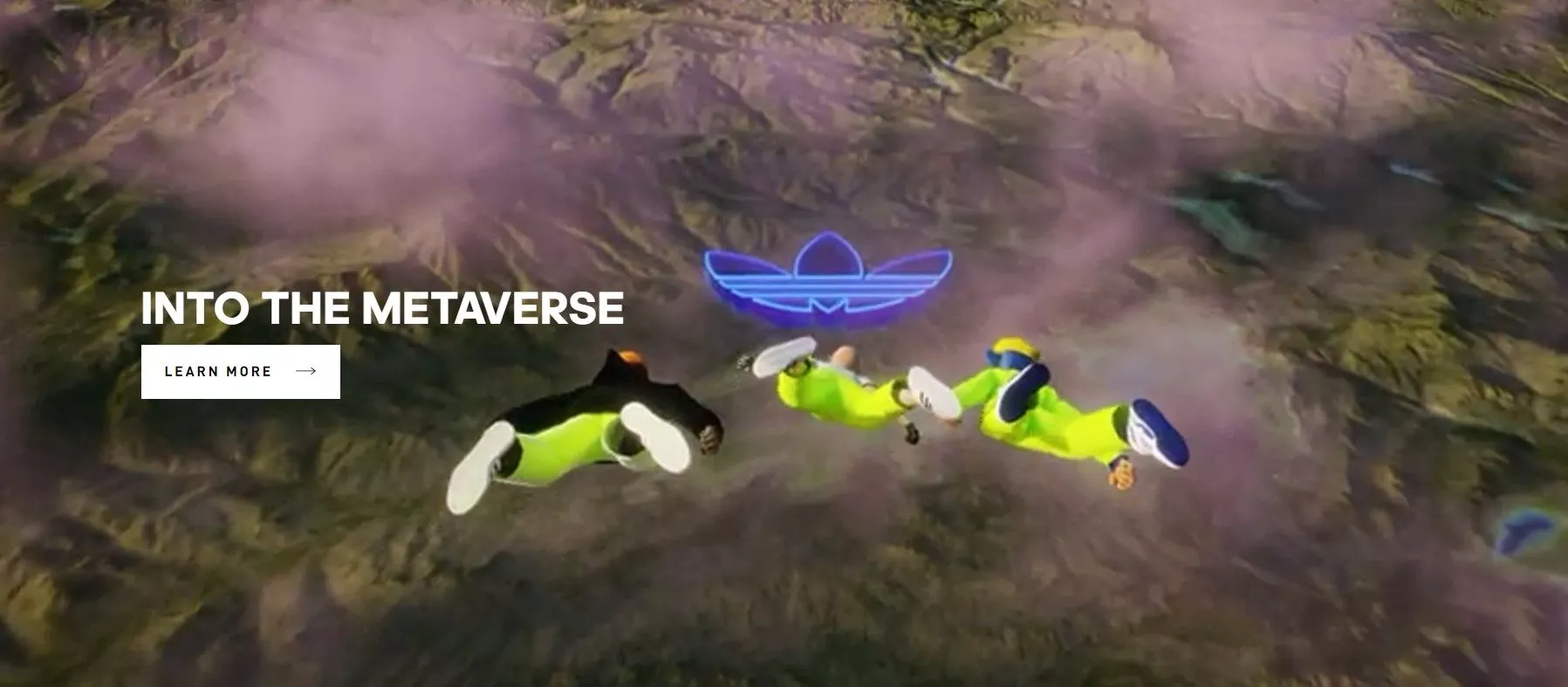 Adidas is an NFT land owner in the Sandbox, where it has already launched several NFTs in partnership with Bored Ape Yacht Club, Punks Comics, and Gmoney. The sporting products innovator intends to fill their space with branded content and purchasable items such as wearables for the metaverse. As of writing this, Adidas had performed dismally in selling their NFT products, but they were still optimistic about the immense opportunities Web 3.0 presents.
4. Nike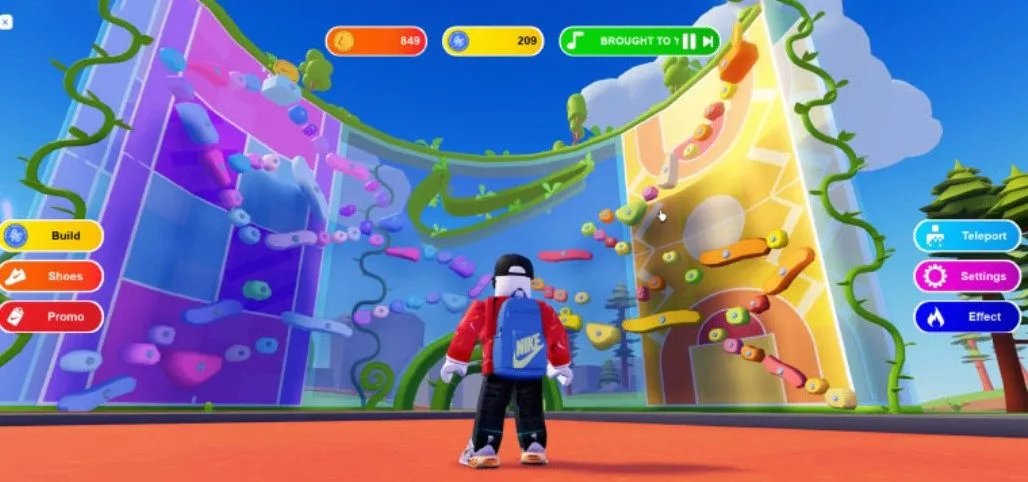 Like Samsung, Nike is always at the forefront of technological transformation. The sportswear manufacturer launched Nikeland in November 2021 on the Roblox platform to allow its fans to meet, socialize and engage in a range of brand experiences. Nike claims that at least 7 million people had visited Nikeland within ten months of launching it, including sports stars and celebrities like LeBron James. Items purchased are interoperable and can be used across all the other Roblox ecosystems. Some Nike NFT sneakers can also be used in other metaverses like Decentraland.
5. PwC

PwC is a global multinational firm operating in over 150 countries and employs at least 290,000 professionals. It's mainly known for offering tax advisory consultancy and other quality assurance-related services. Although coming last on our list, the firm was the first internationally recognized professional consultancy company to purchase land in Sandbox. PwC Hong Kong was particularly the one that set up space in the Sandbox NFT land.
What You Should Do and Know Before Buying NFT Virtual Land
What you should do and know before buying NFT land depends on whether you want to build the land and fill it with content or hold it for speculation.
If you're a content creator, the first thing you want to look at is the creation tools available. Unless you're a tech guru, you should buy NFT land in the metaverse with user-friendly developer tools. You also want to ensure the land has suitable technical specs for building the kind of content you are targeting and that its rules align with the experience you want to create.
On the other hand, traders need to look for factors that affect the value and resale status of the land. Therefore, fundamental elements like the team behind a project, usability, scalability, and reputation will be most important.
In both cases, you should compare land prices according to your budget. Don't forget to buy land from verified sellers to reduce the risks of being defrauded. Trusted merchants on popular marketplaces like OpenSea will have a blue tick next to their account name. Keep in mind that some marketplaces charge extra transaction fees on top of what you pay for NFT land purchases. For example, open Sea charges 2.5%. There are NFT marketplaces like Known Origin, where you don't have to pay any extra charges.
How to Buy Virtual Lands?
Step 1. Set Up a Crypto Wallet
Most metaverses don't accept fiat, so you need cryptocurrencies to get started. For example, one needs SAND or ETH to invest in Sandbox's NFT world. Select a crypto wallet that supports both digital coins and NFTs. Trust Wallet, MetaMask, and Binance Chain are some of the top cryptocurrency wallets we recommend.
Step 2. Select Your Virtual Estate Platform
Unless you already have a specific NFT land in mind, you should spend some time researching top platforms that suit your needs. Don't forget to quickly check details like price, utility, and the team behind it.
Step 3. Choose a Virtual Plot of Land
Once you've picked your preferred metaverse, explore it to choose the best virtual plot for your needs and budget.
It's now time to seal the deal. Make a payment from your crypto wallet to buy your NFT land of choice. Transactions should take a few minutes since cryptocurrency payments are fast. Once done, your account will be assigned land as an NFT.
5. Secure your digital asset
Congratulations on owning your first NFT land in the metaverse. Now make sure you store it safely. The best way to do so is by using a hardware crypto wallet such as Ledger Nano X since it keeps your digital assets offline.
How to Monetize Your Metaverse Land
Host Virtual Parties: Like in the real world, hosting metaverse land events could be a good source of income. If you have a great event venue, you could attract a good audience by simply publicizing your function and, in the end, rake in huge earnings.
Open Virtual Stores: Web 3.0 is a perfect platform to put your business skills to the test. One of the opportunities available is running a virtual shop. Most platforms have functions that allow you to buy products and resale them as they are or after value addition.
Showcase NFT Collections: There's no better time to create and showcase NFTs than now. Put your creativity to work and come up with anything from a painting to a song or even an interesting animation. You can also make money from showcasing the works of other artists. The choice is yours.
Rent or Lease Out Your Land: Leasing out your NFT land could earn you quick money. Some metaverse users prefer to rent land rather than buy. Simply put your land up for rent, advertise it and wait for potential tenants to approach you. You're likely to lease out your land faster if it's well priced and situated in a good location.
Land Flipping: The old way of making money in real estate is making investors a fortune, even in the metaverse. In 2021, NFT world real estate sales peaked at over $500 million. Experienced physical world real estate agents can earn high amounts of money buying prime land, adding value, and selling for as high as double the purchase price.
Create Experiences & Games: Lastly, if you're a game, you can play P2E games to make money. But why not take advantage of your gaming skills to build creative games and experiences for monetization? You could license your game to an established firm and rake in royalties.
Famous Virtual Lands You Need to Know: Case Studies of Virtual Lands
Axie Infinity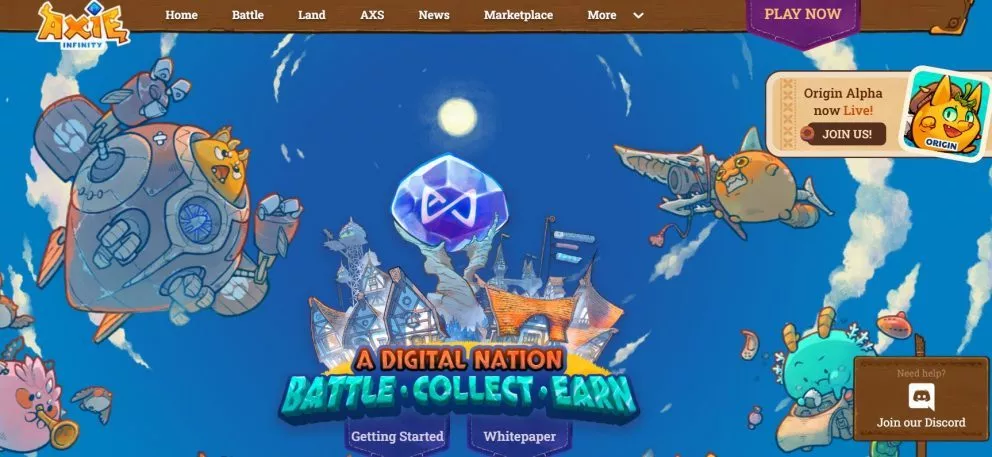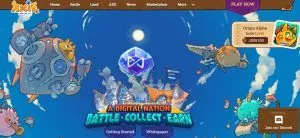 Anyone who has played crypto games for a while has come across this virtual land. The hype around it has been too much to spare any digital currency gamer from learning about Axie Infinity. Like popular movie series such as Game of Thrones, most players rushing to this game are driven by peer pressure and FOMO. Axie Infinity is a gaming universe where players use cute monster-like avatars called Axies. The 2018 launched game enjoys an active player community and runs on Ethereum and Ronin blockchains. It's a P2E game with a lot of similarities to Pokeman. Players catch Axies, train them and use them to fight other players in the NFT universe. Rewards earned can be converted into cashable crypto assets. You can also develop unique breeds with strong abilities and sell them.
Decentraland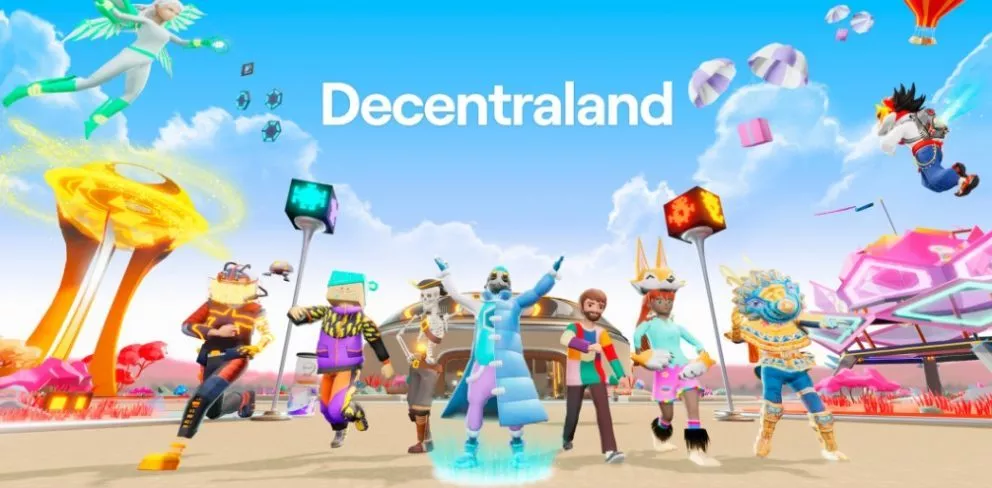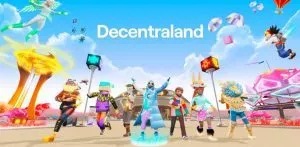 Decentraland is another ambitious NFT world project. The name first popped up in 2018, but it was until 2020 that it was officially launched in the metaverse. As it sounds, the Ethereum-based project emphasizes a decentralized economy. Users can purchase land, travel, and monetize content according to the platform's rules. The NFT land is permanently owned and controlled by the community. Any player can create an avatar and start exploring while developing content ranging from building amusement parks to cinema halls and even galleries. There's a Decentralized Autonomous Organization (DAO) for implementing policies and controlling how the project runs. Decentraland has attracted the attention of big corporations, including Samsung, which has joined as a partner for developing VR headsets.
Somnium Space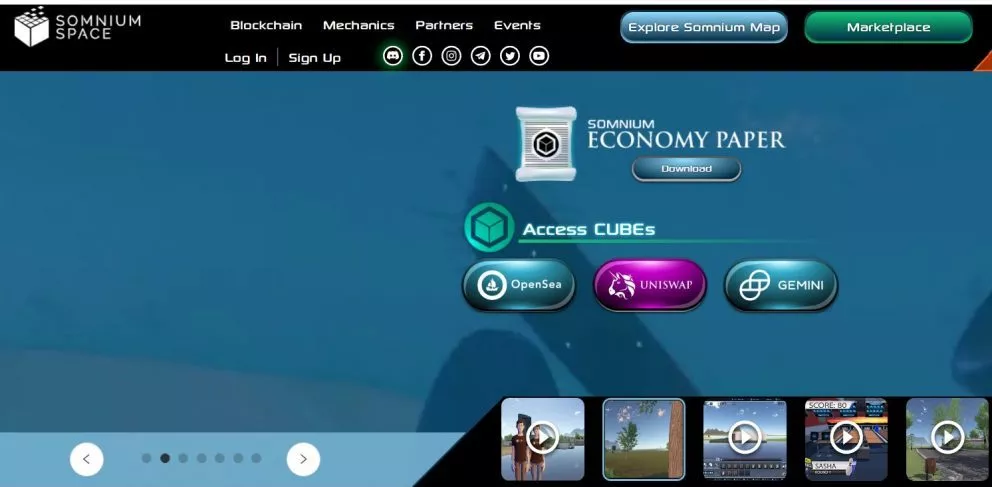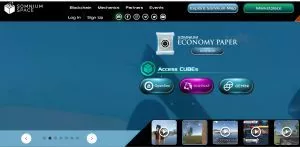 Somnium space touts itself as the first equity crowdfunding social VR world. Users can buy land, create new avatars or import existing ones, develop experiences and monetize them in the virtual world. It's ranked second largest in Virtual Project World (VBW) by size. Although it's available in both 2D and 3D, the advanced graphics will give you a realistic feel in both cases. Indiegogo is one of the leading investors in the project. The rest are undisclosed, as the platform raises most of its funds through a crowdfunding model. It was mainly developed to offer a digital space where friends and family could meet, socialize and enjoy events. VR devices like the HTC Vive and Oculus Rift work perfectly with this platform.
Earth2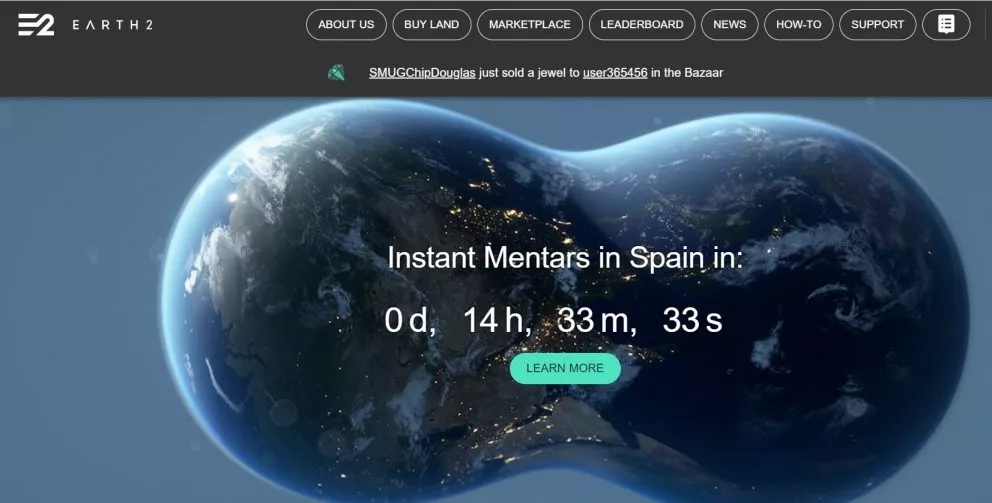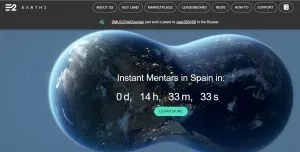 Earth2 A geographically correct grid where players can put their funds in virtual NFT plots called tiles. Since the grid corresponds to the world, the scale of Earth2 to the real world earth is 1:1. Like in the real world, each tile has a different value depending on its location. Resources are necessary to build land and develop the metaverse. Earth2 has matched deposits of different resources such as minerals, rivers, and lakes to the real world. You can choose to live or own land in any country and city. Your pocket size is the main determining factor. Earth2 didn't have a native token as of writing this, but the developers have hinted at the possibility of launching a coin for the NFT land in the future. Earth2 promises the most accurate imitation of the earth.
Sandbox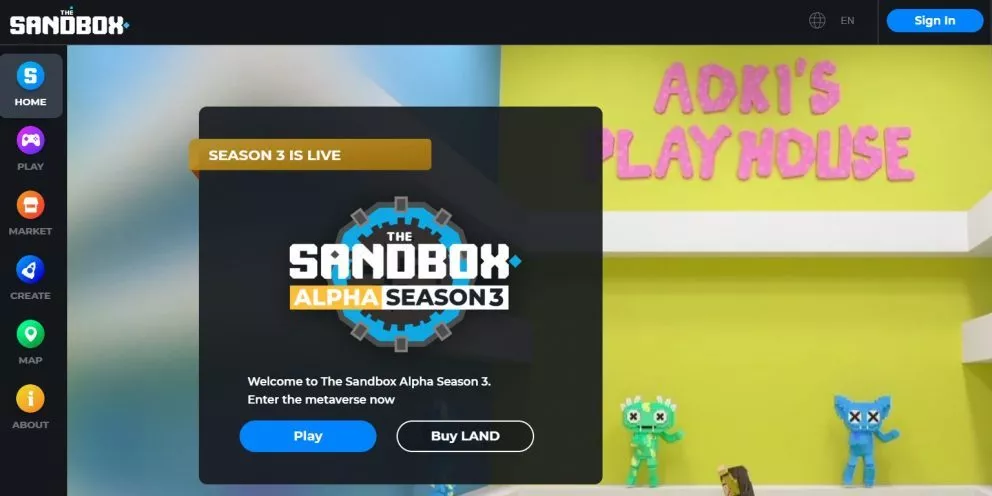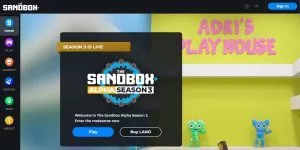 The Sandbox is an NFT land project that aims to stand out as the most immersive and engaging. Users have the freedom to create and try out new content, just like in an actual sandbox. Members can buy land, develop games, create flora and fauna, build, and more. In addition, the Ethereum-based project allows one to monetize gaming skills. Top NFT developers Atari and BoredYatchClub have already partnered with the Sandbox project. Playing games is free but owning land is not. The most affordable plot in this NFT universe is just slightly under 2ETH as of writing this. You can sell and purchase different NFT items in the Sandbox marketplace.
How do Virtual Lands Compare to Other Types of Land?
Virtual land is a replica of physical land. Of course, no metaverse's so far offering a virtual experience that matches natural life 100%, but the entire concept of NFT lands was derived from real life. The main difference between NFT virtual lands and physical land is hence the tangibility aspect. Virtual land is a creation of fantasy, and humans can't physically exist in the universe. Moving away from the physical aspect of real land, NFT worlds are built on blockchain, giving property owners more secure forms of ownership than real-world land titles. Besides, they are decentralized, and transactions happen through smart contracts with zero third-party intervention. Both physical and virtual lands can be traded freely and developed as one wishes. Virtual land, however, has low entry barriers. It's more affordable and doesn't have lengthy acquisition procedures.
The Future of Virtual Lands
With investors pumping more funds into the metaverse, the future of virtual NFT lands is undeniably bright. They will not die even if the hype around them is withdrawn. NFT lands hold immense promises that have already caught the attention of big tech movers. They have the potential to provide solutions to many problems around us, and they cover almost all industries, including romance, meetings, architecture, medicine, education, entertainment, gaming, and shopping. While it goes without saying that more innovation will be the norm for virtual lands in the future, it is unnecessary. What's needed is the perfection of the technology that has already been created. Perhaps the most remarkable breakthrough of NFT lands in the future will be achieving 100% interoperability. We are talking about a future where all the metaverses are interconnected, and an NFT from one universe can be used in all other virtual platforms you visit. NFT lands are also likely to get more realistic in the future, largely bridging the current gap between physical and metaverse land.
Do I have to pay a capital gain tax on virtual land?
This purely depends on your jurisdiction. In most countries, you won't have to pay capital gains tax on virtual land because it's not natural land. Most tax authorities require that the land being taxed is real. Other relevant taxes might, however, apply.
How can I rent virtual land?
There are two main ways one can rent NFT land in the metaverse. You can go to the marketplace and search for properties for rent or contact an owner of your property of interest and give them an offer to lease their property.
What does it take to create an event in the metaverse?
Creating a metaverse event is simple. Select the right venue, prepare participants, and invite your guests. Make sure to wrap in real-world experiences.
 Is a bubble forming?
The metaverse is still very young for a bubble. Multinationals like Facebook, Samsung, and PwC wouldn't be putting their money in a bow with all the professional advisors surrounding them. This is the best time to purchase NFT land.