Mutant Ape Yacht Club is an NFT derivative from the popular Bored Ape Yacht Club NFT. Launched in August 2021, the collection contains 20,000 one-of-a-kind mutant apes that could be minted in the initial stage. Only half of the collection was available for public mint, while the other half could be combined and minted by using a Mutant Serus – airdropped to BAYC holders to create Mutant Apes from their existing Apes. The first batch of Mutant Apes raised $96 million in the first hour. Even more important is that not all 20,000 have been created, as some vial Serum owners haven't minted their NFTs yet.
The Mutant Serum is an airdropped NFT that allows Bored Ape Yacht Club owners to create Mutant Apes. The creation of new apes by combining the two NFTs results in three types of mutants: M1, M2, and M3, also called the Mega Mutant. M3 is the pinnacle of the entire NFT collection.
Only 7,500 Mutant Serums were distributed to BAYC holders, and obtaining a Mutant Ape from using the serum involves burning the serum in combination with the Bored Ape to create a new Mutant. In addition, serums that were airdropped to BAYC holders can indicate a mutant's rarity, and users can only create a single variety for each BAYC.
The Mutant Ape Arcade is a game made available by BAYC; however, it is only playable for three days. The protagonist of the game, which is set in a BAYC-inspired setting, is Curtis, the founder of BAYC. The objective of the Mutant arcade is to defeat the Mutant Ape and escape the Mutant Ape Yacht. Any successful participant is often rewarded with proof of attendance airdrop three, and they must submit their wallet address to receive the airdrop after successfully completing the game.
The price of MAYC NFTs are slightly lower than those of the BAYC collection. Even so, the current floor price of an NFT is around 15.5 ETH, with floor prices reaching over 40 ETH in April 2022, ahead of the Otherside release. The most expensive MAYC sold for 350 ETH and is one of the 8 M3 mutants on the market.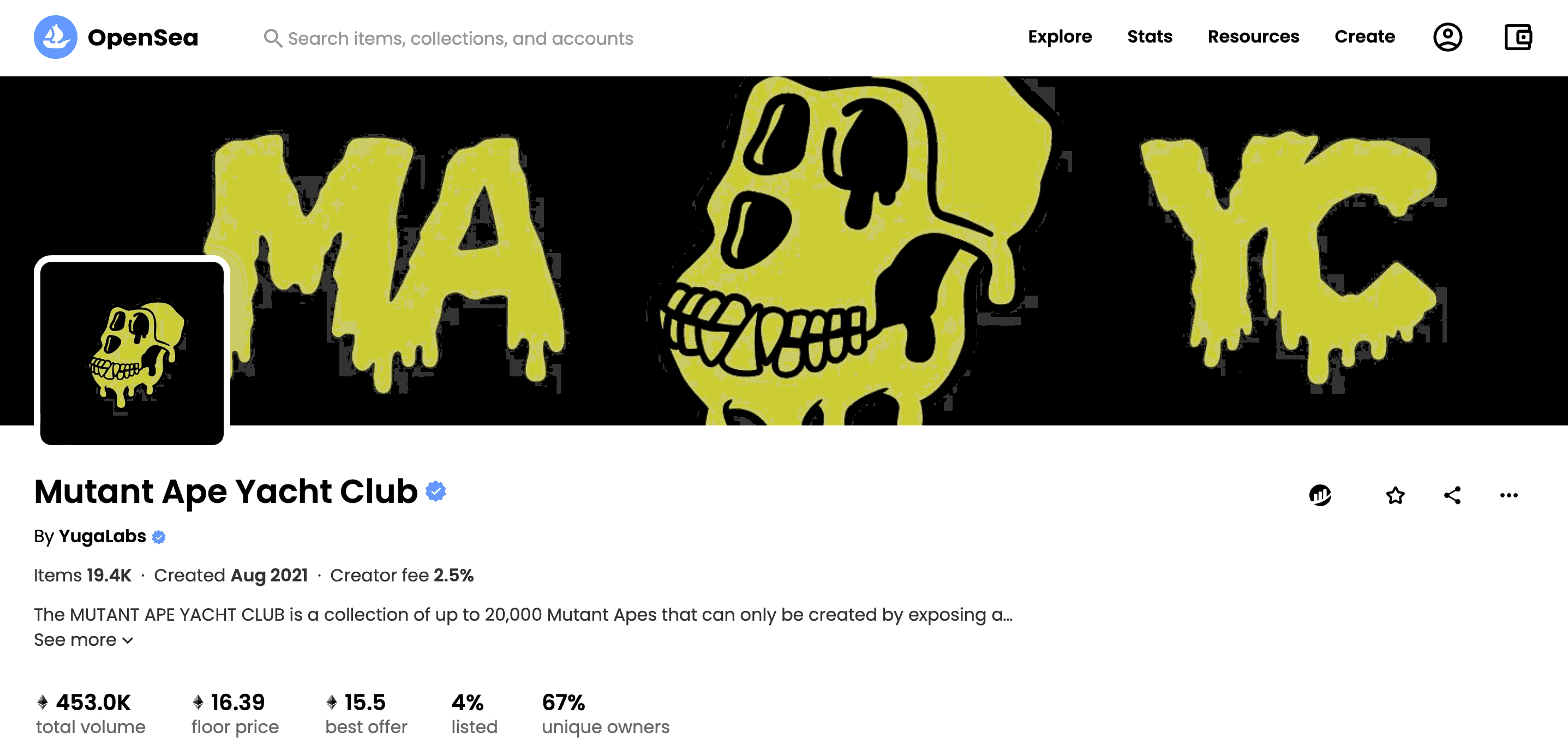 A Brief History of the Mutant Ape Yacht Club
Mutant Ape Yacht Club is an NFT derivative collection launched by Yuga Labs, the founders of the already famous Bored Ape Yacht Club collection. Yuga Labs was founded on April 29, 2021, with the introduction of BAYC. Following the immense success of the collection, where NFTs were bought up for millions by the likes of Mark Cuban, Neymar, or Snoop Dogg, Yuga Labs announced the launch of the Mutant Ape derivative.
The new MAYC collection was launched on August 28, 2021, with Yuga Labs releasing only 10,000 Mutant Ape NFTs to the general public. BAYC owners with airdropped Mutant Serums could generate the remainder of NFTs. Yuga Labs has been innovating most of the NFT PFP market by releasing additional characters to fit into their hegemonic ecosystem, which also consists of a Bored Ape Kennel Club.
What are the Goals of MAYC?
The Mutant Ape Yacht Club was created to serve as an extension to the Bored Ape Yacht Club ecosystem. The clubs' objectives include:
Creating a thriving NFT ecosystem by accepting new eligible members into the community.
Allowing more people to participate in a select community and contributing to the ecosystem's growth.
Soon, the MAYC will also be a vital part of the Bored Apes ecosystem utility for the Lab as there is development yet to be seen.


What is the Purpose of the Club?
The purpose of the club is similar to almost every NFT community, and that is to reward NFT holders. Bored Ape Yacht Club is currently seen as a select community due to its high selling price; as a result, MAYC or BAYC could have easier access to chat with other BAYC owners – including celebrities. That, however, is not the sole goal of the club as it extends into some decision-making processes and voting rights on the BAYC IP.
For MAYC owners, Yuga Labs is prioritizing new NFT releases granting members-only access to select events such as NFT NYC. The club's main characteristics are merchandise drops, live events, and other benefits however the end goal is to create a community driven goal where NFTs represent unrestricted access.
Benefits of Being a MAYC Member
MAYC members have the luxury of being part of one of the most recognized NFT communities in the world. MAYC members purchase to get into the collection because of its utility, and in the case of the Mutant Ape collection, NFT utilities are as follows:
Access to an exclusive member-only section on the web (discord channels and other spaces)
Exclusive merchandise drops
Access to events in the real world for Mutant Ape owners
Free NFTs from the Mutant Ape Yacht Club and the Bored Ape Kennel Club
Full commercial right to your MAYC and the ability to commercialize it
Mutant Ape Yacht Club Events
The roadmap usually predicts the Mutant Ape Yacht Club events, consisting of what to expect and the upcoming events. According to the revised roadmap, Mutants will be vital to the BAYC ecosystem's future utility. Mutant Ape owners should also be able to use 3D recreations of their avatars in the Metaverse. One of the most anticipated future developments for the collections was 3D apes. Owners of 3D Mutant Apes would be able to access virtual applications using their Ape characters.
In terms of what Bored Mutant Ape Yacht Club has in store for the future, it's clear that Yuga Labs is seeking to bring Mutant or Bored Apes into the mainstream. There have been rumours of commercializing the rights to MAYC for mainstream media; however, that's still in the works. What's a certainty is that Yuga Labs are planning to make the MAYC and BAYC into one of the most recognized NFT collections.
People are often more interested in Bored Apes because Mutant Ape Yacht Club doesn't have the same level of notoriety as its predecessor. However, given their proximity, Mutant Ape Yacht Club also benefits from Bored Ape Yacht Club's widespread success as they've caught the interest of several famous people. Lil Baby, an American rapper, is the owner of MAYC #129. He made it visible to his 6.2 million Twitter followers by using it as his profile picture. Likewise, Snoop Dogg, a well-known NFT enthusiast, has a BAYC #7723 and MAYC (M1 and M2) collection. Other notable MAYC holders are Linkin Park's Mike Shinoda, Shaquille O'Neal, and DJ Steve Aoki. To put things into perspective, Snoop Dogg and Eminem showcased their Bored Apes during this year's VMA performance.
Is it Worth Buying a MAYC?
After reading through the article, you must wonder if the Mutant Ape Yacht Club is worth buying, considering the floor level is currently at 15.5 ETH. There are several ways to build value associated with the Mutant Ape Yacht Club, which is a solid and exclusive community. In addition, unique benefits come with being a member, with the most important being the potential to generate revenue from increasing demand and lower supply.
MAYC NFTs are sought after by anyone wishing to join an exclusive social club since they have a trusting team composition and a dedicated select community. NFT projects are often only as successful as the team behind them, and Yuga Labs has proven to deliver on every front and increase the utility of their collections along with providing real-world commercial usage for them. In short, MAYC is a blue-chip NFT that's worth buying.
How to Join the Mutant Ape Yacht Club?
To join the Mutant Ape Yacht Club, you must own one Mutant NFT. The only way to get a Mutant NFT now is to purchase it from a third-party website such as OpenSea or LooksRare. You're no longer able to mint a Mutant NFT; however, if you have a BAYC you can use the Mutant Serum and generate a new one! Below is a step-by-step process on how to purchase a Mutant NFT from scratch!
1. Sign-up to a cryptocurrency exchange to purchase ETH
2. Transfer ETH to your personal wallet
3. Log in to OpenSea using your personal wallet
4. Search for Mutant Ape Yacht Club
5. Place a bid on one of the available Mutants or buy the floor
6. Keep your crypto wallet account safe, or transfer the NFT to a cold wallet
Members are offered commercial rights over their Mutant Apes, allowing them to design merchandise and make money from their NFTs. However, members are not expected to profit from other people's NFTs. There are no strict laws yet with the MAYC, unlike with other clubs. For instance, if broken, NBA Top Shot's NFTs have terms of service that can result in account deletion and NFT confiscation. The Ethereum-based Bored Ape NFTs are irrevocable, unchangeable, and undeletable, making ownership traceable. These characteristics align with the decentralization and empowerment goals of blockchain and Web3.
Who developed Mutant Ape Yacht Club?
The development of MAYC can be credited to the team at Yuga Labs.
What was the origin of the Mutant Ape Yacht Club?
Mutant Ape Yacht Club is a derivative collection from the already popular Bored Ape Yacht Club.
Is Mutant Ape Yacht Club an original collection?
The Mutant Ape Yacht club is not considered an original collection because they are based on an original Bored Ape NFT.
What makes a MAYC collectible rare?
The MAYC collectible is rare because only 10,000 was available for purchase, while the remaining ones can be minted only if an airdropped Mutant Serum is used on a Bored Ape.
Why is MAYC cheaper than BAYC?
MAYC is cheaper than BAYC because it's not a collection per say but rather a derivative.
What is the $APE token?
The $APE token is a cryptocurrency adopted to be the native coin of BAYC.