stake
Minimum Stake: 0.1
Maximum Stake: 1000
supplier
Overview of Space XY Game
Space XY is a crash game created by a software developer recognized for exciting video slots and various other popular casino games. It has a space and rockets theme and offers the most effortless gameplay, so even newcomers can get the hang of it quickly and start cashing out. The software produced in 2022 includes simple rules, simple functionalities, and large prizes. The maximum reward is 10,000 times your bet. It gets its name from the X and Y coordinates, which describe a two-dimensional space's horizontal and vertical addresses.
They form the primary building blocks for the paths rockets follow while flying. So you can use these axes to check the distance and height of the flight.
The multiplier represents your total win if you decide to cash out. You may jump out of abet manually or use the auto feature to make it automatic. You will also encounter interesting features like double bets, autoplay, and auto-cashout. Read the next section for a detailed explanation of these and more. While RTPs are generally high, they vary between 96% to about 99% depending on aspects such as the strategies you use. Volatility is also interchangeable and ranges between low to medium. Wagering starts from 1-100 credits representing crypto, USD, EUR, or GBP when converted into currency.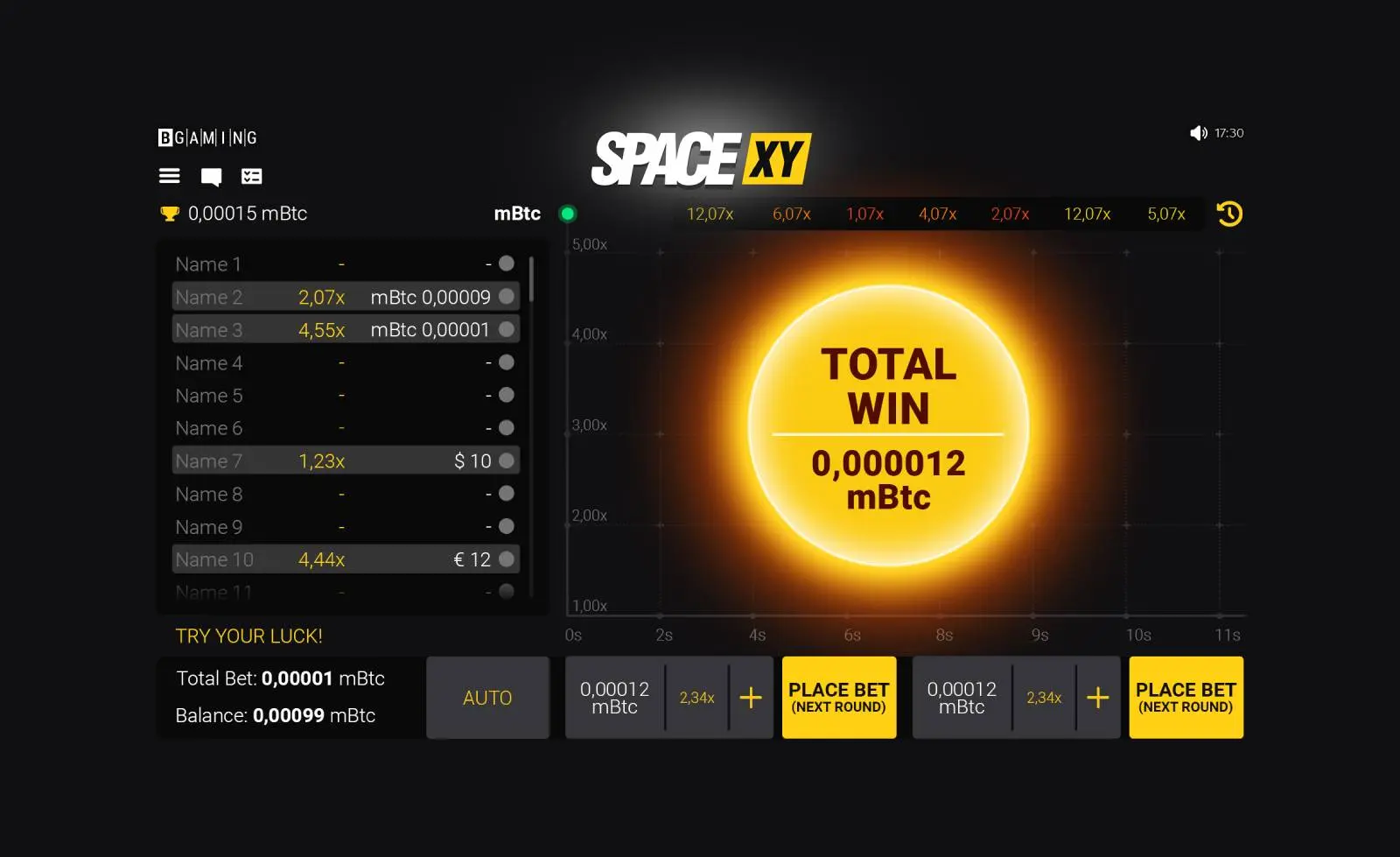 Your main objective as a Space XY player is to launch a space rocket, travel across the cosmos while watching your multiplier, and jump off early enough before it crashes. Unlike traditional slots, you won't have to deal with reels. Instead, everything revolves around the X and Y axis, as the game's title suggests.
Users bet in crypto and can stake up to 10,000x. If the space rocket crashes before you jump off, you lose your bet and the associated amount. Anyone who has played Aviator by Spribe will find a high similarity. Don't worry if this is your first time. There is nothing complicated. Hit the "Fun" button to open your betting dashboard and select the amount you want to stake in readiness for takeoff. The minimum amount is one credit and proceeds across 11 different levels to 100. Gamblers using the auto-spin option can only modify their bets during the countdown before the next wager. They are, however, at liberty to cancel it.
Once ready, click "Place Bet" to confirm your commitment to the next space vessel. Soon, the flight will begin. All you have to do is watch, listen to your intuition, and make good timing to jump off just before a crash. You might be tempted to cash out in the early stages, but this may make you less as the multiplier increases as you keep holding on. Use the "AUTO" button to set automatic bets to any number of your linking and cashout levels. For example, you can select 20, meaning the system will bet up to 20 rounds and cash out automatically if you don't crash.
By this time, the screen will be divided into the settings area on your left, the playing area to the right, and a working panel at the bottom. Your balance is displayed on the bottom left of the working panel. It also consists of "AUTO," "CASHOUT," and "PLACE BET (Next Round)" buttons. You can see the time you have been airborne on the X-axis and keep track of your multiplier on the Y-axis. Once you feel the rocket is about to explode, escape and take home all the accumulated profit. Of course, you may also secure smaller profits by taking multiple bets instead of waiting for one major win.
Important Tip: Like all other crash games, the secret is in your timing. When you decide to make bets, cash out will influence how successful you are in the end. We prefer starting with small wins, then using the profits to take more significant risks. That way, we keep our capital.
Special Features and Bonuses
Don't expect any bonuses, free spins, or special features while playing Space XY. However, there are some exciting characteristics everyone would love to know about. So let's break them down.
Rocket Play
The rocket play feature allows you to follow your flight on the X and Y axis after wagering. The horizontal coordinates indicate how long the space vessel has been flying, while the vertical axis shows how much your multiplier has grown. With this, you can easily make estimates and decide when it is the best time to cash out. Of course, you want to hop out before getting into deep space where it gets dangerous.
Multiplier
The game is designed to reward you as you go deeper into space. As you slice through the cosmos, you hit higher multiplier levels, directly influencing how much you stand to take home. Watch this figure as it keeps increasing, and cash out when it feels enough before crashing.
Multiple Bets
As it sounds, this feature allows players to determine how many bets they want to place. You can stake once or multiple times, depending on your goal. Multiple bets give you a chance to win more than once. Your overall profit will be the accumulated amount of all your bets.
Auto Cash-Out
Users are at liberty to set an automatic cash-out level. The system will drop you out when the rocket hits that level. However, you lose the bet and the associated amount if you explode before that.
Autoplay
Use the autoplay feature to set multiple runs. For example, if you want to bet $20 ten times, hit the autoplay button and select ten. Specify the bet amount and exit level, then hit the "Place Bet" button. You can now spectate as the system bets for you until your ten rounds are over. You can exit by pressing "Cancel."
Double Your Bet
Gamers can place two bets simultaneously but in different spaces using this button. With this, you can develop a unique strategy to give you a winning edge. For example, the first bet could target a small amount, while the second goes for the maximum possible win.
Here are some fundamental rules and regulations for playing Space XY crash gambling slot:
First, you must be over 18 or have attained the minimum legal age to gamble in your country.
You must fund your wallet to start betting with real money
The minimum single bet is $0,1 per round, while the maximum is $100
Accurately predict how far the rocket can go without crashing. If it collapses before you jump off, your wager is lost.
Pros & Cons About the Penalty Shootout Game
Pros
Easy to play, even for beginners
High potential returns on investment
Multiple gaming features
Allows double bets
Users can gamble with crypto
Win up to 10,000x your stake
Cons
You can't predict a crash
Highly depends on luck
No live communication among players
Successful gamers usually have an edge, which is basically a set of tips and tricks that works for them. From our experience, you can increase your chances of winning by doing the following:
Use Double Bet
Placing two bets in one round with different targets increases your chances of winning. For example, the first bet can have a smaller multiplier target, like 3.0x, while the next targets a considerable amount, such as 6.0x. If you win both bets, you take home a massive 9.0x. However, if you lose the second one, you will still have a net return of 2.0x.
Autocashouts
This button can come in handy in making sure you don't miss your targets. Sometimes you may get caught up in a distraction, miss your mark, and crash. The auto cashout is also fast.
Manage Your Bankroll
Spread your bankroll across numerous bets to give yourself many lives. For example, with a capital of $200, you may take 20 bets of $10 each rather than risk all the money at once. The chances of blowing the entire $200 with a 5% risk per bet are very low.
Forget Past Performance
In gambling, past results never indicate the future. The rocket will hardly crash at the same level. So take each round as if it's your first one and exercise good timing.
Space XY is a video slot crash game. As is the norm, these types of games come in 2D graphics. The design is simple, with a dark background to offer players maximum concentration during gameplay. It's merely a graph with X and Y coordinates and a dot-like rocket projecting upwards. The rocket resembles a warm-white illuminated arrowhead with an orange-yellow flame color bordering it. Space XY looks like a children's game at a glance, as it's extremely simple. The background has several star-like objects giving the vibe of the sky at night. This might be the most straightforward game you will come across in terms of graphics, yet exciting and rewarding.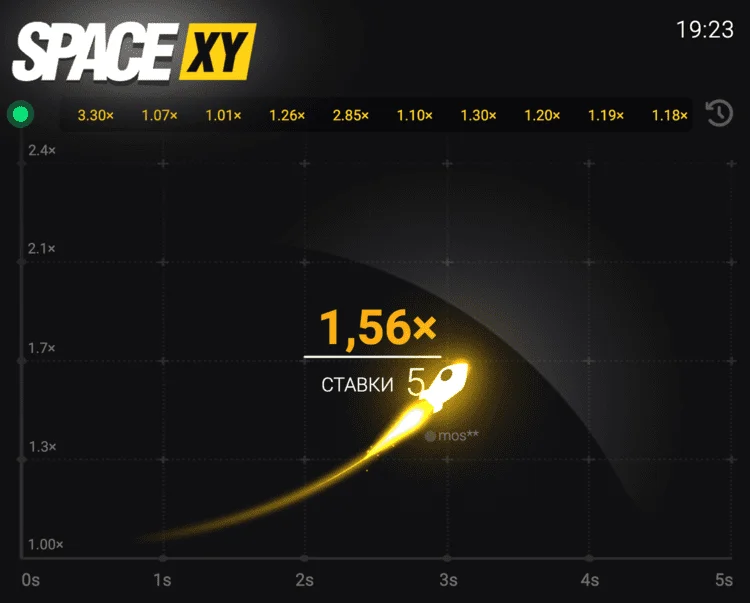 Every casino game you play was developed by a software provider. These are individuals or companies that have specialized in designing and coding games. Some of the most notable ones are BGaming, Pragmatic Play, Hacksaw Gaming, Endorphina, Spinomenal, NetEnt, Evolution Gaming, and Wazdan. Some developers create games and issue distribution rights to different partners, while others don't. During this Space XY review, we learned that the game is built and distributed by BGaming. It's one of the fastest-growing creative and entertainment studios boasting over 50 titles listed on at least 700 online casinos. It's licensed and Curacao and uses RNGs from iTechLabs to guarantee randomness and fairness.
Mobile compatibility is a highly demanded feature in today's gaming community. One thing that sets Space XY apart is the ability to play from anywhere, no matter the device you use. You can access it from your PC or a mobile web browser using iOS, Android, and even Huawei mobile phones and tablets. BGaming created the software to be responsive and fit on any screen size perfectly. In addition, the commands remain sensitive across different devices as long as you have good internet access.
If you're seeking basic yet challenging gaming, go no further. While there are no bonuses, you may expect speedy returns because each wager takes roughly a minute or less. Using cryptocurrency, you can stake, win, and cash out immediately. This title's USP is its high RTP of up to 97% and multiplier of up to 10,000x. Can you make the correct decision to always leap out of the plane before it crashes? This is your chance to have the most fun while earning money by playing video slots. Gambling can be addictive, so wager responsibly.
Where can I play the Space XY game?
You can play this game in any online casino that has BGaming titles. If you are unsure which casino is good, you can check our top-rated operators offering players the best experiences.
Does Space XY offer bonuses?
Space XY doesn't offer cash bonuses or free spins. The nature of the game doesn't permit that. However, this is compensated by simple gameplay and a high multiplier of 10,000x.
Can I play for free?
Yes. The best operators allow users to gamble in the demo and real money mode. Free-play will enable you to learn the basics of the game before depositing funds. It can also be an excellent way to pass time when you are still getting ready to fund your account with real cash. It's 100% like the real money game, only that you can't cash out winnings as they are virtual.
Can I play with cryptocurrency?
Space XY is a crypto game. That is why you will find it in almost all top Bitcoin gambling sites.
Which cryptocurrencies are supported?
Feel free to wager using BTC, ETH, DOGE, TRX, XRP, and other digital coins as long as your casino supports them.