Overview of High Striker Game
Be honest. How much of your gambling time do you spend on crash games? It might be quite a lot since the games are designed to keep players and gamblers entertained and hooked to the screen by giving them instant rewards and payouts.
High Striker is an instant crash game developed that follows the same game rules by allowing players to place bets at the start of the round and cash out before the line crashes. The game was developed as early as 2018 by Evoplay and featured a straightforward design that could have been more consistent with the gameplay. Unfortunately, it looks like it was built for gambling on Windows 95 because it's so rudimental. The game is played by looking at an ascending line, placing a bet, and cashing out before the multiplier stops growing.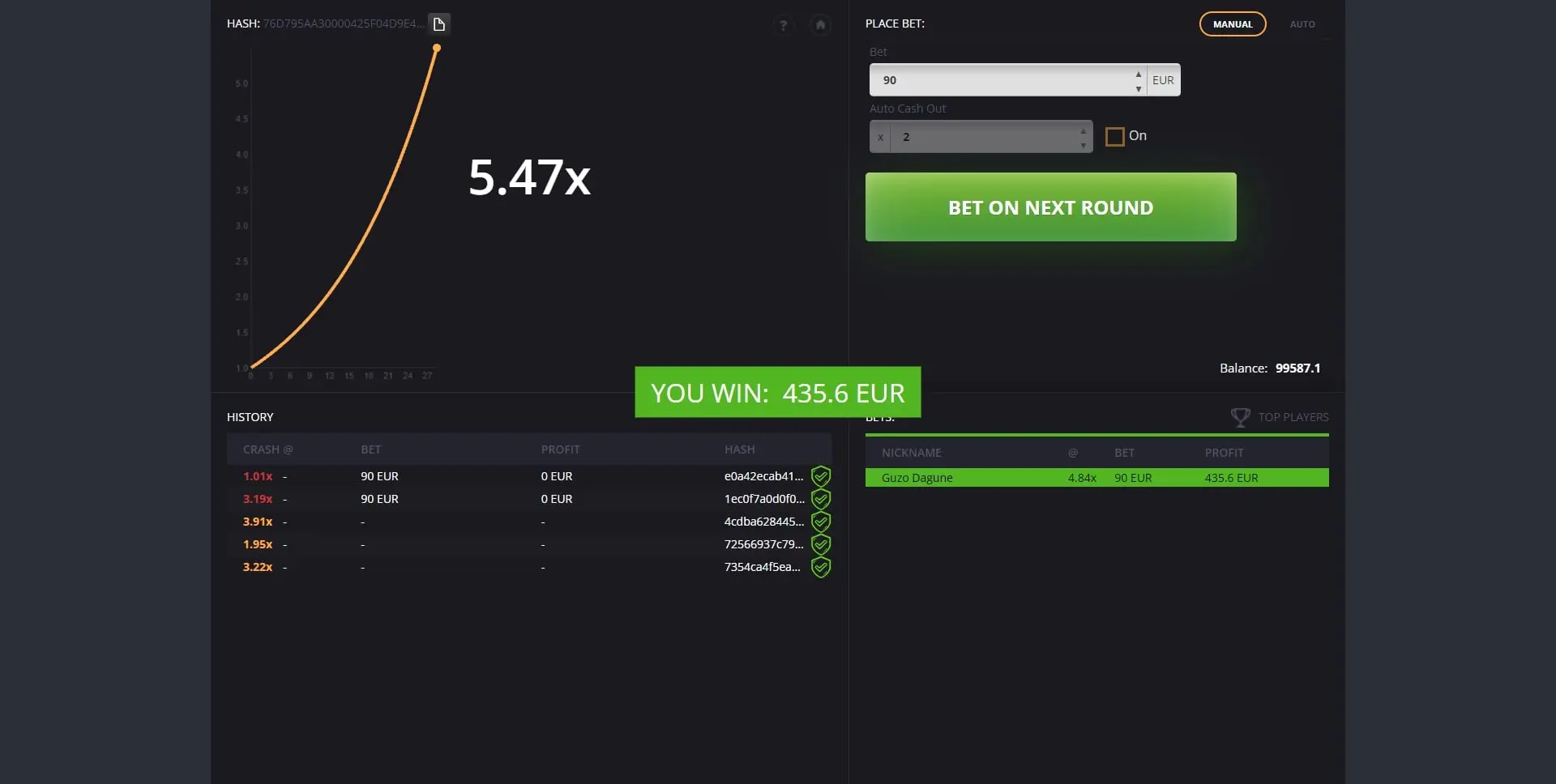 The rules of High Striker are very rudimental and have a lot of similarities to other types of crash games like Aviator. However, in the case of the game developed by Evoplay, players have even fewer options to join in the excitement as the game has fewer features compared to other games we've reviewed in the same niche.
The game mechanics are the same as any other crash game. There are no reels, no spins, and no lines. To play the game, you have to set your wager within the allowed time – 3 seconds, and then the game starts. When the game starts, a multiplayer and an ascending line appear on the screen. The higher the line goes, the higher your multiplayer becomes, and you have to cash out before the multiplier crashes in order to win. If the multiplier crashes, then you won't win any of the multipliers, and you'll also lose your wager.
On High Striker, you can also automate some of your bets in order for you to be profitable, and this includes auto cash out, betting strategies with price increases, and the ability to edit your bets based on the previous outcome.
Thus, the rules of the game are quite straightforward. You can only place a single bet; you have 3 seconds between rounds to place your bet, you have to cash out in order to take your winnings, and if you don't cash out before the crash, you won't win anything from your wager.
Pros & Cons About High Striker
Even if we're already familiar with the types of crash games, each game is different in its own way. Here are the pros and cons of High Striker:
Pros
Easy to understand: Everyone is already accustomed to and knows the rules of crash games. This means it's very easy to get started once you find it in one of the online casinos.
Auto betting:
High Striker lets you bet automatically at the start of each round, so you're able to implement either the Martingale or the Anti-Martingale, where you increase the wager after either one win or one loss.
Results History:
Each crash is shown in the lower section of the game, so you can always keep track of how the game performed. This can help you predict future outcomes.
Provably Fair:
The game is provably fair, and you can always check the nonce or the game by verifying the outcome to ensure none of it is rigged.
Demo Version
Evoplays offers a demo version of the game which helps new players get accustomed to High Striker. It also helps existing players test out possible strategies that can be implemented when they play for real money.
Cons
Game Visuals
High Striker has basic graphics and no attached theme correlating with the game's name. This makes the games less interesting and doesn't make people stay longer to gamble compared to other games in the same category.
High risk:
With the potential for high payouts comes a high level of risk. The game has an RTP of 98%, making it more volatile, which means players take more risks.
Can be addictive:
The game feels like it's always on and gives players little time to disconnect from the excitement. Unfortunately, this can also lead to addiction and other triggers getting involved in the gameplay.
Crypto only:
High Striker is a typical game found mostly on crypto gambling platforms and unavailable on major casinos that don't accept cryptocurrencies.
In High Striker and other crash gambling games, the symbols and paytable are crucial in determining a player's potential payouts. Crash gambling games are different than traditional games like slots because players don't spin any reels or bet on any particular spins. Instead, they bet on an ascending line that suggests the game's multiplier. That said, the game only has a single reel, which is the line.
The paytable of the game is also simple to understand. The Evoplay game can reach a multiplier of 1000x. Each round has a determined payout that's generated randomly by the nounce and can range from 1x to 1000x.
In terms of the jackpot, unlike other crash games, High Striker doesn't have a bonus feature or anything else that can increase game excitement or give out higher prizes randomly. The only way to hit the jackpot is to hit the highest multiplier, but for that, a player needs a lot of patience and takes a lot of risks! You have to have nerves of steel not to cash out when the multiplier reaches 800x.
Bonus Features
On High Striker, the game developers have decided not to add any other incentive to give out free money to loyal players. Unfortunately, this means that if you want to trigger the bonus feature, that won't be happening anytime soon on High Striker.
Betting Range and Payouts
High Striker has a reasonable betting limit, especially when we discuss the minimum bet. The lowest amount you can wager on the game is $1, and you can also automate this option to bet $1 throughout a set period. For the maximum bet limit, Evoplay has set a limit of $90 or the equivalent in the currency where the game is played. Given the game's maximum multiplayer of 1000x, the maximum win possible on High Striker is $90,000. If we compare this to other blockchain-oriented crash games, the game has a much lower winning potential.
Since the game has a single payout, your winnings depend on when you press the cash-out button. However, if you want to be risk-free, then you can also select the auto cashout button and set a pre-set cash-out value, so you're not dependent on milliseconds.
Game developers have set the RTP of High Striker at 98%, which places the game as a low-volatility game. The RTP indicates the amount of money the game pays out over a set period. For example, the RTP is set to pay out $98 for every $100 paid; however, this is not done over a lower time frame but rather a longer, more prolonged time. The standard RTP in gambling is 96%, so High Striker is positioned much better.
Graphics, Sound, and Theme
High Striker has a very basic look and feel to it. There's no color; the layout is also reminiscent of an old-school game with a minimalistic design. We could call the design very scarce, as there is no theme to the game as we normally see in today's games, and the game doesn't even have a sound feature to make the game experience more enjoyable when waiting anxiously for the line not to crash.
There aren't any special effects or any visual aids that trigger during the game. The game is set on a black background and only uses green and red colors to differentiate between winnings and losses. Additionally, the game's setting needs more visual complexity, and you can't find references to the game's name of a target.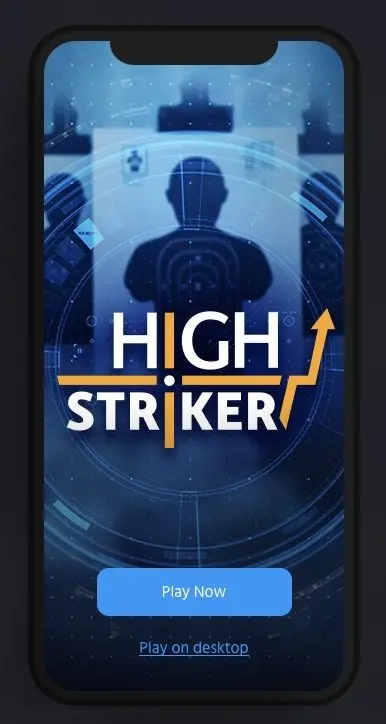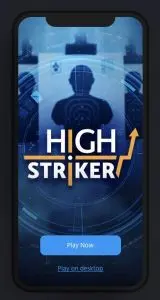 Evoplay has developed the High Striker to be mobile-compatible. When studying the game's product sheet during our research, developers showed that the game is compatible with both Android and iOS devices, meaning that the game can be played on mobile and tablets. In addition, Evoplay created the game to be compatible with vertical play meaning that players don't have to turn the screen to take full advantage of the game's functionalities. A mobile version of the game can also be tested in the demo version, as the website allows you to select between mobile or desktop demo versions. All in all, the game can be played on all major devices, from Apple to Android devices and including on web browsers.
High Striker belongs to a category of games that offers crypto gamblers a lot of excitement. High Striker is a crash gambling game with a great RTP and simple gameplay that everyone can follow. It also offers a mobile-friendly demo version where everyone can test out the competition. However, High Striker has a few downsides, including the need for visual coherence, as there is no concrete gaming theme and no bonuses, which sometimes makes the game quite dull. High Striker might include all the benefits of crash gambling, but it's also missing the point of creating a community and interactive-driven game.
On that note, we don't recommend playing High Striker since there's not much going for the game regarding aesthetics. One plus is the payout and RTP transparency; however, even with a great payout, you might not have a good time, especially if you're looking for more than just making money.
How volatile is High Striker?
With an RTP of 98% High Striker is a low-volatility crash gambling game. This means that player players don't expect long dry spells or many numbers that can crash instantly.
Can I play High Striker using cryptocurrency?
Yes, High Striker is available to gamble with cryptocurrencies since it's mostly available in crypto-friendly casinos or accepting only cryptocurrencies as deposit options.
Which cryptocurrency is accepted?
Players can bet on crash games like High Striker using major cryptocurrencies such as Bitcoin, Bitcoin Cash, Litecoin, Ethereum, Stablecoins, DogeCoin, Cardano, Ripple, Tron, or Binance Coin.
What is the best strategy for winning in High Striker?
One of the best strategies to win in High Striker is the "Martingale" strategy. This strategy involves doubling your bet after each loss until you win, then returning to your original bet size. For example, if your initial bet is $10 and you lose, your next bet would be $20. If you lose again, your next bet would be $40, and so on. Once you win, you start again with your original bet size of $10. The idea is that eventually, you will win and recoup all of your previous losses, plus make a profit. However, it's important to be cautious with this strategy as there is a potential to hit the maximum betting limit before you win, which would result in significant losses.
Where is the best place to play High Striker?
High Strike is available on a few cryptocurrency casinos, which we've reviewed on dappGambl. Additionally, you can play the game on BitStarz or Fairspin casino, where you can deposit using crypto and also take advantage of the available bonuses.