Top Crypto Project Presale Sites
Dao Maker: Best for SaaS Solutions
CoinList: Crypto Presale 2023 Platform with 10M+ Users
Binance Launchpad: Best for High-Profile Crypto Projects
TrustSwap: Best for Smart Contract-Based Escrow Services
Coin Market Cap: Best for Detailed Data Analysis
Crypto Presale Projects Sites Reviewed
Staying informed about the latest digital tokens entering the market can be a smart move for investors interested in the crypto space. However, it's worth noting that presales occur before ICO and IDO listings and are inaccessible to investors through exchanges during such times. We've compiled a list of our top picks for crypto presale initiatives to help keep you in the loop.
1. Dao Maker: Best for SaaS Solutions
Dao Maker is a highly-regarded incubator that serves as a valuable resource for burgeoning crypto startups. Its innovative growth technology, coupled with its cutting-edge SaaS solutions, is designed to help new projects build and grow their communities. Once these communities are established, Dao Maker leverages the power of tokens to convert them into value-adding members of a DAO (decentralized autonomous organization). This approach provides startups with a simple and effective way to secure venture capital funding, as it allows investors to easily locate promising projects via IDOs (initial DEX offerings) and IGOs (initial governance offerings). As a key player in the crypto world, Dao Maker has already launched over 120 successful projects and is trusted by over 1 million users globally. One of the standout benefits of working with Dao Maker is the strong community that it has cultivated. This community plays a vital role in helping new projects gain traction quickly, which is essential in the fast-paced world of crypto.
Pros
Provides growth technology and SaaS solutions for crypto startups
Helps new projects build their communities
Converts communities into value-adding members of a DAO using tokens
Launched over 120 projects
Strong community
Cons
Requires a significant amount of tokens to participate in launches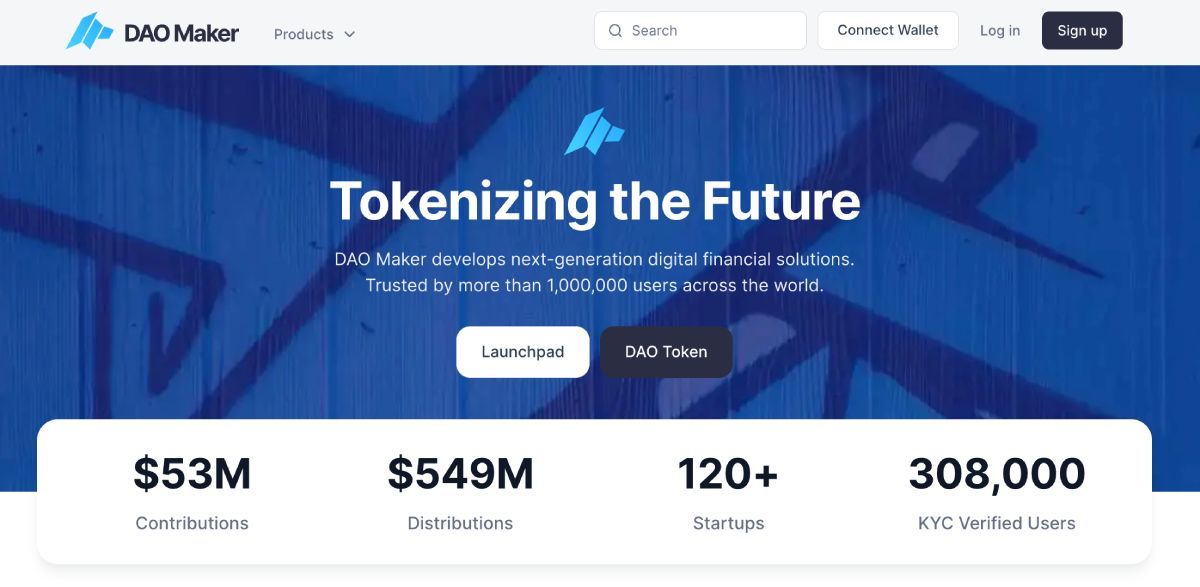 2. CoinList: Crypto Presale 2023 Platform with 10M+ Users
CoinList is an esteemed cryptocurrency platform located in the United States that furnishes investors with valuable insights into freshly launched projects within the cryptocurrency sector. Founded in 2017, it has established itself as a substantial participant in the realm of new token issuance and has become a distinguished player in the market. CoinList has effectively facilitated the launch and pre-sales for prominent projects such as Filecoin, Solana, Celo, Algorand, and Dapper, among other noteworthy ventures. With an impressive record of accomplishment of over 60 projects launched to date, it has successfully distributed network tokens to more than 900,000 participants, imparting well-deserved trust and confidence in its user base. CoinList boasts over 10 million registered users and offers support for a limited selection of only 40 cryptocurrencies, including ETH, MATIC, SOL, AXL, DOT, and FIL. One of the advantages of the platform is its low minimum investment requirement, making it accessible to a wide range of investors, which undoubtedly further enhances its popularity and appeal in the market.
Pros
Connects investors with the best blockchain projects
Low minimum investment requirement
User-friendly interface
Wide range of investment opportunities
Cons
Limited selection of projects compared to other platforms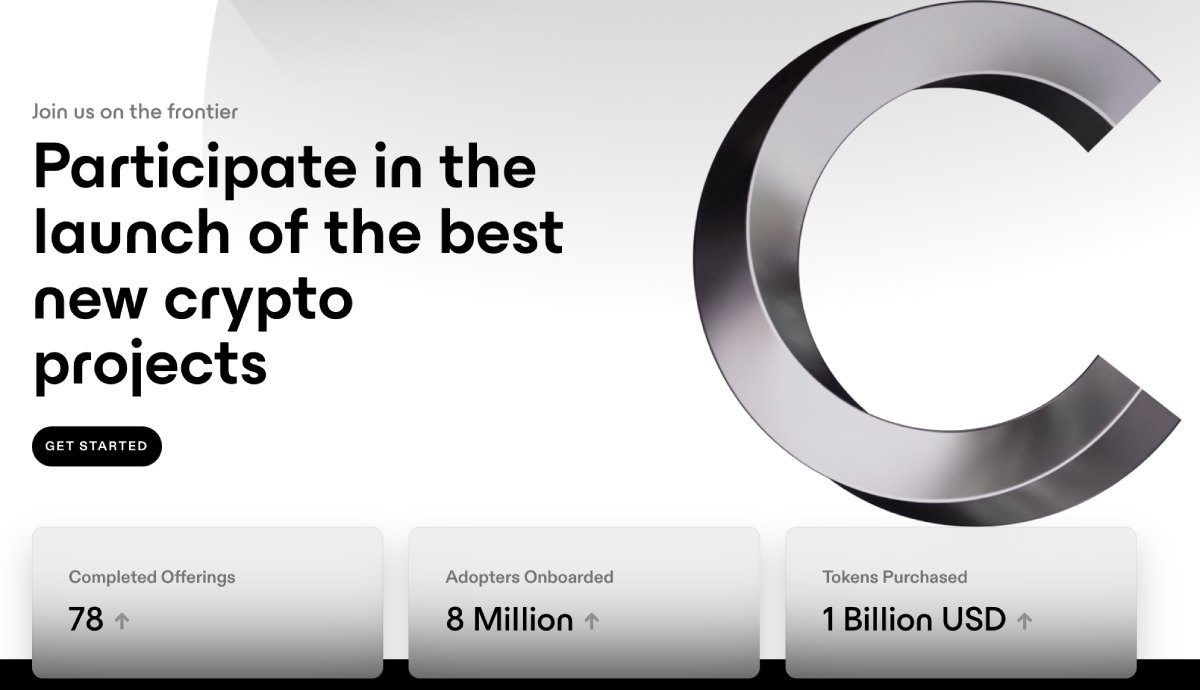 3. Binance Launchpad: Best for High-Profile Crypto Projects
Binance Launchpad is a reputable crypto platform that provides a launchpad for new token projects. It is run by Binance, one of the world's largest and most prominent cryptocurrency exchanges. The site has rigorous selection standards and only accepts high-quality projects, attracting high-profile crypto developers to launch their new products. Hosting on Binance Launchpad offers new projects a significant marketing advantage due to the platform's massive traffic. Since its inception in 2019, Binance Launchpad has supported the creation of several successful blockchain projects, including Pancake Swap, helping them raise funds while allowing crypto users and investors to generate significant returns. The platform also offers an effective IEO model with a range of features and capabilities that appeal to both novice and seasoned traders.
Pros
Backed by the reputation and credibility of Binance
Stringent selection criteria for high-quality projects
Significant marketing advantage due to massive traffic
Supports the birth of successful blockchain projects
Effective IEO model
Cons
Limited to projects that meet the stringent selection criteria

4. TrustSwap: Best for Smart Contract-Based Escrow Services
TrustSwap is a crypto platform that offers a range of services for token holders and businesses, including a launchpad for presale projects. It is considered one of the most solid decentralized launchpads in the market, providing the average investor with the opportunity to gain early exposure to projects, a privilege that was traditionally reserved for the wealthy and financial firms. The platform has its own token called SWAP, which has gained significant popularity. TrustSwap has a clear vision and mission to accelerate the global transition to Web3, which aligns with the goals of the crypto community. It offers a range of consumer services, including guaranteed token allocation from projects that use TrustSwap as their launchpad. The platform provides DeFi tools for token holders and businesses to buy, trade, create, and secure crypto assets with confidence. It is known for being the only launchpad where investors are guaranteed an allocation in the token sale every time, eliminating the need to wait for the exact second of launch.
Pros
Solid decentralized launchpad platform
Provides early exposure to projects for average investors
Popular SWAP token with high demand
Clear vision and mission to accelerate the global transition to Web3
Guaranteed token allocation from projects that use TrustSwap
Cons
Limited information on specific projects supported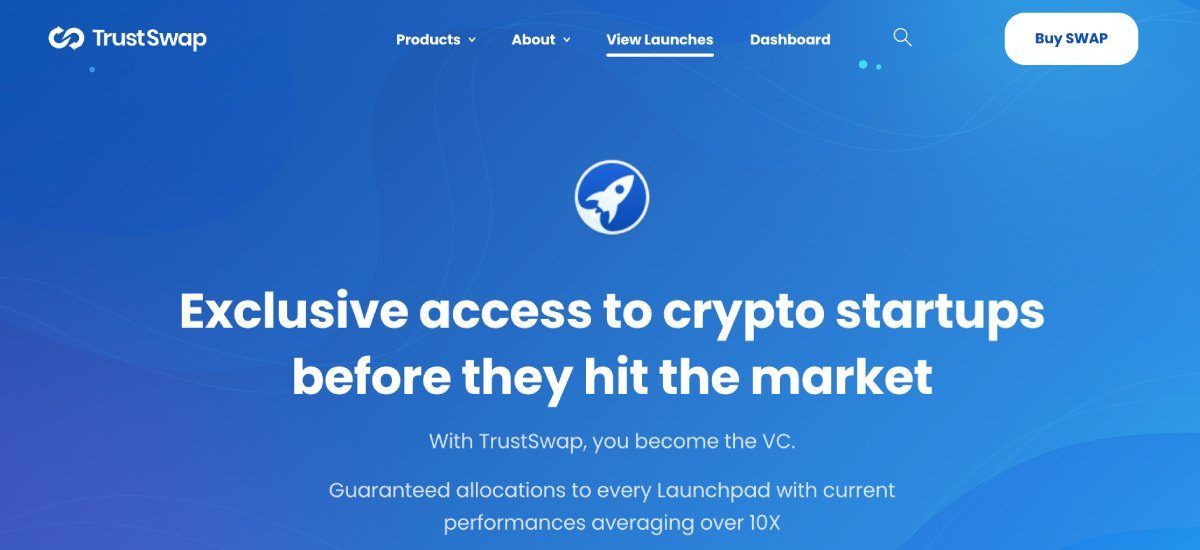 5. Coin Market Cap: Best for Detailed Data Analysis
CoinMarketCap is a highly sought-after platform in the world of cryptocurrency, providing investors with valuable insights into cryptocurrency prices, charts, and market capitalizations. It is widely recognized as a reliable and trustworthy source of information for those who wish to monitor the performance of various cryptocurrencies. However, it is important to note that CoinMarketCap is not primarily designed to help investors find presale projects. Although it does offer information on newly launched projects, it does not provide the same level of support for early-stage sales as other platforms like DAO Maker and Binance Launchpad. Nevertheless, it can guide you regarding new projects and give you enough information, from prices to how you can subscribe. The website is highly user friendly and free to use.
Pros
Provides cryptocurrency market capitalizations, prices, and charts
Free to use
User-friendly interface
Wide range of data on different presales
Cons
Can be overwhelming for new investors due to the amount of data available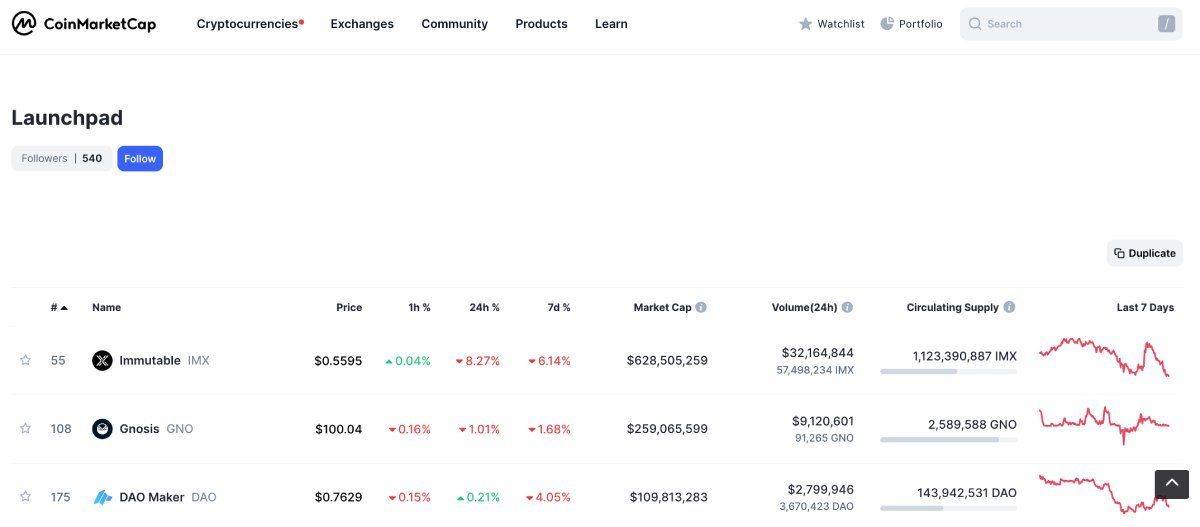 What are Crypto Projects?
The term "Crypto projects" encompasses a diverse array of initiatives operating predominantly on blockchain networks, which are decentralized ledgers recording all transactions within a peer-to-peer network. These initiatives span from cryptocurrencies to Decentralized Finance (DeFi), Smart Contracts, and Non-Fungible Tokens (NFTs). Their influence on the blockchain ecosystem is profound, serving as catalysts for innovation and the exploration of fresh applications for blockchain technology. Crypto projects hold further significance by offering users access to a wide spectrum of services free from dependence on centralized institutions, thus playing a pivotal role in reshaping the financial landscape.
What are Crypto Project Presales?
Crypto presale projects are a fundraising mechanism used by blockchain startups to raise funds before their native tokens are listed on exchanges. During a presale, investors can purchase tokens at a discounted price, which is often lower than the price at which the tokens will be sold once they become public. The crypto pre-sale may have minimum investment requirements, time limits, or other participation requirements. Besides the fundraising objective, a cryptocurrency presale helps the project's team get essential feedback from investors. Crypto pre-sales also allow startups to build hype and interest around their projects, which can attract more investors.
Reasons Why You Should Consider Participating in Presales
Participating in cryptocurrency presales can offer attractive benefits for investors. Here are some compelling reasons to consider it.
Early Access to Innovative Tokens
Investing in presales guarantees early access to tokens before they are available to the public. This can translate into substantial returns by backing potential projects from the very start.
Discounted Prices
Presales often offer tokens at a reduced price compared to their future public sale value. This discounted rate presents an excellent chance to acquire tokens at a lower cost, potentially increasing your ROI if the token's value appreciates over time.
Potential for High Price Appreciation
Preceding the official sale launch, presale investments can offer an opportunity for significant returns, particularly in highly sought-after projects. The acquisition of tokens during this phase can result in substantial appreciation, leading to substantial profits.
Strategic Portfolio Diversification
Participating in presales allows you to diversify your investment portfolio by gaining exposure to a variety of projects and tokens. You can potentially benefit from the success of multiple projects and reduce the impact of any individual project's failure.
Access to Exclusive Bonuses and Features
Early investors can receive added advantages in presales, such as premium memberships, extra tokens, or access to exclusive features. These perks can augment the investment value and offer supplementary motivations for taking part in presales.
Are Crypto Presales Safe for Newcomers?
Investing in crypto presales can be a lucrative opportunity for newcomers, but it is important to be aware of the associated risks. The blockchain token industry is infamous for fraudulent projects and scams, and presales are no exception. The fact that there is no proper regulation of the crypto industry, which means that investors have no guarantees of protection, makes the situation worse. Insufficient regulation makes it easier for scammers to hoodwink unsuspecting investors. Therefore, conducting thorough research and due diligence before investing in a presale is paramount.
What are the Risks of Presales?
Investing in crypto presales can be profitable, but it's crucial to understand the potential risks involved. Let's dive in.
Scams and Fraudulent Projects: Fraudsters often create deceptive projects to exploit investors. To thwart this, prioritize due diligence. Scrutinize the project's details, team credentials, and community engagement.
Market Volatility: The value of presale tokens in the crypto market can swing dramatically. Immediate gains aren't guaranteed, and there is a huge possibility of losses due to rapid market fluctuations.
Project Uncertainties: Pre-sales often happen before a project is fully developed, which means that there may be limited information available about its fundamentals and potential. This lack of information can make it challenging to evaluate the project's potential and assess its risks.
Lack of Regulation: The crypto industry is largely unregulated, which means that there are no guarantees or protections for investors. This lack of regulation can make it easier for scammers to take advantage of unsuspecting investors, so it's essential to conduct thorough research and due diligence before investing in a presale.
How Crypto Presales Work: A Step-By-Step Guideline
Developers create and associate a new product idea with blockchain technology.
The dissemination of information regarding the initiatives of the creators takes place through various channels, including online forums, social media platforms, and print media. At this stage, the project exists solely as a concept. The developers then proceed to assess the extent of investor interest in the venture.
The individuals responsible for the creation of a new project take the necessary steps to create a transparent and legal entity for fundraising. They then proceed to produce a comprehensive pre-sale document that thoroughly outlines all of the key terms and conditions of the contract.
Once the offer has been made available on the project website, a comprehensive marketing campaign is initiated to appeal to potential investors.
Investors commonly obtain project tokens by purchasing them through the project's official website. In addition, developers often strive to list their tokens on a cryptocurrency exchange during or after the presale stage.
Once the project developers have obtained the required funding, they begin working on the project according to the predetermined roadmap. This helps ensure that the project progresses according to plan and meets all necessary milestones.
What is the Difference between ICOs and Presales?
ICO (Initial Coin Offering) and presales are both fundraising methods used by blockchain projects, but they have distinct differences. Here are the key distinctions between ICOs and presales:
Timing:
ICO: An ICO marks the point at which a project unveils its tokens to the public, offering them for purchase at a designated price. This occurs prior to the tokens being listed on exchanges, ensuring early access for investors.
Presale: Presales transpire before a project's native token enters the exchange market. They enable projects to secure funding from specific investors during the developmental stages.
Accessibility:
ICO: ICOs are typically open to the general public, welcoming a broad spectrum of participants. This inclusivity allows for a diverse investor base.
Presale: Presales exhibit exclusivity, catering to a narrower pool of investors. Such limitations are imposed to manage risks associated with the early stages of development.
Investor Benefits:
ICO: During ICOs, investors can purchase tokens at a predetermined price, which might or might not include discounts. Subsequent price fluctuations on exchanges can be influenced by market dynamics.
Presale: Participating in presales often grants investors the privilege of acquiring tokens at reduced rates. This advantage can potentially yield higher returns if token values appreciate after being listed on exchanges.
Risk and Reward:
ICO: ICOs harbor uncertainty, with project success and token value being subject to fluctuation. However, success could yield substantial returns for investors.
Presale: Presales introduce risks like potential scams or fraudulent projects. Yet, they offer early access to innovative ventures and the potential for enhanced returns upon project success.
How to Find the Best Crypto Presale Projects
Presale Database
There are numerous websites that list upcoming crypto presales, such as the ones we have reviewed. You may also consider, CoinSniper, ICO Drops, Binance, and PinkSale. These databases usually include a link to the project in question, a brief summary, and basic price and time information. Note that some websites can give away paid positions and should only be considered step one of your research, even if they offer scores.
Social Media Platforms
Social media platforms such as Twitter, Telegram, and Discord can be a valuable resource for finding information about upcoming presales. Many projects use these platforms to promote their presales and engage with their communities. Joining relevant groups and following relevant accounts can provide valuable insights into upcoming presales.
Investing in crypto presale projects can be a lucrative opportunity for early-stage blockchain investors. However, it's important to conduct extensive research and due diligence before investing. Investors can use presale databases like the ones we have reviewed, social media platforms, and specialized sites or forums to identify promising projects. It's crucial to verify the project's legitimacy and the team behind it, assess potential risks and rewards, and consider personal investment goals and risk tolerance. By making informed investment decisions, investors can participate in the growth of exciting new blockchain projects and diversify their portfolios. Ultimately, crypto presales can benefit both startups and investors alike.
We are happy to offer our help in answering any questions you may have about presale projects 2023. We promise to respond to every contact form submitted within 48 hours. Our team is committed to giving you insightful advice and helping you move as easily as possible through the world of cryptocurrency presales. We appreciate your interest in our services.
What are the best crypto presales?
The best crypto presales can vary depending on individual investment goals and risk tolerance. However, some popular presales to consider in 2023 include DigiToads, Uwerx, yPredict, and PikaMoon.
What crypto projects to watch 2023?
Some crypto projects to watch in 2023 include Polkamon, NFT Oasis, Collateral Network, Love Hate Inu, and others. These projects offer innovative concepts and products that have the potential to disrupt the crypto industry.
Are crypto presale ICOs?
While crypto presales and ICOs (Initial Coin Offerings) share some similarities, they are not the same thing. ICOs are the first time a project makes tokens available for retail investors and the general public, while presales occur before the project's native token is listed on an exchange.
What are the best alternative presales to research right now?
Some alternative presales to research right now include Wall Street Memes (WSM), Ecoterra, and others. These presales offer discounted entry prices for early investors and are backed by solid projects with innovative concepts or products.