xExchange is a rebranded version of the Maiar decentralized exchange, a former automated market maker based on the Elrond network. Its main products were also upgraded and rebranded with new names starting with the letter "x." The Maiar exchange and wallet were split and relaunched as xExchange and xPortal, respectively.
XExchange Overview
XExchange Key Facts
Best for
Crypto Enthusiast Looking for Attractive DeFi Passive Income Opportunities
Fiat Currencies Available
No FIAT currency support
Cryptocurrencies Available
20
Products & Services
Staking
Swapping
Metamasking
Metabonding
Autorouter
 xExchange is Maiar 2.0 rebranded
Based on the MultiversX blockchain
MultiversX network serves over 3 million users
xExchange processed over $4 billion worth of trades under the Maiar brand
It has a native token, MEX, which is now MEX2.0 Has a reasonable trading fee (0.3%)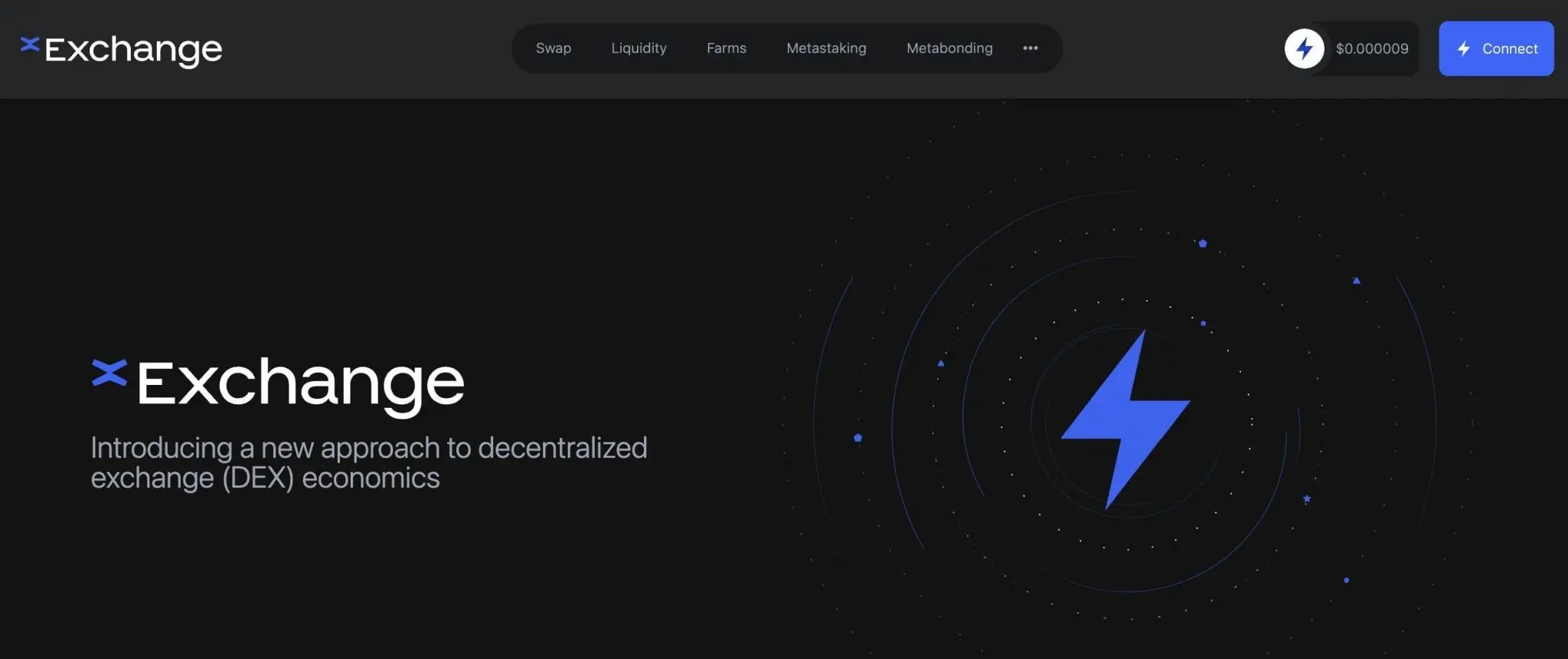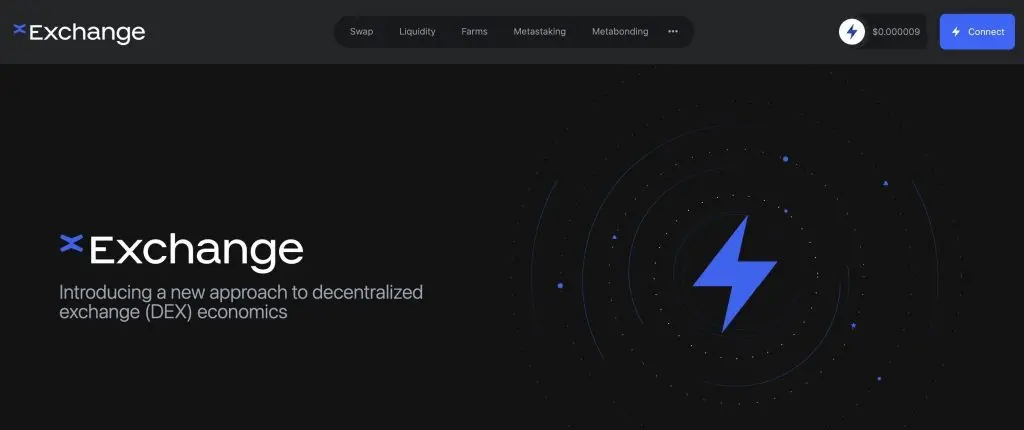 xExchange is a rebranded version of the Maiar decentralized exchange, a former automated market maker based on the Elrond network. The Elrond network was fast and highly scalable for dApps and different Web3 solutions. It started upgrading with a focus on the metaverse in late 2022 and was officially relaunched in 2023 as MultiversX. Its main products were also upgraded and rebranded with new names starting with the letter "x." The Maiar exchange and wallet were split and relaunched as xExchange and xPortal, respectively. Other tools introduced by MultiversX were the xFabric and xWorlds, all for metaverse developers and various users. The new platform comes with significant improvements eliminating several limitations of the previous mode and introducing various features adaptable to the current trends. This article is an in-depth analysis and review of the xExchange (Maiar DEX 2.0), including its features and a comparison with key competitors.
Pros
Straightforward minimalist platform
Lots of tutorials and documentation
Accessible worldwide
Support staking and yield farming
Compatible with Ledger hardware wallets
Cons
It supports a limited number of cryptocurrencies
No mobile app
It doesn't support leverage and margin trading
Separated from the wallet function
Founding Team
xExchange was developed by the MultiversX lab in 2022 and 2023. It came as a replacment of the Maiar 1.0, which was formerly launched by two brothers, Benjamin Mincu and Lucian Todea, in 2020. Benjamin is also the principal founder and CEO of MultiversX Labs, based in Sibiu, Romania. He believes the xExchange and other company products will be the backbone of the new-age digital financial system by bridging the physical and virtual worlds. Lucia Todea works as the Chief Operations Officer. He is a serial entrepreneur with other successful tech companies, such as Soft32, an innovative website that provides current software, free downloads, and reviews for Windows, Mac, iPhone, iPad, and Android.
Market Share
Being a new product, there is scarce information about its market share. However, we noted that the MultiversX network serves over 3 million and is targeting to reach up to 100 million users in the next few years. Currently, the network's crypto eGold is listed on Coinabase and Revolut to give more people access.
License & Insurance
xExchange is a true decentralized marketplace based 100% on the MultiversX blockchain. Although the tech company behind it is based in Romania and governed by the Romanian court's exclusive jurisdiction, this does not apply to the crypto marketplace. It operates without a license following the original blockchain tenets. That also means there is no insurance for using the platform.
Reputation and Security
Security is a crucial factor to consider when transacting on any exchange. Maiar 1.0 was hacked in 2022, leading to a loss of $113 million worth of Elrond eGold (EGLD) tokens. xExchange has been built with superior security features to prevent such an occurrence from repeating. It has also been separated from the wallet, meaning it doesn't hold user funds on the platform. Like the former Maiar, the new marketplace is secured by its blockchain network, which boasts a highly decentralized blockchain architecture of over 3200 distributed nodes. This means transactions go through cutting-edge verification methods that make hacking or any form of manipulation impossible. There is a scam phishing verification link above the header menu to protect users from fake sites created to steal money from unsuspecting investors. Besides, the website is SSL-secured and has a padlock symbol, meaning all information you send through the site is private and safe. This may range from passwords to any transaction details.
Complaints Received
We couldn't find any complaints about this marketplace anywhere. That could be because it's still new, and users need more experience to start rating it. It doesn't have a TrustPilot page too. There were some complaints about the original version of Maiar, but we felt they were invalid as it's now defunct. They also couldn't be applied to the current model of the marketplace. For example, some people complained about slow withdrawals. That is no longer viable as the current exchange model is independent of the wallet and has no custodial function. Features such as staking are controlled by smart contracts, meaning there is 100% efficiency.
How secure is xExchange crypto exchange?
The rebranded model of Maiar is highly safe and reliable. First, it's decentralized with thousands of nodes, meaning operations are not controlled by authorities such as governments. Distributed validators complete transactions on a public blockchain in an immutable manner. The network is hacker-proof and fast. Decentralized exchanges are also safe since they don't hold user funds. The availability of extra features, such as 256-bit SSL encryption and phishing verification, enhances the security standards of the site.
Order Types
As a DEX, the main type of trading activity is swapping, which happens instantly. That means you only get market execution orders on this site. We did not find any other during this review.
Staking/ Interest-Earning Accounts
The platform allows users to earn passive income by staking liquidity tokens. Only RIDE, ZPAY, ITHEUM, BHAT, UTK, CRT, and ASH are eligible. You can connect to different staking pools using the xPortal app, MultiversX DeFi wallet, any of the Ledger wallets, and MultiversX web wallet. Returns range from about 11% to 30%, depending on your chosen pool. Like in the initial Maiar website, you will be charged a 1% penalty fee if you decide to unstake before the end of 72 hours. This is done to discourage liquidity manipulation while encouraging and provision of long-term liquidity. Investors are free to re-invest or spend their profits at maturity.
Exchange Token
xExchange uses a sophisticated token structure involving MEX and xMEX. MEX is entirely owned by the exchange community and used for governance of the DEX. It is required to fuel perpetual decision-making in operations, innovation, policies, and different actions aimed at developing and maintaining sustainability for stakeholders. The locked version of MEX called xMEX replaces LKMEx. It introduces the powerful concept of "energy," an improvement of the "time clock" feature in version one. It's also used to provide incentives for liquidity providers. The tokens are locked for years by default, but holders can redeem them without penalty by swapping them with MEX. The exchange's utility token, MEX, was trading at a price of $0.000011 while writing this. It had a circulating supply of 3,162,138,320,177, a market cap of $35,031,007, and a total value locked of $149,094,016.
Asset Types
Coins: The exchange is compatible with various blockchain networks and their currencies, such as CRT and UTK.
Tokens: You will find all MultiversX-compatible tokens on the xExchange platform. They include EGLD, WEGLD, and MEX.
Stablecoins: Stablecoins are digital currencies whose value is pegged to that of another asset, usually a fiat currency like USD. The exchange supports USDC stablecoin.
Leverage
There were no leveraged products on the site as of writing this. We will update you in case things change in the future.
The OTC Desk
We did not find information on the existence of an OTC desk for the exchange. We will update this article if the platform introduces an OTC desk in the future.
Other Notable Features
Swapping: Swap over 21 different assets on the xExchange platform, including WAM, ZPAY, CRT, USDC, and EGLD. You will be required to first connect an eligible wallet to the platform to get started. The main supported wallets are the xPortal app, MultiversX DeFi wallet, Ledger wallets, and MultiversX web wallet. The default slippage is set at 1%, meaning the transaction will be canceled if prices move against you by over 1%. There is also a minimum expected received amount on the site. This ensures that transactions only go through when there are no abnormally huge sudden price swings.
xExchange community page: Like many blockchain projects, this exchange is also building a solid community of users. Although the page was not yet launched at the time of writing this review, there is a provision on the website with a "coming soon" label. This will be used in the future as the primary platform for announcing, launching, and testing new projects.
Metastaking: Apart from the normal liquidity farming, this platform has a unique, innovative DeFi feature called meta staking. It combines token staking, liquidity provision, and yield farming into one powerful, rewarding product. This novel idea allows community tokens to be staked, farmed, and compounded in a way that earns investors triple incentives simultaneously. Metastaking is only made possible by the robust architecture of the MultiversX architecture.
Metabonding: Metabonding is another exciting feature available on the xExchange. It's been described as the ultimate community-building strategy for new projects on MultiversX. Projects built on the network establish long-term commitment (metabond) with the most loyal community members. The projects will share 10% of their token supply to the most committed accounts every two years, in proportion to their energy. This ensures an active user community for upcoming projects,
Autorouter: The auto router is also referred to as Smart Swap. It's an ingenious function that allows users to swap any listed tokens regardless of their status. It routes trades between any listed currency, enabling you to switch any two tokens even if they are not directly paired. For example, you can directly buy WAM with USDC. The Smart Swap feature will use your USDC to buy EGLD, then use it to buy WAM automatically with a single click of the button.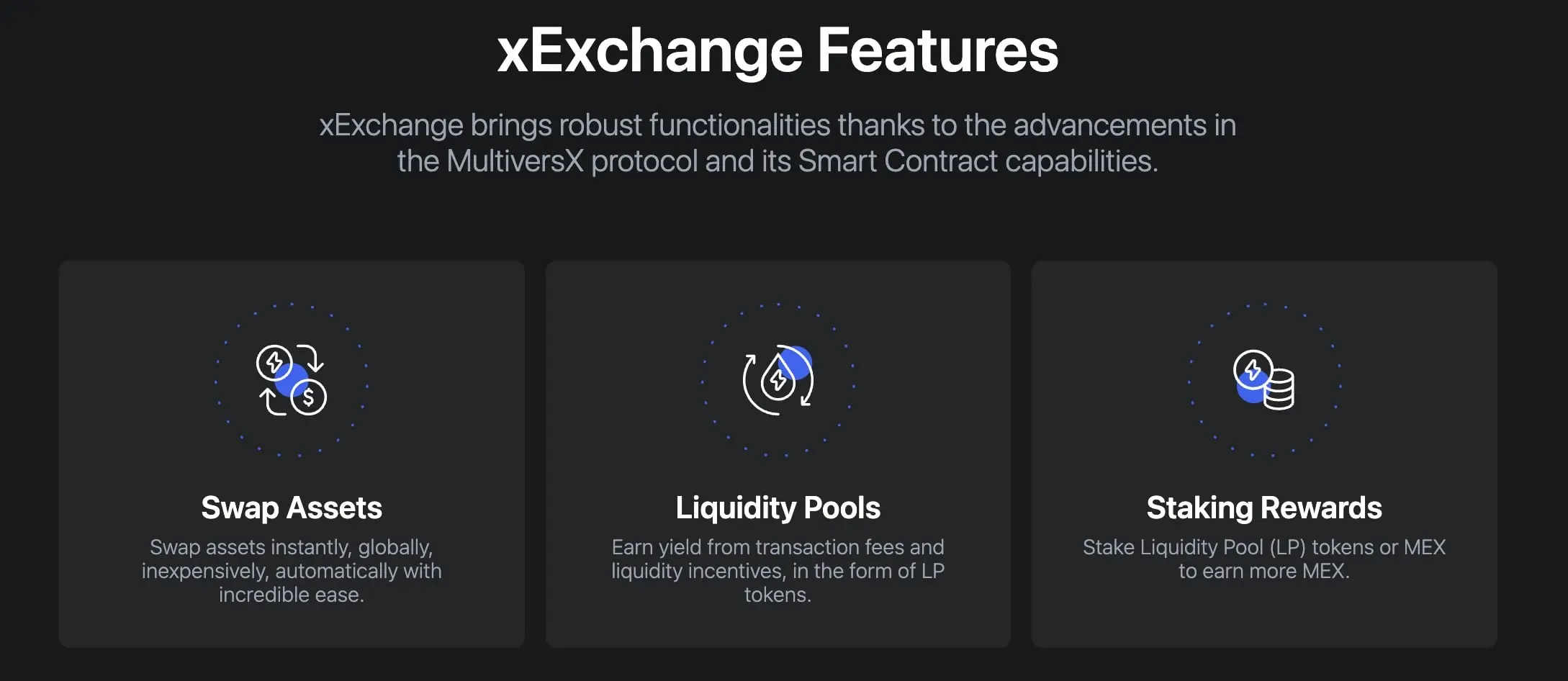 Mainly altcoins are available on the crypto exchange:
EGLD
USDC
ZPAY
UTK
MEX
BHAT
RIDE
QWT
ASH
PROTEO
CYBER
CRT
ITHEUM
AERO
SFIT
SUPER
CRU
EFFORT
ISET
WAM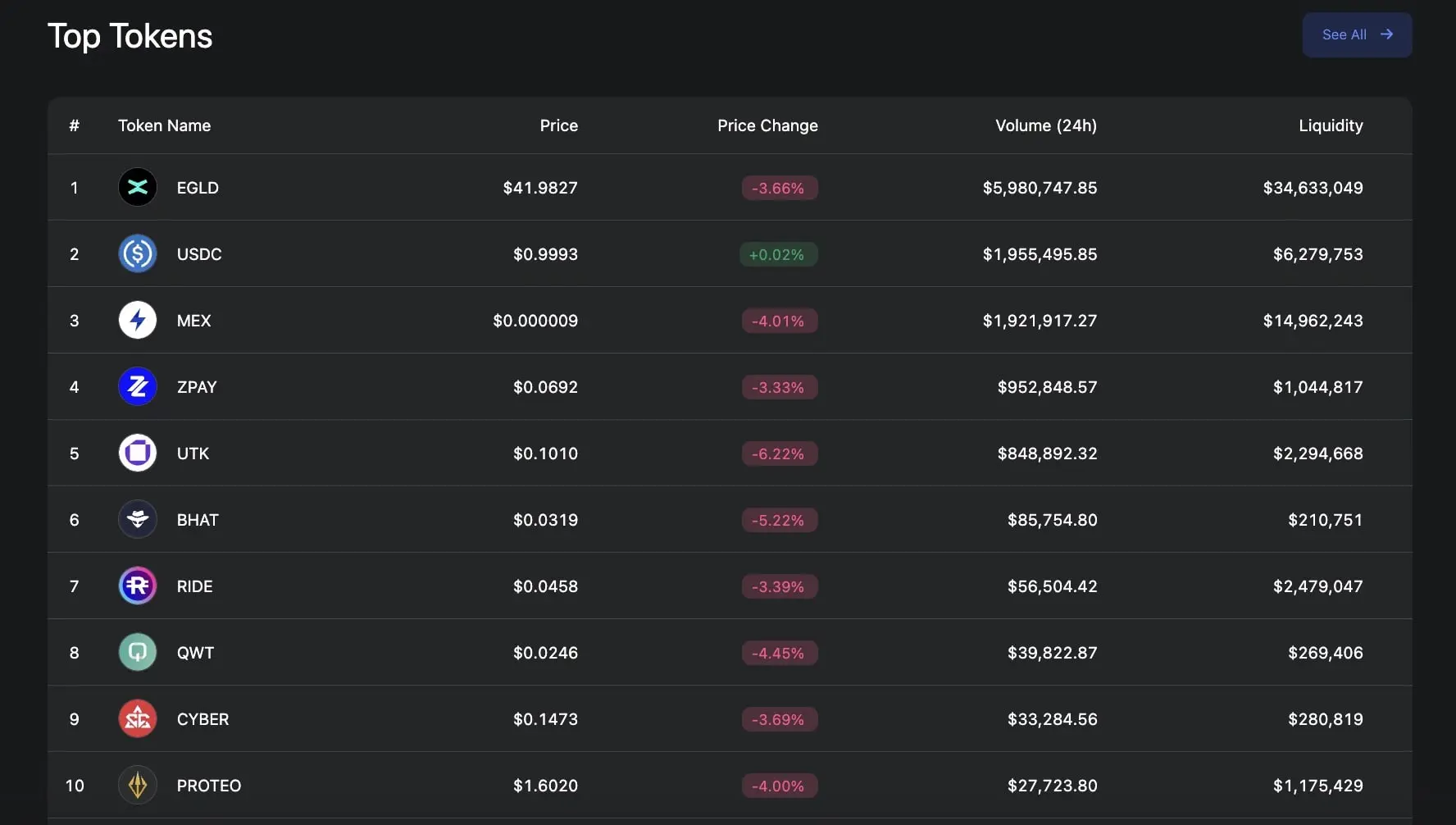 MEX-EGLD, USDC-EGLD, RIDE-EGLD, ITHEUM-EGLD, UTK-EGLD, CRT-EGLD, ASH-EGLD, CRU-EGLD, ZPAY-EGLD, BHAT-EGLD, QWT-EGLD, SFIT-EGLD, ISET-EGLD, AERO-EGLD, SUPER-EGLD, EFFORT-EGLD, WAM-EGLD, CYBER-EGLD, PROTEO-EGLD, PROTEO-USDC
You will be charged a 0.3% fee for swapping tokens using the xExchange platform. Costs are split into two parts: 0.25% for liquidity providers and 0.05% for burning MEX.
Deposits & Withdrawals Methods:
There are limited deposit and withdrawal methods on the exchange. As a decentralized exchange, the platform only supports crypto payments. Unlike competitors like TrustWallet, xExchange has a limited 21 MultiversX compatible cryptocurrencies and tokens and is only compatible with specific wallets. From the homepage, hit the "Connect" button for a list of eligible wallets.
Limits
Anyone can use this site to exchange and purchase cryptocurrencies due to its favorable limits. You can swap any eligible crypto starting at a minimum of $0.05. There was no maximum transaction limit when conducting this xExchange review.
Getting Started with xExchange
Step 1: Initiate connecting your wallet
To get started, go to the xExchange website and hit the "Connect button."
Step 2: Choose a Wallet
The marketplace only accepts four crypto wallets as of writing this. Three of them are native to the MultiversX network. You can also use Ledger wallets.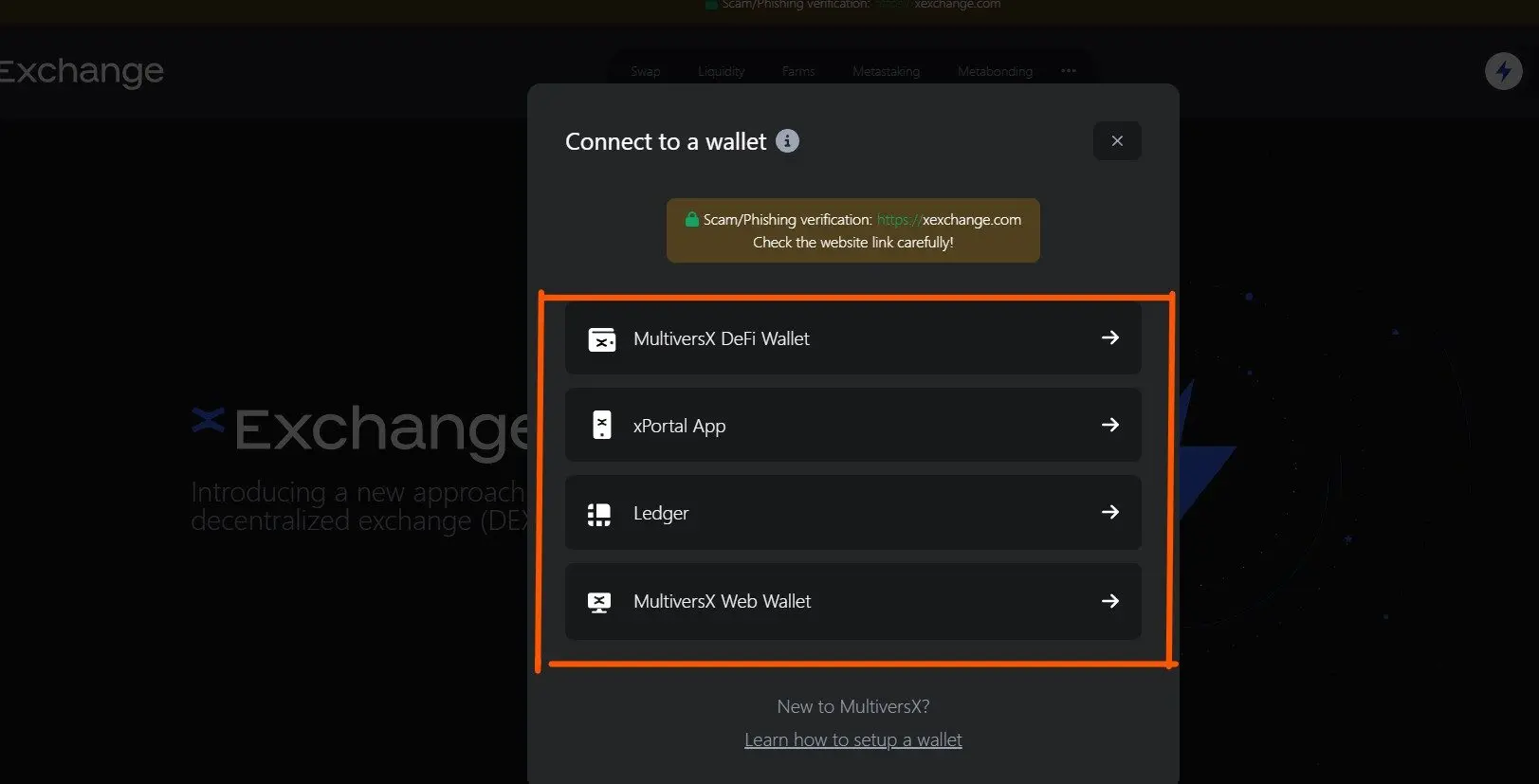 Step 3: Swap tokens
Now you can perform any of the available functions. To swap, your wallet must be funded by one of the eligible coins or tokens. You may start with USDC.
Simply click on "swap," select the currencies, and specify the amount, then proceed.
Mobile App
Unlike the previous Maiar 1.0, xExchange doesn't have a mobile app. Instead, MultiversX Labs created a separate cryptocurrency marketplace and mobile wallet app (xPortal). That said, you can access the platform via any mobile phone browser. It is highly responsive and has top-notch touch capabilities to facilitate efficient mobile device use. The interface is easy to use and follows the same arrangement as the PC version. In addition, you can bookmark it for easy access.
Desktop
A successful web application is judged by its professionally designed user interface. A simple UI that allows easy navigation is critical for mass adoption. The MultiversX team did exemplary work in developing a stellar xExchange and a user-friendly marketplace. The site is uncomplicated, with menu items displayed. Wallets and the exchange interact seamlessly. The crypto exchange platform comes in a dark-themed, neat minimalist background. It might appear strange for someone used to the busy websites of centralized marketplaces like Coinbase. If this is your first time dealing with a DEX, expect to go through a learning curve. Even seasoned traders might need some time to understand how this site works. Scroll to the bottom of the page for documents and guides with detailed explanations of how the site works. Once you get the hang of it, you will be able to perform all your transactions seamlessly. The marketplace lives up to its promise of a fast, affordable, and efficient cryptocurrency exchange. We swapped coins without encountering bugs and errors during this xExchange crypto exchange review. You may use any of the three MultiversX wallets or Ledger for your transactions. Our Ledger Nano X cold wallet connected and transacted smoothly with the platform.
xExchange Customer Service
Like most DEXs, this marketplace lacks what we consider the best customer care service. For example, most centralized exchanges usually have a live chat feature, email address, and even support phone numbers in some cases. You will not find any of those on the xExchange platform. On the other hand, only a little support is required considering the site is 100% decentralized and noncustodial.
You can always use the user guides provided to find your way around the marketplace. Functions such as staking and swapping are highly intuitive, so anyone should perform them without challenges.
Visit the FAQs page for answers to commonly asked questions. It's detailed enough to solve the most common challenges. Other than that, the platform has a strong user community with over 20,000 members on telegram. Here you can interact with other users, learn from them and even make friends.
You may also follow the exchange on Twitter to be the first to know about the latest announcements. There is also a LinkedIn and Facebook page. While these are not official support channels, they may help you stay updated. You may also link up with more experienced users who could help shorten your learning curve.
Lastly, read through the blog section regularly for articles about the exchange and general industry happenings.
How xExchange Compares To Other Crypto Exchanges
xExchange vs. KuCoin
KuCoin is a centralized crypto exchange, unlike xExchange, and comes with several unique features. First, users can access it via desktop and mobile platforms through Android and iOS apps. It has over 600 cryptocurrencies and tokens compared to its competitor, with only 21. The trading fees are also lower, at only 0.2%. However, users must register and submit KYC documents, making it less private. xExchange is 100% anonymous. You don't need to sign up; there is no KYC procedure. It's also safer since it's decentralized and noncustodial. Users can participate in governance and decision-making through a voting process as long as they hold the site's native coin. KuCoin does not have its own token. It's, however, much better in terms of support than its counterpart, with a 24/7 chatbot, a help page, and a ticket feature.
| Comparison Basis | xExchange | KuCoin |
| --- | --- | --- |
| Active since | 2023 | 2017 |
| Founder | Benjamin Mincu and Lucian Todea | Johnny Lyu |
| Fees | 0.3% | 0.1% Taker and 0.1% Maker |
| No of Listed Tokens | 20 | 600+ |
| Privacy | No registration | Registration + KYC verification |
| Use Case | Decentralized Exchange | Centralized Exchange |
Sushiswap vs. xExchange
Both of these platforms are community driven and offer a wide range of DeFi tools. They operate as DEXs, are non-custodial, and provide a range of automated market-making functions such as pooling, staking, farming, and swapping. SushiSwap has additional functionalities not found in its competitors, such as lending to minimize volatility and leveraged trading. You can also launch NFTs on the site. xExchange, on the other hand, offers smart swaps, metabonding, and meta staking, which are unique to the MultiversX blockchain. Fees-wise, both platforms charge a flat 0.3% trading fee.
| Comparison Basis | xExchange | SushiSwap |
| --- | --- | --- |
| Active since | 2023 | 2020 |
| Founder | Benjamin Mincu and Lucian Todea | Chef Nomi (Pseudonymous) |
| Fees | 0.3% | 0.3% |
| No of Listed Tokens | 20 | 5000+ |
| Privacy | No registration | No registration |
| Use Case | Decentralized Exchange | Decentralized Exchange |
Is xExchange Right For You?
While xExchange is one of the best platforms for cryptocurrencies, it may not suit everyone. We found it best for digital coin enthusiasts looking to transact anonymously. There is no registration required, meaning you can buy and swap your coins privately. The site has a small range of supported coins and tokens. Make sure what you want is available before connecting your wallet. Additionally, virtual currency investors looking to earn passive income can benefit from this platform. Features such as Metastaking, Metabonding, and liquidity farming pay interest to investors.
xExchange is a safe, reliable, and futuristic exchange for the MultiversX network. It runs on a 100% decentralized network with over 3200 nodes securing it. The site also has multiple security features, such as an SSL certificate and scam/phishing verification for added protection. We are convinced that if the coins and tokens you are looking for are available, you will receive top-notch services from this exchange. Unfortunately, the support function is lacking, but you can always take advantage of the vast community to learn from them.
What are the advantages of using the xExchange marketplace?
Users will benefit from fast and secure transaction services from the DEX, including various fascinating earning interest programs.
What are the key features of the xExchange?
Its key features are staking, yield farming, liquidity mining, metabonding, meta staking, price discovery, and smart swaps.
How easy is it to use xExchange?
It is pretty easy to use. The UI is simple for easy navigation. All you need to do is connect your wallet and get started. You don't need to sign up or provide KYC details.
What are the fees associated with using xExchange?
The fee is 0.3% for swapping. Out of this amount, 0.25 goes to reward stakers, while the remaining 0.05% is burnt in the form of MEX.
Is the xExchange safe?
It is highly secure. First, it has an SSL encryption function to protect your data and offer extra privacy. Second, DEXs are inherently safe as they do not hold users' funds.
What options are there for customer service?
The platform offers a wide range of customer service options. You can use the FAQs page for frequently asked questions or read the blog section. Several guides and documents are also provided to help you understand how the site works. Lastly, you can join the user community to interact and learn from others.
How do you buy and sell cryptocurrencies on xExchange?
You must first connect your wallet to buy or sell crypto assets on the xExchange exchange. Next, follow the steps below.
1. Navigate to the Vault or Wallet page.
2. Choose the currencies you want to swap
3. Specify the amount.
4. Then simply tap Buy/Sell.
What methods of payment does xExchange accept?
The exchange accepts a limited number of payments. While you can transact in any of the supported coins and tokens, you can only make payments using the xPortal app, MultiversX DeFi wallet, any of the Ledger wallets, and MultiversX web wallet.
Are there any restrictions on who can use the xExchange?
The platform is available in all countries worldwide. We did not find any restricted countries in the terms and conditions. Therefore, as long as you have consented to the terms and conditions, which include approving that you are of legal age, you will be free to transact.
How liquid is xExchange?
xExchange is a young crypto exchange; hence, it lacks high liquidity. However, with over 500K users and the platform's rising popularity, more liquidity should start streaming in.