Trader Joe Overview
Fully decentralized exchange
Trader Joe Key Facts
Type of exchange
Decentralized
Best for
Investors looking for low trading fees Automated Market Maker
Fiat Currencies Available
No FIAT currency support
Cryptocurrencies Available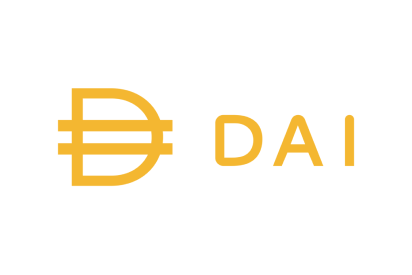 163+
Trader Joe Rundown
The largest DEX on the Avalanche blockchain

Has a native token, JOE.

Its developers are anonymous

Supports staking, crypto lending, and NFTs

$155,041,560 in total value locked
Introducing Trader Joe Crypto Exchange

Decentralized exchanges (DEXs) are crucial to decentralized finance (DeFi). They allow investors to swap crypto assets without using a central authority. This is possible as DEXs utilize the Auto Market Maker (AMM) to execute trades. Trader Joe exchange is the first and the largest DEX on the Avalanche blockchain, with 10x the volume of Pangolin, the second largest DEX, and 191 M in total value locked (TVL).
Founded in June 2021, the exchange has gathered a large fan base thanks to its speedy transactions and new features like staking, yield farming, NFTs, crypto lending, and launch investing options. Trader Joe exchange aims to create a crypto trading platform that offers crypto investors a true "one-stop-shop" DeFi experience. The DEX allows you to swap AVAX tokens for low fees and fast transaction times. Trader Joe's has launched its v2 iteration. The Joe v2 protocol introduces a "Liquidity Book" feature to improve capital efficiency. This is achieved by concentrating liquidity and charging a variable fee that adjusts in response to market activity lifting risks for liquidity providers. From a brand-new AMM project with no initial funding, Trader Joe has gradually established itself as one of Avalanche's top AMMs. In this, Trader Joe crypto exchange review, you will learn what makes it unique and whether it's the right marketplace for you.
Trader Joe Exchange Pros & Cons
Pros
Low trading fees (0.3%)
Supports staking, crypto lending, and NFTs
Multiple audits were performed
Truly decentralized
Cons
Lack of advanced security features
Poor customer support
Team - Who founded Trader Joe
Trader Joe exchange was founded on June 29, 2021, by two pseudonymous founders, OxMurloc and Cryptofish. Cryptofish has contributed to multiple Avalanche projects like Snowball, Pandaswap, and Sherpa Cash. He has also worked at Google and a CEX specializing in derivatives while holding a master's in Computer Science. OxMurloc has significantly contributed to Trader Joe's (JOE) products and programs. He has established several startups and was recently Senior Product Manager at Grab.
Trader Joe Exchange Market Share
Trader Joe exchange is a crypto-only exchange with an average 24-hour volume of $3.72M as of writing this. It has 247 markets, with the most popular markets (trading pairs) being GMX/AVAX, USDC.E/AVAX, and WETH/AVAX. Out of 811 exchanges, Trader Joe ranks #94 by transparency and volume. The exchange's native token, JOE, was trading at $0.2295 while writing this.
Exchange Licence & Insurance
Trader Joe exchange understands the value of safeguarding client data and is committed to complying with the international Personal Data Protection Act and other applicable data protection laws.
The company boasts of several insurance policies to cover clients' funds. inSure DeFi is the most outstanding one. It is a decentralized insurance protocol that secures users' funds from scams, crypto marketplace closures, and sudden devaluations like in the case for FTX. inSure DeFi aims to help grow the crypto space by offering stability through its insurance model.
Reputation and Security
This marketplace has recorded zero cases of hacking and fraud in the past. As a decentralized protocol, the duty of safety is more on the client side than the platform. Security is self-custody since the site doesn't hold crypto assets on behalf of clients. That means there is no possibility of user funds getting stolen by fraudsters like it happened with Mt. Gox. However, individuals can permanently lose their funds if they keep their private keys carelessly. We did not find a trusted public review of the site such as Trust Pilot ratings.
Trader Joe exchange doesn't have the usual traditional safety features like 2FA and address whitelisting. It's still secure though. Here are the main features making it safe:
Decentralized Exchange: As a DEX, this marketplace relies on smart contracts for all management and protocol execution. No single entity is in charge, hence there is zero manipulation, and minimal risks of censorship. Transactions are secured by cryptography which makes hacking nearly impossible.
Multiple Audits: The platform works with several security audit firms who continuously test it to identify any vulnerabilities and prevent potential catastrophes from happening. The blockchain projects was exposed to systematic cyber risk due to a code vulnerability in 2020, but this was discovered during multi-auditing and countered. The top
HashEx:

HashEx has audited the AMM and yield farming at TraderJoe. The auditing platform revealed three high-level security issues that TraderJoe responded to, and the smart contracts were deployed on Avalanche C-Chain.

Paladin

: The auditing company platform was among the team that identified integrity vulnerabilities on the Trader Joe system in 2020. Paladin, which has successfully audited several other DeFi projects like SpookySwap is trusted and well respected in the industry.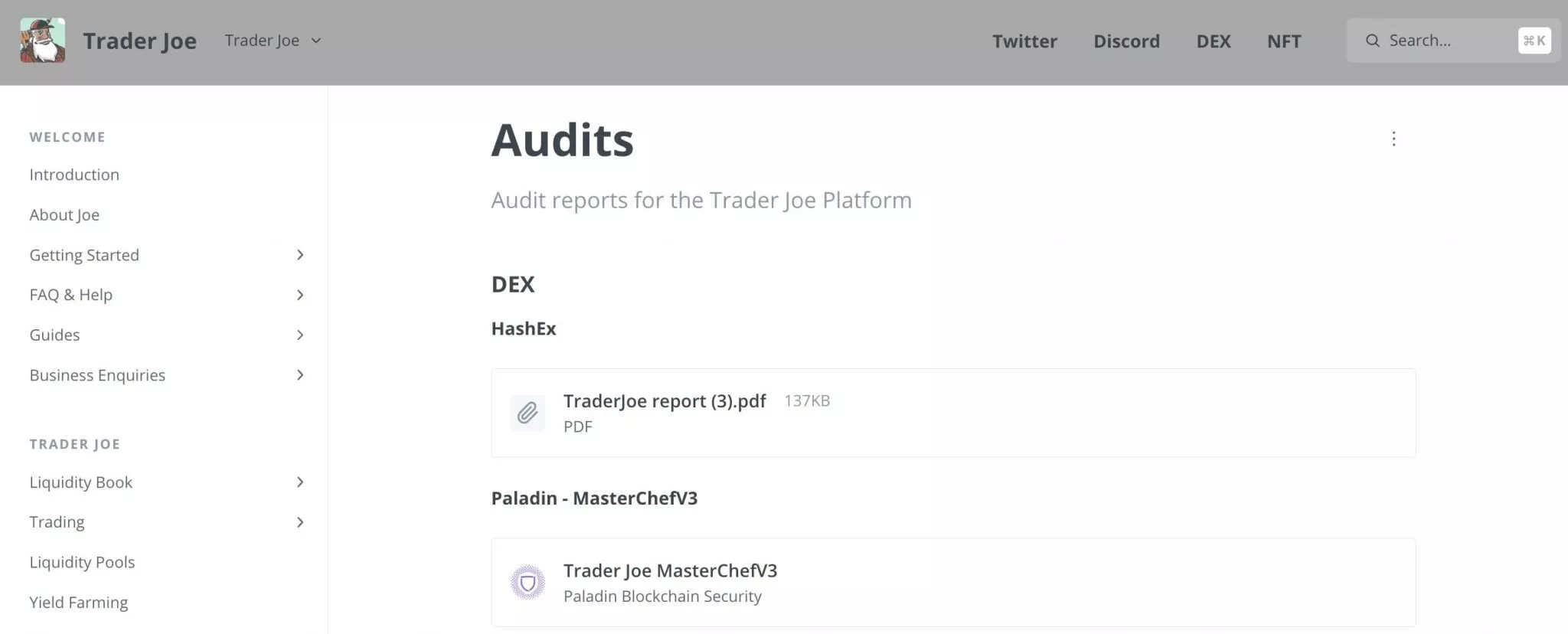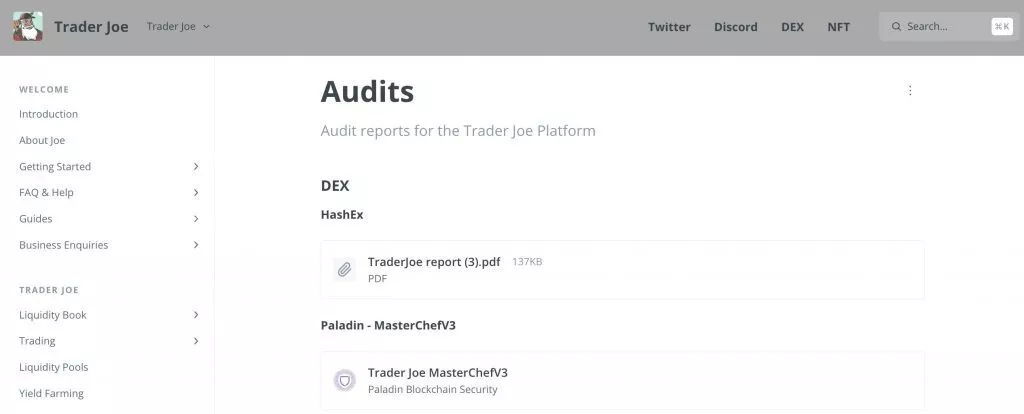 Complaints Received
Trader Joe exchange is still in its infancy; hence, it doesn't have any reviews on Trustpilot. However, most Trader Joe reviews seem to laud the exchange for its achievements in such a short time.
How Secure is Trader Joe Exchange?
Compared to centralized exchanges, DEXs are considered safer due to their true decentralized nature. Our Trader Joe crypto exchange review establishes the platform as secure, having been audited by HashEx and Paladin. The Trader Joe exchange has no hacking records. As already mentioned, security is the user's responsibility like in any other DEX. All security responsibilities of non-custodial exchanges such as keeping own private keys apply here.
Trader Joe Exchange Features
Order Types
Market orders

Stop-losses

Limit orders
Staking/Interest-Earning Accounts
The exchange offers multiple ways of earning money through lending, yield farming and staking.
Lending

: Similar to AAVE, Compound, and Benqi, Trader Joe offers crypto lending services. Crypto lending allows investors to deposit cryptocurrency and use them as collateral to borrow assets at up to 35% leverage. Banker Joe supports the lending protocol of Trader Joe. You can deposit stablecoins to earn up to 8% APY or AVAX for 7.76% APY. Such rates are much higher than what AAVE offers (roughly 3% for stablecoins and 5% for AVAX). Note that Trader Joe's lending services allow you to withdraw tokens at any stage if you have fully paid the outstanding debt. The value of your collateral influences how much you can borrow. Thanks to smart contracts, the lending process is fully automated. Therefore, investors don't need to seek borrowers and vet them.

Staking

: Users can stake JOE to earn xJOE, rJOE, sJOE, and veJOE, which are the main form of reward on the site. As of writing this, at leasts 85 million JOE, representing 44% of the circulating volume were staked. 0.05% of each trade goes to the staking pool and is eventually shared among investors. This, ideally, means that by locking JOE, traders stand a chance to make attractive returns.

Trader Joe YIELD FARMING: After

receiving your LP tokens for liquidity, you may use them for yield farming to maximize your benefits and yields. Each pool has its own APY, which goes up when the protocol needs more liquidity for a particular token pair. Participating in yield farming through Trader Joe will earn a JOE token as a reward. You will need the following items to begin yield farming at Trader Joe's:
Decide what token pair you want to farm.

Visit the 'Pool' page and provide equal liquidity for both tokens (e.g., AVAX/USDC).

Once your liquidity is provided, visit "Farm."

Find the Farm with your liquidity provider tokens (e.g., AVAX/USDC LP)

Deposit your LP tokens to earn an extra yield.
Exchange Token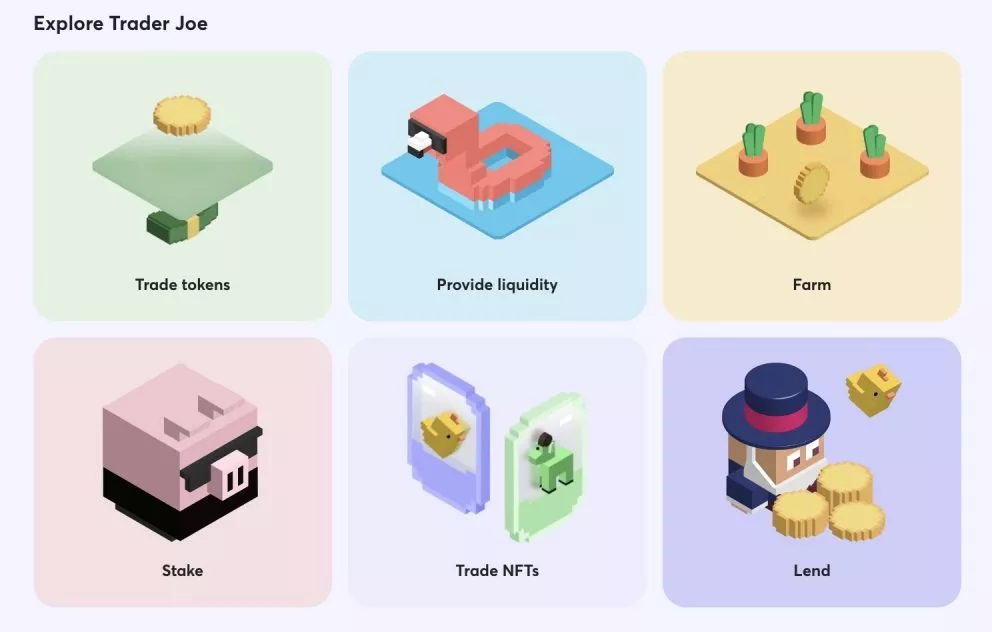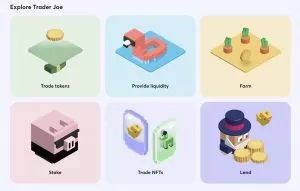 Shortly after its release in 2021, Trader Joe introduced its native token, JOE. JOE is the primary utility token of the Avalanche (ARC-20) network and runs on the Avalanche blockchain. It has a supply of 500 million tokens.
In terms of its distribution, half of the JOE tokens are meant to go towards liquidity providers, and they split the rest between the treasury (20%), the development team (20%), and future investors in the project. (10%).
Here are some of the use cases for the JOE token:
Staking

: Stake JOE to earn sJOE, xrJOE, veJOE, and APY.

Liquidity Pool and Farming:

JOE tokens can be used in many pools and farms.

Access Launch

: rJOE tokens are needed to access the Launch platform.

Lend:

JOE tokens can be lent out.

Governance:

JOE tokens can be used for governance proposals.
Asset Classes
Trader Joe NFTs

: Trader Joe exchange offers an NFT marketplace: Joepegs. Joepegs allows NFT enthusiasts to list, mint, and shop for AVAX NFTs. The Joepegs Marketplace is among the largest NFT marketplaces in the Avalanche ecosystem. NFTs users enjoy exciting features related to auction settings, whitelisting, and presentation. There is also an artist-focused support page that offers real-time information and extensive NFT filters. Trader Joe's is also launching its official NFT collection titled CLUB JOEPEGS.

Utility token:

JOE is the main utility token on the site. Half of it was created for liquidity provision while the rest is split between developers (20%), the treasury (20%), and 10% is left out for future project investors. JOE is the main voting element of JOEVOTE, the ecosystem's governance protocol. Other tokens include DAI, STG, THOR and EGG.
Leverage
Advanced traders may also utilize leverage trading to boost their ROIs. Margin investing offers attractive benefits of trading with borrowed funds, hence an opportunity to earn more. On the other hand, it comes with increased risks where your entire trading capital can be wiped out in losses if you're not careful. This exchange offers multiple leverage plans, all tied to your collateral through DeFi lending. Leveraged trading allows users to do max alpha strategies, like earning yield on idle assets.
OTC Desk
Over-the-counter desk is a peer-to-peer platform organised by the company to match buyers and sellers directly. In OTC trading, traders don't provide liquidity as trades occur between traders. In this way, investors may enjoy a fully decentralized trading experience.
Moreover, OTC trading allows users to enjoy fixed swap prices. Therefore, buyers are guaranteed to receive the exact number of tokens they expected, as the process isn't affected by slippage, which usually occurs in the AMM DEX. Unfortunately, this platform doesn't offer OTC trading. Check out Binance if this is an important feature for you.
Other Key Features
Swap tokens: Swapping tokens is the primary function of the DEX. Trader Joe's has an integrated price chart that allows users to view price fluctuation. Such integration makes the swapping process more user-friendly. Those wishing to protect their trades may use stop losses and limit orders through AutoSwap. It uses Autonomy Network's decentralized automation protocol to guarantee that your trade is executed for you only at the price condition you specify, or better, all while you're offline.
Zap: The Zap feature allows traders to instantly grab LP tokens for the pool they wish to farm without going through the pool page and manually doing it. Despite the high slippage for using the zap feature, we suggest you do it manually as it takes the same amount of time. You can deposit only one token in a pool through the ZAP feature. The protocol will automatically convert the value of your deposit and split it into two assets. This avoids multiple transactions and the fees associated with them.
Trader Joe Exchange Launch: Rocket Joe is another feature on the AMM. It acts as an incubator platform for DeFi protocols allowing developers to seamlessly launch their tokens and bootstrap their Protocol Owned Liquidity. There is a catch to this though. Only developers holding rJOE and AVAX are allowed to use this feature.
Trader Joe Available Tokens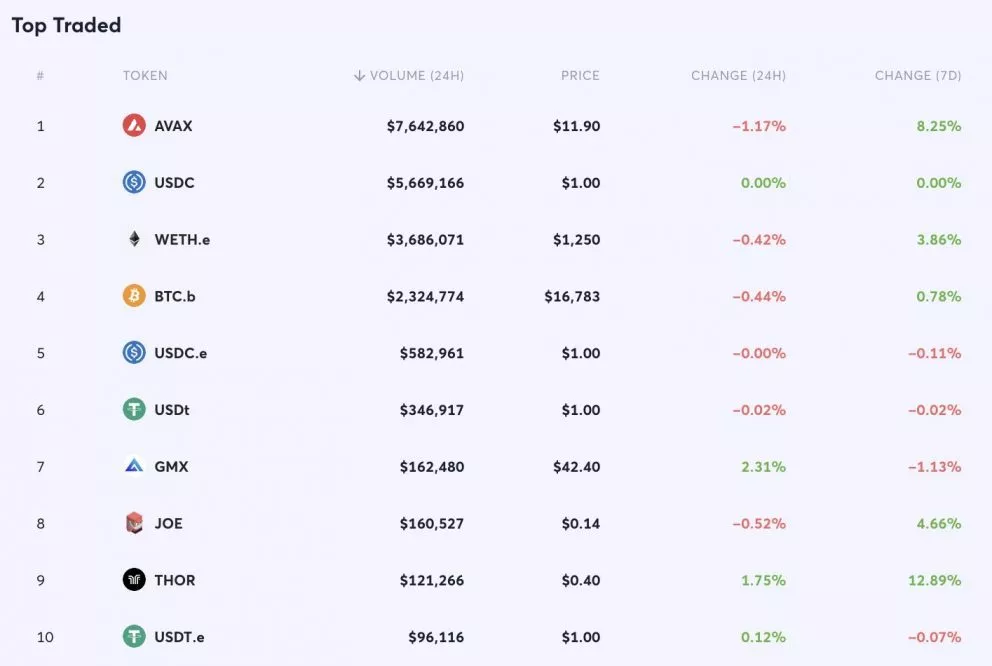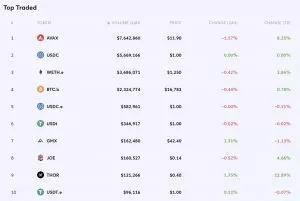 There are approximately 122 coins and 293 pairs at Trader Joe exchange. Compatible cryptocurrencies include: 
AVAX 

BOO

COOK 

CLY

 CRAFT 

GMX

USDC.e

WETH.e

USDt

MIM

PTP

 ELK

 GRO

DAI

 LINK.e

 LUNA 

Tether

USDC
The platform omits significant cryptocurrencies like Bitcoin and Ethereum. However, you can access wrapped versions of BTC and ETH.
Trader Joe exchange has over 180 trading pairs. Trader Joe's trading pairs include AVAX/USDC, JOE/USDC, WETH/AVAX, WAVAX/USDC, JOE/WAVAX, BTC.b/WAVAX, MIM/UNIV, WAVAX/USDT.e, USDC.e/USDC, GMX/WAVAX, STG/USDC, ICUBE/USDT.e, COMET/WAVAX, CCC/WAVAX, STRZ/WAVAX, and WBTC/AVAX.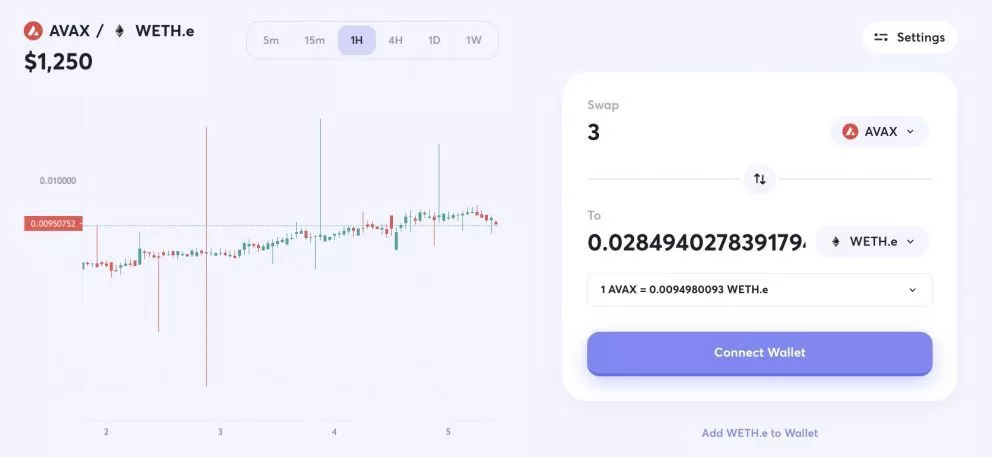 Deposits & Withdrawals Methods:
You must have sufficient crypto assets in your wallet before swapping tokens. Otherwise, you need to top up your wallet. Avalanche also needs some native AVAX tokens to pay for gas and buy other tokens on the chain. Always ensure you save some AVAX in your wallet. Since you can't directly deposit on Trader Joe DEx, there are no direct deposit and withdrawal methods. To do any crypto-related functions, you must first connect your wallet. Trader Joe exchange compatible wallets include Metamask, Rabby, Coin98, Coinbase Wallet, and WalletConnect. Metamask is the most popular wallet on Avalanche.
Payment methods include debit/credit card and bank transfers and Apple Pay/Google Pay on mobile (Samsung Pay isn't supported). Supported networks: Ethereum, Binance Chain, Polygon, Avalanche, and Celo.
Limits
Trader Joe's has no trading, depositing, or withdrawal limits.
Fees at Trader Joe Exchange
Trader Joe exchange has lower trading fees than other crypto exchanges built on Ethereum. Trding fees on the Avalanche based blockchain range between one and five cents per transaction. The crypto exchange charges up to a maximum of 0.3% in transaction fees. The charges are divided into two:
0.25%-Paid to liquidity pools in the form of a trading fee for liquidity providers

0.05%–Sent to sJOE Staking
There are no withdrawal and depositing fees, as the DEX can't be funded directly but via a supported wallet.
Getting started with Trader Joe
For a better explanation, let's use the Metamask wallet as an example. You may create a Metamask account if you don't already have. It's easy; visit the website, download the extension and set up a new wallet within minutes. Set up your password and secure your secret phrases, then confirm them to finish your setup. You will then need to add Avalance Network. Find a comprehensive Metamask guide here.  Once you're done, go to the Trader Joe website and follow these steps.
Step One: Go to Trader Joe exchange homepage and take time to familiarize yourself with the ecosystem. Here you can find information about the pairs offered, JOE tokens, developers and all the projects that the site platform is undertaking. To start using the marketplace, hit the "Trade" button. You will be redirected to the trading interface.
Step two: Connect your Metamask wallet
You should see an interface like the one below if you don't have a Metamask wallet. Click on "Metamask" to proceed.
Step three: Explore Trader Joe Exchange
You are good to go. You can now fund your Trader Joe exchange account using Memask and start exploring different functions of the platform. Anyone who has used a DEX before will find it highly intuitive. Any token listed on the Avalanche blockchain can be swapped or pooled on the platform. If you are a complete beginner, please scroll down to the user manual. Here you will find a detailed guide to using the site. You should get the hang of it within a short time even if you don't consider yourself a fast learner.
Trader Joe User Experience

Desktop
You will experience top notch experience on this platform, with a full suite of products to help you understand the world of DeFi much better. The website is sleek and user friendly even for first timers. Of course, all DExs have a learning curve; the site has provided a user manual to help beginners get started seamlessly.  To our surprise, this marketplace is so intuitive that you may not even need much guidance. Unlike most crypto sites, Trader Joe exchange desktop platform comes with a light background in default. You can switch to dark mode if this doesn't appeal to you. The default settings are however classy and give it a unique appearance. After connecting your wallet, you can access all the products and services from the desktop app. The desktop app allows easy navigation, making the experience smooth.
Mobile App
Trader Joe exchange doesn't have a mobile app. We attribute this to the fact that the company is still in its infant stages. We will update you if they roll out a mobile app in the future.
Trader Joe Exchange Customer Service
Trader Joe exchange doesn't have much going on in terms of customer support. If you have any issues with using the exchange, visit their official Help Desk on Discord, Telegram channel, or Twitter account. Trader Joe's has a Twitter following of about 149,207 and 8,985 telegram members.  On Discord, the platform boasts 16,626 members. In most cases, you should be able to resolve your issues by going through the platform's guide.
The site doesn't have any formal "customer support team. Therefore, be wary of anyone contacting you purporting to be supported and asking for sensitive info like your private keys. We were disappointed to miss even a simple FAQs page on the website. Here are some useful support links:
Trader Joe vs Other Crypto Exchanges
Trader Joe vs Pangolin
Pangolin, a Uniswap clone, is the first DEX on the Avalanche blockchain, kick-starting liquidity. Recently, Trader Joe exchange has been Pangolin's most prominent rival after surpassing it in terms of total value locked. Trader Joe's current total value locked is $159.93M. Both DEXs utilize smart contracts and liquidity pools with automated market makers (AMM). Also, since they're based on the avalanche network, they offer users fast transaction times and low network transaction fees. They both charge 0.3% in trading fees. Pangolin has the PNG token, but Trader Joe has the Joe token. But despite the similarities, these two sisters have some disparities. For example, Pangolin has integrated centralized finances to broaden its user base.
On the other hand, Trader Joe exchange has remained fully decentralized and has no fiat integrations or support. Pangolin is a fork of Uniswap, and its current user interface is very familiar to Uniswap users. You can select whether you want to swap or deposit tokens in a pool from the header menu and view the state of the markets via the charts interface. Trader Joe's has developed its interface, directly integrating the charts feature into the main menu options. So, the "Trade" feature includes a candle chart, while the "Pool" section shows the liquidity available in each token pool. At least in the larger and more liquid pools, as the exchange with more total value locked, Trader Joe is likely to offer less slippage. Pangolin has one killer feature that could give it the edge over Trader Joe and other DEXs on other platforms. It allows users to onboard Avalanche's native AVAX token from fiat using Apple Pay or a credit card. The feature is thanks to a partnership with Wyre.
Trader Joe Exchange vs. PancakeSwap
Another Trader Joe's rival is PancakeSwap (CAKE). PancakeSwap is the most active DeFi in the BSC ecosystem. It is also the most visited DEX, with an average of over 13.5 million daily visits. Trader Joe, on the other hand, has over 3683 users.  
The number of tokens listed on PancakeSwap is 4,260, much more than Trader Joe's token listings (163+). Like Trader Joe exchange, Pancake allows for support staking and liquidity pool mining. It also has its own token, Cake. On the other hand, Trader Joe has the JOE token. Regarding trading fees, Pancake charges 0.25 per cent, while Trader Joe's charges 0.3%. Perpetual future trading, IFO-Initial Farm Offering, Prediction Market, and Lottery are some of the other Pancake features. On the other hand, Trader Joe features include yield farming, crypto lending and rocket joe. Overall, PancakeSwap has more features and is much bigger. Both sites are, however, reliable and safe.
Is Trader Joe's Exchange Right For You?
Our Trader Joe exchange reviews concluded that as much as the platform may target different categories of users, it is best first for:
Crypto investors wishing to enter the Web 3 space

Traders looking for a platform with a wide range of interest-earning accounts

Those looking for truly decentralized cryptocurrency exchange with low trading fees.
Trader Joe has numerous overarching points over centralized finance protocols. For example, it is more secure as no central authority, or intermediary can halt withdrawals, restrict asset movement, lock you out of an account, or take back funds. It also offers affordable services with zero third party costs such as mining fees, as transactions are completed with just fractions of a dollar. In terms of usability, first timers may need to invest time to learn the platform before using it. If you've ever used a DExs platform like Uniswap or PancakeSwap, you will have no issues using Trader Joe's. The platform is created and designed well. It is easy to navigate and user-friendly. We therefore recommend Trader Joe as a great decentralized exchange based on security, user friendliness and uniqueness of its products.
What are the benefits of using Trader Joe Exchange?
Trading with a DEX has its advantages. For example, it is more secure and truly decentralized. Trader Joe's exchange users enjoy crypto lending, staking, NFTS support, and low trading fees while using the platform. 
What are the critical features of Trader Joe Exchange?
The Trader Joe's exchange features include banker joe, ZAP, Joepegs, staking, Rocket Joe, yield farming, and liquidity mining.
How easy is it to use Trader Joe Exchange?
Those familiar with using DEXs will find it easy-to-use Trader Joe. It may not be beginner friendly as it doesn't have much customer support. You can, however, use the guide on the site to get along.
What are the fees associated with using Trader Joe Exchange?
You will have to part with 0.3% in trading fees. Fortunately, that's all it will cost you to use the platform as there are no additional deposit and withdrawal fees. Of course, you still have to foot normal network fees to transact.
How secure is Trader Joe Exchange?
There is no question of security. First, Trader Joe exchange is audited by more than one firm. Additionally, it has an insurance policy to cover client funds. Nevertheless, most of the safety is self-custody since this is a decentralized exchange and doesn't keep client money.
What customer support options are available?
Just like other decentralized exchanges, you will not find a decent, dedicated support team at Trader Joe exchange. It's a community-based platform, so you will find most help from the official discord community. There is also a guide on the site.
What is the process for buying and selling cryptocurrencies on Trader Joe Exchange?
From the official website, you must navigate to the trading page and connect your wallet if required. Next, you need to select the token you would like to trade. Once you've chosen the tokens to be swapped, you need to enter the quantity and press SWAP. Some tokens have reflected elements; you need to increase your slippage to trade them.
Are there any restrictions on who can use Trader Joe Exchange?
As a fully decentralized exchange, Trader Joe exchange promotes the original crypto tenets of autonomy. There are no restrictions or any form of censorship at Trader Joe. Anyone with internet connectivity can access if and transact from whichever part of the world.