StormGain bridges the cryptocurrency investing gap by providing free cryptocurrency education as well as a wide range of tradable assets with low commissions and zero spreads. The highly regarded virtual currency marketplace emphasizes profitable, diverse crypto investing as well as safety in both centralized and soon to come decentralized platfroms.
Stormgain Overview
Restricted Countries
Among the restricted jurisdictions
Stormgain Key Facts
Headquarters
St. Vincent and the Grenadines
Type of exchange
Centralized
Best for
Traders looking for high-leveraged crypto trading
Fiat Currencies Available
No FIAT currency support
Cryptocurrencies Available
70+
Products & Services
Exchange
Crypto trading
Crypto wallets
Trading signals
News
Affiliates
Islamic account
Bitcoin faucet
Cloud mining
Crypto indices
Tokenized assets
Crypto options
Loyalty programme
DEX-perpetuals
Offers crypto mining with zero investment
100% commission free trading
Trade with up to 500x leverage
Offers multi-currency crypto wallet
Demo trading available
Provides buy and sell signals for free
Introduction to Stormgain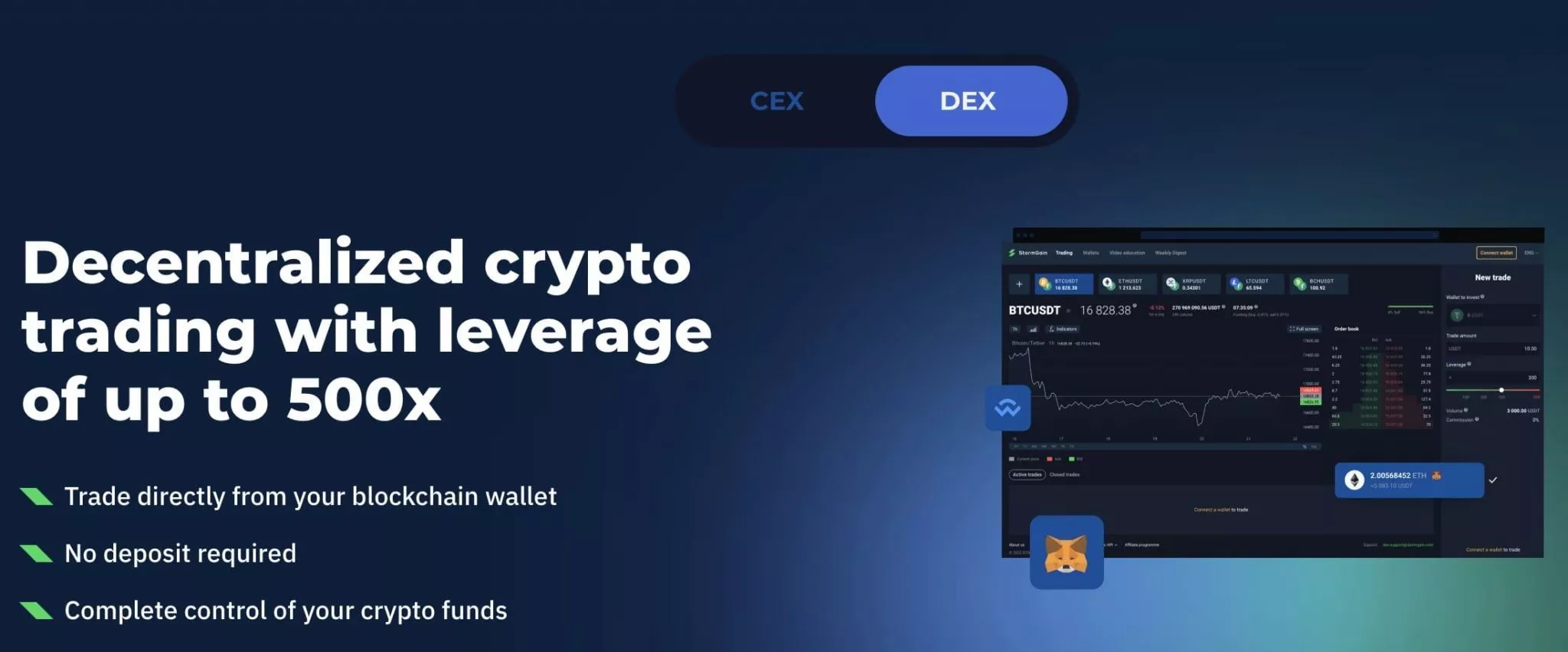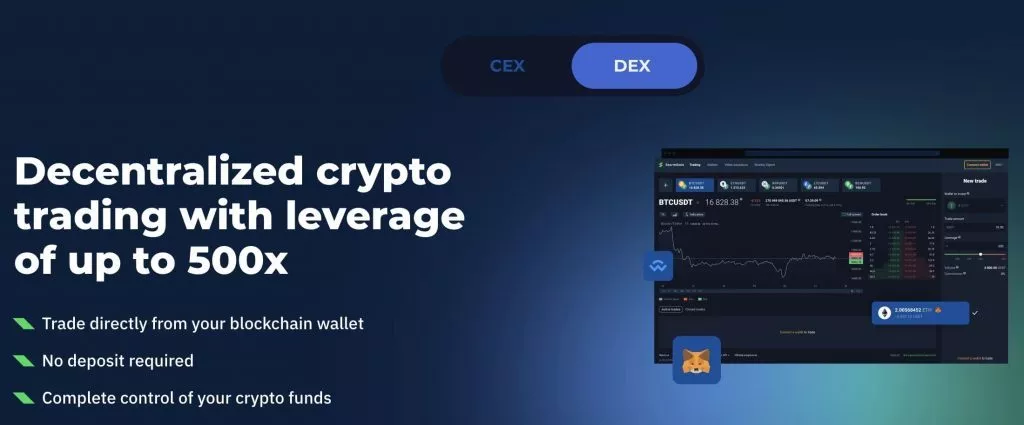 StormGain is a one-stop marketplace for any cryptocurrency enthusiast looking to profit from digital coins. It is available on all devices and allows users to buy virtual currencies as an asset or trade with up to 500x leverage. Its headquarters are in St. Vincent and the Grenadines, but it provides services in various countries, including China, France, Germany, Turkey, Poland, Vietnam, Italy, Portugal, and Spain. Platform clients can access different features, including multiple order types, intelligent market analysis tools, trading signals, and demo trading accounts. Everything is friendly, from registration and creating a profile to trading. It comes with a built-in crypto wallet that supports multiple digital coins and has strong security elements. The exchange's most distinctive feature is the Cloud Miner. Unlike traditional crypto mining, StormGain employs advanced proprietary technology, so you do not require hardware power to begin bitcoin mining. There is also an investment program that can earn you up to 12% per year. You are free to trade using any trading strategy, including scalping. If you're a beginner, the site provides free training guides to help you get started faster. Continue reading this StormGain exchange review to find out more.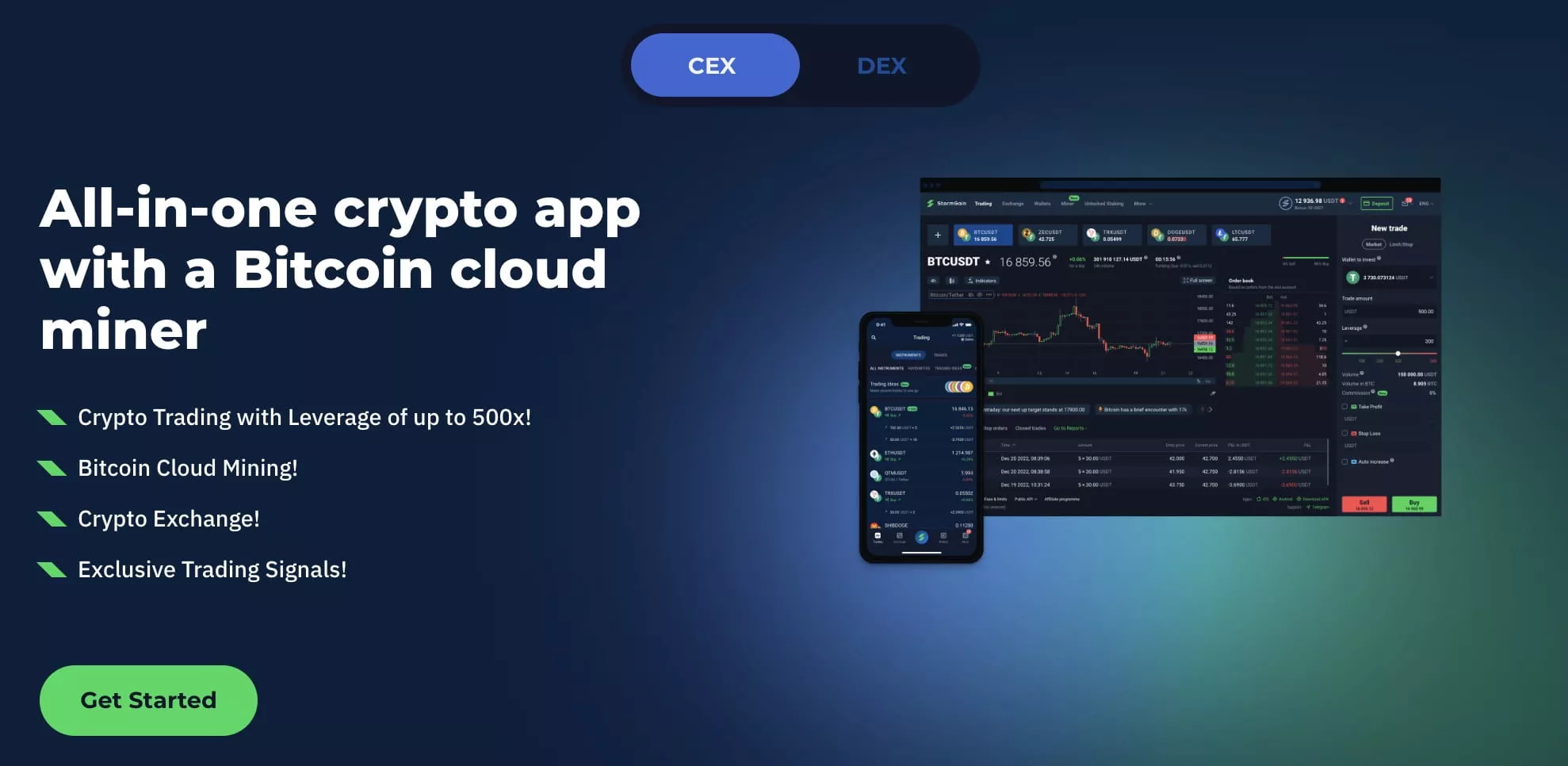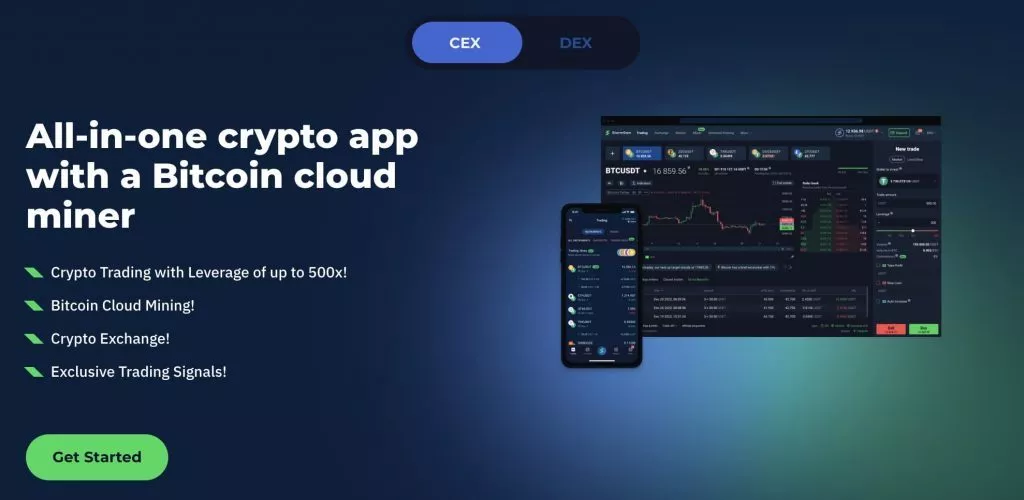 Pros
Supports all major cryptocurrencies
Straightforward sign-up and verification process
Multiple passive income opportunities
Platform fees are only charged when you make profits
Cons
Does not support fiat instruments
No withdrawals
Team - Who Founded StormGain?
Alex Althausen and his partners founded the company in 2019 to make crypto investing more straightforward and profitable for both beginners and pro traders. Alex is a former COO at XCOOEX and Head of Sales at the StormGain Group.
StormGain Market Share
The crypto exchange serves over five million customers in at least 230 countries. As of this writing, CoinMarketCap data revealed that the marketplace had an average 24-hour crypto trading volume of $1.6 million. This incredibly low volume represents approximately 0.5% of the total crypto market's average daily volume. On the other hand, this indicates neither liquidity, which could lead to significant slippage during trading. However, given that the platform is still relatively new on the market, it is performing impressively. It processes more than $500 million in derivatives per day.
StormGain Exchange License & Insurance
These policies cover data protection, security, and basic client verification procedures. In terms of regulation, the platform operates without reputable licenses like the FCA, SEC, CySEC, or any strong jurisdiction's money remittance government oversight. Nonetheless, it is a member of the Blockchain Association, an organization that represents the crypto community. As a result, the platform provides a high level of transparency. While StormGain frequently strives to meet the high standards of the European Union, it clearly states on its website that its services are not intended for European Union citizens. It is registered as 312 LLC 2020 in St. Vincent and the Grenadines. Users who prefer to remain anonymous will appreciate trading on this site because it never requests KYC documents.
StormGain Reputation and Security
Reputation and security top the list of what we consider when looking for a good exchange. The exchange is secure, dependable, and trustworthy. It has never had a hacking incident in which users lost money. The large number of clients it has acquired in such a short period demonstrates how highly traders regard it. Of course, the platform's image suffers due to the lack of regulation. Previously, it was common for crypto service providers to operate without licenses; however, this is changing. The companyStormGain has no reason to remain unregulated when some of the largest exchanges, such as Binance and Coinbase, are. It would have made sense if the platform were decentralized, but that is not the case. We hope that the company will seek regulation soon. Nonetheless, the exchange has a Trustpilot rating of 4.2 out of 5. This means that more than 80% of users are pleased with it. During our StormGain exchange review, we discovered that the site had implemented a number of security measures to keep your funds safe. Continue reading to find out more.
Security Features
StromGain crypto exchange has a host of security features to safeguard user funds and data.
They include.
Two-factor authentication: The platform has a two-step user identification method for accessing user accounts. This adds a security layer to your account, making it hard for hackers to steal from you. It can be enabled with SMS or Google Authenticator. So even if someone cracked your password, it would be impossible to access your account without a second authorization. Besides, you would receive a notification that someone tried to access your personal area.
Biometric Access: With the biometric security feature, you can use your fingerprint to access your account, making it impossible for anyone to steal from you.
Cold Wallet Storage: Being a custodial exchange makes the platform a hot target for fraudsters. The company uses cold wallets to securely store client funds offline to prevent loss of funds through hacking, like what happened with Mt. Gox in 2014.
Encryption: Hackers can use client data shared on the exchange website to compromise their security and steal from them. To avoid such incidents, the site employs a secure socket layer protocol to improve online privacy and security. During transmission, all data is encrypted and secured by the SHA-256 fingerprint.
Multi-signature: Multi-signature efforts go into confirming all transactions on the site. How it works is that while cashing out, users are prompted to provide at least two unique signatures.
24/7 Availability: The fact that you can access support round the clock means you can receive help for urgent issues promptly.
Regular Audits: As part of enhancing security, the company invites external auditors to test its system for vulnerabilities every three months.
Complaints Received
There have been a few complaints about the StormGain cryptocurrency exchange. Most users praise it for its excellent services and smooth trading conditions. However, we obtained several payment complaints from traders concerned that funds sometimes took longer than 48 hours to process. In response, the website's support team stated that all withdrawals and deposits are finalized automatically within two hours. In rare cases, the company reviews deposits and withdrawals manually for safety reasons. This can take up to five days.
How Secure is StormGain Exchange?
The exchange is a secure crypto marketplace with zero incidences of hacking. Although it lacks a reputable license, the platform has implemented strong security measures, including cold storage, multi-signature access, and data encryption. With that in mind, we encourage you to take the first step in keeping your funds safe. Make use of all extra security features on the platform, and remember to have a strong password too.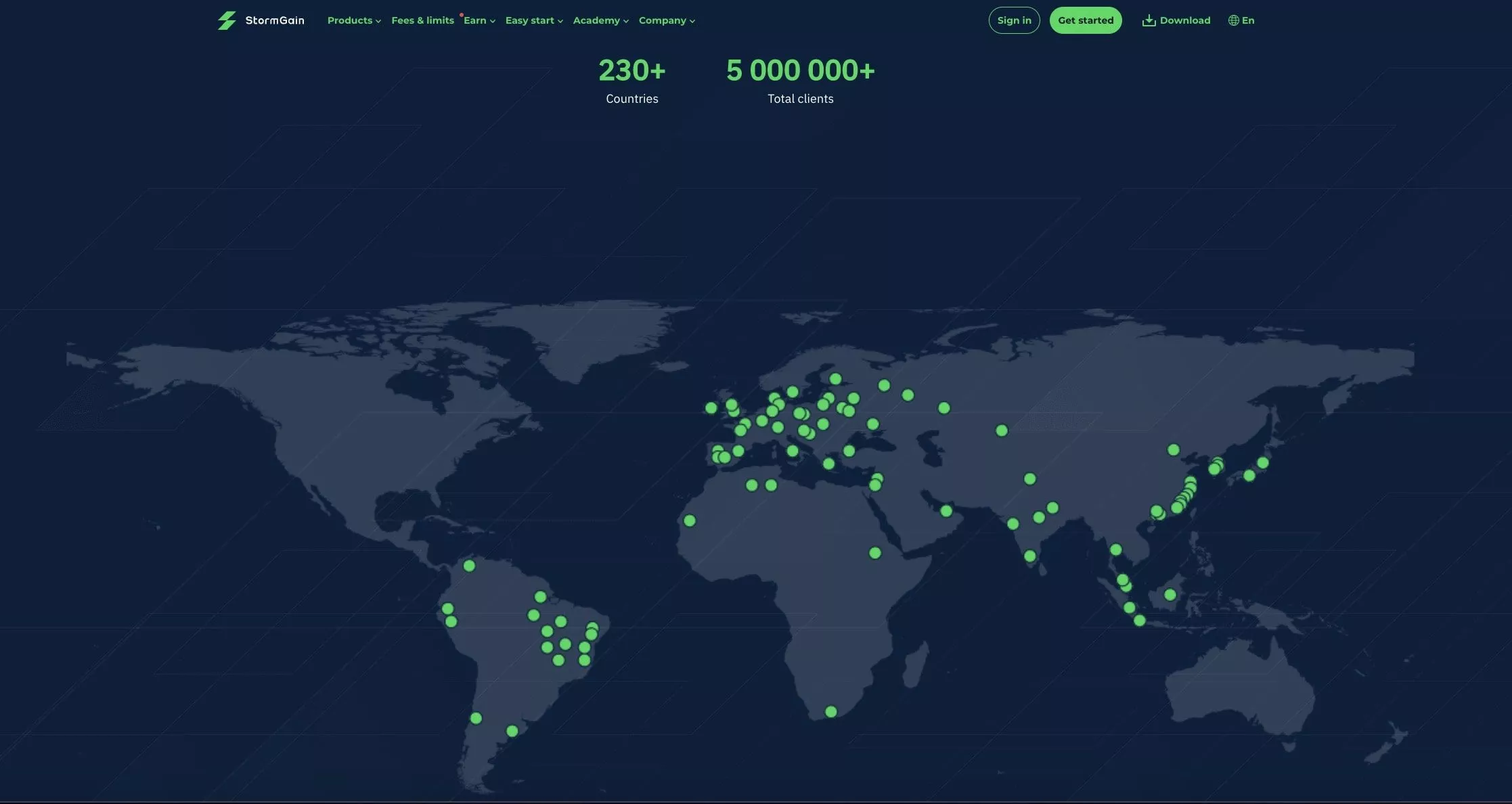 The Main Exchange Features

Order Types
Market orders
Limit orders
Stop orders
Staking / Interest-Earning Accounts
Users of the StormGain exchange can earn passive income through an exciting feature known as unlocked staking. Unlike traditional staking, which requires funds to be frozen to accrue interest, unlocked staking allows you to grow your money without locking it. This means you can keep trading with the funds on the platform while still earning staking interest. The amount you make depends on your customer status. The higher your level of loyalty, the more money you will receive. Profits are highest for VIP members. It should be noted that interest from unlocked staking cannot be cashed out; instead, it must be used to trade on the platform.
Exchange Token
Crypto exchanges such as UniSwap that are community owned have native tokens for utility and governance. StormGain is centralized and does not have its own token.
Asset Classes
Cryptocurrencies: The platform gives you access to all the major virtual coins and altcoins, such as Bitcoin, Ethereum, Cardano, Polkadot, and Dogecoin.
Stablecoins: Stablecoins are digital currencies that derive value from a stable asset, most commonly fiat money. This exchange provides access to various stablecoins, including Tether and USD Coin.
Futures & Options: With a leverage of up to 500x, users can trade various crypto options. This asset class gives you high market exposure, meaning you can earn more even during crypto winter.
Tokenized Commodities: Tokenization is associating digital currencies with real-world assets. Tokenized commodities have the same value as their real-world counterparts and can be split into fractions. ThisStormGain exchange offers tokenized gold and silver.
Leverage
Traders can take advantage of the platform's generous leverage of 500x to control huge stakes and rake in big profits. For example, with an investment of only $100, a multiplier of 500x allows you to trade a whopping $50,000. While using leverage, be aware that it can also lead to rapid capital losses. We found out during this StormGain crypto exchange review that the maximum leverage amount varies across different asset classes.
OTC Desk
Crypto exchanges usually set up OTC desks to serve high-volume traders and institutions. They offer low trading fees by reducing the chances of high slippage. The companyStormGain doesn't offer OTC desk services.
Other Noteworthy Features
Demo Account: The platform offers a demo account of $50,000 USDT in virtual money. You can use it to practice trading, improve your strategy or test the platform's conditions before investing your hard-earned cash. It can remain active for as long as you need. Switching to live money trading is easy with a few clicks of the button.
Deals & Promotions: TheStormGain exchange offers multiple bonuses and promos for different accounts. It also runs a loyalty program with attractive benefits. Bonus funds can be used for trading but can only be withdrawn upon fulfilling the minimum volume requirement.
Cloud Miner: Have you previously been prevented from participating in cryptocurrency mining due to high hardware and setup costs? The Cloud Miner feature on the StormGain exchange allows you to mint cryptocurrencies from your phone. You don't need anything else besides your smartphone. Registration is entirely free. All you have to do is boost your mining speed by upgrading your loyalty or meeting trading volume targets to earn digital coins daily.
Crypto Wallet: The exchange comes with an inbuilt cryptocurrency wallet to help you store your virtual currencies securely. You won't be charged anything to hold and swap coins in this wallet. What's more, using this feature allows you to earn up to 12% annually from funds stored in the wallet.
Signals: Knowing when to take trades can be challenging, especially when you're still new to cryptocurrencies. StormGaim crypto exchange understands that and has created probability and profitability indicators to provide buy and sell signals to its users.
Risk Management: The trading platform integrates Stop Loss and Take Profit features to help you manage your positions and control risk while trading.
Academy: Are you new to the world of cryptocurrencies? Use the StormGain exchange academy to learn about digital coins and their potential. Beginner courses, intermediate material, and weekly market analysis are all covered in this section. It also provides trading suggestions and ideas, as well as discusses industry trends.
Decentralized Trading: While StormGain is a centralized platform, it intends to introduce decentralized leveraged trading. There is already a "Coming Soon" page for the DEX on the platform's website. Once rolled out, users will be able to trade virtual coins right from their non-custodial wallets, such as Metamask, without depositing on the platform.
Tokens Available on StormGain
We counted more than ten cryptocurrencies on the spot trading platform during this review. They include:
Bitcoin (BTC)
Ethereum (ETH)
Dogecoin (DOGE)
Shiba Inu Coin (SHIB)
Litecoin (LTC)
Binance Coin (BNB)
Ripple (XRP)
Bitcoin Cash (BCH)
Tether (USDT)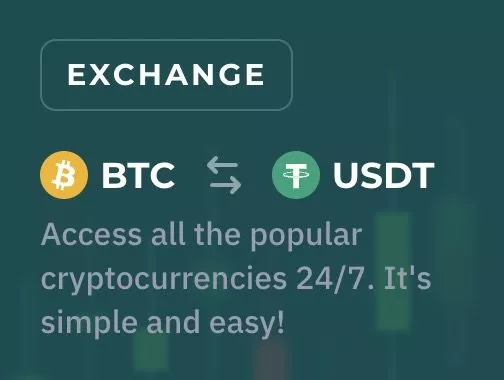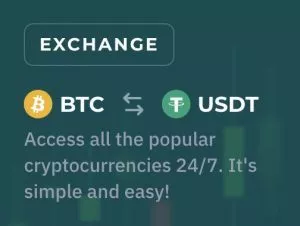 Available Trading Pairs
The site supports more than 50 trading pairs in the derivative market.
BTC/USDT
ETH/BTC
LTC/BTC
LTC/USDT
XRP/USDT
BTH/USDT
DAI/USDC
TRX/USDT
USDT/XAGT
USDC/BTC
Payment Methods on StormGain Exchange
Deposits & Withdrawals Methods:
There are two main ways to fund your StormGain account. First, you can send digital coins from any crypto wallet, such as MetaMask, Coinbase, and Zengo. Secondly, you can directly purchase BTC with the help of debit/credit cards. Both MasterCard and Visa cards are accepted.
Withdrawals are restricted to cryptocurrencies only. You can move your coins from the StormGain crypto exchange wallet to any third-party wallet of your choice. When making payments, always double-check your address rather than rushing and sending it to the wrong wallet, where you may lose your funds forever. EU clients can cash out using SEPA. It should be noted that eWallets such as Skrill and PayPal are not supported.
StormGain Fees
StormGain provides 0% commission cryptocurrency trading. The broker only takes a 10% cut of your profits and charges no other trading fees. The exchange's commissions for swapping tokens range between 0.095% and 0.25%, which is competitive compared to other industry players. Crypto deposits and withdrawals are subject to a 0.1% fee. If you choose to fund your account with a bank debit/credit card, you will be charged an additional 5% deposit fee. Finally, EU citizens can withdraw via SEPA for a 0.1% commission and a 5% currency exchange fee.
Limits:
Trading limits vary from $10 to $10,000,000 depending on the asset in question. Deposit and withdrawal limitations depend on the currency and amount in question. For example, SEPA has a minimum cashout of €150 and a maximum of €10,000 per transaction. The minimum amount allowed for card deposits in USD is $50, to a maximum of $20,000 per payment. Some currencies, like the Australian dollar, have a higher cap of $50,000. You can find a complete list of payment limits by clicking on "Fees & Limits" on the menu bar.
User Experience During Our Review
Mobile App
StormGain mobile app comes with everything you need to trade, store and swap cryptocurrencies. It's available for iOS, Android, and Huawei mobile devices. The 32.7 MB mobile app comes in 14 languages, including English, Arabic, Dutch, French, German, Italian, Polish, Russian, and Spanish. It's perfect for investors who are always on the move, as it gives you control of your investment from the palm of your hand. In addition, you can enjoy 24-hour access to buy and sell signals, charting tools, and push notifications. Mobile crypto mining and unlocked staking services are also available. Our experience with the app was seamless, and it was evident that the StormGain exchange mobile app fits investors of all levels. It's sleekly designed with a dark background and an intuitive interface.
Desktop
StormGain's desktop version offers a user-friendly and highly customizable dashboard for trading and investing in cryptocurrencies. The interface is minimalistic with elegant arrangements. You can access it from all major browsers, including Google Chrome and Mozilla Firefox. Unlike the mobile app, you will only be able to use the desktop version once you verify your phone number and email address. The desktop version gives users a single window view of live prices, charts, different trading pairs, running positions, and wallet balances. Going on "Full Screen" mode expands the chart and brings up more functions, including the technical indicator window. Everything was smooth, and we did not experience bugs or system crashes.
StormGain Customer Service

Customer service is an important consideration when choosing a cryptocurrency exchange. At StormGain, you have different help services. First, the website has a rich knowledge base, valuable guides, and solutions to commonly experienced problems. This should be your first place to visit whenever you run into an issue. If you fail to get an answer to your problem, consider using the 24/7 live chatbot on the website or the Telegram bot to find answers to your questions. The website also offers a support phone number and email address. To be the first to know about new changes and updates, follow StormGain on social media.
How StormGain Compares To Other Crypto Exchanges
StormGain vs. Libertex Exchange
Libertex is one of the exchanges giving StormGain a run for its money. The Cyprus-based firm boasts over 3 million users and offers crypto and derivative trading. Like its counterpart, it has a Trustpilot rating of 4.2, clearly indicating excellence in service delivery. You can create a demo trading account on both Libertex and StormGain and quickly switch to live trading whenever ready. Both exchanges also offer crypto mining which can be set up with just a few clicks. StormGain, however, stands out with a multicurrency crypto wallet and attractive interest-earning opportunities. In addition, users can take advantage of buy-and-sell signal services, a feature not available at Libertex. While both exchanges allow for leveraged trading, StormGain enables you to control a larger stake with a maximum leverage of 500x, compared to 1:30 on its competitor. StormGain exchange will soon become a hybrid service with the addition of decentralized exchange features, allowing users to invest in either CEX or DEX services. Libertex, on the other hand, is fully centralized and regulated by CySEC.
StormGaim vs. Coinbase Exchange
Coinbase is the most significant crypto platform in the US and the second largest in the world by volume. It has over 40 state licenses in the US, unlike its counterpart, which is unregulated. Regarding market share, it controls around 5% of the daily traded volume, while its competitor processes only about 0.5%. Both exchanges allow staking and interest earning. The difference is that StormGain offers unlocked staking, where you profit from your money without freezing it. For Coinbase, you must lock your funds for a specified period to enjoy staking rewards. Beginners benefit from free education on either platform. There is no doubt about security, as both platforms are completely safe to use. Coinbase has been the target of multi-layered phishing attacks in which cybercriminals used spoofed emails to steal money from over 6000 customers. This is no longer a cause for concern, as the exchange later improved its security features. StormGain has a straightforward fee model that deducts only 10% of your profit and allows you to trade commission-free. Trading fees on Coinbase vary depending on the transaction and are determined by factors such as market volatility, order size, and liquidity.
Is StormGain Exchange Right For You?
The exchange is appropriate for traders of all skill levels. It supports all popular cryptocurrencies, is safe, and includes a variety of technical analysis tools. The platform meets the needs of both new and experienced traders by incorporating an exchange, digital coin wallet, derivatives trading, and signal services. You are not left out if you are the type who is always on the go. Use the mobile app and passive investment features such as unlocked staking. High-rollers looking for OTC trading services will not find the platform useful. Every other type of cryptocurrency trader should feel at ease on the StormGain exchange.
StormGain is an all-in-one crypto exchange that offers a wide array of investment options. It's secure and offers seamless trading. Both mobile and desktop platforms are sleek and efficient. Try this platform if you are looking for a different feel from traditional exchanges like Coinbase and Binance. It provides unique products like unlocked staking, zero-cost mining, and commission-free trading.
What are the benefits of using StormGain Exchange?
The exchange offers you a high-leverage opportunity up to 500x, multiple trading pairs, investment opportunities, and a free crypto wallet. You also get access to an education center, trading signals, and technical analysis tools.
How easy is it to use StormGain Exchange?
It comes with a user-friendly and intuitive interface on both desktop and mobile devices. Every function is clear, and you don't need training to understand it.
What are the fees associated with using StormGain Exchange?
StormGain has 0% commission crypto trading. The broker only takes a 10% cut from your profits but doesn't charge any other trading costs. Commissions from swapping tokens on the exchange range between 0.095% and 0.25%.
How secure is StormGain Exchange?
It has several security features that keep users safe. Every three months, it is subjected to a safety and vulnerability audit to identify any security gaps that must be filled. So far, there has been no evidence of hacking or loss of user funds.
What customer support options are available?
You can find help at StormGain crypto exchange through its rich knowledge base or chat with a 24/7 live chatbot on the website and Telegram. There is also a support phone number and email address on the website.
What payment methods are supported?
The crypto marketplace supports credit/debit cards and crypto payments for deposits. Withdrawals are restricted to digital coins only. However, EU members can use SEPA.