Shibaswap is a completely decentralized exchange that offers feature like crypto staking and swapping with the added bonus of an NFT marketplace.
ShibaSwap Overview
Popular cryptocurrencies accepted
ShibaSwap Key Facts
Type of exchange
Decentralized
Best for
Best for advanced traders seeking to earn interest by staking Shiba Inu tokens
Fiat Currencies Available
No FIAT currency support
Cryptocurrencies Available
60+
Products & Services
Staking
NFTs
Swapping
Analytics dashboard
Governance
Liquidity pool
Decentralized exchange for the SHIB trifactor
TVL of $1.6 billion
Supports staking and liquidity pools
Supports ERC 20 tokens
Built on Binance Smart Chain Mainnet Network
Governance is strictly by the SHIB community (Doggy DAO)
What Is ShibaSwap Exchange?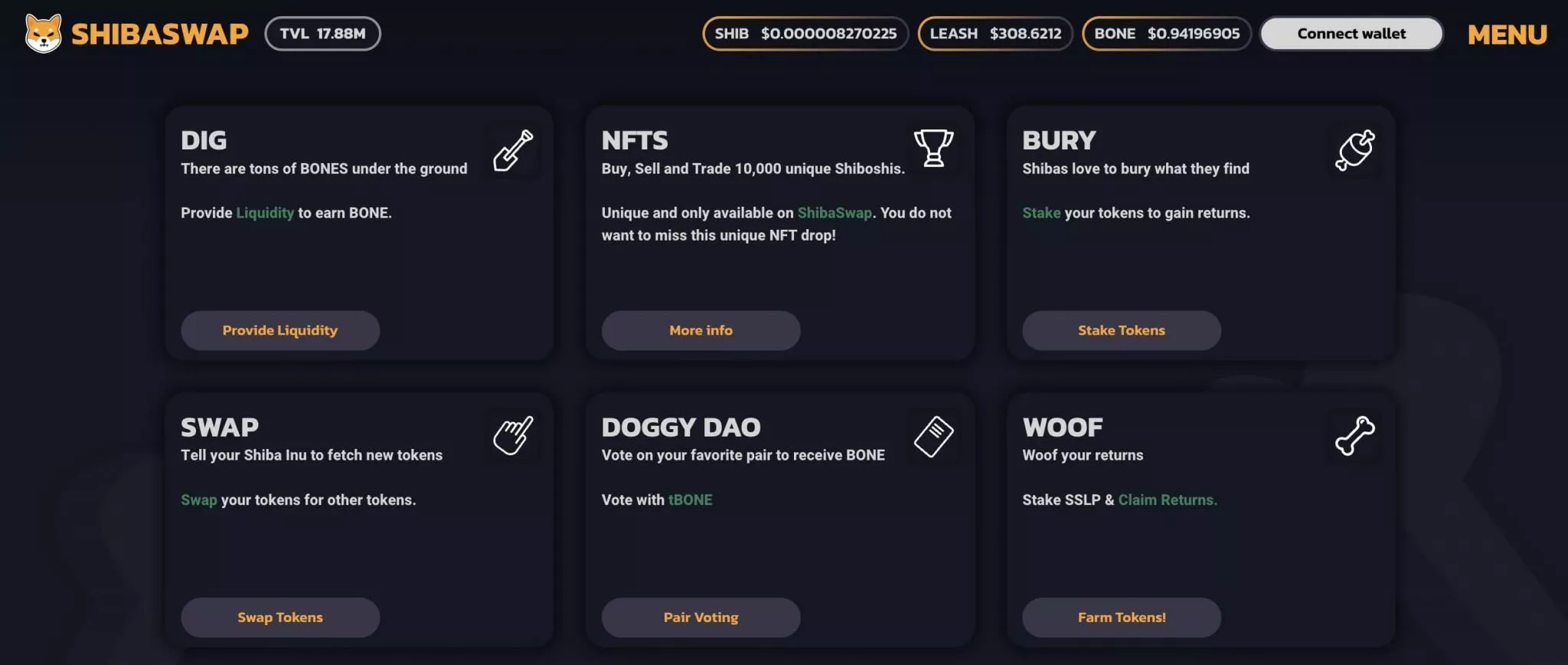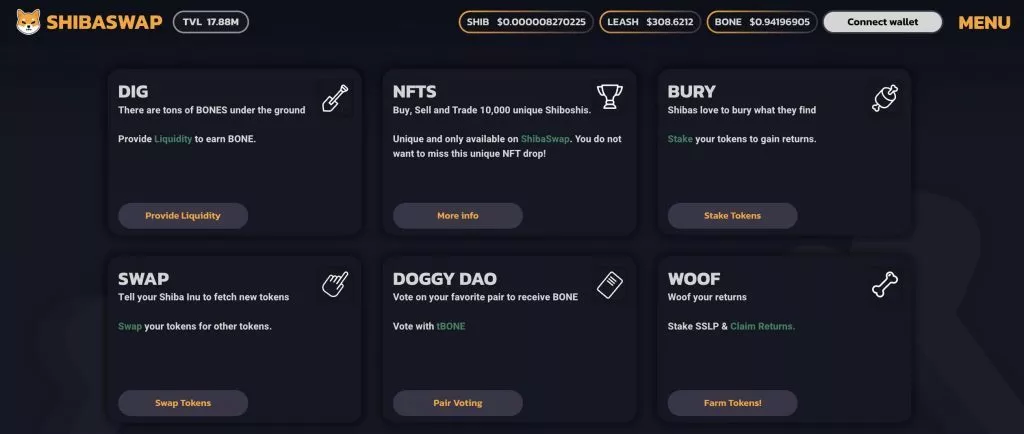 Shibaswap is a native non-custodial decentralized exchange (DEX) for Shiba Inu coins, launched in July 2021. DEXs are different from centralized systems like Binance, which require a third party to facilitate exchanges. The name "Shiba Swap" follows the trend seen with many other exchanges, like Uniswap for Ethereum and PankcakeSwap for the BNB chain network.
The SHIB tri-factor forms the backbone of the ShibaSwap exchange. This tri-factor consists of the Shiba Inu coin (main coin), plus BONE (Bone ShibaSwap), and LEASH (Doge Killer), based on Ethereum's chain. ShibaSwap's token layout is much like those of other exchanges, connecting users to the exchange through a Web 3 wallet (think MetaMask). This means users can start swapping cryptocurrencies the moment they get on the exchange. You also get typical DEX features like token swapping, staking, liquidity pools, and governance.
Currently, ShibaSwap boasts a very respectable 24 hr trading volume of $1.6 billion. The exchange also boasts an "A" rating, meaning it's "transparent" with its exchanges. So far, the total volume locked(TVL) of crypto on ShibaSwap is about $1.6 billion. It's famous for registering a TVL of $1 billion only two days after its launch, opening up a universe of opportunities for its users, specifically Shiba Inu holders.
Pros
Fully decentralized exchange
Safe to use with an excellent security score
Plenty of ways for users to earn rewards
Excellent TVL ($1.6 billion) shows incredible potential
Multi-currency and NFT support
Allows staking via Bury
Complete governance that allows user-voting
Excellent exchange for trading meme coins
Analytics dashboard via Doggy DAO
Cons
There's a bit of a learning curve for users to fully understand the platform
The inherent risk of putting money on a decentralized platform
Transactions cannot be reversed
Shibaswap's development team is completely anonymous
Founding Team
Just like Shiba Uni, ShibaSwap was primarily established by a pseudonymous person(s), Ryoshi, with help from the SHIB community members. The marketplace was officially launched on July 6th, 2021, to give SHIB an actual use case and make it more than a meme coin. Ryoshi goes in the same group as founders like Satoshi Nakamoto, whose identities have so far remained mysterious. The exchange doesn't hold a history of working with capital venture firms or fundraising from investors to fund its development.
Ryoshi exited social media and the ShibaSwap community in May 2022. Lead developer Shytoshi Kusama announced that he would take over from the founder and continue working on the project. Operations of both Shiba Inu and the exchange have since remained active as the developer and the rest of the team continue working to actualize the original dream.
Market Share
As already mentioned, ShibaSwap exchange is SHIB's official marketplace. At the time of writing this, information from the website revealed that there were over 590,000 active account holders. The number is significantly smaller compared to Binance that has over 30 million users or Coinbase, that boasts at least 9 million users. On the other side, this is a significant amount considering that the exchange was only launched in 2021.
ShibaSwap Licence and Insurance
We did not find any information indicating licensing or insurance of the ShibaSwap exchange. As a pure decentralized marketplace, getting a license would be going against the founding tenets of blockchain technology. The platform, however, operates as a decentralized autonomous organization (DAO), meaning it's community governed as opposed to being under government oversight. Community members vote and decide on it's course. The marketplace doesn't have an insurance policy too. This shouldn't be a point of concern since it doesn't keep user funds.
Reputation and Security
ShibaSwap scores a staggering 93 out of 100 in CertiK's security score, granting it the top spot out of 1,695 on CertiK's market volatility leaderboard. The CertiK audit comprehensively examines a chain's code to identify any issues with vulnerability. Out of 287 security checks, Certik uncovered 42 issues, which is very low for such a large exchange.
That said, ShibaSwap flopped in DeFi's safety review criteria, passing only 2 of 22 tests. However, this is largely in part because of the lack of transparency from the company, with no documentation or an actual board to represent the company. ShibaSwap scored only 3%, a very low score compared to other DEXs like Gnosis, with 91%.
This isn't too good for the exchange's reputation, but of the 34 security issues ShibaSwap has had since its inception, it has resolved 97% of them. However, financialwatchngr.com went as far as to refer to ShibaSwap as a "ticking time bomb." Let's examine some of ShibaSwap's security features to confirm the veracity of this statement.
Security Features
IP address whitelisting: IP address whitelisting is an additional layer of security that ShibaSwap offers its users. This means that only certain IP addresses can be used to access an account. Any suspicious IP activity is immediately flagged and the account is put on hold.
Multi-factor authentication 2FA: ShibaSwap also requires all users to set up two-factor authentication (2FA) in order to log in and make trades. 2FA adds an extra layer of security because users not only enter a password but also a code that's generated by an app on their phone.
Encrypted private keys: ShibaSwap stores all user information, including passwords and private keys, using AES-256 encryption, which is the industry standard. What's more, every user has their own private key, which is not known to ShibaSwap or any other party.
CertiK Audit: As mentioned earlier, ShibaSwap underwent a comprehensive audit by CertiK and passed with flying colors. In fact, it takes the top spot on the security leaderboard. This is certainly a confidence boost for any ShibaSwap user or SHIB holder.
With all these security features in place, ShibaSwap is definitely not a ticking time bomb, as Financialwatchngr.com would have us believe. Rather, it's a secure exchange that takes the safety of its users' digital assets very seriously.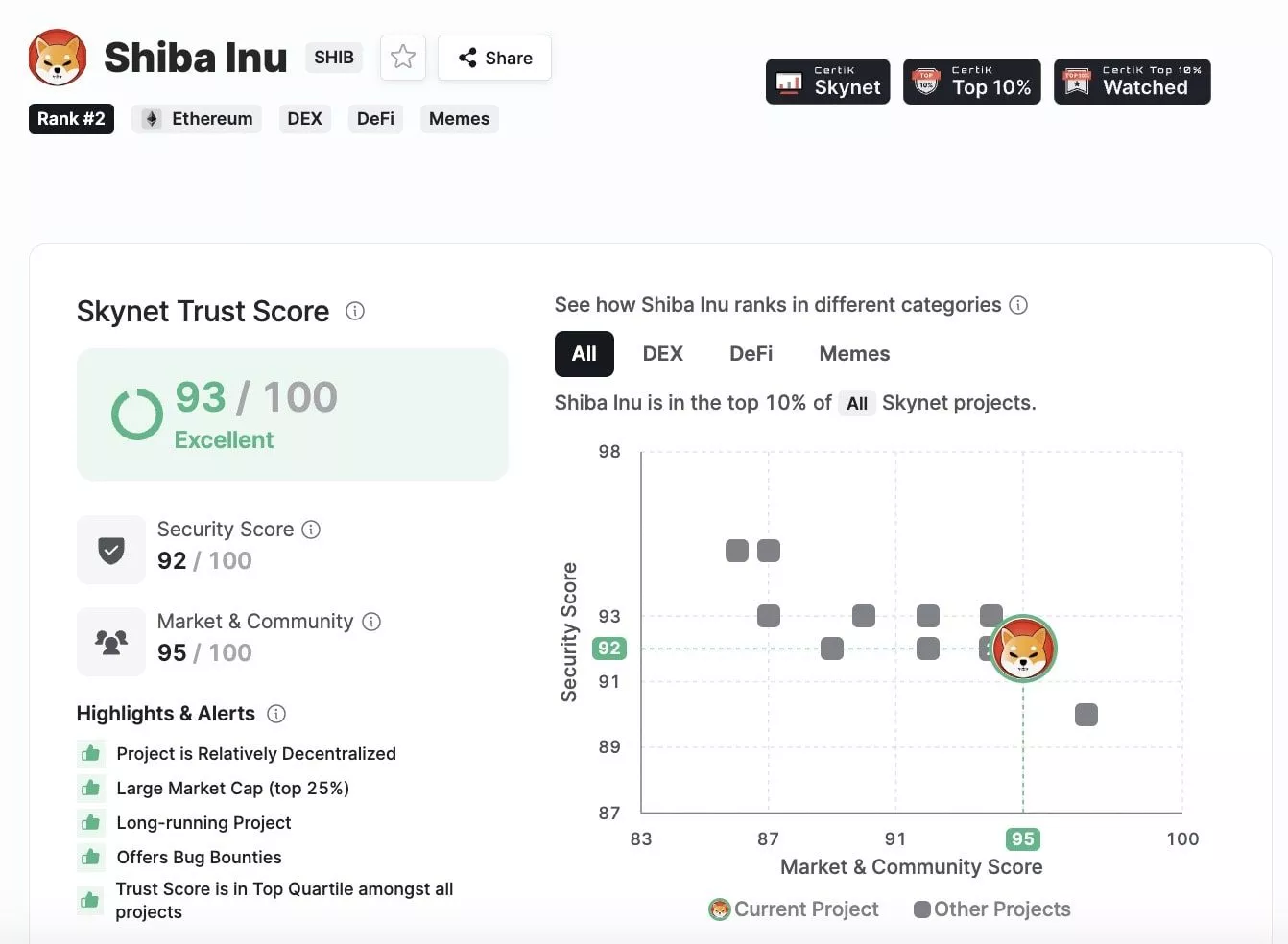 Complaints Received
According to Trustpilot, ShibaSwap scores a 3 out of 5, which is slightly above average. The majority of the complaints are about the platform's functionality, with some suggesting that the links on the platform don't work. Plus, with no dedicated customer support chat feature, most users are left to their own devices. There have also been quite a few complaints about the platform's BURY feature. Some either claim that the rewards are too small or that they can't get access to their assets after burying them. Some online ShibaSwap communities also complained that APYs only apply to large stakes. This leaves many of the micro stakers, or "reachers," out. Another significant pain point with ShibaSwap is the lack of dedicated support. Most users have had to turn to online forums only to get responses after days or even weeks. There's also the tiny issue that you have to pay twice before you can stake. Most users claim that this is something ShibaSwap wasn't explicit about from the start.
ShibaSwap Exchange Features
Order Types
Market orders
Limit orders
Stop orders
Dig(Staking)
One key feature of ShibaSwap is staking, or "digging." Users can earn rewards by staking their SHIB tokens in the ShibaSwap pool. The more SHIB tokens users stake, the higher their rewards will be. In addition, users who stake their SHIB tokens for a longer period of time will also earn more rewards.
Swap (Trading)
ShibaSwap also allows users to trade cryptocurrencies, either through the ShibaSwap interface or through other platforms such as MetaMask. ShibaSwap supports a wide range of cryptocurrencies, including BTC, ETH, LTC, and DOGE. ShibaSwap also has a mobile-friendly website that allows users to trade on the go.
Farm (Earning)
In addition to staking and trading, ShibaSwap also allows users to farm, or earn, rewards by providing liquidity to the ShibaSwap pool. Users who provide liquidity will earn SHIB tokens as a reward. In addition, ShibaSwap also offers users a loyalty program that gives users who hold SHIB tokens a higher rewards rate.
Leverage
Leverage allows users to trade with more money than they have in their accounts by temporarily borrowing from the platform. It is an excellent tool for investors who want to maximize their profits. However, it can also lead to more significant losses. During this ShibaSwap exchange review, we established that the platform doesn't support margin trading. We won't hesitate to update you if things change in the future.
ShibaSwap OTC Desk
An OTC desk allows users to trade large amounts of cryptocurrencies without affecting the market price. This is an ideal tool for investors who want to trade large amounts of cryptocurrencies but are under-capitalized. Unfortunately, at the time of publishing, ShibaSwap didn't have an OTC desk to offset large crypto trades. Hence, all transactions must go through the platform, no matter the size.
Asset Classes
ShibaSwap supports a wide range of asset classes. These asset classes include:
NFTs: ShibaSwap is also compatible with non-fungible tokens (NFTs). This means that users can trade their NFTs on ShibaSwap just like they would any other cryptocurrency. ShibaSwap even has its own NFT, called Shiboshis. Users can trade over 10,000 different SHIB related NFTs.
Stablecoins: ShibaSwap also supports stablecoins, which are cryptocurrencies that are pegged to a stable asset, such as the US Dollar. A few stablecoins supported by ShibaSwap include USDT, USDC, and DAI.
Wrapped Bitcoin (WBTC): ShibaSwap also supports Wrapped Bitcoin (WBTC), which is a type of cryptocurrency that is backed by real bitcoins. This means that users can trade their WBTC on ShibaSwap just like they would any other cryptocurrency.
Utility tokens: ShibaSwap also supports utility tokens, which are tokens that can be used to access a certain service or platform. A few utility tokens supported by ShibaSwap include SushiSwap (SUSHI), Shiba Inu (SHIB), and Binance Coin (BNB).
These are just some of the asset classes supported by ShibaSwap. With its wide range of asset classes, ShibaSwap is a great exchange for both new and experienced investors alike.
Other Noteworthy Features
Swap: This is the main feature of the marketplace that allows investors to exchange different tokens. It will enable you to swap a single coin for another or multiple tokens, depending on the value of the currency at hand.
Doggy DAO: As mentioned, this marketplace has no license and is purely governed by a community. Doggy DAO is the structural system that guides and facilitates governance in the entire ecosystem. It gives native token holders a stake in the WOOF pool and voting rights.
Bonefolio: This is a complete analytic tool for showing historical data, information on staking, trading, return on investment, burn and mint analysis, transaction fees, and any other data influencing investor decisions. It's also a good tool for keeping track of yield.
ShibaSwap supports a wide range of tokens. These tokens include:
Bitcoin (BTC)
Ethereum (ETH)
Litecoin (LTC)
Bitcoin Cash (BCH)
Ripple (XRP)
Binance Coin (BNB)
Shiba Inu (SHIB)
Wrapped Bitcoin (WBTC)
Tether (USDT)
USDC
Dai (DAI)
SushiSwap (SUSHI) and many more.
These are just some of the tokens supported by ShibaSwap. It's worth noting that although ShibaSwap supports multiple cryptocurrencies, only SHIB-related coins qualify for rewards.
What Trading Pairs Are Available for ShibaSwap?
Shiba users will have a field day with ShibaSwap's trading feature, given the multitude of trading pair options the platform offers. ShibaSwap supports the following types of trading pairs:-
BTC/USDT
ETH/USDT
LTC/USDT
BCH/USDT
XRP/USDT and many more.

ShibaSwap Deposit and Withdrawal Methods
ShibaSwap is a bit limited when it comes to its withdrawal and deposit methods. It only supports the following methods:-
Crypto: ShibaSwap excahnge allows users to deposit and withdraw cryptocurrencies. The supported cryptocurrencies include BTC, ETH, LTC, BCH, XRP, and SHIB.
Wire transfer: The marketplace also supports wire transfers. However,it only supports wire transfers in USD.
These are the only methods supported by ShibaSwap. ShibaSwap does not support any other methods, such as credit cards or PayPal. This may be a turnoff for some investors who prefer to use these methods.
Limits
There's no information regarding whether ShibaSwap has any withdrawal limits. However, it's worth noting that if you're planning to stake or participate in liquidity pools, you'll need enough money to cover transactions and convert your crypto into any one of the SHIB tri-factor.
Fees
We did not encounter any transaction fee structure during this ShibaSwap exchange review. Nevertheless, we found out that investors must pay Ethereum network gas fees to take trades.
How to use ShibaSwap Exchange Step by Step
Using ShibaSwap exchange is pretty straightforward. The first thing you must remember is that the platform only supports three primary crypto wallet services– Coinbase, Metamask, and WalletConnect. So make sure you have any of these. If you have never set up a wallet, you may read our crypto wallets page to enlighten yourself. Remember to keep your private key safe, as that is your primary security. The long string of numbers and letters used to access your account is what we are talking about. Once you're set, follow these easy steps to start using the ShibaSwap exchange:
Step 1: Visit the homepage and hit the "Swap Tokens" button.
Step 2: You will be redirected to the swapping page entitled "SWAP."
Step 3: Hit the "Connect Wallet" button to add your wallet.
Step 4: Fund it and start swapping tokens once your wallet is connected. It's so easy. Just click the swap tab and select the digital coin you want to receive.
Step 5: Review your inputs and confirm to submit your request. The new asset will show up in your wallet within seconds as soon as the transaction is executed.
You can also use ShibaSwap via its official website on PC and mobile. However, the exchange is easier to use on PC. Here's a brief breakdown of the user experience on both platforms.
Desktop
The ShibaSwap desktop platform has the standard dark background you will usually find on most digital coin service websites. Using it is easy as you simply need to click on the activity you want to perform and follow simple guided steps. Everything from connecting your wallet to swapping tokens is fast and doesn't need much experience. Even first-timers will find the desktop platform pretty intuitive, and it will feel like they have had a prior interaction with it.
Mobile
ShibaSwap currently doesn't have an app for both Android or iOS devices. However, you can always access the exchange via its official website via your mobile web browser. Alternatively, you can open your wallet, and in the in-wallet browser, type "shibaswap.com." Doing so will automatically connect your wallet to ShibaSwap, and you can proceed from there. However, unlike the desktop platform, it may take some time to learn how to navigate the mobile browser or access ShibaSwap exchange from your wallet. The reason is simple, due to the smaller screen size, the functionality may be limited, and some features may not be openly displayed.
Shibaswap Customer Service
Non-custodial exchanges aren't known for having the best customer support, largely due to their decentralized nature. However, most crypto communities can cobble together their customer support via online forums like social media. Thankfully, Shibaswap boasts a thriving community that is always eager to support its members.
Before going to the community, you can hit the "Contact Us" button at the bottom of the page. This will pop up the official email address of the marketplace. Email responses may be slow, though, and could take as many as seven days. You can head over to ShibaSwap's social media for a quick fix and present your query. Try ShibaSwap's Facebook page, or Twitter, Reddit, and Discord. However, be cautious of anyone who asks you for your wallet's key or any sensitive info. These may be scammers looking for a way to siphon your wallet clean.
Try any of the above platforms if you have any issues with ShibaSwap. Please note that customer service is one of the major downsides of the ShibaSwap exchange, but it's the same with most non-custodial direct exchanges.
How Does ShibaSwap Compare to Other Exchanges?
Although a relatively new platform, ShibaSwap has managed to make quite a splash in the cryptocurrency world. So far, ShibaSwap has been able to amass a large user base and a staggering trading volume of $1.6 billion. Here's how the exchange compares to other popular exchanges.
ShibaSwap vs. UniSwap
UniSwap is ShibaSwap's main competitor. Both exchanges are non-custodial and decentralized. They also both support a wide range of assets and have large trading volumes. However, ShibaSwap has a few advantages over UniSwap.
For starters, ShibaSwap has a mobile-friendly website that makes it easier to trade on the go. UniSwap, on the other hand, doesn't have a mobile-responsive website, so you'll need to use a desktop computer to trade.
ShibaSwap also has a few more features than UniSwap. For instance, ShibaSwap lets you stake your SHIB tokens to earn more SHIB, while UniSwap doesn't have a staking program. ShibaSwap also has a built-in liquidity provider (LP) rewards program that incentivizes users to provide liquidity.
ShibaSwap vs. Kraken
Kraken is a traditional centralized exchange that's been around for much longer than ShibaSwap. Although both exchanges offer a wide range of assets, ShibaSwap boasts a few advantages over Kraken.
For starters, ShibaSwap is a non-custodial exchange, which means that you own your private keys and your crypto is always under your control. On Kraken, on the other hand, you don't own your private keys, which means that your crypto is more vulnerable to hacks.
ShibaSwap is also a decentralized exchange, which means that it's not subject to the whims of governments or financial institutions. Kraken, on the other hand, is a centralized exchange, which means that it could be shut down by governments and financial institutions at any time.
However, Kraken has a more responsive customer service and user interface. This is unlike ShibaSwap, which has a virtually non-existent customer support team.
Could ShibaSwap Be the Right Exchange for You?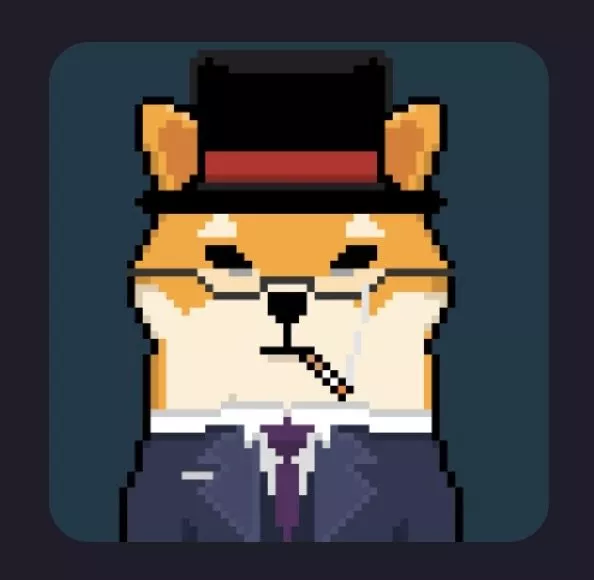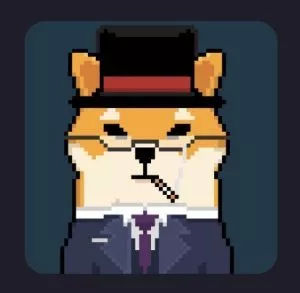 ShibaSwap is a non-custodial, decentralized exchange that's slowly but surely making a name for itself in the cryptocurrency world. The exchange has a large user base and supports a wide range of assets. ShibaSwap also has a few unique features, like staking and LP rewards programs, that most exchanges don't have. However, it's worth noting that ShibaSwap's features only apply to SHIB coins. This means that if you own other cryptocurrencies, these perks are only for face value.
It's also worth noting that ShibaSwap's interface is buggy and non-responsive, with links that don't work. Because the platform is decentralized, issues with it rarely get addressed. If patience isn't your strongest suit, you might want to consider another alternative. Overall, ShibaSwap is a decent exchange with a lot of potential, but it's not without its flaws. So, is ShibaSwap right for you? Only you can answer that.
ShibaSwap is a secure and dependable exchange for NFTs, WBTC, utility tokens, and stablecoins. It also provides a variety of investment opportunities through features such as farming and staking. This platform has deep liquidity, with a 24-hour trading volume exceeding $1.6 billion.
It passed our security test by offering features such as IP-Whitelisting, 2FA, and completing the Certik Audit. ShibaSwap may not be the best option if you require excellent customer service, but if you can compromise, it is a stable and reliable exchange.
What are the benefits of using ShibaSwap?
ShibaSwap is a non-custodial, decentralized exchange that's slowly but surely making a name for itself in the cryptocurrency world. The exchange has a large user base and supports a wide range of assets. ShibaSwap also has a few unique features, like staking and LP rewards programs, that most others don't.
How secure is ShibaSwap?
As a decentralized exchange, a non-custodial platform, the site is highly secure as it's not prone to hacking. Security is self-custody, meaning users have a responsibility to play in securing their funds. Apart from that, the site is SSL secured, and safe for use.
What are the fees like on ShibaSwap?
ShibaSwap has a 0.3% trading fee, which is relatively low compared to other exchanges. You will also settle Ethereum gas fees when trading and pay other transaction fees such as staking fee or liquidity pool charges. All fees can be found on the Analytics page.
What assets does ShibaSwap support?
ShibaSwap supports a wide range of assets, including popular cryptocurrencies like Dogecoin, Ethereum, Shiba Inu (SHIB), Akita Inu (AKITA), and DOGE. It also accepts non-fungible tokens and even has an in-house NFT.
What's the customer support like on ShibaSwap?
ShibaSwap's customer support is somewhat lackluster because the platform is decentralized, so users have to depend on online forums that may not be very reliable.