KuCoin Overview
Huge selection of cryptos
Restricted Countries
Among the restricted jurisdictions
KuCoin Key Facts
Type of exchange
Centralized
Best for
P2P trading, margin trading, futures trading
Fiat Currencies Available
Australia Dollar, Canada Dollar, Czech Republic Koruna, Euro, United Kingdom Pound, Hungary Forint, New Zealand Dollar, United States Dollar
Cryptocurrencies Available
700+
The largest exchange by trade volume
Advanced trading options, like margin and futures trading, are available.
Low trading rates of 0.1% maker/taker fee
Its native token is KCS and has multiple use cases
90% of the trading fees go back to the KuCoin community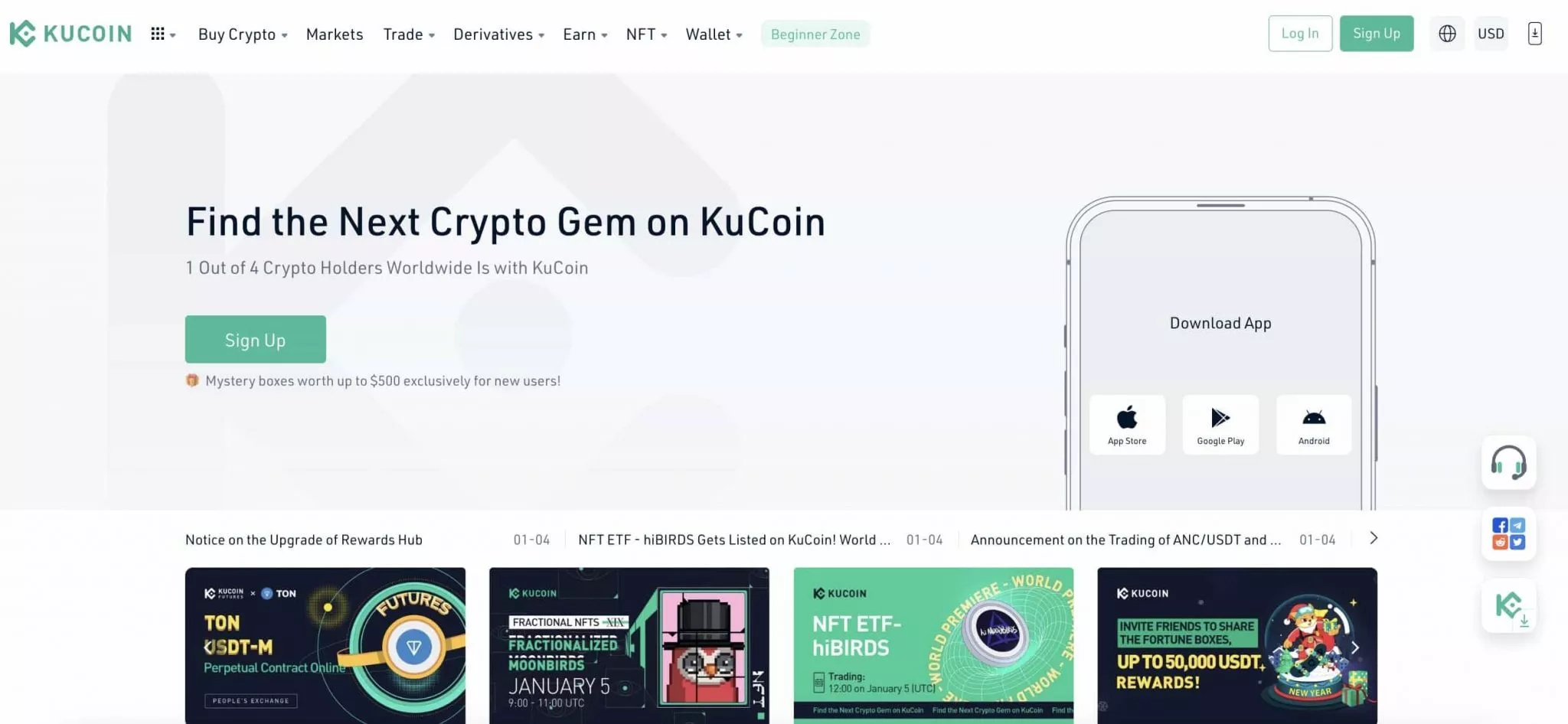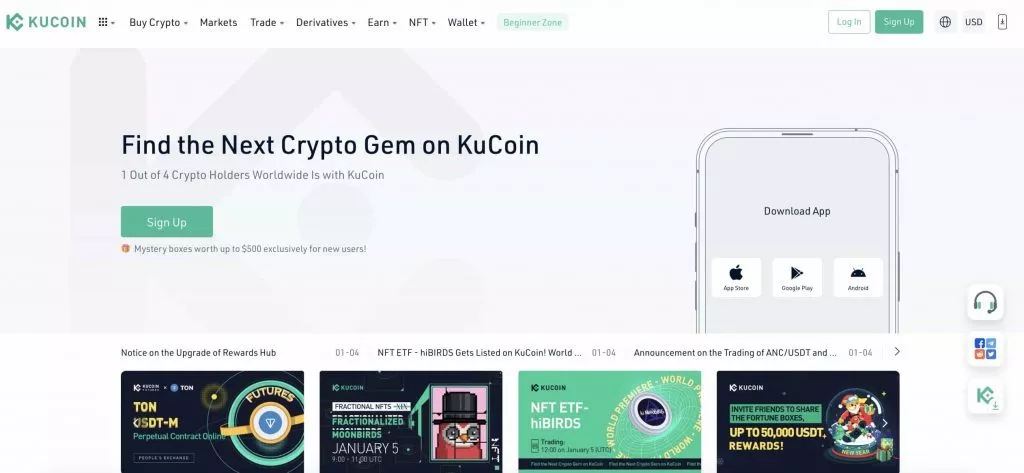 KuCoin has built itself as a one-stop shop for all crypto functions. The exchange has 600+ crypto assets, over 1000 markets, and has the best ways to earn passive income. According to Coinmarketcap, with over 10 million users in 200+ countries, the exchange has managed to be among the top 5 crypto marketplaces. Users are spoilt for choice with several KuCoins services like margin and futures trading, an inbuilt P2P platform, lending, and staking services via pool-X. As a new KuCoin user, you will appreciate the low trading fee and the fact that up to 90% of trading fees go back to the KuCoin community through its KuCoin Shares (KCS) tokens. It has also earned accolades from notable platforms, including "The Best Crypto Exchanges for 2021" by Forbes Advisor and "Best Crypto Exchanges and Apps 2022 for Enthusiasts" by The Ascent. But while this exchange may sound like heaven on earth, there are endless crypto exchanges. So what's set KuCoin apart from other platforms? Is it worth investing in? Let's find out in this KuCoin crypto exchange review.
Pros
Low trading and withdrawal fees
User-friendly exchange
A vast selection of altcoins
24/7 customer support
Ability to buy crypto with fiat
No mandatory KYC checks
Cons
No bank deposits
Unlicensed in the US
Lacks educational resources
Security Features
KuCoin exchange has installed robust security features to secure users' funds. These features include:
Offline cold storage: The site now stores client assets offline in cold storage. However, it hasn't revealed the percentage stored offline. Another portion is kept online in a hot wallet so users can make trades and withdraw. While we appreciate the features, it's crucial for users to know what percentage is kept offline and in hot wallets.
Safety email phrases: Email safety phrases help protect you from phishing attacks. Phishing attacks are scenarios where hackers pose as legitimate exchanges to steal your data. This is an excellent and proactive security feature, considering the rise of such cases.
Trading password: KuCoin allows users to use a different password (other than the user's login password) for trades. Users will use the trading password to execute trades and make withdrawals. Besides adding another layer of user protection, it's an uncommon security feature among crypto platforms.
Other security measures include micro-withdrawal wallets, mobile phone binding, industry-level multilayer encryption, and dynamic multi-factor authentication. The mobile binding feature is available in 62 countries.
Also, KuCoin exchange has a bug bounty program that pays up to $10,000 worth of KCS to users who report bugs and security concerns.
How Secure is the KuCoin exchange?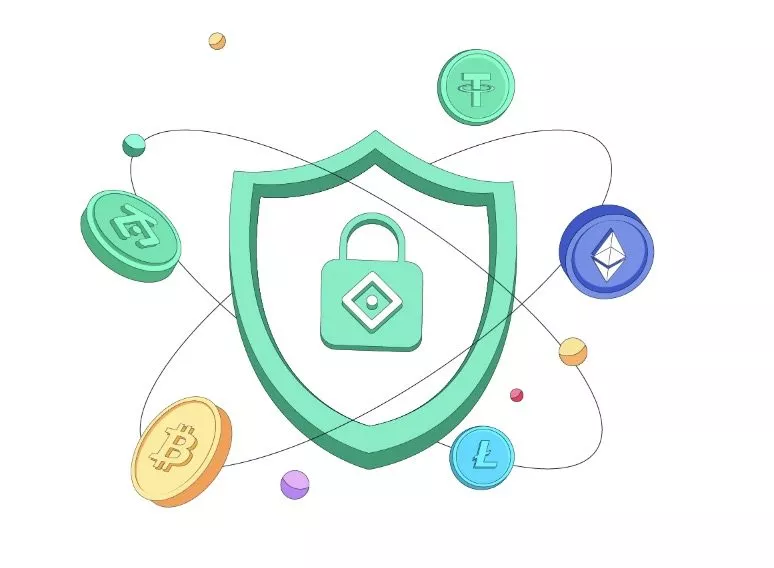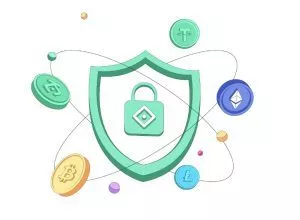 The crypto exchange perfectly brings out an interesting mix of security precautions on both system and operational levels. System-wise, KuCoin exchange has been built with financial industry standards. Therefore, it can access bank-level data encryption and security. On an operational level, the exchange utilizes specialized risk control departments that strengthen strict data usage rules.
While they implement these security measures to keep your funds safe, KuCoin recommends its users not store all their funds on the exchange. Storing all your funds on the exchange introduces a point of failure. For maximum account security, KuCoin exchange suggests you activate Google 2FA Verification + Email Binding + Trading Password or Mobile Phone Binding + Trading Password.
Complaints Received
KuCoin is rated 1.8/5 based on 739 customer reviews on Trustpilot. Most negative reviews stem from early order liquidation, poor customer service, withdrawals, and deposits. Relatively speaking, the KuCoin platform serves over 10 million users, so 739 reviews are highly insignificant. Of course, we acknowledge the complaints and take note of their grievances, but we would expect a significant number of complaints if there were real issues. We actually realized that some of the users lamenting simply hadn't taken time to understand how the marketplace operated, or to go through their terms and conditions. For example, regarding forced liquidation, KuCoin says that when the market price of your holding and debt assets changes, the debt ratio reaches 97%. They will sell all the assets you hold in the margin account as debt assets to repay all the debts. This is clearly stated on the website.
Order Types
Market
Limit
Stop-limit
Stop-market
Staking/Interest-Earning Accounts
KuCoin allow users to earn staking rewards on their crypto assets. The feature will let you choose your preferred coin, staking time, and redemption period. Note that there is no local currency and POL mining income during the redemption period. Also, you can still trade your staked cryptocurrencies in the liquidity trading market for liquidity.
You can also earn extra perks from P2P lending by issuing loans to borrowers and earning up to 30% interest. KuCoin lending currently supports over 50 crypto assets, including USDT, BTC, ETH, EOS, LTC, XRP, ADA, ATOM, TRX, BCH, BSV, etc., XTZ, DASH, ZEC, and XLM cryptocurrencies. You can set the expected APY as a lender, and all open lending orders will appear on the market. A borrower will then review your orders and borrow if they please. All loans are collateralized, and the borrowers must maintain a minimum balance. If a borrower fails to repay you, the exchange has an insurance plan just to ensure that they minimize your losses.
Exchange Token
The exchange launched its native coin, KuCoin Shares (KCS), in 2017. KCS was issued as an ERC-20 token running on the Ethereum network and was supported by most Ethereum wallets. KCS's total supply was set at 145,879,861, and the current circulating collection is 98,379,861 as of writing this KuCoin exchange review. The platform will burn the coins monthly until just 100 million KCS remain. The total market cap of KCS is $953,642,832, ranking it #51 on CoinMarketCap while conducting this review.
You can use the token to pay trading fees on the KuCoin Exchange, enjoy 20% discounts, and participate in token sales on KuCoin Spotlight and LockDrop/BurningDrop on the Pool-X platform. KCS payment services have been used in various businesses like SwirlPay, PlayGame, Travala, Print-ted, Splinterlands, Constant, CoinPayments, and BetProtocol.
Through the native token, the exchange has introduced a KCS bonus. The KuCoin KCS Bonus is a unique incentive mechanism for KCS holders and KuCoin ecosystem builders. Users with at least 6 KCS on the KuCoin platform can get a daily bonus of 50% of KuCoin's daily trading fee revenue.
Asset Classes
Cryptocurrencies: As a digital currency exchange, the primary asset of KuCoin is crypto. Users have access to over 600 coins including, Bitcoin, Ethereum, Litecoin, Dogecoin, Cardano and XRP.
Derivatives: As a KuCoin exchange user, you can trade a variety of derivatives ranging from leveraged tokens to futures contracts. There are different types of futures assets such as futures brawls where you can go long or short to win prizes, futures light for lightining speed execution or futures classic for leveraged products.
NFTs: Wonderland is KuCoin's NFT platform for conventional and crypto games. Users can buy, invest, and manage in-game NFTs through a centralized experience. Windvane is another NFT marketplace that allows users to mint, trade, and manage their NFTs, among other services. On July 29, 2022, KuCoin announced the launch of its NFT ETF Trading Zone to improve the liquidity of NFT assets and lower its users' investment threshold for blue-chip NFTs like Bored Ape Yacht Club (BAYC).
Leverage
Margin trading is an investment method whereby traders leverage a small amount of crypto, borrow a certain amount of crypto, and then go long (buy) or short (sell) to multiply the utilization of their funds. KuCoin exchange margin trading allows users to be long or short on 36 USDT, BTC, and ETH-denominated market pairs with up to 10x leverage. The trading occurs directly on-the-spot exchange, where you can select your leverage and place margin trading orders on the platform. As earlier mentioned, futures trades can also be leveraged up to 100x.
OTC Desk
KuCoin OTC trading facilitates direct deals between two parties instead of depending on an exchange's supervision. With KuCoin exchange OTC desk, you can buy assets like BTC, USDT, and CADH using CAD. Also, the marketplace has adopted Chainlink Price Feeds to bring high-quality price reference data to the Over the Counter (OTC) markets. Chainlink Price Feeds are open-source, decentralized data feeds for cryptocurrency prices. Integrating Chainlink Price Feeds into KuCoin OTC market pricing assurances client that they will receive fair-market exchange rates with heightened transparency into where the rates are derived.
Other Noteworthy Features
KuCoin wallet:The KuCoin wallet is a self-custody wallet that allows you to send, receive, and store all crypto and NFTs in one place. It possesses industry-leading security with a penetration testing audit by Hacken to ensure the safety of your assets in your wallet. Keep in mind that nobody ever has access to your private keys. Use the KuCoin wallet to explore trending Dapps without leaving the wallet and build your decentralized account for Web3 in seconds.
KuCoin Win: KuCoin Win is a fun way to win prizes. It's a blend of token listing and entertainment. The feature allows KuCoin users to choose prizes, divide them into code pieces, and exchange crypto for the code. When the codes sell out, KuCoin randomly picks one lucky code. The user with that lucky, raffled-off code wins the prize. KuCoin's first game product is Lucky Raffling.
KuCoin instant exchange:In partnership with HFT, the KuCoin instant platform accelerates instant crypto to crypto exchanges. The exchange allows you to swap Bitcoin (BTC), Bitcoin Cash (BCH), Ethereum (ETH), Litecoin (LTC), and XRP (XRP) for Tether (USDT) and Bitcoin (BTC). KuCoin instant exchange searches for the best exchange rates.

Non-custodial trading
Through Arwen, KuCoin allows users to ramp up their crypto security through non-custodial trading directly from their private wallets. To use this feature, security-minded traders must download and install the Arwen client, which is available for Windows, macOS, and Linux-powered devices.
Pool-X
This is a next-generation proof-of-stake (PoS) mining pool. It's an exchange built to offer liquidity services for staked tokens. It allows users to earn high yields for PoS cryptocurrencies like EOS, TOMO, ZIL, ATOM, KCS, XTZ, ZRX, IOST, TRX, and many others. Proof of Liquidity (POL fuels pool-X), a decentralized zero-reservation credit issued on TRON's TRC-20 protocol.
KuCoin Spotlight IEO platform
Also known as the KuCoin spotlight, KuCoin also boasts its initial exchange offering (IEO) launchpad. It's the KuCoin IEO program, where you can participate in the initial funding for a coin through the KuCoin Exchange. The platform allows users to invest in new hot crypto projects vetted and supported by KuCoin. KuCoin spotlight has already funded 7 IEOs: Tokoin, Lukso, Coti, Chromia, MultiVAC, Bitbns, and Trias. Like the P2P marketplace, you will need a verified account to access this service.
KuCoin has excellent news for token creators working on particular token projects. The KuCoin's Spotlight Program may assist you, and your blockchain project attracts market attention, improving industrial influence, and raising the needed funds. Apply via the form on their website, and the team will review your information. If you qualify, they will contact you within 3–4 weeks.
Trading Bot
Trading bots are trading software that trades on behalf of the trader. They are emotionless, fast, work 24/7, and execute pre-set trading strategies automatically. Therefore, they are a great way to earn passive income.
KuCoin's trading Bot feature helps simplify the trading process, especially for newbies. The bots are free and run on a cloud; hence, you don't need your phone or computer to support them.
The KuCoin trading bot supports five trading strategies: Spot Grid, Futures Grid, DCA (Dollar-Cost-Averaging), Infinity Grid, and Smart Rebalance.
If you are confused about what bot to choose, view the most successful bots ranked daily or 7-day basis. Then, copy their configurations to create the same bot on your account.
KuCoin supports over 600 crypto assets. They include:
Bitcoin (BTC)
Dogecoin (DOGE)
Ethereum (ETH)
Polkadot (DOT)
Tether (USDT)
Binance Coin (BNB)
Cardano (ADA)
XRP (XRP)
USD Coin (USDC)
Uniswap (UNI)
Shiba Inu (SHIB)
XRP (XRP)
KuCoin currently has over 1,000 trading pairs. They include ETH/USDT, BTC/USDT, LUNC/USDT, SHIB/USDT, XRP/USDT, ADA/USDT, XCN/USDT, and SOL/USDT.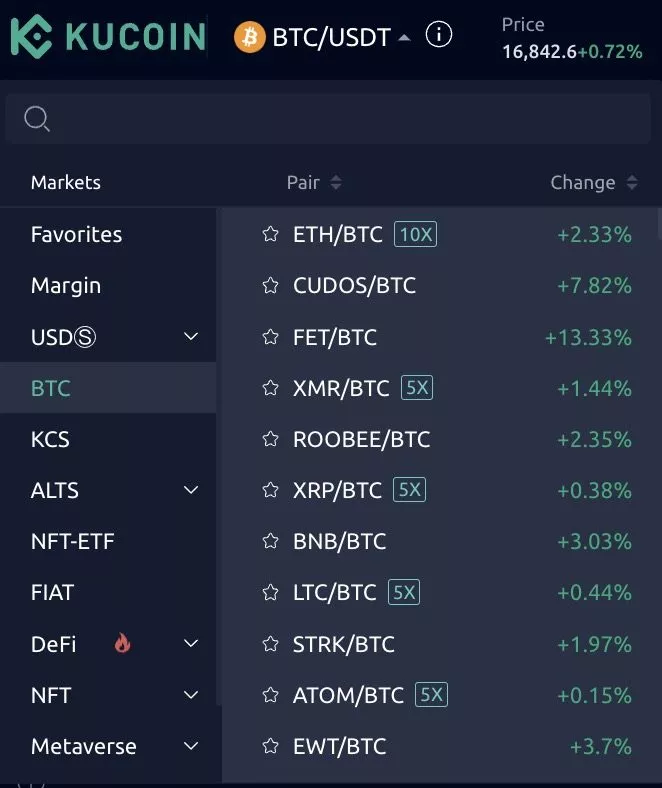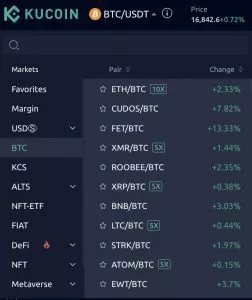 Deposits & Withdrawals Methods
KuCoin is a fully crypto platform but allows swapping of fiat for digital coins, hence you can deposit using traditional methods like bank wire transfer, credit/debit cards, SEPA, and Apple Pay. You will hence need to already own digital currencies in another wallet or buy directly through third-party integrations (like Simplex or Banxa). You can make payments using 20 different methods crypto wallets including Metamask, Trustwallet and the Ledger hardware wallet.
Limits:
The KuCoin crypto exchange has no lower trading limit. Therefore, traders may access the exchange's financial and trading products by placing as low as $1 trades.
Users' fiat-to-crypto daily trades regarding the upper trading limit depend on their verification level.
KuCoin Fees
KuCoin charges a 0.1% maker/taker fee, which reduces with an increase in your trading volume. As a result, a high-volume trader with many KCS tokens may incur as little as 0.0125% for maker trades and 0.03% for taker trades. You will earn a 20% discount using the KCS token to pay for your trading discounts.
KuCoin deposits are free but will charge a varying fixed fee for withdrawals. KuCoin's withdrawal fees are competitive, if not the best, in the market.
Getting started with the KuCoin exchange
Opening an account with KuCoin exchange is straightforward. You may choose to use your phone or PC. Either way, the process is simple and takes a few minutes. To create an account:
Step 1: Visit the KuCoin homepage
Step 2: Click "sign up" on the top right side of the page
Step 3: Input your phone number, email address, verification code, and a strong password.
Step 4: Hit the submit button. Your account will be ready in a matter of seconds.
KuCoin exchange now requires know your customer (KYC) verification to minimize criminal and money laundering schemes. The process is optional, but you won't be able to transact more than 1BTC daily until you pass it. Although that limit is already enough for most traders, we encourage you to complete KYC procedures as soon as you sign up to avoid delays and any issues in the future. KuCoin plans to introduce spot currency trading, and this will only be available for verified users. So, there are many benefits of completing KYC requirements on the platform. If you are a privacy conscious person, you may want to go for sites like Shibaswap that don't need any personal information.
Desktop + Mobile App
The KuCoin exchange is a straightforward and easy-to-use platform for all traders. It has a modern but simple interface that stretches through all pages and is powered by a powerful API interface. The trading platform utilizes an advanced core trading engine that can handle millions of transactions per second (TPS).
KuCoin users can access their accounts via a mobile app or through the online portal. KuCoin mobile is available for Android and iOS users. Desktop and mobile apps have abundant features that users will benefit from. After signing into your account via any other app, you can click to view markets, buy crypto, trade, lend crypto, and more.
While this exchange offers many options, its desktop and mobile platforms aren't particularly user-friendly. That said, the site offers a decent help center where users can find answers to common questions and guides to get around the platform.
KuCoin has a helpful 24/7 customer support staff that is reachable via the following channels:
KuCoin Help Center
FAQ Center
Onsite chat
Mobile app support.
Most KuCoin platforms are offered in various languages, such as English, Vietnamese, Russian, Spanish, Turkish, and Italian. You may interact with KuCoin users via their active community platforms like Facebook, Telegram, Twitter, Reddit, YouTube, and Instagram.
How KuCoin Compares to Other Crypto Exchanges
KuCoin vs. Coinbase
Coinbase and KuCoin rank as the 3rd and 5th largest crypto exchanges by trading volume, respectively. 1 Both are secure and relatively user-friendly, but Coinbase is more intuitive and easier to use for first timers than its competitor. It, however, supports only about 150 crypto assets while its counterpart has over 600 digital coins. While both platforms have premium features, Coinbase has a higher level of compliance as its licensed in the US, while KuCoin exchange isn't. Both of them accept fiat, but Coinbase only has a single fiat currency payment method. Overall, KuCoin exchange and Coinbase have slight differences. However, if you're in the US, you're better off with Coinbase.
KuCoin vs. Gemini
KuCoin and Gemini are both industry-leading exchanges boasting millions of dollars in monthly volumes. KuCoin exchange is the newer of the two, having been established in 2017, three years after Gemini. However, it has a more extensive user base of at least 11 million active investors compared to its counterpart, with slightly over 1 million users. It also supports over 500 trading pairs, a significantly higher number than the 100 currency pairs listed on the Gemini exchange. Regarding platform fees, Gemini charges as high as 1% for trading, while its competitor charges only 0.05%. So, without further ado, it's clear that the KuCoin exchange offers more value than Gemini.
Is KuCoin Exchange Right for You?
The best crypto exchange for you will depend on factors like your area of residence, security, supported coins, and trading fees. Speaking of place of residence, US residents can pass on KuCoin as the exchange is unlicensed in the United States. We don't advise US residents to use KuCoin without a KYC verification, as it will limit their leverage and withdrawal access. Also, your crypto may be frozen if the US cracks down on users accessing unlicensed exchanges. Non-US residents looking for an exchange with an extensive list of digital assets and low trading fees will enjoy using KuCoin. Also, they will enjoy several ways to earn an interest in their crypto besides trading.
In summary, KuCoin is an excellent choice for all levels of investors. It has advanced features like margin trading, suitable for expert users, and a user-friendly app for novices. It also boasts high liquidity and low trading fees, benefiting huge volume traders. Of course, some users may not be comfortable with KYC requirements, but remember that isn't compulsory. So, as a crypto veteran or a novice, KuCoin is a secure trading platform you should consider seriously.
What are the benefits of using the KuCoin Exchange?
KuCoin crypto exchange users enjoy low trading fees, an extensive list of supported digital assets, top-notch security, and various ways to earn interest from their investments.
What are the critical features of the KuCoin Exchange?
KuCoin's key features include margin and leverage trading, staking, Pool-X, KCS native token, and the KuCoin NFT platform.
What are the fees associated with using KuCoin Exchange?
KuCoin users will incur a 0.1% maker/taker fee. Deposits are free, but you will incur competitive and varying withdrawal fees depending on the token.
What payment methods are supported?
KuCoin payment methods include SEPA, Apple Pay, debit, and credit cards (Visa and MasterCard).
How liquid is KuCoin?
A large customer base means high liquidity. KuCoin boasts over 10 million users; hence, you're more likely to execute the trades you want because more people are trading. Another advantage is that you may find an active community of traders who speak your languag
Are there any restrictions on who can use the KuCoin Exchange?
While US users can create a KuCoin account, they will only have access to a few features, as KuCoin isn't licensed in the United States.