Kraken Overview
Huge selection of cryptos
Restricted Countries
Among the restricted jurisdictions
Kraken Key Facts
Headquarters
San Francisco
Licences
FinCEN (US), FINTRAC (Canada), FCA (UK), AUSTRAC (Australia)
Type of exchange
Centralized
Best for
crypto-to-crypto trading, margin trading, and advanced traders
Fiat Currencies Available
Canada Dollar, Euro, United States Dollar
Cryptocurrencies Available
200+
2% share of crypto spot volumes in 2021
Supports staking, OTC desk, margin, and futures trading
Upcoming NFT marketplace.
Based on Euro trading volume, Kraken is the largest cryptocurrency exchange.
Introducing Kraken Crypto Exchange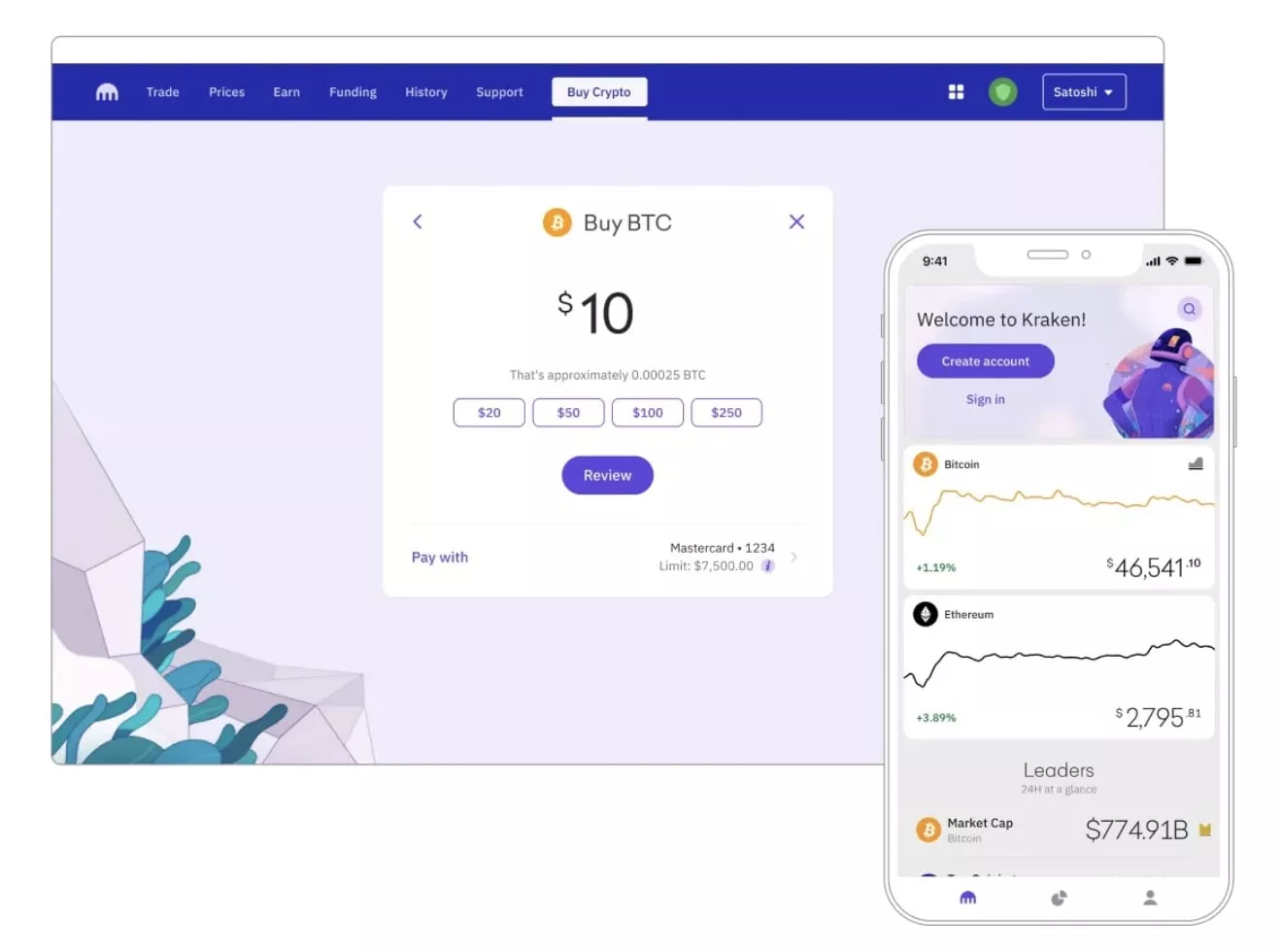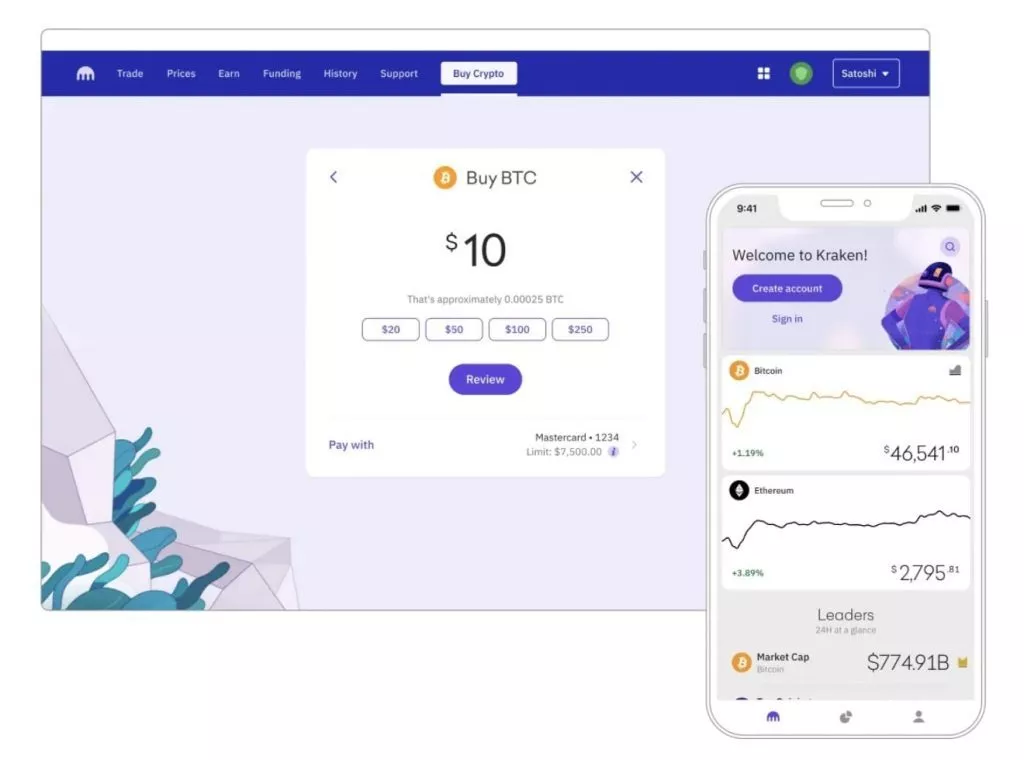 Kraken exchange is one of the oldest digital asset marketplaces around. While age and quality are not synonymous, this site has gained popularity in the crypto community for offering top-notch services. Users can use the exchange to buy and sell market-priced crypto coins. If you are an advanced trader, you can also do margin and futures trading. It supports at least 120 virtual currencies and comes with additional unique features such as coin staking to earn rewards. Like Coinbase, it's one of the few crypto exchanges that are licensed to operate in the US, which also increases its credibility. Kraken exchange serves both individuals and large institutions by offering deep liquidity and personalized solutions. You can trade over the counter or use spot and futures trading features to invest in digital assets. Novice traders will have abundant trading options when using the main Kraken platform. For advanced users, it's best to go with Kraken Pro, which offers premium features and low trading fees.
Pros
It accepts over 120 coins
An easy-to-use interface
High liquidity
Bitcoin withdrawal fees are relatively low.
A comprehensive list of educational resources
Margin and futures trading
Supports staking
Cons
High fees, unless you use Kraken pro
It only accepts seven fiat currencies.
Limited platform features
Security Features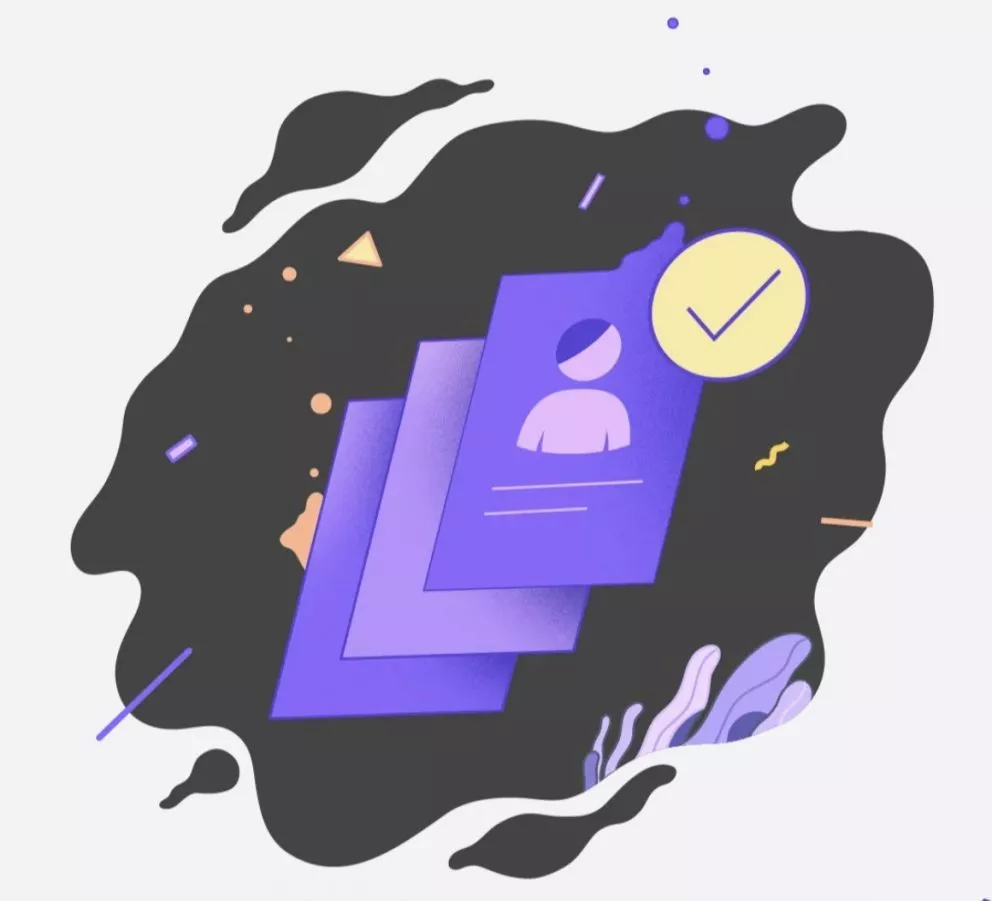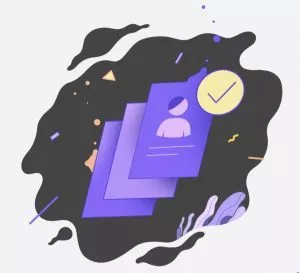 Reviewing a crypto exchange's security features when looking for one is critical, as this will determine how secure your crypto will be. Kraken exchange has unique features that protect your funds. Here are the leading ones:
Two-factor authentication (2FA): Two-factor authentication (2FA) adds an additional safety layer to your login process, making it impossible for anyone to access your account without a second authorization. You can create two different factor codes to sign in, withdraw and trade with.
Cold storage: Kraken exchange claims to store 95% of its users' funds and NFTs in cold storage units worldwide. This eliminates the possibility of users losing funds to hackers like it happened with Mt. Gox between 2011 and 2013.
Kraken Security Labs: The exchange uses the Kraken security lab to test third-party products and services to identify, publicize, and resolve issues before online attacks exploit them.
World-class security team: The Kraken exchange team has hired security professionals who take a risk-based approach to secure users' assets. The security team comprises professionals who have spent decades designing security programs for well-known brands, investigating the most difficult consumer data breaches, and developing security technology that top brands and businesses rely on.
24/7 surveillance: Platform security is also guaranteed with 24-hour surveillance. Kraken exchange secures its servers with secure cages constantly monitored by armed guards.
Data encryption: The crypto exchange has encrypted all sensitive information belonging to users at both the system and data levels. It performs vulnerability testing regularly to ensure the security of your funds.
Complaints Received
Kraken Exchange has a Trust Pilot rating of 2.2/5 based on 1,808 customer reviews. While only 20% of Kraken users praise the platform, most complain about lengthy customer support responses, closed accounts, and holding funds beyond the initial security period. The site appears to be doing its best to respond to every customer issue, which is a fantastic step every cryptocurrency exchange should take. We could tell this from how the support team responded to trust pilot reviews and even suggested solutions for some problems. There were hardly any complaints regarding security of the platform. A few clients raised concerned about slow withdrawals too.
Is the Kraken exchange secure?
Online attackers have been targeting cryptocurrency firms for some time. While some companies refund users' lost funds, you don't want to be on this side because a refund isn't guaranteed. As a result, selecting a secure platform is critical. Our Kraken crypto exchange review demonstrates that it's safe due to the following features:
Withdrawal email confirmations with self-service account lock
API key permissions are granular and customizable, with range boundaries.
Email that is PGP-signed and encrypted for secure communication.
Account timeout can be configured for an additional layer of security.
Global time lock for maximum security while you're away.
To keep you safe while browsing, Kraken employs SSL encryption.
Continuous, real-time surveillance for suspicious activity.
When trading cryptocurrency, there is no settlement risk and no charge-back
For urgent issues, live chat and email support are available 24 hours a day, seven days a week.
Order Types
Limit and market orders
Orders for stop-loss
Limit stop loss orders
Accept profit orders
Profit limit orders
Staking/ Interest-Earning Accounts
In addition to trading cryptocurrency, the main Kraken exchange platform allows you to stake. Staking is the process of locking your cryptocurrency for a set period of time to earn interest. The two types of crypto staking are on-chain and off-chain.
On-chain staking enables users to stake coins using block-chain proof-of-stake protocols such as Tezos. On the other hand, the off-chain allows users to stake assets with Kraken's internal programs. Users staking their digital coins on Kraken exchange stand to rake in up to 23% interest depending on the coin. Rewards are paid out automatically twice a week. You can also unstake your coins at any time with no penalties.
The coins you can stake in Kraken, as well as their interest rates, are listed below.
Cosmos:12-15%
Solana: 5-8%
Cardano:4-6%
Polkadot: 9-12%
Polygon: 8-14%
Ethereum 2: 4-7%
Flow: 6-9%
Tezos: 5%
Kava: 23%
Kusama: 18%
Tron: 4-7%
Exchange Token
During our Kraken cryptocurrency exchange review, we didn't find a native token for the platform.
Asset Types
Cryptocurrencies: These include major digital currencies like BTC, ETC and DOGE.
Stablecoins: You will also find different types of stable coins on the Kraken exchange, including USDT, USDC and DAI.
Derivatives: Since the platform supports futures trading, it's obvious that you expect to trade different crypto derivatives and leveraged products.
Leverage
Kraken allows you to leverage a currency pair up to 5x and offers eligible pro clients up to $500,000 in the margin. You'll be charged only 0.02% to open a position and 0.02% (per 4 hours) to keep it open, depending on the currency pair you're trading. Users can trade with an isolated margin to limit their downside per contract using the new margin functionality. You can also use cross margin to use all of your collateral for all positions.
The OTC Desk
The Kraken platform supports over the counter (OTC) trading through its OTC desk. It provides privacy and deep liquidity to high-end investors and institutions for orders that would be too disruptive if placed on open markets at exchanges. If you are trading blocks of $100,000, €10,000,000, or 2,000 Bitcoin, the Kraken OTC desk will provide you with discreet, secure, and ultra-competitive execution and settlement services. Kraken provides daily trades, market recaps, and expert desk opinions on the current crypto market to all OTC clients. To become an OTC customer, follow these steps:
Contact [email protected].
Complete the Kraken onboarding process, which requires the highest level of verification. This means you'll need to show a government ID, proof of income, and proof of residency.
Inquire about your preferred trade with the OTC trade desk. For example, suppose you want to purchase 300 BTC. The Kraken trader will tell you how much they can get for 300 BTC. The minimum order size is $100,000, but exceptions can be discussed on a case-by-case basis.
Confirm the trade if you agree with the price, and the Kraken trader will ask for a deposit address.
The Kraken OTC desk supports both fiat and digital assets.
Other Notable Features
Kraken Basic: Kraken Basic is an easy-to-use trading platform for beginners. To begin, you must have a verified account linked to a bank account. Then you're ready to begin purchasing cryptocurrency. Converting fiat to crypto assets is also a simple process. It will only take a few seconds after creating your account and signing in to place an order in a simple form. The form will request the amount you wish to purchase, your crypto assets, and your payment method. Intriguingly, you don't have to fund your account to purchase digital assets. You can purchase it using your bank account. As a beginner, we recommend you begin by practicing your trading skills on the Kraken basic platform.
Kraken Pro: Kraken Pro is a professional active trading platform that can be accessed via the website and mobile phone. While the interface isn't intuitive for beginners, it has the potential to be an excellent learning tool. The Kraken Pro platform includes detailed cryptocurrency information such as active charts, a look at open orders, and lower trading fees. You can access the Kraken Pro platform with a Kraken account.
Futures contracts: Cryptocurrency futures are agreements between two parties to trade specific amounts of underlying digital assets at a specific future price on a specific date and time. Kraken futures trading allows you to gain exposure to various currencies without purchasing them. Investors can use this feature to hedge their exposure to market trends. Users can maximize exposure to various pairs via multi-collateral futures wallet. The multi-collateral wallet allows you to manage your positions using different types of collateral without moving funds around. For instance, you could open a position on DOT/USD, use USDT as collateral, and convert any profits into bitcoin.
The Kraken crypto exchange supports stablecoins and over 120 crypto assets. They include:
Bitcoin (BTC)
Cardano (ADA)
Dogecoin (DOGE)
Ethereum (ETH)
Litecoin (LTC) (LTC)
Polkadot (DOT) (DOT)
Polygon (MATIC)
Ripple (XRP)
Exceptional Lumens (XLM)
Solana (SOL)
Sushi (SUSHI) (SUSHI)
Uniswap (UNI) (UNI)
Tether
US Dollar Coin
Dai

Trading Pairs Available
Kraken provides 130 trading pairs, including Cash-to-Crypto, Cash-to-Cash, and Crypto-to-Crypto. ZRX/USD, 1INCH/USD, USD/AAVE, AGLD/EUR, AAVE/GBP, AAVE/AUD, ZRX/GBP, ZRX/BTC, AAVE/ETH, BAT/BTC, USD/CAD, EUR/GBP, and AUD/GPS are some examples.
Deposit and Withdrawal Methods
You can fund your Kraken account using SEPA, SWIFT, wire transfers, or domestic transfers. In most cases, your deposits and withdrawals will be processed within 1-5 business days.
Fiat deposit methods supported include US Dollars (USD), Euros (EUR), and Canadian Dollars (CAD), all with low fees. A bank wire transfer from within the US costs between $5 and $25, while it usually costs less than $10 outside the US. Depositing funds in CAD and EUR SEPA is completely free.
You can also fund your account with coins like Bitcoin, Ethereum, Qtum, Zcash, Ripple, Cardano, Litecoin, and Monero, which are all supported. Most accepted cryptocurrencies are free to deposit, but there is a small address setup fee in some cases. You can start trading within 10 minutes after funding your account.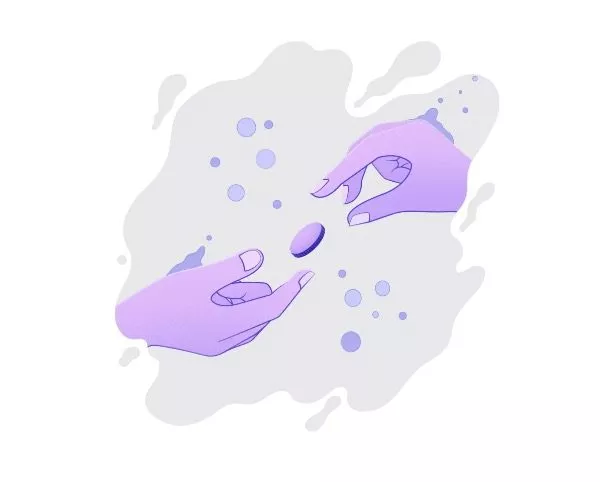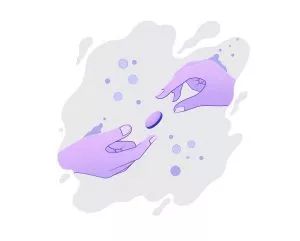 Kraken Fees
Kraken Basic charges a 1.5% fee for most crypto assets and a 0.9% fee for stablecoins. Extra fees will apply depending on how you deposit. For example, you will be charged 0.5% if you fund with a bank account, and 3.75% if you deposit with a debit/credit card or digital wallet.
Kraken pro fees could be lower as they are fixed based on an investor's average 30-day trading volume. Most trades are subject to a 0.26% taker fee or a 0.16% maker fee. These fees gradually decrease until they reach 0% for traders with a past 30-day trade volume of more than $10 million.
Limits
Your funding limits are determined by your location, verification level, and asset type. It should be noted that Kraken limits are calculated in USD (even for currencies other than USD). A beginner client can only withdraw $5000 per day, whereas an intermediate user can withdraw up to $500,000. A pro-level client's daily withdrawal limit is $10,000,000. New account holders can always level up by completing additional verification until they get to the pro account status.
Getting Started with Kraken Exchange
You need to visit the Kraken exchange website and register to start using it. Sign up is pretty easy; simply provide a username, strong password, and specify your country. Your account will be ready in a few seconds. Sign in and finish setting up your profile. Keep in mind that while you are not forced to submit all your KYC details, account restrictions are only lifted when you verify your account. There are three main verification status as explained below:
Starter: This is the lowest accpunt holder level. All new accounts fall within this level. Users within this bracket have fully signed up and confirmed their email address.
Intermediate: To upgrade to an intermediate and Pro account, one must submit a valid photo ID (such as a passport or driver's license), proof of residence (such as a utility bill), and your Social Security number or ITIN. This level of verification allows you to deposit fiat and trade Kraken futures.
Pro: The Pro verification level grants access to the maximum account limit of $10,000,000. It also provides access to an anonymous "dark" trading pool and an over-the-counter desk.
Follow the following steps to start trading on the exchange once your account is ready.
Step 1: Login to your account and select "Buy Crypto"
Step 2: Pick your trading pair such as BTC/USD
Step 3: Fill out the order form specifying details like the order type and volume.
Step 4: Confirm and submit your order.
Desktop
Kraken exchange desktop version is user friendly, even for beginners. Everything from registration to taking trades is intuitive. You don't need a lot of guidance to start trading. Unlike most digital currency platforms, this one doesn't use the usual dark coloured background themes. Instead, it went for a blue and white them that gives it a neat appearance. Navigation is simple as the platform is highly organized. The extra security layers such as 2FA and API keys management gave us a sense of safety during this Kraken exchange review process. We understand the need for KYC, but we thought privacy-conscious users might not be comfortable with all the three levels of verification. Nevertheless, the process was seamless, and we had not issues at all.
Mobile App
The Kraken exchange mobile app is user-friendly with a vibrant design. You can use it mobile app to create and verify a new account, buy, sell, and convert cryptocurrency, enable sign-in 2FA, and deposit and withdraw cryptocurrencies. You can also use credit and debit cards to make purchases, pay with ACH online banking, and manage approved devices. The mobile app is as user friendly as the desktop platform, save for the small screen size.
Kraken Exchange Customer Service
Everything you need to find help on the site is available on the support page. You can submit a support ticket by filling the contact us form, or seek help via the platform's live chat feature. Unlike most exchanges, the marketplace has also provided a direct contact phone number. If your issue is broad and probably requires evidence like screenshots or documents, we recommend seeking help via email. We did not find an FAQs page on the site. There are however, several crypto guides you can read to enlighten yourself about the marketplace. There is also a community around the exchange, even though it's not big. You can follow it through Kraken's social links below.


Kraken Versus other Crypto Exchanges
Coinbase vs. Kraken
Coinbase and Kraken are well-known centralized cryptocurrency exchanges. Kraken exchange supports over 120 crypto assets, whereas Coinbase supports over 150 currencies. Both encourage staking, albeit at different rates. Kraken offers higher interest rates of up to 23% and allows you to stake more coins than Coinbase. Whereas Kraken supports futures trading, Coinbase only offers spot currency markets. Kraken also carries the day when it comes to fees. It charges lower amounts for transactions than its competitor, ranging from 0% to 0.26% (1.5% for instant buy, sell, or convert orders). Coinbase users pay at least 0.50% spread for the same transaction. Pro users on the Coinbase site are privileged since they spend a maximum fee of $2.99 to trade. Coinbase might seem friendlier if you are a beginner, as it has a minimum deposit amount of a meagre $2 compared to its counterpart's minimum requirement of $10. Both sites are highly intuitive and easy to use, even for first-timers.
Binance vs. Kraken
Binance and Kraken are top digital coin exchanges boasting millions of users. They both feature in the top 10 list of the largest marketplaces by volume turnover and target intermediate and advanced users. Binance is the larger, with over 30 million subscribers and an average daily volume of at least $10 billion. Its counterpart has about 7 million active users and registers an average 24-hour trading volume of $400 million.
Binance provides traders with 20X leverage, which is four times what the Kraken exchange does. Although traders may not use 20X leverage, it's a significant selling point. If you're looking to set up a broad trading portfolio, Binance, which has 500+ assets, will be a better option than its counterpart, as it only hosts slightly over 120 coins.
While both sites offer low trading fees, Binance takes the prize home regarding trading fees. Users only pay 0.02% to 0.10% purchase and trading fees. Kraken's charges start from 0% but go to as high as 0.26% per trade. For credit/debit card and bank wire payments, Binance users pay up to 4.5% for card payments and $15 for each wire transfer, while its competitor only charges 0.50% for bank transfers and a flat fee of $3.75 for card payments. Both platforms are highly secure with 2FA and SSL certificates.
For more crypto exchange comparisons, you might want to check out Bitfinex Exchange and how it compares to Kraken and other crypto exchanges.
Is the Kraken Exchange the right choice for you?
It goes without saying that every level of trader requires a secure platform. Kraken is a trustworthy and safe cryptocurrency exchange. It also has offers for both novice and experienced investors. Novice traders can begin their trading journey on the main Kraken platform, while experienced traders can proceed directly to the Kraken Pro. Kraken Pro has lower trading fees than the main platform. As a beginner, don't upgrade to the pro version because you may struggle to navigate the platform. We believe the exchange is one of the best for traders as all levels.
Kraken offers you four investment options at Kraken: crypto assets, futures trading, margin trading, and over the counter (OTC) trading. Also, the crypto exchange supports over 120 coins, attracting more users to the platform, increasing engagement, and creating more liquidity for existing users. As a crypto investor looking for a secure crypto exchange with better trading fees and advanced features, Kraken is a great pick.
What are the Benefits of Using Kraken Exchange?
As a Kraken crypto exchange user, you will enjoy high staking interest rates, a diverse list of crypto assets, and fund security. You can also select your preferred trading platform from the two options. Lower trading fees will be available to Kraken Pro users.
What are the Main Features of Kraken Exchange?
Margin and futures trading, staking, and crypto trading are all key features of the Kraken exchange.
How Straightforward is it to Use Kraken Exchange?
Using the Kraken exchange is simple if you select the platform that best suits your trading abilities. The Gemini Basic is easy to use for beginners, while expert traders will appreciate the advanced trading features of the Gemini Pro.
What are the Charges for Using Kraken Exchange?
The Kraken exchange charges withdrawal, trading, and maker and taker fees. Kraken Basic charges a 1.5% fee for most crypto assets and a 0.9% fee for stablecoins. You will also be charged a 0.26% taker or 0.16% maker fee.
Is the Kraken Exchange Safe?
Robust Kraken security features were evident throughout our Kraken review. Such strong features ensure the security of your funds. Kraken is a safe platform, but we suggest that you also take responsibility for your own security.
Is There a Limit to Who Can Use Kraken Exchange?
Except for Afghanistan, Congo, Cuba, Iran, Iraq, Libya, North Korea, Syria, Tajikistan, and two US states (New York and Washington), Kraken is available worldwide.